Being a dancer comes with the responsibility of constantly being prepared for anything. And that means every dancer has a few essential troubleshooting items ready to go in her dance bag—no matter how strange those items might seem to a non-dancer.
Here are 8 weird things dancers can't live without.
Keep reading...
Show less
(via YouTube, @IISuperwomanII)
So, it's Monday. And that means the struggle is super real right now. Which also means that just like everything else on Mondays, your hair is probably not cooperating. Which is a big problem for dancers, who need it to just. stay. put. through even the roughest of combos.
Keep reading...
Show less
The anticipation surrounding NBC's Hairspray Live! has been CRAZY ever since the project was announced last January. We've gushed over the cast list (Derek Hough! Ephraim Sykes! Kristin Chenoweth! Jennifer Hudson! Ariana Grande!), caught up with Hough to get the scoop on what rehearsals have been like (see our December issue), and watched every single cast interview that exists. But we haven't really been able to glimpse any of the dancing...until now!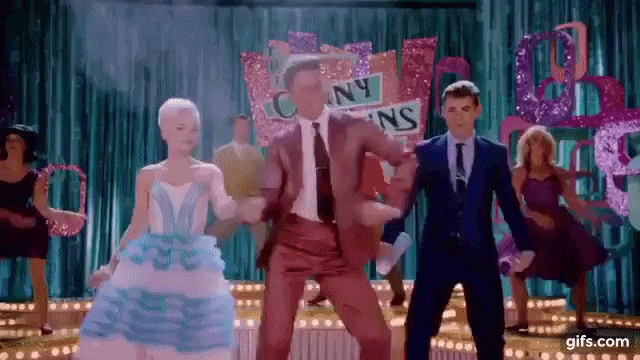 NBC has gifted us with an extended preview—and, you guys, it's pretty much everything. It highlights all the dance-y goodness of the show and somehow gets us even more excited for the official air date. (Which is Wednesday night! Only two more sleeps!)
Not that we're all that shocked that the dancing looks fantastic: The show's original Broadway choreographer, Jerry Mitchell, also worked on the live version. "I'm thrilled to have the chance to do the show again," Mitchell told DS. "I planned to use the talents each star brought to the table to make the show shine, so expect some new riffs on some of my original moves."
Watch the sneak peek below, and make sure not to miss the show this Wednesday, December 7 at 8/7c on NBC.
Whether you're a musical theater buff or someone who lives for the Step Up franchise, you have to admit that dance movie scenes are often (all too) representative of real life. Here are five of our favorite scenes that, despite being silly and/or fantastical, somehow manage to reflect how we feel.
1. Did you just get cast in your dream role? Ace a test? Is "You Can't Stop the Beat," from Hairspray, running through your mind right now? It's an amazing anthem to sing to yourself when you feel unstoppable.
2. The warehouse dance scene in the original Footloose is legendary. This is how we deal with casting disappointments when nobody's watching.
3. "Good Morning," from Singin' in the Rain is so cheerful that it's easy to forget the song is sung by exhausted people who have just pulled an all-nighter. But anyone who says they don't do a victory dance when they come up with a great idea is lying.
4. Does the audition scene in Flashdance perfectly capture all of our audition anxiety? YES. But like any successful dancer, Alex shows exactly why she's unique—and it wins her a spot at a prestigious art school. Also, her high-cut leo and legwarmers are everything.
5. "We Go Together" from Grease perfectly encapsulates our feelings at the end of the school year or a summer intensive, or after a show closes: We're both relieved and sad that everything is over, but we know we've had an amazing bonding experience with our friends and colleagues.
Want more Dance Spirit?
Are you the kind of musical theater obsessive who's still recovering from the excellent fun that was "The Wiz Live!" and eagerly awaiting the debut of "Grease: Live" later this month?
Yup. Me too. WE ARE ALL THAT MUSICAL THEATER OBSESSIVE.
So let's all twist and shout for joy together, because NBC gave us some happy news yesterday: Its next live musical production, coming to a TV near you this December, will be Hairspray—one of the cheeriest, campiest, danciest shows around. A musical about live television, on live television! Love it.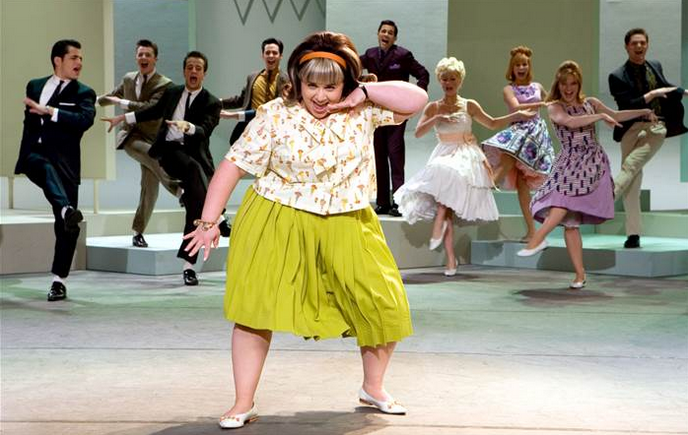 Nikki Blonsky in the 2007 movie version of Hairspray (photo New Line Cinema)
No word yet on casting, etc, but team NBC is apparently open to having John Travolta reprise his role from the 2007 film. So...there's that. (Let's go ahead and bring Zac Efron back while we're at it, shall we? And re-settle Adam Shankman in the director's chair.)
Who'd be in your dream Hairspray cast? Let us know in the comments—and then satisfy your rapidly-intensifying musical theater craving by reading all about Fox's upcoming "Grease: Live" in our January issue.
Jun. 11, 2012 12:00PM EST
Who caught the Tony Awards yesterday? It was an interesting night at the Beacon Theater, with lots of surprises when it came to the winners, for sure. But I'd like to begin this recap by establishing that Neil Patrick Harris is a national treasure. If he could host everything, ever—maybe with an occasional cameo by Hugh Jackman—the world would be a happier place.
Let's run down the highlights of the show, shall we? To simplify this a bit, I've decided to rate Tony 2012's top moments by jazz hands, from one (meh) to five (YES!).
1. The Book of Mormon introduction. OK, the idea of starting out with the BofM cast members ringing famous Broadway stars' doorbells was cute. But this show had its big moment last year, and the number itself lacked...something. (Maybe the hundreds of obscenities that pepper the rest of the production's songs?)
Rating: Two jazz hands
2. Neil Patrick Harris's opener. "What if life were more like theater?" NPH asks, and thus begins a cute musical number that pays tribute to beloved theater traditions while also poking gentle fun at them. It would basically have been impossible to top last year's insane opening number, but the "preventermission" and the Annie cameo brought it pretty close.
Rating: Four jazz hands
3. Movie-musical hybrids. "The Towering Inferno No Nannette. The Exorcister Act. Field of Dreamgirls. My Left Footloose. (Think of the dance numbers!)" Cute.
Rating: Two jazz hands
4. The Newsies performance. Yes, yes, yes!! Love all these boys. Way to wake up the audience with Christopher Gattelli's high-octane moves. (And Newsies fans: Stay tuned for July/August issue!)
Rating: Four jazz hands
5. Christopher Gattelli winning for Best Choreography—during a commercial break. So well-deserved. But really? Hiding the presentation away during the commercials? Choreographers are people too, Tonys!
Rating: Five jazz hands (the award); zero jazz hands (the timing)
6. NPH's Spiderman stunt. "Any concerns I had about this Spiderman rig failing have been overshadowed by the searing pain in my junk." [Cut to Andrew Garfield.]
Rating: Three jazz hands
7. The Lion King guy sitting in the audience in full costume. I'm sorry, what??
Rating: Zero jazz hands
8. The Porgy and Bess performance. Oh, man, I could listen to Audra McDonald sing "Summertime" all day. Which is why I was a little bummed that they performed a confusing medley of songs instead of just letting her do her thing. Though it's also a treat to see Norm Lewis and David Alan Grier up there, so...
Rating: Three jazz hands
(Side note: McDonald's engaged to Will Swenson?? Where have I been??)
9. The Tony-Award winning composer medley. NPH sings a (pretty awesome) song mash-up commemorating all of the composers who've won for best score...and the whole thing is an introduction for Sheryl Crow? I'm a little confused (though I did laugh out loud at "Hello 12, hello 13, hello—where is love?").
Rating: Two jazz hands
10. The Once performance. "Gold" is a beautiful song, but I was hoping they'd do "Falling Slowly," which is just gorgeous. Also, it would've been nice to hear Cristin Milioti sing a bit.
Rating: Three jazz hands
11. Hugh Jackman's surprise face. Jackman knew he was getting a special Tony Award last night—but he didn't know that his wife, Deborra-Lee Furness, would be presenting it. That is real surprise right there, and it is adorable.
Rating: Three jazz hands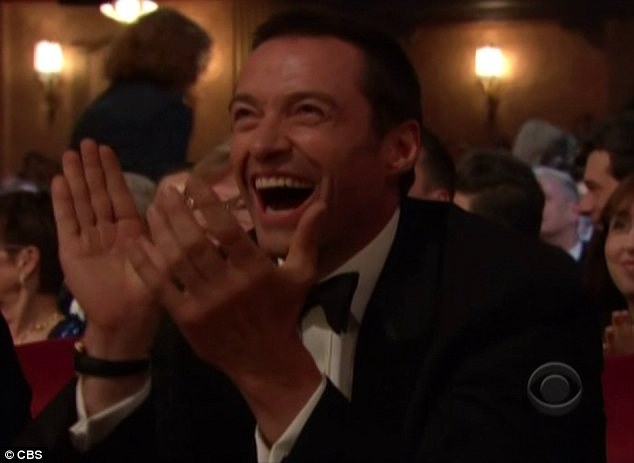 12. "I just got terrible news: The cast of Hairspray has been taken over by pirates...of Penzance." Nerdy theater jokes! Yay!
Rating: Two jazz hands
13. The Leap of Faith performance. I'm sad this show closed before I got a chance to see it, because the cast's performance was unexpectedly amazing. That is some serious choreography!
Rating: Four jazz hands
14. The closing recap. The best. And the ending was perfect. Just watch and appreciate all that is Neil Patrick Harris.
Rating: Five very enthusiastic jazz hands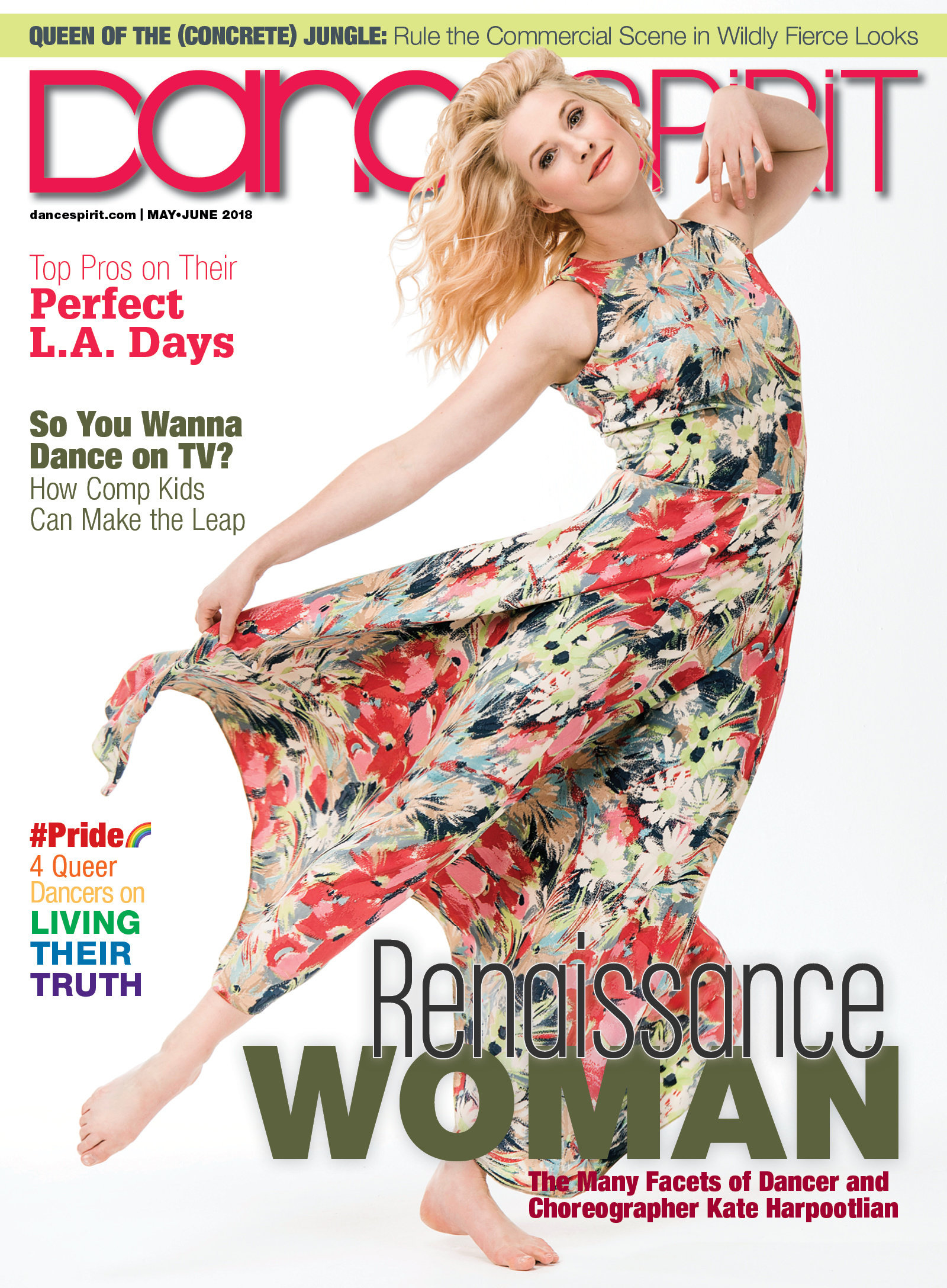 Get Dance Spirit in your inbox