Jun. 09, 2019 07:00AM EST
Photo courtesy Tony Awards
The annual Tony Awards are Broadway's biggest night, and among those honored are the amazing choreographers and dancers who push the art form forward with their work each season. In recognition of the 73rd Tony ceremony (airing tonight at 8 pm EST on CBS), we rounded up a bunch of fun, dancy Tony facts.
Musical Theater
Apr. 10, 2019 12:16PM EST
Quinn Wharton
It's been a crazy few years for dancer, singer, and actress Ariana DeBose. After performing in Hamilton's original cast (where she earned viral fame as The Bullet), she scored a Tony nomination for her portrayal of Disco Donna in last year's Summer: The Donna Summer Musical. Now, she's set to play Anita in Steven Spielberg's remake of the iconic West Side Story movie, which starts filming this year.
DeBose's star turn is coming at a time when true triple threats have become a rarer breed on Broadway, with shows favoring dancers who dance and singers who sing. But the multifaceted DeBose has always defied categorization—and her versatility has proved to be the key to her success.
Cover Story
Apr. 10, 2019 11:10AM EST
The Philip Tour cast of "Hamilton" giving us ALL the broken wrists (via YouTube)
Well, ladies and gents, it's finally happening: The long-awaited show "Fosse/Verdon" premiered on FX last night, in all its jazz-handed, pigeon-toed glory!
If you're a dancer with a pulse, you know that the connections between this series and the Broadway smash Hamilton run very deep. The two share choreographer Andy Blankenbuehler, director Thomas Kail, and executive producer Lin-Manuel Miranda, to name just a few names. So we wouldn't say we're shocked that the various casts of Hamilton around the world—from London to Chicago to NYC—decided to celebrate the arrival of "Fosse/Verdon" with a big ol' Fosse dance-off. But we would say that we're absolutely obsessed with pretty much every entry in the challenge.
Dance News
Feb. 16, 2019 07:00AM EST
Getty Images
Ever since starting her professional career, Broadway dancer Amber Ardolino has cupped. Using the holistic wellness practice to improve performance and take care of her body, Ardolino cupped before it was cool—even beating the 2016 Rio Olympics' purple polka-dotted athletes to the punch. But Ardolino's only one dancer who has put this therapy to regular use. Dance Spirit asked Carrie Gaerte, PT, DPT, ATC, and performance rehab specialist with St. Vincent Sports Performance who works with Indianapolis' Dance Kaleidoscope; and Thomas Droge, Chinese-medicine doctor and founder of Pathfinder Institute in NYC, to explain the ins and outs of cupping therapy.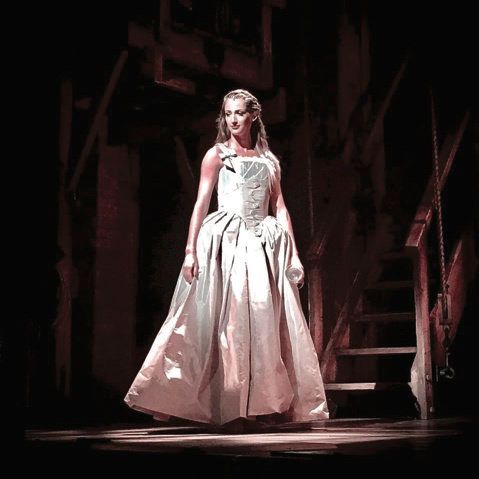 Amber Ardolino in "Hamilton" (courtesy Ardolino)
Health & Body
Jan. 11, 2019 03:03PM EST
The Broadway cast of Hamilton (Joan Marcus, courtesy Sam Rudy PR)
Today, January 11, is #AlexanderHamiltonDay: A very happy 264th birthday to Alexander Hamilton! Thanks to this most unlikely of Founding Fathers—a brilliant and ballsy orphaned immigrant who dramatically rose, then fell, then rose again—we have possibly the most successful musical of all time. We also, of course, got priceless GIFs such as this one: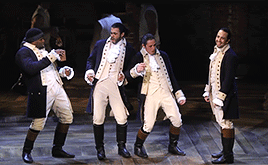 *When your crush walks over and you're trying to act natural but your friends are all like*
Aaaaaaaaaaanyway, while we can't get you "in the room where it happens" with tickets to the show's current Broadway, touring, or Puerto Rico productions—the last of which opens tonight!—we CAN offer up some fun ways to fête A.Ham's day of birth. Just you wait:

Dance News
Dec. 14, 2018 01:38PM EST
Us, @ this hilarious (and informative!) clip.
Even if you're a full-fledged Broadway baby, you'll learn a thing or two from LMM.
Dance Videos
Nov. 25, 2018 07:00AM EST
Ingrid Michaelson and Chantel Aguirre (screenshot via YouTube)
If you think you know this classic holiday bop, prepare to think again.
Dance Videos
Nov. 08, 2018 01:06PM EST
There's no question that life as a dancer can be difficult—long hours, rigorous rehearsals, and the risk of rejection and injury can take a toll. But dancing also gives us so much to be thankful for! In honor of Thanksgiving, we asked nine dancers to share what they're most grateful for this year. From overcoming adversity to new artistic opportunities to growing families, these artists have a lot to celebrate.
Dancer to Dancer
Oct. 06, 2017 12:06PM EST
Sep. 07, 2017 10:19AM EST
Sasha Pieterse and Gleb Savchenko (Craig Sjodin/ABC)
Whoa. There is a lot going on in the "Dancing with the Stars" Season 25 crop of celebs, just announced on "Good Morning America."
Dance News
Get Dance Spirit in your inbox
Jul. 28, 2017 09:50AM EST
The OBC of Hamilton (photo by Joan Marcus)
PBS has released the 2017–2018 schedule for their Great Performances series of special, one-off TV events, and we think you'll want to sit up and take note—Hamilton and Cabaret and Holiday Inn, oh my! To make your appointment-viewing choices a little easier, we rounded up all of the danciest picks from the coming season. PBS = Perfect Broadway Spectacular. (Okay, we wish!)
Dance News
Jul. 14, 2017 12:24PM EST
TheaterMania
If you're anything like me, you've spent some serious time fantasizing about how cool it would be to become dance captain of a Broadway show. Just imagine having all of that choreography in your head, knowing every little detail of a musical's moving parts! Until today, I'd never considered what it might be like to be a fight captain, but this amazing behind-the-scenes clip from Miss Saigon really got me thinking—and dreaming.
Dancer to Dancer
Jun. 25, 2017 07:00AM EST
via YouTube
...This clip, "'Hamilton' Choreographer Breaks Down His Moves," popped up on my YouTube recommended list. I mean, I could watch Hamilton's dance wizard Andy Blankenbuehler talk about anything. Have you read our interview with him back when he was making the moves for Bandstand? The guy is freaking fascinating.
Dance Videos
Apr. 18, 2017 08:53AM EST
Nearly two years after its Broadway debut, Hamilton is still the hottest ticket in town. The show is still sold out every single night, and for Kamille Upshaw, that means bringing her A-game every night—even if she doesn't end up onstage. As one of the cast's swings, Upshaw may fill in for an injured or vacationing cast member, or she could end up getting called in mid-show if something happens to an ensemble member. (No pressure.) She needs to know all the choreography at all times, and needs to be warmed up no matter what. That also means Upshaw, a Juilliard grad and former Dance Spirit cover girl, needs to fuel her body properly so it can be ready to rock in a moment's notice. What does that entail? We got Upshaw to dish on what a day in the life of her diet is like.
Health & Body
Mar. 23, 2017 01:18PM EST
We all know history is important. We all know we should know things about people like our country's Founding Fathers. We all dutifully go to history class, and read our textbooks, and take our tests.
But it's hard to get legitimately EXCITED about events that happened hundreds of years ago.
Unless you're watching those events unfold on a Broadway stage. Unless you're seeing the Founding Fathers' stories as told through Lin-Manuel Miranda's inimitable blend of rap and old-school musical theater goodness. Unless you're inhabiting a world in which 18th-century characters do amazing 21st-century choreography by Andy Blankenbuehler.
Unless, in other words, you're at a performance of Hamilton—the most exciting history lesson in the history of history lessons.
The problem is that, because the show is so stupid good, Hamilton tickets are really, really hard to come by, especially for students. But the show's producers have teamed up with The Rockefeller Foundation to create a brilliant program: They're bringing 20,000 NYC high school juniors to see Hamilton, beginning in the spring of 2016.
Best. History class. Ever.
Lin-Manuel Miranda (center), world's coolest history teacher. (Photo by Joan Marcus)
The program will also include a classroom-based curriculum, featuring copies of the primary documents on which Hamilton's book and lyrics are based. At some schools, students will also get to create their own artistic interpretations of Alexander Hamilton's life. (An all-dance version, anyone?)
And non-NYC people: No need to start yelling about New Yorkers getting All the Things. There are plans to expand the Hamilton school program all over the country once the show begins touring. Yay!