Whether you're rocking pink tights or booty shorts, a pair of toned hamstrings can be your best accessory onstage. Strong hamstrings give you a long, lean look by evening out your thighs and keeping your quads from getting bulky. Even better? They power développés that reach toward the sky, not the horizon. "Once your leg passes 90 degrees, it's the hamstrings—not the quads—that hold it there," says Jessica Sander, a personal trainer and freelance dancer in NYC. "They're the keys to high extensions."
Build these exercises into your routine three to four times a week, and you'll start to see—and feel—results in about a month. Just make sure you don't simply go through the motions. "The hamstrings don't always fire on their own—other parts of the body like to take the work," warns Sander. "So for all of these, pay close attention to your form."
You'll need:
1. a stability ball
2. a set of 10-lb. weights
Do each move 15–20 times. Rest, then repeat.
Dead Lift
Stand in parallel with your feet directly under your hips. Hold a 10-lb. weight in each hand, with your palms facing your thighs.
Hinge from your hips with a flat back and lower the weights to just above your feet, keeping your hands close to your shins and your head in line with your spine. Initiate from your hamstrings to slowly return to the standing position.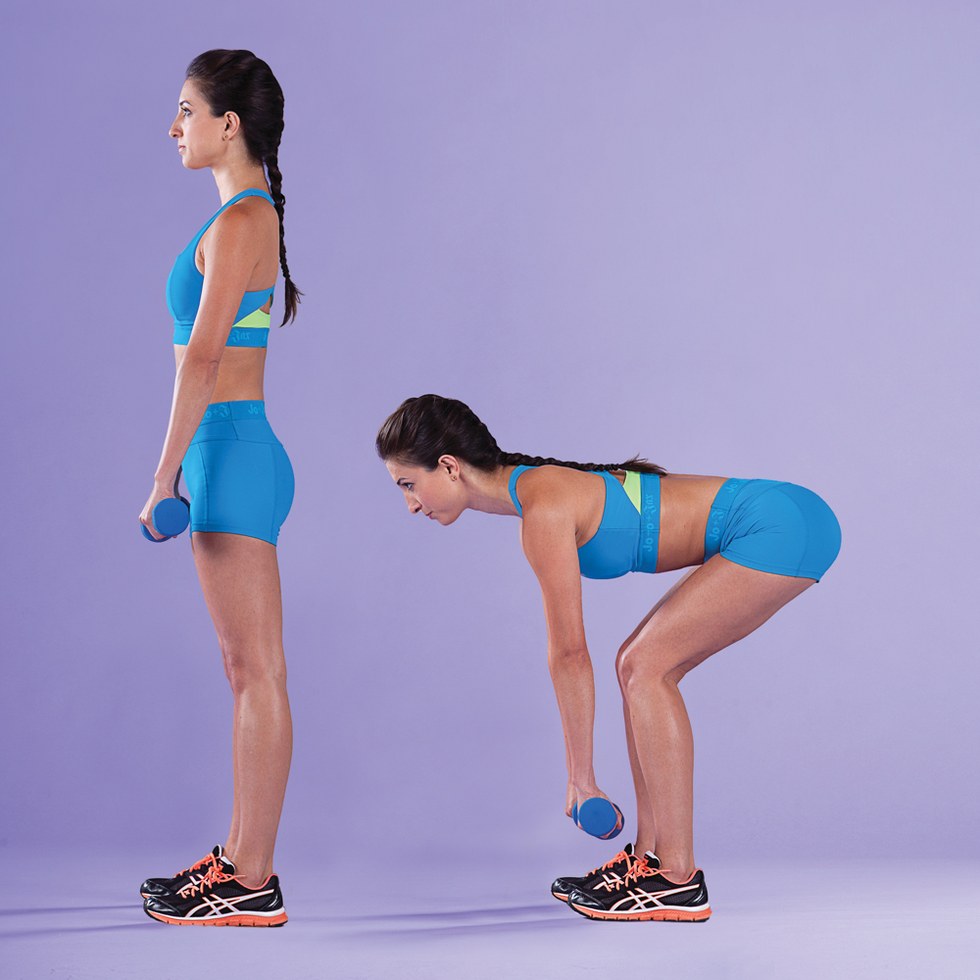 Sander says: "In the flat back position, let your legs be relaxed, but pull your abs in."
Single-Leg Bridge
Lie on your back with one leg reaching straight up to the ceiling, and the opposite foot flat on the floor with the knee bent.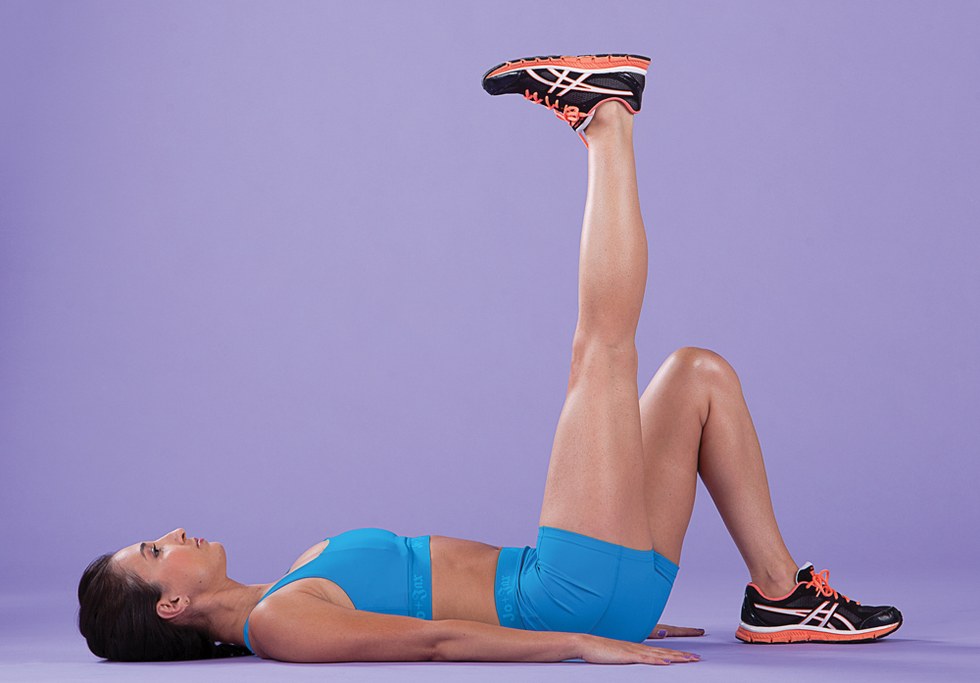 Slowly raise your hips until your knees, hips and shoulders come into a straight diagonal line, then return to the floor. Switch legs after a set of 15–20 reps. You should feel the burn in your supporting leg.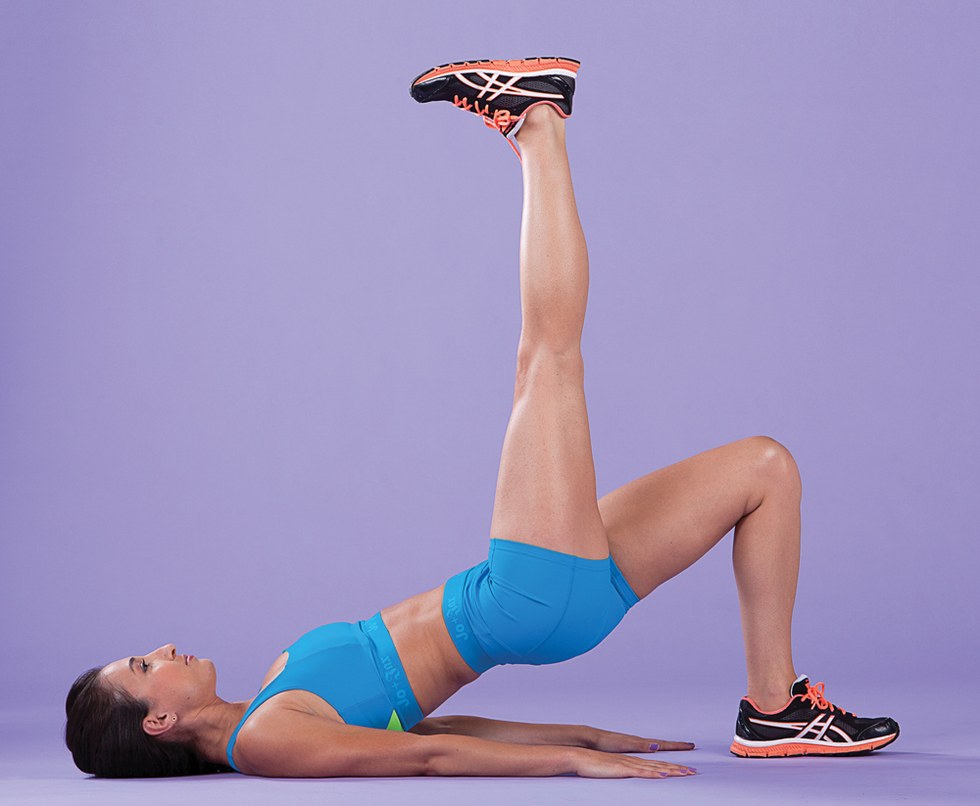 Sander says: "Don't use that leg in the air for momentum—keep it perpendicular to the floor the whole time. This is a small, controlled movement."
Quadraped Hamstring Curl
Start on your hands and knees, making sure your hips are over your knees and your shoulders are over your wrists. Reach one leg straight back, lifting it off the floor so it's parallel to the ground and in line with your hip.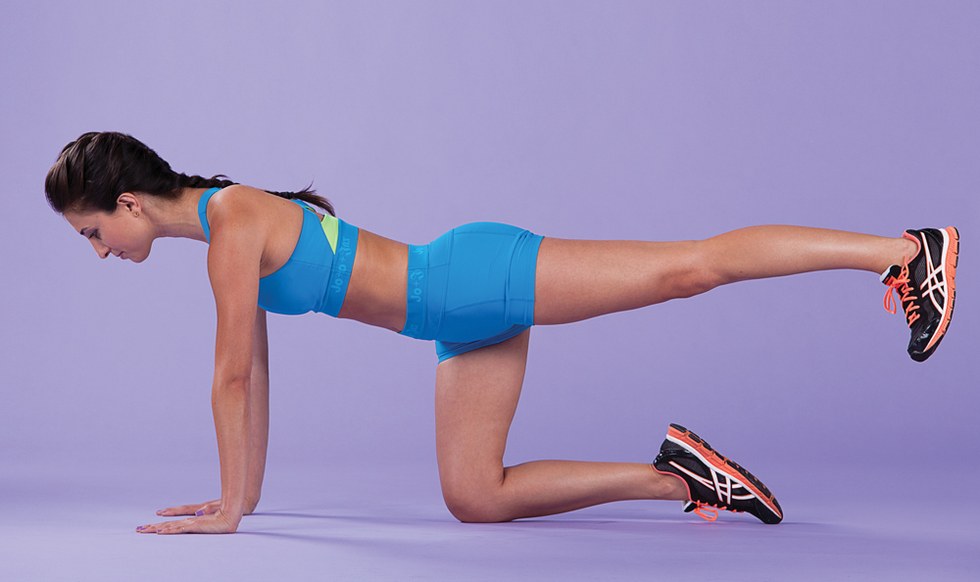 Without letting your quad drop or your hips move, engage your glutes and bend your working knee until your shin is perpendicular to the floor, then straighten. Switch legs after a set of 15­–20 reps.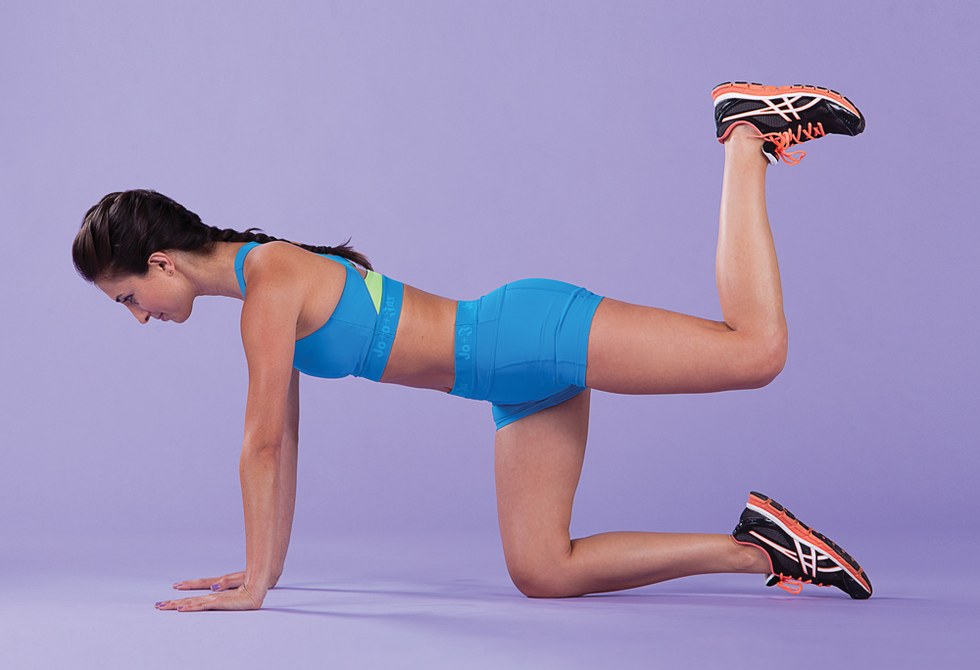 Sander says: "Keep your abs pulling up the whole time so your back doesn't arch."
Hamstring Rollout
Start by lying on your back, with your knees bent in tight and a stability ball under your heels, as close to you as possible.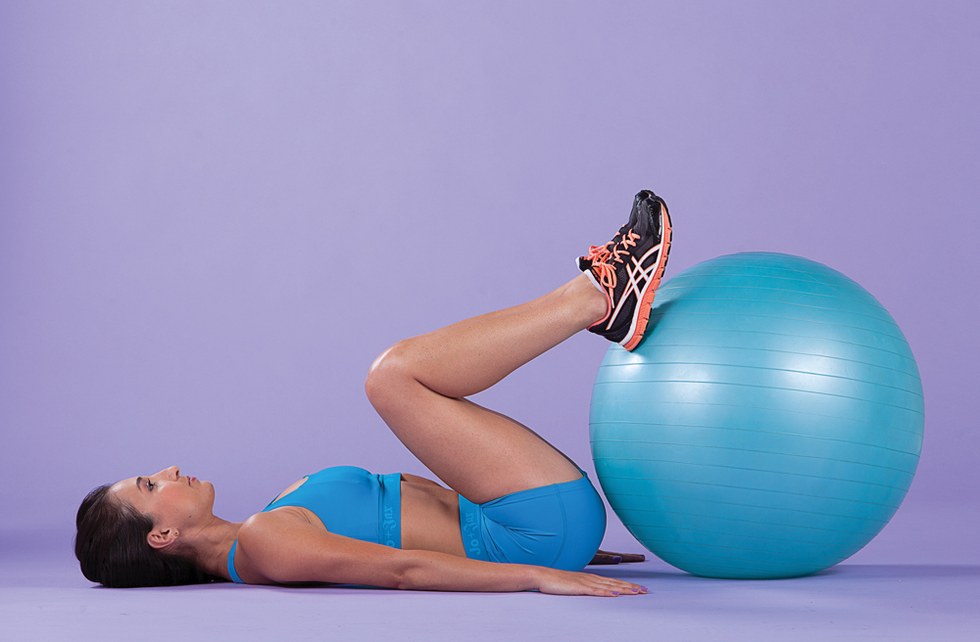 As you exhale, press your feet into the ball to lift your hips. Keep your shoulders and neck relaxed—there should be space between your chest and chin.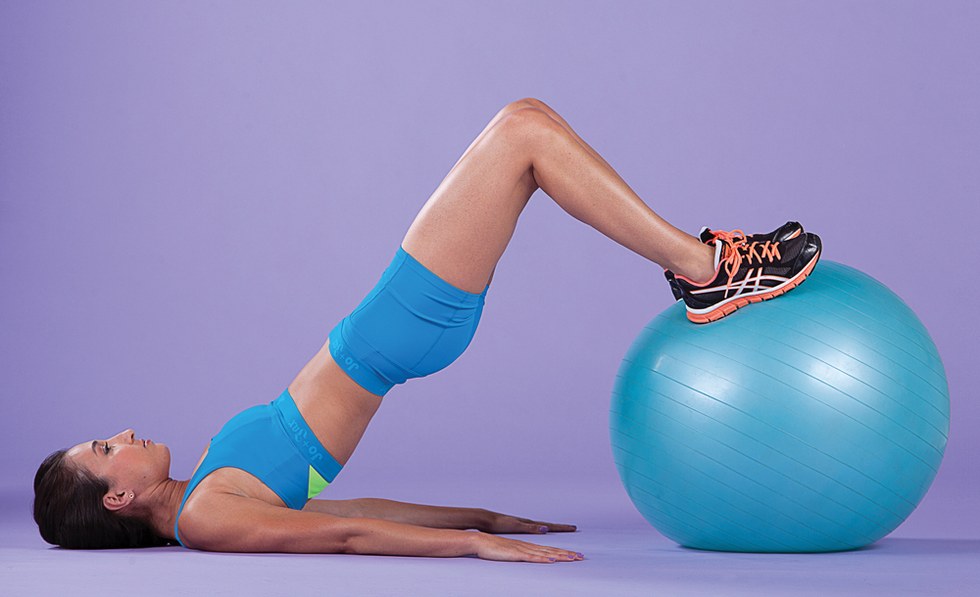 Keeping your core engaged, straighten your legs to roll the ball away from you, and then draw it back. Repeat 15–20 times. The goal is to keep your hips up in the air the entire time, but if you need to modify the exercise, you can come down between repetitions.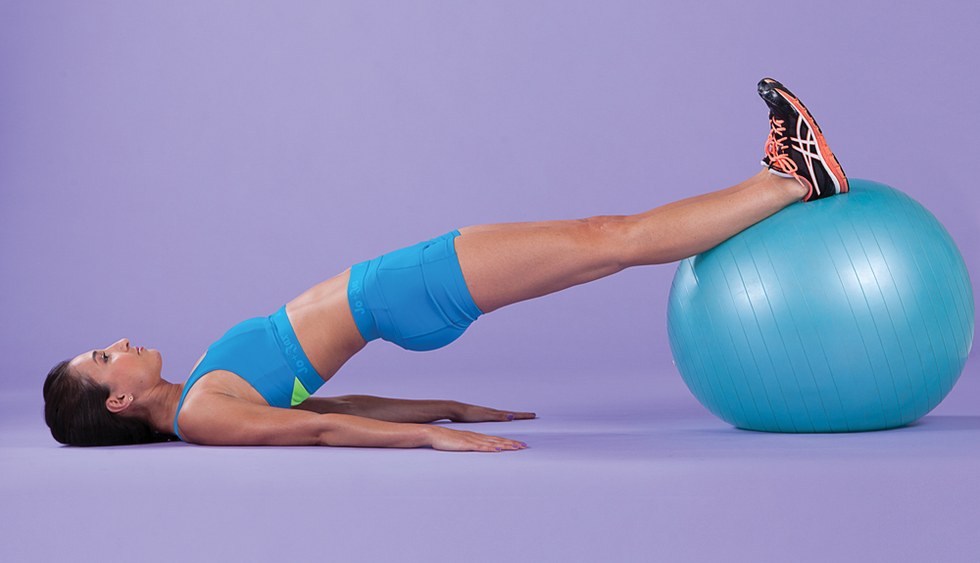 Sander says: "You have to engage your glutes for this one, or you'll get a charley horse in your hamstrings."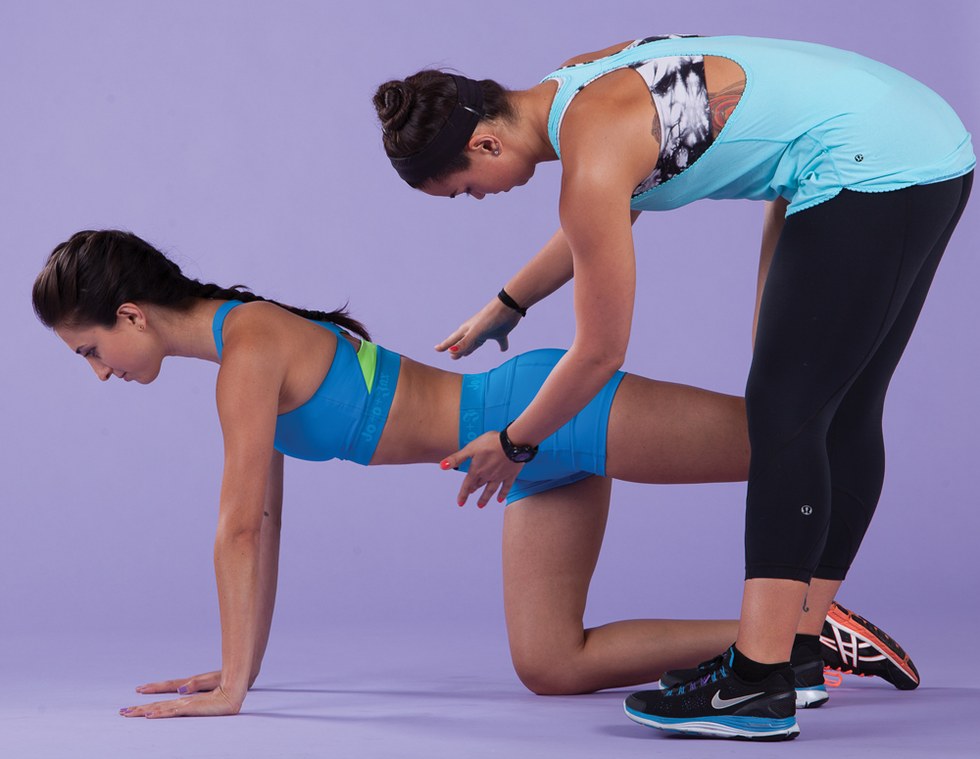 Watch it! Click here to see Jessica Sander walk our fabulously fit model, Elizabeth Yilmaz, through these moves.
Jessica Sander, a personal trainer certified by ACE, AFFA and Stott Pilates, holds a BFA in dance from Towson University. Elizabeth Yilmaz is a freelance dancer based in NYC.
Photography by Erin Baiano. Hair and makeup by Chuck Jensen for Mark Edward Inc. Modeled by Elizabeth Yilmaz. Clothing provided by Jo+Jax.
Sep. 01, 2009 11:44AM EST
Model: Daphne Fernberger
Consultant: Hilary Cartwright
Bio: Following her career as a soloist with The Royal Ballet, England, Hilary Cartwright became a director, teacher, coach and stager. She's been teaching Yoga for Dancers for the past 20 years, after opening White Cloud Studio in NYC. Daphne Fernberger is a Level 7 student at American Ballet Theatre's Jacqueline Kennedy Onassis School. For more information about Daphne, go to www.hilarycartwright.com
Dancers of all genres (and women in general) yearn for long, lean legs, and even more so, injury-free bodies. One important element to achieving both of these things is stretching—correctly, that is. With the help of Hilary Cartwright, DS brings you three exercises that will stretch every angle of your hamstrings, resulting in beautifully toned, strong legs.
BEFORE FIRST STRETCH
Before stretching, warm up the body with aerobic exercise (like light jogging) for five to 10 minutes. Then allow 10 seconds for each stretch on a continuous exhale, recover and relax. Repeat all five to six times on both legs.
Hamstring stretch #1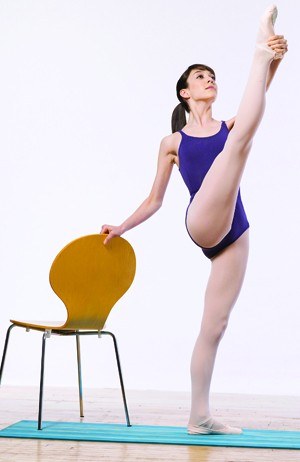 Begin in first position with right hand on the barre. Bring right leg into passé at the front of the knee, then extend into front attitude while the left leg pliés. Grab the foot from underneath the heel with the left hand and extend the right leg, while simultaneously straightening the left leg. Continue to grow while leaning back slightly toward the barre.
Tips:
1. Relax neck.
2. Keep eyes focused above toes.
3. Engage abs.
Hamstring Stretch #2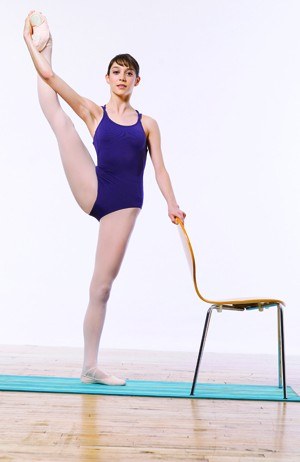 Start in first position with the left hand on the barre. Bring the right leg into retire at the front of the knee, then extend into front attitude while the left leg pliés. Using the right hand, grab the foot from underneath the heel and slowly straighten the right leg, while keeping the left bent. Continue to slowly open the right leg to second.
Tips:
1. Keep right hip back.
2. Keep back straight.
Hamstring Stretch #3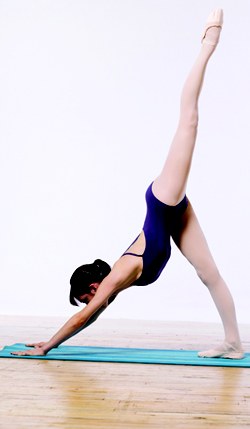 Start on all fours. Push the heels back and straighten the legs and arms (like downward dog position) with feet slightly turned out. Keep focus between hands and push shoulders and ribs toward the pelvis. Bend right leg, then straighten it toward the back wall in a scooping motion. Slowly raise it into penchée position, keeping the hips parallel to the floor. Lift up and back over the standing leg to feel stretch.
Tips:
1. Push back from arms.
2. Drop active hip.
3. Keep focus between hands.
Go to dancespirit.com/ to see Daphne demonstrate these stretches. Just click on "Videos."
Photography by Matt Karas. Hair and makeup by Angela Huff for Mark Edward, Inc.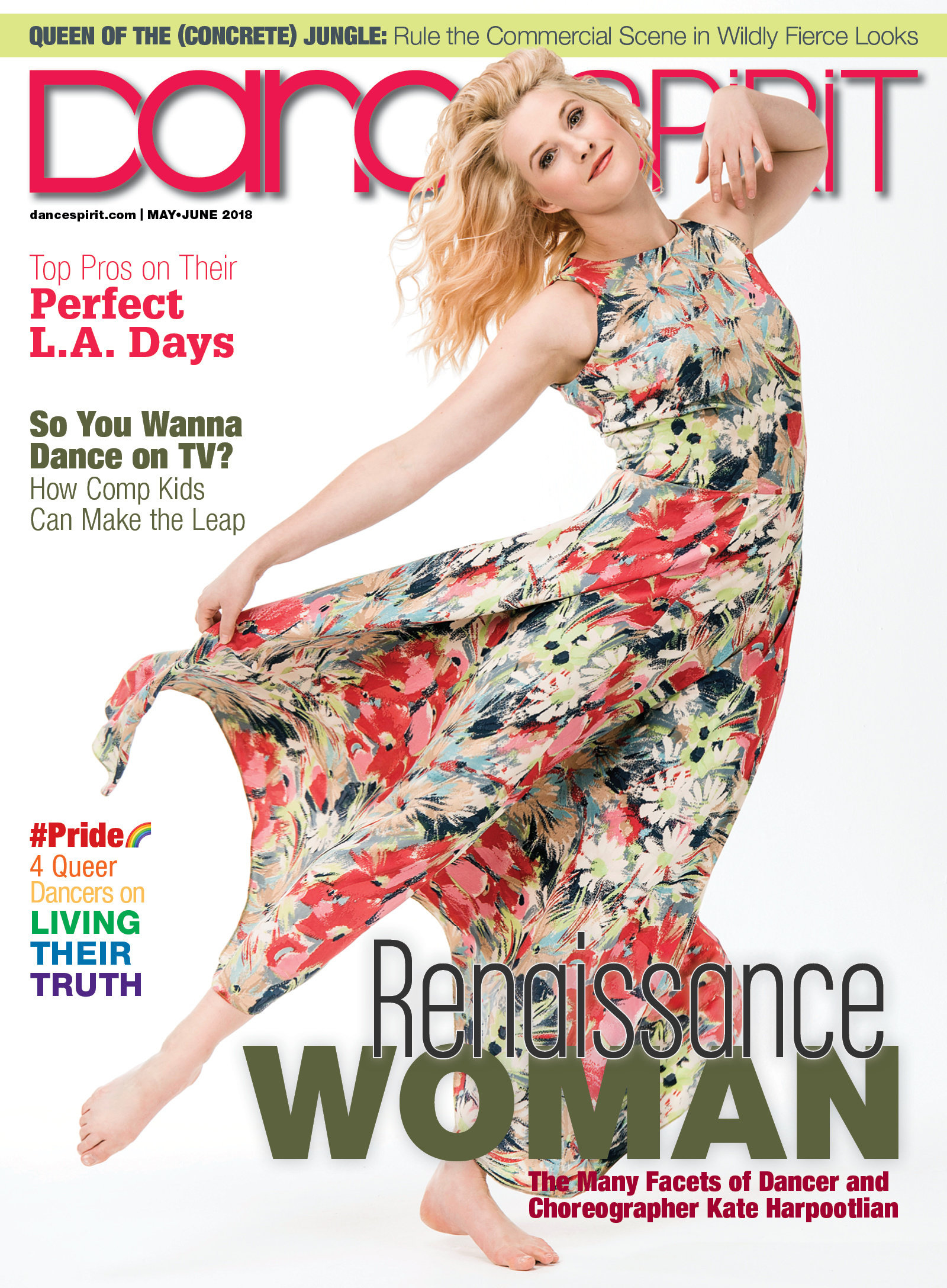 Get Dance Spirit in your inbox