Screenshot form YouTube
What do you get when a hoard of dancers collaborate to the catchy tune of "Love Somebody," by the band Frenship? The most epic dance party ever, of course! Said dance party was directed by the talented Michael Riccio, who's choreography has appeared in "La La Land" and "Dancing with the Stars."
Keep reading...
Show less
Fashion
Jan. 09, 2018 04:31PM EST
Via YouTube
Often, Disney princesses get flak for being weak and passive as they wait to be rescued by their princes. But Scott Winn's video of Belle and Elsa breaking it down in a fierce dance battle gives these princesses some serious street cred.
It doesn't hurt that a few of the best dancers in the biz are featured in the playful parody. "Step Up: High Water" star Jade Chynoweth might initially be hard to recognize under that Belle wig, but once the dancing starts, her high energy and show-stopping moves make her easy to identify. And "Glee" standout Haylee Roderick, as Anna, brings some high-caliber technique to the spoof as well.
Keep reading...
Show less
Commercial
Jun. 11, 2013 11:15AM EST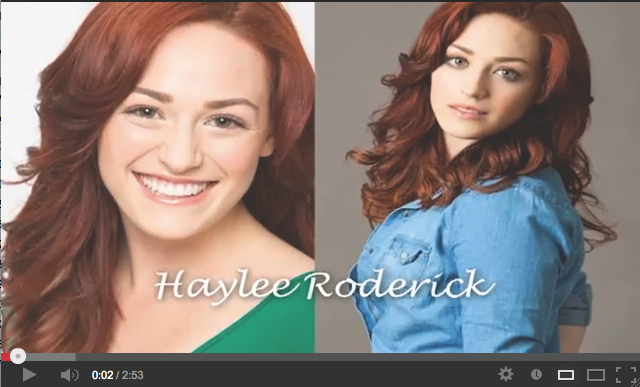 L.A.-based Haylee Roderick has been strutting her stuff on the commercial scene, dancing everywhere from "Glee" to the Academy Awards, for a while. But despite having an agent and killer talent, she was missing one more essential item: "Producers, directors and my agent were constantly asking to see my dance reel," Haylee says. "I kept putting it off, thinking I should build up my resumé. But with so many creatives asking for it, I knew it was time this year. I just finished it, and I've already submitted it for a union project—something I couldn't have even auditioned for without a reel! It's essential for any professional dancer in L.A."
In today's media-heavy dancescape, a reel is an absolute must. It will give prospective agents, casting directors and choreographers a sense of how you move, your style and strengths as you choose to present them. Plus, with creative teams facing budget cuts, production logistics and scheduling issues galore, reels make it easy for them to see you—and possibly hire you!—even if they can't hold a traditional audition. Sending a reel can also be the best way to be cast in a company or show that's far away. Here's how you can get your own reel together.
Choosing Your Footage
• Showcase your strength, whether it's your chameleon-like versatility or a single specialty. "If you're a versatile dancer, include all the genres you shine in," says JC Gutierrez, director of the dance and on-camera department at L.A. agency McDonald/Selznick Associates. "But make sure your reel is separated by style, so if you're applying for a jazz job you can say, 'Fast-forward to 1:33.' " MSA agent Shelli Margheritis adds, "If you have a niche, show off. You're a b-boy? Let's see your best tricks!" If you aren't trained in a certain area, don't sweat it—and don't include it.
• Be the star. "Solo footage is preferable to a shot with 10 other dancers, even if
it means renting a studio and choreographing a few pieces," says professional dancer and freelance dance-reel editor Shane Rutkowski. If you do choose to use performance footage (a great option if the piece is well-rehearsed and you're highly visible), make sure it's a high-quality recording and you're the focus of the shot. "If another dancer stands out more, it becomes that dancer's reel," Gutierrez says.
• If you have an agent, use him or her as a sounding board to help you choose the best clips and the order in which you should place them.
• Include your name and headshot at the beginning of the reel. If you're represented, end with your agency's info. If not, offer your professional email address or website, but never your phone number or mailing address—remember, you'll be posting this online.
Music Matters
• Choose your audio wisely. The music behind your clips sets the tone and can say a lot about who you are as a performer.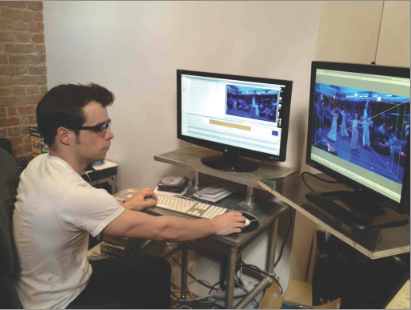 Dance-reel editor Shane Rutkowski in action
• Use only one song for all of your clips to avoid distracting the viewer. It's OK if the dancing in the clips doesn't always match the beat of the song perfectly—just make sure there are accents throughout the reel where the two do match up. If you're working with an editor, there are many tricks he or she can use to make the accents work.
• "Music can be tricky, especially with copyright issues," Rutkowski says. "If you have a friend who can create music for you, that's a great option. Choose a song that's not overpowering or distracting. Instrumental is a good choice because it often has different sections that can correspond to different types of movement."
• Avoid any possibly offensive material.
• Choose up-tempo music to catch the viewer's attention.
Order and Length
• Make your reel punchy and to-the-point by putting your best clip first. A busy casting director may only have 15 seconds to watch, so show your strengths immediately. Ending with a high-energy clip is a great way to wrap things up.
• Include different energy levels so the reel doesn't become monotonous. You could start with a jazz section, follow with a ballet piece and end with some fierce hip hop.
• Shorter is better. Your entire reel should be between one and a half and three minutes.
Editing 
• If you're tech-savvy, you may be able to create your own reel with clean editing and streamlined effects. But remember, less is more. Don't overdo it with flashy transitions and special effects.
• Hiring an editor, like Rutkowski, can be a smart move. Even though it might cost you a bit, it's an investment, just like your headshots. You'll most likely be paying an hourly rate, so do research to find out what friends in your area have paid.
• If you use an editor, go prepared! Have all your clips ready (and in the same format, if possible) and write down timecodes of the spots you want to use. It will save you time and money.
Aug. 10, 2012 05:40PM EST
In honor of Dance Spirit's 15th birthday, we decided to check in with a few of our favorite past cover stars. They wrote to us about how being on the cover changed their careers. Memories!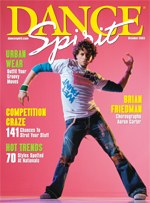 Brian Friedman,
October 2003
"When I was asked to be on the cover, I was thrilled. I felt like I'd finally made it. Looking back, it was only the beginning of my choreography career, and so much has happened since. My work has evolved in a beautiful way, and that cover so many years ago gave me the confidence to chase my destiny. Thank you, Dance Spirit, for believing in me and my dreams!"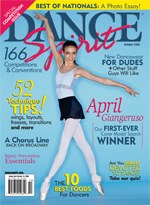 April Giangeruso,
October 2006 and March 2011
"Never in my wildest dreams did I believe I would be on the cover of a magazine. When I learned I had won the first Cover Model Search contest—and that so many people had supported me—I got a huge confidence boost. Six years later, I feel blessed to be dancing for my dream company, American Ballet Theatre, where I'm surrounded by inspiration."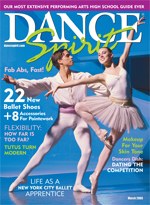 Tiler Peck,
March 2005
"Dance Spirit was the first cover I'd ever been on, so it opened many doors for me. It made me a recognizable face and name, and gave me the confidence to continue reaching for my dance goals. It humbles me to think I share the cover of this special magazine with so many other inspirational and talented artists."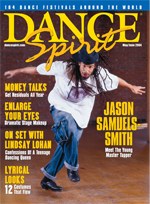 Jason Samuels Smith,
May/June 2004
"It was extremely humbling and gratifying appearing on the cover—it was my first appearance in any major publication. I felt as if not only I, but tap dance as a genre, had won a victory in the fight for visibility and acknowledgement."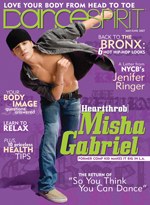 Misha Gabriel,
May/June 2007
"I grew up reading Dance Spirit, so it was an honor to be recognized by my community and by such a strong voice in the dance world. Thanks, DS!"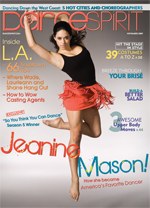 Jeanine Mason,
November 2009
"I remember first appearing in DS in a tiny photo from Nationals—it was the most exciting moment of my life! Then, seeing my "So You Think You Can Dance" cover was the realization of my dream to be a role model and to inspire others as I have been inspired. Being a part of DS has been one of the greatest honors of my life. The magazine will always be an integral part of my journey."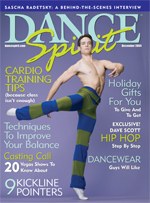 Sascha Radetsky,
December 2004
"I'm grateful to have appeared on the cover of Dance Spirit. The magazine is relevant, influential and, most of all, a lot of fun. Congratulations to the DS staff on reaching this milestone!"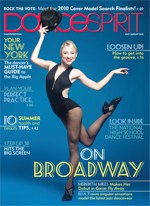 Meredith Miles,
July/August 2010
"Being on the cover gave me exposure to a large group of people I might not have reached otherwise. The media attention I received helped document an exciting time in my career."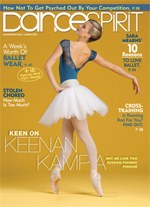 Keenan Kampa,
March 2012
"Being on the cover was such an honor. It afforded me the opportunity to reach a huge dance readership beyond the ballet world. The amount of support and encouragement I've received has been overwhelming. I'm leaving for Russia with a support system I never imagined."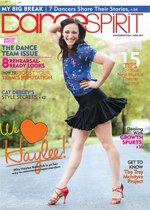 Haylee Roderick,
April 2011
"Being able to reach out to younger dancers, to inspire or guide them, is very rewarding. DS does an incredible job staying current with what's going on in the dance world—and it has the sweetest staff there is. [Editor's note: We're blushing!] Being a cover girl is an honor I will always remember and be proud of."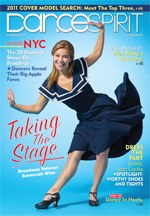 Savannah Wise,
July/August 2011
"My dancer friends from when I was young couldn't believe it. 'You're on the cover of what?!' was a pretty common response. When you're a performer, your work is primarily onstage. Since most of my family lives far away, it's really cool when I get to share what I'm doing with them from miles away. That cover is framed in my living room."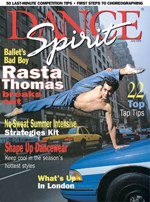 Rasta Thomas,
June 2000 and September 2007
"Dance Spirit reaches a younger generation of dancers as well as seasoned professionals, so being on the cover twice was exciting because that's what my show, Rock the Ballet, is all about. My wife, Adrienne [Canterna] (a DS cover girl in November 1998), and the Bad Boys of Dance are dedicated to sharing our love for dance around the world, and that's exactly what DS does. Keep doing what you're doing, DS—you're the best!"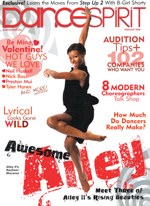 Rachael McLaren,
February 2008
"I was over the moon when I learned I'd been selected for the cover! It gave me the boost I needed to believe in myself. It also helped me realize how much support I had from family, teachers and friends who were proud of my achievements."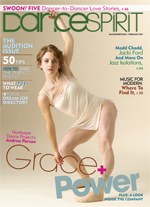 Andrea Parson,
February 2011
"My experience on the cover taught me that you don't have to be a perfect dancer to be on the cover of a magazine. You just have to be honest and happy with who you are and how you move."
Mar. 11, 2011 01:15PM EST
You may not know Haylee Roderick yet—but you will. Check out the dancers in High School Musical 3: Senior Year and look for the girl with big button eyes, wavy dark hair and a megawatt smile. Or watch an episode of "Glee"—20-year-old Haylee is the only dancer Vocal Adrenaline star Jesse St. James (played by Jonathan Groff) wanted to partner. She's not a leading lady yet, but Haylee is becoming L.A.'s go-to girl, and she has all the makings of a star.
Growing up training at a rigorous studio in Utah, Haylee started competing at age 8, and soon she was working with top commercial and contemporary choreographers, including Brooke Lipton and Justin Giles. She's hardworking and driven: When she's not dancing on set, she spends her days in classes at EDGE Performing Arts Center and Millennium Dance Complex, while taking college courses on the side.
Now, with a stellar support system (her parents encouraged her to move to L.A. at the ripe age of 18) and major Hollywood players (including "Glee" choreographer Zach Woodlee) doing everything they can to hire her, Haylee is on the brink of her big break. Read on for a peek at her road to commercial success.
Disciplined Early Dance Days
Being raised in Utah, a state that's flooded with competitive dance studios and top-notch teachers, Haylee had a bevy of opportunities from the start. She began dancing at age 6 at The Winner School in Salt Lake City. But one year later, Haylee's favorite teacher, Laura King, left to open her own studio, Pulse31, and Haylee followed soon after. "Those were the most intense dance training years of my life," Haylee says. "I danced from 4 to 9 pm every day to prepare for competitions."
King instilled a strong sense of discipline in her students. She held mock auditions during which she asked the dancers on-the-spot interview questions. "We were trained like professionals from the start," Haylee says. "We were there to get work done."
King, who brought in guest choreographers such as Dave Carter, Mark Meismer and Mandy Moore, remembers Haylee as a young dancer who was willing to try anything—even if she didn't get the hang of it right away. "She had a hard time nailing the tricks we used in our choreography, but she never lost her spirit," King says. "She stayed positive and was a great teammate. Even if she couldn't get a move, she would keep working at it and never brought the rest of the group down."
Trey Barber, who taught hip hop at Pulse31, also attributes Haylee's current success to her outgoing personality. "She was a leader from the beginning," Barber says. "Though she's too modest to admit it, Haylee was a role model to the other dancers at the studio."
Convention Connections
By the time she was 12, Haylee was a regular at competitions and conventions. At a Hollywood Connection event, Haylee met Brooke Lipton, a faculty member at the time and the current associate choreographer on "Glee." "Haylee was a little spitfire," Lipton says. "She came from a studio where perfection was expected. But Haylee had a little something extra—she had a special shine." Two years later Lipton hired Haylee to be her convention assistant. "The whole time I was dying for her to move to L.A. so I could hire her professionally," Lipton says.
At 15, Haylee's dance life shifted: King closed the doors of Pulse31. "Everyone started to do their own things after that," Haylee says. She continued assisting Lipton and auditioned for a spot in Dancing Under the Stars, an annual summer show in Utah put on by Kim DelGrosso, artistic director of Center Stage Performing Arts Studio. "I fell in love with the Center Stage girls," Haylee says. She joined the studio's competition team and stayed there through high school. "Dancing at Center Stage was eye-opening," Haylee says. "I was mechanically trained before that, always focusing on strict technique and cleanliness. At Center Stage, they were into contemporary, fluid movement. It was foreign to me." Haylee also gained a new mindset: "I learned how to be inspired by my classmates rather than compete with them," she says.
A Taste of the Professional Life
Dancing at Center Stage brought Haylee her first professional audition—and ultimately her first job. Through her industry connections, DelGrosso got Haylee, who was 16 at the time, an audition for a featured dance role in the Utah-based High School Musical 3: Senior Year. "I got to the audition and all the dancers there had been in the first two movies. They already knew the audition process," Haylee says. "I felt so out of place." After a week of auditions that included learning routines from the film, performing partner work and going through an interview round, Haylee got the call: She'd booked the job.
The five-month filming process was grueling, but it was worth it: Haylee is on screen in nearly every shot involving dancers, often in an East High cheerleader uniform. "Working on HSM opened my eyes to the whole behind-the-scenes world," Haylee says. "It was rewarding to watch the final product on screen."
When her senior year arrived, Haylee wanted to get involved with school before it was over. "I spent months in fantasy high school on set," she says. "I felt like I had missed so much in the real world." She was elected student body vice president, performed with her high school's dance team, joined a handful of clubs on campus, took honors classes and continued dancing at Center Stage. But HSM had lit a fire under her: "I made the most of my senior year in school but I knew what I eventually wanted to do full time," Haylee says.
Bright Lights, Big City
After graduating from high school, many dancers ponder the "college vs. move to L.A. or NYC" debate. For Haylee, there was no question. She'd already gotten a glimpse of a professional dance career and was ready for more. She graduated in May and moved to L.A. in September.
Luckily for Haylee, her parents were on board. "When it came time to apply for colleges or move to L.A., my dad said, 'This is your chance to live out your dream. Go do it.' " Still, when she got to L.A., Haylee experienced her share of culture shock. "You see Hollywood as this glamorous, fun vacation spot," she says. "But when you make it your home, you realize that everyone is here competing for the same dream."
The fast-paced city didn't discourage her, though. "I became a classaholic right away," she says. Haylee spent entire days at EDGE and Millennium taking classes with Mandy Moore, Nick Lanzisera and Jennifer Hamilton. And though she admits that ballet isn't her favorite style, she committed to adding ballet classes to her jazz and contemporary-heavy repertoire.
While Haylee had everything working in her favor—solid technique, discipline and commitment—the paying jobs didn't come immediately. She signed with an agency and started auditioning regularly, but quickly learned that she would need a side job. "I was used to having a set schedule," she says. "When I had free time, I didn't know what to do." Haylee and a friend took a catering job delivering organic lunches to a private school in Beverly Hills. The optimist in Haylee saw the best in the situation: "We drove the van, dropped off the lunches, then parked near fancy houses and ate the leftovers," she says. "I was getting paid and getting a free lunch!"
After a few months adjusting to her new lifestyle, Haylee was eager to spend time with her family back in Utah for the holidays. But after just a few days at home, she got a phone call from her agent. "She said, 'Happy New Year, are you available in two days? They want you for 'Glee.' " Haylee was on the next plane back to L.A.
Going "Glee"
At the time, "Glee" was in its first season and about to embark on a series of episodes featuring the Vocal Adrenaline show choir. They needed strong, technical, energetic dancers, and Brooke Lipton recommended Haylee for a spot. "She can dance for hours," Lipton says. "She's a powerhouse with so much strength. That's the kind of dancer we were looking to cast."
The first day on set, the dancers were told to pair up to learn the choreography for the "Highway to Hell" routine. Haylee asked the male dancer standing next to her to be her partner. Unknowingly, she'd chosen Jonathan Groff—a Broadway veteran and Vocal Adrenaline's lead. When it came time to film the scene, Lipton and "Glee" choreographer Zach Woodlee tried Groff out with three girls. But he wanted Haylee. "Jon said, 'I need Haylee. She's the one I want to partner,' " Lipton recalls. The two meshed so well that Haylee was brought back for two more episodes and spent four weeks performing across the U.S. on the "Glee Live" tour.
While the future of Vocal Adrenaline's presence on the show is uncertain, Lipton says Haylee needn't worry: "If they don't come back, we'll find a space for Haylee. She steals the screen."
Haylee Takes the Stage
As her career surges forward, Haylee is enjoying stints on screen and on the stage. She attended an open audition and was cast as a dancer at the 2010 Academy Awards, where she performed in the opening number. Dancing at the Oscars, Haylee had one goal: "I walked out on the stage, looked into the audience and saw all these recognizable faces—Brad Pitt, Sandra Bullock, Rachel McAdams. During my last pose, I wanted to make eye contact with Meryl Streep. I knew where she'd be sitting since I'd seen the seating chart during rehearsals. When I hit my final mark, I looked her straight in the eyes and she smiled back at me. It was the highlight of my life."
With all she's got going for her, we can't say we'd be surprised if someday Haylee's the one in the fancy dress, winking back at the dancers onstage.
Fast Facts
Birthday: November 1, 1990
Hometown: Sandy, UT
Most-played on her iPod: Florence and the Machine and Joshua Radin
Guilty pleasure: Baking. "I make everything: muffins, brownies, cakes. I'll throw things from my pantry together with chocolate and hope it comes out well!"
Favorite meal: Indian food
Favorite movies: "Currently Black Swan. Also The Breakfast Club, Garden State and Wayne's World."
Must-see TV shows: "Mad Men," "Glee" and anything on the Food Network
Who would play you in a movie? Rachel McAdams
Dance crushes: Zach Woodlee, Teddy Forance, Justin Giles and Tony Testa
Something people don't know about you: "I dominate on the drums in Rock Band!"
Dance idols: Brooke Lipton and Mia Michaels
Most memorable off-screen "Glee" moment: "Shooting the 'Bohemian Rhapsody' performance. It was so crazy behind the scenes—everybody
was getting hurt!"
Advice for readers: "Live with your eyes wide open. There's so much to see and do in this world. Don't judge yourself and don't regret anything—everything is a learning experience. Pursue your dreams and never give up."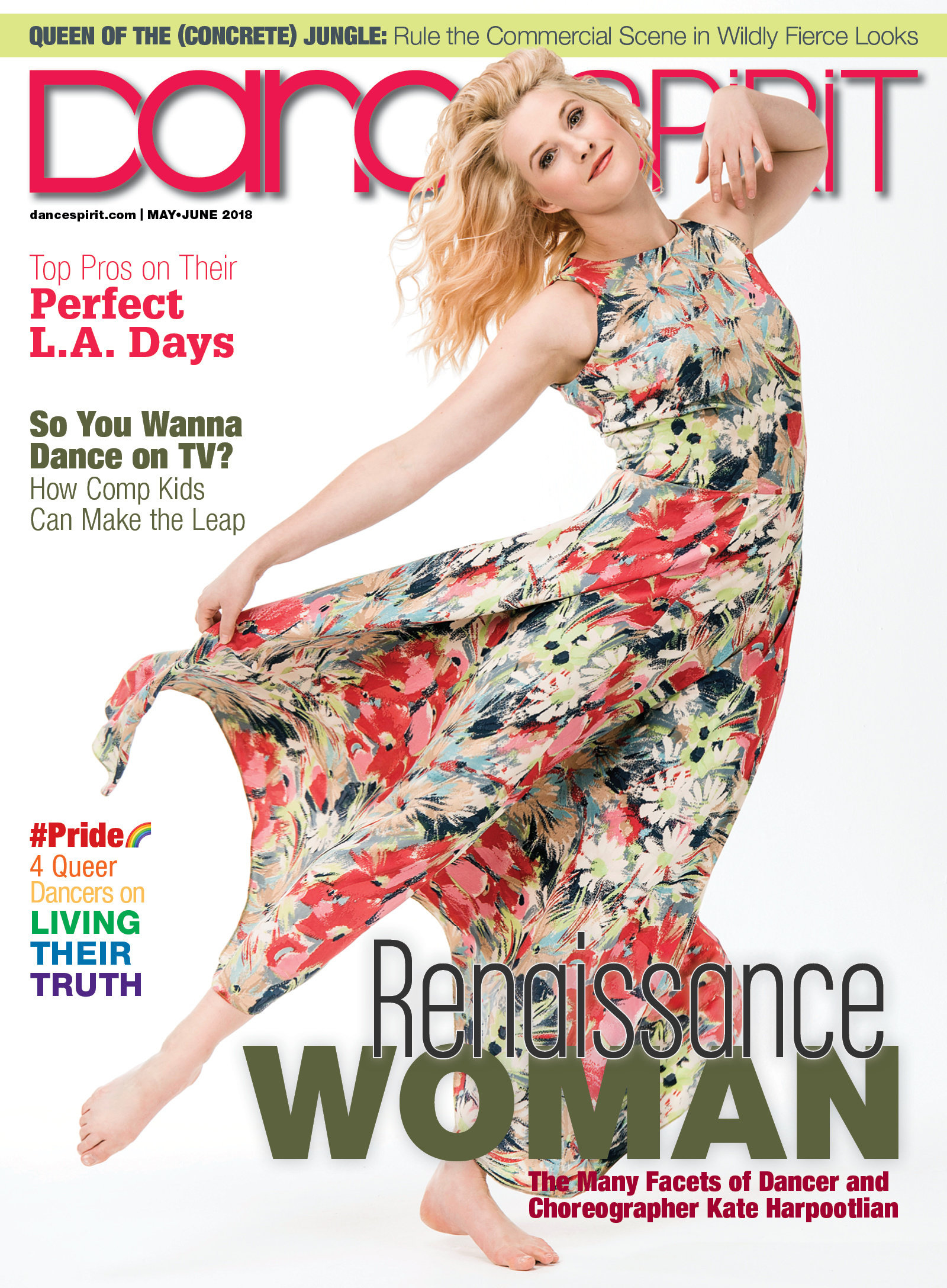 Get Dance Spirit in your inbox