DS health and nutrition expert Caroline Lewis-Jones brings you tips for eating well during the winter months.
The weather is freezing each night when you drive home from rehearsal, so you're probably craving warm, wintery foods before you go to bed. But instead of high-calorie, fat-filled comfort foods, try these healthier versions that will bring the same satisfaction.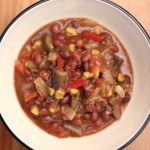 Instead of: Beef chili topped with sour cream, cheese and tortilla chips
Try: Vegetarian chili with beans and corn.
Beans are an excellent source of fiber and complex carbohydrates. If you want to add a meat protein, try some chopped rotisserie chicken or ground turkey breast, which have less saturated fat than beef. Use a scoop of plain low-fat Greek yogurt in place of sour cream, and add avocado for a healthy fat rather than cheese.
Instead of: A baked potato with butter, cheese and sour cream
Try: A baked potato with marinara sauce and steamed veggies on top
Marinara sauce is loaded with lycopene (which lowers your risk for cancer), and steamed veggies are a great source of antioxidants.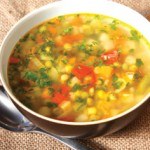 Instead of: Cream of potato or broccoli cheese soup
Try: Vegetable, miso or black bean soup
Broth-based soups are lower in calories and saturated fat than creamy soups.
Instead of: Cheesecake, pie or brownies
Try: A low-fat, low-calorie ice cream treat if you're craving something chocolaty. (Skinny Cow ice cream cones or soy ice cream with fresh or frozen berries on top are both good options.) Or just don't eat the crust.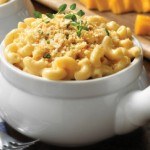 Instead of: Macaroni and cheese from a box
Try: Homemade mac and cheese with low-fat cheese, almond milk and an egg substitute like flax or chia seeds mixed with water. (For the equivalent of 2 eggs, boil 6 tablespoons water and 2 tablespoons flax or chia seeds. Stir a few times and let simmer.
Instead of: Pumpkin bread
Try: A piece of whole-grain bread, like
Ezekiel Bread by Food For Life, with pumpkin or apple butter on top.
Pumpkin bread can be full of sugar—you want bread that's high in fiber and made from sprouted grains.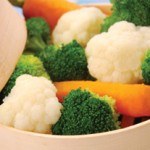 Instead of: Fried side dishes
Try: Steamed veggies or a baked sweet potato
Any time a food is fried, it's loaded with calories and saturated and trans fats.
Words to avoid:
crispy, fried, panko-crusted, creamy,
mayonnaise, gravy, buttered, pan-fried
Words to look for:
steamed, poached, grilled, sautéed, roasted, baked, broth-based
Caroline Says: Here are some of the most nutritious (and in-season) foods to eat this winter: pomegranates, apples, Brussels sprouts,
kiwifruits, leeks, oranges, beets and kale. Try my recipe for baked kale chips—they're delicious and healthy!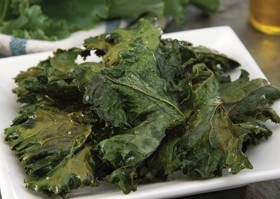 Kale Chips
Prep Time: 10 minutes
Cooking Time: 20 minutes
Ingredients:
•    1 to 2 bunches of kale
(a pre-cut bag from the grocery store works, too)
•    1 tablespoon extra virgin olive oil
•    sea salt and pepper to taste
Directions: Preheat your oven to 425 degrees. Remove the kale from its stalk, leaving the greens in large pieces, and put them in a zip-close bag. Pour the olive oil, salt and pepper into the bag and shake. Place the kale on a baking sheet and cook for about 20 minutes. Turn the kale over after 5 minutes and bake with the other side up. Do this a couple of times. Remove and serve.
Dance Spirit
has teamed up with health and nutrition expert Caroline Lewis-Jones to bring you advice about how to keep your bod in tip-top shape. Caroline is a seasoned performer (she's danced with *NSYNC, Britney Spears, Mia Michaels, Dee Caspary and many more!), a certified holistic health coach and a personal trainer—plus she's currently teaching for Adrenaline conventions. This month, Caroline explains how you can eat healthy during jam-packed convention weekends.
—Michael Anne Bailey

Caroline says: "Every weekend at conventions, I see dancers eating fast food, pizza and entire boxes of cereal. Come on dancers: Do yourself a favor and bring a cooler! You need to fuel your body and mind with nutrient-dense, whole foods for optimum energy. Here are some of the foods I love to pack before heading to convention."
Baked sweet potatoes (Cook them Thursday night, and then pack them for the weekend.)
Plain, low-fat Greek yogurt with almonds, flax seeds and berries
A sandwich-sized bag filled with whole-grain cereal (I love Kashi GOLEAN Crunch.)
Whole-wheat pasta tossed with some of your favorite veggies and marinara sauce (It tastes good cold!)
Whole-grain bread with almond or peanut butter and sliced bananas or apples on top (Sprinkle on some cinnamon for extra sweetness.)
A whole-wheat tortilla wrap filled with hummus, veggies and black beans
Raw almonds, walnuts, pecans and pistachios mixed with dried fruit
Single-serve hummus and pretzel packs (I love Sabra) and a bag of raw veggies for dipping
A container filled with your favorite fruits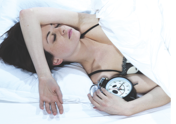 Choose to Snooze
According to a recent study at the University of Wisconsin—Madison, not getting enough sleep during your adolescent years does more than make you groggy. Researchers found that consistent sleep deprivation during your teen years may have long-lasting negative effects on the wiring of your brain. Yikes! According to the National Sleep Foundation, teens (ages 10–17) should be sleeping 8.5 to 9.25 hours each night. The next time you have an early morning rehearsal, get to bed early the night before and give your body the rest it needs. Your brain will thank you. —Michael Anne Bailey
Tanning Beds
It's January, you have a performance coming up and you're feeling pale and pasty.
The solution? Sunless tanning lotion—not the tanning salon. We've said it once (OK, maybe 10 times) and we'll say it again: tanning beds = danger. A new study published in
the Journal of Investigative Dermatology found that tanning beds might be causing even more harm than researchers originally thought. UVA1 rays (the kind most commonly used in tanning beds) penetrate a deeper layer of skin, making it more susceptible to the changes that cause skin cancer. Don't chance it. —MAB

Having a hard time remembering corrections from all of your various dance classes? Keep a dance journal. After each class, jot down any critiques your teacher gave you and review them before you take the class again.
Sign up for Caroline's free monthly wellness newsletter, here!
Prepping Your Face for Stage Makeup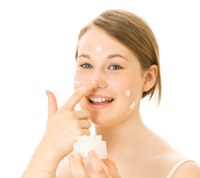 If you have a weeklong run of performances, you'll be applying a lot of makeup—and without the right preparations, it could lead to a major breakout. But don't fret! We asked Karen Armand, Pacific Northwest Ballet's specialty makeup supervisor, how to save your face from the havoc heavy makeup application can cause. —Stephanie Falkowski
Step one: Use a cleanser. Start with a clean slate by removing dead skin cells, excess oil and dirt from the skin.
Armand's pick: Aveeno's Clear Complexion Foaming Cleanser. It's hypoallergenic and soy-based, so it soothes the skin.
Step two: Apply a moisturizer. Lotion serves as a barrier between your skin and the makeup, keeping in moisture and minimizing irritation from any allergic reactions you may have to the foundation. If you're using a cream foundation, slather on a heavier moisturizer, but for a water-based foundation, use a lighter moisturizer. Moisturizer will make makeup removal much easier, too.
Armand's pick: Dr. Hauschka's Quince Day Cream for heavy moisturizing and Kiehl's Ultra Facial Moisturizer for lighter moisturizing.
Step three: Use powder to help keep the makeup set. With a flat powder puff—not a brush— press the powder directly onto your face in a blotting motion, so there's no smearing.
Armand's pick: MAC Blot Powder
Tip: The makeup-removal process is just as important as the prep because it keeps your pores from clogging. Huggies Natural Care Baby Wipes are perfect for quickly taking off makeup and sweat.
Do a trial run! Every dancer's skin is unique, so test several different products to find what works best for you.
Did You Know?
Visualization can help you eat healthier. In a recent study at McGill University in Montreal, Quebec, Canada, researchers discovered that people
who visualized the steps they were going to take to change their diets found themselves eating healthier than ever before. So, take a seat, close your eyes and ask yourself: "What healthy foods am I going to buy? Where am I going to buy them? How am I going to prepare them?" Then, put your plan into action. —Michael Anne Bailey
Homemade Heaven
Dying to have a facial but can't afford the hefty salon price tag? Try Armand's easy at-home steam facial to help soothe skin irritation from stage makeup. Fill a large pot with water and bring it to a boil. Place the pot on a sturdy table, then sit in front of it. Drape a large towel over your head and the pot and steam for 5–10 minutes. Be careful not to get too close—steam burns can be serious! Always keep at least six inches to one foot between your face and the pot.  —SF
Quick Tip: According to the Skin Cancer Foundation, your risk for melanoma doubles if you have more than five sunburns in your lifetime—yikes! So if you're planning a little fun in the sun, be sure to slather on the sunscreen first.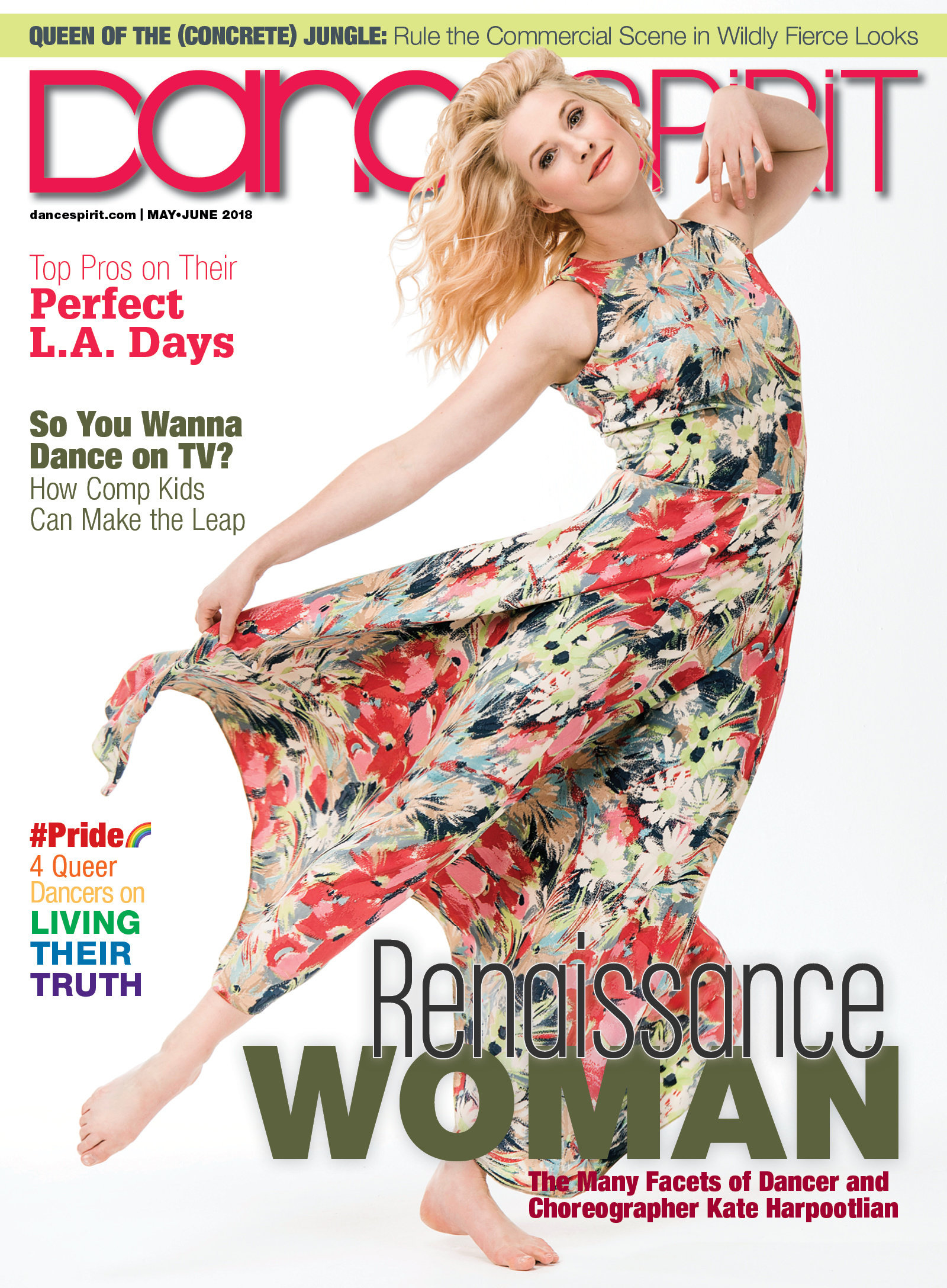 Get Dance Spirit in your inbox