Higher heels can be ideal for elongating your line and showing off your legs. (Courtesy Shai Yammanee)
From Chicago to Kinky Boots, heels are a necessity for musical theater dancers. But lots of factors go into choosing the right character shoes, especially when it comes to heel height. Ultimately, it's all about figuring out how to feel confident, so you can rock every step—from high kicks to leaps.
Keep reading...
Show less
Jayme Thornton
In our "Dear Katie" series, former NYCB soloist Kathryn Morgan answers your pressing dance questions. Have something you want to ask Katie? Email dearkatie@dancespirit.com for a chance to be featured!
Keep reading...
Show less
Mar. 01, 2014 09:47PM EST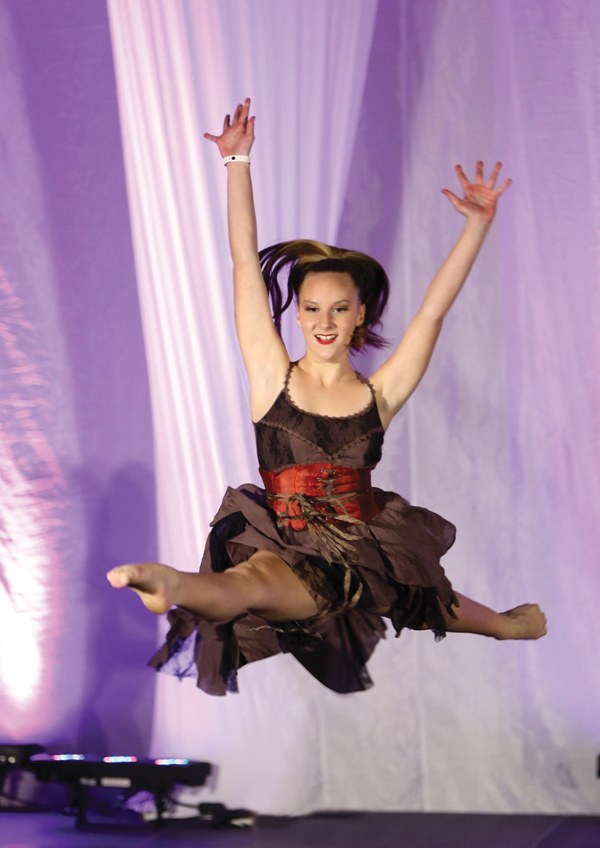 Schuyler Gieringer of Michelle Latimer Dance Academy company may have flaws, but you'd never guess—because she's making sure you can't see them. (Photo via evolvephotovideo.com)
Baby, you were born this way! Even though not every dancer has the "ideal" build, all dancers can learn to make the most of their natural attributes. Here's how to improve the things you can change—and camouflage the things you can't.
Turnout Troubles
A lot of us can relate to Center Stage's not-so-turned-out Jody Sawyer. The best way to maximize turnout is to work on rotating from your hip joints. "Think about the way you roll your shoulders from front to back," says Josie Walsh, artistic director of both Ballet RED and the Joffrey Ballet School Summer Intensive in San Francisco. "Our hips are rolling joints, too." Picture your legs rolling outward from the hips to achieve your maximum natural rotation.
You can also improve slightly on natural turnout. Try Walsh's turnout-strengthening exercise: Lie on your left side with your knees bent. Keeping your feet together, lift your right knee as much as you can without opening your right hip. Do 50 reps, then repeat on the other side.
Flexibility Flaws
You can get bendier—but you can't cheat your way there. "We all want to have extension right away, sometimes at the sacrifice of correct technique," says Yvette Tucker, who trained with the Joffrey Ballet and Hartford Ballet. If you don't have great flexibility now, "bring your leg lower so you can turn out from the hip," Tucker says, which will build strength in the right muscles. Every line looks better when your leg is turned out, and maintaining proper placement from the beginning will help you hold higher extensions correctly later on.
While stretching daily will improve your flexibility, Julie Webb, who teaches at the Michelle Latimer Dance Academy in Greenwood Village, CO, often sees dancers make the mistake of forcing their muscles during stretches. "Dancers will sit on the floor in straddle position, and even if their stomachs are nowhere near the ground, they'll push their chests down so their knees rotate in"—which can cause injuries. Don't focus on an "end goal" while stretching. Instead, try to slowly and steadily improve from your starting point.
The Long and the Short of It
There's no way to change your height, but there are ways to make your height work for you. Tucker is 5' 3", but she has found that dancing powerfully makes her look like an Amazon. "I learned how to cover space and book it from one side of the stage to the other," she says. "I may be small, but I've proven I can move as big as someone whose stride is twice as large as mine." If you're vertically challenged, think about sending energy out through the ends of your feet during grand allégro, and creating more expansive port de bras by opening your chest and back.
Smart dancewear picks can also help you stand tall. Tucker has learned how to trick the eye by wearing tights the same color as her pointe shoes, which makes her legs look longer. Three-inch character heels have also come in handy: "Those extra inches of leg line really help."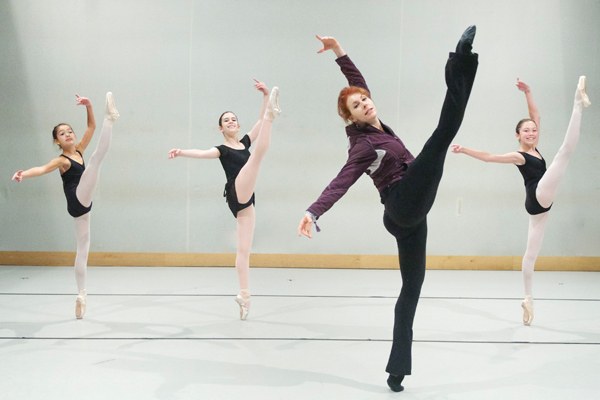 Josie Walsh teaching at the Joffrey Ballet School San Francisco summer program. (Photo by Jody Q. Kasch)
Walsh had the opposite problem in her dancing days: She was 6' 2" on pointe and felt she was always "apologizing for being tall." But slouching draws attention for the wrong reasons—and when it comes to line, tall is beautiful. It wasn't until Walsh embraced her height that everything started to gel: "When I started dancing larger than life, the world started responding."
Moving quickly, however, can be a challenge for tall girls. Speed starts at the barre, where you build the fast-twitch muscles that get you through crazy petit allégro combinations. Imagine an elastic between your inner thighs, which rebounds after each tendu or dégagé. You'll find that will eventually help you pick up the tempo in the center.
Off On the Right Foot
Everyone wants beautifully arched feet, but what happens when things fall "flat"? The issue isn't easy to fix, but it's also not a dealbreaker. "Even if you stretch your feet as much as you can, there's only so much you can do," Webb says. "The key is making them look like they're better than they are."
The way Webb and her dancers accomplish that is through strategic angles and movement choices. In arabesque, a little bit of winging—rotating the ankle joint slightly, so the toes point upward—can go a long way. Shoe choices are also crucial. Webb tells dancers with poor feet to avoid bulky jazz shoes and instead choose shoes like Elastosplits, which emphasize the arch.
When working with dancers at the Joffrey Ballet School summer intensives, Walsh advises dancers to focus on strengthening as well as stretching their feet: "Stretching is helpful, but you should immediately follow stretching with Thera-Band exercises." When it comes to staying injury-free (and technically solid), strong feet are a dancer's best friend.
The Bottom Line
Sometimes the things you see as weaknesses are helping you become a stronger dancer. "People who have limitations have to work harder to be articulate with what they have," Walsh says. "They use their legs and feet with more wisdom than people who have everything naturally, because they've analyzed every movement." And remember: Audiences don't applaud good feet—they applaud great dancers.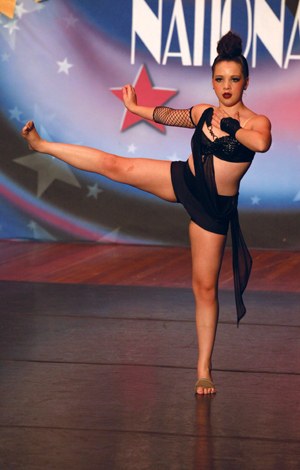 Hannah Epstein performs her solo, "House of Pain," at Starbound.
Paul Taylor Dance Company member Aileen Roehl is 5' 2" with powerful, strong legs. But growing up training in ballet, she felt lost in a sea of tall, slim ballerinas. After one summer program audition, she was in the director's office and caught a teacher pointing at her rear end. "I turned around and said, 'I know!' " she says. "I knew I had a larger butt—I didn't need the reminder."
So how did Aileen learn to embrace what made her different? "I learned to look at skinnier girls and think, I'd love to have her legs, but maybe she doesn't have the strength I have," she says. "What some people see as a flaw makes me the dancer I am." Now, as a professional, she loves her body: "I wouldn't be able to jump as high without my muscular legs," she says.
Having an unconventional body in the dance world isn't easy. You may have to work harder than your peers to be taken seriously. You may lose out on certain roles or jobs. You may get negative comments from peers and teachers. And even if you're in a nurturing environment, you may occasionally wish you looked like everyone else.
But while there are still standards for appearance—especially in professional ballet—the dance landscape is changing. You can be compact, muscular, curvy or even plus-sized and still find a place in the dance world. Here, an array of student and professional dancers share thoughts on having a body that doesn't fit the traditional mold.
The Criticisms
The pressure to be thin comes from all sides in the dance world. Sometimes it's from classmates. Fifteen-year-old Gabriella Leutzinger, who dances at Ballet Elite Dance Studio in Margate, FL, describes herself as "muscular, but not overweight," and remembers an embarrassing time in fifth grade when a fellow dancer "told me not to sit on a chair because I'd break it."
Teachers can also make you feel bad—intentionally or not. "I'm short and I have a swayback, and I didn't know how to use my abdominals properly for a long time," says Alden LaPaglia, who trained at the School of Richmond Ballet in Virginia growing up and is now an independent performer and choreographer in NYC. "My favorite teacher [at SRB] used to joke that I'd had a big brunch before Saturday ballet. It wasn't mean-spirited, but I became very self-conscious." Seventeen-year-old Page Burns trains at Eastern Connecticut Ballet with former New York City Ballet soloist Gloria Govrin. "I'm taught that the Balanchine 'ideal'—tall and thin with long legs—is the correct body," she says. "But I'm 5' 3" and have big breasts. Even though I get soloist parts, it's a struggle not to compare myself to that model."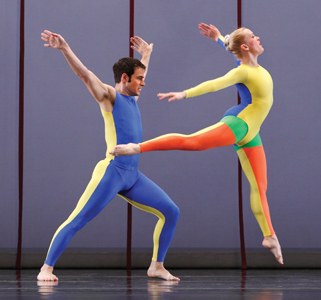 Aileen Roehl performs with fellow Paul Taylor Dance Company member Robert Kleinendorst. (Paul B. Goode)
Other times, parents can get in on the criticism action. If a parent in your studio is commenting on your body, follow the example of 12-year-old Hannah Epstein, a student at Stars Dance Studio and dancer on "Dance Moms: Miami." "I have a wider body type," she says, "and if people think it matters, that's their opinion. When the moms on 'Dance Moms: Miami' talk about [my body], I don't listen to them. I'm doing what I love—dancing."
The Dreaded Costume Fittings
Beyond the vocal criticisms, there's the nightmare of every dancer with an unconventional body: costume fittings. Eighteen-year-old Shannon Riley, who studies at Rockford Dance Company in Rockford, IL, recently performed in Cinderella. "All the girls in my class had costumes from storage, but they had to build a new one for me," she says. "They'd never needed a costume for someone busty!" L.A.-based performer and choreographer Justine Menter even remembers having to duct-tape her breasts down to fit into high school drill team costumes.
Sarah Hay, who dances with Semperoper Ballet in Dresden, Germany, developed breasts around age 13. Now a slender 5' 4" with a D-cup, Sarah struggled to feel comfortable in skimpy costumes. One of her lowest points coincided with a dream come true: She was thrilled to be cast in William Forsythe's In the middle, somewhat elevated with Pennsylvania Ballet. Then she saw the spaghetti strap leotard she'd be wearing. "I was horrified, and so uncomfortable," she says. "Even though the costume people built in a bra for me, I was crying before the show. I almost let it ruin my experience of performing that great ballet."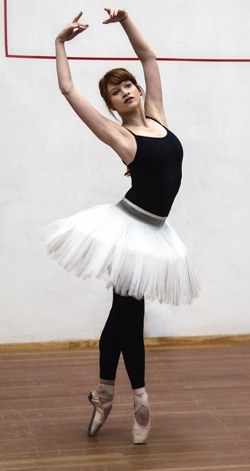 Sarah Hay in rehearsal (Ian Whalen)
The Change in Perspective
When you internalize external pressure—direct, implied or imagined—you might be tempted to take drastic steps to change your appearance or your feelings. Sarah admits that at times in her student and professional career, she wasn't eating properly or taking care of herself.
So how can you learn to accept your body as it is? Start by focusing on your strengths. In some instances, your body itself might be an asset. When Sarah appeared in the corps de ballet in the movie Black Swan, the production team loved that she looked feminine and highlighted her in several scenes. When Justine moved to L.A., she found herself auditioning alongside other dancers who had curves. "I've been able to create my own niche in L.A.," she says. "People in the commercial world want to see real women dancing." Justine also launched her own dance company, FLiRT, which accepts dancers of different ethnicities, body types and dance backgrounds.
It might take trial and error to find your place in the dance world. That may mean changing studios: Short and curvy 16-year-old Eleora Pasternack left her hard-core
ballet studio after fifth grade, saying, "They definitely had visions of a certain body type." She's now at Mass Ballet in Framingham, MA, where, she says, "Whether you have the 'right' body or not, whether you're going to be a professional dancer or not, you're trained the same way."
It took several world-class ballet academies and two professional company slots before Sarah found happiness in Dresden. "There is no 'type' here," she says. "There are girls who have figures and who are still extremely fit and beautiful. My director likes how I look, and I get a lot of compliments about appearing feminine and sensual onstage. Now I wear spaghetti strap leotards all the time!"
The Acceptance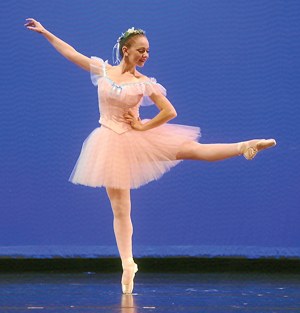 Page Burns performs a ballet solo. (Thomas Giroir)
Finding your place might also mean looking outside your genre. "With my strength, modern dance was natural to me," Aileen says. "You tend to have more body types in modern than in ballet." Alden also shifted her focus from ballet to modern, and then added musical theater to the mix. "My height is still an issue for theater, except for teenager roles," she says, "but my body doesn't hinder me the way it would have in ballet. And I've explored other things, like singing and acting." Meanwhile, Gabriella came into her own in contemporary class. "I wanted to be a ballerina, but I'd see people onstage who didn't look anything like me," she says. "In contemporary, I see dancers who look like me, and I think, 'I can do that.' "
There's no one-size-fits-all secret to finding success with a nontraditional body—or to learning to like your body and respect what it has to offer. It takes hard work, as well as a willingness to adapt and put yourself in new situations. It helps to have a supportive training environment. And perhaps there's an older girl in your studio who inspires you; Hannah looks up to a senior at her school who has a similar body. Or maybe you're built like Melanie Moore, Misty Copeland, Donyelle Jones or another talented, successful dancer who isn't pin-thin but still rocks onstage.
"You can't expect your body to turn into something it will never be, but you can work on it and improve your dancing until you find the right aesthetic for you," Sarah says. "The dance world needs art and artistry, more than another cookie-cutter body."
Changing What You Can, Living With What You Can't
You have no control over your height or how fast you build muscle. Other physical aspects are more open to change. The trick is knowing what you can and can't alter.
"You can do a lot with conditioning," says dancer and choreographer Alden LaPaglia. "When I found Pilates in college, I grew stronger and improved my alignment, which made me look longer and leaner."
If you have large breasts on a petite frame, the only real way to change that is to have breast reduction surgery—and that's not a decision to be made lightly. It's also individual to every dancer. L.A.-based dancer and choreographer Justine Menter had a breast reduction in high school. "Before, my chest hurt when I ran, and I had to wear two bras to rehearsal," she says. "I was self-conscious all the time. After the surgery, I had more confidence—and I'm still curvy, just proportionate." Ballerina Sarah Hay considered breast reduction surgery for several years, and was even told by one teacher to have the procedure done, but ultimately decided not to. Now, at Dresden's Semperoper Ballett, her curves are accepted and appreciated.
"Before, I was looking for any way to strap down my breasts and hide them,
but now I think I look fabulous," she says.
Did You Know? 
American Ballet Theatre soloist Misty Copeland is launching a new line of dancewear, M by Misty, designed with curvy women in mind! For more: mbymisty.com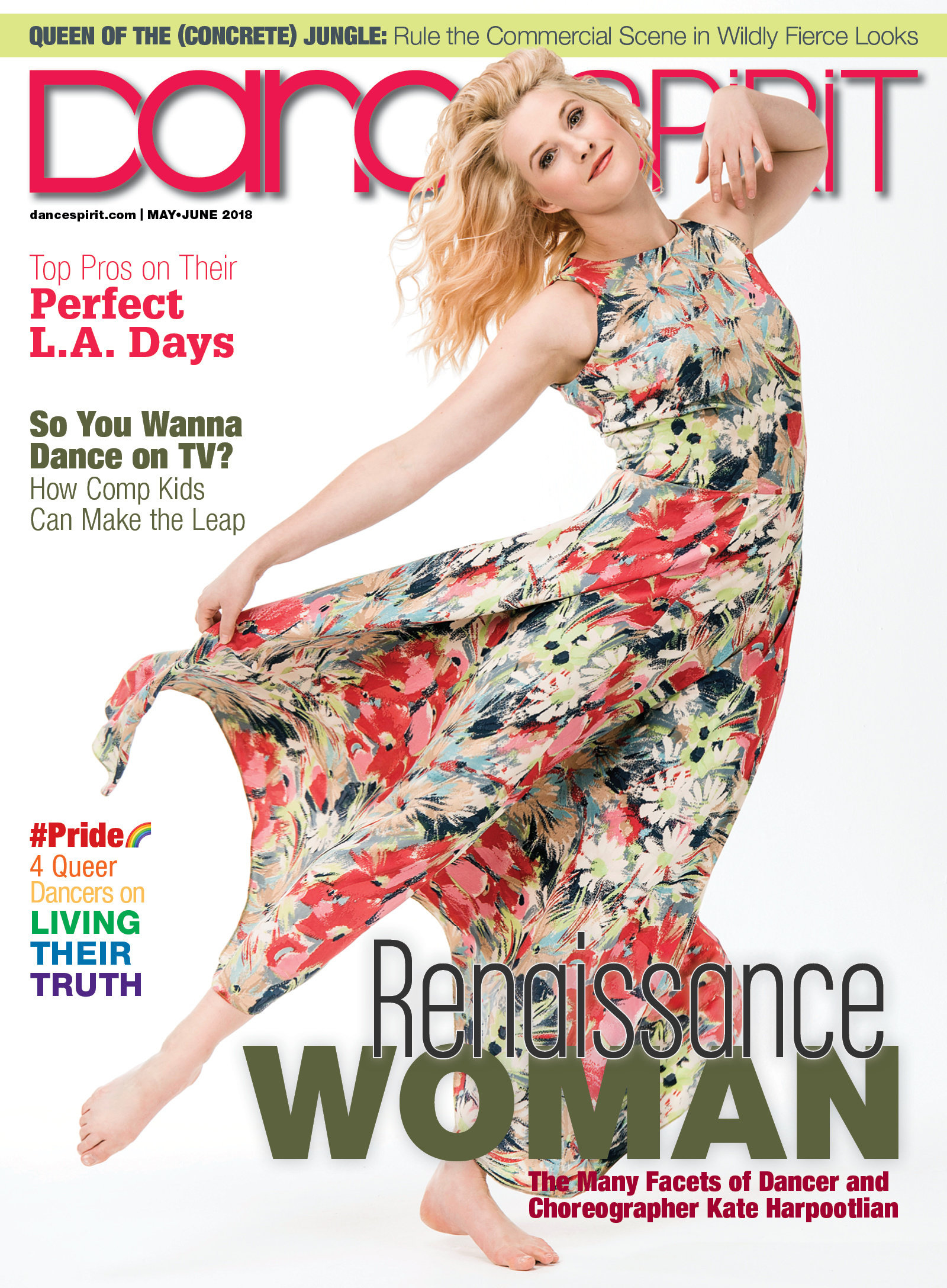 Get Dance Spirit in your inbox