It's an indisputable fact that the Radio City Rockettes never look bad. (I mean, these ladies can even work it in toy soldier costumes.) But we've become so accustomed to seeing them dolled up in holiday-themed costumes—candy stripes, snow flakes, Santa suits and the like—it was hard for us to imagine what their looks for the New York Spring Spectacular might be.
Whelp, we are sooo not disappointed. The show that seems to have brought out all the big guns enlisted three top fashion designers—Diane Von Furstenberg, Zac Posen and Isaac Mizrahi—to each create one look for the Spring Spectacular's ode to New York Fashion Week. High fashion + dance is always a good thing, and we're thrilled to see the two worlds collide outside of ballet. (If you're listening, fashion gods, that doesn't mean we don't want more ballet couture collaborations. Please keep those coming, too. #neverenough)
You can check out the three designs below, but if you'd prefer to see them in person, we've got some fantastic news: It's still not too late to enter our New York Spring Spectacular ticket giveaway for the March 27 performance. Or, if you'd rather guarantee your spot in the audience, you can purchase tickets using the discount code DANCE and save 20 percent. You've got options!
Performances run through April 12 at Radio City Music Hall in NYC. Click here to enter the March 27 ticket giveaway, or here to purchase discounted tickets.
All slideshow photos by Angela Cranford/MSG Photos.
[portfolio_slideshow nowrap=0 thumbs=true timeout=4000 showtitles=true showcaps=true showdesc=true]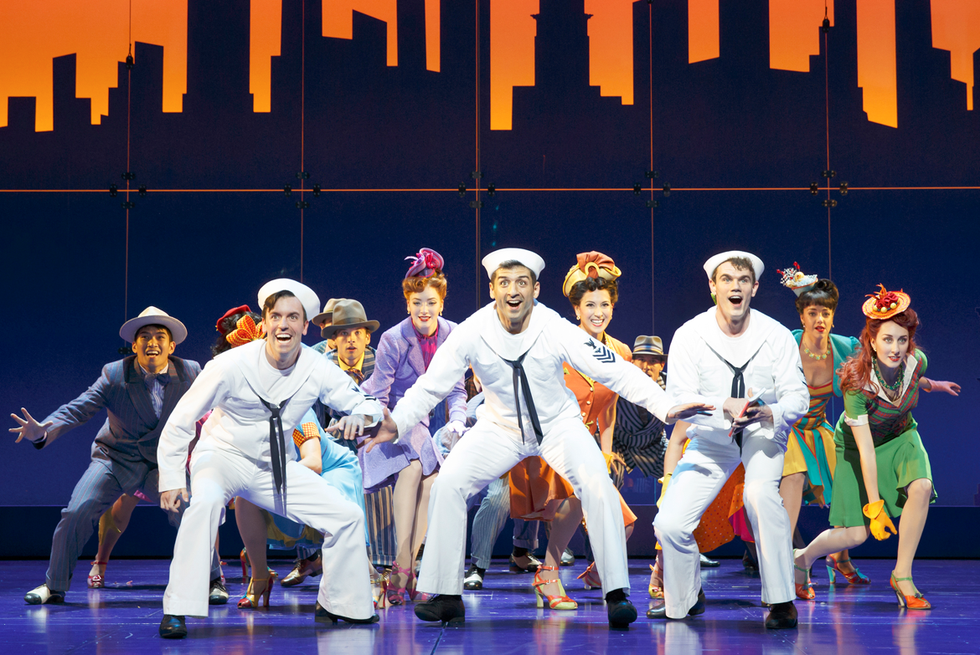 (Photo by Joan Marcus/Matt Ross Public Relations/AP Photo)
Just last weekend, we raved about the high-fashion designs for the Rockettes in New York Spring Spectacular. We were psyched to see couture designers get inspired by a style of dance besides ballet. Whelp, folks, when it rains it pours. This week we were treated to an equally delicious array of high-fashion shots, modeled by the dancers of On the Town on Broadway.
For those of you who don't know the basic premise of this gloriously dance-filled musical, here's a brief summary: The plot centers on three American sailors during World War II, who have a 24-hour leave in NYC—and they each have very different ideas of how to spend their time. (They eventually agree on searching for the beautiful Megan Fairchild...I mean, Ivy Smith.)
So how would the story go if it took place in 2015, instead of 1944? That's the question that drove this high-fashion photo shoot. Photographer Matthew Murphy, art director Mitch Dean and stylist David Withrow captured a night out on the town in contemporary NYC.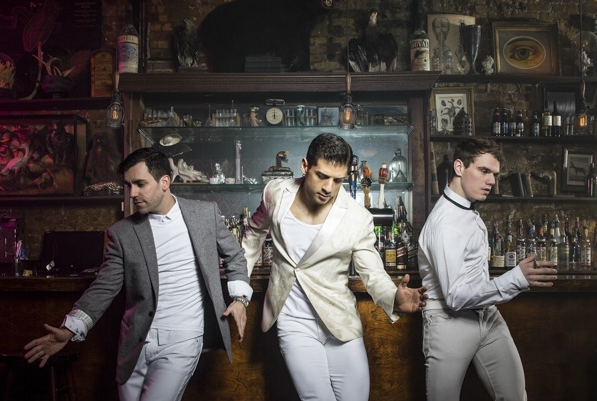 OTT's (L to R) Clyde Alves in a button-down and longsleeve t-shirt by J Crew, Tony Yazbeck in a jacket by Raz Keren and a tank by Hugo Boss and Jay Armstrong Johnson in a button-down by Raz Keren (photo by Matthew Murphy)
OK, they were clearly going for a fantasy version of 2015 NYC nightlife, but we'd love to believe the dancers of OTT really dress like this on their nights off. Also, we're convinced they probably show of their high kicks at the bar(re)...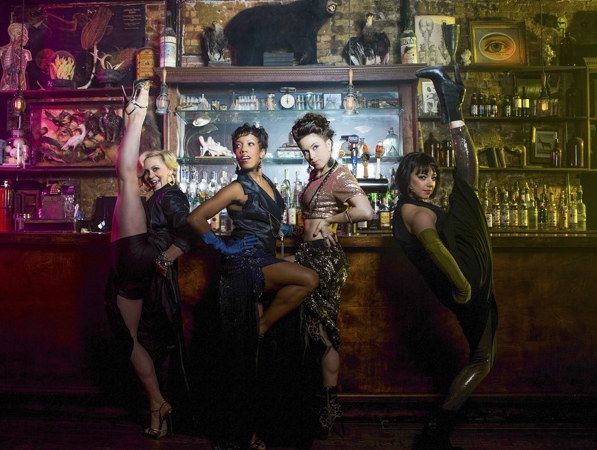 OTT's (L to R) Eloise Kropp, Tanya Birl, Holly Ann Butler and Lori Ann Ferreri (photo by Matthew Murphy)
...and that they make intelligent choices when it comes to interesting doorways (oh hey, Samantha Sturm, looking fab as always).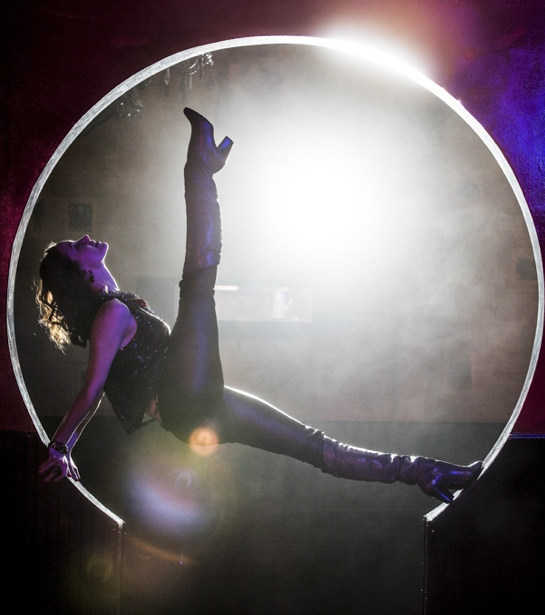 OTT's Samantha Sturm (photo by Matthew Murphy)
Scroll through the whole gallery here, then check out a behind-the-scenes video from the shoot below.
Sometimes a girl wants to dream about wearing a stunning couture gown. Sometimes a girl wants to dream about wearing a radiant tutu. And sometimes that girl is a New York City Ballet dancer and she gets to live both dreams at once, wearing tutus designed by couture houses.
As usual, New York City Ballet gets to have all the fashion fun. The company regularly collaborates with high-fashion designers who create costumes for gala performances and premieres. (Joseph Altuzarra, for example, designed costumes for the 2013 premiere of Christopher Wheeldon's A Place for Us, and this past spring, Dutch designer Iris Van Herpen crafted some dark and glittering costumes for Benjamin Millepied's Neverwhere.) It makes sense that dancers would inspire people who make art objects for the body.
To our delight, Mary Katrantzou is designing costumes for NYCB's 2014 Fall Gala, along with other fashion rock-stars, including Carolina Herrera, Valentino, Thom Browne and Sarah Burton, the creative director for Alexander McQueen.
Check out one of Katrantzou's sketches for Justin Peck's fall NYCB premiere. Her website describes the principal man's costume as a "lace bodysuit" (!) and the tutu as translucent. We can't wait to see the real thing!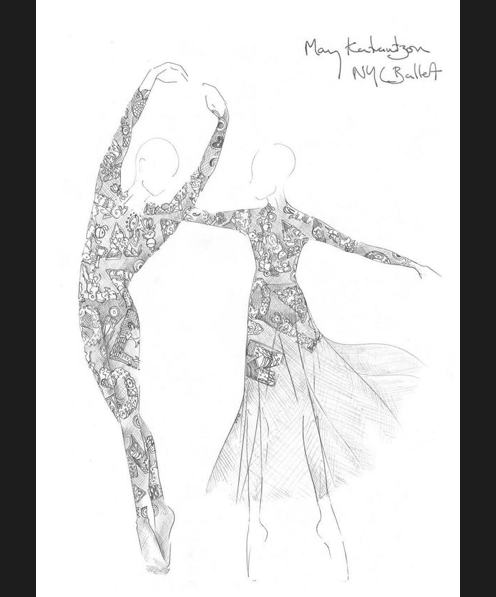 Mary Katrantzou for the New York City Ballet
NYCB's fall gala will be September 23. For more info and tickets, visit nycballet.com.

Shopaholics, consider yourselves warned. What we're about to show you may be too much for you to handle.
Just last week, NOWNESS (an online platform that posts daily content about some aspect of luxury lifestyle—art, fashion, travel, food, design, etc.) posted a video short entitled Mine All Mine, with choreography by Italian Paolo Mangiola. The video features five stunning contemporary dancers from Sadler's Wells Theatre in London, England, modeling pieces by top fashion designers like Louis Vuitton, La Perla, Kenzo, Bottega Veneta, Haider Ackermann, Rick Owens and Maison Martin Margiela. In the video, the dancers move in and out of the clothing, seamlessly swapping items as they dance throughout the space.
But here's the dangerous part: This video is an interactive, "shoppable" video. Basically, this means that you can click on the clothes you like as the dancers move in them. Then, when you're done watching the video, you can go back and review the items you selected. AND BUY THEM.
If you dare to watch the interactive version of the video, click here. But if you don't trust yourself, here's a "safe" version of the video, where you can just enjoy the stunning visuals of dance and high fashion without the shopping temptation: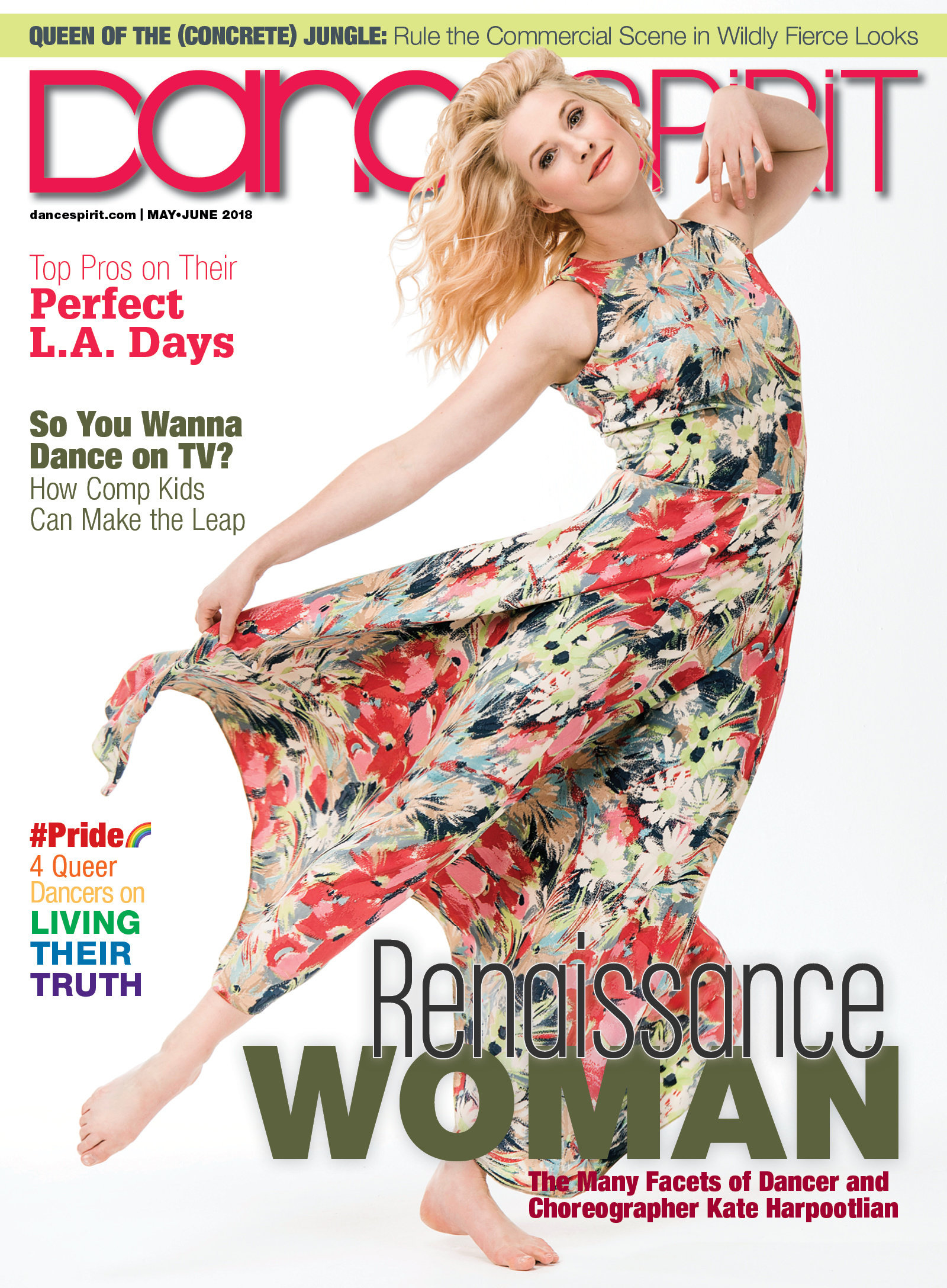 Get Dance Spirit in your inbox