Feb. 04, 2019 05:07PM EST
Apr. 17, 2018 03:25PM EST
Photo by Lucas Chilczuk
Watch Kate Harpootlian discuss her dance idols and her transition from dancer to choreographer in an exclusive interview with Dance Spirit.
Dancer to Dancer
Feb. 09, 2018 02:54PM EST
Molly Long (photo by Lee Gumbs, courtesy Long)
Molly Long is the rare prodigy who grew up to be even more brilliant. At the ripe old age of 16, Long (now 25) took charge of the minis at her home studio, Dance Precisions, in Southern California, leading the team to big wins at Nationals. It wasn't long before she was traveling the country to choreograph and teach. Long's infectiously musical, explosive yet clean style has been seen on "Dance Moms," "America's Got Talent," "Abby's Ultimate Dance Competition," "Raising Asia," and at New York Fashion Week. Since 2015, Long's been touring with Revel Dance Convention and growing her Orange County–based company Project 21. Read on to find out where Long finds inspiration for her many winning numbers. —Helen Rolfe
Dancer to Dancer
Feb. 05, 2018 03:48PM EST
Skyler Semien on set of the hit film Pitch Perfect 3 (courtesy Lance Semien)
Take a good look at Skyler Semien, because she's an up-and-coming commercial dancer who's primed to take Hollywood by storm. A freshman at Georgia State University, the former competition kid has already appeared in her first feature film, Pitch Perfect 3, and has two more movies in the works.
How did this dancer end up in one of the biggest films of the year? Semien says it started with her dance training. Studying everything from ballet to contemporary, Semien started competing when she was only 6 years old. But in high school, she realized hip hop was her ticket to the commercial world, and decided to shift her focus. Soon, she'd signed with Bloc talent agency, and as a senior in high school, she was cast as one of the "new Bellas" in Pitch Perfect 3.
Though Semien's found success in show biz, don't expect her to drop everything and move to Hollywood. The multi-talented dancer is keeping her options open as she concentrates on getting her education. "Dancers are no longer just dancers; they're entrepreneurs, creative directors, musicians and actors," she says. And she believes education will breed the skills she needs to pursue those kind of opportunities.
We chatted with Semien about why she thinks so many dancers are pursuing additional careers beyond the dance world.
Dancer to Dancer
Jan. 12, 2018 02:44PM EST
Mandy Moore (photo by Lee Cherry, courtesy Bloc Agency)
In the dance world, Mandy Moore has long been a go-to name, but in 2017, the success of her choreography for La La Land made the rest of the world stop and take notice. After whirlwind seasons as choreographer and producer on both "Dancing with the Stars" and "So You Think You Can Dance," she capped off the year with two Emmy Award nominations—and her first win. Dance Magazine caught up with her to find out how she's balancing all of her dance projects.
Dance News
Oct. 13, 2017 12:08PM EST
If you've ever seen a Janelle Ginestra class video, you know how lit her combos are. What you don't see in those clips is how devoted Ginestra is to her students. We went behind the scenes at one of her sold-out IMMA SPACE classes to see Ginestra in her element, mentoring some of L.A.'s most talented dancers. It was an inspiration feedback loop.

All photos by Joe Toreno.
Dancer to Dancer
Oct. 11, 2017 10:59AM EST
Much of Janelle Ginestra's career has been about helping others shine. She's dedicated herself to supporting and cheerleading her partner, WilldaBeast Adams; the emerging talents in their dance company, ImmaBEAST; and the countless dancers she inspires at master classes and conventions. Her YouTube channel has become a launching pad for young talents like "Fraternal Twins" Larsen Thompson and Taylor Hatala, thanks to viral videos featuring Ginestra's creative vision.
But Ginestra's a skyrocketing success in her own right—an in-demand choreographer, a social media influencer, and a dance entrepreneur, building a legacy one eight-count at a time. It's time for her turn in the spotlight. And she's more than ready. "I want to be a legend in whatever I do," she says. We'd argue that she already is.
Cover Story
Oct. 04, 2017 03:37PM EST
Photo by Be More Media, courtesy Jose Ramos
Jose Ramos' resumé reads like a VMA attendance list: Jennifer Lopez, Chris Brown, Ciara, Diddy, Rihanna, Nicki Minaj and Beyoncé have all enlisted his incredible skills as a choreographer and dancer. With clientele like that, it's no wonder that Ramos goes by the nickname " Hollywood." But while his life sounds like a fairytale now, Ramos had to work hard to end up in the "happily ever after" stage of his story.
Dancer to Dancer
Sep. 01, 2014 10:01AM EST
Ever feel like the college dance world is geared exclusively toward concert dancers? There's a brand-new school on the horizon for those seeking a dance degree with a slightly different vibe. Relativity School, based in L.A., will offer one of the few commercial dance BFAs in the country. The school will have a strong academic foundation, and business classes will supplement top-notch technical training.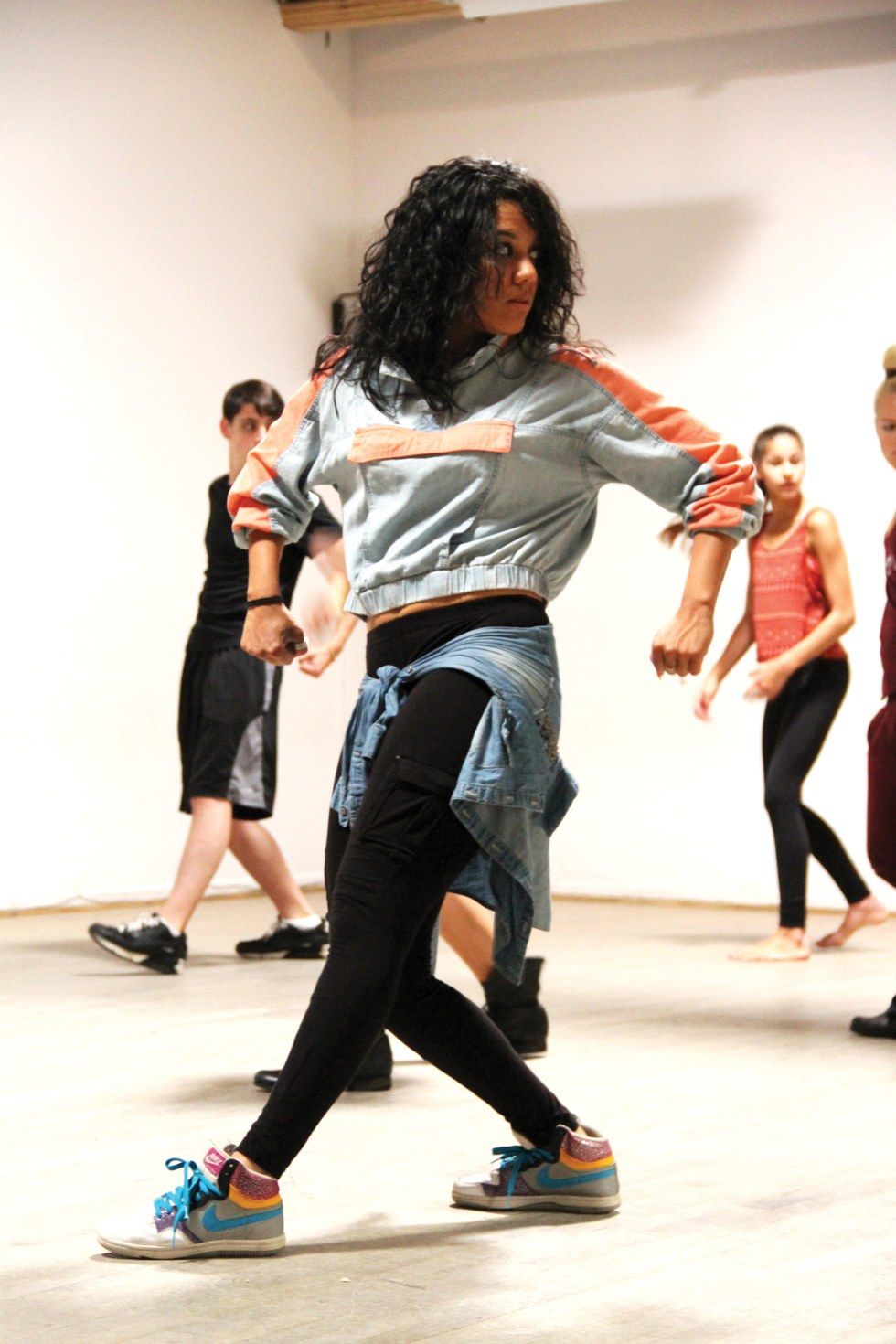 Students at Relativity School's summer workshop (photo by Camila Ohara Tanabe)
Relativity School will have its own space at the L.A. Center Studios in southern California, where classrooms will be next door to film and television production studios. The program has also partnered with McDonald/Selznick Associates talent agency to develop courses to teach students how to market themselves. "As much as you train your technique, you need to train in how to brand yourself," says co-founder VP Boyle.
Boyle plans to make use of MSA's impressive talent roster, which includes celebs like Mia Michaels and Dave Scott. "MSA was instrumental in figuring out the dance program," he says. "Some of today's best directors and choreographers will be on faculty, and our guest choreographers are through the roof."
Nov. 14, 2012 10:20AM EST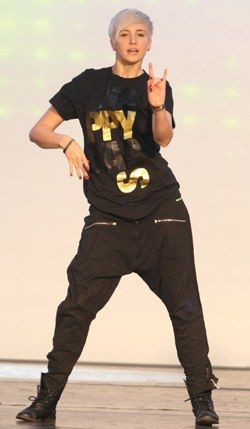 Aimee Otte performing at The PULSE On Tour, where she was first spotted by her eventual agent.
You hear stories about now-famous actors and models being "discovered"—but does that happen to dancers, too? As Aimee Otte can attest, the answer is an emphatic "yes." She got her big break last year at The PULSE On Tour, where she was competing for the Elite Protégé award. After her audition, Otte was approached by Clear Talent Group's Shayna Brouillard, who later extended an invitation to sign with the agency. Since doing so, Otte has snagged a recurring spot on "Glee" as a member of the Cheerios and performed with Rihanna at the 2012 MTV Video Music Awards. (She got Elite Protégé, too!)
"I'm from a small town, so just being at The PULSE in NYC was huge for me," says Otte, who hails from Brunswick, GA, and now lives in L.A. "I never thought I'd get an agent. You dream, but in the back of your mind, you don't know if it's possible. When Shayna approached me, my dreams got a master plan."
Getting an agent can shoot your career to new heights. But how do you land on an agency's radar? DS spoke with several agents to get their top tips.
Getting One
Like Otte, many dancers make valuable connections on the competition and convention circuit. According to Steve Chetelat of Bloc, agents are often tapped to judge or speak at conventions and will scout for new talent during that time. "I'll keep my eye on dancers until they graduate high school if I've judged them in a competition," he says.
Also, don't discount choreographers and instructors. Go 2 Talent Agency co-owner Terry Lindholm says teachers will often refer talented dancers to agencies. "Thank the choreographer after a convention class and introduce yourself to the assistant," says Lindholm, who also worked at McDonald/Selznick Associates for eight years. "Then ask, 'Do you have five minutes to talk to me about L.A. or NYC? Do you have an agency recommendation?' "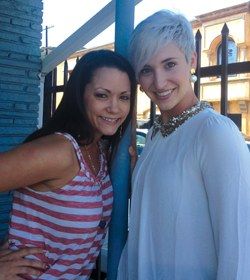 Aimee with her agent, Shayna Brouillard of Clear Talent Group
Open auditions are another way to break in, as most dance agencies hold at least one annually. This year, Bloc's summer audition in L.A. attracted more than 600 people, of which 25 were signed. "We split the dancers into two groups based on age and we have technical and hip-hop auditions," Chetelat says. Dancers are judged on ability, stage presence and look, and they do across-the-floor progressions, choreography and freestyling. "It mirrors an actual industry audition," he says.
Though it may seem like L.A. and NYC are the only places to get representation, that's not the case. According to Chetelat, Bloc has a third office in Atlanta which reps dancers from Nashville and Florida. "Cities like Dallas, Houston and Cincinnati have big commercial markets," Lindholm adds. "If your town doesn't have a dance agency, seek out a commercial agency nearby." A commercial agency may not have a dance division, but its agents can help prepare you for larger industry opportunities and get you audition experience.
Online representation is another viable option. Four years ago, Elena Grinenko, who has been a professional dancer on "Dancing with the Stars," created Grinya Talent Agency, which accepts dancers from all over the world via the internet and creates online profiles producers can use to search for suitable talent. "If you send us your resumé, we'll review it and put you on our site if we think you're a fit for future jobs," says agent Miranda Eldridge. Grinya agents have placed dancers on Michael Jackson's THE IMMORTAL World Tour and "DWTS" spin-offs in France and India.
No matter how you plan to break in, do your homework first. Most agency websites will provide information on what they're looking for and how to submit your materials—so read it all thoroughly before you reach out. It's also smart to see which choreographers and dancers are with the agency, so you can gauge the success level of its clients. And always confirm that the agency is reputable—Lindholm suggests consulting the Association of Talent Agents (ATA) website or the SAG-AFTRA website for union-approved agency listings.
Choosing One
You got an offer to sign with an agent—now what? First, explore your options. "Meet with at least three agents before making a final decision," Chetelat says. "See what relationship would be best. Don't settle for something just because it's in your lap."
Otte says she considered several agencies before signing with Clear Talent Group. "When I met with CTG's agents, I felt the connection—they made it feel like a family," she says. "I'm very religious, and they respected my values, which is hard to find."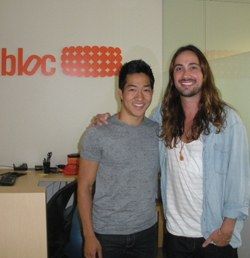 Alex Wong with his agent, Steve Chetelat of Bloc
Once you find the right fit, make sure you understand what you're signing. At Bloc, dancers sign a one-year exclusive contract for all movement-based work and can renew annually; at Grinya, dancers don't get a contract unless they're booked for a job. By signing, you generally agree to give the agency a standard commission (no more than 10 percent at Bloc unless negotiated with your agent) on every job you book—no matter who finds it. "A misconception with dancers is that if they find a job on their own the contract doesn't apply, but the agent should always do the deal," Chetelat says.
Keeping One
It's essential to remember that the work doesn't end once you sign with an agency. Maintaining a healthy relationship with your agent is key to long-term career
success. "I firmly believe it's 50/50 teamwork," says Lindholm, who reps Kathryn McCormick, Lauren Gottlieb and Anya Garnis. "It's our job to get you in front of people while making sure you're protected and paid on time. It's your job to work hard, meet as many people as you can and build a reputation for being professional."
Staying in close contact is another must. Dancers are expected to be available for auditions, keep an agent abreast of their schedule and return calls and emails in a timely manner. "The only time we drop a client is when he or she isn't communicating with us," Chetelat says. "That's the biggest factor that can break down the agent/client relationship."
Finally, remember that an agent is looking out for your best interests. (After all, if you succeed, so do they!) Chetelat says dance agents will often help their clients tweak their look to fit into the L.A. or NYC scenes, find the right headshot photographer and give referrals for everything from physical therapists to dermatologists. "A lot of what we do exceeds the normal agent role for actors and other professions," Chetelat says. "It's a business relationship, but we work together to achieve success."
Get Dance Spirit in your inbox
Nov. 11, 2012 07:00AM EST
L.A. is awesome.
Although the Dance Spirit offices are firmly rooted in midtown Manhattan, we're lucky because we get to make a few trips out to the west coast each year—and my favorite place to go to spot rising dance stars is Hollywood.
It makes sense, of course: Dancers hoping to make it big in the commercial industry flock to L.A., where they can take classes at top studios like Millennium Dance Complex and EDGE Performing Arts Center, and they're exactly where they need to be for major auditions (just a 2-mile, 3-hour trip on the 405—silly L.A. traffic).
Also located in L.A.: Many of the country's top dance agencies. And those agencies are always looking to show off their dancers and choreographers.
Want to check 'em all out? Make your way to Boulevard3 this week!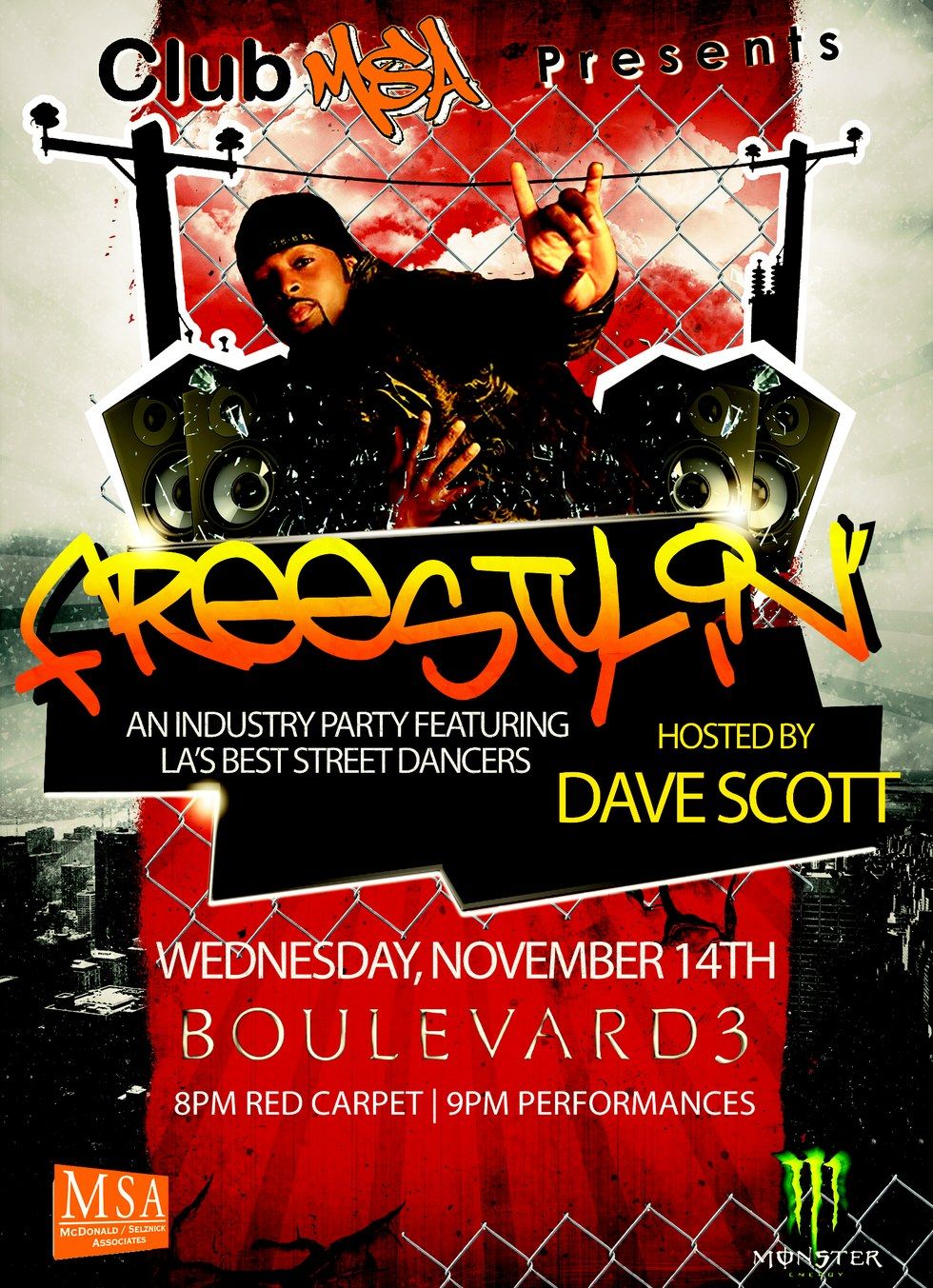 McDonald/Selznick Associates, a renowned agency representing some of the dance industry's leading hot shots, is holding a must-attend event on Wednesday, November 14. They're calling it Freestylin' and it's being dubbed as the first-ever dance industry jam.
Want to go? Here's what you need to know:
The event is open to the public, but you must be older than 21 to attend (sorry non-legals—the event is being held at a club).

The night will basically be a dance party. MSA is taking its street dancers and giving them a stage to perform on. In other words: A massive show-off-fest with rockin' dancers doing all their best moves.

The people watching will be off the charts. Keep your eyes peeled for Simon Fuller (of XIX Entertainment), Carrie Ann Inaba (the "middle judge" on "Dancing with the Stars"), Duane Adler (writer of the Step Up series) and Dave Scott, who will be hosting the event.

Dress to impress. In addition to the dance world celebs, there will be plenty of VIPs strolling the red carpet. Think TV, film and commercial directors, casting directors, producers, music managers and tons of major working choreographers.
Have a blast!
Dance News