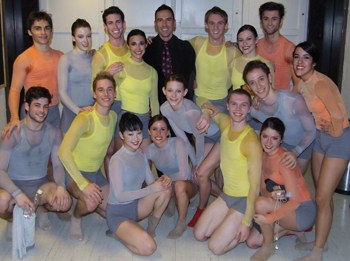 Kyle Robinson (bottom row, left) and Brandon Cournay (top row, fourth from right) with their Juilliard class
Brandon Cournay and Kyle Robinson are pretty similar. They both grew up in small towns, moved to NYC to attend The Juilliard School, received their BFAs in Dance in 2009 and went on to have majorly successful dance careers. They also both learned early on that being a male dancer comes with a lot of stereotypes. 
Brandon is gay. Kyle is straight. Even though that difference hasn't changed the way they dance, it's affected their lives as dancers. Their stories don't represent every gay or straight male dancer, but they're real. And Brandon and Kyle agreed to share them with DS.
"I'm Gay" —Brandon Cournay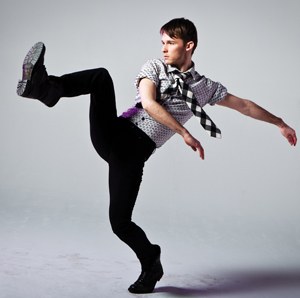 Brandon for KEIGWIN + COMPANY (Matt Murphy)
As soon as I bought my first pair of Capezio jazz sneakers, I was hooked on dance. I was 10 years old, and I'd wear my dance shoes to school instead of tennis shoes. Yes, I was kind of a weird kid, but I'd found something to look forward to every day.
School was terrible for me. I was constantly being pushed into lockers, and kids would call me "gay" just because I was a dancer. I felt very alone. But I never tried to defend myself, and I didn't tell anyone about the bullying—not even my parents. I was called gay so frequently I started to wonder, "Am I gay?" when I was still too young to comprehend what that actually meant. I didn't know anyone in small-town Walled Lake, MI, who was gay and could have told me it was OK.
Every day at four o'clock, I found solace in dance class. I was lucky to go to a studio with a lot of boys. It was unspoken, but we knew we were all going through the same thing at school, and that bonded us.
For the last three years of high school, I had a girlfriend. It's hard to explain: Looking back, I knew at that point that I was gay. But at the time, I didn't realize it. I was too afraid and embarrassed to acknowledge it, even to myself.
My girlfriend and I were still dating when I started college at The Juilliard School in NYC. Suddenly, I was meeting people my age and older who were openly gay and totally cool with it. But I was confused through my whole freshman year. I was constantly worried I wasn't acting straight enough. I was going crazy thinking, What do I do? What is this feeling?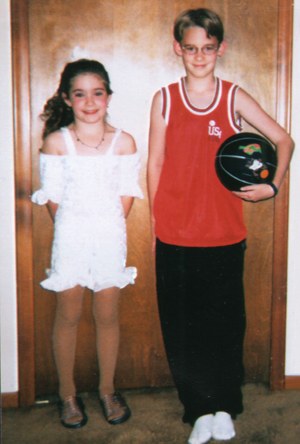 Brandon, with his sister, in his first dance costume
I had a breakthrough when I went back to Michigan the summer after my freshman year. I was acting like a different person back home than I was at school, and I finally understood why. I realized and accepted who I was—a gay man. I felt like a new person, starting over at the age of 19. In a way, it was terrifying.
I never officially came out to my family or friends. There was no big announcement—I just stopped hiding it. When I talked about it with my mom, she just said, "I love you. You're amazing." To this day, I still haven't come out to my extended family. I feel like I don't have to. I know they know, but I don't want it to define their perception of me.
After college, I stayed in NYC to audition for roles in both commercial and concert dance. I performed in the Radio City Christmas Spectacular and did some gigs with Mark Morris. Then Larry Keigwin—who'd choreographed Runaway on my class during my senior year—emailed to say his company was doing Runaway again and he needed extra dancers. I took the job, and the next season I officially joined KEIGWIN + COMPANY. Larry's work expands what it means to be a male dancer. For example, Mattress Suite features a love triangle between three men. This company feels like home. These dancers are my family.
As a whole, the dance community in NYC is an open one. But that doesn't mean I don't struggle with the stereotypes that come with being a gay male dancer. There's this idea that we're all promiscuous and flamboyant. Sure, some men act like that, but not all of them.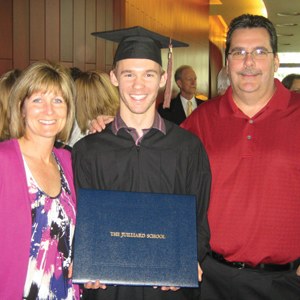 Brandon with his parents at his Juilliard graduation
When I go back home to Michigan, I'm still self-conscious about how I dress and act. I don't wear skinny jeans to the mall. I'd rather put on a sweatshirt and "mom jeans" to avoid being called names. In August, I ran into someone from high school in my hometown. I said, "How are you?" and he said, "What's up, homo?" That still hurts.
Luckily, experiences like that are rare these days. One of my closest friends, who's straight, just visited me for my birthday, and I'm going to another friend's wedding next week—my first gay wedding. My sister recently started a serious relationship, which sparked a conversation between my mom and me. She asked, "Why don't you ever talk to me about your relationships?" I was like, "I didn't think you wanted to know!" She surprised me. When I meet the right person, I'll bring him home to meet my parents.
Overall, I don't think being gay has affected me professionally in a negative way or a positive way. Gay or straight, we're all just dancers.
"I'm Straight" —Kyle Robinson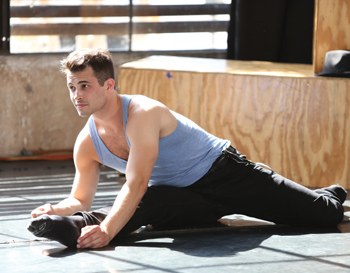 Kyle Robinson (Tyler Golden/Oxygen Media)
I loved acting as a kid, especially musical theater, so when I was 10 my mom suggested I join my sister at the dance studio. My dad would've liked me to stick to baseball and football. But as soon as I took my first dance class, sports became secondary. It took about a year before my dad really started to understand and accept my dancing. By the time I stopped playing sports altogether to focus on dance, my parents had become my biggest fans.
When anyone gave me a hard time at school for being a dancer, I had ways of dealing with it. If someone called me names like "gay" or "fairy," I'd say, "Is it gay that I'm hanging out with lots of hot girls after school?" That would shut them up.
I had my first girlfriend at 14—a dancer at my studio. But I'd never really given my sexuality much thought. My hometown, Duxbury, MA, was conservative. Things like that just weren't discussed.
It wasn't until starting college at The Juilliard School that I really thought about what it meant to be gay or straight. I felt surrounded by gay men. I think I was one of two straight men in my class and one of five in the division. I suddenly had friends who were questioning their sexualities or coming out for the first time.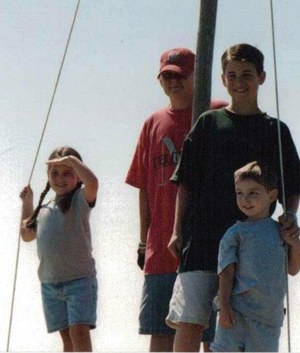 Kyle (third from left) with his family
It felt like there was a big gay party I wasn't invited to. I even wondered, "Am I gay because I dance? Or because I can admit that that's a good-looking guy?" It didn't take long to realize that, while I loved my male friends, I wasn't interested in them in a romantic way. At first, I was uncomfortable changing in front of gay guys in the dressing room. But once I got to know the people I was dancing with, there was so much mutual respect that it wasn't a problem. They knew I was straight, and we wouldn't make a big deal out of each other's sexualities.
I realized how far I'd come when some friends from home visited me in NYC. I brought them to a party with all my dancer friends. In the elevator, I warned them, "No matter what, don't say anything like 'homo' or 'fairy' at this party." We stepped off the elevator, and the first person we saw was one of my gay friends—this tall, gorgeous black man—wearing a tiara and running toward me screaming, "Kyyyle!" My friends from home were in shock. But I loved how out and free people were at Juilliard. I'm glad they didn't feel the need to conceal it or feel guilty about it.
Still, I found myself hanging out with actors rather than dancers at school. There were more straight guys in that major, and we'd watch sports and meet girls together. I don't think I realized exactly what I was doing, but there were definitely times I went out of my way to "prove" I was straight. The side effect was that I was a little promiscuous with the ladies.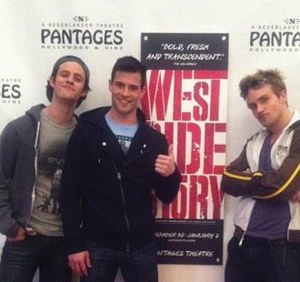 Kyle (second from left) at the L.A. premiere of West Side Story
Since graduation, I've danced with Aszure & Artists and Lar Lubovitch Dance Company, traveled with the first national tour of West Side Story and starred on the reality show "All the Right Moves" with Shaping Sound. I've seen how quickly people judge professional  dancers. I'm told all the time I look more like a hockey player that a dancer, which I think stops people from automatically assuming I'm gay. Still, after I tell people what I do for a living, they'll ask, "So are you gay or straight?" Nowadays it doesn't hurt my feelings.
While filming "ATRM," we had two straight guys (Teddy Forance and me) and two gay guys (Travis Wall and Nick Lazzarini) living in one house, and the producers had us talk about sexuality to no end. I'm pretty matter-of-fact about it, but I have to admit, discussing it constantly made me a little uncomfortable—mostly because it really wasn't an issue for us. I loved living with those boys. Yes, Nick liked to get a little frisky with me; he's definitely grabbed my butt once or twice. But a firm punch to the arm usually dissuades him from doing it again. I know he's doing it in a playful way. And frankly, I find it flattering that he spends so much time throwing admiration my way.
My advice for any boy who loves to dance, regardless of whether he's gay or straight, is to follow his passion. And definitely don't let other people rain on your parade.
Being a teenager can be tough. On top of working to improve your turnout and grand jetés, you're learning to balance schoolwork, friends, family—and those crushes on the boys and girls in your life. As dancers, you already use your bodies as instruments, so you may be even more keenly aware of your physicality and all the accompanying sensations that come with those new feelings.
So what happens if you find yourself attracted to your best friend, who, like you, is a girl? Or you can't stop daydreaming about that adorable guy who stands in front of you at the barre—and you're a boy? Same-sex feelings are a natural part of growing up, and may not be indicative of homosexuality—a lot of teens (most, even!) have them at some point. (Likewise, just because you're a male dancer doesn't mean you're gay.) But what if you're pretty sure you're only attracted to the same sex?
Take heart—you're not alone. Research shows that between 2 to 10% of the population is gay, with a higher incidence in the dance world. Dance Spirit talked to five gay and lesbian dancers about negotiating the road to discovering one's sexuality—and how to help a friend who's trying to come out of the closet gracefully.
Feeling different
Young gay and lesbian dancers often sense that their sexual feelings aren't in sync with others. "You can be in grammar school and know you're different, but you just don't know what it is yet," says Nancy Tricamo, a faculty advisor at the NYU School of Social Work and a therapist. Former Paul Taylor Dance Company star Patrick Corbin, who's now artistic director of CorbinDANCES, fought his homosexual feelings throughout high school, even pretending to have a girlfriend. But when he was 22, his body rebelled: He broke out in hives. "I knew it was time to do something about it," he says.
Often, gay and lesbian teenagers think they're the only ones going through the mental and emotional processing of same-sex attraction, which can feel alienating, especially in a time when "fitting in" is of utmost importance. Rule of thumb: Recognize what you are feeling and acknowledge it as real. The emotions never lie.
What Do I Do if I'm Gay?
Seek out support and find someone to talk to about your feelings; there are lots of people out there. Choreographer Ben Munisteri, who heads NYC-based modern company Ben Munisteri Dance Projects, says that gay adolescents—particularly those outside urban areas—need a support system of friends and teachers. "You need to verbalize your feelings with someone you trust," he says, even though talking about it may prove to be a challenge.
If you are comfortable talking to members of your family, start there. For some families and communities, coming out proves to be relatively uneventful: Choreographer Sarah East Johnson, who runs NYC-based LAVA, a dance-theater-acrobatics company for six women, recognized her lesbian identity and embraced it from a young age. When she came out to her family at 19, it wasn't a big deal; nor was fitting into the liberal East Village scene when she started her NYC career. Some family members might be more receptive than others: As a teenager, Munisteri found it safer to come out to his siblings before telling his parents a year later.
"The first people I came out to were my straight female friends," Corbin says. "For support, you need to go to your nearest and dearest—the people you can be honest with." When you find someone who is empathetic, don't shut down. If a friend is mean or disrespectful, you don't need her in your life.
You might find it helpful to talk to a trusted adult. You can start with your dance teacher; nearly everyone in the dance profession has worked with someone who is gay. If you don't have someone in your direct circle you feel safe with, school counselors are often trained to be sensitive to homosexual issues.
For long-term self-identity issues, Tricamo urges finding a therapist "who is accepting and encouraging of who you are." If you can't find anyone to talk to, there are plenty of gay-straight alliances, websites and gay hotlines (see sidebar). Just make sure you trust the person with whom you want to discuss these sensitive issues.
Role models and community
In this era of "Will & Grace" and "The L Word," gay men and women are no longer hidden from view. Seek out role models in and outside the dance world. Choreographers Mark Morris and Bill T. Jones made a huge impact on Munisteri when they came out and talked about their sexuality without shame. "It takes a lot of work for a young person to consider the idea that being gay isn't a character flaw," says Munisteri. These two successful men served as role models and strengthened Munisteri's convictions as an artist and as a person.
Once Corbin came out, he found the support from his gay and straight colleagues was overwhelming. The dance world, as a whole, isn't as uptight about gay issues as, for example, corporate institutions; coming out is often easier in an artistic environment. Both Munisteri and Johnson communicate freely with company and non-company members who are gay. And all three choreographers came out in The Advocate, a national gay and lesbian magazine, to serve as role models for dance's next generation.
Thousands of dancers have struggled with their emotions around the complex issue of sexuality. Just take this advice to heart: Know that you are not alone in feeling same-sex attraction, find a supportive person to talk to and seek out a community that can help you. In the year 2007, there is no need to suffer without help.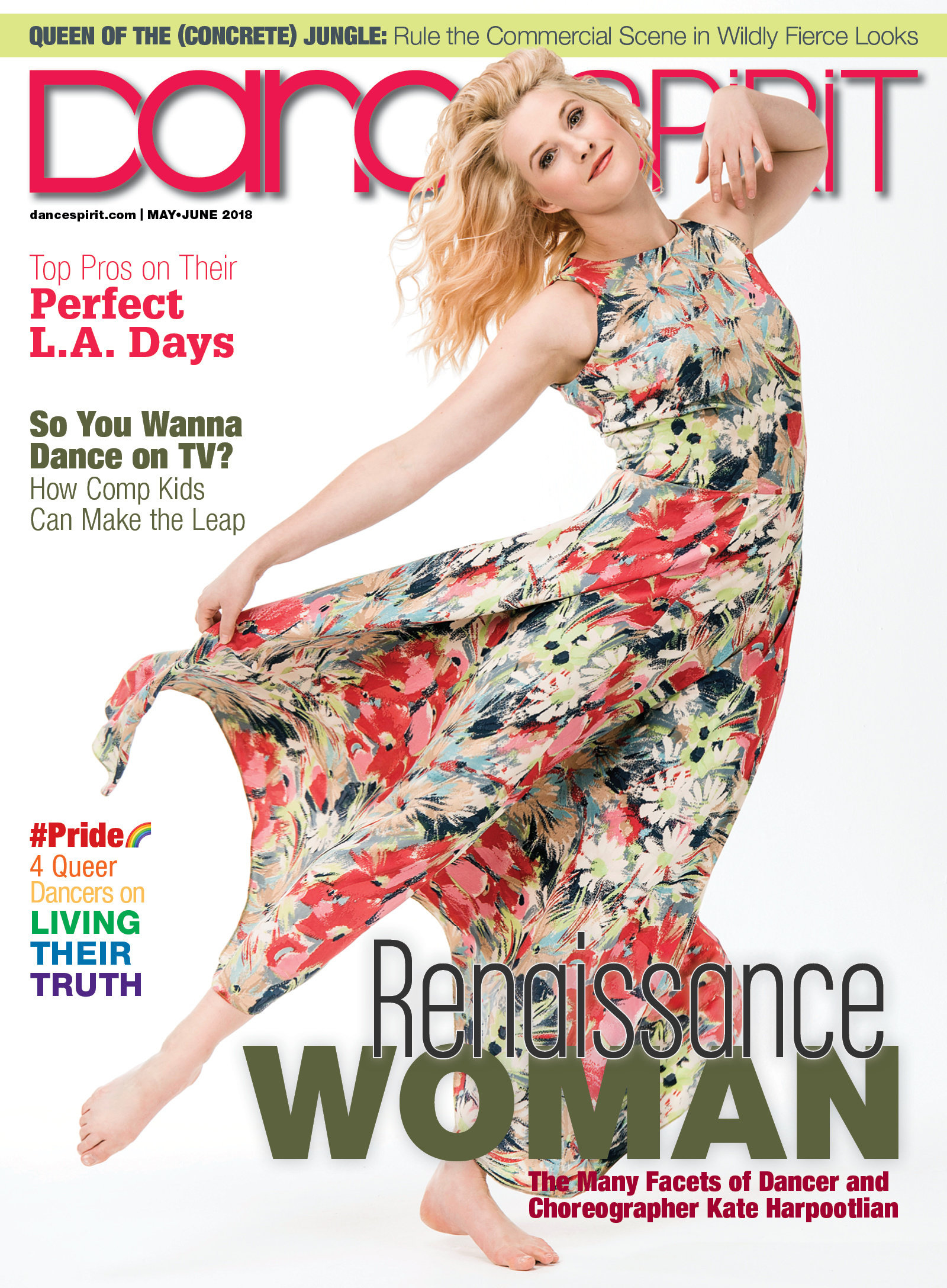 Get Dance Spirit in your inbox