Nov. 16, 2018 11:40AM EST
Butler is also a choreographic fellow at Hubbard Street this season. Photo by
Lindsay Linton
, courtesy of Butler.
When I was just a little peanut, my siblings and I used to find scrap paper and use them as tickets to our makeshift dance performances at family gatherings. They were more like circus shows, really, where my brother was the ringmaster, and my sisters and I were animals; we dove through imaginary flaming hoops and showcased our best tightrope acts with the suspense of plummeting into an endless pit of sorrows. This was my first introduction to the beauty of movement as a way of communicating.
Photo by Lindsay Linton
Site Network
Mar. 02, 2018 01:35PM EST
(L to R) Adrienne Lipson, Ashley Downs, Noelle Kayser, and Devin Buchanan photographed for "Dance for Life 2017" (Todd Rosenberg Photography, courtesy PurePoint Financial)
Yes, you read that right. Last summer, we told you about Instagram-favorite photographer Rachel Neville's work being showcased in an innovative new kind of financial center here in NYC. Now, PurePoint Financial—aka the company behind the paradigm-breaking pairing—is bringing that very same concept to the Windy City.
Dance News
Aug. 04, 2017 04:02PM EST
Thinkstock
Let's face it, no matter how many precautions you take in the dance studio each day, your feet are inevitably going to get trashed. Between pointe shoes, petit/grand allegro, and stretching beyond what is natural, those puppies take a genuine beating. All that impact may tempt you to ask, "Is there any hope for performers to avoid injuries at all?" As it turns out, yes! According to Dr. Bryan Hersh, DPM, of the Center for Pediatric Medicine in Chicago, IL, dancers can seriously reduce the likelihood of injury by taking care of their feet outside of the studio. Read on for his tips on how to keep your feet safe and strong.
Dancer to Dancer
Mar. 23, 2017 08:25AM EST
We, like most dance people, love drama. We're all about dying swans and moody contemporary duets.
Let's face it, though: Sometimes dance is even better when it's funny. Any kind of funniness is awesome, but bodies being funny is one of the best kinds of funny there is.
So we were excited to hear that the fabulous Hubbard Street Dance Chicago is pairing up with The Second City (aka the improv group that's basically a feeder for "Saturday Night Live"). Together, they'll create—well, we don't know what, exactly. What we do know is that it'll be witty, smart, and probably very funny.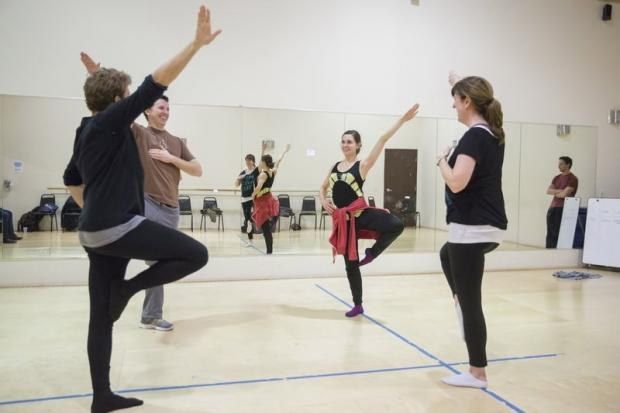 And they're already in the studio together! This is a Hubbard Street movement workshop at The Second City. (Todd Rosenberg/Hubbard Street Dance Chicago)
While this may sound like a bizarre collaboration, in a way it makes total sense. Hubbard Street works with many choreographers whose pieces are rooted in improvisation. Its dancers, in other words, are master improvisers—just like the members of Second City.
The project will involve performers from both groups, plus Hubbard Street 2 (wouldn't want to leave them out of the fun), and it'll premiere October 16 at Chicago's Harris Theater. We'll let you know more as we hear it!
Sep. 15, 2016 04:55PM EST
Epperheimer in Ohad Naharin's Tabula Rasa (Quinn Wharton, courtesy Hubbard Street Dance Chicago)
For the past decade, Kellie Epperheimer has captivated Hubbard Street Dance Chicago's audiences with her graceful fluidity and elegant lines. Her raw, emotional performances and musical sensitivity make her an artist in every sense of the word. A Los Osos, CA, native, Epperheimer trained at the Academy of Dance and Civic Ballet of San Luis Obispo, and spent a summer at The Juilliard School. She was a founding member of the Cedar Lake Ensemble (later renamed Cedar Lake Contemporary Ballet), and joined Hubbard Street 2 in 2005. Since being promoted to the main company in 2007, she's originated roles in pieces by choreographers including Kyle Abraham, Alonzo King and Twyla Tharp. Catch her at home in Hubbard Street's Summer Series performances this June, and at this summer's American Dance Festival, Jacob's Pillow Dance Festival and Chicago Dancing Festival. —Courtney Bowers
Dancer to Dancer
Nov. 30, 2015 02:28PM EST
Sure, we all know you can score some sweet deals on fashion or electronics on Cyber Monday. But did you know that dance companies offer discounts on tickets, too?! This little discovery made my post-vacay Monday MUCH happier. These reduced-price tickets to some of the season's best performances are perfect for holiday gifting (or for treating yourself, let's be real), so don't miss this one-day-only opportunity.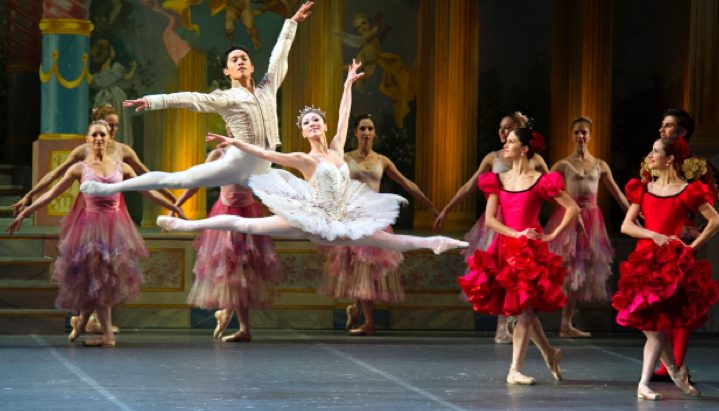 Boston Ballet's The Nutcracker, one of the shows offering Cyber Monday discounts (photo by Gene Schiavone)
Pop in the discount code Desire38 here for 38 percent off on Friday or Saturday performances of the Season 38 Winter Series.
Catch the company's production of George Balanchine's The Nutcracker for 30 percent off with the promo code GIFTS15 at this site, or get discounted tix to other season shows, like A Midsummer Night's Dream.
50 percent off select performances of Mikko Nissinen's The Nutcracker? Yes, pleaseeeee. Just head here and use the code CYBERMONDAY.
The Music Center L.A.
The storied venue is offering various discounts on MAJOR dance events right here, including Cloud Gate Theatre of Taiwan, Complexions Contemporary Ballet, Compagnie Käfig and American Ballet Theatre.
Use the discount code CYBER here and receive a whopping 25 percent off select seats at shows including The Nutcracker, Don Quixote, Beauty & the Beast and Uncorked.
Dance News
Sep. 19, 2014 03:08PM EST
Yes, the days are getting shorter, Nutcracker rehearsals are starting and you're back in school. There are lots of potentially tedious things about September. Fortunately, fall also means a ton of dance events are taking place in most major cities around the country. Here in NYC, Fall for Dance is one of the biggest, and believe us when we say that people go completely nuts for those $15 tickets. (Instantly doesn't even begin to describe how quickly they disappear.)
I was lucky enough to squeeze into the opening night performance at the Delacorte Theater in Central Park. The show included Hubbard Street Dance Chicago in Nacho Duato's Gnawa, New York City Ballet's Maria Korowski and Amar Ramasar in the pas de deux from William Forsythe's Herman Schmerman, Bill T. Jones/Arnie Zane Dance Company in D-Man In the Waters (Part I) and Bend in the Road, and collaboration between Lil Buck and former NYCB principal Damian Woetzel.
My highlights? Gnawa was the definition of fierce, particularly Kellie Epperheimer and Jesse Bechard in the central pas de deux. Hubbard Street is simply the best and strongest ensemble you can find. In Herman Schmerman, I was reminded that Maria Kowroski has perfect legs, and I learned that Amar Ramasar has great humor onstage. I got to see Bill T.'s company live for the first time and D-Man In the Waters (Part I) was an absolutely fearless, gasp-inducing joyride.
Check out the slideshow below, and we'll see you at the rest of the Fall for Dance shows!
[portfolio_slideshow nowrap=0 thumbs=true timeout=4000 showtitles=true showcaps=true showdesc=true]
Dance News
Aug. 02, 2014 07:00AM EST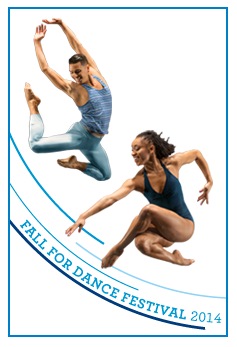 How'd it get to be August? Curse you, Summer, and your incessant need to fly by! Don't get us wrong: We know it ain't over yet (despite the recent influx of back-to-school commercials). Nevertheless, August always seems to bring a sense of nostalgia—anticipation of the end, reflection on memories made...
But today, on this second day of August, we're nipping the sentimental melancholia in the bud, because we're seriously excited for Fall. Fall for Dance, that is.
Here's a quick overview for FFD newbs: Fall for Dance is an annual NYC festival that brings together renowned dance companies from across the globe. It's basically a goodie bag of dance: Each program is so varied—ballet, modern, tap, hip hop, you name it—that there's truly something for everyone. Plus, with tickets at only $15, it's kind of the perfect opportunity to get a sense of which styles and companies you love, and which aren't so much your faves.
The festival kicks off with two free (yes, free!) performances at The Public Theater's Delacorte Theater in Central Park, September 13 and 14 at 8 pm. Then, tickets for the remainder of the festival, which will take place at New York City Center from October 8–18, will go on sale the following Monday, September 14, at 11 am. Check out the program lineup below, featuring 27 (!) different companies and artists.
Delacorte Theater Performances
Bill T. Jones/Arnie Zane Dance Company: D-Man in the Waters (Part 1) by Bill T. Jones
Hubbard Street Dance Chicago: Gnawa by Nacho Duato
Lil Buck: Bend in the Road (world premiere)
*Additional Company TBA
Program 1 (October 8 and 9 at 8 pm)
Black Grace: Minoi and Pati Pati by Neil leremia
San Francisco Ballet: Variations for Two Couples by Hans van Manen
Russell Maliphant/Sadler's Wells London: Two x Two by Russell Maliphant
Mark Morris Dance Group and Music Ensemble: Words (festival commission) by Mark Morris
Program 2 (October 10 and 11 at 8 pm)
Lucinda Childs Dance Company: Concerto by Lucinda Childs
Semperoper Ballett Dresden: Neue Suite by William Forsythe
Sara Mearns & Company: Stairway to Paradise by Joshua Bergasse
Alvin Ailey American Dance Theater: Minus 16 by Ohad Naharin
Program 3 (October 14 and 15 at 8 pm)
Trisha Brown Dance Company: Son of Gone Fishin' by Trisha Brown
Company Sébastien Ramirez & Honji Wang: AP15 by Sébastien Ramirez and Honji Wang
Vuyani Dance Theatre: Umnikelo by Luyanda Sidiya
*Additional Company TBA
Program 4 (October 16 and 17 at 8 pm)
Brian Brooks Moving Company with Juilliard Dance: Torrent by Brian Brooks
The Australian Ballet: Ostinato (world premiere) by Tim Harbour
BJM - Les Ballets Jazz de Montréal: Closer by Benjamin Millepied
Rennie Harris Puremovement: Students of the Asphalt Jungle by Dr. Rennie Harris
Program 5 (October 18 at 8 pm)
Wayne McGregor|Random Dance: FAR by Wayne McGregor in collaboration with the dancers
Pontus Lidberg Dance: New Lidberg (festival commission) by Pontus Lidberg
Aakash Odedra Company: Nritta by Aakash Odedra
The Sarasota Ballet: Les Patineurs by Sir Frederick Ashton
Dance News
Get Dance Spirit in your inbox