Mar. 23, 2017 05:47AM EST
Sometimes, after a long week—and thanks to Hurricane Sandy, for many of us, this week has felt epically long—you just need a good laugh. If that laugh is prompted by a funny dance video, well, all the better.
As ever, we're here to help. Here are the two videos that've been our saving graces recently.
Behold: The (3-year-old) reincarnation of Michael Jackson.
Behold: The crazy dude in the commercial for UNO Roboto (which looks totally creepy, by the way).
Feeling better now? We thought so. And if you need more, spend some time poking around on dancemedia.com, a veritable treasure trove of danspiration.
Happy weekend, everyone!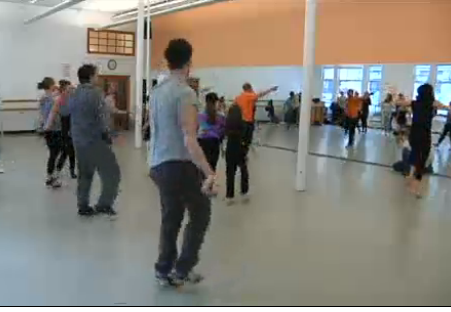 In many parts of the country, it's easy to forget about Hurricane Sandy. After all, it's been three months; Haven't they fixed everything on the East Coast already? The short answer is, No. Many are still struggling to rebuild their lives. And we love hearing stories about those from near and far who've reached out to those in need.
Recently, dancers from Dance Explosion Studio in Washington State traveled all the way across the country to NYC's Steps on Broadway to help out. They offered a free dance class to students from Mrs. Rosemary's Studio on Staten Island, which was flooded by the hurricane. Families from Mrs. Rosemary's also received Target gift cards and were treated to a performance of "Stomp" off-Broadway! Sounds like a great escape from the devastation back home.
Click here to watch a broadcast about the event on NY1. 
Inspired to give back yourself? There's no time like the present! Check out these young dancers who've started organizations that use dance to change lives. 
Nov. 05, 2012 01:01PM EST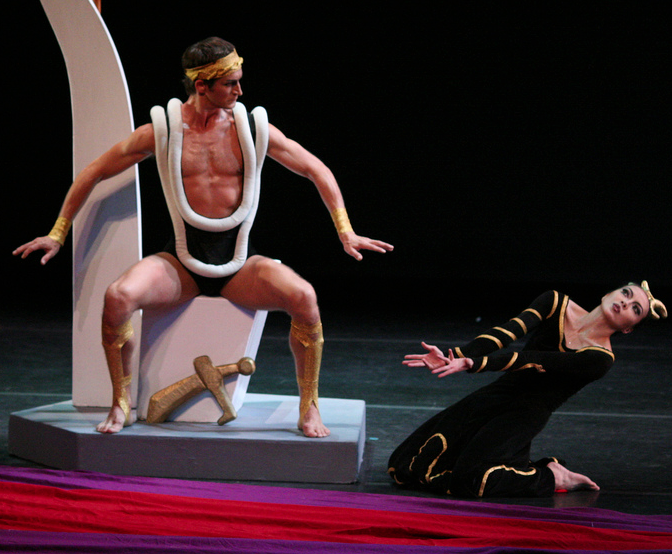 A week after Hurricane Sandy drowned the East Coast, news of damage from the storm is still trickling in. This weekend brought an especially depressing bulletin: The Martha Graham Center of Contemporary Dance lost some of its historic sets and costumes to Sandy-related flooding.
Materials for Graham dances Clytemnestra, Cave of the Heart, Embattled Garden and Errand into the Maze were all submerged under six feet of water in the basement of the company's new home at the Westbeth artists complex. And many of the items aren't the kinds of things you can just make again. Some of the sets were built by legendary artist Isamu Noguchi himself. While the company is still assessing the extent of the damage, the whole situation seems pretty devastating.
If you'd like to donate to the Martha Graham Center, you can do so here. You can also support general Sandy relief by donating to the Red Cross.
Six years ago, I moved to New York City to take a job at Dance Spirit.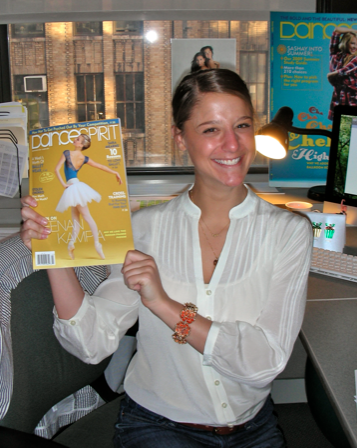 I always knew I wanted to live in NYC. I grew up in a teeny tiny New Hampshire town, and the thrill of the city appealed to me. I wanted to, as Frank Sinatra sings, "be a part of it—New York, New York."
Now, after what NYC has been through this week, I feel more "a part of it" than ever before.
Hurricane Sandy took a major toll on Manhattan, where I live and work, and its surrounding areas. The Jersey Shore, where my aunt lives and where I spent many summers and Christmases, is completely devastated. My former college campus in Connecticut is littered with debris and fallen trees.
The area is a mess and it's very, very sad.
But it's also empowering. As I sat on the floor of my swaying apartment on Monday night (living in a high rise building is cool, except when the wind is gusting at 90 MPH) while the worst of the storm blew through, I was scared. I hated seeing the photos come in of the flooded subways, the waterfalls plowing through Ground Zero and the blacked-out downtown where so many of my friends were without power.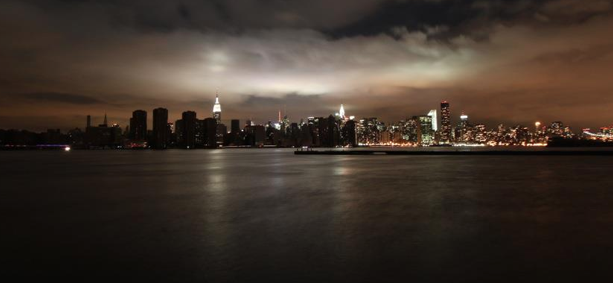 When I woke up Tuesday morning, though, I wasn't scared anymore. I was heartbroken by the damage, but I felt so much pride. I'm proud to call myself a New Yorker. I'm proud to work for a magazine that devotes an entire issue to "making it in NYC."
And of course, I'm proud to be a part of a community that uses its resources—and the power of a simple song—to lift the city's spirits however possible.
To the Broadway community, I salute you. Thank you for coming together yesterday, when your shows were all canceled, to sing.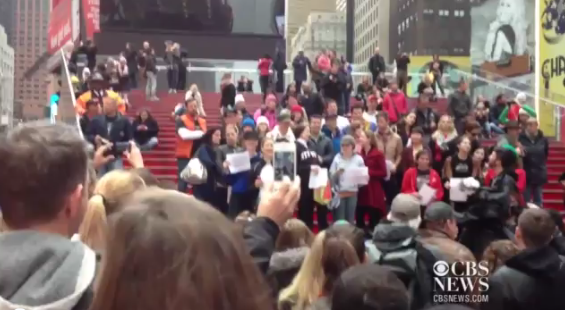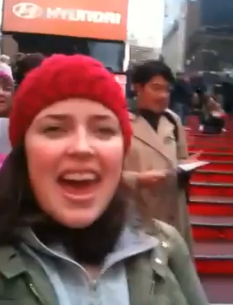 The sun will come out tomorrow. And until it does, NYC will stay strong and rebuild this incredible city.
To all of our friends and readers: I hope you are safe and with your loved ones.
Oct. 30, 2012 10:13AM EST
Most of us on the East Coast are still hunkered down trying to get through the last few hours of Superstorm Sandy. For those of you dealing with serious flooding, wind damage and power outages, our thoughts are with you.
But for the lucky ones—the ones who've just been cooped up inside for a while and are going stir-crazy—we have a little something to brighten your day.
Whenever a major storm like this hits, and news networks cover it for hours/days at a time, it's pretty much inevitable that a bunch of blockheads will show up behind the rain-spattered reporters in the field, hoping for a few seconds of local-TV fame. There was no shortage of those kinds of attention hogs yesterday. But a few crazies in Atlantic City took video-bombing to a different—and dancier—level, and it was kind of...wonderful? Maybe. Entertaining? definitely. (Smart? Definitely not.)
Check out the AC dancer dudes below. Stay safe, everyone!
Oct. 29, 2012 10:27AM EST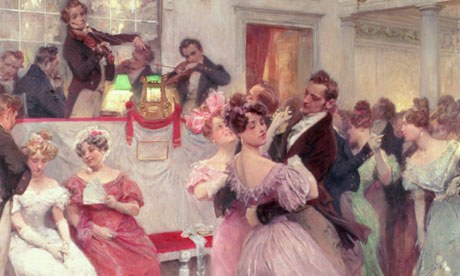 The Twist. The Hustle. The Running Man. The Macarena. The Dougie. The Gangnam Style. Here at DS, it's safe to say we've never met a dance craze we haven't loved.
But did you know that the original dance craze was...wait for it...the waltz?
Yup. Way back in the 19th century, everyone was waltzing up a storm. And, by the way, it was considered seriously scandalous. Ladies clinging to their partners and whirling around the floor—how risqué!
Well, here's a twist to this story we bet you didn't see coming: Adamski, a big name in the UK's house music scene, wants to bring the waltz to today's clubs—amped up, of course, with dubstep-inspired electronic beats and mashups featuring Kanye West and Kelis. The idea is for choreographer Les Child, who made voguing popular in the early '90s, to teach clubbers some basic waltz moves before setting them free to "party like it's 1799."
For the moment, this is all going down in London. But if it's as amazing/insane as it sounds, here's hoping this out-of-the-box trend makes its way across the pond. Teach us how to waltz, teach us teach us how to waltz!
(Sidenote: Everyone dealing with Hurricane Sandy today, we hope you're staying safe and dry! This Frankenstorm is not messing around.)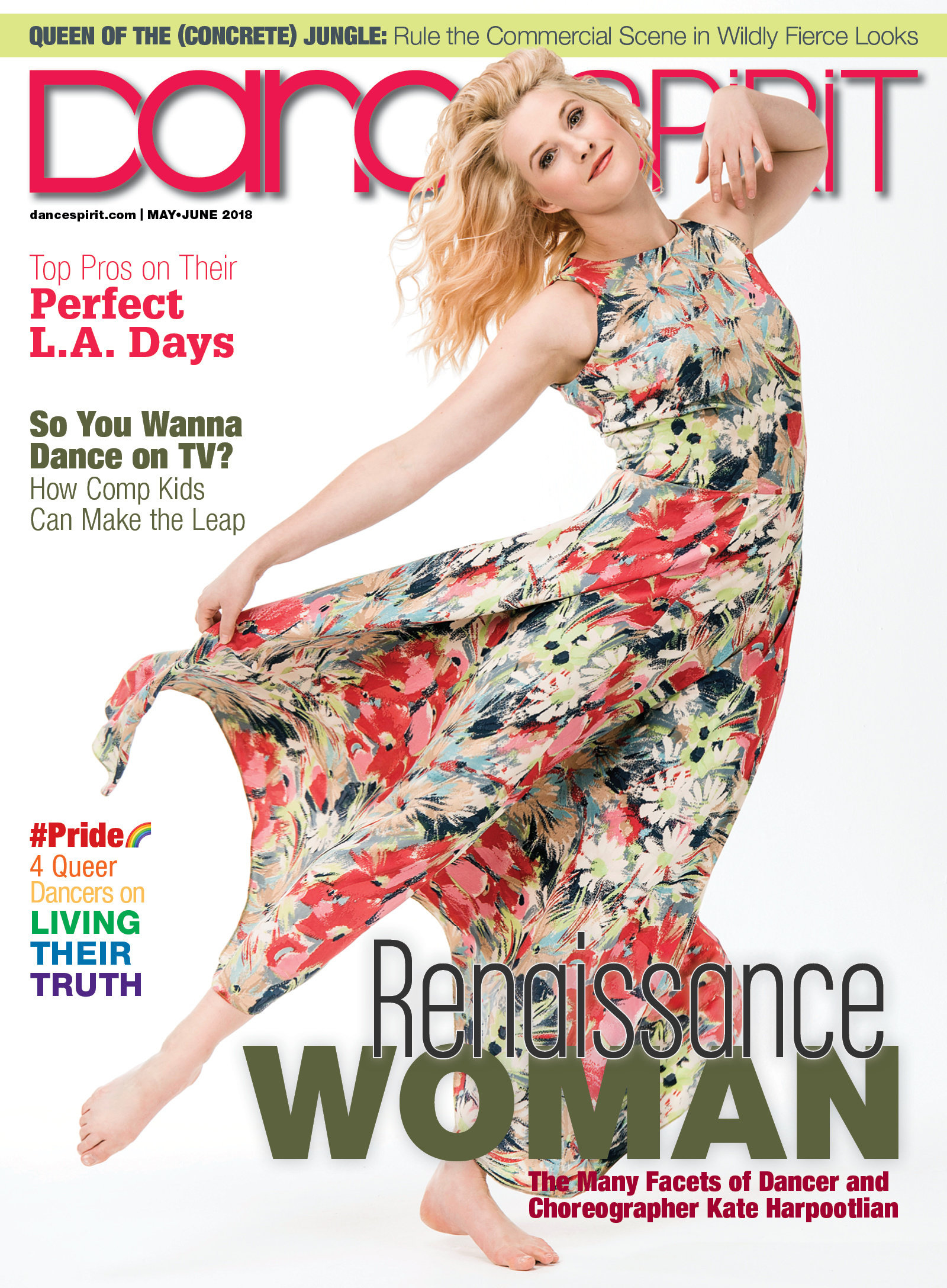 Get Dance Spirit in your inbox