Mar. 01, 2018 07:00AM EST
Jim Nowakowski's Sesaon 12 audition gives us chills TO THIS DAY. (Adam Rose/FOX)
In need of a little audition-spiration? Whether you're preparing to try out for the show or are just looking to get into the "SYTYCD" mood, here are 8 phenomenal past auditions we're still obsessing over.
Dance Videos
Jan. 08, 2018 04:12PM EST
via Instagram, @idasaki
Former Dance Spirit Cover Model Search winner and all-around goddess, Ida Saki, is one of those rare dancers that captivates on every level. Not only are we obsessed with her silky smooth contemporary moves and impossibly gorgeous lines (those feet!! 😍 ), but we're just as obsessed with what she has to say.
Dancer to Dancer
Mar. 28, 2017 02:26PM EST
The first time you saw Ida Saki may have been on the October 2009 cover of Dance Spirit. At the time, 17-year-old Ida was a competition dancer from Texas, where she trained at Dance Industry Performing Arts Center. That same year, Ida won the coveted Senior Outstanding Dancer title at New York City Dance Alliance Nationals, and then enrolled at the Tisch School of the Arts at New York University. From there, she joined Cedar Lake Contemporary Ballet—she landed her second Dance Spirit cover with the group in 2014—and was named one of Dance Magazine's 25 to Watch. Now, Ida performs nightly in Sleep No More in NYC. We sat down with the girl with the #flawless feet to pick her brain about her morning routine, her dance-related must-haves and what's on her current playlist.

Dancer to Dancer
Mar. 01, 2017 03:27PM EST
Apr. 19, 2016 01:15PM EST
If there's one thing NYCDA Executive Director Joe Lanteri knows how to do, it's make dreams come true. This was obvious at last night's New York City Dance Alliance Foundation Gala, "Destiny Rising," at The Joyce Theater. It was an evening of passionate performance by tons of crazy-talented dancers, many of whom grew up as self-proclaimed "NYCDA babies." We loved every minute of the evening, especially the touching moments when the foundation's college scholarship recipients spoke about all the doors NYCDA had opened for them (and it's particularly special since our sister publication, Dance Magazine, is a gold sponsor!). Check out some of our highlights below:
(via NYCDA Facebook)
Marymount Manhattan College Dance Company opened the show with a riveting piece, Under the Surface, choreographed by MMC's Dance Department Chair, Katie Langan. Each dancer was clad in a floor-length skirt and the visual effect was stunning—every développé, pirouette and jump sent the skirts flying through the air, catching the stage light in the process. When the piece ended, the audience was ready for more.
MMC in rehearsal. (via NYCDA Facebook)
NYCDA is all about providing opportunities for its dancers, and this mission was perfectly encapsulated by Inspire School of Dance from Naperville, IL, which made its professional stage debut—at the Joyce Theater, no less. The 14 girls—including 2014 NYCDA Teen Female Outstanding Dancer, Jacalyn Tatro—took the stage with confidence and gave a commanding performance.
Inspire Dance performing Love With Urgency (via NYCDA Facebook)
The evening continued with stellar performances from RIOULT Dance NY, The Francesca Harper Project, DS 2009 Cover Model Search winner Ida Saki and Austin Goodwin, New York City Ballet principal Robbie Fairchild, and the Point Park University Conservatory Dance Company. There were also tons of familiar faces gracing the stage, including 2015 CMS finalist Jordan Pelliteri, 2011 CMS winner Kaitlynn Edgar, Corey Snide and the dynamic Mattie Love, who, at the 2012 NYCDA gala, gave a speech about how excited she was to start her dance journey at MMC—and last night, in a very full-circle moment, took the stage to thank Lanteri and NYCDA for opening countless doors in her career. It was the perfect cherry topper for a magical celebration of this incredible foundation.
Apr. 13, 2016 10:15AM EST
Whether her muses are ballroom champions or some of the world's most gorgeous male dancers, Lauren Adams creates works that are elegantly vivid—they embody feelings we all feel, but in a hyper-articulate, singularly beautiful way. And the fact that top-level artists from all parts of the dance world are clamoring to work with her? Well, that makes it official: Adams is our #WCW, and we're obviously not alone.
Ida Saki and Matt Luck in Adams' "For Chance" (screenshot via Vimeo)
Adams just put out a new video, "For Chance," starring two of our particular favorites, Ida Saki (speaking of #WCW) and Matt Luck. Filmed by Nathan Kim and featuring original music by Matt Morton and editing by the multitalented Luck, it's raw and poignant and SO PRETTY. It is, in other words, exactly what you need to get your Wednesday going.
Enjoy!
Jul. 30, 2014 03:00PM EST
Lindsay Nelko
(photo by Kristen Sawatzky)
At last year's Capezio A.C.E. (Award for Choreographic Excellence) Awards in NYC, Lindsay Nelko tied for third place, winning $3,000 to produce her own show in conjunction with Capezio and Break the Floor Productions. Next week, we'll see the fruits of that partnership: Nelko will present the world premiere of her evening-length work, Awakening, at Ailey's Citigroup Theater on August 6 and 7.
Nelko, who has choreographed for "The X Factor" and "So You Think You Can Dance," has made some top-notch connections over the course of her career, so it's unsurprising that the cast of Awakening is pretty spectacular. Of the 24 dancers, eight are appearing courtesy of Complexions Contemporary Ballet, four are current or former members of Cedar Lake Contemporary Ballet, and others have performed with San Francisco Ballet, Miami City Ballet and the Bad Boys of Dance. It's a seriously out-of-this-world roster.
Dance Spirit caught up with Nelko to learn more about Awakening.
How would you describe the show?
Awakening is loosely based on my life, and on the moments of realization—or awakening—in certain feelings or events. There are 18 small narratives woven together that depict those feelings, including sadness, anxiety, joy, friendship and young love. There's also the theme of awakening in terms of sleep. The show moves between reality, the dream state and hypnagogia, which is the state between wakefulness and sleep.
(L to R) Mark Caserta and Casey McIntyre appearing courtesy of Complexions Contemporary Ballet in Lindsay Nelko's Awakening
(photo by Matthew Murphy)
That seems pretty deep.
It is! I've been inspired by my life's journey. I feel like artistic work frequently stems from our selves. It's been like therapy to have my own show. I've been able to dive deeper, bring those experiences to life through incredible dancers and share it all with a wider audience.
Um, wow.
Jeffrey Sousa and Ashley Fitzgerald in Awakening
(photo by Matthew Murphy)
How has Awakening evolved over time?
Well, the process really started in May 2013, when I created and workshopped Awakening for the Royal Winnipeg Ballet. (Then I presented an excerpt at the A.C.E. Awards.) At that time, however, not all of the pieces were finalized, and I've since added a few more to the work. And while my first cast was amazing, I've been blessed to have an incredibly diverse cast this time around. There will be 18 classical and contemporary ballet dancers, in addition to modern, jazz and musical theater dancers. It's going to be an interesting mix, but also a truer representation of my work.
Can't wait for August 6? Watch a clip of Awakening from last year's ACE Awards below, and click here for more information.
Apr. 08, 2014 11:25AM EST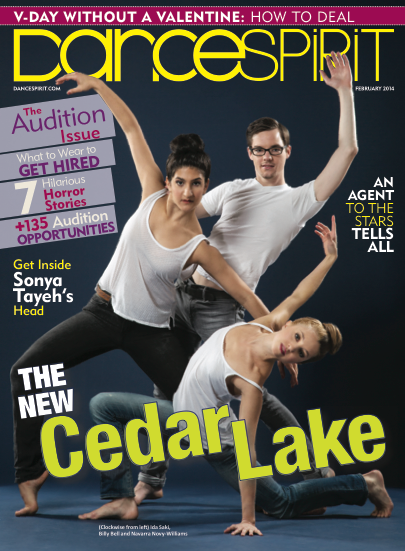 When we met up with Cedar Lake Contemporary Ballet "new kids" Ida Saki, Billy Bell and Navarra Novy-Williams for our February cover shoot, the company was in a state of limbo. Artistic director Benoit-Swan Pouffer had resigned in May 2013, and both the dancers and long-time ballet master and rehearsal director Alexandra Damiani were anxiously awaiting the announcement of his replacement.
Yesterday, nearly a year after Pouffer's resignation, the company finally made the big announcement: Alexandra Damiani is the new artistic director of Cedar Lake! A long-time soloist with Complexions Contemporary Ballet, Damiani has worked with the company since 2005, and she served as interim artistic director over the course of the last year.
But that's not Cedar Lake's only big announcement; they also named Canadian choreographer Cyrstal Pite as associate choreographer, a new position for the company. Pite has already set two works on Cedar Lake: Ten Duets on a Theme of Rescue in 2007 and Grace Engine in 2012. As associate choreographer, she will contribute a minimum of two new works over the next three years.
Want a chance to see the "New Cedar Lake"? They're celebrating their 10th anniversary with a debut season at the BAM Howard Gilman Opera House from June 11–14. The company will perform Pite's Grace Engine, among other works by various choreographers. Click here to get your tickets.
And in the meantime, watch this excerpt of Grace Engine to whet your appetite. Enjoy!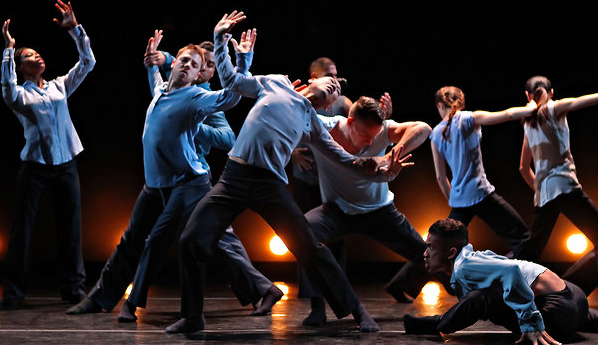 Cedar Lake Contemporary Ballet performs Grace Engine at the Joyce Theater in NYC (Photo Andrea Mohin/The New York Times)
Dance News
Feb. 01, 2014 11:47PM EST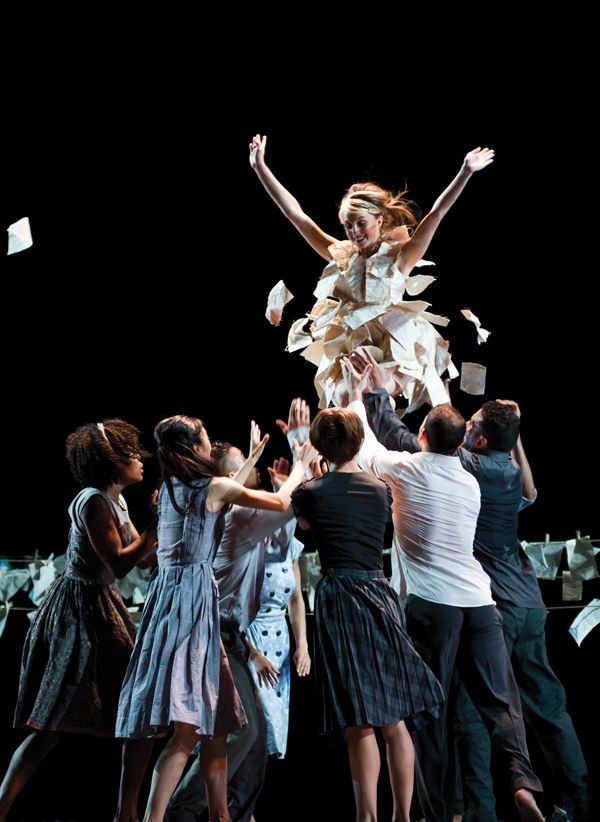 Navarra Novy-Williams
in Jo Strømgren's Necessity Again (photo by Paula Lobo)
Here's what you already know about Cedar Lake Contemporary Ballet: It's a company of unique, thoughtful, brilliant dancers. It has a beautiful home in NYC, but it also tours all over the world. Its repertoire, which has a European flair, is as stimulating intellectually as it is physically. Thanks to all that, Cedar Lake has become The Dream Company for many, many dancers.
But the Cedar Lake we've known for 10 years is entering a new phase. Dancers tend to stick around at Cedar Lake—unsurprising, given its amazing reputation and the fact that a job with the company means a full-year contract and health insurance (perks rarely found in the NYC dance scene). Recently, though, a whole bunch of exciting new dancers have flooded the company. In addition, artistic director Benoit-Swan Pouffer, who led the group for nearly a decade, resigned last year.
That's a lot of change in a short period of time. So what's next for the prestigious company? The answer may not be certain, but one thing is: Like everything Cedar Lake does, it's going to be interesting.
The New Kids
A 10-dancer turnover sounds dramatic to begin with—and even more so when you consider that Cedar Lake is only 16 dancers strong. The company's newbies, who've joined over the past four years (six of them in 2012), have brought a fresh energy to the troupe.
"There was a fear of, Which dancer will be able to take over which roles, and be what part of the team?" says Alexandra Damiani, Cedar Lake's longtime ballet master and current interim artistic director. "When you're entering a group some dancers have been in for eight or nine years, figuring out your role can be hard. But the new dancers have made very intelligent choices."
The influx of talent changed the shape of Cedar Lake. "It's basically a different company now, because so much depends on the individual dancers' personalities," says Ida Saki, who joined in 2012. And different is good. "Turnover in a dance company is healthy," says Navarra Novy-Williams, who arrived in 2010, at the beginning of the wave. "It's important to have people who have been committed long-term—they're the foundation. But new energy is revitalizing, especially if it's positive energy. And the dancers who've arrived are all incredibly positive people."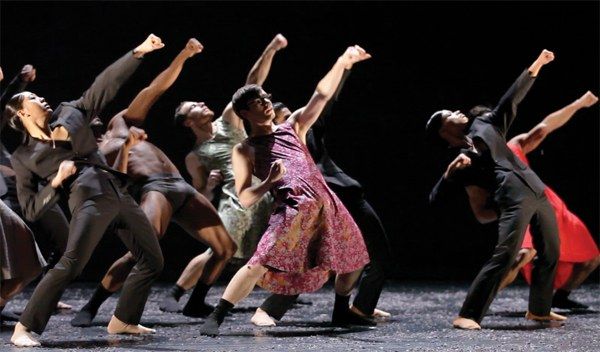 Billy Bell (center) in Johan Inger's Rain Dogs (photo by Dave Rogge)
Inside the Transition
Pouffer's departure in May 2013 was a shock to much of the dance world, not to mention the company's dancers—particularly the six who'd only started working with him the year before. "Like any transition, it was an exciting moment, but also a fragile one," says Damiani. "There was the feeling that it was the end of a cycle. I've put a lot of energy toward trying to provide continuity for the dancers. We all knew we had to pull together."
The search for a new artistic director began immediately after Pouffer's exit, and is still in progress. In the meantime, things are mostly business as usual for the company's dancers. Since the touring schedule and programming for the current season were set before Pouffer's departure, the real opportunities for change will come over the next year. "We can use everything we've done for the past 10 years as our springboard to jump into the next chapter," Damiani says.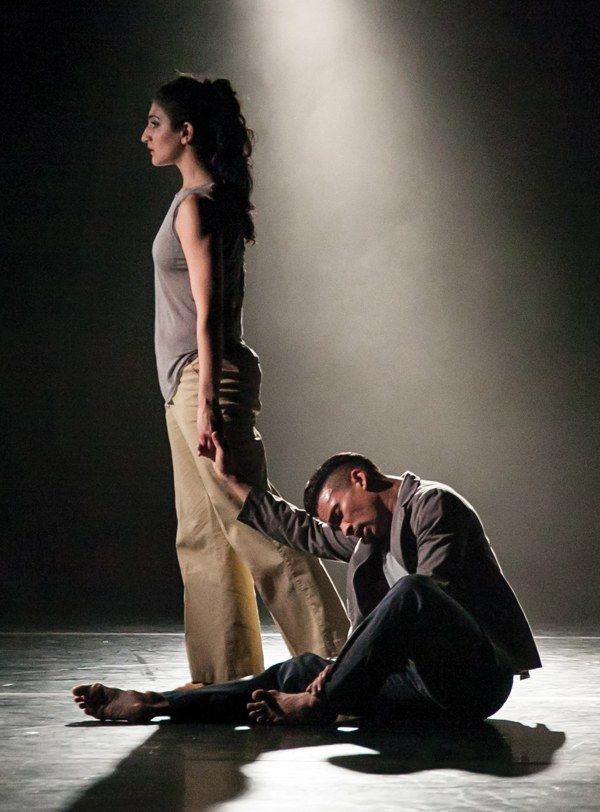 Ida Saki with Jon Bond in Crystal Pite's Ten Duets on a Theme of Rescue (photo by Sharen Bradford)
Looking Forward
What will that next chapter look like? While a lot will depend on the new director, Damiani and the dancers have been thinking carefully about that question.
Since many Cedar Lakers are interested in choreography, Billy Bell, a company member since 2012, has hopes for a dancer-on-dancer choreography showcase. "It would be really fun, and if we did it at Cedar Lake's space in NYC it would also help us promote our name in the city," he says. "People are always like, 'Cedar Lake? Oh, where's that?' I love that we tour so much, but we want people to know we're from New York."
One of the items on Navarra's wish list is already underway: An educational outreach program, which kicked off last fall. "I did a lot of outreach work before joining Cedar Lake, and it's something I'm really passionate about," she says. "It's another way to connect with the community, to share what we're doing with people who maybe can't buy a ticket to see a show."
Damiani is excited by the sense of a fresh beginning. "There's an opportunity to bring a new vision to the company," she says. "When things are going smoothly, you get stuck in certain habits, and you need to be awoken. The transition woke us up. Now we're ready to grow."
Meet the Cedar Lake Cover Stars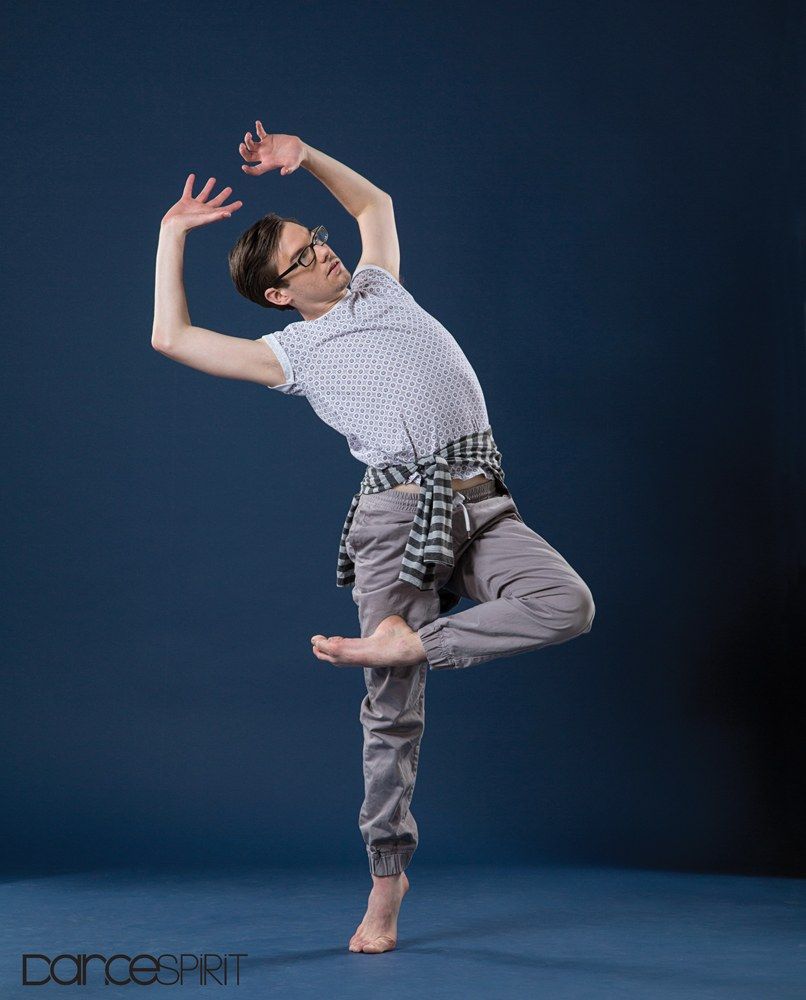 (Photo by Erin Baiano)
Why you already know him: Billy was a Top 10 finalist on Season 7 of "So You Think You Can Dance," and is the founder of Lunge Dance Collective (featured in the October 2012 issue of DS).
How he came to Cedar Lake: "I had a four-year audition process—I've had my eyes on the company for a while! I got all the way through twice but didn't get a contract. The third year I got cut before the last round. The fourth year, I missed the audition—but I emailed Benoit-Swan Pouffer, then the artistic director, and was like, 'Hi! You like me, remember?' A few weeks later, I got the call about joining the company—the one year I didn't actually audition."
How working with Cedar Lake has changed his choreography: "The range of works we do opened my mind to more possibilities as a choreographer. These days I'm more likely to say, Yeah, why not?"
How he's able to do Cedar Lake and direct Lunge without going insane: "I'm not? It's been hard. But I've been shifting the direction of Lunge from live performance to film, which helps. Film lets me channel the audience's sight. I do a travel video blog for Cedar Lake, too."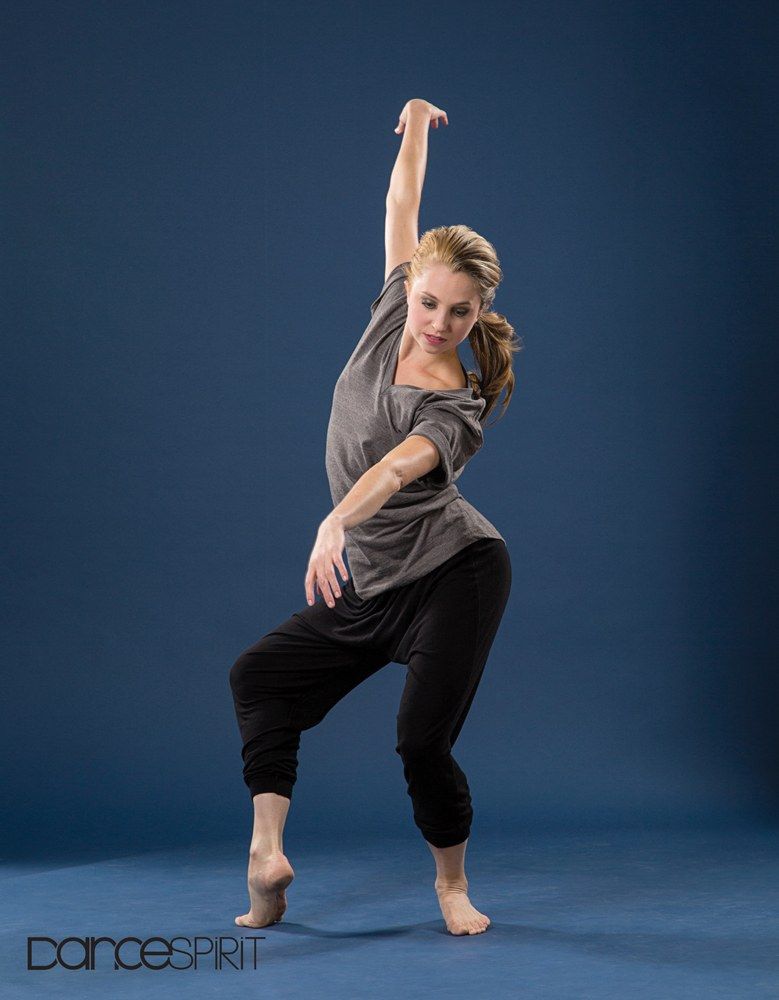 (Photo by Erin Baiano)
Why you already know her: Navarra danced with Les Grands Ballets Canadiens de Montréal and the Batsheva Ensemble before coming to Cedar Lake—and DS got The Dirt from her in our May/June 2011 issue.
Why she came to Cedar Lake: "I'm from NYC originally, and I went to The Juilliard School, so Cedar Lake has been on my radar as a great company since it started. I had an amazing year in Israel with Batsheva, digging deep into one particular world, but I eventually realized I still wanted to explore other avenues and other styles. So it was the right time for Cedar Lake, which has a vast roster of choreographers."
How she sees her role in the company: "What's nice about Cedar Lake is that we're all so different—it feels like we're each a piece of a puzzle. Nobody else could fill our particular shape."
On the choreographers she's connected with: "Working with Hofesh Shechter and Crystal Pite was especially inspiring because they left us with pieces I've continued to discover myself in. I've been able to keep growing inside their choreography."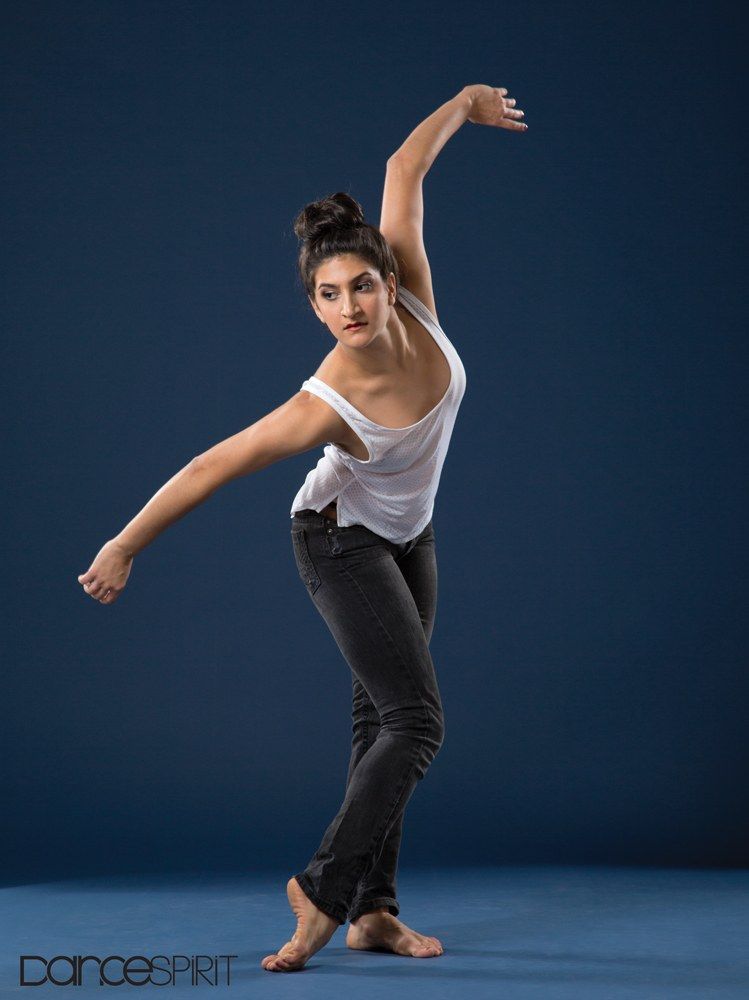 (Photo by Erin Baiano)
Ida Saki
Why you already know her: Ida was Dance Spirit's 2009 Cover Model Search winner! She was also a familiar face on the competition circuit, and was New York City Dance Alliance's National Senior Outstanding Dancer in 2009.
Why she came to Cedar Lake: "It was the first company I ever saw live. I think I was 16. My teacher, Jessica Hendricks, realized I knew nothing about professional dance—I thought the best dancers all became Dallas Cowboys Cheerleaders. She took me to see Cedar Lake, and I remember being absolutely floored. Jessica turned to me and said, 'I want to see you in this company in 10 years.' And it hasn't even been 10 years—it's surreal."
On finishing school: "I had just finished my second year at New York University's Tisch School of the Arts when I joined Cedar Lake, and I'm still working toward my degree. I have one more academic and one more technique class to go. I'm keeping my fingers crossed that I'll be able to walk in my cap and gown this summer!"
How the comp world prepared her for life at Cedar Lake: "In both worlds, you do everything, all the time. At competition, you had to be able to jump from hip-hop class to ballet class with less than a 15-minute break. Here, you're doing a super-technical Jirˇí Kylián piece one minute, and a Hofesh Shechter piece that has you rolling all over the floor the next."
(left to right) Ida Saki, Billy Bell and Navarra Novy-Williams (photo by Erin Baiano)
From Comp Kid to Cedar Laker
When it comes to dancers, Cedar Lake will always value versatility and personality—which means it'll always embrace competition and convention dancers. (Current members Jon Bond, Matthew Rich, Ida Saki and Billy Bell all came up through the comp circuit.) "The dancers from that world are fearless!" says interim artistic director Alexandra Damiani. If you're a Cedar Lake wannabe, remember that the company has "ballet" in its name for a reason. Damiani recommends making intensive ballet training, including pointe work, a priority.
Feb. 01, 2014 07:30AM EST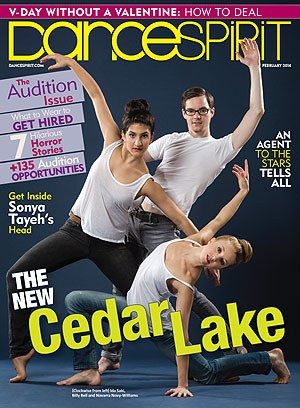 Happy first day of February!
We can't think of a better way to celebrate than showing off our fabulous February issue. It features a few Cedar Lake Contemporary Ballet dancers we adore: Ida Saki, Billy Bell and Navarra Novy-Williams. These three spent most of their day weaving in and out of a breathtaking improvisation. And it's no wonder this photo shoot was flawless; Ida, Billy and Navarra are pros, and they've all been featured in Dance Spirit before! Ida was the winner of our 2009 Cover Model Search, Billy's Lunge Dance Collective modeled cozy warmups in our October 2012 issue, and Navarra gave us The Dirt in our May/June 2011 issue.
Check out the cuteness as they show off their old issues of DS: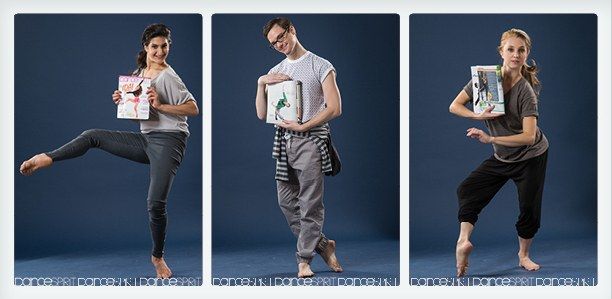 As usual, we've got fun online exclusives to make you fall as in love with Ida, Billy and Navarra as we are:
Click here to read this month's cover story about the new Cedar Lake—with exclusive interviews with our cover stars and interim artistic director Alexandra Damiani.
Click here for a look at a ton of outtakes from our stunning—and often very goofy—photo shoot with Billy, Ida and Navarra.
Click here to watch a behind-the-scenes video from our shoot—including even more fun facts about the dancers and the company.
This issue is also chock full of other great articles, like an interview with Sonya Tayeh, so many tips on auditioning for your dream job and a hilarious story by novelist Tim Federle. Not a subscriber? The February issue is available online now! Don't forget to let us know what you think!
Dance News
Get Dance Spirit in your inbox
Jan. 22, 2014 12:46PM EST
Jun. 18, 2013 11:21AM EST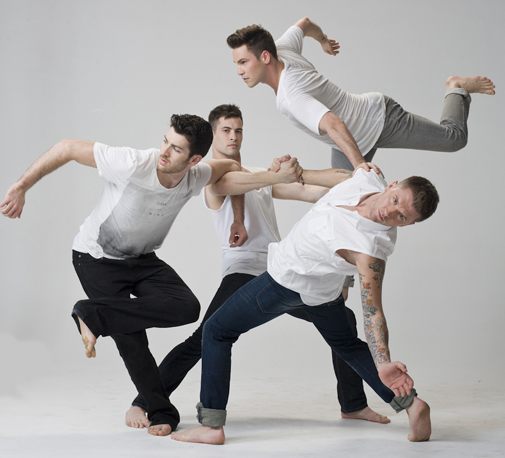 (L to R) Shaping Sound's Teddy Forance, Kyle Robinson, Nick Lazzarini and Travis Wall, photographed for "Dance Spirit" by Joe Toreno
Last night, the DS staff got all gussied up and headed to the Beacon Theater for Shaping Sound's That's Where I'll Be Waiting. So did pretty much everyone else in NYC.
No, but really: The crowd at this show, which was the last stop on the company's month-long tour, was incredible. Along with mainstream dance fans like Jesse Tyler Ferguson (a.k.a. the best "So You Think You Can Dance" judge of all time), there were a host of familiar dancers and choreographers milling through the lobby of the Beacon. Joey Dowling! Kenny Wormald! Dana Wilson! Ida Saki! Catherine Hurlin! It was like a reunion for all the dance world's cool kids.
Not that that's surprising. The members of Shaping Sound are some of the most exciting people on the commercial scene, after all—and definitely not less famous since their turn on the reality show "All the Right Moves." Almost every Shaping Sound dancer is a dance celebrity, and the people most prominently featured in That's Where I'll Be Waiting—Travis Wall, Nick Lazzarini, Teddy Forance and Kyle Robinson, who also created and choreographed the show—have become legit stars. More celebrities onstage = more celebrities in the audience (and also = more opportunities for us lesser non-celebrities to totally freak out because Jesse Tyler Ferguson is sitting one seat away from us, eee!).
The Shaping Sound foursome were smart about how they presented their well-known team, too. That's Where I'll Be Waiting gives each dancer a specific character—i.e., "The Trouble" (Alexa Anderson), "The Temptress" (Channing Cooke), etc—and at least a few moments in the spotlight. While the piece is threaded through with a love-triangle dream-story involving Travis, Teddy and Jaimie Goodwin, it's really driven by all the strong personalities onstage—personalities the audience already knows and loves.
Does that always work? Well, not quite. (Frankly, I'm still not sure why Chelsea Thedinga is "The Being.") Could I watch Nick, a.k.a. "The Wayward," do his flamboyantly fabulous David-Bowie-in-Labyrinth-meets-Herr-Drosselmeyer act (which is really just Nick being Nick) in his leather cape-vest alllll night? Oh, totally. And so could the rest of that star-studded crowd, which went standing-o bonkers for the entire cast at the curtain call. Congrats, guys!
Apr. 23, 2013 11:03AM EST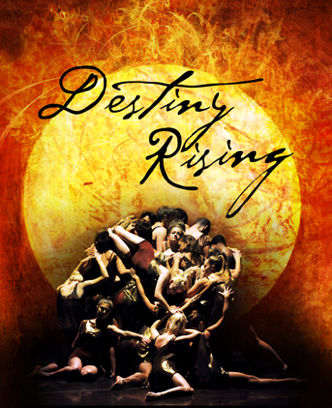 The annual Destiny Rising gala benefits the awesome New York City Dance Alliance Foundation, which is dedicated to helping young dancers fund their college educations. So how fitting is it that at last night's Destiny Rising performance, it was a college dance company that stole the show?
That would be the Conservatory Dance Company of Point Park University, which performed Garfield Lemonius' Memoirs. I have this terrible stereotype in my head of college dance groups doing sedate, solemn, stuffy pieces, but Memoirs allowed Point Park's beautiful dancers to show us the full range of their talents. Clad in flowing red dresses, the company's guys and girls tore through the intricate, emotionally wrenching choreography.
The best part? The cast included two of our favorite NYCDA alums, Kali Grinder and Victoria McWilliams, both recipients of NYCDA Foundation scholarships. And they were in top form. It looks like college has allowed them to both grow as dancers and mature as artists—and that's what the college dance experience is all about, Charlie Brown.
That's not to mention all of the evening's other fun performances. For the bunheads, there was the ABT Studio Company's exceptional Catherine Hurlin and Oliver Oguma in the kicky Flames of Paris pas de deux, followed by New York City Ballet's Brittany Pollack and Jonathan Stafford (real-life couple alert!) in the White Swan pas. For the contemporary buffs, there was Cedar Lake standout Jon Bond's lush The Devil Was Me, featuring several other CL dancers (including our baby-who's-all-grown-up-now, Ida Saki). And for everyone, there was Grace Buckley's gleeful Sing, Sing, Sing, starring the likes of Amber Jackson, Corey Snide, Ryan Steele and Jakob Karr. They dared us to stop smiling. I couldn't.
Want to find out more about the NYCDA Foundation and how you can apply for scholarships? Take a look at the organization's website.
Jan. 11, 2013 07:00AM EST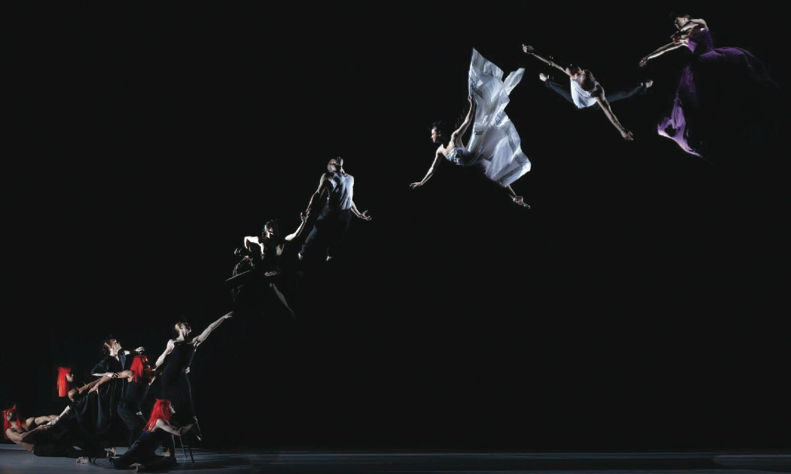 Cedar Lake Contemporary Ballet is undoubtedly one of the coolest companies around right now. Dancers are dying to get their pretty little feet into Cedar Lake's (so gorgeous) doors, and we totally get it. The company is young, fresh, cool and edgy—but it's also legit. The dancers are goooooood (and they're Dance Spirit cover veterans, like Ebony Williams and Cover Model Search winner Ida Saki).
But this just in: You don't have to be a Cedar Lake company member to dance with the crew.
This Saturday, January 12, from 1–4 pm, you can attend a pop-up workshop at Cedar Lake's NYC studios. You'll get a glimpse at a "day in the life of the company" with artistic director Benoit-Swan Pouffer and ballet master Alexandra Damiani. Very cool, indeed.
Pre-registration is required, so get on it!
Dance News
Nov. 12, 2012 04:01PM EST
In our November issue, Dance Spirit featured four young dancers who had started organizations to give back to their communities. But they're not the only ones out there doing some serious good. Here are more dancers just like you who have started organizations in their areas: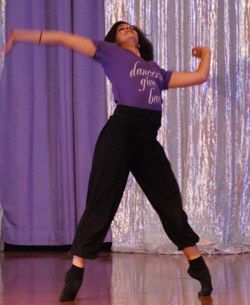 ALI DIETZ
Dancer's Giving Back
Orchard Park, NY
This organization started as a benefit performance and workshop for Ali's friend, Jacquie Hirsch, who was battling Acute Lymphocytic Leukemia. Though Hirsch lost her battle with cancer, Ali continues to organize this annual dance event to raise money for research and to support cancer patients and their families. Former DS cover girl Ida Saki, who lost a close friend to Leukemia, has even taught master classes for them.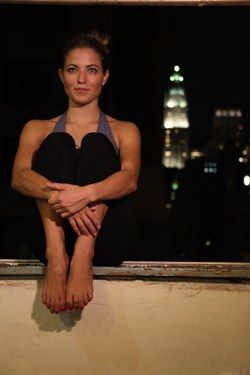 LAUREN PELLETTIERI and ELIZABETH FIELDER 
Liberated Movement 
New York, NY 
Lauren and Elizabeth danced together in college but couldn't afford classes once they moved to NYC. Inspired by donation-based models for financially accessible yoga, they created Liberated Movement, a program that offers donation-based dance classes in NYC.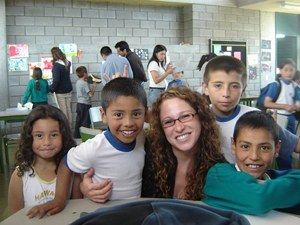 SARA POTLER
Dance 4 Peace
Washington, DC, and New York, NY
Sara Potler created Dance 4 Peace, a program that fuses her interests in dance, international development, peace-building and education. They use dance and creative moment to educate young people in schools about empathy, mediation skills, anger management and conflict transformation.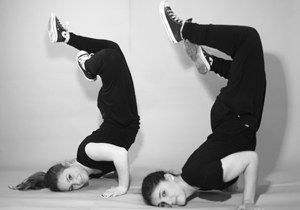 KATIE PAUL and RACHEL GORDON
KPRG Movement 
Katie and Rachel, founders of KPRG Movement, use hip hop to raise money through fundraisers and t-shirt sales for spinal cord injury research and the Travis Roy Foundation so that one day paraplegics and quadriplegics will be dancing with them.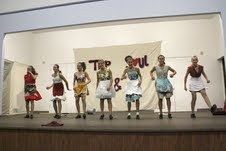 WENDY LEMON
Tap & Soul
Carlsbad, CA
Wendy founded non-profit dance company Tap & Soul to use tap dance to promote awareness for various charitable organizations in her community. On behalf of her former dance student Claire Devins, Wendy's first Tap & Soul concert raised money for Cure ATRT Now, an organization that hopes to find a cure for pediatric brain tumors.
Do you know of other dancers giving back in their community using dance? Tell us about them in the comments!
Dance News