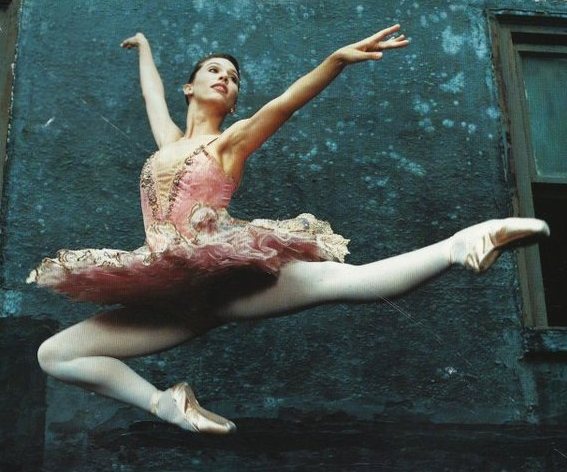 Former ABT principal and Tony nominee Ashley Tuttle—pictured here as the Sugar Plum Fairy for Evansville Ballet Theatre's 2012 production of "The Nutcracker"—urges dancers to know their bodies, and do let them do their job. (Photo via Evansville Courier & Press)
Getting injured can seem like the end of the world. As dancers, we're hesitant to take even a week off. Tell us we need to take several months off, and we launch into full-blown panic mode.
Last night, The School at Steps in NYC hosted its annual "Injury Prevention Workshop" as a part of their Complete Dancer Series. This year's panel of experts included registered dietitian Rachel Fine, Emily Sandow of the Harkness Center for Dancer Injuries, Orthopedic Surgeon Dr. Andrew Price, Pilates instructor Robin Powell and former American Ballet Theatre principal/Tony nominee Ashley Tuttle. The panel also included one of Steps' pre-professional students, Lucy Panush, who shared her story of injury recovery.
As a sponsor of the event, Dance Spirit was lucky enough to get a front row seat, where we soaked in all the info the pros had to offer. Without further a do, here are seven somewhat surprising things we learned at this year's workshop:
1. You can (and should!) get a free injury prevention screening. Basically, a physical trainer will evaluate your whole body, looking for things like muscular imbalances or skeletal irregularities. Using this info, they can help you predict and prevent future injuries. If you're in NYC, you can get your free screening at Harkness Center for Dance Injuries. If not, chances are, you can find a clinic near you that offers similar services.
2. Dancers are poorly conditioned. WHAT?! That's right—according to Dr. Price, most dancers lack endurance for aerobic exercise (exercises that require oxygen, aka "cardio"). Think about the last time you did a crazy petit allegro, or a super-fast tap combo. Did you find yourself huffing and puffing at the end? Your body probably wasn't getting enough oxygen. Without it, your body turns to the sugars in your muscles for energy—which isn't so good for your muscles. "In the ideal world, I'd have every dancer on the stationary bike for 30 minutes, three times a week to build up their endurance," Dr. Price says.
3. Healthy fats (think: nuts, olive oil or fatty fish) are necessary for muscle recovery. They're packed with antioxidants, which help repair your cells after a workout.
4. When your teachers correct your technique, it's not just about the way it looks. "Proper technique isn't just an aesthetic," Dr. Price says. "It prevents injury by making sure the body works correctly."
5. Step away from the dead pointe shoes! They may feel sooo much comfier than the brand-spankin' new pair in your dance bag, but they won't give your feet the support they need. The same goes for old tap shoes, character shoes, jazz shoes...all of the shoes.
6. There's never an excuse not to do Pilates. "It's non-weight bearing, and very straight-forward to modify," says Powell. "Even injured dancers can participate." Pilates also teaches dancers how to adjust their movement both on and off the mat—and it helps even out muscular imbalances that could lead to injury down the road.
7. Getting injured could be a blessing in disguise. "Being forced to take a break from dance gives you time to enhance yourself as an artist," Tuttle says. She recommends dancers spend their time off learning about other forms of art. "It will make you a more well-rounded artist, while helping you maintain a healthy spirit of optimism," she says. "There is a light at the end of the tunnel."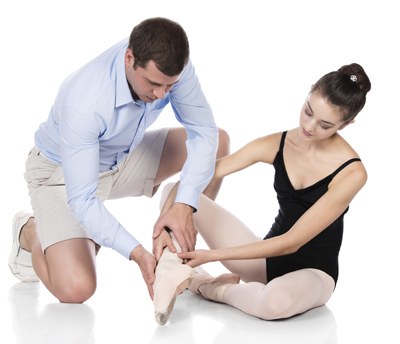 Speak up about any pain you might be feeling and get it checked by a professional.
Photo by Nanette Grebe/Thinkstock
Do you ever wonder if you are getting enough calcium? What about enough sleep? Did you know it's possible overstretch your legs to the point of injury?
Those were just a few of the topics addressed at last night's Injury Prevention Workshop, part of the Complete Dancer Series at the School at Steps in NYC. During the event, we heard from a professor of orthopedic surgery, a representative from the Harkness Center for Dance Injuries, a Pilates instructor and New York City Ballet principal Sara Mearns about what dancers can do to prevent injuries and enjoy long, strong and healthy careers. Dance Spirit was there to get the lowdown:
Women accrue more than half of their skeletal mass during puberty. What does this mean? We need to increase our calcium intake as much as possible since it can help prevent stress fractures now, and osteoporosis later. We also need lots of protein. Now, this doesn't mean you need to scarf down a hamburger and seven glasses of milk with dinner each night. Green leafy veggies are a better source of calcium than milk. Try adding some kale to your morning smoothies—you won't even know it's in there.
According to The Harkness Center, 60 percent of all dance injuries are chronic—caused by overuse (or misuse) over a long period of time—like tendonitis, bursitis, or stress fractures. (Compare that to 35 percent of acute injuries—one-and-done-type injuries, like ankle sprains.) So this means three things:
Robin Powell leads a Pilates demonstration.
Photo by A. Greenwald, courtesy The School at Steps.

Working correctly with proper technique and alignment, plus dancing on good flooring, can help prevent chronic injuries caused by misuse. Think about this: One dancer does 200 jumps in one class. Umm...that's a lot of stress on your joints!

Taking class all the time without any other activity is not healthy. Work in parallel, too—not only turnout. Play sports. Go to yoga class. If you do the same motions over and over again, you're creating muscular imbalances which can lead to injury. Strengthen your whole body—not just a few select muscles.

Fatigue is a HUGE cause of injury. You get injured when you're tired—when your muscles and joints are tired and when YOU are tired. So...
Get lots of sleep. Teen dancers need 9.25 hours every night. It may seem like a lot, but it can help.
From left: Dr. Andrew Price, Leigh Heflin, Robin Powell, Sara Mearns and Kate Thomas.
Photo by A. Greenwald, courtesy of The School at Steps.

As dancers, we are often "Type A" people—and perfectionists. Stress can be a healthy motivator for us. But stress also makes us tired. So remember that our parents and our teachers are our allies, not our enemies. If you feel extremely tired in class one day—maybe you woke up four times the night before and then didn't get to eat breakfast—tell someone! If you try to push through a hard class and you're not all "there," you could be putting yourself at risk for injury.
Think of your muscles like Play Dough. When it's cold and right out of the tub, the dough breaks easily when stretched. You have to mush it and mold it before it becomes pliable and stretchable. So after a long day of class and rehearsal, don't go home and stretch more—you'll be too cold. Plus, your body needs time to repair so you can be at your best the next day. Eat, do your homework and chill out. Save the stretching for the studio.
If you feel something, say something. If something hurts, speak up and tell your teacher. Overuse injuries are often easier to fix if they're caught early on. Of course, lots of times dancers are just sore. So how do you know when "sore" is really an injury? A good rule of thumb is that if it hurts for more than five days, see a doctor or medical professional. Chronic injuries are hard to detect, but if the soreness keeps happening, or it goes away and comes back more intense, there's cause for concern. Make an appointment ASAP—sometimes you won't be able to be seen for a few more days—and tell your teachers.
Take time off. It's suggested that all athletes need three months off to perform at their highest level. This doesn't mean you have to suddenly become a couch potato for three months each summer. But schedule a week here or there when you don't dance. Take Pilates, do yoga, go bike riding. Stay active, but stay out of the dance studio. It may sound blasphemous, but it can really help in the long run.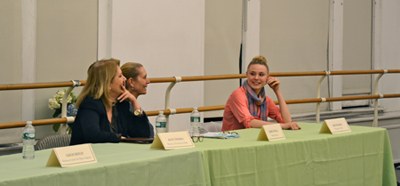 Sara Mearns spoke about her injury prevention regimen: a full-body massage using foam rollers and balls every morning following a hot shower.
Photo by A. Greenwald, courtesy The School at Steps.
Want to find out more? The Harkness Center for Dance Injuries (in NYC) offers one-on-one injury prevention assessments. They're free! You can make an appointment to look at your flexibility, strength, mobility or hypermobility and discuss what you need to stay healthy. Check their website for more info and details.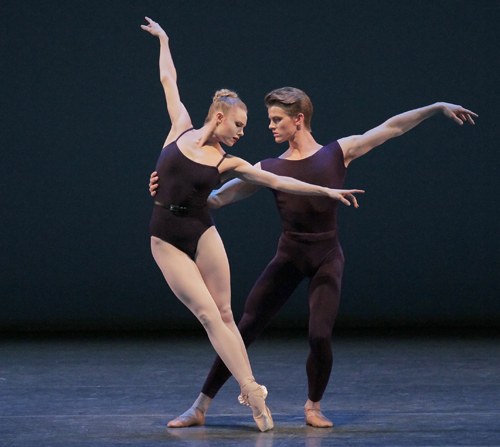 Sara Mearns and Chase Finlay in Polyphonia
Photo by Paul Kolnik
There's a saying for dancers: Our bodies are our instruments. But what's one thing dancers do that musicians rarely do? We beat up our instruments. We sometimes forget—or even neglect—the daily maintenance necessary for a long and healthy career. But we only get one body, right? So let's take care of it.
This Sunday (April 6) at 6:30 pm, The School at Steps in NYC is hosting an injury prevention workshop. There's going to be a whole panel of experts—including a Pilates instructor, a professor of orthopedic surgery and a representative from The Harkness Center for Dance Injuries—who will give plenty of tips for taking care of our bodies. Plus, New York City Ballet principal Sara Mearns(!!) will also be there!
So come with your questions and bring a notebook to jot down all the advice. You can purchase event tickets here ($10 for students, and teachers receive a 20 percent discount if they purchase five or more tickets). Can't make it? Look out for a recap of the event next week.
Pain, Pain, Go Away...
Injuries: Many dancers accept them as a necessary evil, just "part of the job." But what if they didn't have to be? Walnut Hill School for the Arts in Natick, MA, has developed an injury prevention program in collaboration with doctors from Boston Children's Hospital. Dance Spirit chatted with the school's director of dance, Michael Owen, and director of physical therapy, Susan Kinney, about four rules of injury prevention.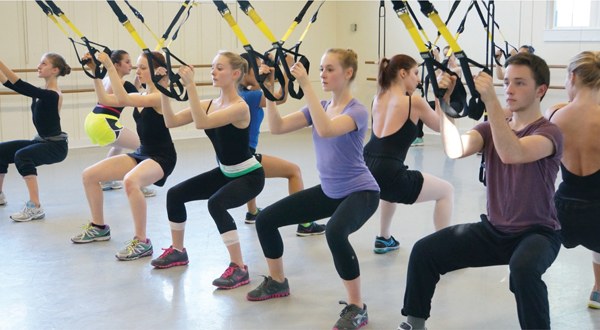 Students at the Walnut Hill School for the Arts cross-train in a TRX Suspension Training class targeted at dancers. (Photo by Amanda Grazioli)
CROSS-TRAIN. "Bodies crave muscular balance," Kinney says. But dancers tend to work the same muscle groups repeatedly and ignore others, which can lead to injuries. Through proper cross-training, you can strengthen underused muscles, while also stretching overused muscles.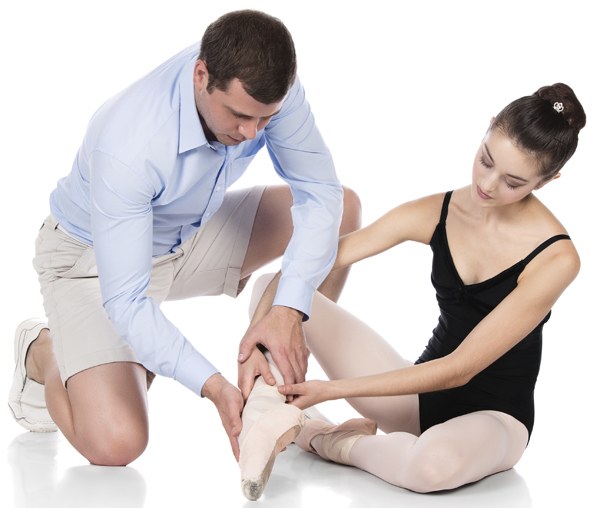 Talk to your teacher at the first sign of injury. "If you catch it early, it's gone early," Owen says. (Photo by Nanette Grebe/thinkstock.com)
STUDY ANATOMY. "It's important for dancers to be aware of which muscles they're using, and why," Owen says. An anatomical understanding of dance will help you internalize your teacher's corrections, because you'll appreciate the physical consequences (injuries!) of improper technique.
MODIFY. "There's no shame in modifying!" Kinney stresses. Modifications to technique, such as not going on relevé due to foot pain, allow your body to heal without keeping you from the studio.
LISTEN TO YOUR BODY. "The body will know when something isn't right," Kinney says. Early symptoms of pain and discomfort are warning signs of potentially more serious injuries.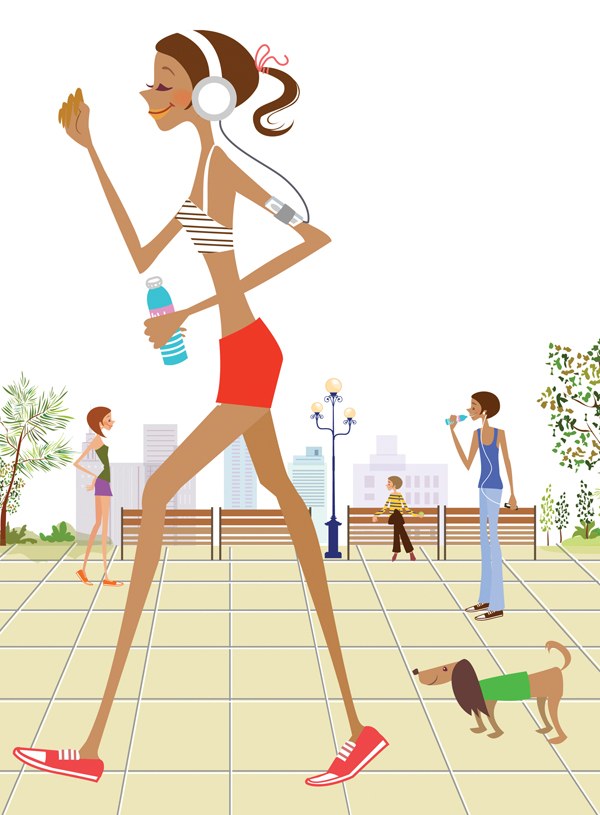 (Illustration by Eastnine Inc./thinkstock.com)
Did you know?
Controlling your playlist while you exercise can have real benefits. Researchers at the Max Planck Institute for Human Cognitive and Brain Sciences found that individuals who controlled the music they listened to were able to exercise longer than those who passively listened to music playing in the background. The researchers call this effect jymmin, a mix between gym and jamming. So next time you're feelin' the burn, make sure you've got your best playlist ready to go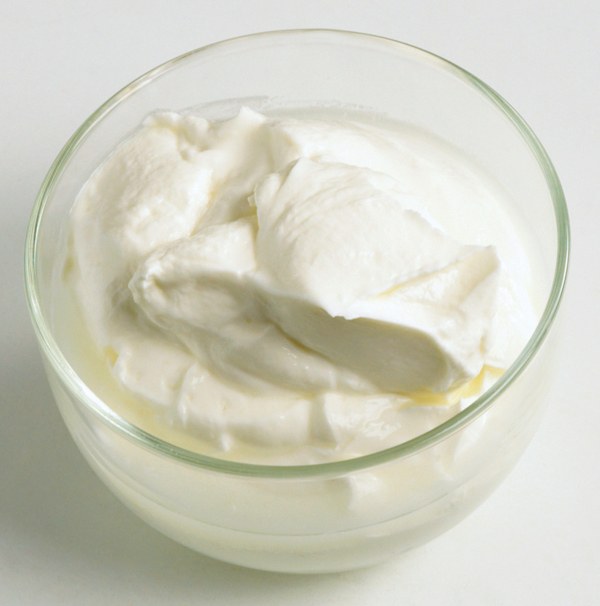 (Photo by Dave King/thinkstock.com)
Don't pour out the liquid at the top of your yogurt cup! It's filled with nutrients like calcium, vitamin D and probiotics. If it weirds you out, try stirring it in or saving it for a smoothie.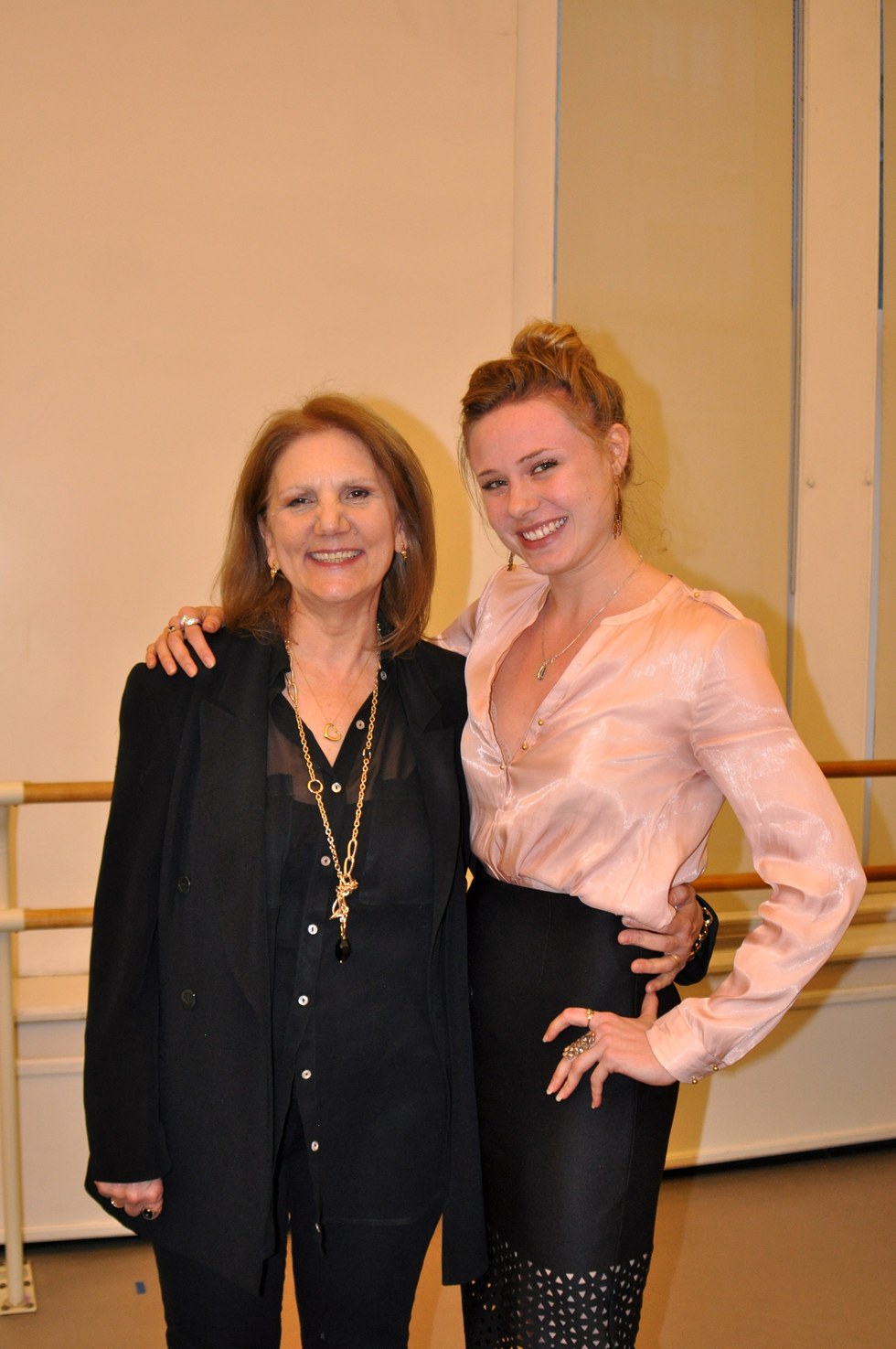 School at Steps director Kate Thomas with NYCB principal dancer Sara Mearns (courtesy The School at Steps)
Taking time off to recover from a stress fracture or strain can be unbearable for a dancer. That's why it's so important to do everything you can to prevent that dreaded injury.
On Sunday, The School at Steps in NYC hosted the "Injury Prevention Workshop," part of The Complete Dancer Series. Dance Spirit sponsored the event, and we were so excited to learn about taking care of our bodies from pros in the know.
The panel included clinical psychologist Linda Hamilton, pediatric orthopedic specialist Dr. Andrew Price, Dr. Marijeanne Liederbach of the Harkness Center for Dance Injuries, Pilates instructor Robin Powell, physical therapist Rebecca Blanchard and, a special treat, Sara Mearns, principal dancer with New York City Ballet. That's a whole lot of experts! And, boy, did they have a ton of useful information to dole out. Here's just a taste of the helpful hints attendees were privy to:
1. Don't dance to get in shape. Get in shape to dance. Improving your strength and stamina outside of the studio will improve your dancing in the long run.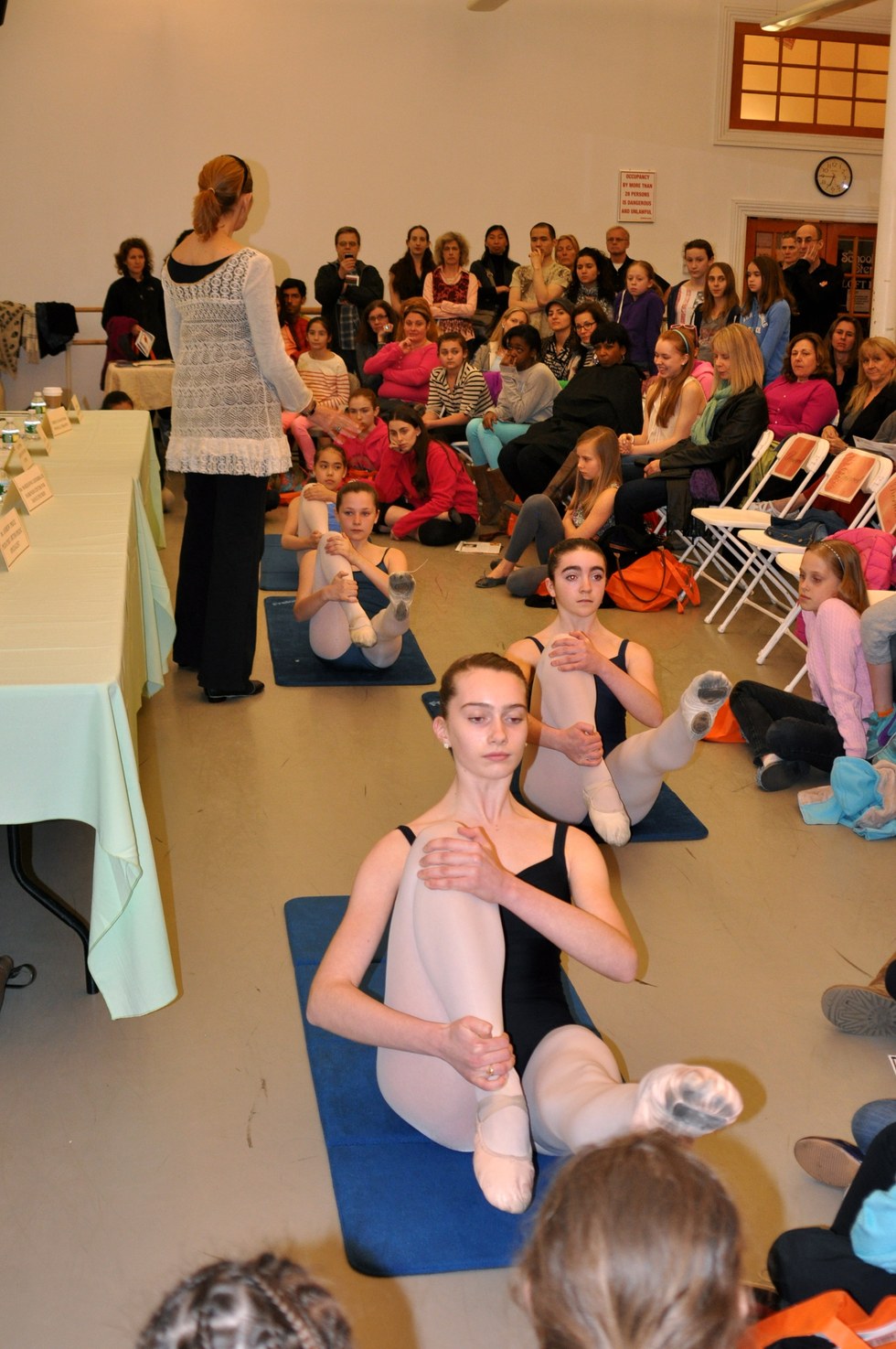 Pilates instructor Robin Powell gives a demonstration with School at Steps dancers Maria Edmond, Grace Sautter, Liza Berg and Bridget Scanlon. (courtesy The School at Steps)
2. That signature ballerina duck-walk is actually bad for you! Give your turnout muscles a break by cross training in parallel.
3. The two biggest contributors to injury are faulty dance technique and bad posture (not just while you're dancing, but while you're standing and walking around). So listen to your mom when she tells you to stand up straight.
4. 85% of all injuries happen in a previously injured joint. Give that ankle sprain the time it needs to heal, or you may be rocking a boot again before you know it.
5. Do you feel like your dance schedule is wearing on your body? Say something! Sara Mearns didn't, and she ended up with a bad back injury that took her away from dancing for eight months.
Want to know more about the most common injuries for dancers? Click here.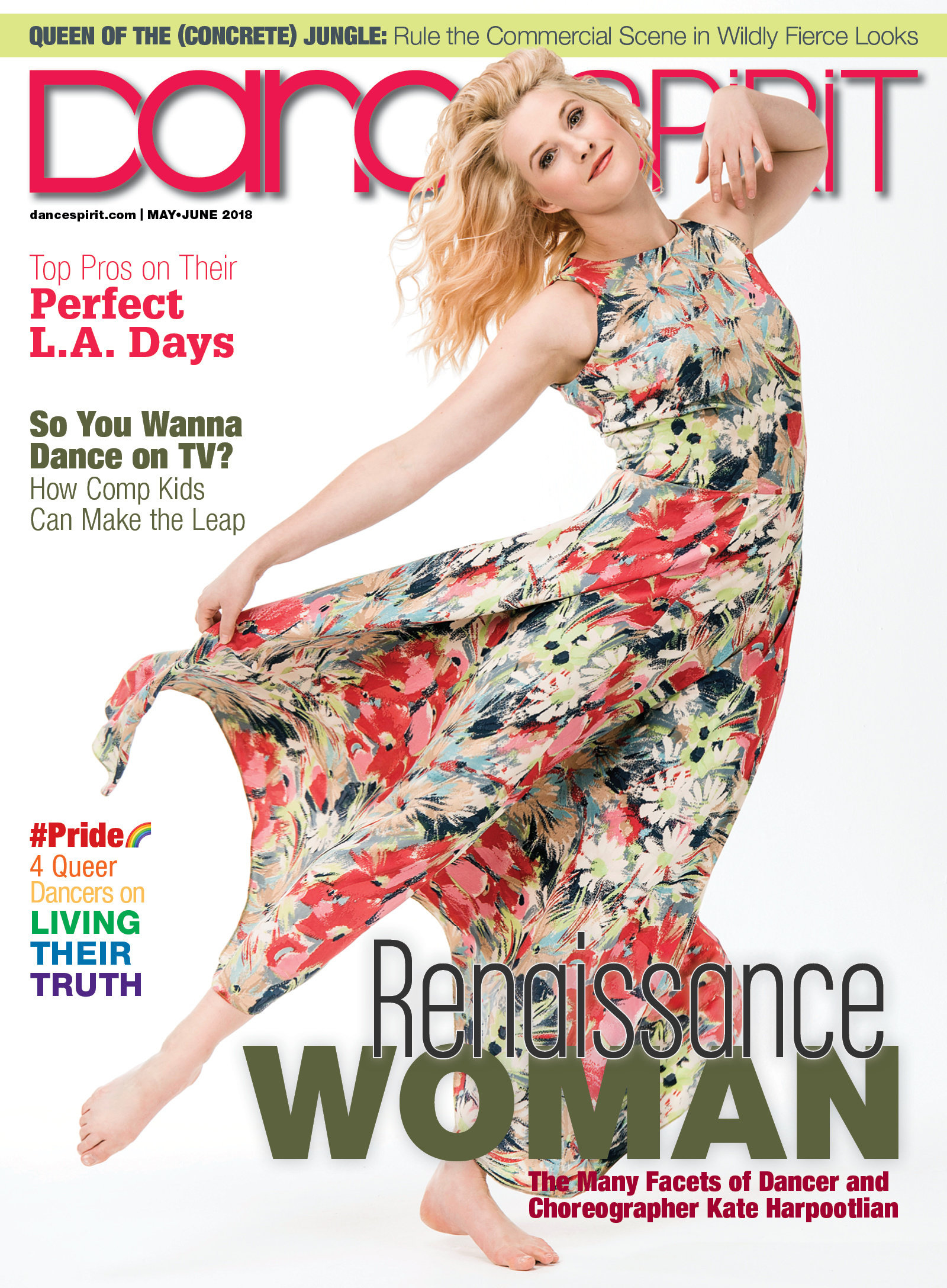 Get Dance Spirit in your inbox