screenshot via @donte.colley on Instagram
Y'all, it's time to call a spade a spade: The first month of any New Year kind of sucks. It's way too cold, you're probs failing at one or two of those ambitious resolutions, and spring (with its exciting performing opportunities) feels so very far away. And yet, in the midst of so much darkness, a hero has emerged. His name is Donté Colley, and you're about to double-tap every single thing he's ever posted.
Keep reading...
Show less
Getty Images
It's pretty much undeniable that today's social-media-obsessed culture expects you to build your brand online—even as you're still building your skills in the studio. The positives of gaining exposure as a student are obvious, and posting your dance accomplishments may feel natural if you're already personally prolific on platforms like Instagram, YouTube, or Facebook.
Keep reading...
Show less
Courtesy Krista Miller
17-year-old Autumn Miller is one of our (and over 900 thousand other fans') favorite dancers to follow on Instagram, where her bubbly posts include insane turning combinations, beautiful dance shots, and adorable family snaps. Turns out Autumn is just as fun and chic IRL. We got the inside scoop on how to steal her California-cool studio style.
Keep reading...
Show less
Photo by Christie Gibson, courtesy Jaxon Willard
For contemporary dancer Jaxon Willard, having over 57,000 followers on Instagram comes with the territory of being a top contestant on "World of Dance" last season. The 17-year-old American Fork, UT, native watched as tons of fans flooded his account after his first national TV appearance—people around the world connected with Jaxon's emotional and super-vulnerable performance expressing his feelings about being adopted. But what's it really like to become an Instagram sensation overnight? And how is Jaxon's life different now? Here, he tells his social media story. —Courtney Bowers
Keep reading...
Show less
Illustration by Clare Mallison
For 14-year-old Rose*, who trains at a prestigious ballet academy, social media is a double-edged sword. "I value it because I can keep in contact with people I meet at intensives," she says, "and it's also cool to follow dancers I look up to, who inspire me when I have down days." But on the flip side, "there's constant comparison," Rose says. "A friend might post a video of herself, and when I see it, I worry—am I improving enough? There's so much talent out there, it's easy to view yourself unfavorably."
If social media is giving you anxiety, it's time to take a step back and reassess. That doesn't necessarily mean going off the grid—though in extreme cases, logging out completely might be the answer. Here's how to keep your social media experience from taking a toll on your mental health.
Keep reading...
Show less
Unless you're living under a rock, you know that Queen Beyoncé completely dominated this year's Coachella festival—so much so that it was rechristened, and will perhaps forever be known as, #Beychella. And if you're like us, you couldn't take your eyes off her army of gorgeous, talented backup dancers, who were sharp and stunning throughout the entire performance. They should all be stars in their own right—which is why we're not surprised that, on Instagram, some of them are already celebrities. Here are 7 Beyoncé dancers you need to be following ASAP.
Keep reading...
Show less
Ingrid Silva and her dog, Frida Kahlo (Photo by Nathan Sayers, courtesy Pointe)

You're probably already following your favorite dancers on Instagram, but did you know that you can follow many of their dogs, too? We rounded up some of our favorite dog-centered accounts and hashtags to keep you pawsitively entertained (sorry, we can't help ourselves).
Thinkstock
Scrolling your feeds endlessly can have a serious impact on your posture and alignment. "Since 2008 or so, I've seen a lot of heads and shoulders hunched forward," says Kim Fielding, a former dancer who created a Pilates class specifically to counteract the effects of technology. "Some dancers will overcompensate for this, leading to splayed rib cages and too much curvature in the lower spine."
Medical pros are now calling this set of symptoms "tech neck" or "text neck," and they can ultimately lead to neck herniations, rotator cuff injuries, and even foot and ankle problems. Here's how to keep your tech from hurting your technique.
Keep reading...
Show less
Instagram star Kylie Shea has built a following of nearly 170,000 with her playful workout videos, which combine traditional fitness activities, like jumping rope or running on the treadmill, with pointe shoes and sassy choreography. Shea's effortless cool-girl-next-door vibe and solid ballet technique make her vids totally irresistible.
Now Shea's using her platform to address the body image issues that tend to plague dancers. In a poignant video, she sheds her clothes and tugs at her skin. The caption explains her relationship with her body and the pressure she feels to maintain a certain aesthetic as a dancer.
Keep reading...
Show less
Via @biscuitballerina on Instagram
Last week, we highlighted the deliberately, hysterically bad @biscuitballerina Instagram account, created by a then-mysterious dancer with a great sense of humor. This week, the artist behind @biscuitballerina—who turns out to be Royal Ballet of Flanders corps member Shelby Williams—got in touch with us to set the record straight about the intentions of those LOL-worthy posts.
Her photos and videos, with their exaggeratedly cringe-worthy technical flaws, are NOT meant to mock amateur dancers. Instead, Williams is actually hoping the account will help all dancers move past their shortcomings and accept themselves and their dancing.
Keep reading...
Show less
Get Dance Spirit in your inbox
How To
Aug. 15, 2017 03:38PM EST
Dance photographer Kenneth Edwards' shot of American Ballet Theatre soloist Cassandra Trenary (courtesy Edwards)
Is there anything better than a killer dance photoshoot? OF COURSE NOT! Whether you're taking headshots, model shots, or simply images that'll slay on Instagram, dance photography makes the world a prettier place.
To make sure your next dance photoshoot is as 🔥 as you are, we asked photographer Kenneth Edwards for his dos and don'ts. Follow his advice and your dance photography future will be as bright as your "golden hour" lighting.
Keep reading...
Show less
Popular
Aug. 10, 2017 12:41PM EST
@kalanihilliker via Instagram
If Kalani were to win an award for something besides her dancing, it would be for having the most "like"-worthy Instagram page (@kalanihilliker): It's jam-packed with behind-the-scenes pics of the "Dance Moms" cast, fashionable photo shoots, and goofy, candid moments. Here, Kalani shares the strategies that got her to 4.2 million followers.
Keep reading...
Show less
You guys know how obsessed I am with Insta meetups. These genius events unite passionate photographers with compelling subject matter, and then leverage the power of social media technology to give people multiple perspectives on the same idea, object or place.
May I then call your attention to The Royal Opera House's #balletbeauty meetup? Home of The Royal Ballet, ROH organized the event as a way to invite top London 'grammers to take a peek inside the dressing rooms of the company dancers. And while #balletbeauty pretty much spells out the theme of the images, there's a whole lot more performance face mirror selfies. Take a look:
Click here to see all the images!
OK you guys, I'm officially obsessed. This #empty trend on Instagram is absolutely captivating and when top 'grammers turn their lenses toward the world's most beautiful buildings—well, I die.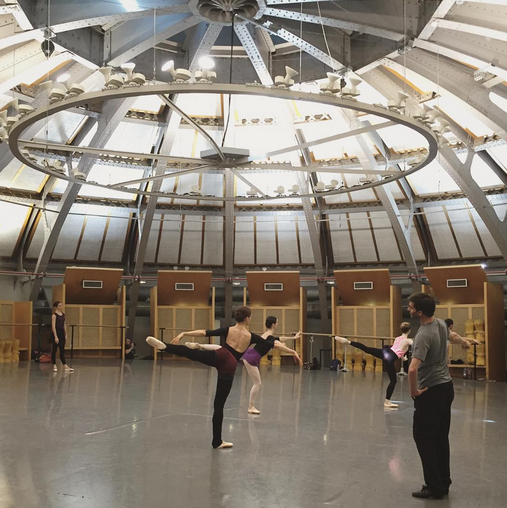 POB dancers in rehearsal (photo by @hannahrw)
It feels like it was just yesterday that I was freaking out over #emptyROH. Now, thank the interwebz for #emptygarnier. That's right, the most magical ballet palace on the planet opened its doors to a lucky group of 'grammers whose unique snaps and captures really show the different ways you can look at a place. Thanks also to the Paris Opéra Ballet's Insta-savvy new artistic director, Benjamin Millepied. He's going full-speed ahead when it comes to shaking things up at the POB—he's confidently mixing the old with the new. Civilian smart-phone artists to document an institution steeped in tradition and prestige? Why the heck not?!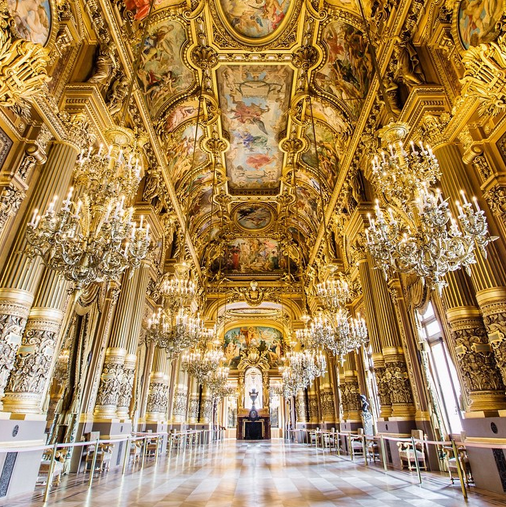 IS THIS A REAL PLACE?! (Photo by @wonguy974)
And whether they're tricky perspective shots, soaring views from the roof or intimate close-ups of tiny Palais Garnier details, each photo is a testament to the beauty of sharing our art with others, whether it's dance, photography or something else entirely.
This Thanksgiving, two celebrity families served up a LOT more than turkey and mashed potatoes. Former "Dancing with the Stars" partners Derek Hough and Maria Menounos ("Extra") battled it out over Instagram in a Thanksgiving dance war. And in the spirit of the holiday, their families got involved too.
It was a bold move for the Menounos family to challenge the Houghs to a dance-off, considering they've got two not-so-secret weapons: Derek and Julianne. But they brought their A-game with some Flo Rida, T-pain and shades:
In a surprise comeback, the Houghs relied on their family charm, rather than a flashy display of their professional skills:
Who do you think won the #Thanksgivingdancewars?
Nobody knows what we want from Instagram better than Boston Ballet principal, comp-world superstar and all-around #queen Dusty Button. Yes, she gives us lots of beautiful still photos showing off her flawless technique and crazy banana feet; we get peeks at her world travels with her husband; there are photos of her dance bag contents, and some puppy pics, and the occasional food shot.
But where Button really excels is in the video arena. Oh my LORD, friends: have you been watching these vids?? Most are just Button playing around in an empty studio—but her definition of "playing around" is, um, a little different than most peoples'. The clips showcase the kind of pure, unadulterated virtuosity that, for most of us, is the stuff of dreams. Button is LIVING those dreams.
Do you want pirouettes? Yeah, she can do that for you. How about 10, for starters—set to Drake for good measure?
Perhaps a little sampler including a (literally) 10-second balance? Yup, no problem:
Some beautifully controlled center work? Sure:
Last—but CERTAINLY not least—how about a bunch of drool-worthy foot close-ups? Oh yeah definitely:
And that's just the tip of the iceberg. So, yes; go follow this woman now. And for an even closer look at Button's multifaceted life, check out "In Her Shoes," our photo essay documenting her work in both the ballet and the competition worlds.