Susan Pilarre leading a class at the School of American Ballet (Ellen Crane, courtesy SAB)
As dancers, we're always trying to take our dancing up a notch, to improve our technique and artistry. Here are six crucial things that'll make all the difference in your training this year. Check them out!
Keep reading...
Show less
Ballet
Mar. 23, 2017 04:57AM EST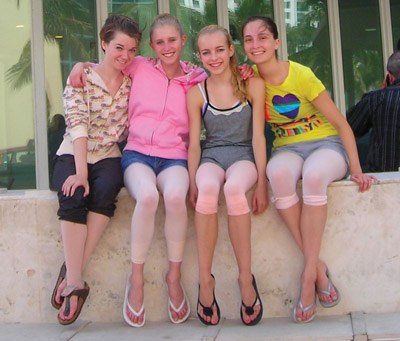 Raechel Sparreo (second from left) and friends outside the Miami City Ballet studios during the school's 2010 summer intensive
You're about to head to your first summer intensive. Congrats! You're on your way to a life-changing experience. But right now, you're probably super-anxious—overanalyzing, as dancers tend to do. "I was excited at first," 16-year-old Raechel Sparreo remembers of her first away-from-home summer intensive at Miami City Ballet in 2010. "But then I started to think, 'Will I make friends? Will the teachers like me? Will I be good enough for my level?'" (Raechel's story has a happy ending: She loved the summer program and is now a full-time student at the MCB School.)
Nerves are natural before any new experience. But your fears don't have to overtake you. Read on to learn the truth behind your top summer intensive anxieties.
How intense will it be?
If the word "intensive" freaks you out, you're not alone. "It sounds so intimidating," says 13-year-old Bella Halek, who dances at Summit Dance Shoppe in Plymouth, MN.
Basically, what makes summer programs "intense" is the amount of time you'll spend dancing: Anywhere from seven to 10 hours a day, five to six days a week. You'll work hard, and you'll have to adjust to new teachers, but you shouldn't be overwhelmed in every class. The trick is to take the program one class at a time. "It's a lot of dancing," Raechel says, "but once you get into it, you just adapt, no problem." And if you do feel overwhelmed, there will be teachers, counselors or chaperones on hand to help.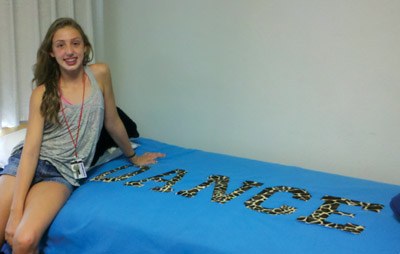 Bella in her dorm room at PCDF
My studio takes a summer break. What if I'm out of shape by the time I get to the intensive?
Even if your studio's not in session, stay active. "It's when dancers arrive at a summer course hoping to get back in shape that the injuries happen," says Denise Bolstad, administrative director at Pacific Northwest Ballet School. If you have free weeks before your intensive, try swimming or biking to keep up your stamina. "I did a floor barre Pilates workout almost every day, stretched and did ab exercises," Raechel says. You'll probably still be sore the first couple of days at the intensive—that part might not be avoidable—but you'll be safe.
If you do get injured, nearly every program has physical therapists on site who can keep little pains from turning into big ones. Contact your summer program to see if physical therapy is included in your tuition fee.
What if all the other dancers are better than me?
"When I went to my first intensive, I thought everyone was going to outshine me," says New York City Dance Alliance Summer Intensive teacher Lauren Adams. First of all, that probably won't be the case: You wouldn't have been accepted to the program if you weren't up to its standards. But Adams also suggests refocusing your approach: Rather than worrying about how you measure up to other dancers, work on developing a positive classroom relationship with your teacher. "Even if you have a rough class, there is some knowledge that you can take with you," she says. "Put the emphasis on, 'What am I learning? How can I bring it home with me?' "
What if I'm placed in the wrong level?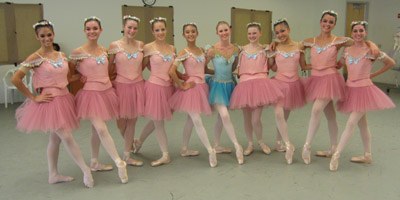 Raechel (in blue) and friends before the MCB school's 2011 summer intensive performance
The teachers at summer intensives want you to be in the level that will benefit you the most, and if they do happen to place you in the wrong one, they will move you during the first couple of days. Sometimes it can be disappointing to be placed in a lower level than you hoped—especially if you're in the top level at your home studio—but here's a secret: Levels don't matter much in the long run. "At Pacific Northwest Ballet, we place students according to age and physical strength level," says Bolstad. "The level you're in doesn't indicate your potential."
What if the training contradicts what my teacher at home has taught me?
With a new set of teachers at the intensive, you'll be sure to hear different ideas about how to approach your technique. Maybe one will want you to think about "pushing down" through the floor instead of "pulling up," like your teacher at home says. The key is to be open to trying new things. "We tell our students, 'We don't want to change you, and what you have learned is not wrong. We just want you to try it this way," Bolstad says.And one of those new approaches might fix your pirouettes or improve your balance. Once the intensive is over, you can choose which ideas you want to bring back home.
What if I get homesick?
Leaving home for the first time can be hard, but your life at the intensive will be full of dancing and dorm activities that should make separation from your friends and family easier. "I made tremendous bonds at all my intensives that took the pain of homesickness away," Adams says. If you do get sad, it's helpful to talk with someone instead of keeping it to yourself. Bolstad works regularly with homesick students. "You shouldn't feel bad about it," she says. "But try to stick it out instead of going home, because you will be really proud of yourself if you do."
What if I don't get along with my roommates?
Your roommates are your first built-in relationships of the program. You might become best friends with them, but you might just be acquaintances—if you don't get along, you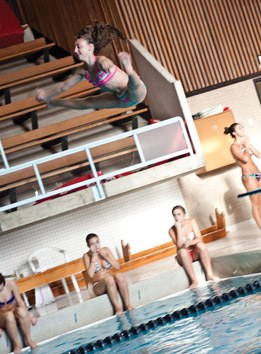 Bella jumping into the pool at PCDF (by Stephanie Crousillat)
don't have to hang out all the time. If you're anxious, you might be able to talk with your roommates over Skype or Facebook before the intensive. And if you have a serious roommate problem, the program may be able to change your room.
What should I pack?
The basics—dance clothes, toiletries, etc.—are obvious. But here are a few things you might not have thought of.
More pointe shoes than usual. At a ballet intensive, you'll probably go through at least one pair per week.

Pillows, blankets or photos from home. Never underestimate the value of making your dorm room feel "homey."

A dance bag with comfy straps. You'll be carrying it all over campus!

A swimsuit and a nice dress. You may think that you'll be living in dancewear, but plan ahead for the intensive's fun activities or weekend trips.
The days are growing shorter and chillier here in NYC, and whether we're ready or not, winter is coming. (Please, no more polar vortexes this year!) But don't let yourself get down in the dumps about the frigid months ahead. Instead, think of all the fun things about winter: hot cocoa, snow days, family time...and winter intensives!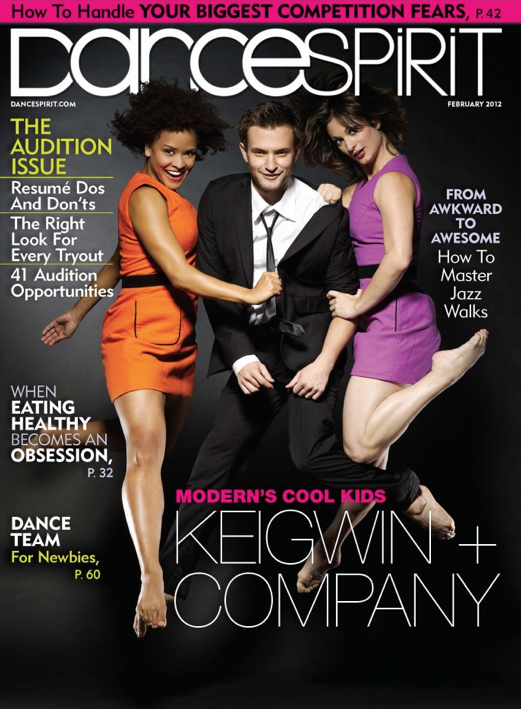 K + C's Kristina Hanna (top) Matthew Baker and Ashley Browne on the February 2012 cover of Dance Spirit! (Photo by Nathan Sayers)
Most of us are super familiar with the summer intensive format (the typical three- to eight-week grind). But the less-talked-about winter intensive can be a great way to catch a glimpse of a particular company or choreographer—especially one you may be interested in working with down the line. Winter intensives tend to be shorter—one to two weeks, or even a long weekend—so students can coordinate with their winter break schedules. But they're no less intense: Think 4–10 days of complete immersion.
This January, the popular NYC-based troupe (and our February 2012 cover!) KEIGWIN + COMPANY will hold a four-day winter intensive. Participants will take technique class and create and explore with artistic director Larry Keigwin and his company members. The intensive is intended for professional and pre-professional dancers, ages 18 and up, so it's perfect for the high school senior or college freshman!
The K+C intensive will take place from January 15–18 at Gibney Dance 280 in NYC. Click here to register by December 15—and register before October 15 to save $50!
Dec. 11, 2012 10:48AM EST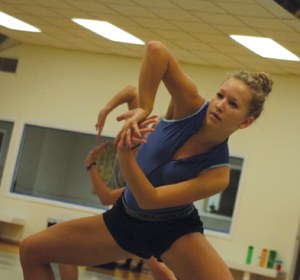 Darby Standing at the Modas Dance Summer Intensive
High school junior Darby Standing has attended the Modas Dance Summer Intensive in New Mexico for the past two summers. Why did she decide to return to Modas? "By going back I was able to dig deeper," Standing says. "Since the teachers knew me, they could pick out my strengths and weaknesses and help me grow."
But this summer, the Highland, UT, native is planning to attend the Alonzo King LINES Ballet Summer Program in San Francisco. "[Modas co-director] Duncan Cooper teaches at LINES, and he recommended that program as a good next step," she says. "I'm looking forward to learning different styles from different teachers, so I can become more versatile."
There are benefits to both repeating an intensive for multiple years and trying new programs. How do you know what's right for you? Read on for advice from teachers and professionals to help you make the right choice.
Why Go Back? 
You loved the program you attended last summer. Now you're giving serious thought to returning for a second—or third, or fourth—year. What will you get out of that choice?
• Comfort and familiarity. Whether the program focuses on a specific style or has a broader scope, you'll know what's expected of you. That means settling in sooner and giving your best from day one. "When you're comfortable in your environment, you feel more confident," says American Ballet Theatre corps member Cassandra Trenary, who attended ABT's summer intensives for five years. Pacific Northwest Ballet School administrative director Denise Bolstad adds, "You don't want to take too long to get into the groove at a summer program"—especially if it's only a few weeks long.
• A chance to dig deeper. "Each time I came back to ABT, the faculty knew what I needed to work on," Trenary says. "They kept me on track toward achieving my goals." Patrick Corbin, a former member of the Paul Taylor Dance Company who now teaches for The Taylor Intensives, adds, "If I see someone one summer who's a lyrical dancer, and then they come back for another summer, I can push them to explore the opposite of that. It's good to be challenged by teachers who know you."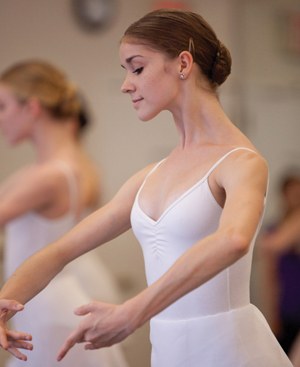 Cassandra Trenary as a student at the American Ballet Theatre 2010 Summer Intensive (Rosalie O'Connor)
• Repertory knowledge and audition prep. If you're interested in auditioning for a particular company, attending multiple intensives at its affiliated school can familiarize you with that company's repertory. "In an audition, you never know what they'll throw at you," says PTDC company member Heather McGinley. "You'll feel more comfortable if you've seen the rep before and are used to the style." Smaller dance troupes may even view intensives as informal company auditions. If you're not ready to join the company after your first summer, another year's training might give you a shot.
• School and company connections. Do you dream of attending a certain school year-round? Returning to the school's summer intensive can put you on the right path. "When we're considering students for the professional division at PNBS, we like to have a sense of who those people are, which often means we've seen them for several summers," Bolstad says. For Trenary, demonstrating her talent and dedication at ABT's summer intensives led to an invitation to enroll at the company's Jacqueline Kennedy Onassis School.
Why Try Somewhere New? 
Maybe you didn't click with the teachers at your last summer intensive. Maybe you aren't sure yet what professional path you want to take. Or maybe you just need a change. Whatever your reasons, trying out a different summer study experience has perks, including:
• Becoming more well-rounded. The most obvious benefit of attending various summer intensives is that you'll be exposed to new teachers, genres and ways of working. "It's important to discover different aspects of yourself," Corbin says. "Choreographers need dancers to be conversant in a variety of styles. Being well-rounded makes you more employable."
• Leaving your comfort zone. As a teen, Atlanta Ballet company member Jackie Nash attended a different summer intensive each year. Her goal? "I wanted to have as many different teachers as possible," she says. "It makes you braver—you never get a chance to get comfortable." Branching out will help you feel confident on the audition circuit, and make it easier to jump into working with different choreographers once you go pro.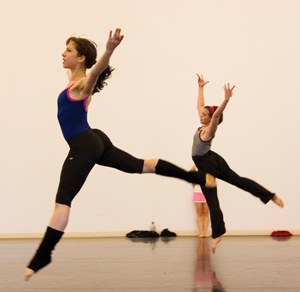 Students at the Taylor School Summer Intensive (Francisco Graciano)
• Broadening your network. Even if you only attend a program for one year, you can use it as a networking opportunity, so directors and teachers remember you in auditions down the line. McGinley and Nash both dance for companies whose summer intensives they attended only once. Plus, "Going to different programs introduces you to dancers from all over the country," McGinley says. "You can learn from them. What's their training like? What programs have they attended? It's good to see what you do from different angles."
The Final Verdict
The truth is, whether it's better to attend a program multiple times or to shop around is entirely up to you and what you hope to get out of the experience. If you're in doubt about the right path, get advice from your teacher—and a trusted faculty member at a program you've already attended. Both Bolstad and Corbin say they'll be honest with a student about whether she'll gain more from coming back or moving on. You should also think about each program's location, duration, room and board arrangements, and financial aid opportunities.
Above all, follow your heart. "Make the decision because you're interested in the work," Corbin says. "Decide that you're going to this program because you really believe in the artist or the company. Summer programs are strenuous, but you still want to have a good time. Go for what you love to do."
The Boston Conservatory Launches Musical Theater Dance Intensive
Are you a Broadway-baby-to-be? Head to Beantown this summer for The Boston Conservatory's new musical theater dance intensive. Broadway veterans and conservatory graduates Nick Adams and Noah Racey will be teaching master classes. Dancers between ages 15 and 25 can submit an audition video online through May 6.
Though there will be some vocal and acting instruction, the program will focus primarily on dance. In addition to master classes, attendees will be treated to ballet, jazz, theater dance, voice and acting classes taught by conservatory faculty and alumni.
The intensive will be held in the school's newly opened theater complex from July 17–August 6. For application info, visit bostonconservatory.edu/mtdance.
Youth America Grand Prix Hosts First Job Fair
After the awards have been handed out at this month's Youth America Grand Prix finals in NYC, the competitors will have an extra chance to impress potential employers. YAGP is calling the new venture a "job fair," and it has invited artistic directors and industry professionals representing more than 200 top ballet companies from around the world to observe a special audition class on March 23. (The finals are March 17–22.) The class, which will feature both classical and contemporary ballet, will be open to all current and past YAGP finalists, ages 16 and up.
YAGP awards more than $250,000 in annual scholarships to leading dance schools around the world. "One of the best ways to get into a dance company is to attend a school affiliated with that organization, so we've been indirectly helping dancers get jobs through our scholarships since the beginning," Sergey Gordeev, YAGP's director of public relations and external affairs, tells DS. "But we've realized that many of our finalists are ready for professional employment when they come to the competition." YAGP hopes this new job fair will provide career opportunities for such dancers. For details, visit yagp.org.
CPYB's Dylan Cobb Receives Jerome Robbins Foundation Scholarship
Seventeen-year-old Dylan Cobb is studying dance with Central Pennsylvania Youth Ballet tuition-free for the entire year, thanks to the new CPYB Jerome Robbins Scholarship. The $8,000 scholarship was established after CPYB was awarded a grant from the Jerome Robbins Foundation earlier this year.
CPYB CEO Alan Hineline tells DS that Dylan, currently in his third year at the school, was selected for the award because: "He sets the tone for the whole school with the way that he behaves and through his work ethic. He's a great example of how we like our students to work and just be as people."
Dylan says the award motivates him to continue working toward his goal of dancing in a professional company. "It inspires me to work even harder," he says.
DanceU101.com
Do you have questions about the college application process, college dance auditions, how to choose a degree or even how to finance your education? Head to the "Ask the Experts" section of DanceU101.com, where all the answers you've been searching for are just a click away! The site is also full of information about dancing in college and has up-to-date facts on more than 600 college dance programs. Check it out!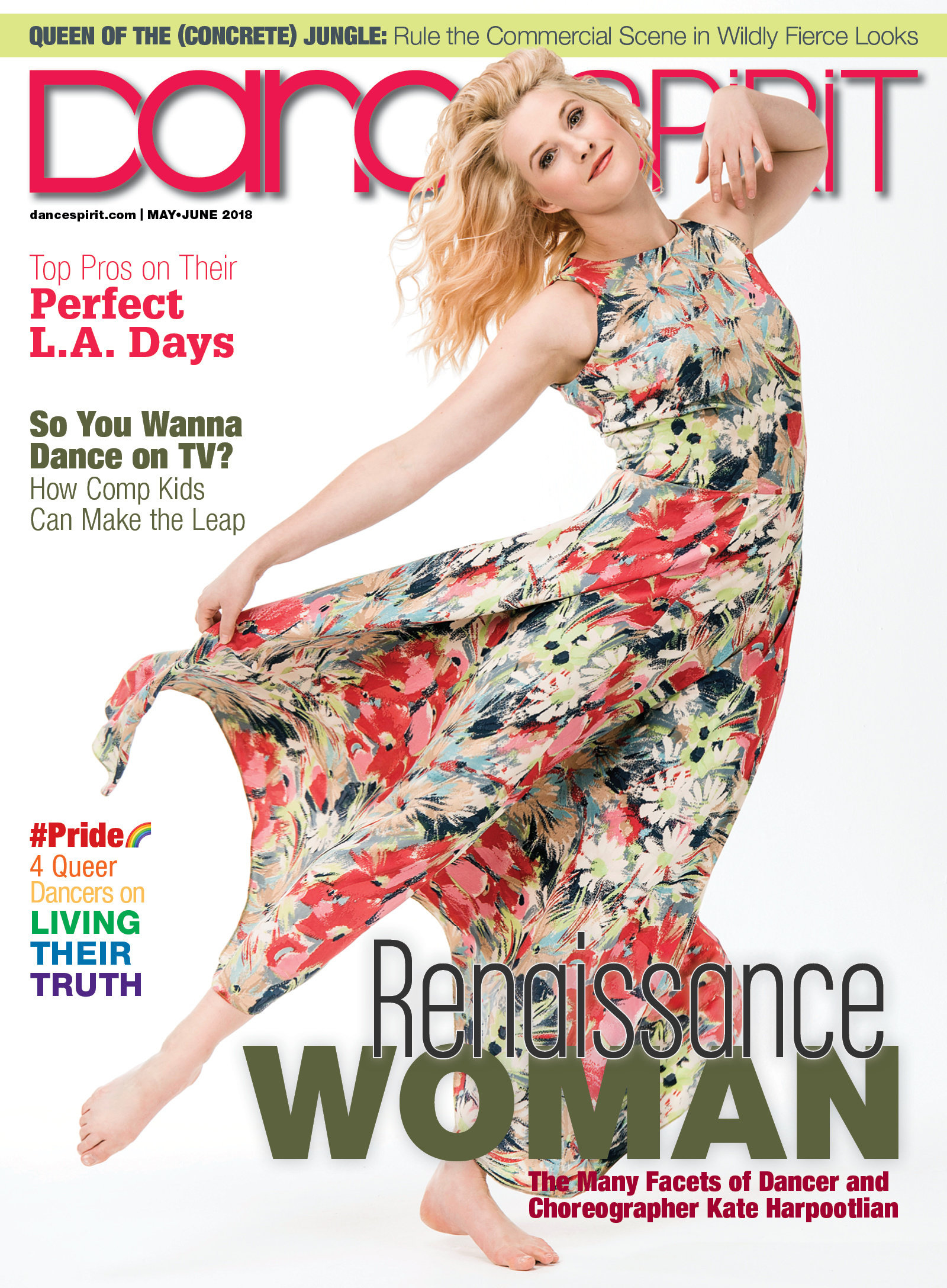 Get Dance Spirit in your inbox