Sep. 13, 2018 09:00AM EST
Photo by Erin Baiano
We're thrilled for our Cover Model Search winner Sydney Burtis—but we also love our two runners-up, Jacalyn Tatro and Shelby Patterson! We talked to Jacalyn about how life has changed since her NYC visit for the contest.
You could forgive Cover Model Search runner-up Jacalyn Tatro for resting on her laurels a bit. After all, by May of this year, the 19-year-old was already a three-time New York City Dance Alliance National Outstanding Dancer winner and a member of The Juilliard School's Class of 2022. But this superstar lives in the moment and focuses on the process.

Over the summer, that process included preparing to head off to college in NYC and soaking up every minute of one last Nationals season with her home studio, Inspire School of Dance. "I think it was a great ending to my competition career, if you will," she says. "We had two other seniors at my studio too, so it was a good send-off to college for all three of us."
Now almost a month into classes at Juilliard, Jacalyn's enjoying the intensely dance-focused environment and looking forward to all the learning opportunities that the next four years have in store. Read on to find out what's changed for Jacalyn post-Cover Model Search!
Cover Model Search
Jun. 15, 2018 09:44AM EST
Photo by Erin Baiano
Click here to vote for Jacalyn.
It feels impossible to put the magic of Jacalyn Tatro's dancing into words, but "old soul" is a good place to start. With her coiled-spring energy and crystal-clear technique, Jacalyn imbues choreography with a gravity and poignancy you'd expect from a veteran professional dancer, not a rising college freshman.
Popular
Dec. 01, 2017 10:35AM EST
Instagram via @jacalyntatro17
Congratulations to the November Cover Model Search Editors' Choice video winner, Jacalyn Tatro! Catch her solo by clicking here, and enter the Cover Model Search here!
Cover Model Search
Apr. 19, 2016 01:15PM EST
If there's one thing NYCDA Executive Director Joe Lanteri knows how to do, it's make dreams come true. This was obvious at last night's New York City Dance Alliance Foundation Gala, "Destiny Rising," at The Joyce Theater. It was an evening of passionate performance by tons of crazy-talented dancers, many of whom grew up as self-proclaimed "NYCDA babies." We loved every minute of the evening, especially the touching moments when the foundation's college scholarship recipients spoke about all the doors NYCDA had opened for them (and it's particularly special since our sister publication, Dance Magazine, is a gold sponsor!). Check out some of our highlights below:
(via NYCDA Facebook)
Marymount Manhattan College Dance Company opened the show with a riveting piece, Under the Surface, choreographed by MMC's Dance Department Chair, Katie Langan. Each dancer was clad in a floor-length skirt and the visual effect was stunning—every développé, pirouette and jump sent the skirts flying through the air, catching the stage light in the process. When the piece ended, the audience was ready for more.
MMC in rehearsal. (via NYCDA Facebook)
NYCDA is all about providing opportunities for its dancers, and this mission was perfectly encapsulated by Inspire School of Dance from Naperville, IL, which made its professional stage debut—at the Joyce Theater, no less. The 14 girls—including 2014 NYCDA Teen Female Outstanding Dancer, Jacalyn Tatro—took the stage with confidence and gave a commanding performance.
Inspire Dance performing Love With Urgency (via NYCDA Facebook)
The evening continued with stellar performances from RIOULT Dance NY, The Francesca Harper Project, DS 2009 Cover Model Search winner Ida Saki and Austin Goodwin, New York City Ballet principal Robbie Fairchild, and the Point Park University Conservatory Dance Company. There were also tons of familiar faces gracing the stage, including 2015 CMS finalist Jordan Pelliteri, 2011 CMS winner Kaitlynn Edgar, Corey Snide and the dynamic Mattie Love, who, at the 2012 NYCDA gala, gave a speech about how excited she was to start her dance journey at MMC—and last night, in a very full-circle moment, took the stage to thank Lanteri and NYCDA for opening countless doors in her career. It was the perfect cherry topper for a magical celebration of this incredible foundation.
Jul. 08, 2014 12:46PM EST
Oh my goodness, you guys: What a crazy, jam-packed, INCREDIBLE week it's been here in NYC! New York City Dance Alliance finished up its Nationals last night with an epic closing gala, capping off nine days of workshop classes and competition. And talk about talent! I'm still kind of overwhelmed by all of the amazing dancers—many of them familiar faces. Here are some of my top moments from NYCDA Nationals.
-First of all, you guys already know that the NYCDA faculty lineup is fantastic. Tony Testa? Melissa Hough? Chloe Arnold? Taja Riley? Andy Blankenbuehler? Dana Wilson? Joey Dowling? Cindy Salgado? Insanity—and those are just the people who were sitting directly in front of me at the gala last night. I loved seeing them cheer on each and every one of the competitors. I especially liked watching ballerina Hough as she relished the ballet dancers—like last year's National Mini Female Outstanding Dancer, Jasmine Cruz—and I had fun looking on as hoofer Arnold got way into some of the tap performances. (Also: Everyone on faculty is ridiculously stylish. Goodness, do I wish I could pull off a crop top like Arnold, or a trumpet ballgown like Dowling.)
-As for the dancers: There were so, so many standouts! I'm having a hard time narrowing down my list. But I especially loved the ones who thought just as much about what they were conveying as how they were conveying it—who gave equal weight to artistry and technique. Mini Female OD finalist Tate McRae paired gorgeous ballet training with a powerful, emotive onstage presence. Teen Female OD winner (congrats!) Jacalyn Tatro wowed with both her incisive legwork and her smoldering, sultry demeanor—she dared you to look away. Two of our Cover Model Search finalists, Christina Ricucci and Sarah Pippin, gave super-strong performances in the Teen Female OD and Senior Female OD categories, respectively (both made the top four!). And tiny tapper Luke Spring showed off not just incredibly fleet feet, but also irresistible charisma in his solo to Michael Jackson's "Dangerous." He earned the National Male Mini OD title—and a comparison, by director Joe Lanteri, to one Mr. Corey Snide, who won his own Mini OD title 10 years ago doing a tap routine to Jackson's "Bad." It was almost too perfect.
Twinning! (Left) 2004 National Mini Male OD Corey Snide, now a student at The Juilliard School, and (right) National Mini Male OD Luke Spring (left photo by Erin Baiano; right via NYCDA)
-As for the group routines: I love me some drama, but I have to say that my favorite numbers were the upbeat, hard-hitting ones, rather than the angstiest of the angsty. I was totally blown away by the take-no-prisoners ferocity (and the impressive unison) of the Westlake School for the Performing Arts dancers in their Teen group piece, "Royals."
-Let's talk about the college scholarships awarded at NYCDA this week, shall we? I was lucky enough to be part of the college scholarship audition process, so I can say from firsthand experience that the pool of college hopefuls impressed not just with their technique, but also with their eagerness and professionalism. Between NYCDA's college partners—which included the likes of Marymount Manhattan College, Point Park University and PACE University—and the NYC Dance Alliance Foundation, more than $4 million in scholarships were given to more than 50 deserving dancers. $4 million! That's a new record for NYCDA, and kind of a mind-boggling number.
Lanteri onstage with all the scholarship winners (photo via NYCDA)
-Last but not least: NYCDA turned 20 this year! Naturally, they put together an adorable birthday video for the junior gala. But what really touched me was the number of NYCDA alums and former faculty who came out to celebrate the milestone. As Lanteri said last night, NYCDA is a real family—and once you're in, you're a member for life.
Few things make me as happy as Joe Lanteri in a party hat.
Apr. 20, 2012 11:18AM EST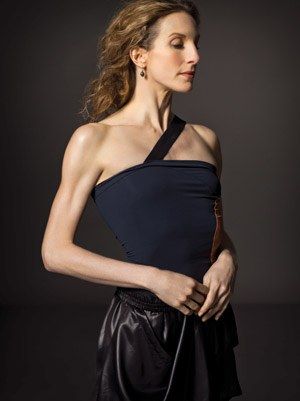 Wendy Whelan (by Henry Leutwyler)
Wendy Whelan
Principal Dancer, New York City Ballet
"One of my most memorable performances took place at the Palais Garnier in Paris in 2008, alongside dancers of the Paris Opéra Ballet. I danced the ballerina role in the second movement of George Balanchine's Symphony in C. It took a lot of mental preparation for me to get ready for that moment—dancing this monumental role at probably the most famous opera house in the world, where Symphony in C actually had its premiere in 1947.
On a more personal note, my childhood ballet teacher was a dancer with POB. She was the first person who believed in me. She told me I had the potential to make something of myself as a dancer. I proudly danced that performance of Symphony in C in her honor. I still have my pointe shoes from that night. It's the only pair of shoes I've ever saved from a performance."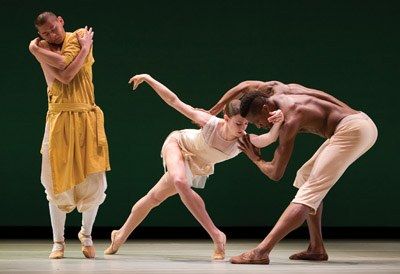 (Courtesy LINES ballet)
Meredith Webster
Alonzo King LINES Ballet
"One performance that remains clear in my memory was in Vaison-la-Romaine, in the Provence region of France. LINES danced there at an ancient open-air amphitheater. We were performing a collaboration with some of the Shaolin monks, and the feeling of being onstage with them, with ancient columns and worn bricks surrounding me and constellations in sight whenever I looked up, was overwhelmingly beautiful."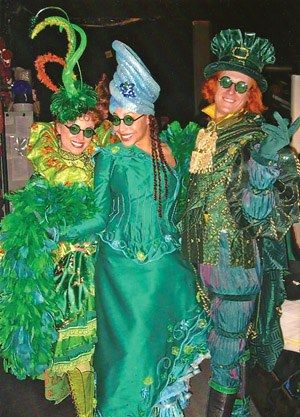 (L to R) Jennifer Di Noia, Afra Hines, Nathan Peck
Afra Hines
Ghost: The Musical on Broadway
"My most memorable performance was my Broadway debut in Wicked in 2006. Growing up I was primarily a dancer—I didn't sing or act. So doing Wicked on Broadway opened a whole new world to me. Now I'm in my third Broadway show, and I love it."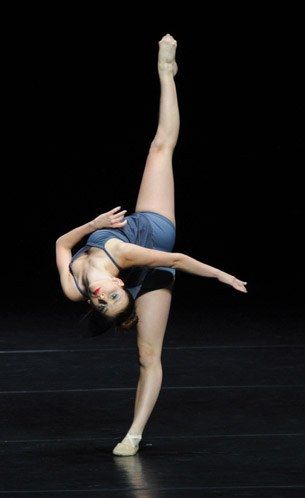 Megan Branch (courtesy Celebrity Dance Competitions)
Megan Branch
Commercial Dancer
"Last summer, I competed for the last time at West Coast Dance Explosion Nationals with my studio, Dance Connection 2. I improvised my solo, and it placed in the top three. It was a little nerve-racking knowing I would be on my own the next year pursuing my dance career, but it felt really good to take the stage that last time and give it my all."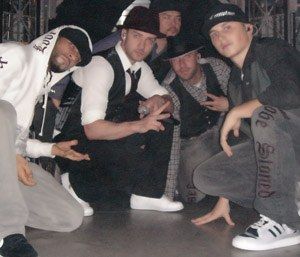 Kenny Wormald (far right) with Timberlake (second from left) and dancers
Kenny Wormald
Commercial Dancer
"When I was performing on tour with Justin Timberlake, we did a show in Boston, MA, at the TD Banknorth Garden. I'm from Boston, and just a few years prior to the performance, I'd been back home in my living room trying to learn JT's choreography. To return to my hometown performing with my favorite artist in the world was amazing. It taught me that anything is possible!"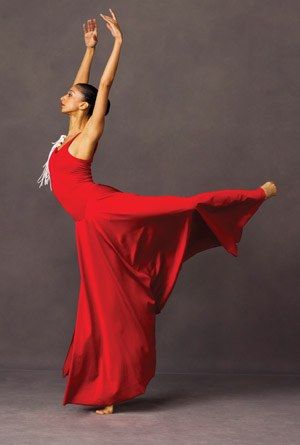 Alicia Graf_Mack (by Andrew Eccles)
Alicia Graf Mack
Alvin Ailey American Dance Theater
"I performed Memoria this last New York season—it's a piece choreographed by Alvin Ailey that I have loved since I was young. Memoria takes its lead dancer on a journey: She hears calls to go to heaven and ascends to another world. Groups of dancers move around her for much of the piece, so it feels like you're dancing in a swirl of light. It was my first season back after not dancing for three years because of a knee injury and arthritis, so the plot of transcendence was close to my heart."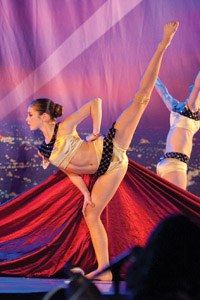 Jacalyn Tatro (Michele Welsh/Inspirations Photography)
Jacalyn Tatro
Student, Inspire School of Dance in Naperville, IL
"Last year, I performed a dance called 'The Lost Soldier' at New York City Dance Alliance Nationals. Because it was on the Fourth of July, I felt a deep connection to what soldiers go through. I think all of us were able to move people in the audience even more than we usually do at competitions."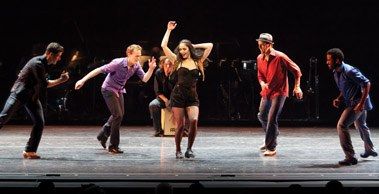 Melinda Sullivan (center) (by Richard Termine)
Melinda Sullivan
Tap Dancer
"This past October, I performed with the New York Song & Dance Company at the Career Transition for Dancers Gala in NYC. I was featured as a vocalist and tap dancer in a number called 'I've Got You Under My Skin.' I looked into the wings during the performance and saw Chita Rivera sitting there, smiling at us. I thought, 'Oh my gosh, I'm singing and dancing for one of the world's greatest song and dance women!' After the show I had the chance to meet Chita. We had an exchange I'll never forget. She was just like, 'Do your thing, girl!' "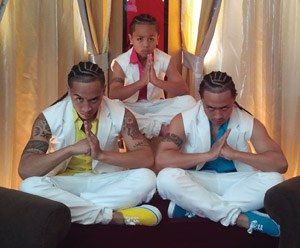 Hefa (left) and his brothers on the "DWTS" set
Hefa Tuita
Commercial/Ballroom Dancer
"Recently, my brothers and I performed a piece that I choreographed on "Dancing with the Stars." To share that moment on the stage with my brothers—to be on TV in front of thousands of people with the people I love most—was so beautiful to me. The energy was kind of spiritual; it almost brought tears to my eyes."
Get Dance Spirit in your inbox