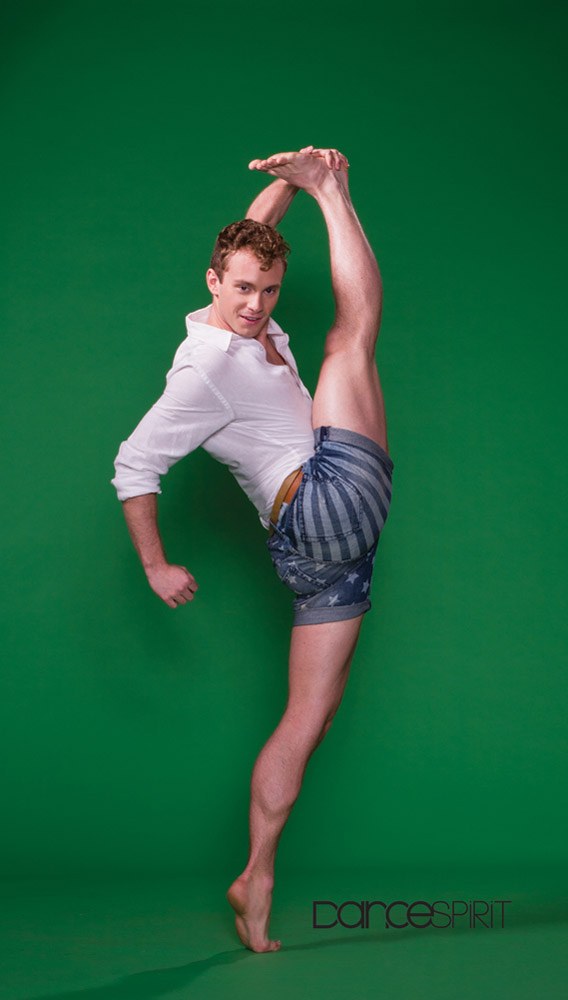 Jakob Karr (by Joe Toreno)
Our July/August issue is here! We're so excited to present our NYC Issue featuring musical-theater newbies Jakob Karr and Kamille Upshaw. We met up with them in Tempe, AZ, on the route of the Flashdance: The Musical tour, where they posed for photographer Joe Toreno, rocking huge smiles despite the 100 degree heat. Plus, they shared their anecdotes about transitioning from comp kids to musical-theater buffs. (Read advice from Jakob, Kamille and others in "Your Name in Lights.") Want to learn more about these two triple-threat dancers? Read on for some Fast Facts:
JAKOB KARR 
Birthday: June 21, 1990
Hometown: Orlando, FL
Childhood studio: Shooting Stars School of Performing Arts in Clermont, FL
Most-played on his iPod: "Young and Beautiful" by Lana Del Rey
Who would play him in a movie? "A hybrid of Jennifer Lawrence and Ryan Reynolds"
Favorite teacher/class: "I'm a huge fan of Joe Lanteri's class at Steps on Broadway. If I'm in town, I'm there, and I'm in the front row."
Favorite dancer of all time: Gene Kelly. "He's talented, captivating, subtle, cool, crisp and sexy."
Favorite food: Mexican
Hidden talent: "It's more of a birth defect. I can breathe air in and out of my eyeball, like I can blow bubbles out of my eye underwater. It's kind of disgusting, but it's a pretty cool party trick."
If he could be a superhero, his power would be: "Obviously I'd want to fly, but I like to believe that in my superhero land all superheroes fly no matter what. So I'd love to be able to live underwater and become the cooler, modern Aquaman."
The first thing he does in the morning: Listen to music. "I have to start the day with some jams."
The last thing he does before going to bed: Check Instagram
Dance crushes: Ryan Steele and Grace Buckley. "They're my roommates, and they're so talented. I'm in love with both of them and I can't get enough of them."
Favorite dance movie: Dirty Dancing
Must-see TV shows: "Game of Thrones." "I would never recommend it to anyone under 17, but I'm addicted."
Dance BFFs: "Again, my roommates. We're all obsessed with each other. We just really, really like each other."
Three words that describe his personality: Bright, silly, determined
Three words that describe his dancing: Big, bendy, explosive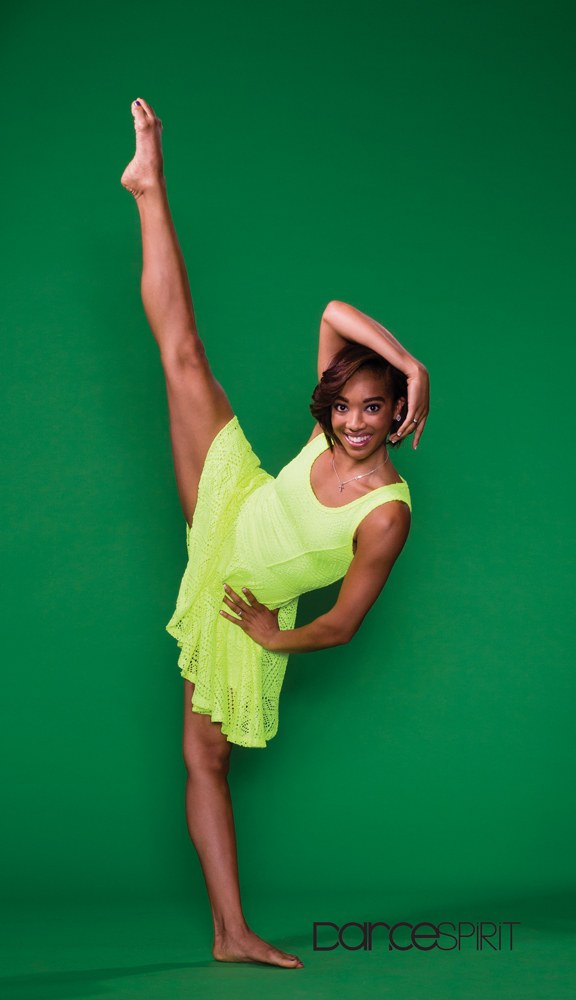 Kamille Upshaw (by Joe Toreno)
KAMILLE UPSHAW
Birthday: September 9, 1989
Hometown: Upper Marlboro, MD
Childhood dance studio: Spotlight Studio of Dance in Millersville, MD
Most played song on her iPod? "Locked Out of Heaven" by Bruno Mars
Who would play her in a movie? Amandla Stenberg from The Hunger Games. "She's a complete lookalike of me when I was younger. As she gets older, she could just continuously play me."
Favorite dancer of all time: "I can't narrow it down to one dancer, so I'll say a company. Nederlands Dans Theater will always be my ultimate favorite. They have the most beautifully artistic dancers."
Favorite teacher/class: "My home studio teacher, Wyndee McGovern. Every time I go home to take her class it's like I've started dance all over again."
Favorite food: "Anything with goat cheese on it."
Something people don't know about her: "I aspire to be a photographer. It's something I'd like to delve into as I get older."
If she could be a superhero, her power would be: "The ability to make everyone happy. I'm such a people pleaser."
The first thing she does in the morning: "Check my phone to see if I have any emails, texts or Instagram comments. Then I roll my ankles."
The last thing she does before going to bed? "It's never the same. But I'm a big journal person. Writing is very relaxing."
Dance crush: "My boyfriend, James Boyd, is amazing. But other than that, my dance crushes change quite a bit. It's whoever catches my eye in the moment. If I chose one, I feel like I'd be cheating on everyone else."
Favorite dance movie: West Side Story. "I have two VHS tapes and a DVD, and I have it on iTunes."
Must-see TV shows: "I am a 'Dance Moms' fan always and forever. Since I grew up in that world, it fascinates me, no matter how crazy it seems. I also love 'Revenge.' "
Guilty pleasure: " 'Keeping Up with the Kardashians' or anything that has to do with the Kardashians."
Three words that describe her personality: Caring, confident, corny
Three words that describe her dancing: Passionate, strong, fluid
Fashion
Mar. 08, 2016 02:26PM EST
Virgil Gadson (Lee Cherry, courtesy FOX)
Forget the sugary hearts and boxes of chocolate—what's Valentine's Day without a little eye candy? In lieu of long-stemmed roses, here's our gift to you: seven of our favorite male dancers, who are equal parts gorgeous and gifted, sounding off about everything from their favorite roles to their first kisses.
Keep reading...
Show less
When I find out there is a video on the internet featuring Jakob Karr that I somehow haven't seen, my day is immediately halted. Must. Watch. Jakob.
Choreographer Lauren Adams recently released a new project she had been working on (and hinting at heavily on Facebook!). A project including Jakob Karrrrrrr!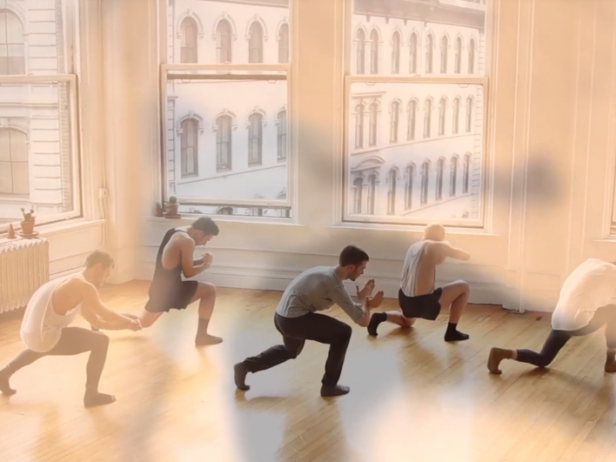 A shot from "Angel(s) on Fire"
But not just Jakob Karr. Also a whole handful of other awesome, strapping men: Jason Parsons (the bald, mysterious one), Joey Arrigo (the comp kid turned technical whiz), Corey Snide (the tapper who can also do everything else well, too), Austin Goodwin (the scruffy, captivating redhead) and Danny Tidwell (no intro needed, am I right?).
Adams directed and produced this piece, called "Angel(s) on Fire," and I keep watching it because there's so much to see. The video was filmed and edited by Allison Schultz, who does an incredible job shooting from crazy angles and layering the shots throughout the four-minute routine.
So yes, I have this love thing (from afar, of course) going on for Jakob, but I actually found myself most drawn to Corey Snide as I watched the "angels" in action. Corey, weren't you, like, just New York City Dance Alliance's Mini Oustanding Dancer? (You may also recognize Corey from our September 2013 cover—he's a Juilliard man now!)
The choreography seamlessly blends contemporary elements with tap-like movements, a boxing series and the guys playing with feathers.
Click here to watch "Angel(s) on Fire." I think you're going to like it.
Every now and then, we come across a dance video that's so lovely, so breathtaking, so special that we just let it roll on repeat for days at a time.
The latest video we can't stop reloading and re-watching is "Silhouette" starring three of our favorite roommates: Ryan Steele, Jakob Karr and Grace Buckley. Set to hauntingly beautiful music by Active Child featuring Ellie Goulding and choreographed by Buckley, this piece is nothing fancy—it's just clean, simple, elegant dancing. Plus, the three dancers are best friends, making it even more fun to take a trip into their little world. Bonus: The video was shot and edited by Andrew Keenan-Bolger, one of Steele's castmates in Newsies!
For your viewing pleasure...
This is totally what you and your roommates do in your spare time, right?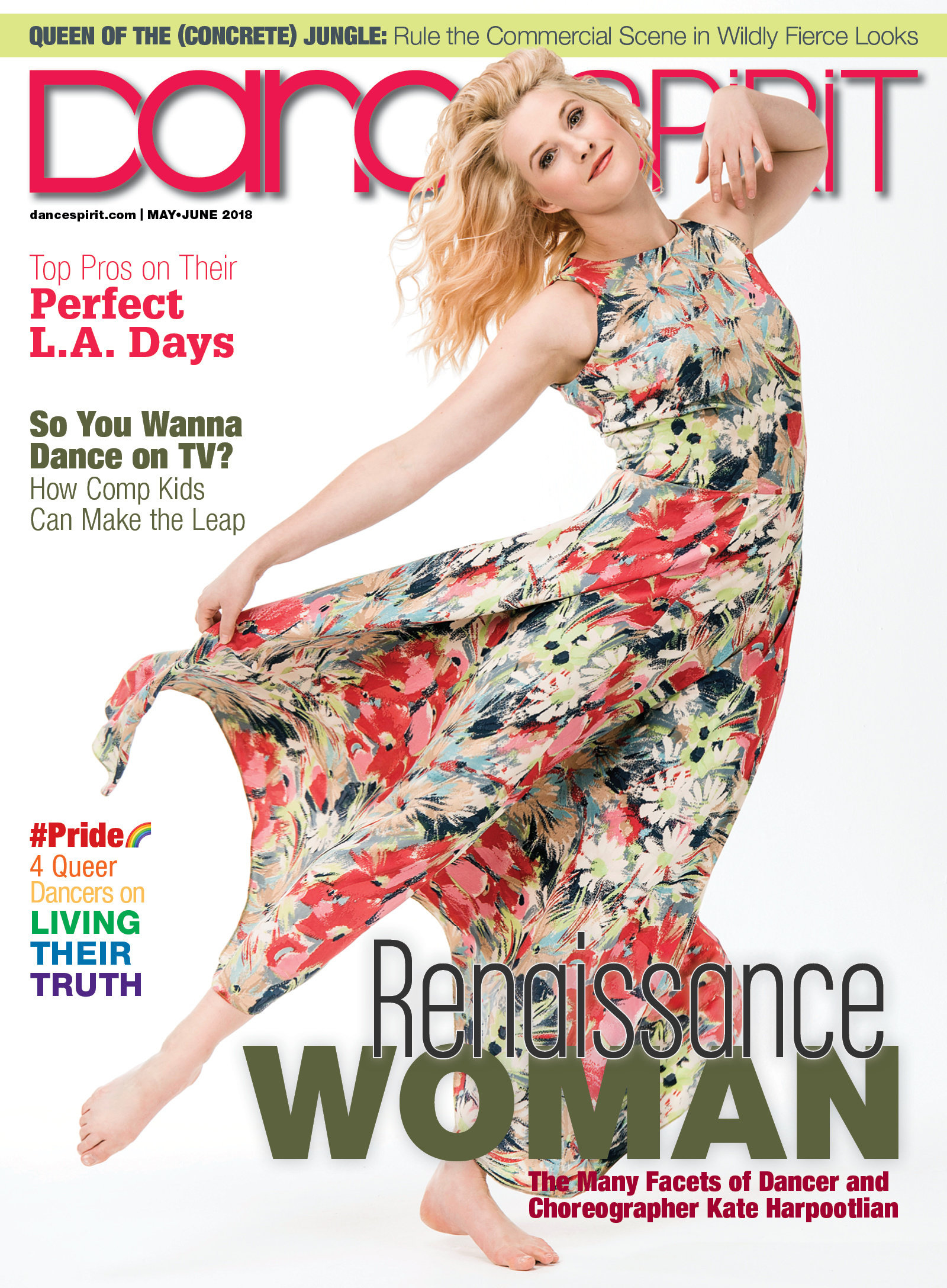 Get Dance Spirit in your inbox