Forget Choreographer's Carnival—let's give it up for Shoe Carnival!
The shoe mega-retailer is the latest brand to jump head-first into the very smart and hugely entertaining "let's feature dancers in our commercials" venture. (See also Microsoft, Target, Under Armour, Microsoft again and Virgin America.)
The national television commercial, choreographed by Jamal Sims and directed by Tim Milgram, features just a few of our favorite hip-hoppers, including former DS cover girl Simrin Player, "So You Think You Can Dance" champion and All-Star Fik-Shun, Kaelynn Harris, Taylor Edgin, Josh Killacky, Richard "Lil Swagg" Curtis, Austin Spacy, BJ Das, Kaity Martinez and Marvin Ryan.
Fancy feet grooving in fresh footwear? Going back to school never looked so fun! Check it out.
Tonight on "So You Think You Can Dance," we'll find out this season's Top 6 dancers. How did that happen so fast?! It's hard to believe that in a month, we'll know the name of America's Favorite Dancer—and our "SYT" withdrawal will begin.
Lucky for us, there's the "So You Think You Can Dance" Season 11 Tour to look forward to. Last week, FOX announced that this year's Top 10 will be traveling to over 70 cities across the U.S. and Canada—so chances are they'll be coming to a city near you! As per usual, the tour promises to bring us some of the most memorable routines from the season, plus some on-tour-exclusives!
The tour kicks off on Wednesday, October 1, in New Orleans, LA, and runs until February of next year. Tickets go on sale this Friday (!!!), August 15. Click here to view the full schedule (and to purchase your tickets come Friday).
And for a reminder of the talent that will be hitting the road this fall, here's a clip of the Top 10 group performance—"Bang Bang" by Jamal Sims—from last week's show:
Which pieces from the season are you dying to see live on the tour? Let us know in the comments!
The "So You Think You Can Dance" Top 10: By definition, that's a pretty rarefied crowd. At this point in the competition there are no obvious weak links in the contestant lineup, so eliminations are starting to feel...weird. We're invested in all the remaining dancers, which means, to horribly misquote Sheryl Crow, now every cut is the deepest.
The good news? None of these dancers are going down without a fight—and last night's episode included some of the best dancing we've seen this season. Here are my top five highlights from the show.
1. The opening number made "neon cowboys" a thing. I was a tad confused, initially, by Jamal Sims' concept. The dancers were supposed to be "getting a drink at the Last Chance Saloon"—but the Last Chance Saloon is a place where everyone wears highlighter-hued crop tops and carries parasols? Once the whole updated-take-on-the-Wild-West thing clicked, though, the piece was good cheesy fun. I especially liked that it gave each contestant a moment in the sun—even the tappers, who frequently get shafted in group pieces like this. (And Mr. Sims: Props to you, sir, for wearing a neon suit in solidarity with your dancers.)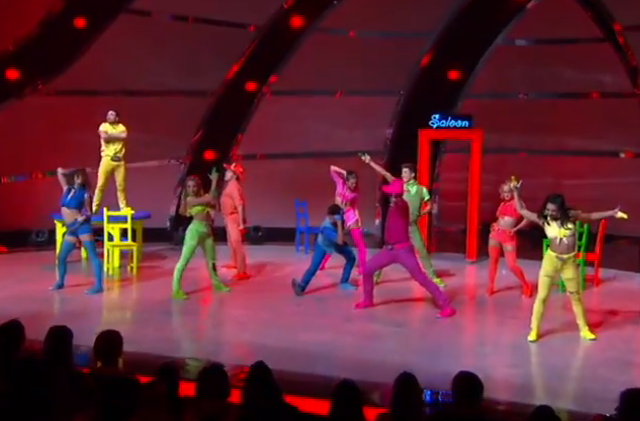 It's a hip-hop hoedown, y'all.
2. Nappytabs absolutely dominated. Tabitha and Napoleon's absence so far this season had created a gaping hole in my heart—a hole they promptly filled last night with two fantabulous hip-hop routines. First we had Emilio as an Egyptian king alongside Jasmine as a slinky pet snake with royal asp-iriations. I swooned for Emilio's tutting at the opening of the piece—and I love Nappytabs for never being afraid to go on-the-nose literal in the best way possible (tutting for King Tut, naturally!). Next up, the dynamic duo gave us tWitch as an old-fart creeper creepin' on pinup girl Jessica, and my mind pretty much exploded. #grandpatwitch forever. (Maybe the "bench test" should be a way to determine choreographic personality? I.e., give Mia Michaels a bench and she makes this; give Tabitha and Napoleon a bench and they make the world's greatest dirty old man jokes.)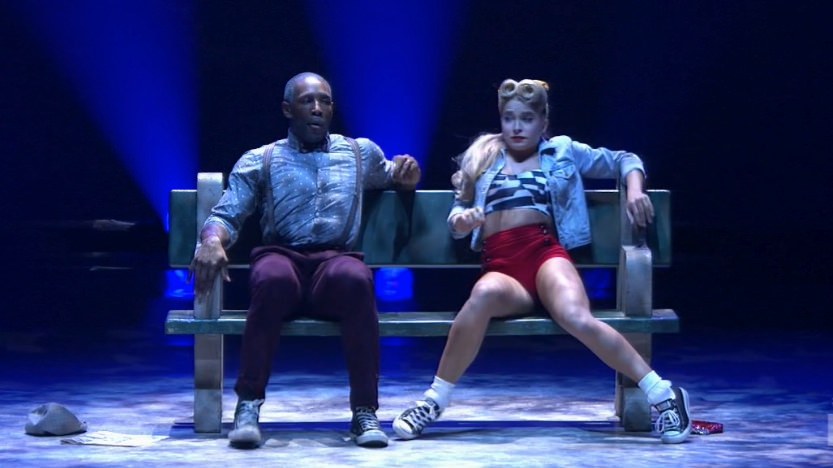 Creepers gonna creep.
3. #TeamBallroom. I think I have a ballroom problem, you guys, and "SYTYCD" is not helping. Tanisha smoldered in her Argentine tango with Ryan; the two of them nailed all of the routine's leg-flicking intricacies. And the lifts that choreographers Leonardo Barrioneuvo and Miriam Larici incorporated? Mind-boggling. (At one point Tanisha balanced on Ryan's neck. His neck!) I was thoroughly impressed by Rudy's ballroom skills in his cha cha with Jenna, too. I'll put it this way: When Jenna is wearing a super-naked hot pink dress trimmed with feathers and yet your eyes still occasionally flicker to Rudy, Rudy is doing a darn good job.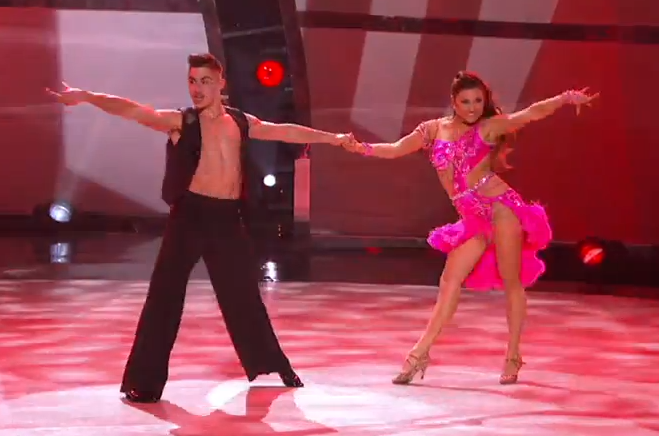 We see you, Rudy!
4. Travis Wall made the show's first-ever contemporary ballet piece, and...don't hate me, but I'm feeling conflicted about it. On the one hand, I'm a ballet freak and a half—in my eyes, anything ballet is always a DO. On the other, much as I love Travis (and think that his routine for the Top 7 guys last week will go down as one of the greatest in "SYT" history), why not choose a choreographer who specializes in contemporary ballet? Where's someone like Dwight Rhoden, whose company literally has "Contemporary Ballet" in its name, when you need him? The piece was successful in some ways; Jacque and Chehon were utterly committed, and I loved the super-dramatic lighting. But I'm not sure what pointe shoes added to the overall picture. This wasn't just a one-off experiment for TWall—he's made work for the Los Angeles Ballet, too—and it's exciting to see his curiosity leading him down different dance paths. My official verdict? Let's all keep a close eye on Ballet Travis.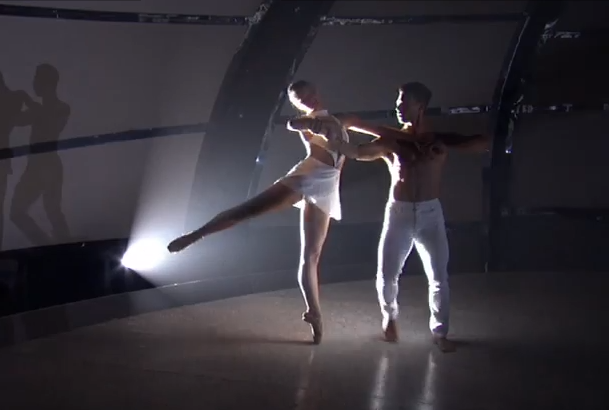 That lighting, though.
5. Sonya Tayeh dug deep. Sonya began the rehearsal process by telling Zack and Amy that their routine was a tribute to a friend of hers who'd passed away suddenly—and right away, I knew we were in for a teary ride. The resulting work was intense and moving, thanks in part to the beautiful, atmospheric music by Max Richter. While I was touched by how involved Zack and Amy became in the story, I have to admit that the choreography didn't scream "Sonya" to me. It felt strangely...generic. But I think I must just be a grump, because everyone in the audience gave it a big old standing O. And excuse me—Sonya's making a piece for the Martha Graham Dance Company? Now that I can't wait to see.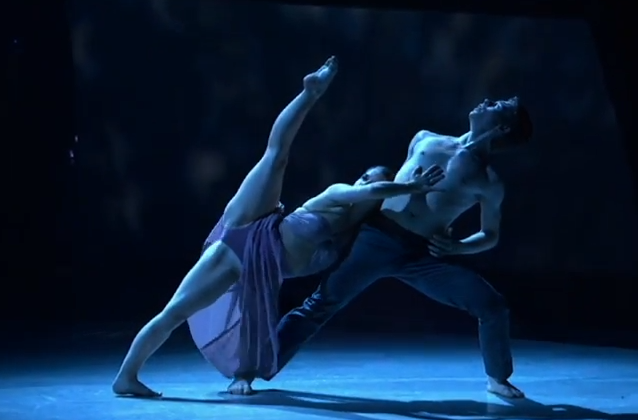 Zack and Amy, hauntingly lovely
Ultimately, we were forced to say a painful goodbye to Emilio and Bridget. Our consolation prize? Next week's show will celebrate the work of—ahem—Michael Jackson. Color me verrrry intrigued. 'Til then!
Nov. 08, 2013 10:33AM EST
Last week, we told you about the unlikeliest of viral videos: Virgin America's in-flight safety instructions. The awesomeness, of course, came from the people delivering the instructions—namely, a crew of some of our favorite dancers, ever.
If, like us, you've basically been watching the clip on repeat for days now, you'll be especially happy to hear the latest news from Virgin: The airline is hosting an online "safety dance battle," the winner of which will be featured in the final cut of the in-flight video.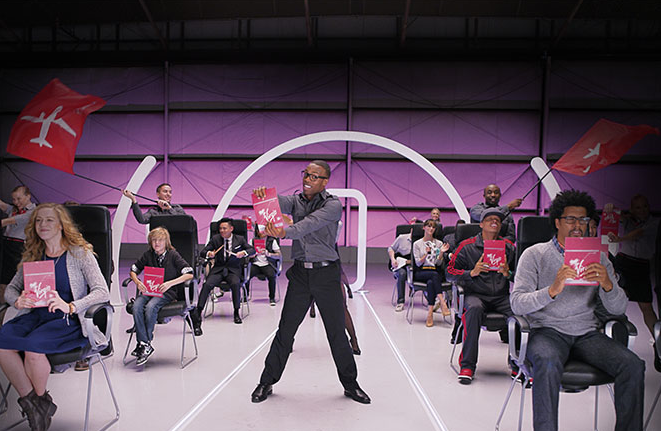 This could be you!
They're looking for any and all kinds of dancers, from bunheads to breakers. And the "audition" process is simple: just download the official song, Instagram a video of your best moves with the tag #VXsafetydance and then enter the video on the official contest page.
Who's doing the judging, you ask? The impressive group includes director Jon M. Chu, choreographer Jamal Sims, choreographer/dancer Christopher Scott, "American Idol" finalist/Broadway vet Todrick Hall and producer Justin Berfield.
The contest ends November 22, so get dancing!
If you've ever wondered what it's like to work at Dance Spirit, the new Microsoft Surface Pro commercial gives you a bit of an inside glimpse.
OK, no. It doesn't. That's not us in the commercial.
But the spot—which was directed by hot shot Jon M. Chu, choreographed by Jamal Sims and Christopher Scott and aired for the first time during the Grammys—does feature plenty of our favorite people, including Daniel "Cloud" Campos (the man of my dreams)...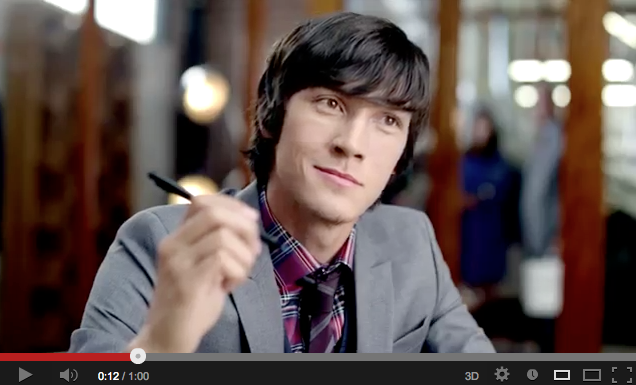 ...and the newly-engaged tWitch and Allison Holker. In fact, see that table everyone's dancing on throughout the "executive meeting?" Well, rumor has it that when filming wrapped, tWitch got up on that table to bust a freestyle move, and then grabbed Allison to join him.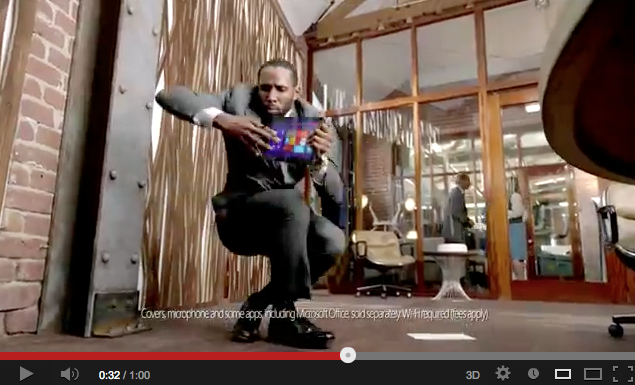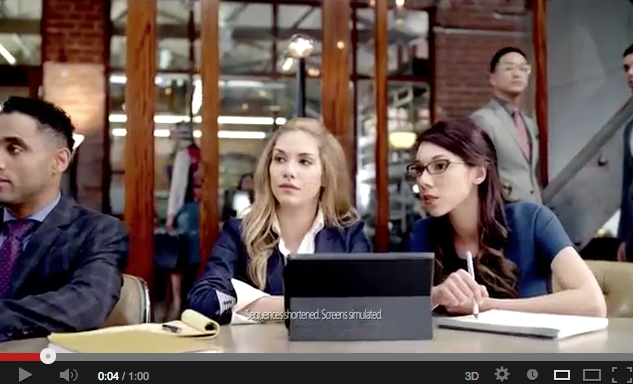 And then—boom!—tWitch dropped to one knee, said a bunch of romantical things, gave Allison a diamond and asked her to marry him. Oh, and her family was there to surprise her, including her so cute daughter, Weslie.
But yeah, other than all those details, this commercial is basically just a day in the life at DS...Enjoy!
Want more? Here's a behind-the-scenes look at the making of the commercial:
Oct. 15, 2010 12:00PM EST
Many dancers long for the day when they'll hear those words: "You're going to Hollywood!" So how do you deal when it actually happens?
Whether you're headed to the City of Angels as part of a prize package or making the move on your own, navigating a new city can be overwhelming—especially in a place where so many dancers are vying for the same dream. To get you off on the right foot, we've compiled a go-to guide of need-to-know info for any aspiring L.A. starlet.
Sneak Peek: Footloose Audition
Ever wondered what an industry audition is really like? Wonder no more! Dance Spirit snagged an exclusive invite to the open agency call for the movie Footloose, Hollywood's hottest remake, and we're ready to dish all the details. Held in August, the audition attracted hundreds of dancers hoping for a shot at performing in the film. Here's a rundown of the jam-packed day, along with insider advice from Bloc Agency's Laney Filuk.
9 am: Dancers start to converge on Center Staging, a studio-like lot near the Burbank Airport. More than 100 female dancers form a line outside Studio 11, where the Footloose audition will take place. The first half of the day is all about the girls, while the guys will take over for the last few hours of the audition. Each dancer is given a number and asked to provide her referring agency and contact information. Eighties looks are the name of the game, from studded belts to scrunched socks to tiered bubble skirts. Neon is definitely where it's at.
Tinseltown tip: Is dressing on theme a good idea? Sometimes, advises Bloc Agency's Laney Filuk. "It can make you stand out in a room with a multitude of dancers, and it shows you'll go the extra mile," she says. However, Filuk cautions that it's important to do your homework first. "For this audition, dancers who researched the director would know that he also did Hustle & Flow, which is a very rough, raw movie," says Filuk. "This version of Footloose is said to be a grittier, more modern-day hip-hop version of the original, so dressing '80s may have been a risky move."
10:15 am: Spirits are high as choreographer Jamal Sims welcomes the first group of approximately 75 dancers into the studio. Lots of dancers greet and hug; it's clear that many of them regularly hit up the audition circuit together. With Dondraico "Draico" Johnson and assistants (or "protégés" as Jamal calls them) Bianca Brewton, Myke Dizon, Christina Glur and Miguel Zarate, Jamal demonstrates the combo of six
8-counts, set to Prince's "Let's Go Crazy." Full of kicks, snaps and fast-paced turns, the choreography is true to Footloose form.
10:30 am–11:15 am: Lots of dancers are still waiting in line, so the first group is ushered outside to practice the choreography. During this time, two more groups come in to learn the same combo. Dancers are trickling in throughout the learning process, so it seems some of them will have to pick it up faster than others! For many, the hardest move appears to be a rise up from the knees onto the toes.
11:15 am: The initial group returns—it's time for the first round of auditions! Before it begins, Jamal gives some direction to the hopefuls: He's seeking realistic "high school types" of all shapes and sizes, who don't necessarily come off as Hollywood dancers. "Throw your training out the window and just dance and have fun," he advises. Everyone practices the combination together once, and then the formal audition kicks off.
Tinseltown tip: Make sure to show up at least 45 to 60 minutes early for any audition, says Filuk. Not only can parking and traffic in L.A. be extremely unpredictable, but arriving with ample time to spare can also give you a leg up on the competition. "When you get there and see hundreds of people already there before you, it can put you in a different frame of mind and offset your whole vibe," Filuk says.
11:20 am: Jamal and his crew sit at a table, with a video camera set up behind them to capture the action. Dancers are called in groups of six to perform for the judges, while the others offer cheers and whoops of support from the sidelines. Each group does the combo twice, switching lines so the judges can see each person. In the beats before the first 8-count, the dancers freestyle and ham it up with each other. After each group, the dancers are given a simple "thank you" and then exit; they won't know the results until the agents receive bookings weeks later.
11:45 am: The first round is finished, and the second round of dancers load in. A quick survey of the crowd reveals some familiar faces from "So You Think You Can Dance," including Kayla Radomski and Katee Shean. Center Stage: Turn It Up star Rachele Brooke Smith is also in the house. It's clear this is one coveted gig.
12:15 pm: While the auditions have been happening indoors, more dancers have lined up outside in anticipation of the second agency call at noon. (Even though each audition portion is the same, arrival times are staggered to help thin out the crowds.) In order to keep things running on time, Jamal sends his assistants to the parking lot to start teaching the combo. There are about 350 female dancers vying for the job, for which Jamal is casting six different dance scenes. "Every girl in L.A. wants to be part of it," says Katee, who worked with Jamal on Miley Cyrus' "Can't Be Tamed" video.
1 pm: Director Craig Brewer stops by to observe the audition and see the prospective dancers in person. Bianca brings in reserves of apples, nuts and energy bars for Jamal and the other judges—it's been a long morning! But the energy is still rockin', and every time a group performs, Jamal is clapping and singing along.
2 pm: It's showtime for McDonald/Selznick Associates-repped dancer Jasmine Ejan, whose past gigs include the World Music Awards and Celine Dion's A New Day DVD. She has a promising start, but then falls down during her audition. Afterward, she's bummed but chalks it up to a "c'est la vie" moment. "I gave it my best shot, laughed and kept going," she says. "Hopefully I'll get the chance to audition for Jamal again and I can do more than fall!"
3:15 pm: Bring on the boys: It's time for the guys to audition! More than 300 male dancers gather for their shot at the spotlight. It seems the guys are having an easier time with the much-dreaded toe rise move. "This piece is extremely athletic," Jamal says. "The toe rise really requires a lot of power."
4 pm: Another guy joins the mix, but it's not a dancer candidate—it's the film's star, Kenny Wormald! Unassuming and friendly, he blends into the background to watch the auditions along with Jamal and the others.
5:15 pm: That's a wrap! All of the dancers have auditioned, and now Jamal and Draico will spend the next several weeks reviewing headshots and audition videotapes before filming begins in Atlanta. "My challenge is to find real people that can naturally dance and retain choreography, but don't look like they've been training for years," Jamal says. "It's about stripping away all of the technique and dancing like 'normal people.' This story is a celebration of dance for everyone!"
Tinseltown tip: So what exactly is an open agency call? It's basically a large audition that all dancers from various agencies can attend, whereas other auditions are typically limited by specifications (i.e., B-boys, dancers of certain heights or ethnicities, etc.). Agents receive word several days before and send out the information to their full mailing lists.
But for those who haven't snagged an agent yet, don't despair: Filuk says that by keeping your ears open, you can have your shot as well. "These are not auditions listed in Backstage or posted on dance websites—the information can be funneled out through people who have agents," she says. "If you're able to find out about open auditions, chances are slim to none you'll get turned away." Filuk suggests following prominent dancers on Twitter and reaching out to your personal network to stay in the loop.
Get Studio Savvy
Sneak a peek at any dancer's to-do list: Taking class is usually right at the top. Navigating L.A.'s studio scene is easy once you know the major players. Most professional commercial dancers train at Hollywood's EDGE Performing Arts Center or North Hollywood's Millennium Dance Complex and Debbie Reynolds Dance Studio. But relative newcomers, like Culver City's Your Neighborhood Studio, Hollywood's International Dance Academy and choreographer Ryan Heffington's The Sweat Spot in Silverlake, are also making a splash.
Debbie Reynolds Dance Studio
EDGE Performing Arts Center
International Dance Academy
Millennium Dance Complex
www.millenniumdancecomplex.com
The Sweat Spot
Your Neighborhood Studio
www.yourneighborhoodstudio.com
See the Stars
Always wanted to attend a TV taping? Snagging a spot may not be as hard as you think. Tickets for shows like "Dancing with the Stars," "So You Think You Can Dance" and "America's Best Dance Crew" are just a click away!
For "ABDC" tickets, visit: www.1iota.com
For "DWTS" and "SYTYCD," visit: www.ocatv.com
Experience it All: Four things that should be on every dancer's L.A. bucket list
Do the touristy thing. Break out the camera, because L.A. is bursting with Kodak moments. A walk down scenic Hollywood Boulevard provides plenty o' photo opps—from the Mann's Chinese Theatre to the star-studded (literally!) Walk of Fame. The Hollywood sign is another must-see, with great vista points on Mulholland and Beachwood Drives. If beachy beauty is more up your alley, drive down the Pacific Coast Highway for some wow-worthy views.
Get on the move—outdoors! It's easy to stay in shape in L.A., where the great weather makes being active fun. Hit up Runyon or Beachwood Canyon for a hike, or head west to climb the famous Santa Monica Stairs. Runyon Canyon offers free outdoor yoga daily, and Westwood's W Hotel hosts free poolside yoga classes in the summertime. Peaceful and healthy!
Party at the pool. You've worked hard for your dancer body—now go show it off at one of L.A.'s many summertime shindigs! Lots of hotel hotspots hold regular pool parties, with the Hollywood Roosevelt, The Standard Hotel and Shangri-LA being just a few. And for those under 21, visit the Annenberg Beach House—a great place to get your swim on.
Enjoy live entertainment. It's no secret that L.A. is prime territory for everything from TV tapings to live music to comedy to theater. So how do you choose from all the options? Start with these staples: the Hollywood Bowl, Upright Citizens Brigade Theatre, the Choreographer's Carnival and Disney Concert Hall. The Ford Amphitheatre also offers a fabulous Summer Dance Series, and Cinespia's summer movie lineup at the Hollywood Forever Cemetery is not to be missed.
Appreciate Dance
L.A.'s dance innovation doesn't happen only on camera. Lots of daring dance companies are also making waves on the West Coast stage. Don't miss these six trendsetters currently setting the creative pace:
Collage Dance Theatre

Method Contemporary Dance

Los Angelese Contemporary Dance Company

Lux Aeterna

Invertigo Dance Theatre

L.A. Ballet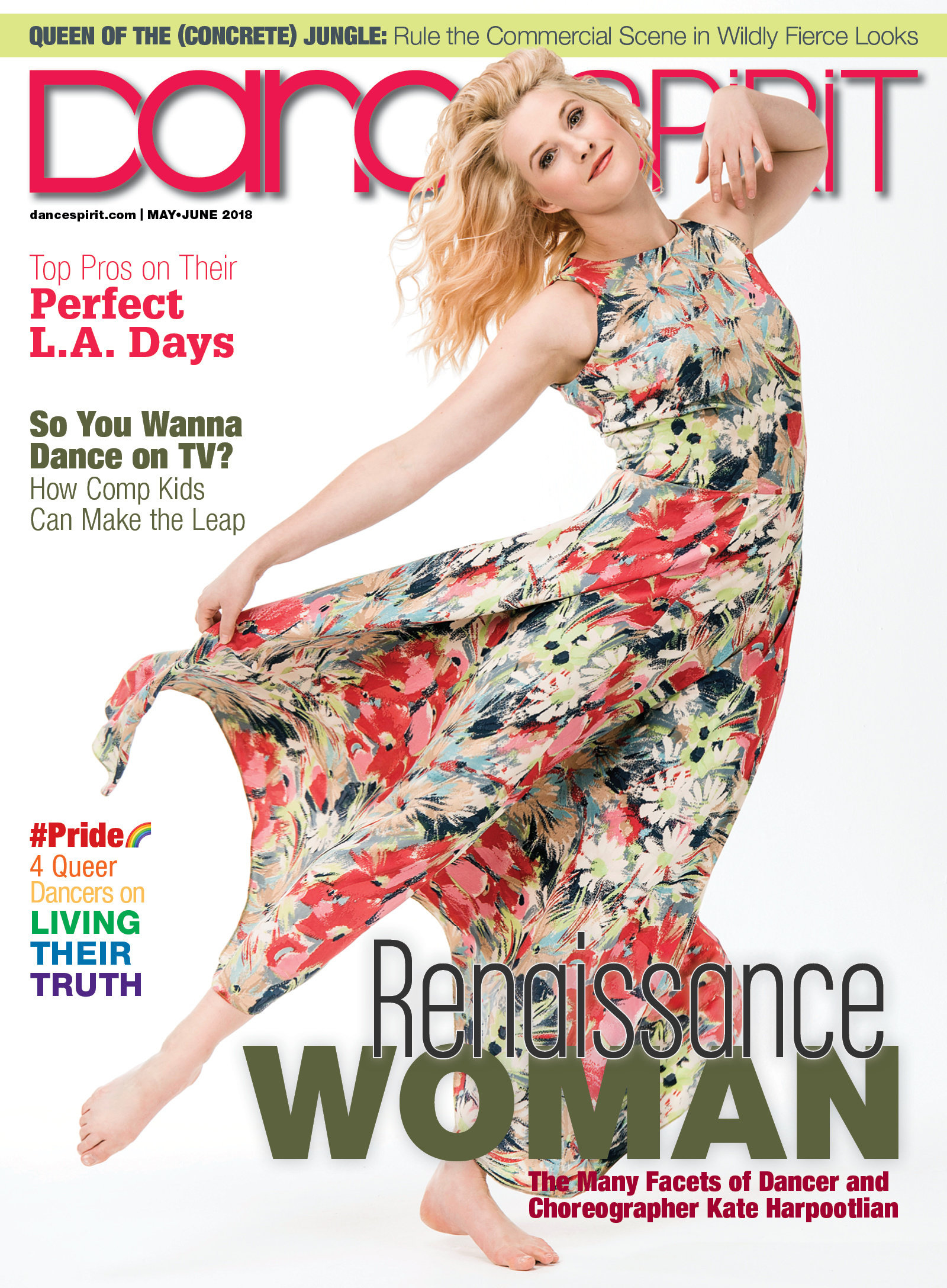 Get Dance Spirit in your inbox