Holy sequins and aerials, Batman: New York City Dance Alliance knows how to put on a GALA. (Or two!)
NYCDA just finished up its week-long NYC Nationals with a pair of stupendous gala nights, celebrating the Mini, Junior, Teen and Senior Outstanding Dancers. And I'm still kind of recovering from the onslaught of talent.
First of all, let's congratulate the National Outstanding Dancer winners, shall we?
National Mini Outstanding Dancers
Madison Brown
Brady Farrar
National Junior Outstanding Dancers
Jasmine Cruz
Parker Garrison
National Teen Outstanding Dancers
Nina Bartell
Harrison Knostman
National Senior Outstanding Dancers
Sarah Pippin
Jake Tribus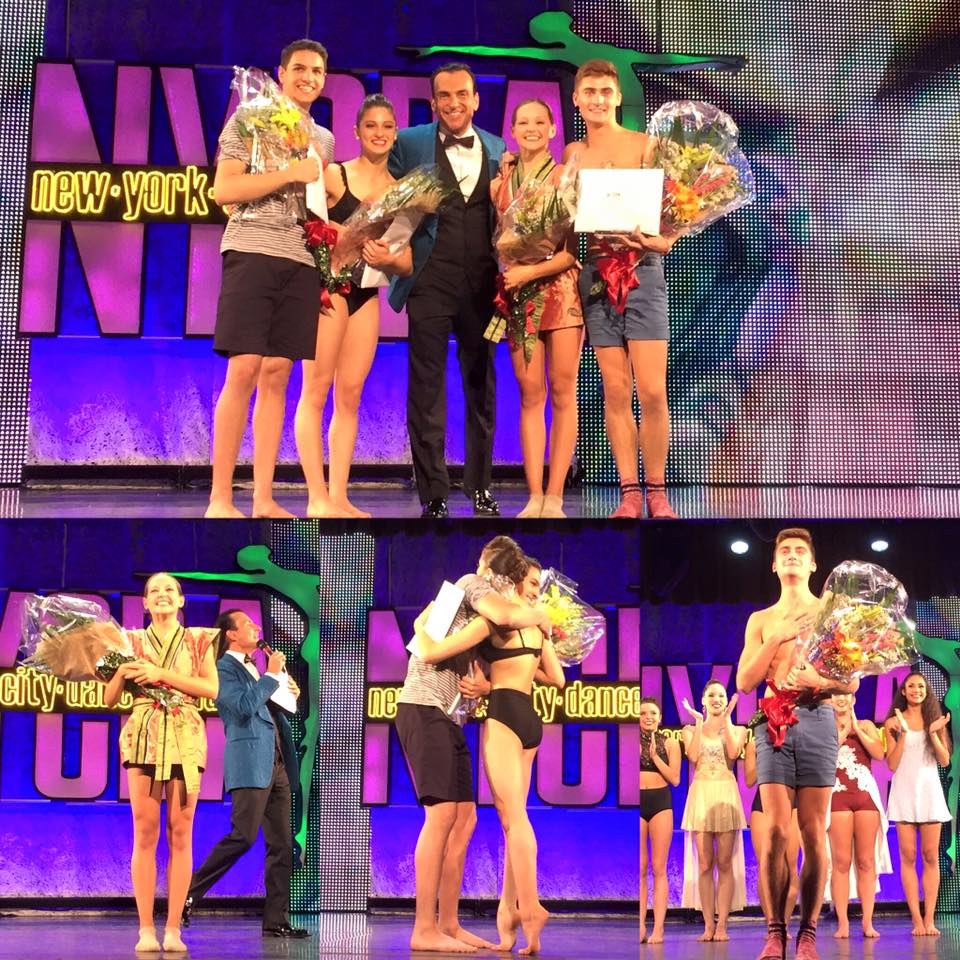 The wonderful Teen and Senior National ODs (via NYCDA)
Notice any familiar names in there? I bet you do—because a lot of these amazing artists are old Dance Spirit friends! We're so excited that Jasmine (who pulled off 32 fouettés on pointe in a group number—more on that later) is back as Junior OD after her reign as Mini a few years back, and we're thrilled to see Brady add a NYCDA title to his already impressive resumé. Huge congrats also go to Sarah and Jake, the heroes of our web series The Road to Nationals! Those besties are going to have sooooo much fun on the road with NYCDA this year. I'd say their new titles are the perfect excuse to (re–)binge-watch R2N, which follows their 2014 NYCDA journey.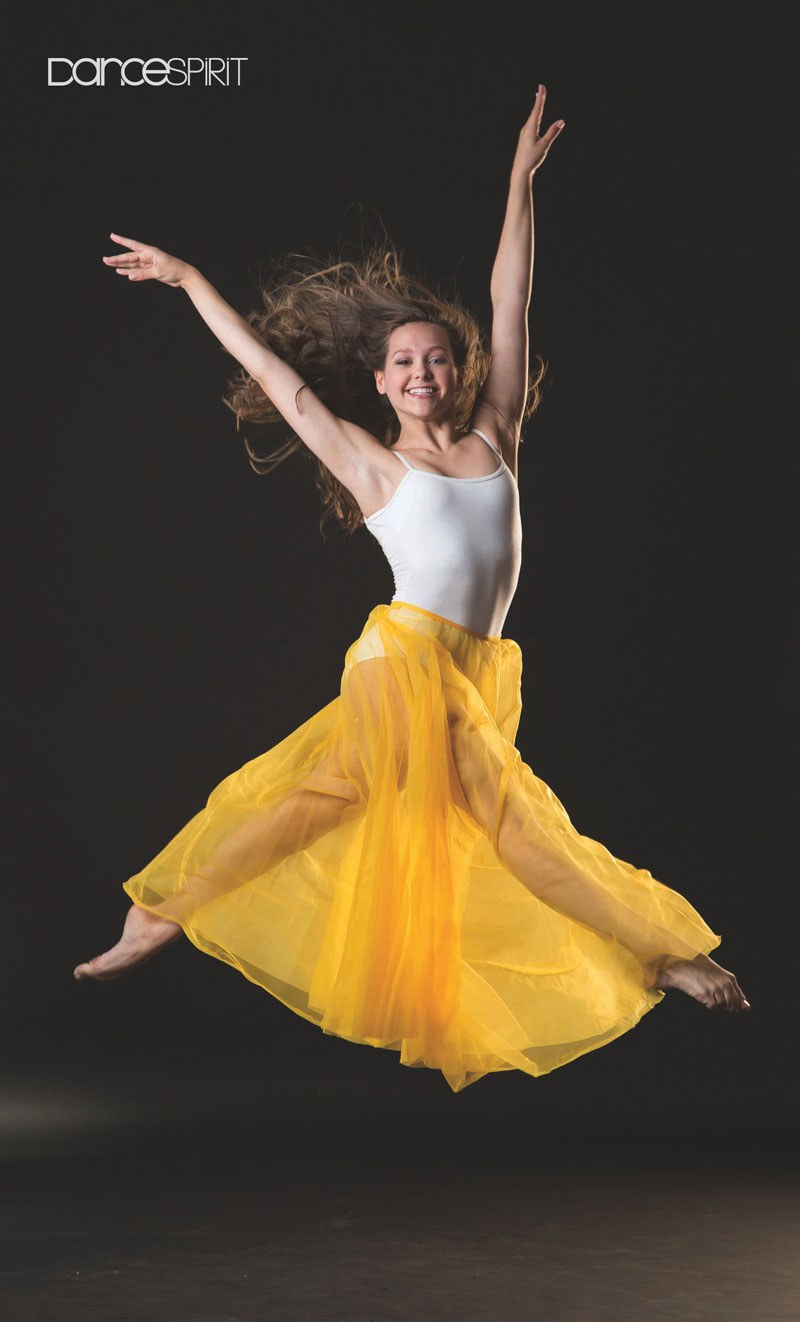 Sarah was also a 2014 Cover Model Search finalist! NBD. (photo by Erin Baiano)
As fun as it is to see talented individuals honored, my favorite part of NYCDA Nationals is the Critics' Choice competition, which highlights outstanding group numbers. Those proceedings are all the more exciting because DS sponsors the Mini and Junior Critics' Choice winners, and our friends at Dance Magazine sponsor the Teen and Senior champs.
I'm glad that we just hand out the trophies, though, and don't have to judge the darn thing, because the field is consistently stellar. And this year was no exception. Tempe Dance Academy earned National Senior CC with "I'm So Sorry," in which 2014 National Senior OD Kolton Krouse got pummeled by a group of glamorous ladies. (Don't cry for Kolton, though: He's going to Juilliard next year!) Westlake School for the Performing Arts repped #teamballet and earned the Teen CC award with its beautifully classical "Paquita"—featuring Jasmine's fantabulous fouettés, which were sprinkled with doubles and finished with a triple, naturally. (I'd like to remind everyone that she's 12. TWELVE.) The ladies of Westchester Dance Academy also showed off beautiful classical technique in "When the Last Angel Falls," which won Mini CC. And the crowd favorite of the year (the decade? the century?), Performance Edge 2's "Hello"—which put a pitch-perfect tap spin on the hilarious opening song from The Book of Mormon—took home the Junior CC award.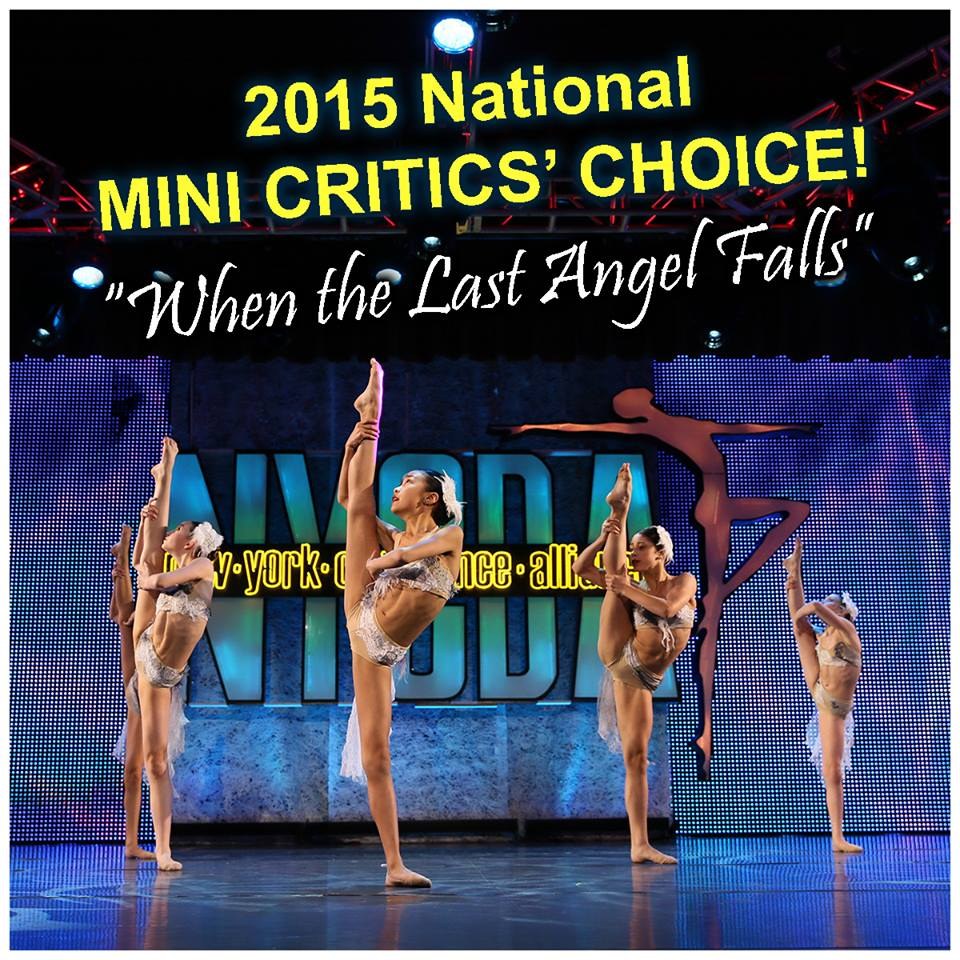 Look at those legs! (via NYCDA)
I'd also like to give a shoutout to Jordan Pelliteri, the 2014 National Senior OD, who relinquished her title last night with one final solo—a smoldering little number complete with her signature jaw-dropping, is-she-maybe-a-contortionist extensions. Jordan is also one of this year's Cover Model Search finalists (love, love, LOVE that the National Senior OD title was passed from one CMS finalist to another), so if you want to see her pretty face on our October cover, go vote for her now!
It's always wonderful to feel the warm NYCDA family love at the closing galas. And nothing embodied the organization's spirit of support and friendship better than this year's oh-so-happy Senior Outstanding Dancer number, choreographed by the great Suzi Taylor. So I'll close with an excerpt from that. See you next season, NYCDA!
Oh my goodness, you guys: What a crazy, jam-packed, INCREDIBLE week it's been here in NYC! New York City Dance Alliance finished up its Nationals last night with an epic closing gala, capping off nine days of workshop classes and competition. And talk about talent! I'm still kind of overwhelmed by all of the amazing dancers—many of them familiar faces. Here are some of my top moments from NYCDA Nationals.
-First of all, you guys already know that the NYCDA faculty lineup is fantastic. Tony Testa? Melissa Hough? Chloe Arnold? Taja Riley? Andy Blankenbuehler? Dana Wilson? Joey Dowling? Cindy Salgado? Insanity—and those are just the people who were sitting directly in front of me at the gala last night. I loved seeing them cheer on each and every one of the competitors. I especially liked watching ballerina Hough as she relished the ballet dancers—like last year's National Mini Female Outstanding Dancer, Jasmine Cruz—and I had fun looking on as hoofer Arnold got way into some of the tap performances. (Also: Everyone on faculty is ridiculously stylish. Goodness, do I wish I could pull off a crop top like Arnold, or a trumpet ballgown like Dowling.)
-As for the dancers: There were so, so many standouts! I'm having a hard time narrowing down my list. But I especially loved the ones who thought just as much about what they were conveying as how they were conveying it—who gave equal weight to artistry and technique. Mini Female OD finalist Tate McRae paired gorgeous ballet training with a powerful, emotive onstage presence. Teen Female OD winner (congrats!) Jacalyn Tatro wowed with both her incisive legwork and her smoldering, sultry demeanor—she dared you to look away. Two of our Cover Model Search finalists, Christina Ricucci and Sarah Pippin, gave super-strong performances in the Teen Female OD and Senior Female OD categories, respectively (both made the top four!). And tiny tapper Luke Spring showed off not just incredibly fleet feet, but also irresistible charisma in his solo to Michael Jackson's "Dangerous." He earned the National Male Mini OD title—and a comparison, by director Joe Lanteri, to one Mr. Corey Snide, who won his own Mini OD title 10 years ago doing a tap routine to Jackson's "Bad." It was almost too perfect.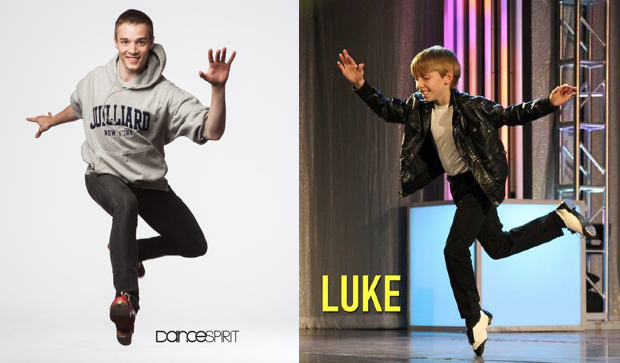 Twinning! (Left) 2004 National Mini Male OD Corey Snide, now a student at The Juilliard School, and (right) National Mini Male OD Luke Spring (left photo by Erin Baiano; right via NYCDA)
-As for the group routines: I love me some drama, but I have to say that my favorite numbers were the upbeat, hard-hitting ones, rather than the angstiest of the angsty. I was totally blown away by the take-no-prisoners ferocity (and the impressive unison) of the Westlake School for the Performing Arts dancers in their Teen group piece, "Royals."
-Let's talk about the college scholarships awarded at NYCDA this week, shall we? I was lucky enough to be part of the college scholarship audition process, so I can say from firsthand experience that the pool of college hopefuls impressed not just with their technique, but also with their eagerness and professionalism. Between NYCDA's college partners—which included the likes of Marymount Manhattan College, Point Park University and PACE University—and the NYC Dance Alliance Foundation, more than $4 million in scholarships were given to more than 50 deserving dancers. $4 million! That's a new record for NYCDA, and kind of a mind-boggling number.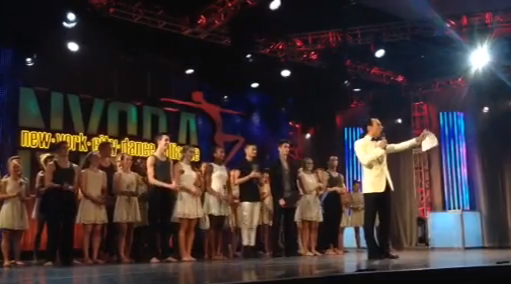 Lanteri onstage with all the scholarship winners (photo via NYCDA)
-Last but not least: NYCDA turned 20 this year! Naturally, they put together an adorable birthday video for the junior gala. But what really touched me was the number of NYCDA alums and former faculty who came out to celebrate the milestone. As Lanteri said last night, NYCDA is a real family—and once you're in, you're a member for life.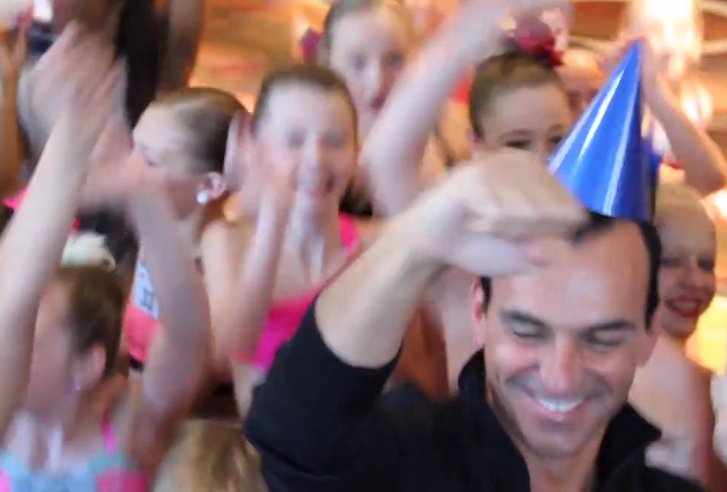 Few things make me as happy as Joe Lanteri in a party hat.
In a pair of pointe shoes, she's effortlessly regal—but take those pointe shoes off, and Jasmine Cruz will show you her spunky side. The 12-year-old's solid technique and infectious personality helped her snag a gold medal at the World Ballet Competition in 2012, and earn first place in both classical and contemporary for the pre-competitive age division at 2013's Youth America Grand Prix Semi-Finals. Last year, Jasmine also won New York City Dance Alliance's National Mini Female Outstanding Dancer title.
"While I enjoy dancing variations, I love learning contemporary choreography. For me, the best part has always been getting to see the journey of a new dance."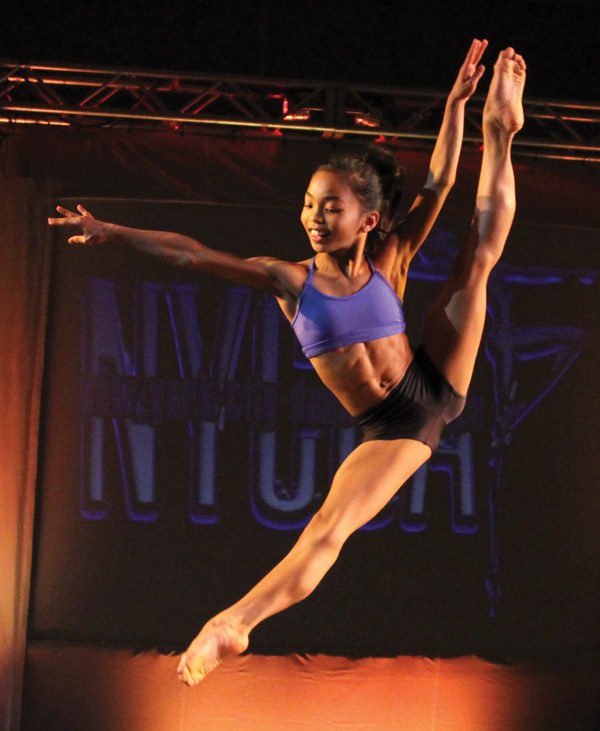 (Photo by Allison Schultz/New York City Dance Alliance)
Fast Facts
Birthday: January 31, 2002
Hometown: San Francisco, CA
Studio: Westlake School for the Performing Arts
Favorite dancer of all time: American Ballet Theatre soloist Misty Copeland
Favorite food: frozen yogurt
Dance idol: San Francisco Ballet principal Maria Kochetkova. "She's petite like me, and she's broken a lot of boundaries in the dance world."
Favorite dance movie: First Position
Dream dance role: Kitri in Don Quixote or Swanilda in Coppélia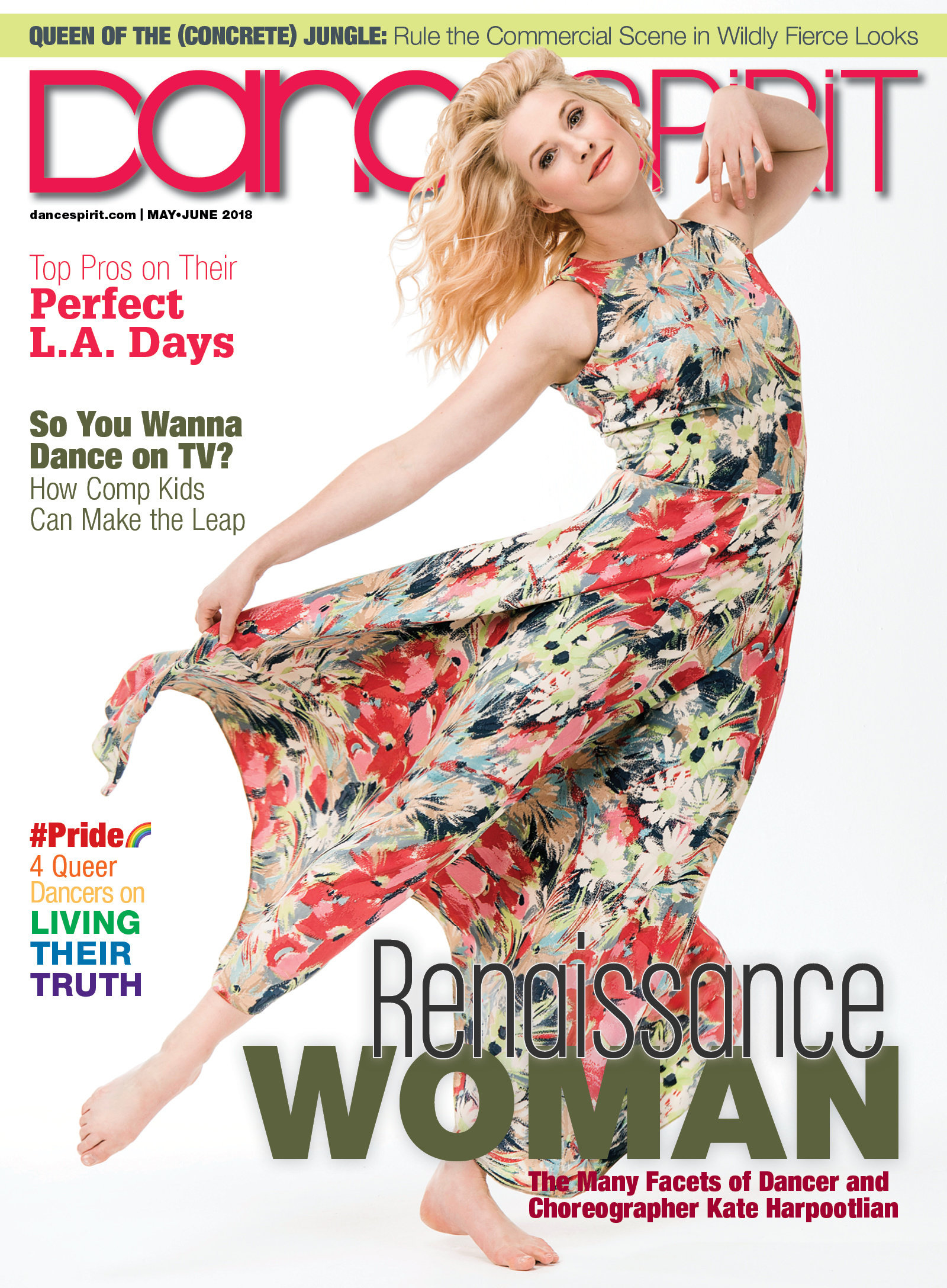 Get Dance Spirit in your inbox