OK, guys. We're at T-minus 148 days until Summer 2015, the unofficial premiere date for "So You Think You Can Dance" Season 12!
Yes, it's a long way off. Luckily, though, the fine folks at FOX have been generous with the teasers, releasing little bits of news to keep us all happy. For instance, you already know this season will operate a little differently—separating the dancers into two camps, "street" and "stage," for the preliminary rounds. And you already know that the auditions for Season 12 kick off today in NYC (come say hi—we'll be there!). But late last week, "SYT" producers announced some news:
The judges for Season 12 will include Nigel Lythgoe (natch), Paula Abdul (!!!) and Jason Derulo:
Photoshop is a wondrous invention, amirite? (original images: Adam Rose/FOX)
Abdul is a clear replacement for Mary Murphy. (We'll miss you, Hot Tamale Train conductor!) Abdul was first a guest judge on "SYTYCD" Season 10, and has since been the lead judge on "So You Think You Can Dance Australia." But more than that, she's a dancer, through and through. From her days as a L.A. Laker Girl to choreographing for artists like Janet Jackson to starring in her own classic videos, Abdul has the background it takes to recognize star power in the next generation of dancers.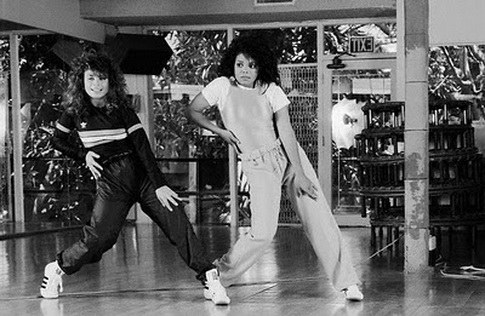 Abdul (left) showing Janet Jackson a thing or two (via thatgrapejuice.net)
Derulo comes from an entirely different world: songwriting. He's crafted lyrics for lots of artists, including Lil Wayne, Pitbull, Diddy and Sean Kingston. He's also racked up some impressive accolades himself: "Wiggle," featuring Snoop Dogg, is Derulo's eighth song to reach the Top 10 on the Top 40 list, and he's been nominated for numerous MTV Music Video Awards and Teen Choice Awards. You might remember Derulo's appearance on "SYTYCD" Season 11 as a guest judge and musical guest—he and Snoop performed "Wiggle."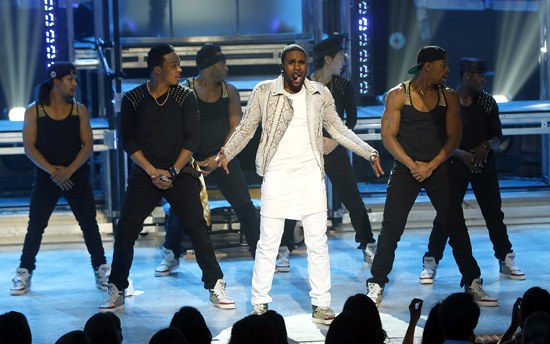 Derulo performing "Wiggle" on "SYT" Season 11 (Adam Rose/Fox)
Apparently Derulo's joke-filled guest-judging stint made a big impression on Lythgoe, who in a press release said, "Jason's insight, humor and creativity will add a new perspective to the panel that we haven't had before." And while we can't argue with that, truth be told, we're a little sad the third permanent judging spot didn't go to Jesse Tyler Ferguson, aka The World's Best Guest Judge. Here's hoping JTF drops in for an episode or two.
What do you think about the new judges? Let us know in the comments.
[I know, I know: We're talking about the dance–fashion connection AGAIN. But I can't help it, you guys! We just wrapped up a dance-y New York Fashion Week, and we're only a few days away from a New York City Ballet gala celebrating fashion, and my head is just exploding with dancefashiness. (Is "dancefashiness" a thing? Let's make it happen.)]
Last night, to send NYFW out in style, Macy's put on a fashion show of its own: "Macy's Front Row." And since Macy's is, well, Macy's, it was HUGE.
How huge? We're talking Madison Square Garden. We're talking performances by Jason Derulo, Nate Ruess and Thalía. We're talking looks from 10 different fashion lines.
And—fittingly, since part of the evening's proceeds went to the amazing Broadway Cares/Equity Fights AIDS—we're talking dancing. Lots of dancing.
Naturally, Derulo came with a pack of dancers and some hard-hitting choreo of his own. We'd expect nothing less from the "So You Think You Can Dance" Season 12 judge:
But we were also treated to a talented and adorable crew of littles in a Mother Ginger-esque number during the Hello Kitty presentation. (BRILLIANT IDEA: an all-Hello Kitty Nutcracker. Who's with me?)
Even the models for Heidi by Heidi Klum—the supermodel's lingerie line—were dancing up a storm. And kudos to them, because dancing in teeny-tiny panties is no mean feat:
Miss out? Never fear: "Macy's Front Row" will be televised on E! Next Wednesday, September 23 at 8 pm EST. Tune in then for all the dancetabulousness!
"So You Think You Can Dance" isn't wasting any time this season. Not only did the 20 contestants get only eight seconds each to introduce themselves to America, but there were roughly zero seconds of unnecessary banter between segments during Season 11's first live episode. (Serious dancers, rejoice!) So to take a page from everyone's favorite show, let's just get right down to last night's top five highlights: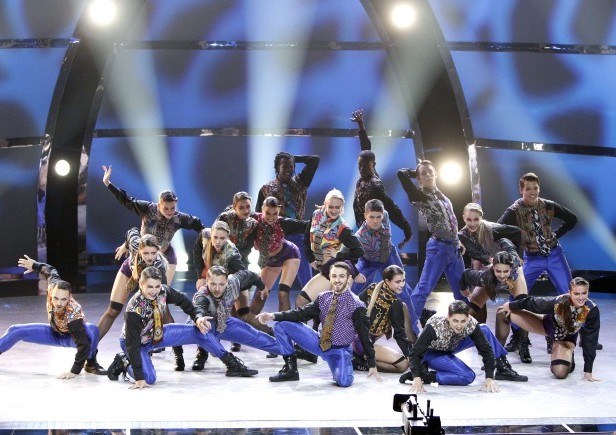 Sonya Tayeh's Stalker Ha
(photo Adam Rose/FOX)
1. The caliber of choreography. Sonya Tayeh kicked off the night with a group routine that felt like Madonna's "Vogue" meets Jim Carey's The Mask. Stalker Ha was not my fave from Tayeh, but the show kept moving right along, with pieces from choreographers including Travis Wall, Stacey Tookey, Christopher Scott, Louis Van Amstel and tapper Anthony Morigerato. Let's just say it was a BIG name kind of night.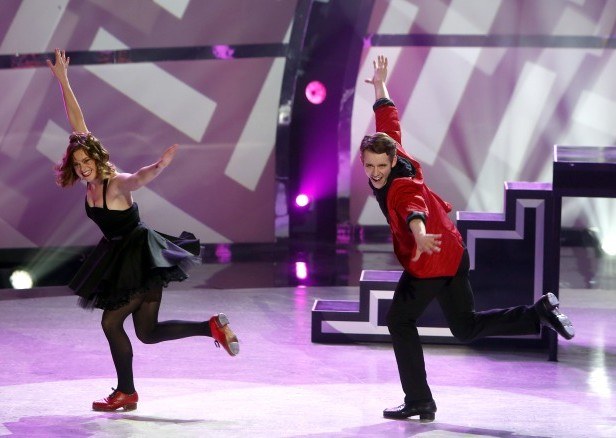 Valerie and Zack in Sing
(photo Adam Rose/FOX)
2. The tappers. Zack and Valerie channeled stair-dance legend Bill "Bojangles" Robinson in the best tap routine the show has seen yet. Choreographed by Anthony Morigerato, Sing featured rapid-fire footwork, amazing showmanship and nearly perfect unison. These two dancers certainly have a ton of charisma, and I hope they get a chance to bring it in other styles, too.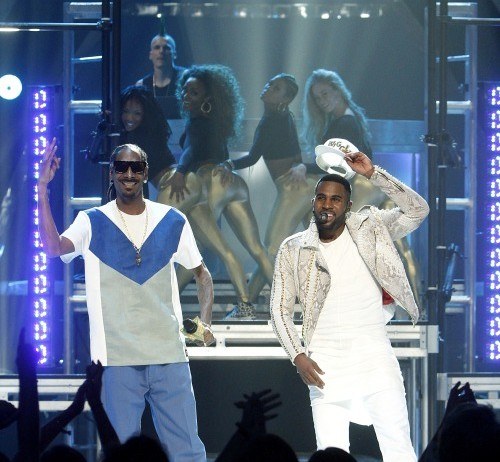 Jason DeRulo (right) performs "Wiggle" with Snoop Dogg
(photo Adam Rose/FOX)
3. " What you gonna do with that big fat butt?" Dear guest judge (and musical performer) Jason Derulo: You may love dance, and you may know dance, but those lyrics...oy. In other news, 42-years-young Snoop Dogg made an appearance during Derulo's "Wiggle," and that did not disappoint.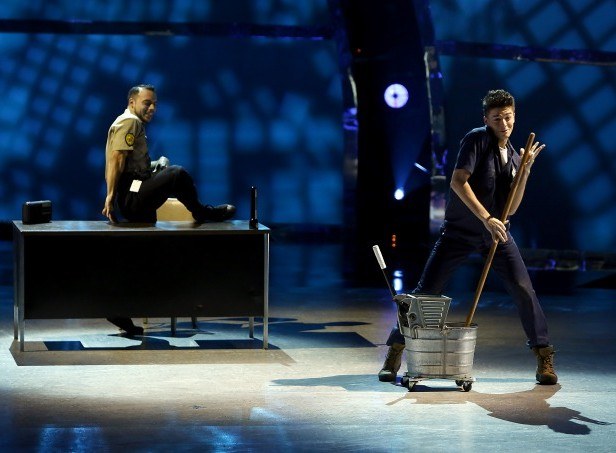 Emilio and Teddy in Nightshift
(photo Adam Rose/FOX)
4. The mop-and-bucket hip-hop routine. It's evident that choreographer Christopher Scott has a knack for storytelling (see: every LXD episode he crafted), and his routine for Emilio and Teddy was no exception. I also loved that Scott's Nightshift evoked Gene Kelly's dance break in the 1943 film Thousands Cheer. Haven't seen it? Take a look below. It's supremely amazing, and I can so see Teddy in a remake:
5. Meredith Monk's "SYTYCD" debut. Move over, 1960s Judson Dance Theater: There's a new postmodern contemporary choreographer around, and her name is Sonya Tayeh. Nigel Lythgoe said that Tayeh's piece, set to Meredith Monk's "Vow," took the show to "another level entirely." Jessica and Ricky brought the audience to complete silence. Then? An eruption of cheers and a giant standing ovation. It was pretty awesome.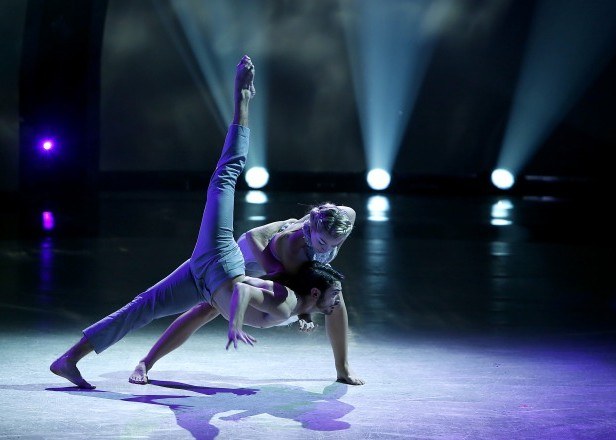 Jessica and Ricky in Tayeh's Vow
(photo Adam Rose/FOX)
I, for one, can't wait to see more from these talented dancers. Be sure to cast your vote online for your favorites, and come back here next week to find out which dancers didn't make the cut. And if you want to enter the sweetest sweepstakes EVER (the prize is a trip to watch the "SYTYCD" finale episode live, in person!!), click here.


Get Dance Spirit in your inbox