It's no secret that we at Dance Spirit love us some Jason Samuels Smith. Exhibit A? His holy-throwback May/June 2004 cover: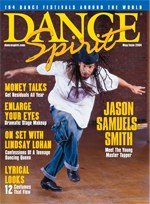 While DS's look—and Samuels Smith's hairstyle!—have transformed over the years, the hoofer's killer improv has always been all kinds of #goals. To get tap-happy this hump day, check out the vid he recently filmed for Houston Public Media. Four words: Jaw-dropping improv solo. Need we say more?
Ahh Memorial Day Weekend is just three weeks away. We can almost smell the budding flowers, the fresh-cut grass, the charcoal grill...It's the first real taste of summer freedom.
But what could make this three-day weekend even better? Um, National Tap Dance Day, of course!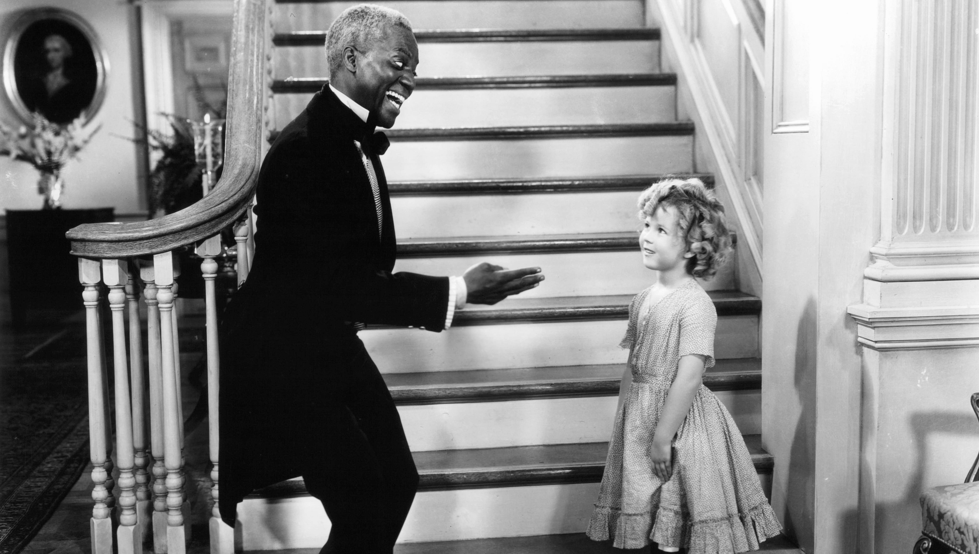 Bill "Bojangles" Robinson teaches Shirley Temple the stair dance in The Little Colonel (1935)
The holiday falls on May 25 each year, in honor of tap legend Bill "Bojangles" Robinson's birthday. President George H.W. Bush signed NTDD into law back in 1989, making this year its 25th anniversary...so naturally, it has to be extra special.
While there will be celebrations throughout the US, the American Tap Dance Foundation (ATDF) is setting up shop in NYC with Tap Attack, an outdoor event (free to the public) featuring tap students from ages 5 to 75. Things to look forward to: free lessons in how to do the Shim Sham, appearances by big-time names in the tap world (Chloé Arnold and Jason Samuels Smith, to name a couple), and performances by the talented young hoofers of ATDF's own Tap City Youth Ensemble. (Click here for more info on all the tap-tastic events scheduled.)
So if you're in or around NYC, mark your calendars for this Memorial Day Weekend, and be sure to make your way over to Pier 45 of the Hudson River Park on Sunday afternoon. In the meantime, here's a video of Bill "Bojangles" Robinson hoofin' it up with Shirley Temple in The Little Colonel: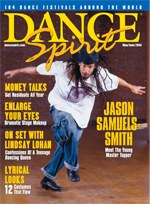 Ten years ago, the city of Shreveport, Louisiana, declared April 23 "Jason Samuels Smith Day." (It's also the 10th anniversary of Dance Spirit's May/June 2004 cover with none other than the hoofer himself.)
To get the celebrations started, here are a few videos of the tap master working his magic.
We'll begin with a clip that you may be familiar with already—it's his jaw-dropping performance on "So You Think You Can Dance" Season 3:
Next, take a look at this clip from a MOVEtheWORLD charity event in 2013:
Back in 2004, Samuels Smith first met classical Indian dance guru Pandit Chitresh Das at American Dance Festival. They've been working together over the last ten years (another 10th anniversary!), and in the last few, have collaborated on a performance series called "India Jazz Suite" which blends their two forms—Kathak and rhythm tap. (A film released in 2011, Upaj:Improvise, documents the tour.) Here's a clip of a recent performance at Lincoln Center this past January:
Tap in Sweden? Yaa, you betcha. Here's a clip from the Stockholm Tap Festival last summer:
Happy tapping!
Tap
Nov. 01, 2013 01:30PM EST
Every tapper has go-to improv moves, but the key to staying fresh is switching up the steps you lean on and finding new ways to think outside the box. Remember: You can always take new risks within the steps you already know. Dance Spirit spoke with five pro tappers who have found unexpected treats in familiar packages.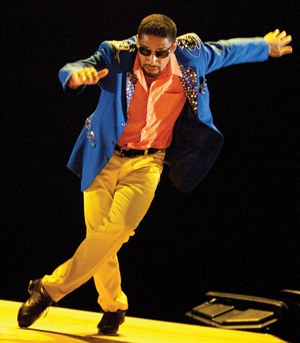 Jason Samuels Smith performing at the Joyce Theater in NYC (by Matthew Murphy/Divine Rhythm Productions)
Experiment with Melody
"You can use different parts of your foot to create a range of tones and volumes. For instance, there are a lot of ways you can use the hard heel—which is made up of thick leather and a metal tap—on a wooden surface. You can get either a deep tone with the heel tap itself, or a squeaking, high-pitched tone when the leather scrapes against the floor. Once you start messing with tones, you can create melodies, not just rhythms. Think about your feet as melodic instruments as well as percussive ones. It can push your art in a new direction." —Jason Samuels Smith, renowned tapper who has performed at Jacob's Pillow, in the Fall for Dance Festival and on "So You Think You Can Dance"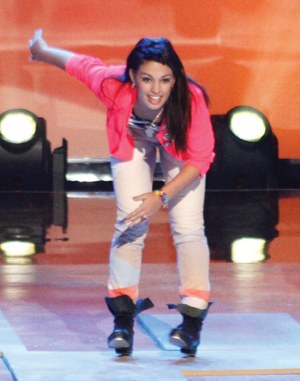 Alexis Juliano on "So You Think You Can Dance" (by Adam Rose/Fox)
Experiment with Tricks
"My thing is to get up in a toe stand and do some shuffle work while I'm there. I'll also sickle my foot and balance on the sides of my tap shoe. I'm not really hitting the tap or getting a new sound, but it's a cool look. People will think, OMG, she just fell on her ankle! But really, I'm just chilling. Then I'll play with the taps on my other foot. It's not just about the toe stand or being on the side of my feet, but about changing what I'm doing while I'm up there. Maybe I'll do cross-shuffles, or jump on my toes or slide on the side of my foot. It's always new." —Alexis Juliano, Top 20 finalist on "SYTYCD" Season 10 and member of Hands Down Tap Project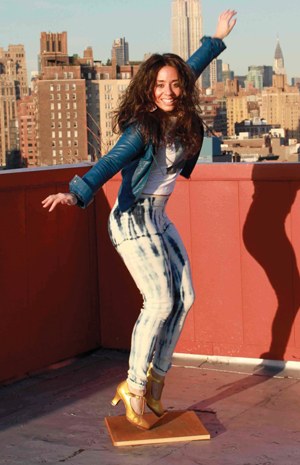 Michela Marino Lerman (by Terry Marino Lerman)
Experiment with Pauses
"In the last couple years, I've been exploring the idea of incorporating space into my dancing as much as possible. Gregory Hines talked to me about including silence between phrases. You don't just complete a series of steps and go directly into the next one. It's like punctuation. If you speak in run-on sentences, people will lose track of what you're saying—it's hard to follow. If you use pauses and silences within your dancing as a form of punctuation, they can add tension or drama. The audience will hold on to what you're creating and take it in." —Michela Marino Lerman, faculty member at the American Tap Dance Foundation and host of a weekly jam at Smalls Jazz Club in NYC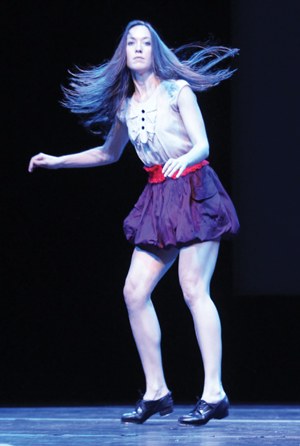 April Cook in Michelle Dorrance's The Machine (by Propix/The Pulse On Tour)
Experiment with Weight Shifts
"I like playing with the weight behind my steps. I can get a deeper or stronger tone depending on where my weight is. For instance, if you're doing a toe drop on the right foot, you tend to have all your weight on your standing left leg. But if you let your right side take some of your weight during the toe drop, it will amplify the sound.
This idea can completely change a step you already know well. Take paddle-rolls, which have four sounds—heel drop, dig, brush and step. You can do it evenly—'1 and 2 and 3 and 4 and'—so the counts are all the same volume and tone. Or you can put more weight behind one of those four sounds, like the dig. Then you'd have '1 and 2 and 3 and 4 and.' It's the same rhythm, but by changing where the weight is dropped, the dynamic changes."
—April Cook, tap teacher at Broadway Dance Center in NYC who has performed with Michelle Dorrance and Savion Glover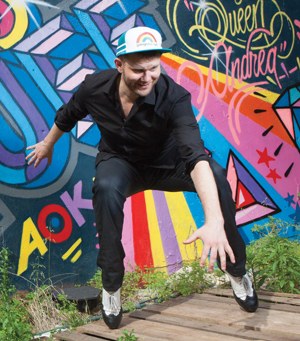 Nicholas Young (by Guido Mandozzi)
Experiment with Texture
"Technology has really taken my freestyling into a new frontier. Recently, I started playing with a loop pedal [which records and plays back the beats you make on repeat, so you can layer phrases or rhythms on top of one another]. It lets me create a whole composition by myself during a performance. You can do this with looping apps on your iPhone or iPad—my favorite is Loopy HD. Just hold the phone down by your feet and start by tapping simple steps that will repeat. First think about a bass line, then a simple drum beat, and then add different elements on top of that. Create a groove, and once you have that, solo to it."  —Nicholas Young, faculty member at Steps on Broadway in NYC and former cast member and rehearsal director for STOMP
Mar. 11, 2011 01:00PM EST
Imagine this: You're an understudy in a great new musical at a regional theater. It's just days after opening night—and the leading lady is suddenly sick. You're prepared to go on, of course, and you step in to rock the show. A few days later, the director calls and asks you to take over the role permanently.
Soon the show moves to Broadway, with you as its star. That year you win the Tony Award for Best Actress in a Musical and the Fred Astaire Award for Best Dancer on Broadway. Just like that, you've rocketed from relative unknown to Broadway superstar.
Sounds like a dream, right? Well, that's just what happened to Sutton Foster after she joined the cast of Thoroughly Modern Millie in 2000.
Some dancers may seem to gain stardom overnight. But in reality, persistence and determination led to a steady series of dance jobs before that big moment came. No matter the path, many dancers experience a breakthrough moment that paves the way for a successful career. Read on to hear from seven dancers about their big breaks.
Hope Boykin, Alvin Ailey American Dance Theater
After graduating from The Ailey School, I auditioned for the company four or five times before I was hired. I wouldn't say I was discouraged, but I did really want the job. I just wasn't as mentally and physically prepared as I should have been to go into the audition and say, "There's no one else, I'm the one you have to choose."
About a week after one of the auditions, Judith Jamison, AAADT's artistic director, called me and said, "Hope, I love you and love your dancing, but there are some things I would like you to work on. I wanted to let you know this personally before you were hired." My knees were shaking. She hired me, but she wanted me to focus on how I carried myself onstage.
Over the past 11 seasons with the company, Ms. Jamison has allowed me to grow within the organization. She chose me to choreograph for the company's 50th anniversary, and I went to Africa with her for a special project.
Maria Kochetkova, Principal, San Francisco Ballet
The first major turning point in my life was competing at the Prix de Lausanne when I was 18. I was in my last year at the Bolshoi Ballet Academy in Moscow, and they didn't allow dancers to go to competitions like they do now. I felt it was important for me to do something new, so I prepared secretly in the evenings. At the competition, I won an apprenticeship at the Royal Ballet in London—which meant leaving Moscow for the first time.
JaQuel Knight, Commercial Dance Choreographer
I got hired to choreograph the "Single Ladies (Put a Ring on It)" video for Beyoncé after Frank Gatson saw me freestyle at a Michelle Williams audition. I was only 19 at the time! A few months later, Frank called me and said, "Hey, I have this new Beyoncé song, and I think you would be great for it. Can you fly out tonight?" The "Single Ladies" video was my first choreography job in L.A. I had my own dance crew back home in Atlanta and I had danced for Janet Jackson and Gnarls Barkley, but I had never choreographed something like this.
I knew this was going to be a huge moment for me, but I didn't know how it would start my career as a choreographer. It's what I always wanted to do—I just didn't know it would come so soon.
Angie Schworer, Broadway Veteran
I was in the original cast of The Producers and was a second understudy for Ulla, the lead female role. One day Cady Huffman, who originated the part, got sick when the first cover was on vacation. It was a two-show day, and they told me at the end of the matinee that I was going on.
I remember my first entrance: I was so nervous, and I thought, "This is it, step it up." I popped through the door, and Matthew Broderick and Nathan Lane's faces were so smiley. I was shaking but somehow I just kind of relaxed. I did several shows as Ulla and then went back to the ensemble.
Later, Susan Stroman, director and choreographer of The Producers, invited me to a small rehearsal/audition and asked me to play Ulla on The Producers' first national tour. After the tour, I got to come back and play the role for four years on Broadway.
Janette Manrara, Burn the Floor
Before "So You Think You Can Dance" came along, I was going to school studying finance and working full time at a bank. Dancing was just a hobby of mine. Being on the show was definitely my big break. Because of my presence on TV, I was cast on "Glee" and got to dance at the Academy Awards, which "SYTYCD" judge Adam Shankman and former contestant Travis Wall were choreographing. Now I'm touring with the Broadway show Burn the Floor. None of that would have happened without "SYTYCD."
Jason Samuels Smith, Tap Dancer
The first significant point in my dancer career was dancing on "Sesame Street" with Savion Glover when I was just 8 years old. It gave me a taste of what I could expect from being a professional tap dancer in the entertainment industry. From there, I joined Bring in 'da Noise, Bring in 'da Funk on Broadway at 15, where I performed in front of Stevie Wonder and Michael Jackson.
Kimberly Fauré, In the Midst of Her Big Break!
After moving to NYC last year, one of the first auditions I went to was for Anything Goes on Broadway. After a month of callbacks, I got a call that I had gotten a part—I would be in the ensemble as one of the four angels. When I found out, I bawled my eyes out on the street.
From that audition, Kathleen Marshall invited me to an audition for her show Bells Are Ringing, which then led to a part in Aesop and Company. I basically got three jobs from that one first audition. It just snowballed. I was definitely in the right place at the right time.
Kim's not a new face to us! In 2008, DS profiled Kim as a dance student at Oklahoma City University.
Be Ready for Your Big Break
"Never give up. Never think it's too late or that it's not going to happen for you. I was told 'no' many times. If you're dedicated and passionate, it will happen." —Janette Manrara
"Know what you're good at and what makes you stand out from everyone else. Be comfortable being you and have fun. Never forget your personality." —JaQuel Knight
"We are our biggest critics, and we can discourage ourselves. Anything you want, you can have—set your own standards." —Hope Boykin
"The things you go through in getting a job and trying to find your place aren't easy, but they're worth it. All of the hard work in the studio is worth it when you get to perform." —Maria Kochetkova
"If musical theater is what you want to do, start singing and acting in addition to dancing. Remember, there are a lot of people out there who can do all three."  —Angie Schworer
"Listen more—talk less. Being a good student will get you far." —Jason Samuels Smith
"Be proficient in many areas. You could be an incredible ballet dancer, but if you can't sing you could get cut from that round of an audition." —Kimberly Fauré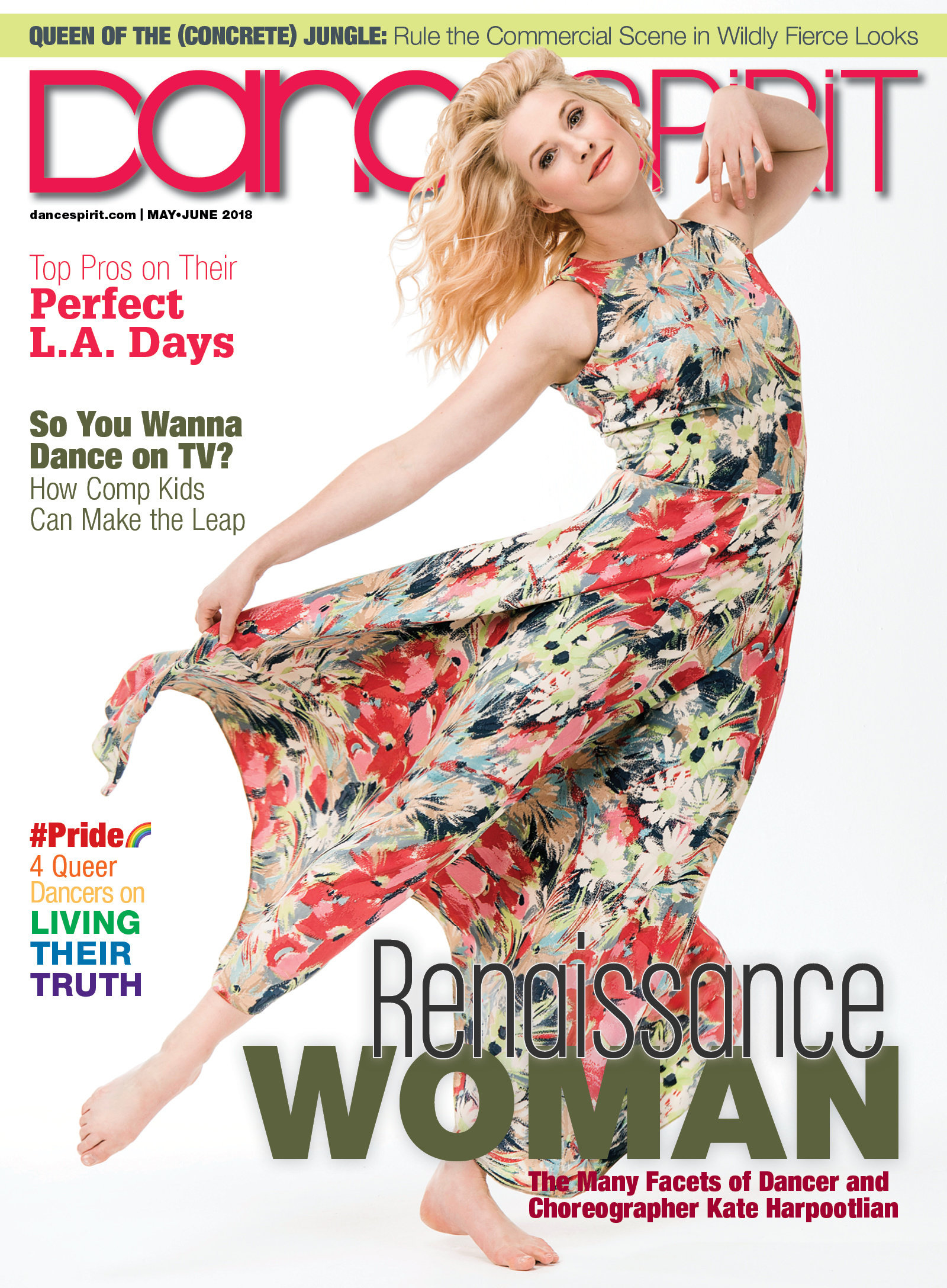 Get Dance Spirit in your inbox