Isabella Boylston in her Red Sparrow costume (via Instagram)
Keep reading...
Show less
Boylston in the Red Sparrow trailer (via YouTube)
The much-anticipated ballet thriller Red Sparrow hits movie theaters today, March 2. The film tells the story of a fierce Russian ballerina, played by Jennifer Lawrence, who's recruited by the Sparrow School, a secret Russian intelligence service that trains young people to use their bodies and minds as weapons. Expect lots of suspense, but also lots of dreamy dance scenes, thanks to Lawrence's dance double, American Ballet Theatre principal Isabella Boylston; Lawrence's dance partner, Sergei Polunin; and choreography by New York City Ballet's Justin Peck.
Keep reading...
Show less
Jennifer Lawrence with her Red Sparrow dance double, ABT's Isabella Boylston (via Twitter)
Guys, how excited are you for Red Sparrow? The fabulous-looking thriller, starring Jennifer Lawrence as a ballerina-turned-spy, has dancers everywhere buzzing—in no small part because a real star dancer, American Ballet Theatre principal Isabella Boylston, acts as Lawrence's dance double. (The film's ballet bona fides don't end there, btw: Your boyfriend Sergei Polunin makes an appearance as Lawrence's partner, and Justin Peck provided the choreography.)
Red Sparrow got us thinking about some other famous onscreen dance doubles—and about the controversy they've inspired. (Always credit your dancers, filmmakers!) Here are a few of our all-time faves.
Keep reading...
Show less
It is, to put it verrrry mildly, a great time for dance-y movies. We already knew we had Ballerina and The Nutcracker and the Four Realms and La La Land and Sia's Sister and the special screening of Newsies to look forward to. And now—kind of out of left field!—comes the announcement that a) there's a Russian ballet thriller named Red Sparrow in production, and b) it stars not only your best friend Jennifer Lawrence, but also your beautiful ballet boyfriend Sergei Polunin.
Let's take a minute to break that down: Sergei Polunin, the former Royal Ballet principal whose performance in that Hozier video earned him the true love of 16,885,063 (and counting) hearts, is going to be in a ballet movie. A ballet SPY movie. A ballet spy movie ALSO STARRING JENNIFER LAWRENCE.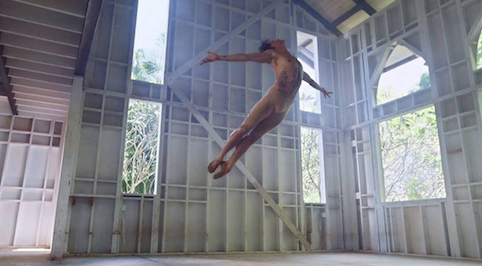 This screenshot from "Take Me to Church" perfectly encapsulates our feelings about that news.
Do we know a whole lot more about Red Sparrow? Not really. Apparently it's set in modern-day Russia, and involves a young dancer (presumably J. Law) recruited against her will to operate against a CIA officer (presumably Joel Edgerton, the other big Hollywood name involved in the project). And, at some point, we will see Polunin. Hopefully Polunin dancing. Hopefully Polunin dancing with Lawrence.
Of course, this isn't Polunin's first big-screen exposure. The documentary Dancer, following his extraordinary rise-and-fall-and-rise-again career, came out earlier this year. And it sounds like he's also scored a role in another starry Hollywood project, the upcoming Murder on the Orient Express.
If Polunin's even a tenth as talented an actor as he is a dancer, this is going to be major. Need a new happy mantra to chant when you're feeling stressed? Try "Oscar winner Sergei Polunin." Should do the trick!
Nobody is better at getting A-listers to make endearing goofballs of themselves than Jimmy Fallon. And we're eternally grateful that his preferred goofball-making method is silly dancing.
Earlier this week—in a sketch that was kind of a bizarro cousin to his "History of Dad Dancing" and "History of Mom Dancing" bits—Fallon got your best friend Jennifer Lawrence to take the dance bait. Unsurprisingly, given all the practicing she's been doing on top of Billy Joel's piano, she aced it.
The setup? Lawrence and Fallon played Des and Dash, two vaguely sad, aggressively wigged, weirdly small-mouthed rave kids in an infomercial for a series of instructional dance tapes called "Come Dance with Us."
Just...process that for a second.
Anyway, in true Fallon fashion, the moves included such gems as "Check the Door"...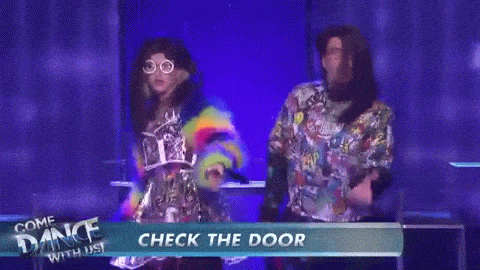 ..."Lunch Box Salute"...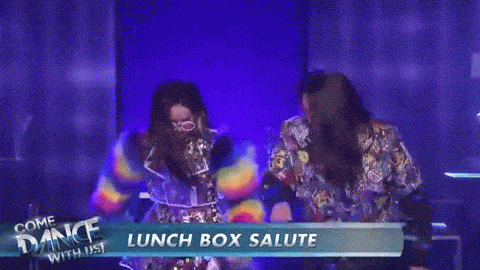 ..."Bowling Confetti"...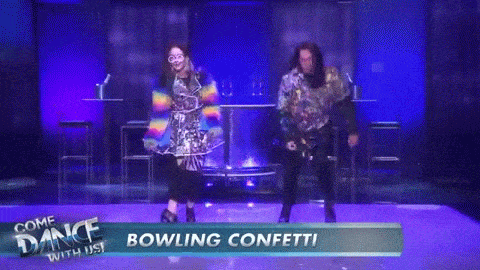 ...and "Kick Waterfall."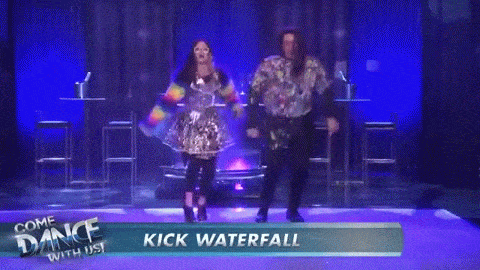 There was something delightfully Romy and Michele about the whole thing. (And not just the fact that their outfits could totally be R&M designs.) I think it was J. Law and Fallon's steadfast commitment to the crazy—which is the only way this particular brand of crazy works.
I'll come dance with you, Des and Dash! Let me just dig up my rainbow Muppet arm warmers. Because I legitimately own a pair. (Thanks for that, college.)
Mar. 23, 2017 06:05AM EST
So, if we started doing a weekly "Ellen DeGeneres amazingness" update, would you all be OK with that? Yes? Good. I thought so.
In that case, here's this week's installment: Bradley Cooper taught Ellen how to waltz on her show a few days ago.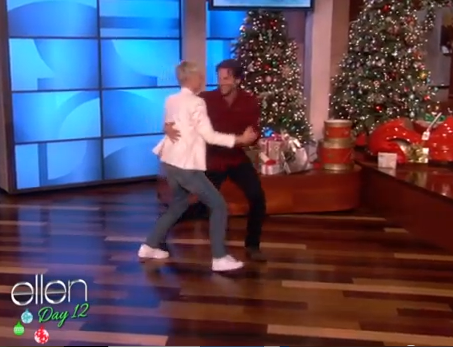 That sounds strange out of context, but if you've seen Silver Linings Playbook, Cooper's latest movie, it makes a bunch of sense. In the film Cooper plays a man who's just returned home from a psychiatric facility, and who rediscovers himself with the help of a) Jennifer Lawrence, who is uh-ma-zing as a depressive widow, and b) ballroom dance. Weird on paper, awesome in reality. Or at least movie reality. (And the film features some legitimate world-class ballroom dancing too, which is fun.)
Anyway, Cooper actually did do a fair amount of dancing in the movie. And if you have any connection to dance, however tenuous it may be, lord knows you're gonna be showing off your moves on "The Ellen DeGeneres Show." Cooper chose to display his skills by giving Ellen a waltz lesson.
The result was equal parts adorable and awkward. Take a look!
If you're a devoted Jennifer Lawrence fan—and if you're not, really, we're not friends—you've probably noticed that J. Law has been in Budapest recently, filming her new ballet spy movie Red Sparrow. If you're also a devoted Isabella Boylston fan—and if you're not already, you need to be—you've probably noticed that the American Ballet Theatre principal has also been hanging out in Budapest for the past few days. And she posted an Insta shot of her partnering with ballet bad boy Sergei Polunin, one of Lawrence's Red Sparrow co-stars.
Sooooo what does that all mean? It means that, as IMDB confirms, Boylston is Lawrence's dance double for the film. Which is, obviously, FABULOUS news. With Polunin and Boylston on board, it's pretty much inevitable that Red Sparrow will include some spectacular dancing.
Here's another tantalizing tidbit: Last week, one Mr. Justin Peck posted some gorg shots of— yup—Budapest. Sure, it could just be a coincidence. But Sergei Polunin and Isabella Boylston doing Justin Peck choreo in a major motion picture? YES. YES PLEASE.
We were just talking about how great it is when people in the dance world turn out to be the BFFs you always imagined they were. Apparently, people in the acting world aren't all that different. And when those actors have some moves, too? I die.
Of course, I'm talking about the life-making news that Jennifer Lawrence and Amy Schumer are writing a screenplay together. And of course, I'm also referring to that time they danced like no one was watching...except it was onstage...at a Billy Joel concert.
We already know J-Law can bust a move, thanks to that epic scene in Silver Linings Playbook. Let's hope that something similar makes its way into her forthcoming project!
Feb. 25, 2013 12:44PM EST
I expected the borderline-inappropriate jokes. I expected the appearance by Ted (sighhhhh). I even kind of expected the tribute to boobs on film.
But what I didn't expect from Seth MacFarlane's turn as host of the Academy Awards was a whole bunch of dance numbers. Dance! And here I was thinking the Busby Berkeley-style opening to "Family Guy" was a joke! Who knew that Mr. MacFarlane, the modern master of the fart joke, was a legitimate song-and-dance man?
Anyway, I think I'm not alone in feeling that the dancing elevated what could otherwise have been a very "meh" Oscars show. Let's run down all of the fun dance-y numbers, shall we?
We got off to a strange but, let's be honest, hilarious start with the boobs song. I know, it's terrible and tasteless and everything everyone hates about Seth MacFarlane, but c'mon. It was funny, and not less so thanks to the troupe of tux-clad backup dancers.
Next up, my personal favorite: Charlize Theron (who studied at NYC's Joffrey Ballet School!) and Channing Tatum channeling Ginger Rogers and Fred Astaire in an elegant foxtrot that was even better for being totally unexpected.
Then we were treated to a cute little softshoe by Daniel Radcliffe and Joseph Gordon-Levitt. Harry Potter's dance skills could use a little polishing, but points for effort—and Gordon-Levitt looked pretty darn legit. (Remember that time he redid the entire "Make 'Em Laugh" number from Singin' in the Rain on "Saturday Night Live"? I'm striking out in my search for video of the performance, but trust me: It was amazing.)
And then there was that big ol' reworking of "Be Our Guest" from Beauty and the Beast. It wasn't the biggest hit of the night, but I'm never really going to knock any production of a classic Disney song. Plus it featured some of DS's fave dancers, including Alex Wong, Spencer Liff, Cody Green and Jaimie Goodwin.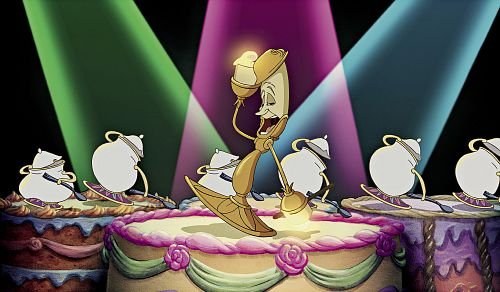 (I can't find any good video of this number, so you'll have to settle for a screenshot from the original instead. Just pretend Lumière is Seth MacFarlane. Not such a stretch, actually.)
Last but certainly not least: Catherine Zeta-Jones and a Fosse chorus in "All That Jazz" from Chicago. Girl's still got it! And it was another chance for our dancer friends to show off a little, too.
My only regret is that Bradley Cooper and Jennifer Lawrence didn't get to re-enact their so-bad-it's-awesome dance from Silver Linings Playbook. But I guess the two of them had other things on their minds, what with being nominated for Academy Awards and everything.
(Side note: Jennifer Lawrence. You are amazing. You basically fell on your face last night and it only made everyone, myself included, love you more. I feel like you and Emma Stone and maybe Sandra Bullock should hang out and be awesome and funny and super-stylish together.)
Get Dance Spirit in your inbox