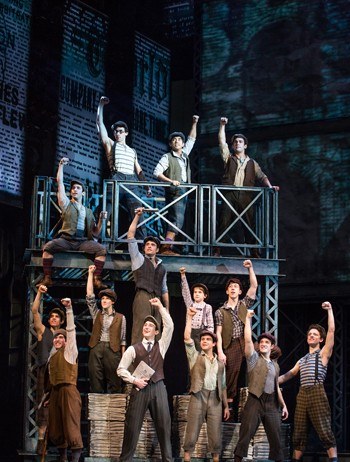 The Newsies boys will be seizing the day in 25 cities across the U.S. (photo Matthew Murphy)
Today brings both good and bad news. Go grab a tissue, because the bad news is first.
Got one? OK. This just in: Newsies is closing. In two months. After a final show on August 24, the Disney musical extravaganza will leave it's home at the Nederlander Theater on Broadway, meaning there are only 72 performances left.
Ready for some good news? The 2-year-old show isn't gone for good. Newsies will embark on a 25-city national tour, beginning this October in Schenectady, NY. As of now, the tour plans to finish next August in Toronto. But when Newsies opened on Broadway back in 2012, it was only scheduled to have 101 performances. By August 24, 2014, it will have exceeded that number by 904 shows—and 904 standing ovations. Something tells me this musical isn't going away quietly in a year.
For now, the on-sale date for Newsies tour tickets hasn't been announced. But click here to see if the show is coming to a city near you, and sign up to get emailed ticket alerts.
May. 14, 2013 10:47AM EST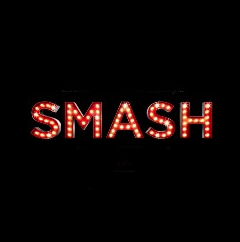 It's lights-out for the flashiest show on network television.
The show's over for "Smash." NBC's Broadway drama was cancelled last week after two seasons. And while I know, given the verrrrry mixed critical reactions to the troubled show, that not everyone's upset by the news, I'll admit it: I totally am.
Yes, the plotlines have spun completely out of control recently. (Tom hooked up with Kyle and then Kyle got hit by a car and died?? We're in full-on soap opera territory, people.) Yes, Katharine McPhee, though one of the most beautiful people in the world, has about as much charisma as an overripe banana. And yes, somebody, somewhere on the "Smash" staff greenlit Ellis. Oh, man, remember Ellis?
But. BUT. How frequently do you get to see true Broadway-caliber singing and dancing on primetime TV? "Smash" provides a super-high-visibility home for some of our favorite Broadway stars, not least among them Megan Hilty and Christian Borle (and, though his character is totally unlikeable, former Newsies dreamboat Jeremy Jordan). The original songs, most of which are by Marc Shaiman and Scott Wittman—you know, the team behind a little musical called Hairspray?—are legitimately great. And the dancing! Choreographed by Joshua Bergasse and performed by a rotating cast of crazy-talented people including the likes of Alex Wong, Meredith Miles and Spencer Liff, it's top-notch.
I'll put it this way: If we could cut out the story and condense "Smash"'s musical numbers into a weekly variety show, I'd be totally happy. But that ain't happening, folks. So it's time to say our goodbyes to the little Broadway show that couldn't.
I wanted to let you be my star, "Smash." I really did. *sniff*
Calling all "Smash" lovers! The song and dance-filled drama is back with an all-new season starting tomorrow. In honor of this joyous occasion, we've decided to share our Top 5 reasons why you have to tune in.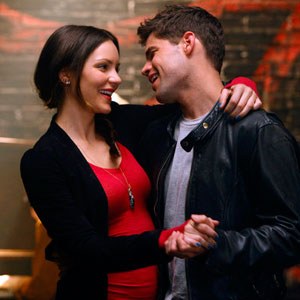 1. Former Newsies hunk Jeremy Jordan joins the cast as Karen's (Katharine McPhee) love interest—which means there's a good chance we'll be swooning every single episode. (I grinned like a fool for an entire two hours watching him in Newsies.)
2. J-Hud is also joining the cast as a mentor/friend to Karen. Girl's got pipes and a slammin' bod. (I seriously love her Weight Watchers commercials—weird, I know.)
3. You know choreographer Josh Bergasse is bound to deliver some killer musical theater numbers. I mean, the guy took home a 2012 Outstanding Choreography Emmy for his work on the show! (Find out what inspires Bergasse in his Choreographer's Collage in the April 2013 issue.)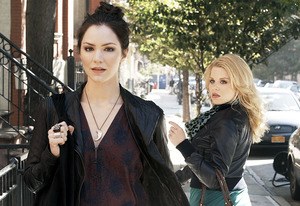 4. All of the Ivy (Megan Hilty) and Karen drama. Ivy's so sassy—and I just can't get enough.
5. The amazing up-and-coming dancers that are about to become household names. (We love all of the stellar performers we've discovered through "Smash," like Lexy Hulme!)
Watch the two-hour Season 2 premiere tomorrow February 5 at 9/8c on NBC! Then, of course, come tell us what you thought in the comment section below! And if you just can't wait until tomorrow, here's a (45-minute!) sneak peek.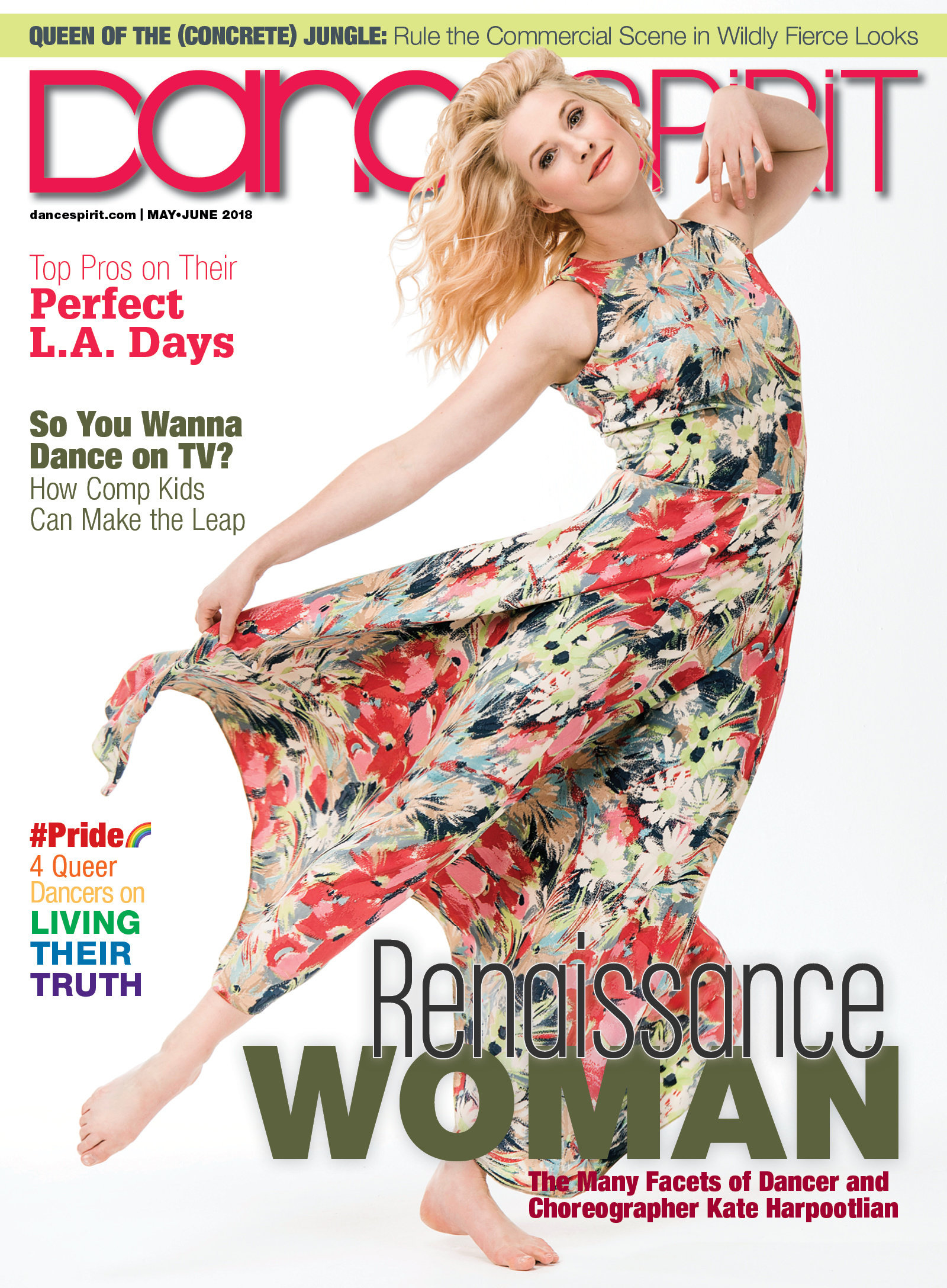 Get Dance Spirit in your inbox