Jul. 11, 2018 12:19PM EST
Photo by James Jin, courtesy Jin
Jess LeProtto's fiery energy and jaw-dropping jumps and turns have earned him a place in the Great White Way spotlight. LeProtto started singing and dancing at age 5, and performed in the Radio City Christmas Spectacular in Nashville, TN, as a kid. He made his Broadway debut in The Boy From Oz in 2003, followed by stints in Dr. Seuss' How the Grinch Stole Christmas! and Bye Bye Birdie. In 2011, he made it to the Top 8 on "So You Think You Can Dance." It was his role in the original cast of Newsies in 2012, though, that truly solidified his trusted-veteran status. Since then, he's performed in On the Town, CATS, and Hello, Dolly! Currently, LeProtto dances in the Broadway revival of Carousel, which opened earlier this year. Read on for The Dirt.
Dancer to Dancer
Oct. 17, 2016 11:00AM EST
Some of Broadway's best dancers are currently fierce felines in the Great White Way revival of Andrew Lloyd Webber's Cats. Which led us to wonder...how does one actually get in character to play a cat? And how does a dancer cope when one of those catchy songs gets stuck in their head? (Looking at you, "Memory." Or you, "Jellicle Songs for Jellicle Cats." Or...OK essentially every single song in the show.)
 Well, fortunately for us, Jess LeProtto and Shonica Gooden—who play the famously mischievous duo Mungojerrie and Rumpleteazer—sat down with Broadway.com to give the world some answers. And since LeProtto and Gooden are friends in real life, the interview is all things adorable, hilarious and inspiring. 
#FriendshipGoals (via Broadway.com)
First things first: Are they cat people in real life? That answer was a big fat no for Gooden. "I am not a cat person, but I play one at night! I just think they're strange creatures. They're creepy. They're not as fun-loving as dogs," she says. But LeProtto had an opposite opinion. "I've always loved just seeing them do their own thing," he says. "In our show, we crawl around all over the place, and pretty much that's what cats do in real life, so I'm like, 'Yes! You live your life, cat!' "
As far as getting into feline characater, Gooden says her "cat place" starts in her core. "It starts in my stomach with a contraction and then it flows up through my ears, through my paws, and I become Rumpleteazer," she says. And in terms of coping with that pesky soundtrack, LeProtto says "You just let it ride...after the show, I'll have the opening stuck in my head: 'Practical cats, dramatical cats.' Just roll with it. It has this effect on people because Andrew Lloyd Webber's score is so beautifully written and so attractive to the ear."
They also gave some interesting insight into their characters, who are known for their playful pranking. "The number that we do is cardio-driven, it's stamina-driven, and it's the only moment in the show that there are two cats singing their song when no one else is on stage," LeProtto says. "I think of them as very adventurous teenagers," Gooden says. "They're exploring the world, and if that means they get into a little trouble, they're not afraid of that because that's what makes their life so incredibly exciting."
The pair also majorly gushed about each other (and our hearts immediately melted). "I'm not saying this because he's my partner in crime," Gooden says. "But if you walk into an audition there is no other guy in the room that moves like Jess LeProtto." And LeProtto praised her right back saying, "I'm a very lucky partner because the dynamic she brings—not just her beautiful voice, but the way she puts herself out there—you know you're going to have a good time each night."
In other Cats news, the Tony Awards Committee announced Friday that the revival is officially eligible to be nominated at the 2017 awards. ? (As reported by Broadwayworld.com, Andy Blankenbuehler was deemed ineligible for recognition, though, since his choreo was closely based on the original moves by Gillian Lynne). Fingers crossed this means we'll be treated to a catastic performance at the 2017 Tonys, airing on CBS June 11.
In the meantime, read LeProtto and Gooden's full interview and don't miss their super cute behind-the-scenes video below:
May. 09, 2016 02:03PM EST
Breaking news, Broadway babies! The Cats revival casting has finally been announced—and it's a fabulous who's who list of major dance celebs.
The London Cats revival (courtesy DKC/O&M)
Leading the way is the amazing Ricky Ubeda as Mr. Mistoffelees. The "So You Think You Can Dance" Season 11 winner is no Great White Way newbie: He made his official Broadway debut last year, when he joined the ensemble of On The Town. But it is his first time playing a major role—and showing off his singing chops solo!
The list also includes other On The Town alums: New York City Ballet soloist Georgina Pazcoguin as Victoria (aka the super graceful "white cat"), and Jess LeProtto (also of Newsies and "So You Think You Can Dance") as the mischievous Mungojerrie.
Other highlights? Shonica Gooden—fresh off her Hamilton run—will play Rumpleteazer; New York City Dance Alliance all-star Kolton Krouse will make his Broadway debut as Tumblebrutus; and fellow NYCDA kid Corey Snide, a Juilliard grad who was one of Billy Elliot's Billys, will play Coricopat.
One thing's for certain: This cast of A-list dancers + Andy Blankenbuehler's choreo is sure to = Broadway gold. The production officially opens July 31. Get your tickets now, and check out the full casting list here.
Feb. 24, 2012 01:24PM EST
I'm editing a piece for our May/June issue in which dancers talk about their favorite performances. It includes some pretty amazing stories. (New York City Ballet principal Wendy Whelan's contribution made me cry—it's so moving.)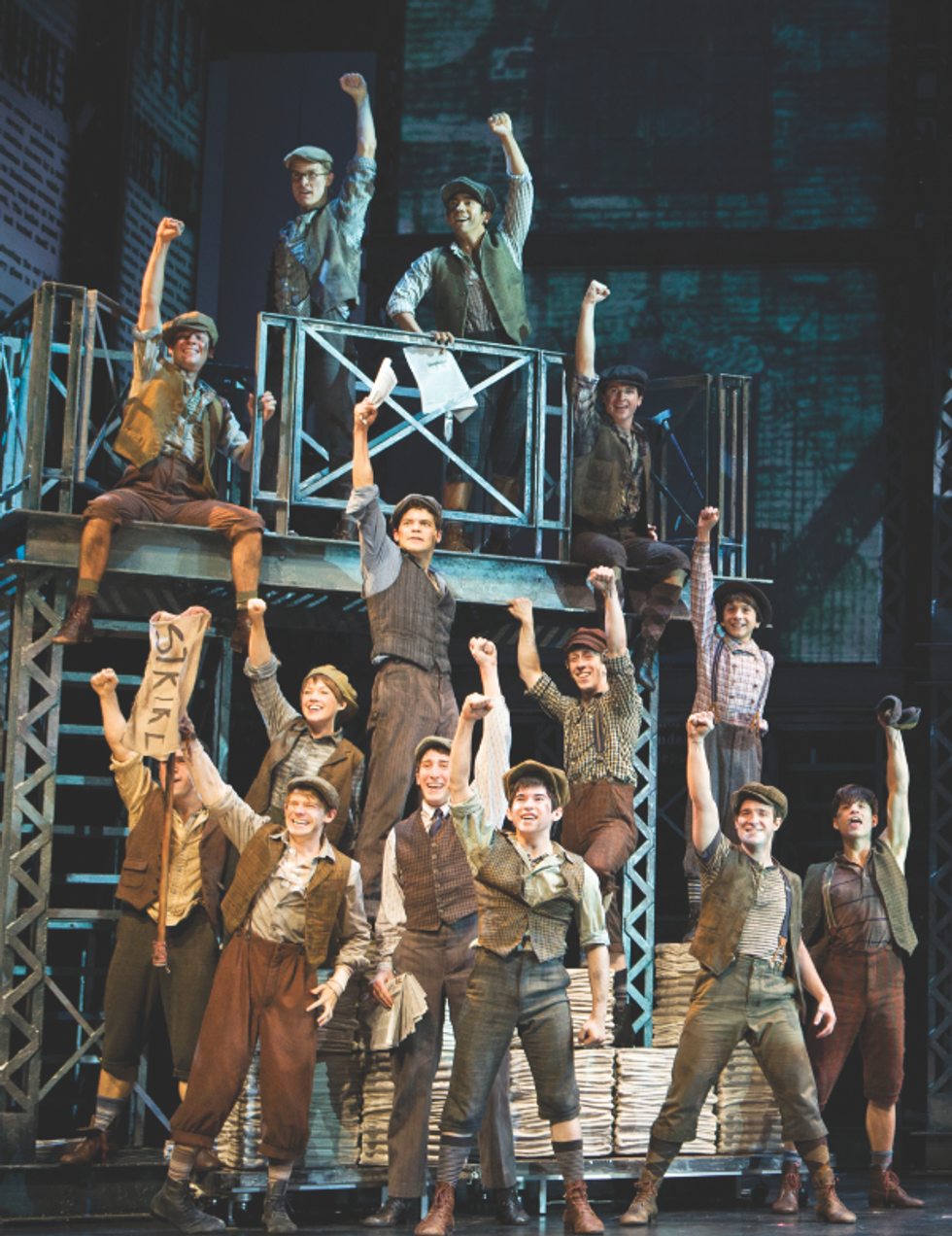 "So You Think You Can Dance" alum and current Newsies boy Evan Kasprzak sent in a quote just a tad after our deadline. But it's a good one. So I thought I'd share it here:
"When we did the world premiere of Newsies at Papermill Playhouse, we had a Fan Day performance.  Kenny Ortega, the original director and choreographer of the movie, came, as well as some of the guys from the original movie. The audience was packed with huge fans who adore the film and were excited to see it brought to life in the theater. After the opening number, there was like a minute and a half of applause.  The energy was amazing—there was electricity in the air." 
Look for more about the fantastic cast of Newsies in our July/August issue! Did you know that the show includes four—count 'em, four—"SYTYCD" alums? Here's a cute photo of the quartet making Nigel proud: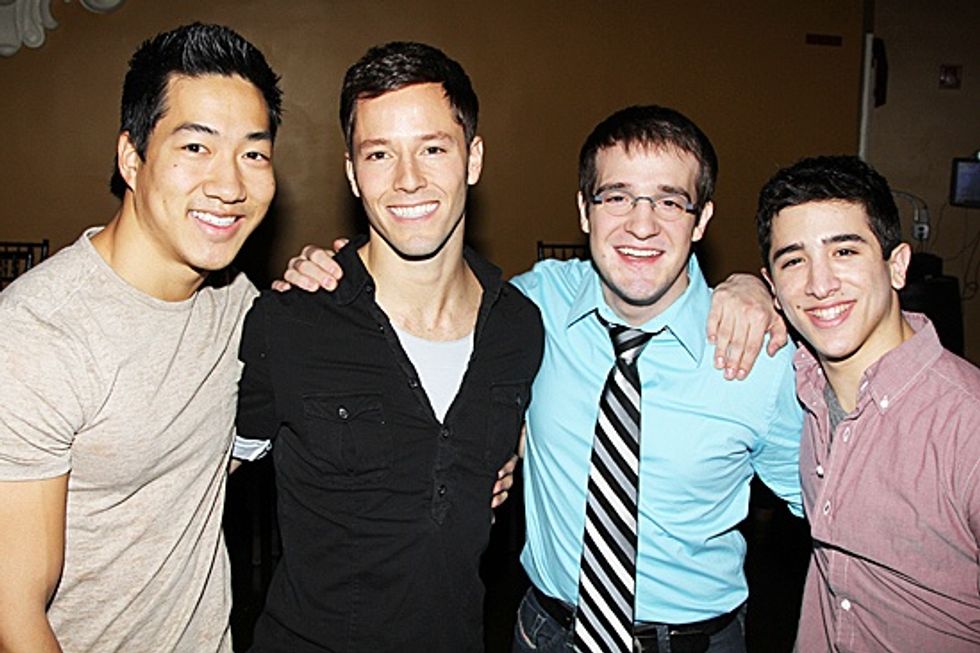 Get Dance Spirit in your inbox