Well, OK: It's not an audition per se. But Jesse Tyler Ferguson—"Modern Family" star, frequent "So You Think You Can Dance" guest judge, and #1 member of the Travis Wall Fan Club (we're #2, for the record)—just made a video in which he shows off his best dance moves in a Shaping Sound t-shirt. Is it exactly as hilarious as you think it'll be? Yes. Is his dancing also surprisingly impressive? Um, yes!
GET IT, JTF:
Keep reading...
Show less
Welcome, to "So You Think You Can Dance!" This week, we're in L.A. for the third round of auditions—and I'm thrilled to report that these auditions were far more successful and entertaining than what we saw on last week's show.
On with the recap!
The Top 5 Moments From The L.A. Auditions:
1. Jesse Tyler Ferguson on the judging panel. I love him on "Modern Family" and I don't even care that he may not be a dance expert. He's so stinkin' lovable as a self-proclaimed "super fan of the show," and you could tell he genuinely enjoyed sitting up there with Nigel and Mary. Adorable and hilarious.
2. Alexa Anderson! Our former Cover Model Search winner was the first one up last night, and she got sent straight to Vegas. No surprise there: We knew she was a star when we spotted her on the competition scene, you knew she was a star when you voted her the winner of the 2010 CMS battle, and now the rest of the world will know she's a star when Alexa inevitably makes it into the Top 20. (Seriously, Nigel and Mary: Put this girl in the Top 20.) We're rooting for you, Alexa!
3. "No lip syncing." Mary Murphy, I love you for this. High five. She told the crop of L.A. dancers that she did not want to see any lip syncing. Write this down, dancers and teachers. No one likes lip syncing! I don't care if you're doing a musical theater number to "Cell Block Tango" and you swear mouthing the words will make your performance more believable. Let the singers do the singing, you just worry about your sassy moves!
4. All the super-cute contemporary girls. I loved Sam Lenarz, whose mom kicked her out of the house and didn't support her dancing. Her story was heartbreaking, but with her killer feet and ability to light up the stage, I doubt she'll be held back in life. Then there was Megan Branch, who danced with a youthful innocence that I found incredibly compelling. Nigel called her a "little firecracker." And then there was Emily James! Emily was a DS Cover Model Search finalist and she was sent straight to Vegas. Duh.
5. Jonathan Anzalone. I basically like that he looks like Joey Lawrence, and I had a crush on Joey Lawrence when I was in elementary school and he was on that TV show "Blossom." Jonathan was quirky, fun to watch and could shake his booty better than any dude I've ever met.
The "So You Think You Can What?!" Moment of the Night:
How much did I love the "A-list celebrity on a B-list budget" twins, Nick and James Aragon? I loved them so much. They refer to themselves as the "ninja twins," one is a stylist, one works at "The Village Idiot," and their double cartwheels were to die for. Are they going to win "SYTYCD?" Um, no. Not at all. But they were adorable and I want them to take me shopping.
Check back next week when we'll be recapping Atlanta auditions. And of course, tell us what you thought of the show!
This is awesome: Jesse Tyler Ferguson, aka The Greatest "So You Think You Can Dance" Guest Judge of All Time, wants to be on "Dancing with the Stars."
This is awesomer: The "Modern Family" star began this campaign at the behest of his mom, who is just as obsessed with his "SYT" judging as we all are.
This is awesomest: Ferguson first announced his new goal on "The Ellen DeGeneres Show." And then Ellen made him do an impromptu "audition." Because of course.
If you love JTF's high-quality, hilarious commentary on "SYT," you are going to go insane for his high-quality, hilarious dancing in this audition sequence (yes, there's a little Fosse happening during the "hip hop" section, but let's cut the guy some slack):
Come to think of it—how has this man not been on "DWTS" already?? As we just witnessed, he has more natural dance ability than 90% of the people previously cast. His endearing/crazy antics will lend themselves perfectly to the show's personality-driven format. And we need something to keep our JTF dance dreams alive after his ultimately unsuccessful "SYTYCD" Australia audition.
Can we get a campaign going to make this a reality, please? #JTFonDWTS! #JesseTylerDancerson! Kthxbai.
"So You Think You Can Dance" has undergone a number of format changes over its ten seasons—some good, some bad: Adding the All-Stars? Awesome. Male and female winners? Great. No separate results show? Meh. Elimination at the beginning of the show? Awful. Elimination no longer at the beginning of the show? Phew.
You've gotta admit, they sure keep it interesting.
But one change we're still not quite sure about is the addition of celebrity guest judges. It's really a mixed bag. You get those celebrities with real experience in the dance world: Kenny Ortega, Megan Mullally, Rob Marshall, Neil Patrick Harris, Christina Applegate and Paula Abdul, to name a few. But you also get those completely clueless celebs, who resort to common catchwords—like Great!, Inspirational!, Pretty! or Wow!—or to describing how much they like the contestants' "outfits." (Not mentioning any names here...ahem...Carly Rae Jepsen.)
But some dance-newb celebrity judges we can forgive for their lack of expertise, especially if they're cute, funny, humble and passionate about dance.
Oh, and if they happen to have red hair, three names and fashionable bow ties, we're totally sold...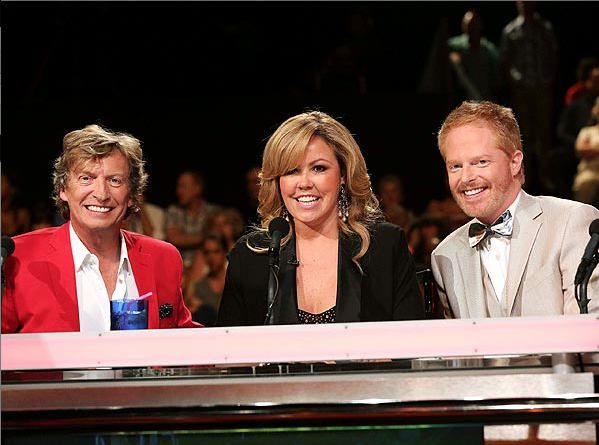 Jesse Tyler Ferguson claims his rightful spot at the "SYTYCD" judges' table. (Mike Yarish/FOX)
Yep, that's right. We're talking about "Modern Family" star Jessie Tyler Ferguson. As an avid fan, JTF really takes "So You Think You Can Dance" seriously. He believes in the show's mission—finding undiscovered talent from across the U.S.—and his critiques are just downright entertaining.
Well, last week he gave "SYTYCD" fans another reason to love him. While kickin' it in Australia filming "Modern Family," he decided to take a trip to see his good friend Paula Abdul.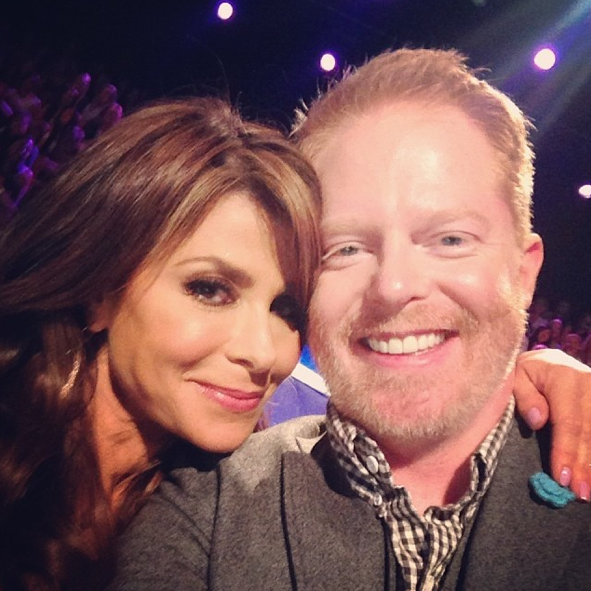 Selfie! (via JTF's Instagram)
But wait, it gets better. He didn't just visit Paula. He surprised her, showing up at the "So You Think You Can Dance Australia" auditions (where Paula was serving as a judge) for a cameo performance:
That pirouette at the end demonstrated so much commitment.
So what do you think? Could Jesse Tyler Ferguson become Down Under's next favorite dancer?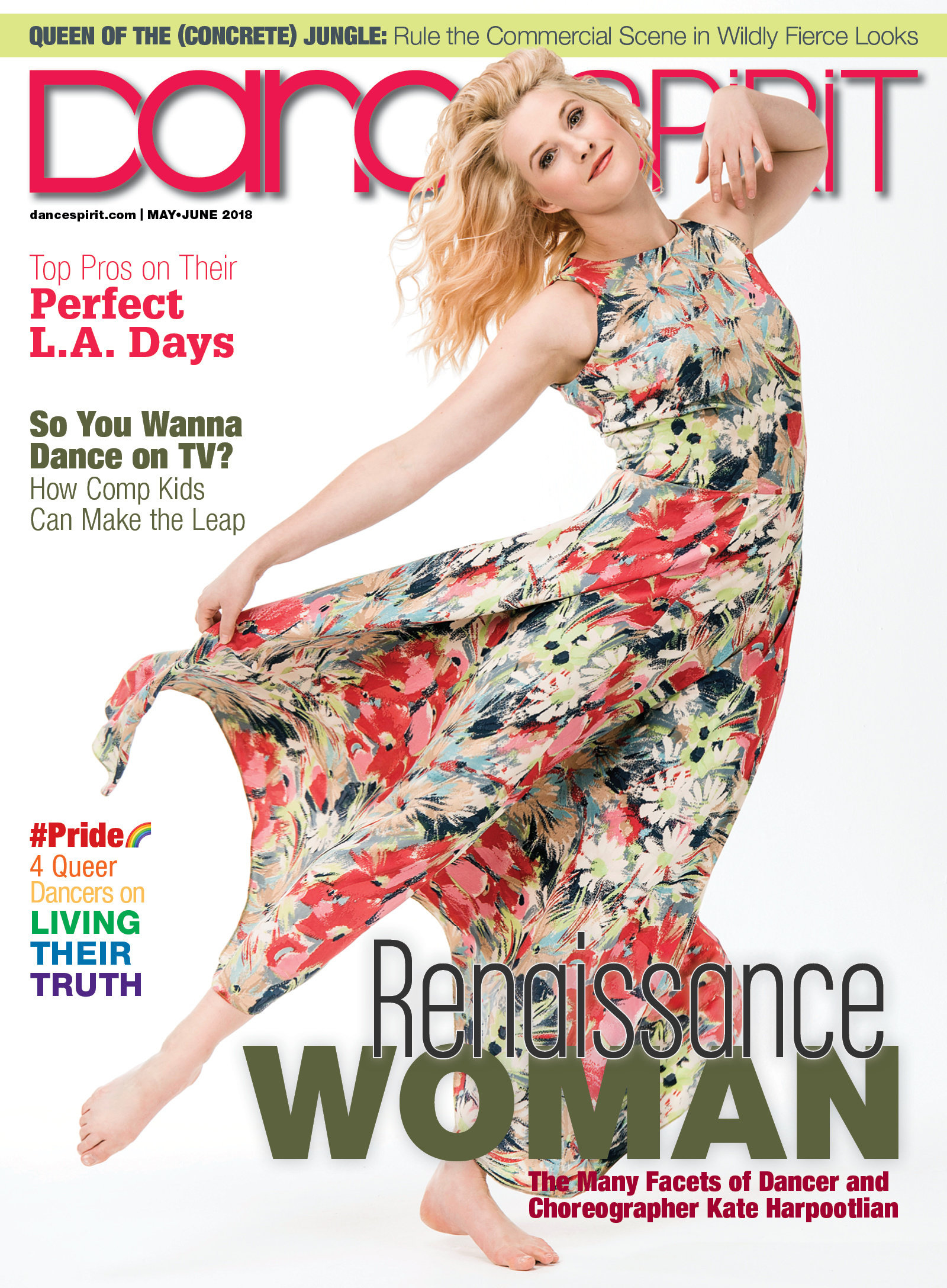 Get Dance Spirit in your inbox