Sep. 12, 2019 10:41AM EST
Via YouTube
Jimmy Fallon's signature dance sketches are always a good time. But when he gets actual legit dancers to do them with him, they become something truly magical.
So when we heard that Jennifer Lopez—who a) is promoting the surprisingly dancy movie Hustlers, and b) started out as a backup dancer—would be stopping by "The Tonight Show" this week, we got excited. And hoo, boy: We were NOT disappointed.
Just for Fun
Mar. 23, 2017 01:39PM EST
Nobody is better at getting A-listers to make endearing goofballs of themselves than Jimmy Fallon. And we're eternally grateful that his preferred goofball-making method is silly dancing.
Earlier this week—in a sketch that was kind of a bizarro cousin to his "History of Dad Dancing" and "History of Mom Dancing" bits—Fallon got your best friend Jennifer Lawrence to take the dance bait. Unsurprisingly, given all the practicing she's been doing on top of Billy Joel's piano, she aced it.
The setup? Lawrence and Fallon played Des and Dash, two vaguely sad, aggressively wigged, weirdly small-mouthed rave kids in an infomercial for a series of instructional dance tapes called "Come Dance with Us."
Just...process that for a second.
Anyway, in true Fallon fashion, the moves included such gems as "Check the Door"...
..."Lunch Box Salute"...
..."Bowling Confetti"...
...and "Kick Waterfall."
There was something delightfully Romy and Michele about the whole thing. (And not just the fact that their outfits could totally be R&M designs.) I think it was J. Law and Fallon's steadfast commitment to the crazy—which is the only way this particular brand of crazy works.
I'll come dance with you, Des and Dash! Let me just dig up my rainbow Muppet arm warmers. Because I legitimately own a pair. (Thanks for that, college.)
Mar. 23, 2017 11:35AM EST
We talk a lot about power couples here at DS.  It seems like all corners of the dance world have their respective royal couples: Hip hop's got dynamic duos like the Madrids and NappyTabs; ballet's got Tyler and Robbie; and Mark and Jeremy rep the commercial world.
But what about the competitive world of jumbotron dancers? What fearless dance couple will lead the way for performers hoping to show off their best running men, sprinklers, Roger Rabbits and schmoney dances?
Why, Taylor Swift and Jimmy Fallon, of course.
(via "The Tonight Show Starring Jimmy Fallon")
Last week on "The Tonight Show Starring Jimmy Fallon," Fallon and T. Swift "reminisced" about the days when they used to rule the jumbotron with their epic dance moves. As if we needed another reason to be obsessed with these two celebrity dance lovers...
Mmk, guys. I expect to see you two strutting your stuff at the next NYC sporting event I attend. Pics (/videos) or it didn't happen!
Mar. 23, 2017 08:30AM EST
First, he brought in Michelle Obama to teach us The Evolution of Mom Dancing. Then, he enlisted the help of Justin Timberlake to demonstrate The Evolution of End Zone Dancing. How could Jimmy Fallon one-up himself for his "Tonight Show" debut?
By bringing in this guy:
We all know Will Smith's got the moves. So he was the perfect pick for Fallon's latest installment of dance history: The Evolution of Hip-Hop Dancing. Here are five of our favorite moments from last night's demonstration:
1. The duo shows us the really important part of break dancing:
(via BuzzFeed)
2. They're honest about how you feel after "making it rain":
[caption id="attachment_27971" align="aligncenter" width="492"]
3. And about some moves that are kind of impossible:
(via BuzzFeed)
4. Will Smith goes back to his "Fresh Prince" roots:
(via BuzzFeed)
5. And Jimmy Fallon reminds us of the VMA twerktastrophe:
(via BuzzFeed)
Watch the full video and pick your own favorite moments of hip-hop history!
Apr. 03, 2015 12:18PM EST
How do we love Michelle Obama's moves? Let us count the ways:
-We love them when she's center stage with the President in an insanely gorgeous gown at the inaugural ball. Fancy dancing!
-We love them when she's breaking it down with a bunch of Disney characters in support of her "Let's Move!" campaign. Cartoony dancing!
-We love them when she's doing choreography—namely, the #GimmeFive dance, especially when the scenario involves her bestie Ellen DeGeneres and a bunch of "SYTYCD" alums. Healthy dancing!
-Most of all, though, we love them when they're classic MObama mom moves, which she first showed off on Jimmy Fallon's show back in 2013. MOM DANCING!
Yes, we have to tip our hats to Fallon for showing the world the wonderfulness that is the first lady's momography. Last night, to celebrate the crazy virality of MObama's #GimmeFive campaign (haaay Beyoncé!), Fallon and Obama gave us round 2 of "The Evolution of Mom Dancing." It was quite possibly even more glorious than the first edition:
(Though, lbh, there's no way Michelle "Even Mom Choreo Can't Make Me Look Bad" Obama would ever be one move behind in Zumba class.)
Happy Friday, everybody!
Oct. 19, 2014 07:30AM EST
By now, you're accustomed to Dance Spirit's obsession with Jimmy Fallon's dance obsession. But this week, our infatuation jumped to a whole new level when Fallon invited Brad Pitt to take part in the fun on "The Tonight Show." Yes, ladies. Brad. Pitt. Dancing.
OK, OK—so it's probably not the swooniest of swoon-worthy men doing those back-spins, handstands or off-the-wall flips. But the skit sure is funny. And Pitt and Fallon have glorious dance doubles—the moves are solid! Take a look:
Happy Sunday!
Jun. 13, 2014 11:47AM EST
Whatever your political leanings, you've gotta give it up for a politician who's willing to dance on national television. And Jimmy Fallon seems to be especially good at getting politicians to do just that.
A couple of years ago, to celebrate Father's Day, Fallon came up with a delicious little sketch called "The Evolution of Dad Dancing," which he performed solo on Late Night with Jimmy Fallon...
...and it spawned a meme that A) just won't quit and B) has somehow become the perfect dance vehicle for politicians. First Lady Michelle Obama showed off her Mom Dancing to promote her "Let's Move" campaign last year...
...and last night, in honor of Father's Day, New Jersey Governor Chris Christie joined Fallon for part two of "Evolution of Dad Dancing" on The Tonight Show. While Christie's moves might not be the most dextrous—frankly, they make us a tad uncomfortable—we've got to give him an A for effort. (And for his excellent fist pumping. Dude's from Jersey, after all.)
Happy Father's Day weekend, everyone—and thanks to all the dance dads out there!
Jun. 04, 2014 11:01AM EST
Oh hey there, Ansel Elgort.
Elgort photographed for Flaunt magazine by Davis Factor
You probably know the adorable actor as Caleb Prior from the film version of Divergent—and his new movie, The Fault in Our Stars, comes out Friday. But he's more than just a thespian. In fact, he started out as a dancer.
A tap dancer, to be specific. Elgort, a NYC native, went to the Fiorella H. LaGuardia High School of Music & Art and Performing Arts—a.k.a. the Fame school—and fell in love with with tap after seeing master tapper Savion Glover perform.
How do we know all this? Because Elgort spilled the dance beans to Jimmy Fallon when he appeared on "The Tonight Show" earlier this week. And he put his money where his feet were, too, busting out a few moves right on the "Tonight Show" stage. (Naturally, Fallon then had to show off his best "tapping," too.)
Take a look—and get ready to fall (even deeper) in love with this dude:
May. 02, 2014 11:09AM EST
"It's gonna be a dance-off." We <3 you, Jimmy Fallon!
Let's face it. "The Tonight Show Starring Jimmy Fallon" is on TV pretty late, especially on school nights. Luckily, there's the Internet to recirculate all the hilarity that ensues after our bedtimes and to help keep us laughing during the daytime. And you already know just how much Dance Spirit loves our Jimmy Fallon.
This segment aired a few weeks ago (during the week of Equal Pay Day...when Congress failed again to pass the Paycheck Fairness Act). But it also happens to be perfect for a Friday video break when you need a little extra something to make it to the weekend. It's called "Questions and Danswers." You guessed it—a reporter on the street asks a question, and the interviewee must dance his or her answer. It's simply amazing. (And don't forget to keep scrolling down...there's a bonus!)
Now the bonus: This wasn't the first time this segment aired. There's another! About a month ago, Jimmy sent a reporter to ask about the Crimean conflict. Now, this version isn't as great...and the reporter even does one of the same joke moves. But one man in particular—the robot guy in the red shirt—really breaks it down. His moves are the greatest.
Mar. 27, 2014 07:00AM EST
First things first: We love Jimmy Fallon.
This TV show host has proven himself a worthy friend of dance. Since taking over the "Tonight Show" in February, he's brought us such dance-tastic segments as "The Evolution of Hip-Hop Dancing" with Will Smith and the "three-legged pants dance" with Cameron Diaz. I mean...the man has a velvety dance bag of classic moves. What more could you ask of him?
But on Friday, something shocking happened: Jimmy Fallon announced the "Tonight Show"'s new ban on dance! GASP.
Fortunately, Kevin Bacon, star of the 1984 film Footloose, was there to save the day with the most epic entrance ever:
For those of you not getting the reference (or for those of you who've only seen the 2011 remake featuring the lovely Julianne Hough and the dashing Kenny Wormald), get your hands on a copy of the original Footloose ASAP—or rent it on Amazon for just $4!
But we do have a bit of a bone to pick. During Bacon's post-entrance interview, he introduced his body double from the acrobatic interlude circa 2:22-2:36 (a competitive gymnast named Andrés). However, neither Bacon nor Fallon ever credits the dance double responsible for the silhouetted dance sequence at 2:06.
C'mon guys!
It's time to set the record straight: Andrew Madsen—whose theater credits include How to Succeed in Business Without Really Trying and Wicked, and who's performed on "Saturday Night Live" and "Late Night with Jimmy Fallon"—was Kevin Bacon's dance double in this Footloose flash-forward. And while we're at it, Danielle Flora—who's worked with Janet Jackson, on MTV and on "SNL"—is the choreographic mastermind behind it all. Thanks guys! (And we still love you, Jimmy.)
Dance News
Get Dance Spirit in your inbox
Sep. 13, 2013 10:30AM EST
Jimmy Fallon is on a serious roll. Over the last year or so, he's given us a razzle-dazzly Broadway Week, the surprisingly dance-heavy History of Rap series, and looks at the evolution of the dorktastic dancing of moms and dads. Who knew a late night show could be so dance-y?
We have a feeling that the sweet dance abilities of Fallon BFF and frequent guest Justin Timberlake—Jimmy's four-time History of Rap co-star—aren't hurting the trend. Case in point: Two nights ago, the dynamic duo presented another installment in the Evolution of Dancing series: The Evolution of End Zone Dancing. (Because, oh joy, it's football time again.)
The mom and dad versions of this sequence, while silly, pretty much make sense. I mean, you've seen someone's mom doing the "Just the Hands Part of Single Ladies," and maybe even your own dad doing the "Groovy Hitchiker." But the end zone dance thing, thanks in no small part to JT, quickly veers into awesomely ridiculous territory.
The first couple of dances are real enough. The rest? Well, let's just say we've never seen anyone do "The Justin Timberlake (From *NSYNC)" on the field. And somehow that makes it even better.
Enjoy, and happy Friday!
Mar. 18, 2013 12:14PM EST
So, we're guessing that by now you've heard about Jimmy Fallon and Justin Timberlake's crazy-awesome "History of Rap" series.
No? You haven't had internet access for the past three years? Well, like most brilliant ideas, it's pretty simple: Every time JT appears on "Late Night with Jimmy Fallon," the dynamic duo put together a mashup of classic rap songs, and everyone in the world swoons. The most recent "history" was this past weekend, and it did not disappoint.
Much as these sweet, sweet remixes are histories of rap, they're also histories of the fun (and/or funny) dances people have done to rap songs—because Jimmy and JT being Jimmy and JT, a performance just isn't complete without choreography. We've seen them do the robot, the running man, the "Push It" thrust, the Dougie, the Soulja Boy "Superman" dance, the Michael Jackson toe stand, the "Jump On It" ride-your-horse-in-a-circle move, even a bit of that *NSYNC "puppet" thing. (Justin Timberlake: not ashamed of his roots!)
In other words, each rap history is its own little vaudeville act, and all of them are darn near perfect. Enjoy four installments worth of good song-and-dancey fun.
#1 (sorry about the strange distortion):
#2:
#3: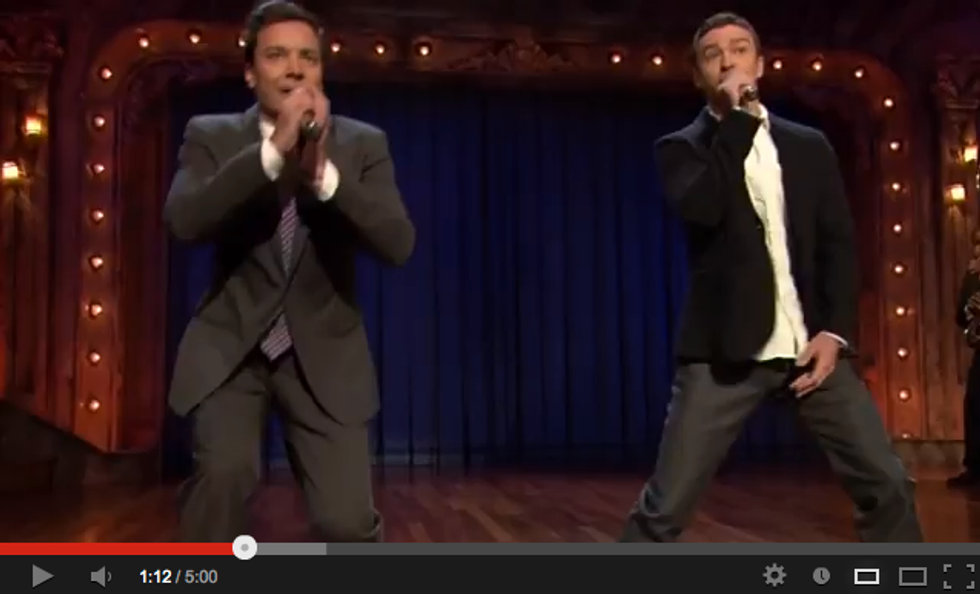 #4
Mar. 11, 2013 11:03AM EST
Justin Timberlake's new album comes out next week, which means pretty much the entire world is in a JT frenzy right now. Naturally, he hosted "Saturday Night Live" this weekend—for the fifth time!—where he showed off the full extent of his crazy triple threatness. But leave it to Buzzfeed to come up with a gif collection that shows off the side of Justin we know and love best: his dancing. (Duh.)
Even the best dancers can be made to look totally ridiculous in 3-second clips, and JT is no exception. Buzzfeed rounded up 32 of Timberlake's most awesomely awkward moments. Here are a few of our favorites. (Anybody else hoping that he might re-create these on Jimmy Fallon sometime, à la Michelle Obama?)
The "Tighty Whitey Shirt Shake":
The "Pow Pow Shimmy":
The "*NSYNC Body Roll"
[did I do this in a ballet summer program talent show? maybe.]:
The "Don't-Look-Now-But-Madonna-Is-Behind-You" Twist:
And the "Timberlake Tornado":
Feb. 25, 2013 11:51AM EST
We're huge fans of Michelle Obama's "Let's Move" campaign. And when the First Lady combines her passion for physical activity with her undying support of the arts, there's usually some super-dance-y amazingness. Throw Jimmy Fallon (in mom drag!) into the mix and what do you get? The evolution of the "mom dance."
What's "mom dance" you ask? Let us, er, Jimmy and Michelle, show you.
You start off nice and slow—just like you're walking down the aisle at the supermarket. You can do that, right?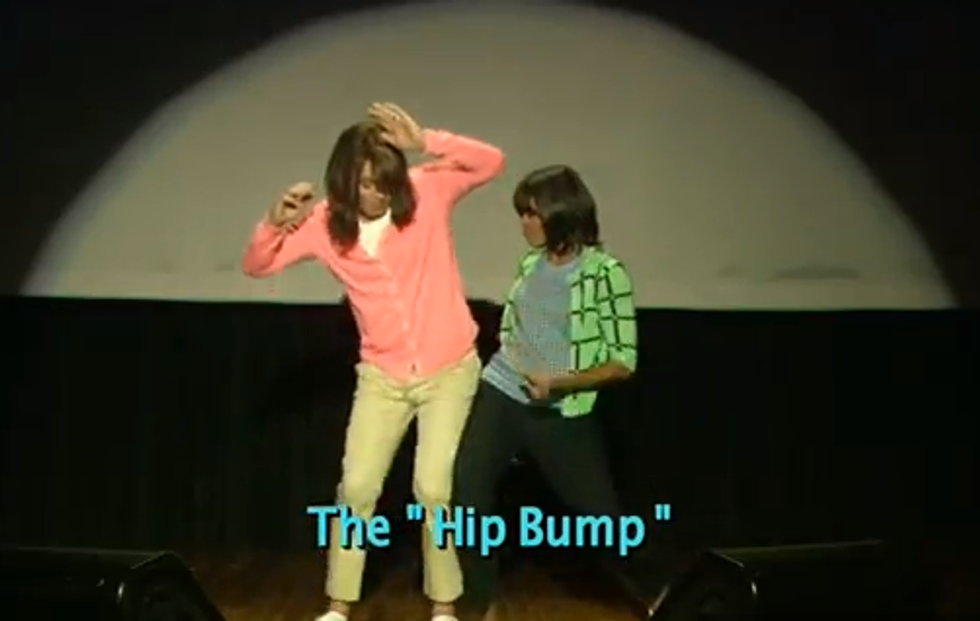 Then, grab a friend for a little hip bump action.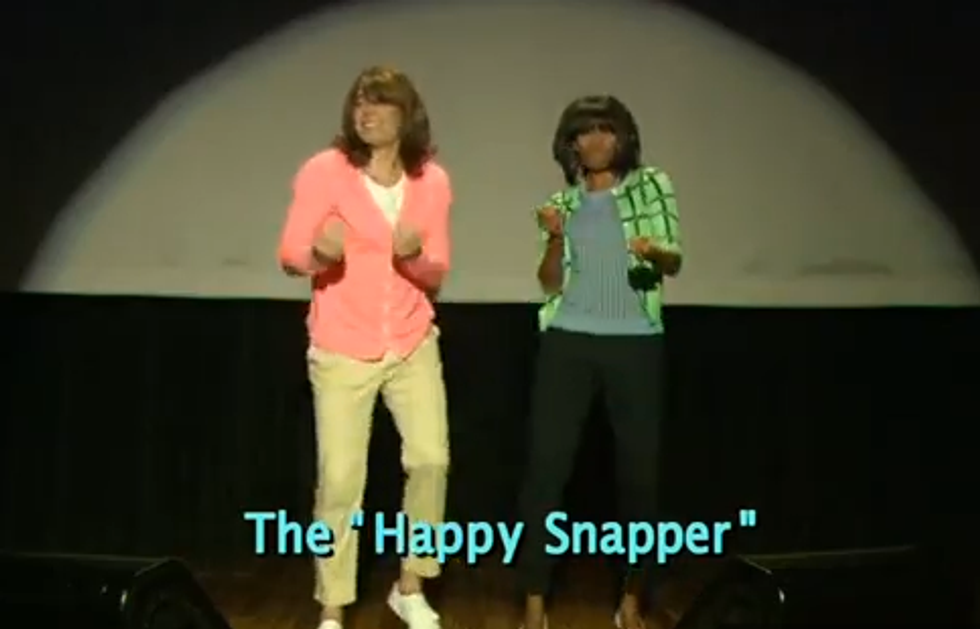 And let's not forget one of my personal faves, the "Happy Snapper." You've gotta snap it—snap it good!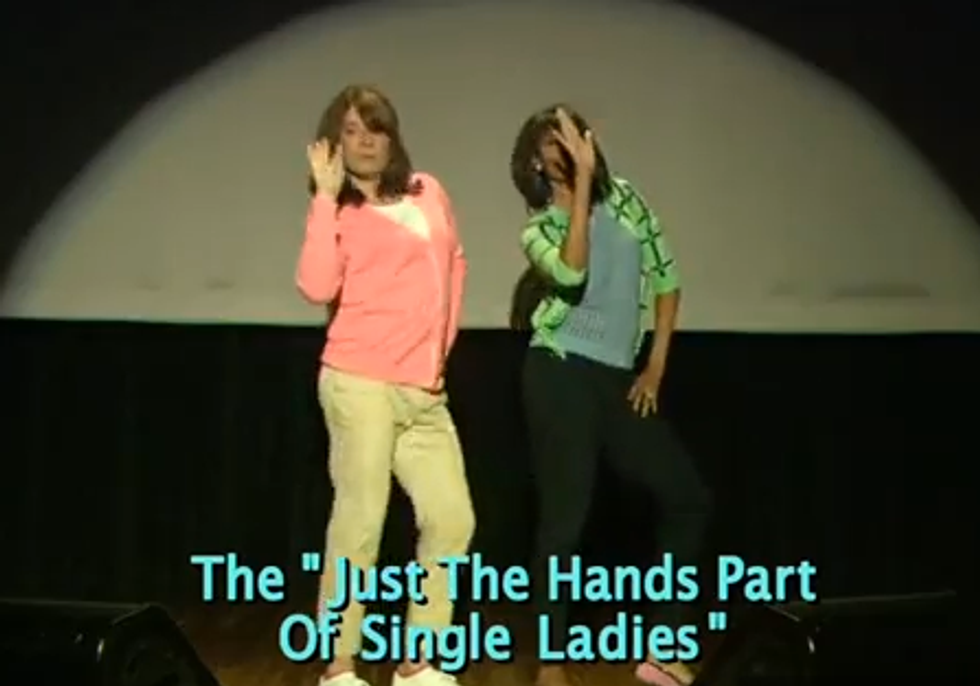 No dance would be complete without a little "Single Ladies" action—but only the hand flip. If you're feeling really advanced, add a few hip rolls.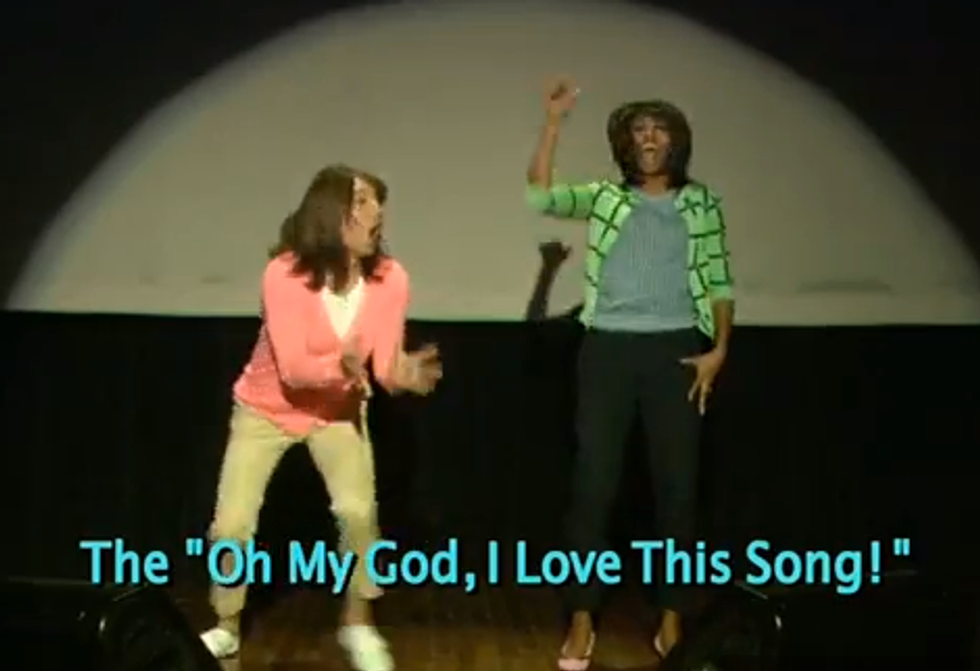 You know the "OMG! Best. Song. Ever!" feeling? Yeah, dance it out.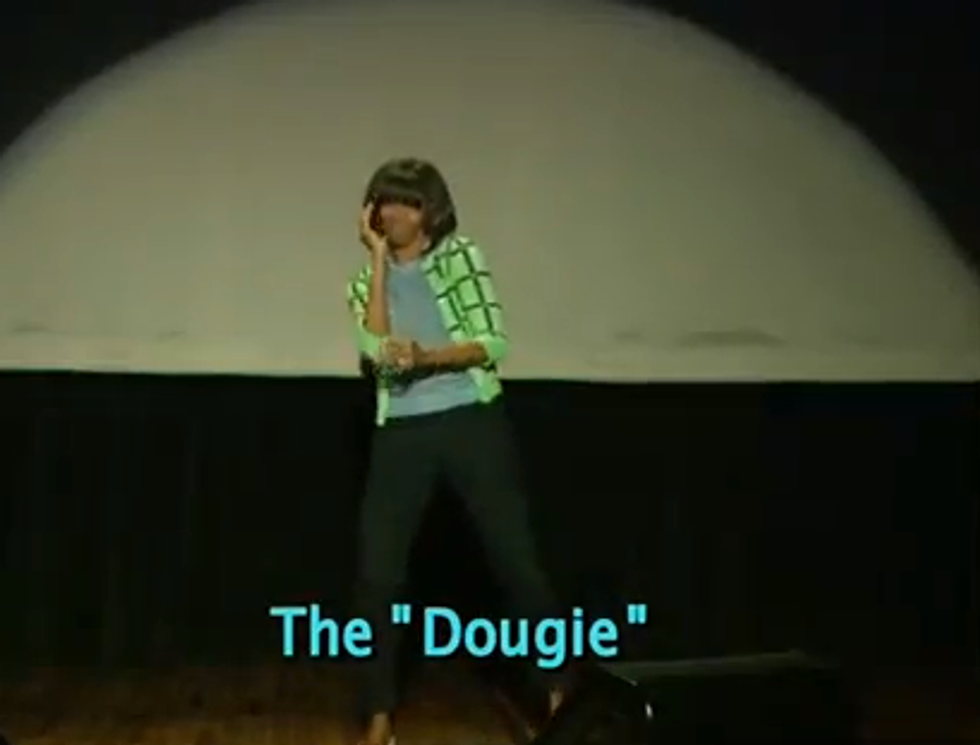 And for the grand finale? Wrap things up with Dougie. (Looks like Jimmy needs the First Lady to teach him how to Dougie.)
Now that you know a few of the steps...Cue music!
Looks pretty awesome, right? Grab your mom (and dad!) and get moving! And be sure to let us know how it goes in the comments below!
Dance News