NYC college students and recent grads, listen up! We've extended the application deadline for Dance Spirit's fall internship to September 10. That means you still have time to tell us why you're the perfect candidate for the coolest job ever with the best editorial staff ever. OK, so we may be a little biased, but we just really like our jobs. And if you're a hard-working aspiring writer/editor who loves dance, you'll really like working with us.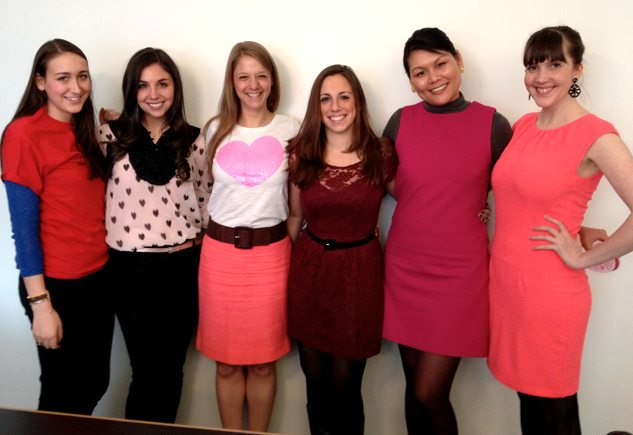 We love holidays! The Dance Spirit staff all dressed up for Valentine's Day 2013 with former DS intern Megan Kirsch (far left)
Want to spend two days a week with us this semester?
Just send a cover letter, updated resume and two writing samples to Hanna Rubin at hrubin@dancemedia.com. Be sure to put "Fall Internship Application" in the subject line and specify that you're interested in interning for Dance Spirit.
Internships are unpaid and require a minimum two-day-a-week, onsite commitment through December at our office in NYC. We can offer school credit to college students, and we do not accept high school students. Preference is given to college juniors and seniors.
We can't wait to meet you!
Jun. 11, 2013 02:50PM EST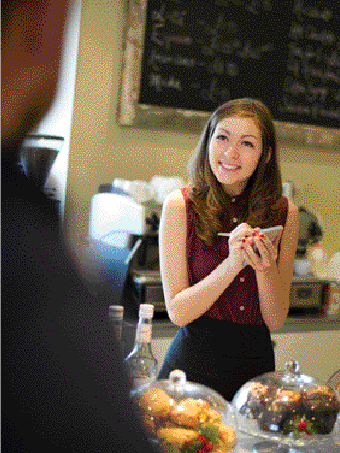 Jobs at restaurants and coffee shops usually offer flexible hours and don't require much experience. (iStock)
You've just earned your first professional dance job with a great, albeit small, ballet company. You're overjoyed—until you realize your contract is only 32 weeks long. Suddenly your dreams of glorious onstage moments are replaced by nightmares about grocery bills and unpaid rent. With no income for a solid 20 weeks of the year, how are you going to make ends meet?
If you're lucky enough to find work as a dancer, chances are it's a seasonal contract or a part-time gig. Most ballet companies lay off dancers over the summer, commercial shoots might only last a day and Broadway shows can close within weeks. But don't despair: There are plenty of ways to make money between gigs. Check out these common side jobs and see why dancers like what they have to offer.
Fitness Instruction
Being a fitness instructor pays anywhere from $8 to $35 an hour, frequently comes with a free or discounted gym membership and often allows you to make your own schedule. Teaching Pilates, Gyrotonic or yoga will also give you a chance to work your body in a different way, which can enhance your dancing. But there's a downside: Getting certified to teach can be time-consuming and costly.
There are many levels and styles of each method of fitness instruction, and some take less time to complete than others. A basic Pilates mat certificate, for example, can be earned over a single weekend and costs $300 to $550. Comprehensive certification (which includes working with Pilates equipment) requires several months to a year of training, including classes in anatomy and physiology, and will set you back about $4,000. Some dancers start the training process while they're still employed so that they'll be qualified and ready to look for a new job when the time comes.
Studio Work
Dance classes are one of the biggest expenses in a dancer's life—especially for an un- or underemployed dancer—but working at a studio can help you ease that burden. Some studios will let you work the front desk and then take classes for free or at a discounted rate.
Heading back home for a summer layoff? Teaching at your hometown studio is another great option for dancers who like to stay connected—and stay in shape. "The tough thing about being in between seasons at a ballet company is that you have to keep up the physicality," says Daniel Powers, a member of Cincinnati Ballet's second company. "I teach at my old local school and they 'pay' me by letting me take classes." Teaching also helps Powers with his dancing: He gives corrections to younger kids and then applies those corrections to himself. "It's nice having those notes in my memory bank when I go back to Cincinnati," he says.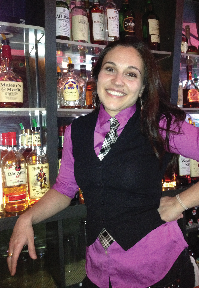 Katrina Yaukey at her bartending job
Service Industry
Lots of dancers wait tables or work as coffee shop baristas because these jobs have flexible hours and don't require much experience, if any. Waitresses rely mostly on tips, and how much they make depends on the kind of restaurant they work in (you'll earn more at a fancy place than a corner diner, for example). Coffee houses offer an average of $8 to $10 an hour, and baristas can also gain some from their tip jars. For these kinds of jobs, it helps to be outgoing and more of a people person. The more customers like you, the more generous they'll be when it comes time to pay.
Retail is also a popular choice for dancers, especially when employers offer a customizable schedule. Jo+Jax, a dancewear company based in NYC, uses dancers to work its convention booths across the country. "It's a win-win for us," says co-founder Jacki Ford. "We give them the cities and dates available and they pick where and when they want to go." These trips don't conflict with most classes or auditions because they happen on weekends. Travel is paid, and dancers earn a set salary for each job. Ford is flexible at her office in NYC, too. "We'll have some girls who are always looking for a few hours of work," she says. "It keeps us from having to stay late." Most dancewear companies, including Jo+Jax, also offer discounts on clothing (think audition outfits!).
Working Outside the Box
Some of the best side jobs are the ones you make for yourself—using skills that are already in your toolbox. Broadway dancer Katrina Yaukey tries to make her own work by shopping performance ideas to venues. She and some friends target clubs in the entertainment business and offer to do one show for free. If it works out, the venue will often then book—and pay—them for more performances. Some of Yaukey's tapper friends also apply for permits and perform in the subways. Or, if you're a singer as well as a dancer, booking gigs at local coffee shops or nightclubs can be lucrative.
And don't underestimate the value of your network. "People tend to hire who they know," says Ford. Talk to your family and friends—someone might know of a job opening and be able to recommend you. Or go back to places you enjoyed as a child and see if they'd be willing to hire you. Powers spent two summers working as a camp counselor, earning a $150 stipend each summer. "I went to the camp when I was younger and they knew me," he says.
Above all, be proactive—and open-minded. "You might have to get creative," says Yaukey. "Say yes to everything that comes your way. You just don't know what the next thing might be or where it might lead you."
Sep. 24, 2011 09:16AM EST
Ever wonder why so many dancers are flocking to Las Vegas to find work? Us, too. To find out what really happens in Vegas, we asked super-skilled brothers Kevin and Marcel Wilson, who've lent their dance and choreography talents to artists all along the Strip, including Cher, Wayne Brady, and Donny and Marie Osmond. Here, the Wilsons share how you can hit the career jackpot in the land of casinos and bright lights.
Opportunity knocks.
Vegas is a city built on entertainment, which translates to tons of opportunities for dancers. Stage shows run the gamut from burlesque to circus-style to dazzling large-scale productions featuring some of music's biggest stars. Many dance jobs are also created by the steady stream of industrials, conventions and corporate events.
Can you say stability?
"Shows run for a very long time, which is one of the beautiful things about Las Vegas," Kevin says. Dancers can work for several years on the same show, with one to three runs almost daily. If working with a casino-based show, many dancers can also get health insurance and other perks as a casino employee.
Specialists welcome.
Can you sing? Great! 
Try out for one of the many musical theater productions around town. Do aerial tricks? Cirque du Soleil currently has seven different shows running at various casinos. Insanely flexible? Get a gig as a contortionist. "Stilt walkers, fire blowers, aerial acts—there's a lot of specialty work in 
Las Vegas," Kevin says.
You don't need an agent.
In some cities, landing auditions can feel like cracking Fort Knox unless you have an agent. Not so in Vegas: Auditions are often advertised in local papers and many dancers are unagented.
Your dollars will go further.
Unlike NYC or L.A., where buying 
a place is often out of the question, 
Las Vegas is a city where lots of dancers get the chance to feel settled and invest in property. "Vegas is expanding so much that there are 
tons of new homes and subdivisions," Kevin says. "Dancers are able to save up and buy nice-sized homes." Proof? The median sales price for a Las Vegas home is $115,200, whereas in L.A. it's $299,500 and in NYC it's $1,080,000.
You get to learn with the masters—for free.
Since few Vegas dance studios offer classes designed for professionals, shows will bring in big-name choreographers from all over the world to teach. "It helps the dancers keep growing as performers and entertainers," says Marcel, who once assisted Jeri Slaughter during a master class for Celine Dion's dancers.
It's a great place to start your dance career.
"People come here to get their start onstage and to learn what it's like to be a professional dancer," Kevin says. "After they have that under their belts, they can take that knowledge and move to L.A." Whether you're headed for Hollywood or Broadway, Vegas is a solid place to kick off your career!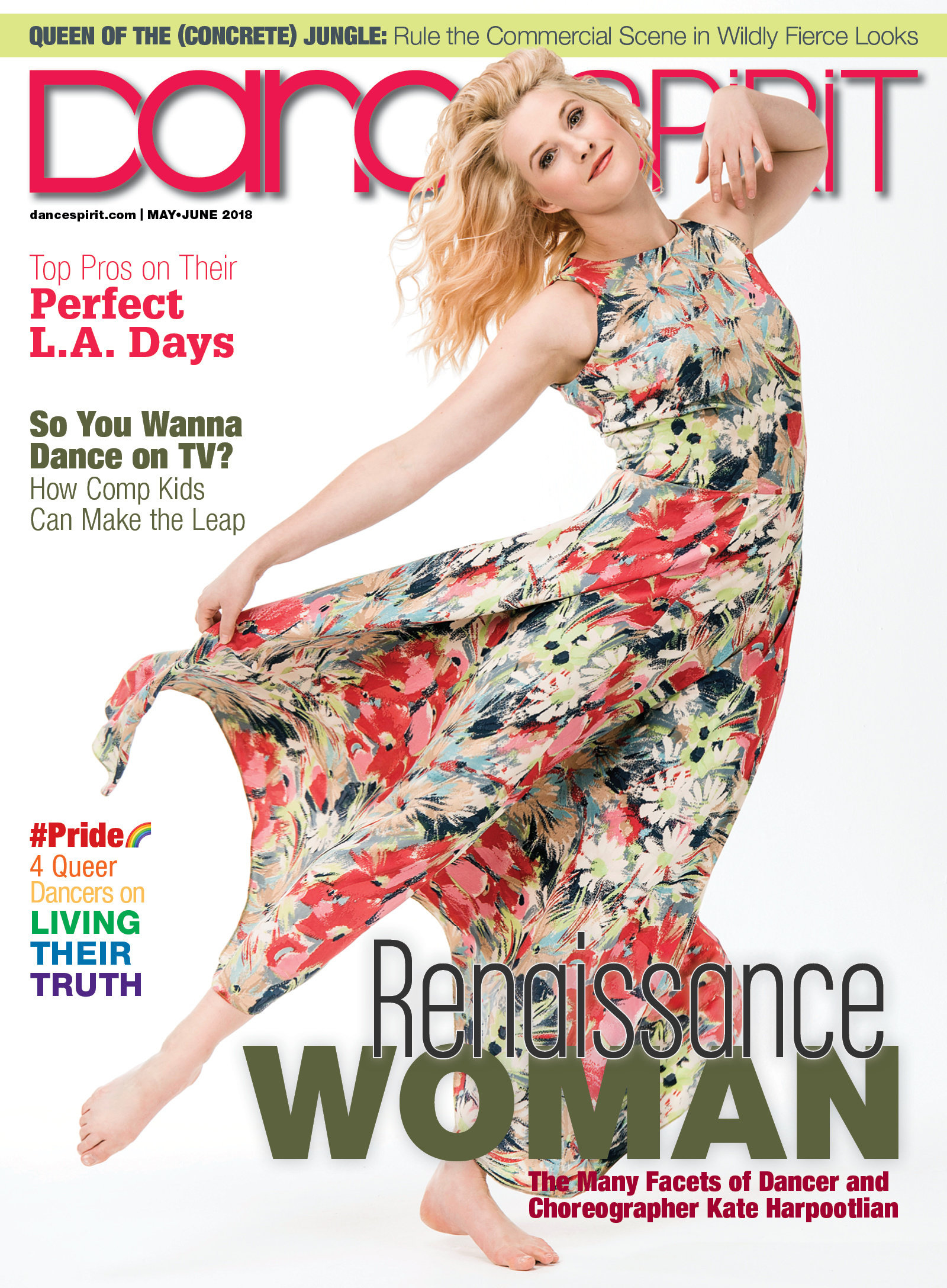 Get Dance Spirit in your inbox