Mar. 23, 2017 11:28AM EST
The path to dance success isn't always a straight line. We asked three pros to reflect on their careers—including the disappointments, unexpected opportunities and inspiring moments of perseverance.
Daniel "Cloud" Campos
Currently a commercial performer, choreographer and director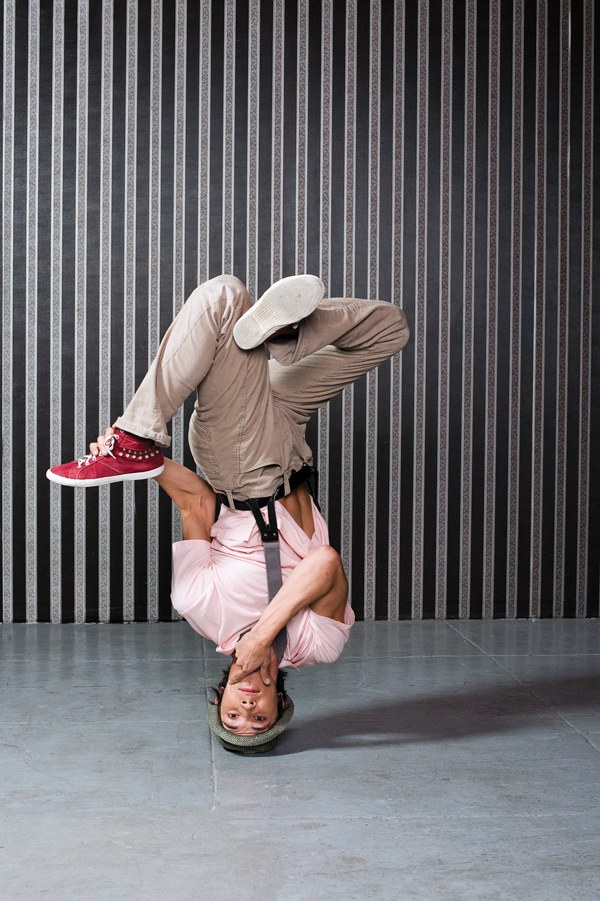 (Photo by Joe Toreno)
Performing at Universal Studios Florida
Campos began breaking at a very young age, but he didn't join a crew until he moved to Tampa, FL, at age 12. "I went to a roller rink, and there they were—the Skill Methodz! I was so impressed," he says. "We started going to competitions and traveling around the world, making a name for ourselves." Eventually the Skill Methodz landed
a job at Universal Studios Florida in a show called Street Breaks.
Touring with Madonna
On a visit to NYC, Campos heard about a Madonna tour audition. "I didn't have an agent, but I crashed the audition anyway," he says. He pushed through the choreography portion—an experience he'd never had—to get to the freestyle section of the audition. "I knew if they could see my breaking, I'd have a good chance of making it." He did make it, and ended up working on two of Madonna's tours.
The Commercial Life
After his Madonna audition, Campos got an agent in L.A. and started building his resumé. He landed gigs with a variety of directors and performers, including Jon M. Chu, Shakira and Jennifer Lopez. Campos quickly discovered just how intense the commercial dance world could be. "The audition process is intimidating when people have expectations of you," he says.
Discovering His Passion for Directing
While dancing in music videos and films, Campos realized he had his own ideas about how to capture movement on camera. He shot his first short dance film, The Paperboy, while
he was working at Universal Studios, and posted it on YouTube. "It ended up getting a lot of attention," he says. "I know I can't dance forever, and I realized this was another creative path to take."
Up Next
Campos' newest dance short, Today's the Day, is about facing your fears and walking into the unknown. "I enjoy telling stories with my body," he says. "I want to bring back the golden days of dance films." He's looking forward to more dance-inspired directing projects.
Drew Jacoby
Currently a member of Nederlands Dans Theater (and a new mom!)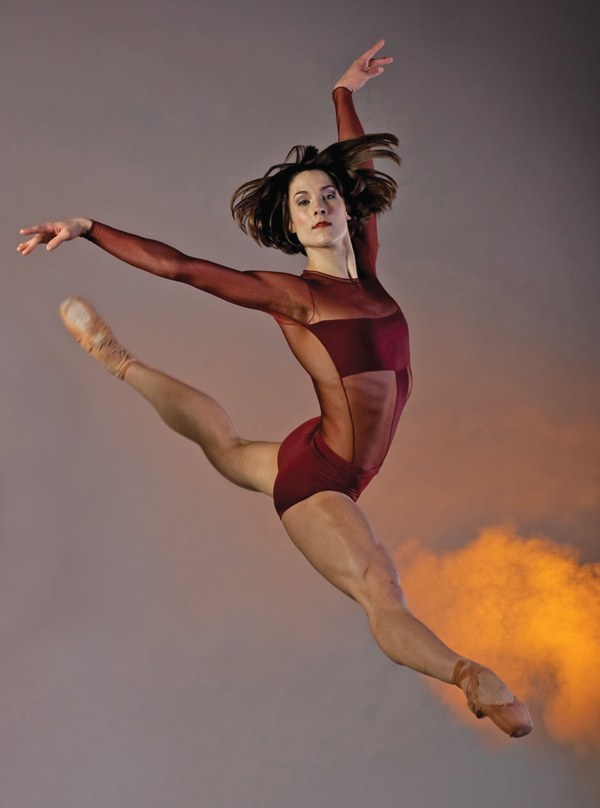 (Photo by Marty Sohl)
Dancing with LINES Ballet
After graduating from the Pacific Northwest Ballet School, Jacoby immediately accepted a job with the contemporary company Alonzo King LINES Ballet, in San Francisco. "I had hoped to join PNB, but they didn't want to take the risk of hiring me because I was so tall," says the 5' 11" dancer. "LINES was a different path than I had imagined."
Auditions Galore
Though she enjoyed working with LINES, Jacoby still dreamed of a super-classical ballet job. She continued to attend auditions while working with the company. "I met so many people through auditions," Jacoby says. "In the end, the conventional ballet path didn't work out for me. But those endless auditions were very enriching. I figured out there's more than one way to make it in the ballet world."
Freelancing in NYC
After a few years with LINES, Jacoby decided to strike out on her own in NYC. "I created a DVD and website, got a commercial agent, started auditioning for movies and Broadway shows and took classes at Steps on Broadway every day," she says. "I landed a gig with choreographer Lar Lubovitch, and from there, it just snowballed."
Jacoby & Pronk
One of Jacoby's freelance jobs was touring with Complexions Contemporary Ballet as a guest artist, and that's where she met dancer Rubinald Pronk. They began to perform together as Jacoby & Pronk, building a name for themselves by collaborating with choreographers such as Christopher Wheeldon and performing at festivals like Jacob's Pillow.
Joining Nederlands Dans Theater
While Jacoby was collaborating with Pronk, Paul Lightfoot and Sol Léon, then resident choreographers with Nederlands Dance Theater, brought up the idea of Jacoby joining NDT. But at that point, "I was still excited by making my own path," Jacoby says. Two years later, after Lightfoot was made artistic director of NDT, he offered Jacoby a contract—and she was ready to accept it. "One of the reasons I stopped freelancing was fatigue," Jacoby explains. "We were performing four pieces a night, I was doing all of the administrative work and we were traveling nine months of the year. I was trying to get funding, which was way over my head. So I was ready for company life again."
Up Next
Jacoby has now danced with NDT for three seasons. She's able to maintain her professional connections by teaching, producing galas and performing at festivals. These days, she's enjoying spending time with her new baby.
Ephrat "Bounce" Asherie
Currently a teacher at Broadway Dance Center and founder of Ephrat Asherie Dance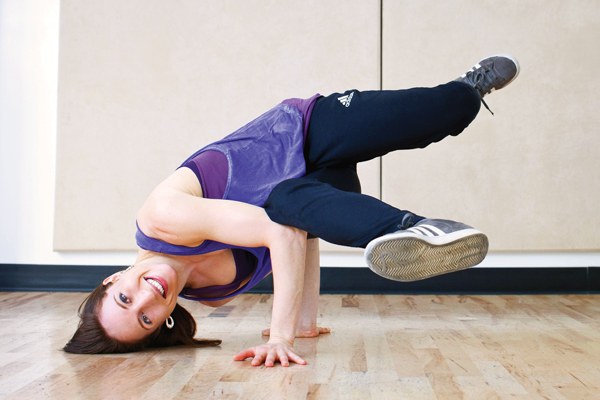 (Photo by Matthew Murphy)
Discovering Her Passion
Asherie began studying ballet at age 10 and Graham-based modern dance at 14. She loved hip-hop music, but "it was the '90s, so hip-hop classes weren't available at most dance studios," she says. She went on to study at Barnard College, majoring in Italian. Halfway through her degree, she saw Rennie  Harris' groundbreaking hip-hop work, Rome and Jewels, which gave her a new perspective on dance. "It completely blew me away," she says.
Adventures in Italy
Asherie was studying abroad in Italy when opportunity struck. "I was looking for an apartment, and I accidentally walked into a b-boy gym," she says. "It just fell into my lap!" She started breaking, and found that it gave her the voice she'd been looking for. "I didn't have to look in the mirror at my body—it was freeing to just be connected to the music and the movement."
Underground Mentoring
Back in NYC, Asherie discovered the city's underground breaking scene. "You had to
prove yourself there," she says. "The guys always thought I was someone's girlfriend or a groupie." One dancer in particular, Richard Santiago (aka Break Easy), took her under his wing. "He would teach me mini classes, spin records, show old breaking footage and share newspaper clippings," Asherie says. "It was such a nurturing approach to my education."
Committing to Dance
Life after college was challenging. Asherie waited tables, worked as an Italian tutor, wrote grants and danced at night. "I landed a breaking gig, and called in to work well in advance to get someone to cover my waitressing shift," she remembers. "But my boss ignored the request, and I was fired." It was a crucial moment: Asherie had also just landed her first jobs teaching dance, at Peridance Capezio Center and Broadway Dance Center. "I decided it was time to commit myself entirely to my practice, and I got an agent."
Forming Her Own Company
Asherie began to develop as a choreographer as well as a dancer, and eventually founded Ephrat Asherie Dance. The group earned residencies at New York Live Arts and Jacob's Pillow, which allowed Asherie to further explore her creative voice. She also kept up a busy teaching schedule. "When I'm fulfilled in my choreography, that makes me a better teacher," she says.
Bessie Nominations
After Asherie curated a show at Dixon Place on the Lower East Side of NYC, she was commissioned to do a full-evening work for the venue. The result, A Single Ride, was nominated for two Bessie awards—one of NYC's highest dance honors.
Up Next
Asherie recently finished a residency on Governors Island through the Lower Manhattan Cultural Council. She's also an MFA candidate at the University of Wisconsin—a low-residency program that allows her to continue making work in NYC. This spring, she'll be touring with Get on the Good Foot, a dance tribute to James Brown.
Sep. 16, 2015 11:46AM EST
Karen Chuang was a freshman at University of California, Los Angeles, when she was
given the opportunity to dance in a K-pop music video being filmed in L.A. "I took all my books with me and studied during any downtime I could find," says Chuang. She went on to book jobs with Brian Friedman and "Glee," and to lead UCLA's hip-hop team, NSU Modern, before graduating summa cum laude with a degree in business economics.
The whole point of getting strong dance training is to work toward a dance career—but sometimes, jobs come along before you're done with college, or even high school. While balancing homework and dance commitments with an apprenticeship or auditions can be challenging, it's not impossible. "The lifestyle isn't for everyone," Chuang says. "But if you get an opportunity you can't pass up, take the leap." Here's how to make it work.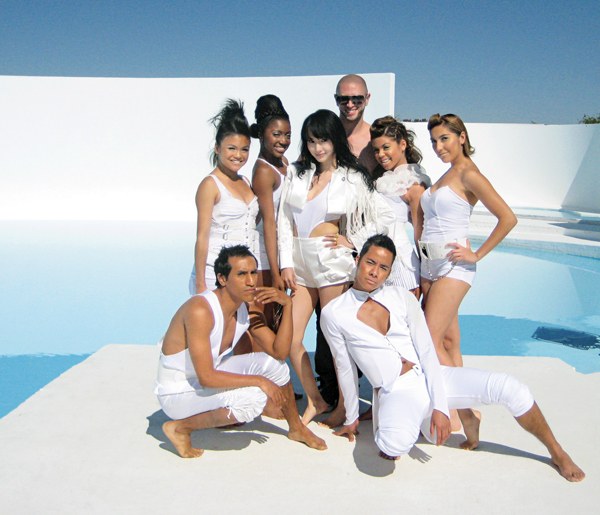 Karen Chuang (top, far left) on a music video set for K-pop star Ava in 2009 (photo courtesy Karen Chuang)
Communicate respectfully, early and often.
Since scheduling conflicts are inevitable, talk with your teachers and directors as soon as you're presented with an outside opportunity. "Be humble and as detailed as possible about upcoming conflicts with classes or rehearsals," says Joseph Giordano, who was offered a contract with Liz Gerring Dance Company during his final semester at New York University's Tisch School of the Arts.
Be sure to follow up with your teachers over the course of the job. "Professors will be so much more lenient if you keep them in the loop," Chuang says. And if you speak with them early enough, your outside work can be even more beneficial: Some directors, like Cathy Young at The Boston Conservatory, make it possible for dancers to receive credit for professional projects that take them away from school for a semester or more.
Make a schedule—and follow it.
"I map out my complete Monday-through-Friday schedule on Mac Pages and set it as the background image on my phone," Giordano says. Chuang had a similarly detailed plan. "My days were completely structured, with slots for commuting, exercising and homework," she says. But no matter how organized you are, Young adds, "someone completely overextended isn't valuable to a choreographer." Make sure you have the time before you commit to a gig.
Get your Z's.
With the strain of additional hours of dancing, part of your agenda should be devoted to rest, says Giordano. "I try to get at least six hours of sleep, stay hydrated and monitor aches and pains," he says. Irineo Cabreros, who apprenticed with Gallim Dance in NYC during his first semester in a PhD program at Princeton University, advises prioritizing sleep. "The few times I went into rehearsal dead tired, I realized I was getting the short end of both sticks—I wasn't performing well and I wasn't getting the most out of my education, either," he says.
Learn to say "no."
Doing it all comes with tough choices. "I often had to sacrifice my social life to
balance it all," Chuang says. Other times, you might have to pass up a job. Don't get discouraged, though: Sometimes opportunities will resurface at more convenient times. "Once, I couldn't audition for Lady Gaga because I had a final exam," Chuang remembers. "I was bummed, but the opportunity came around again."
You only have a few years to immerse yourself in your education, so if it comes down to missing too much school for a job, Young advises dancers to choose school. "Sometimes you have to jump when those opportunities come along, but the idea that your career clock is ticking is a dated one. The more info you get in school, the more likely you'll be working into your 60s."
Mar. 01, 2015 10:30PM EST
Pro dancers have all had their share of nutty jobs—anything from ridiculous choreography to hilarious costumes. After all, if it's fun and harmless, why not make a little extra cash? And sometimes, those kooky gigs can be surprisingly rewarding.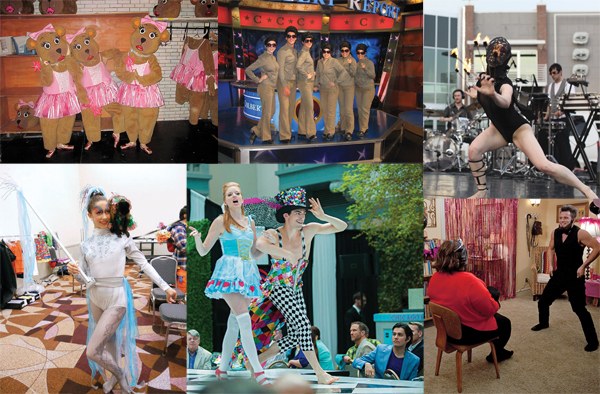 Clockwise from left: Jolina Javier (courtesy Javier); Hillary-Marie Michael (courtesy Michael); Mollie Sansone (Wheatphoto.com, courtesy Sansone); Kyle Robinson (Colleen Hayes/NBC/NBCU Photo Bank via Getty Images); Michael Gross (courtesy Ingrid Bonne); Francesca Forcella (courtesy Forcella)
Jolina Javier, FREELANCE DANCER
Wacky work: Performed as a dancing bear in the Radio City Christmas Spectacular
"I was a ballerina bear for four years. The costume wasn't too heavy—it was sort of like dancing in a Snuggie. You stepped into the bear body, and the head went on top. The snout was right in front of your face, so it was like looking through a screen. At first, it was a little scary. I'm claustrophobic, and when the head was on, you could hear yourself breathing. Not being able to fully see was the most disorienting—especially when on pointe. Pointework is hard enough without a big suit! On my first opening night, I fell onstage. It was so embarrassing. I couldn't believe I fell—in a bear suit—in front of 6,000 people.
"When you're growing up, you always imagine yourself in a tiara, or as a Rockette. But looking back on the experience, I love that I got to be a part of something bigger than myself."
Hillary-Marie Michael, tap dancer and Jersey Tap Fest director
Wacky work: Tapped dressed as Kim Jong-il on Comedy Central's "The Colbert Report"
"A colleague's husband works on the show, and she told me they needed a few tap dancers for one episode. I immediately said yes—no questions asked. It was going to be my first
experience on TV, so I dropped everything to do it. All I knew was the piece had to do with a North Korean ban on imported Italian tap shoes. The six of us got to hair and makeup and we saw our costumes: We were going to be dressd as Kim Jong-il—green jumpsuit, wig, glasses and all. The experience was pretty cool: Colbert is a tap super-fan, and he came out and did a few shuffles with us. But when you're expecting an artistic performance, a 20-second shtick in a silly costume can seem pretty disappointing. That was the day I learned to always ask questions before signing or agreeing to anything."
Mollie Sansone, Nashville Ballet
Wacky work: Performed as a fire dancer
"During Nashville Ballet's off season last year, I danced with Quixotic, a multimedia performance company that's sort of like Cirque du Soleil. For one section of the show, I wore metal clamps on my fingers. The clamps attached to metal skewers with wicks on the tips that were lit on fire. My immediate reaction was pure excitement—I'm a bit of a daredevil."
"I performed barefoot, wearing a leotard with a hood to cover my hair. The work was very grounded—not a lot of jumps and no partnering—so I felt safe with the flames. Of course, I had to be careful: If my fingers pointed downward, the fire would shoot up and burn my hands. And if I moved my hands too fast, the flames would go out. The first rehearsal was a little scary, but after that I loved it. What a rush!"
Kyle Robinson, Shaping Sound Dance Company
Wacky work: Played an exotic dancer dressed as Abraham Lincoln on NBC's "Parks and Recreation"
"I was the last appointment at the audition for the part, and when I walked into the waiting room, it seemed like every guy in L.A. between 5'10" and 6'4" with brown hair and muscles was there. I thought by the time I got into the room, the agents would have already seen a million abs.
"Finally, it was my turn. I tried my best moves: I ripped open my shirt and I threw my head back as I landed on my knees, channeling Flashdance. I did a headroll, a handstand with a twist—and as I pretended to remove my belt, I heard yelling: 'Stop, stop! Mr. President, put your pants back on!' They loved it! Two days later, I heard I'd booked the gig. Being on the show was an incredible experience."
Michael Gross, Hubbard Street Dance Chicago
Wacky work: Performed as the Mad Hatter from Alice in Wonderland at a fundraiser for the Chicago House and Social Service Agency
"For the benefit performance, I wore a black and white checked singlet, an oversize hat that kept falling over my eyes and patent leather white go-go boots with two-inch heels. It wasn't my favorite choreography—but it was for a good cause and I figured I wouldn't know anyone in the audience. Right before I went on, though, Hubbard Street's artistic director, Glenn Edgerton, approached me. At the time, I wasn't in Hubbard Street, but I had auditioned for the company a couple times and had yet to make the final cut. I kept thinking, Please don't stay and watch this! He did, of course. Little did I know that about a year later, he'd be my boss. We haven't actually talked about the show yet…it might be better that way!"
Francesca Forcella, BalletX
Wacky work: Danced in a circus-themed fashion show for Macy's
"When I was in Houston Ballet II, three dancers from the company were chosen for a fashion show. We assumed we were going to model—and we were so excited! On the day of the show, however, a Macy's representative brought us to what she called the 'talent room.' The talent room? We walked in and saw a bearded lady and another woman with a monkey. It turned out the show was circus-themed, and we had to dress up as faux Cirque du Soleil performers. My friend was the ringleader, and I danced down the zigzagging runway in a silver unitard and full-footed tights. They didn't have shoes for us, so we performed in stocking feet, trying not to slip. It was a crazy day, but it ended up being fun: I was with my friends, and we made the best of it."
Feb. 01, 2015 08:21PM EST
How much difference can a new hairdo make? Just ask The Beat Freaks member Alex Welch, aka BGirl Shorty. "When I did 'America's Best Dance Crew' with The Beat Freaks, I had normal-looking brunette hair," she says. "But one day, the other girls took me to a salon and said, 'You have all this personality when you're performing—the way you look needs to match it.' I didn't know what the hairstylist was going to do to me. I came out with orange hair! But thanks to my new look, lots of people in the industry started to recognize me. It was like I'd finally found myself."
Why did Welch's hair color make such a big difference to her career? Because physical appearance can be a huge factor when it comes to booking your next gig. According to McDonald/Selznick Associates agent Shelli Margheritis, "There are a lot of dancers vying for many different positions, so having a distinctive look can help you be recognized by casting directors." Wondering if it's time to make some changes of your own? Here's how to figure out if your current look is right for you—and how to fix it if it's not.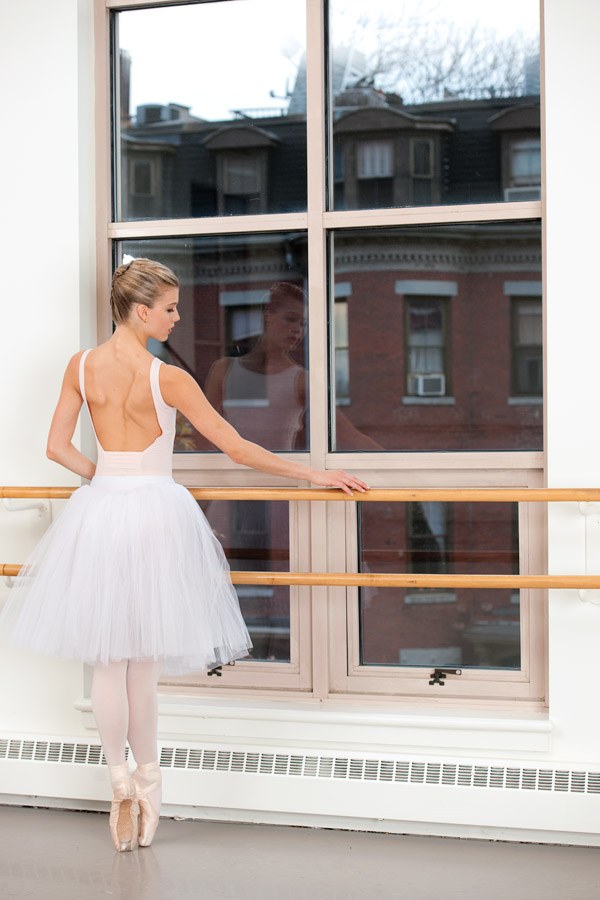 When Keenan Kampa cut her hair super short, she was warned that it looked "unprofessional." (Photo by Gene Schiavone)
A Brand-New You?
Maybe you're going through a slow period in your dance life and are wondering if tweaking your appearance could shake things up for the better. Or maybe you just don't feel like yourself anymore. "If you're not projecting your best you, everyone will feel that when you walk into a show or an audition," Welch says. "You could be one of the most talented people in the world, but if you don't present yourself the right way, it'll be harder to find work."
That said, don't run out and get five new piercings immediately. "If you're thinking of altering your look, I would recommend sitting down with your agent and discussing the process instead of doing something hasty," Margheritis says. "Remember that making a change means getting new headshots and dance photos, too"—so it's not a decision to be made too lightly.
If you don't have an agent, "think about your age, your particular vibe and who you are," Margheritis advises. You don't want to adopt an out-there look just to get attention; you want a style that reflects your personality. For some dancers, like Welch, that "true self" is a dramatically different-looking person—and big transformations can feel liberating. But if you're unsure about what changes you want to make, take small steps. Considering pink hair, for example? Try going blonde first, or adding a few pink streaks to your regular hair color, and then reevaluate.
Don't Make Me Over
Sometimes you'll find that while you love the new you, the dance world thinks otherwise, which can be difficult to take. A few years ago, ballet dancer Keenan Kampa traded in her long hair for a short cut. "It was easy to manage, and I loved feeling like I was rebelling against the 'bunhead' stereotype," she says. "When I joined Boston Ballet soon afterward, however, I was warned that my short hair looked 'unprofessional' and could prove to be a problem down the road." While some ballerinas can make short haircuts work—New York City Ballet's Ashley Bouder has rocked a bob for years—Kampa, who later became a member of the even more conservative Mariinsky Ballet in Russia, opted to grow hers out.
Experiences like Kampa's happen outside of the ballet scene, too. Welch has had to change her hair for a gig on multiple occasions, including when she performed with Cher Lloyd on "The X Factor." "It comes with the job description," she says. "The key is not to take it personally"—and to remember that once the gig is done, you can always go back to your signature style.
The Bottom Line
Obviously, your look will affect your career, at least to some extent. But don't agonize over a makeup or clothing choice, because ultimately, you can't control what directors are looking for. "Every project needs something different," Margheritis says. "The directors may want a really diverse group, or they may want everyone to look alike." And as important as your style is, "I've never had a client book a job because of her look," Margheritis says. Welch agrees: "As long as you rock it right, any look is fine. Some people might tell you, 'If you change this and this, everything will fall into place, career-wise.' But I'm proof that's not true, because I've transformed so many times and I've still worked steadily."
At the end of the day, it's your attitude about your look that matters most. "The important thing is to feel confident with the way you see yourself," Kampa says. "I think it's good to keep trying new things, as long as you're aware of the potential consequences. I try to dress respectfully for every situation without compromising what sets me apart and makes me feel comfortable. It's the unusual details that really make a dancer special."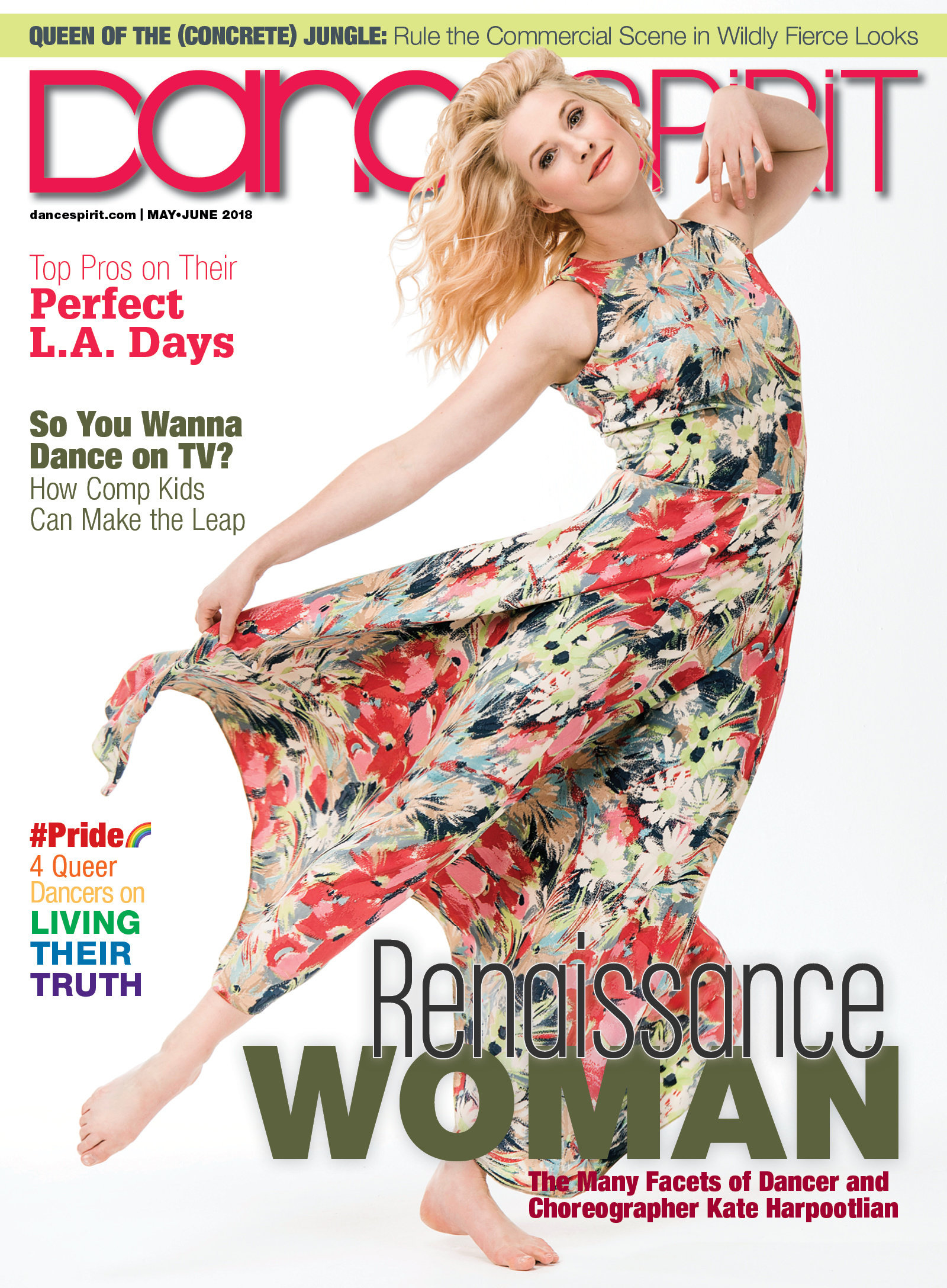 Get Dance Spirit in your inbox