Oct. 02, 2017 05:17PM EST
NYCDA executive director Joe Lanteri with dance legend Bebe Neuwirth on the red carpet (photo via @nycda on Instagram)
The annual New York City Dance Alliance Foundation fundraising gala, "Bright Lights Shining Stars," is usually a star-studded affair. But last night's 2017 event proved to be extra epic, thanks to tons of superb performances and appearances by some of Broadway's best—and most legendary—dancers.
Keep reading...
Show less
Mar. 23, 2017 04:32AM EST
The year 2011 was filled with show-stopping onstage moments and exciting offstage drama. Whether you were captivated by New York City Ballet star Sara Mearns' 32 fouettés in Swan Lake or danced along in your seat as Sutton Foster led the Broadway cast of Anything Goes through a series of time steps, there's no doubt you were entertained. Here are the people who kept us on the edge of our seats in 2011.
—Alison Feller
In Ballet
Sarah Lane. Photo by Gene Schiavone.

When Natalie Portman won the Best Actress Academy Award for her role as a twisted-but-talented ballerina in Black Swan, she neglected to thank her dance double, American Ballet Theatre's Sarah Lane, in her acceptance speech. Later, Lane stood up to the movie industry by demanding credit for her work.
New York City Ballet principal Jenifer Ringer danced the Sugar Plum Fairy role in the company's Nutcracker, last year, and while most gave her a standing ovation, New York Times dance critic Alastair Macaulay remarked in his review that it looked as though she'd "eaten one sugar plum too many." Ringer quickly became a role model for women everywhere when she went on "Oprah" this February to discuss the critique and proclaim that she thinks her body is just fine. So do we, Jenifer. Rock on!
As if Alexei Ratmansky wasn't already the busiest man in ballet, he just extended his contract as American Ballet Theatre's resident choreographer through 2023.
Company tours are a lot of work. This year Ballet Nacional de Cuba embarked on its first U.S. tour in five years, hitting four cities along the way.
American Ballet Theatre principal (and star!) David Hallberg became the first American dancer to enlist permanently with Moscow's Bolshoi Ballet.
The Broadway production of Wonderland. Photo by Paul Kolnik.

Everyone wanted to go down the rabbit hole: Productions of Alice in Wonderland popped up everywhere, from ballet stages (The Royal Ballet, The National Ballet of Canada and Royal Winnipeg Ballet all showed versions) to Broadway (Wonderland was short-lived, but the choreography by Marguerite Derricks was quirky and fun).
On Broadway
Apparently Harry Potter can sing and dance—or at least his real-life alter-ego can. Daniel Radcliffe drew massive crowds and rave reviews when he starred in How to Succeed in Business Without Really Trying. No magic wand needed.
The Book of Mormon. Photo by Joan Marcus.

The Book of Mormon was easily the most controversial debut on Broadway this year. The show, penned by "South Park" creators Trey Parker and Matt Stone with Avenue Q co-writer Robert Lopez and choreographed by Casey Nicholaw, may have offended some audiences, but it impressed the Tony Award voters and took home nine honors, including Best Musical.
On the Comp Scene
Joe Lanteri, executive director of New York City Dance Alliance, changed 44 young dancers' lives this summer when he presented $2.8 million in college scholarships. Go get those diplomas!
Selecting the DS Cover Model Search finalists is never easy, but this year there were three dancers who stood out: Kaitlynn Edgar, Maddie Swenson and Zoey Anderson. All three hail from the competition circuit, and all three were wildly impressive.
On TV
Melanie Moore won the title of America's Favorite Dancer on "So You Think You Can Dance" Season 8 and landed on the cover of DS!
When Beyoncé revealed her baby bump at the MTV Video Music Awards, she proved she runs the world—and so do her choreographers, Frank Gatson, Sheryl Murakami and Jeffrey Page. The trio won the VMA for Best Choreography for Beyoncé's "Run the World" video.
When Laurieann Gibson wasn't throwing together award-winning choreography for Lady Gaga, she was starring on her own TV shows on E! and BET. We're not necessarily on board with her screaming fits and harsh treatment of her dancers, but we do respect her moves.
Amanda and D'Angelo on "Live to Dance." Photo by Monty Brinton.

Paula Abdul's "Live to Dance" wasn't a hit, but it introduced us to D'Angelo Castro and Amanda Carbajales, who became the show's champions. These tiny dancers won us over with their personalities and technique.
Lil' Buck may have been the coolest guy to get us talking this year. He starred in Janelle Monae's "Tightrope" video and helped make jookin' mainstream. His "Swan" performance alongside Yo Yo Ma? Breathtaking.
On the Big Screen
Natalie Portman accepts her Oscar for Best Actress. Photo by A.M.P.A.S.

She may not have done all the dancing as Nina, but Natalie Portman's Black Swan performance was definitely Oscar-worthy. Plus, she met Benjamin Millepied, her boyfriend-turned-fiancé and father to her child, Aleph, on set.
While no one can truly replace Kevin Bacon, Kenny Wormald proved that he's a stud with smooth moves in this year's remake of Footloose. Plus, his onscreen chemistry with costar Julianne Hough made us want to drag our own boyfriends to dance class.
In First Position, audiences get a glimpse at the behind-the-scenes action at the Youth America Grand Prix finals in NYC. The documentary and its stars—Michaela DePrince, Joan Sebastian Zamora, Miko and Jules Fogarty, Aran Bell and Rebecca Houseknecht—received rave reviews at the Toronto International Film Festival.
In Modern Dance
Bill T. Jones + Dance Theater Workshop = New York Live Arts. We love a good collaboration.
When Judith Jamison retired as artistic director of Alvin Ailey American Dance Theater, Robert Battle was handed the reins to the prestigious modern company. We can't wait to see what he does with the group in 2012.
If there's one thing NYCDA Executive Director Joe Lanteri knows how to do, it's make dreams come true. This was obvious at last night's New York City Dance Alliance Foundation Gala, "Destiny Rising," at The Joyce Theater. It was an evening of passionate performance by tons of crazy-talented dancers, many of whom grew up as self-proclaimed "NYCDA babies." We loved every minute of the evening, especially the touching moments when the foundation's college scholarship recipients spoke about all the doors NYCDA had opened for them (and it's particularly special since our sister publication, Dance Magazine, is a gold sponsor!). Check out some of our highlights below: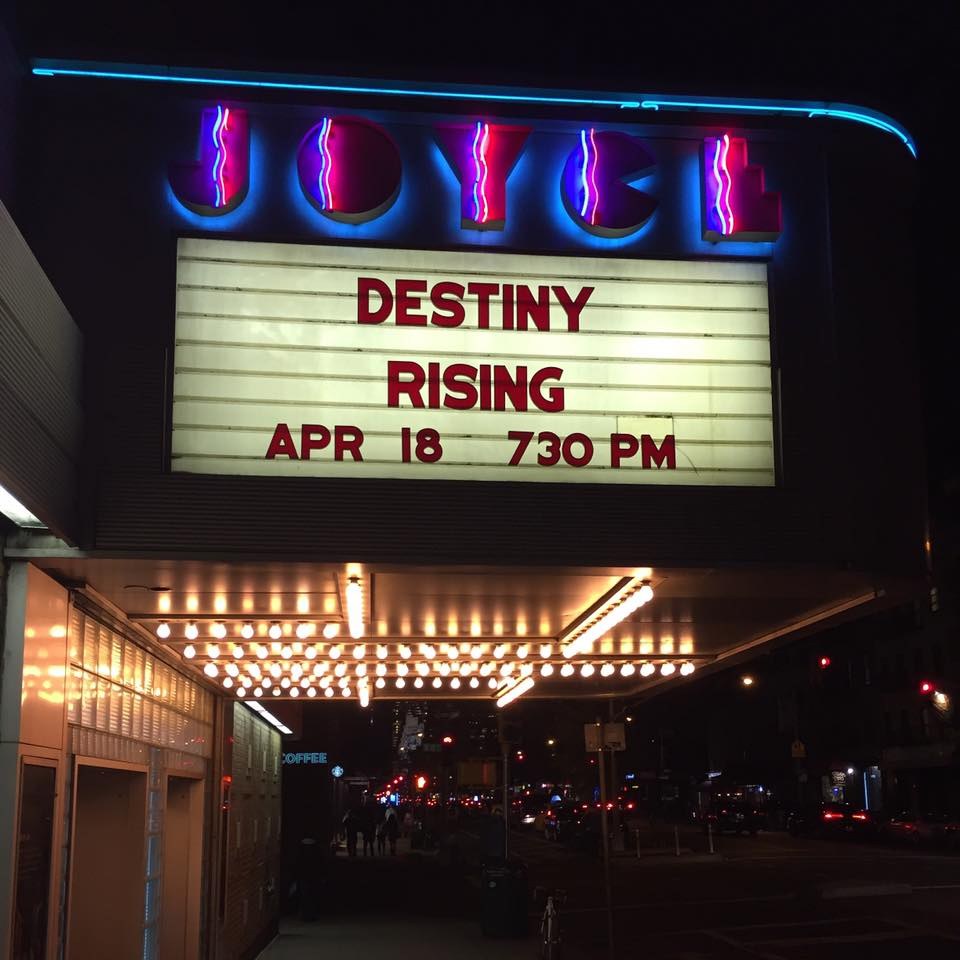 (via NYCDA Facebook)
Marymount Manhattan College Dance Company opened the show with a riveting piece, Under the Surface, choreographed by MMC's Dance Department Chair, Katie Langan. Each dancer was clad in a floor-length skirt and the visual effect was stunning—every développé, pirouette and jump sent the skirts flying through the air, catching the stage light in the process. When the piece ended, the audience was ready for more.

MMC in rehearsal. (via NYCDA Facebook)
NYCDA is all about providing opportunities for its dancers, and this mission was perfectly encapsulated by Inspire School of Dance from Naperville, IL, which made its professional stage debut—at the Joyce Theater, no less. The 14 girls—including 2014 NYCDA Teen Female Outstanding Dancer, Jacalyn Tatro—took the stage with confidence and gave a commanding performance.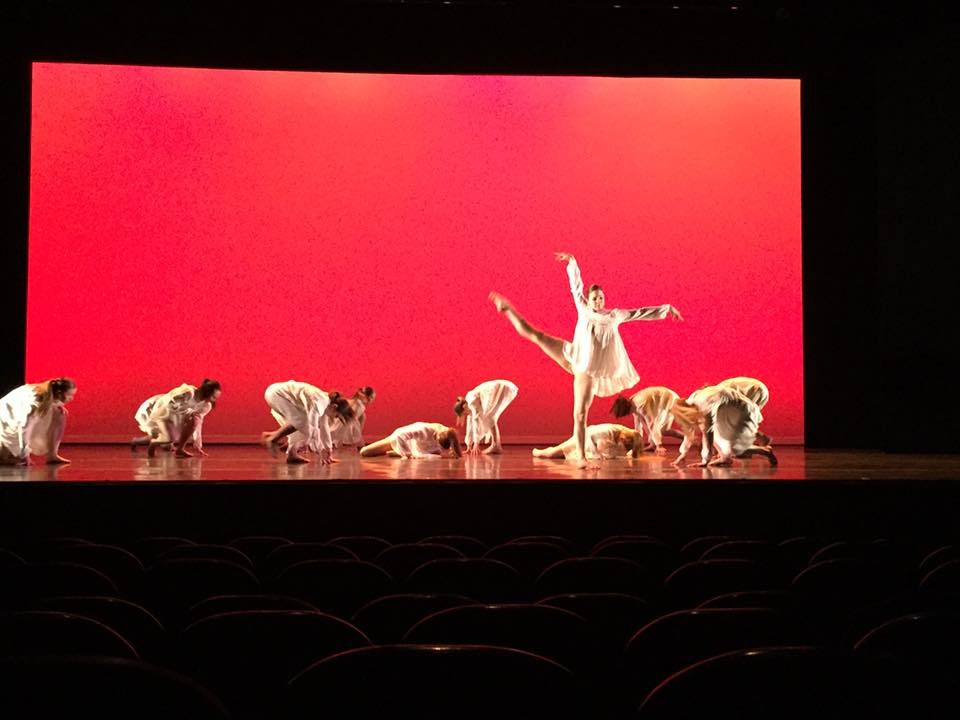 Inspire Dance performing Love With Urgency (via NYCDA Facebook)
The evening continued with stellar performances from RIOULT Dance NY, The Francesca Harper Project, DS 2009 Cover Model Search winner Ida Saki and Austin Goodwin, New York City Ballet principal Robbie Fairchild, and the Point Park University Conservatory Dance Company. There were also tons of familiar faces gracing the stage, including 2015 CMS finalist Jordan Pelliteri, 2011 CMS winner Kaitlynn Edgar, Corey Snide and the dynamic Mattie Love, who, at the 2012 NYCDA gala, gave a speech about how excited she was to start her dance journey at MMC—and last night, in a very full-circle moment, took the stage to thank Lanteri and NYCDA for opening countless doors in her career. It was the perfect cherry topper for a magical celebration of this incredible foundation.
Oh my goodness, you guys: What a crazy, jam-packed, INCREDIBLE week it's been here in NYC! New York City Dance Alliance finished up its Nationals last night with an epic closing gala, capping off nine days of workshop classes and competition. And talk about talent! I'm still kind of overwhelmed by all of the amazing dancers—many of them familiar faces. Here are some of my top moments from NYCDA Nationals.
-First of all, you guys already know that the NYCDA faculty lineup is fantastic. Tony Testa? Melissa Hough? Chloe Arnold? Taja Riley? Andy Blankenbuehler? Dana Wilson? Joey Dowling? Cindy Salgado? Insanity—and those are just the people who were sitting directly in front of me at the gala last night. I loved seeing them cheer on each and every one of the competitors. I especially liked watching ballerina Hough as she relished the ballet dancers—like last year's National Mini Female Outstanding Dancer, Jasmine Cruz—and I had fun looking on as hoofer Arnold got way into some of the tap performances. (Also: Everyone on faculty is ridiculously stylish. Goodness, do I wish I could pull off a crop top like Arnold, or a trumpet ballgown like Dowling.)
-As for the dancers: There were so, so many standouts! I'm having a hard time narrowing down my list. But I especially loved the ones who thought just as much about what they were conveying as how they were conveying it—who gave equal weight to artistry and technique. Mini Female OD finalist Tate McRae paired gorgeous ballet training with a powerful, emotive onstage presence. Teen Female OD winner (congrats!) Jacalyn Tatro wowed with both her incisive legwork and her smoldering, sultry demeanor—she dared you to look away. Two of our Cover Model Search finalists, Christina Ricucci and Sarah Pippin, gave super-strong performances in the Teen Female OD and Senior Female OD categories, respectively (both made the top four!). And tiny tapper Luke Spring showed off not just incredibly fleet feet, but also irresistible charisma in his solo to Michael Jackson's "Dangerous." He earned the National Male Mini OD title—and a comparison, by director Joe Lanteri, to one Mr. Corey Snide, who won his own Mini OD title 10 years ago doing a tap routine to Jackson's "Bad." It was almost too perfect.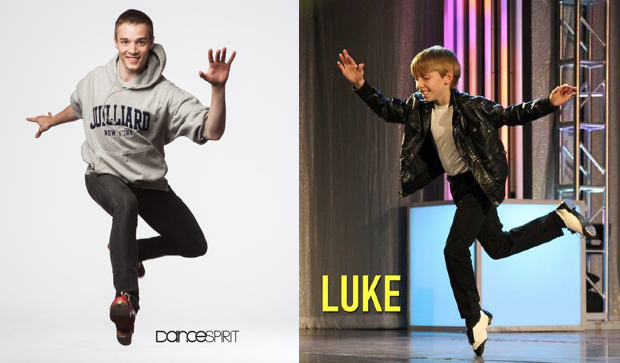 Twinning! (Left) 2004 National Mini Male OD Corey Snide, now a student at The Juilliard School, and (right) National Mini Male OD Luke Spring (left photo by Erin Baiano; right via NYCDA)
-As for the group routines: I love me some drama, but I have to say that my favorite numbers were the upbeat, hard-hitting ones, rather than the angstiest of the angsty. I was totally blown away by the take-no-prisoners ferocity (and the impressive unison) of the Westlake School for the Performing Arts dancers in their Teen group piece, "Royals."
-Let's talk about the college scholarships awarded at NYCDA this week, shall we? I was lucky enough to be part of the college scholarship audition process, so I can say from firsthand experience that the pool of college hopefuls impressed not just with their technique, but also with their eagerness and professionalism. Between NYCDA's college partners—which included the likes of Marymount Manhattan College, Point Park University and PACE University—and the NYC Dance Alliance Foundation, more than $4 million in scholarships were given to more than 50 deserving dancers. $4 million! That's a new record for NYCDA, and kind of a mind-boggling number.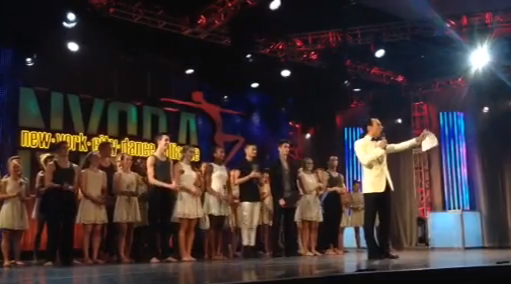 Lanteri onstage with all the scholarship winners (photo via NYCDA)
-Last but not least: NYCDA turned 20 this year! Naturally, they put together an adorable birthday video for the junior gala. But what really touched me was the number of NYCDA alums and former faculty who came out to celebrate the milestone. As Lanteri said last night, NYCDA is a real family—and once you're in, you're a member for life.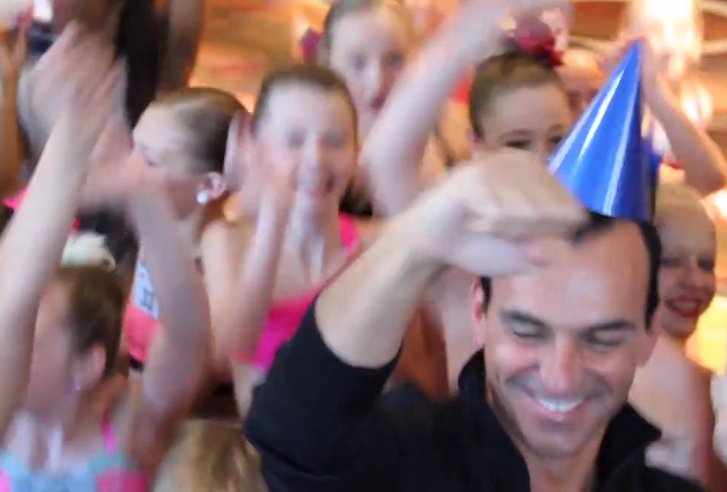 Few things make me as happy as Joe Lanteri in a party hat.
Here at DS, our love for all-things New York City Dance Alliance is no secret. We live for the competition's annual Nationals gala, we're in the audience cheering (possibly the loudest...) at each of the NYCDA Foundation's yearly shows and we have no shame telling the world about our crushes on Joe Lanteri (those blazers! that hair!).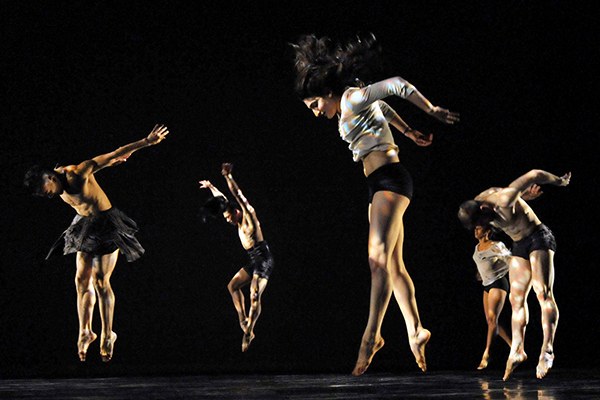 A shot from last year's Destiny Rising show. Who's that girl right up front? It's our former Cover Model Search winner and February 2014 cover girl, Ida Saki, of course! (Photo courtesy NYCDAF)
The New York City Dance Alliance Foundation was created a few years ago to provide scholarships to college-bound dancers—love that!—and has awarded $8.4 million to date so dancers can attend top schools such as University of the Arts, Marymount Manhattan College and Pace University.
Destiny Rising is a benefit performance, so your ticket money goes to good use (reminder, comp kids: these scholarships could be yours!), plus you get to see a stellar show boasting serious star power (NYCDA faculty favorites Joey Dowling and Andy Pellick will both be performing, plus the Houston Metropolitan Dance Company and tons of NYCDA alums).
We'll be there—the show is Monday, April 21, at 7:30 pm at The Joyce Theater in NYC—and we hope you will be, too. Click here to purchase your [very affordable] tickets.
Want more in the meantime? Here's a recap from the 2012 show.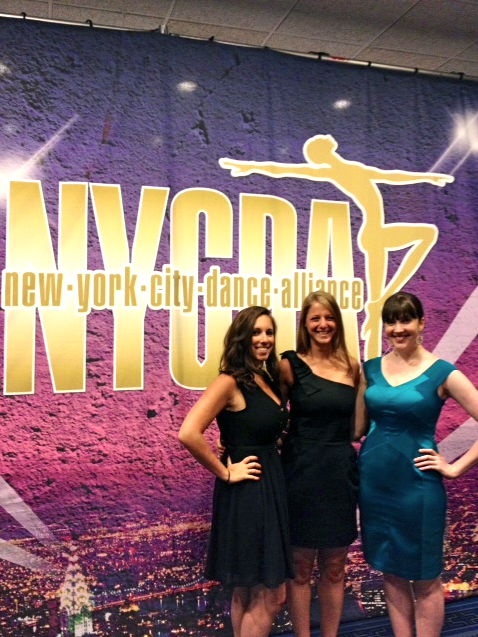 To most of my friends, summer means days on the beach applying sunscreen and reading magazines.
To me, summer brings long nights in chilly convention ballrooms, taking frantic notes about this year's up-and-coming, OMG-we-have-to-feature-them dancers.
And I wouldn't have it any other way: Nationals season is my favorite time of the dance year.
One of the highlights for me is always the night of the New York City Dance Alliance senior gala. All these dancers have flown in to NYC to audition for scholarships, take classes with a killer faculty and, if all goes really well, take home some top prizes (Outstanding Dancer titles and Critic's Choice are the most coveted).
Last night, Rachel, Margaret and I got all dressed up to attend a long-but-awesome evening with Joe Lanteri and incredible dancers. Here are five of what I have deemed the night's most memorable moments:
1. Sitting in the audience and actually witnessing lives changing onstage. NYCDA is big in the whole "dancers, you should go to college" movement, which we fully support. (Just wait for our September issue, which is dedicated to higher ed.) Lanteri and his team awarded $1.7 million in college scholarships last night to schools including Point Park University, Marymount Manhattan College, Dean College and more. The most amazing presentation was when Lanteri presented Montana Michniak (who, by the way, is stunning) with a full scholarship to the University of the Arts. Her family and teacher (I assume) were seated right behind Rachel and me, and they jumped to their feet, applauding and crying. Their kid just got her college education paid for. Lives = changed. (Sorry I didn't do that, Mom.)
2. Seeing the dancers we've featured kicking major butt. Remember in April when we did that story on "Who's Who on the Comp Scene?" Well, many of those dancers were at NYCDA last night — and they all rocked. Kali Grinder was part of a group routine up for senior Critic's Choice and she handed over her 2011 National title. Hannah Seiden dazzled in her group routine, and Victoria McWilliams (one of my long-time favorites) won 2nd Runner-Up Senior Outstanding Dancer. Christina Ricucci took 2nd Runner-Up Teen Outstanding Dancer, and Jordan Pelliteri won the Teen OD title. On the men's side, Vinson Fraley represented, nabbing the 2nd Runner-Up Male OD spot.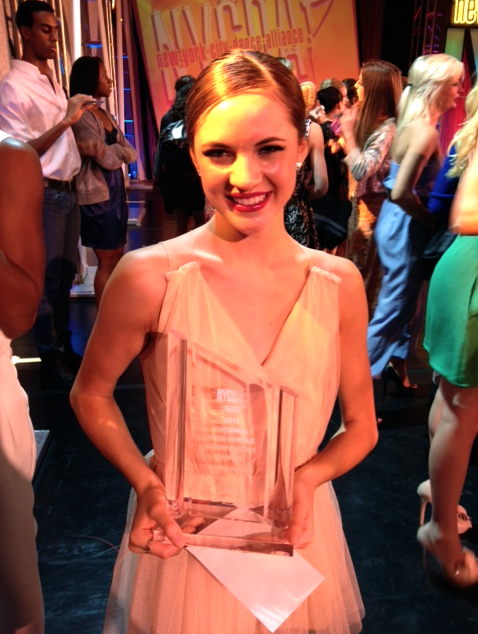 3. Spotting a dancer in a crowd of 112 Teen Outstanding Dancer hopefuls and shouting, "OMG she's beautiful" — and then realizing it was our own Cover Model Search finalist Megan Skalla! Megan totally stuck out during the Teen OD opening number (with hard-hitting, fun choreography by Joey Dowling), not just for her exquisite beauty, but also for her movement quality. Then, in the pack of Senior OD's, we saw another CMS finalist: Alyssa Ness! Alyssa was in the Top 8 for the seniors, and Megan took home the 1st Runner-Up teen title. We're so proud!
4. The Newsies opening number. I cannot get sick of this show. I've seen it, I have the soundtrack, and I've spent hours (uh, seriously) staring at the photos from our July/August cover shoot with the Newsies boys. They are just so dang talented, and kicking off the night with a performance of "Seize the Day" gave me goosebumps that lasted the entire night (also the ballroom was kind of cold).
5. The people-watching, of course! Everywhere I looked I saw one of my favorite dance celebs. Joey Dowling was there in sky-high heels (of course), May/June cover girl Taja Riley made her full-time faculty debut, and Jakob Karr was just a few seats down. Kaitlynn Edgar looked dynamite in a strapless chambray jumpsuit (probably the only person I know who can pull that off) and Tony Testa looked dynamite in...actually, who cares what he was wearing? He's Tony Testa. And I love him.
If I could pick sixth and seventh outstanding moments from the gala, they would be Colton Krouse's solo performance (in a toga!) that won him the Teen OD title, and Ivan Kalinin's "I'm sad my year as a National winner is over so I'm going to dance for you now" performance. Keep an eye out for these two dudes: They're going places. Like, onto DS covers, perhaps...
Oh, and an eighth moment! Alexia Meyer's National Outstanding Dancer victory performance. She may be tiny, but that girl can attack. I'm thrilled she won.
Congratulations to all of last night's performers. You inspire us. (Now go celebrate on the beach like everyone else!)
Last night, DS assistant/fashion editor Michael Anne Bailey and I got all decked out —I wore jeans, actually, but she was decked out and looked super cute — to attend the New York City Dance Alliance Foundation's Destiny Rising show at The Joyce Theater in NYC.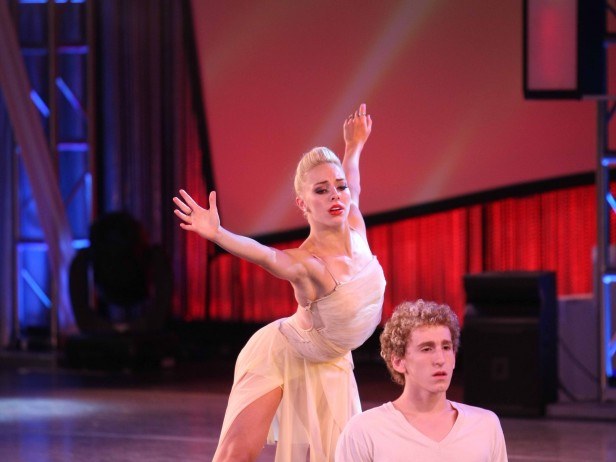 In honor of NYCDAF's first anniversary, last night's show boasted a star-studded roundup of choreographers and performers, many of whom are New York City Dance Alliance faculty and alumni (including New York City Ballet principals Tiler Peck and Robert Fairchild and Houston Ballet's Melissa Hough and Garrett Smith).
The people watching in the audience was, as with any NYCDA event, spectacular. But the real action happened onstage, and Michael and I are here to recap all the fun for you...
Alison: ‪OK, so last night we went to the New York City Dance Alliance Foundation's Destiny Rising show at The Joyce. How would you describe the night in one word?
Michael: ‪Progress. The foundation is really taking groundbreaking steps that will help young dancers get the training and education they need to be successful — not just in their 20s, but for the rest of their lives.‬
Alison: Totally. One of my favorite parts of the night was actually the video they played recapping some of the amazing scholarship opportunities NYCDAF has presented to dancers since its inception.‬
Michael: ‪I loved that, too! I actually got emotional watching it — I know the scholarships will change lives. We talk about the importance of formal education in DS all the time, but to hear Susan Jaffe speak‬ about how a lack of education initially held her back after an extremely successful dance career, really brought the issue home.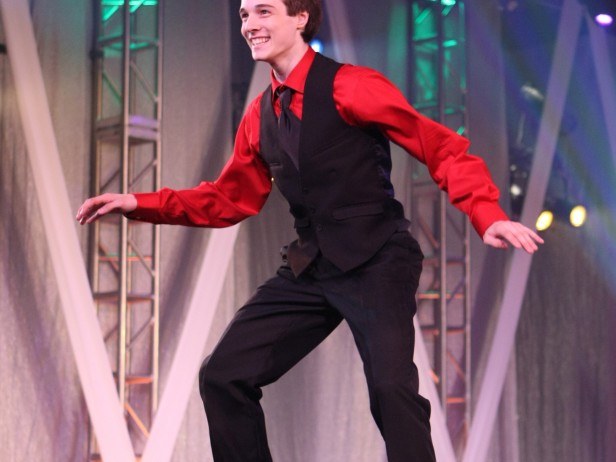 Alison: Yes! I love that she admitted that. And we got to hear from Corey Snide, who was the first-ever Astaire Award scholarship recipient. He's a freshman at The Juilliard School now, and he's flourishing there, thanks to NYCDAF.
Michael: ‪Let's talk about the dancing. Did you have a favorite number?
Alison: Catherine Hurlin!‬ I have always loved watching Catherine, and last night she performed a variation from Flames of Paris. She was just so sweet and easy to watch. That girl is a star, and I'm so glad she's getting awesome training at the Jacqueline Kennedy Onassis School at American Ballet Theatre.
Michael: ‪She was my husband's favorite! He kept talking about her performance all the way home
Alison: Here's the thing:‬ There were a ton of contemporary numbers last night. Lots of instrumental music. When Catherine came out in her bright-white tutu and flashed that giant smile of hers, it was just fun. It was a nice change of pace.
Michael: ‪I couldn't agree more. I was blown away by Melissa Hough and Garrett Smith from Houston Ballet. And when I realized that Garrett had choreographed the piece, I couldn't believe it! Her technique, passion, and dedication to the piece were unmatched.
Alison: I absolutely agree. Melissa Hough is another one of my favorites — all of my favorite dancers right now are ballet dancers who grew up on the comp scene. Go figure.‬
Michael: And it's so fun to see a ballerina in bare feet every once in awhile. Melissa Hough is so versatile, which I definitely think comes from growing up on the comp scene.‬
Alison: Camille A. Brown's piece was fantastic, too. She's hilarious, and even my boyfriend got into her solo.
Michael: I loved loved loved Camille A. Brown's piece. I had never seen her perform and was absolutely wowed. She draws you in like a true entertainer.
Alison: ‪What was particularly amazing about her performance was that we couldn't see her face the entire time, but she was still so expressive. Her hat was down over her eyes, but she didn't need to connect with the audience visually. Her movement spoke volumes. She's a really unique performer.
Michael: ‪I've never seen anything like it. And I would die to see it again!‬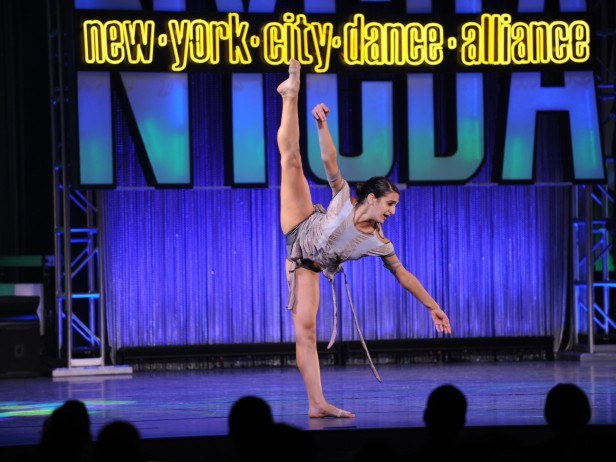 Alison: ‪So can we talk about how incredible our former Cover Model Search finalists were last night? Two of my favorite performers of the night: Ida Saki and Zoey Anderson. Those girls are insane.
Michael: ‪YES!!! It's so fun to see how much they've grown since attending Tisch (Ida) and Marymount Manhattan (Zoey). Zoey danced in a number with probably 30 other girls and I only watched her. Zoey has always been an outstanding performer, but now her movement quality and technique are becoming more and more flawless.
Alison: ‪Zoey is gorgeous. Absolutely stunning. And Marymount is working for her. She's grown a ton since we saw her for the CMS. I didn't love the number Ida was in, sadly — it just wasn't my style, and I wanted the show to kick off with something a little more upbeat — but the choreography really played to Ida's strengths.‬
Michael: ‪I agree. I'm a bit bored with most of the contemporary pieces I'm seeing lately. Everything is starting to look the same: the music, the choreography, the performance quality.‬
Alison: ‪Absolutely. Dear choreographers: We get it. We see what you're doing. We're ready for large group jazz numbers now! Love, DS‬
Michael: ‪Ha ha, just something new and innovative, please! I'm ready to be wowed again, and I know these choreographers are talented enough to do it! That said, I left last night with an even greater respect for the NYCDAF, Joe Lanteri and the dance community in general — young dancers are in good hands!‬
Alison: ‪Yes, at each event Joe's passion for the arts truly comes through. He knows each NYCDA kid by name, and that blows my mind. He knows which studio they're from, what the name of their solo is and where they're thinking about going to college. He's so invested in their futures, and as an audience member, it's a total pleasure to witness.
Michael: ‪I couldn't agree more. What a wonderful night it was.‬
Alison: ‪Have I mentioned I have a huge dance crush on Joe Lanteri? No? It's clear though, right?‬
Michael: ‪Ha ha, yes, Alison, we know. But I'm pretty sure it's a general Dance Spirit crush.
Alison: ‪On that note, thank you, Joe, for a wonderful night, and thank you Michael for being a great show-seeing partner.‬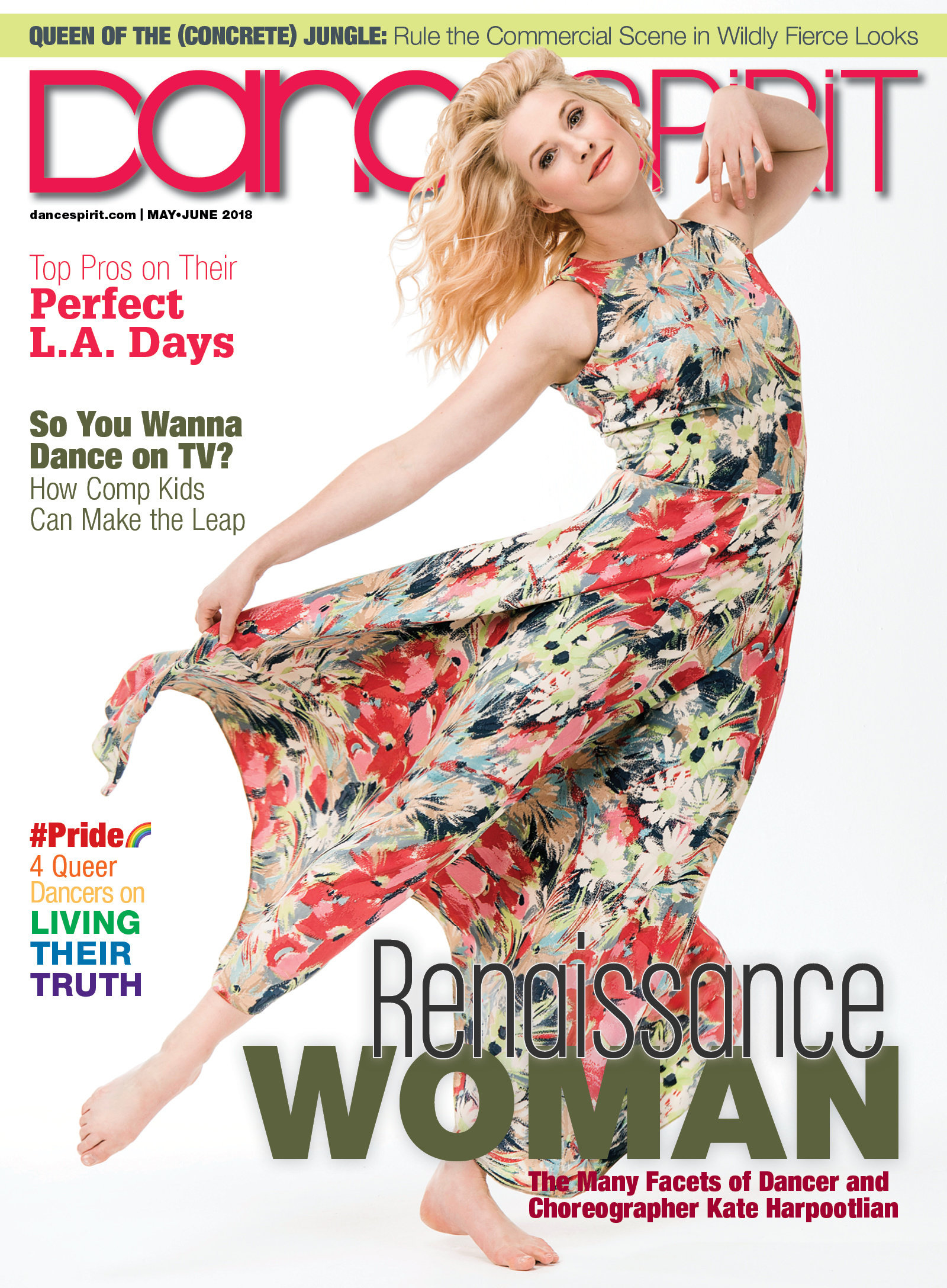 Get Dance Spirit in your inbox