Mar. 26, 2014 10:50AM EST
Here at DS, our love for all-things New York City Dance Alliance is no secret. We live for the competition's annual Nationals gala, we're in the audience cheering (possibly the loudest...) at each of the NYCDA Foundation's yearly shows and we have no shame telling the world about our crushes on Joe Lanteri (those blazers! that hair!).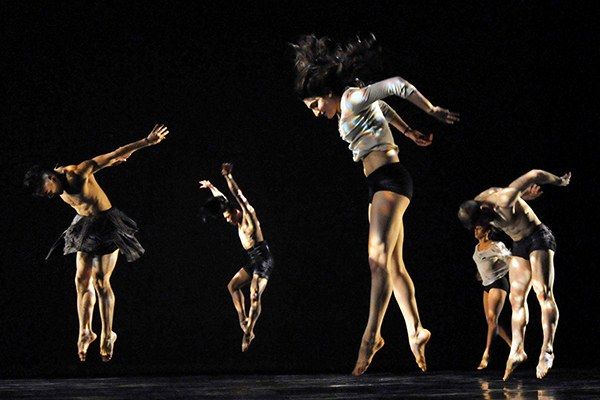 A shot from last year's Destiny Rising show. Who's that girl right up front? It's our former Cover Model Search winner and February 2014 cover girl, Ida Saki, of course! (Photo courtesy NYCDAF)
The New York City Dance Alliance Foundation was created a few years ago to provide scholarships to college-bound dancers—love that!—and has awarded $8.4 million to date so dancers can attend top schools such as University of the Arts, Marymount Manhattan College and Pace University.
Destiny Rising is a benefit performance, so your ticket money goes to good use (reminder, comp kids: these scholarships could be yours!), plus you get to see a stellar show boasting serious star power (NYCDA faculty favorites Joey Dowling and Andy Pellick will both be performing, plus the Houston Metropolitan Dance Company and tons of NYCDA alums).
We'll be there—the show is Monday, April 21, at 7:30 pm at The Joyce Theater in NYC—and we hope you will be, too. Click here to purchase your [very affordable] tickets.
Want more in the meantime? Here's a recap from the 2012 show.
Dance News
Mar. 01, 2014 05:30PM EST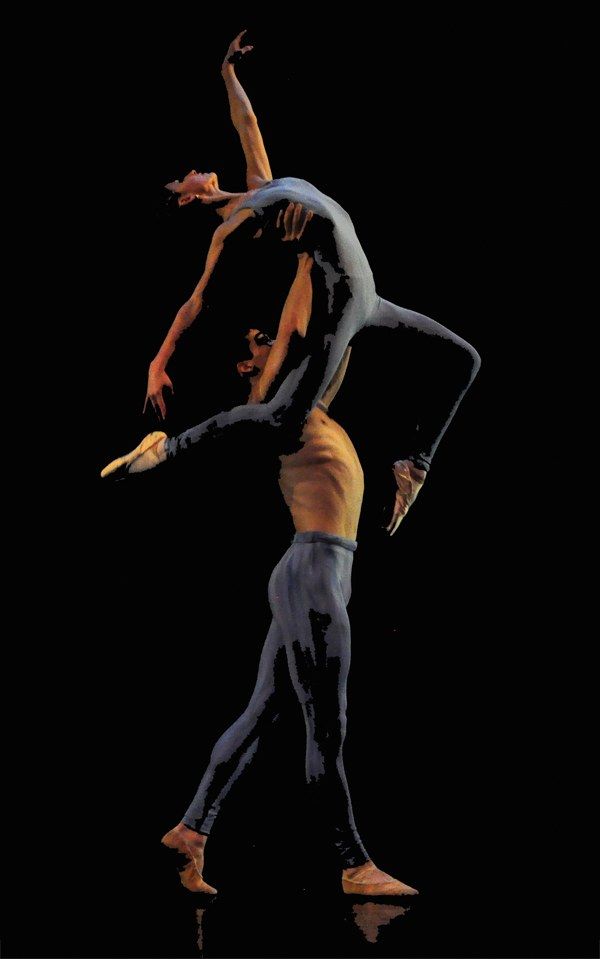 Andrea Bayne and Matthew Cluff in Bruce Monk's Nocti Lux at Ballet Victoria (photo by Jean-François Mincet)
Sizzling tension, intoxicating romance, heart-wrenching drama: Whether we're talking about a "So You Think You Can Dance" routine, the Black Swan pas de deux or a classic Fred and Ginger–style ballroom number, duets can pack a serious emotional punch. They can also wow us with their amazing lifts and other feats only possible through partnering. But creating a dance for two is uniquely difficult. How do you choreograph for two bodies in a way that's flattering, balances tricks and artistry and leaves a lasting impression? DS talked to the pros to find out.
Before You Get to the Studio
Duets are, by their nature, relationship stories. So start by defining the tale your dancers will tell. "SYTYCD" and Broadway choreographer Joey Dowling likes to watch couples on the NYC subway—their body language and interactions often give her ideas.
And don't be afraid to go beyond the typical love story. Shannon Mather, choreographer for "Dancing with the Stars" and director of Mather Dance Company, once made a duet for twins, with one as the "mind" and one as the "body." Travis Wall is known for his powerful guy-guy duets for "SYTYCD," like the Season 7 piece he made for Kent Boyd and All-Star Neil Haskell about two feuding friends.
Find a Balance
Good duets require a delicate balance of ingredients. Dowling calls it her "recipe": "A good recipe has a dash of this and two cups of that," she says. "In dance terms, you don't want a work to be all partnering or two people doing side-by-side solos."
It's particularly important not to overstuff your piece with impressive lifts and forget about the quieter, simpler movements. "Remember to allow the duet to breathe—that's when the chemistry between the dancers builds," Mather says. "Sometimes it's the moment when the two are just looking at each other, engaging with each other, that brings the audience in. Plan the big lifts, but the chemistry is what the audience will remember."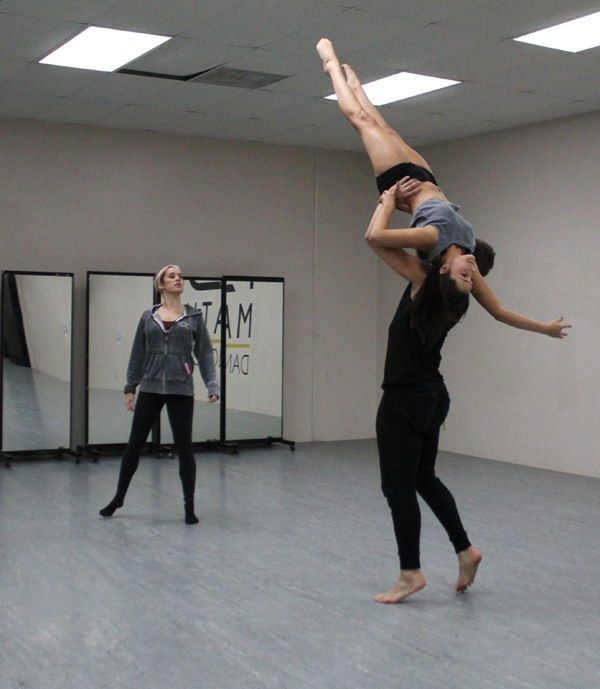 Shannon Mather rehearsing Lonni Olson and Jace Zeimentz (photo by Tamerra Herres)
Play up the Dancers' Strengths
Sometimes the biggest challenge when choreographing a duet is dealing with two dancers who aren't exactly a match made in heaven. What if you're working with a powerhouse technician and an emotional mover, or an experienced girl and a totally inexperienced guy—or two people who simply don't get along?
If your dancers aren't technical equals, don't force it. "I'm never going to have two dancers pirouette at the same time if one's a strong turner and the other's not," Dowling says. Pushing a dancer's technical limitations is generally a good thing—but not when he or she is going to be closely compared to the only other person onstage. Instead, blend the dancers' strengths by "restyling" or modifying their best tricks. "Don't try to do an overhead lift with a guy who doesn't have the technical experience needed," Mather says. Instead, opt for a shoulder sit, a cradle or another simpler lift that still looks interesting. "You can find the 'wow' moment without breaking the girl's neck," Mather says.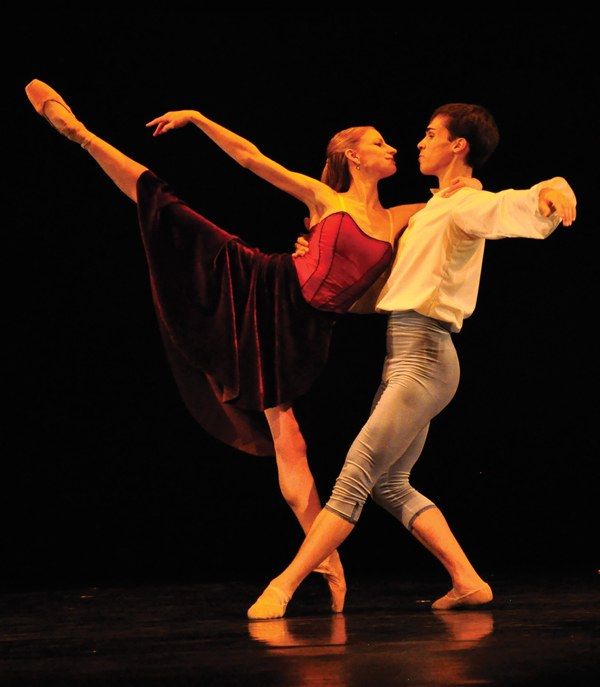 Andrea Bayne and Matthew Cluff in Paul Destrooper's Dances with Wolfgang Amadeus Mozart (photo by Jean-François Mincet)
Dancers of different experience levels can actually be a blessing in disguise. Paul Destrooper, artistic director of Ballet Victoria in Victoria, British Columbia, loves the dynamic energy sparked by pairing a veteran with someone greener. "There's a circle of learning and experience that's unique in pas de deux work," he says. "It can be tough and stressful, but it's valuable for a mature dancer to mentor a newer one."
Dealing with personality conflicts is stickier—but as the person at the head of the room, you're the one who has to lay down the law. Dowling has "zero patience" for bickering. Make sure your dancers understand that personal differences must be put aside the moment they set foot in the studio. And there's actually a certain heat between dancers who dislike each other. If you can, incorporate that into the choreography.
Choreography
Sep. 01, 2013 03:44PM EST

(by Stormy Pyeatte)
Whether you're a convention hopper, Broadway guru, devoted watcher of dance movies and TV shows or fan of the must-have Jo+Jax dancewear line, odds are you've heard of Joey Dowling. To say she's well rounded would be a major understatement: She's pretty much done it all.
Raised in Orem, UT, Dowling spent her childhood training at her mother Sheryl Dowling's studio, The Dance Club. She received a scholarship to New York University's Tisch School of the Arts, but left after her freshman year to begin her professional career. Soon she was touring with Mariah Carey, dancing in Broadway's revival of Sweet Charity, appearing in the film versions of Chicago and Rock of Ages, choreographing for "So You Think You Can Dance" and serving as associate choreographer for Broadway's In the Heights. Despite her impressive workload, Dowling still creates works for competition studios and teaches at conventions (including New York City Dance Alliance), where she can admire Jo+Jax—the dancewear line she co-founded with sister Jacki Ford—sported by the industry's freshest talent.—Megan Kirsch
Dear Joey,
You know how you think your mom/dance teacher doesn't know what she's talking about? Well, she does. In fact, soon you'll realize she's one of the smartest people you know. She'll guide you both personally and professionally for years and years to come.
You know how you always speak before you think? Practice thinking just a little bit more before you open your mouth. But don't stop being as fearless and competitive as you possibly can. Don't ever stop training for what you want. And don't get discouraged. Let your confidence be your guide.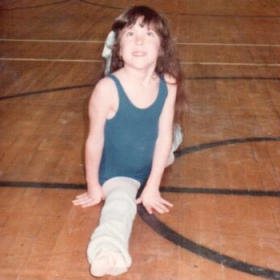 Dowling in her early dancing days (courtesy Dowling)
You know how you really, really want to tour with Janet Jackson? Well, that's not going to work out so well, because she's 5' 2" and you're going to be 5' 11". Your height will be frustrating sometimes, but it will also get you noticed. Your hard work, talent and dedication will lead you to great opportunities, including a world tour with Mariah Carey and a chance to become her body double. You will have a very fulfilling career.
Start taking singing lessons now. You'll save yourself a lot of grief and several weepy post-audition phone calls telling your parents you sounded like a "dying frog."
One of your biggest professional joys will be working with your sister to create a clothing line that combines two of your favorite things: dance and design. It will be a huge learning experience that will test you at times but also give you great joy every day. A love of choreography and teaching will become a big part of your life, too. But no matter what, remember that the most important thing is your family—and eventually, your husband.
Love what you do and live what you love. Be humble no matter what. Always try to see the positive. And save your money!
Love,
Joey
Jun. 18, 2013 11:21AM EST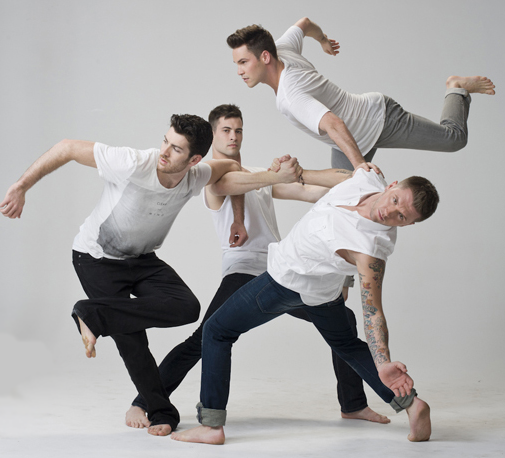 (L to R) Shaping Sound's Teddy Forance, Kyle Robinson, Nick Lazzarini and Travis Wall, photographed for "Dance Spirit" by Joe Toreno
Last night, the DS staff got all gussied up and headed to the Beacon Theater for Shaping Sound's That's Where I'll Be Waiting. So did pretty much everyone else in NYC.
No, but really: The crowd at this show, which was the last stop on the company's month-long tour, was incredible. Along with mainstream dance fans like Jesse Tyler Ferguson (a.k.a. the best "So You Think You Can Dance" judge of all time), there were a host of familiar dancers and choreographers milling through the lobby of the Beacon. Joey Dowling! Kenny Wormald! Dana Wilson! Ida Saki! Catherine Hurlin! It was like a reunion for all the dance world's cool kids.
Not that that's surprising. The members of Shaping Sound are some of the most exciting people on the commercial scene, after all—and definitely not less famous since their turn on the reality show "All the Right Moves." Almost every Shaping Sound dancer is a dance celebrity, and the people most prominently featured in That's Where I'll Be Waiting—Travis Wall, Nick Lazzarini, Teddy Forance and Kyle Robinson, who also created and choreographed the show—have become legit stars. More celebrities onstage = more celebrities in the audience (and also = more opportunities for us lesser non-celebrities to totally freak out because Jesse Tyler Ferguson is sitting one seat away from us, eee!).
The Shaping Sound foursome were smart about how they presented their well-known team, too. That's Where I'll Be Waiting gives each dancer a specific character—i.e., "The Trouble" (Alexa Anderson), "The Temptress" (Channing Cooke), etc—and at least a few moments in the spotlight. While the piece is threaded through with a love-triangle dream-story involving Travis, Teddy and Jaimie Goodwin, it's really driven by all the strong personalities onstage—personalities the audience already knows and loves.
Does that always work? Well, not quite. (Frankly, I'm still not sure why Chelsea Thedinga is "The Being.") Could I watch Nick, a.k.a. "The Wayward," do his flamboyantly fabulous David-Bowie-in-Labyrinth-meets-Herr-Drosselmeyer act (which is really just Nick being Nick) in his leather cape-vest alllll night? Oh, totally. And so could the rest of that star-studded crowd, which went standing-o bonkers for the entire cast at the curtain call. Congrats, guys!
Dec. 17, 2010 01:50PM EST
No dancer is perfect. Maybe you're more flexible on your right side than on your left, or perhaps you just can't seem to nail all four sounds in your double pullbacks. Don't despair—even the pros have weaknesses and off days. The key is finding new tactics to help you continue to improve. We got 16 of the most talented people we know to dish about exactly what you need to do—from daily tricks to life lessons—to become the best dancer you can be.
Alex Wong
As dancers, we put our bodies through a lot of stress, so it's important to get enough sleep. Your body needs to replenish and recharge itself. When I get enough sleep, my body and mind are rested and are more able to learn new information.

Don't hide under bulky dance clothes. It's important for you and your teachers to see what's going on underneath them. Once your body is warm, ditch the warm-ups and stop covering up.

Learn what you're good at and work to make that even better. Don't stop when you've reached the same level as everyone else. If my feet aren't good enough, if I'm not flexible enough or if I'm too short, I know that I'd better make up for it with something else!
Desmond Richardson
Stay hydrated. I like Zico coconut water. It replaces your lost electrolytes quicker than regular water and has more potassium than a bunch of bananas!

Eat well. Make sure you're eating enough proteins and lean meats and not eating too much sugar. When my body is at its best, I'm at my best.
Keltie Colleen
Watch other dancers. Instead of staring at yourself in the mirror, take a look around. See what things your peers are doing and copy what you love. You don't just learn from your teachers—you learn from your classmates, too.
Joey Dowling
Learn how to follow directions. You can get a job just by listening to a director in an audition and simply doing what he or she asks you to do.

Be realistic about what you look like, how you eat and how much you exercise. If you want to get into a ballet company, the reality is that you need the right body type. As you grow up, your body will go through changes and you may not even notice. Put in the work to stay in shape. You don't want to get cut at auditions because of your body.

Be different!
Gillian Murphy
Be intellectually curious. Read, go to museums and attend live performances as often as you can. These experiences will expand your imagination and thereby your artistic taste and dimension as an individual and dancer.
Heather Morris
Figure out what makes you happy when you're performing. Then keep doing it.

Perform—whether it's singing, acting or dancing—as much as you possibly can, wherever you can, so you can get over your nerves. You don't want to be shocked or nervous when you're called upon to perform.
Ida Saki
Try cross-training. As dancers it often feels like we have no time to do anything extra, but participating in different activities has done wonders for my dancing.

It's OK to step down a level in order to go back to basics. If you notice you're not turning out your leg all the way, don't be afraid to lower it in order to strengthen your turnout.

Create scenarios in your mind as you're dancing. What are you moving through? Pudding? Water? Sand? What are you surrounded by? Thinking these things through will give your dancing more depth.
John Jasperse
Respect your body's pain. I see young dancers who feel like they have to push through their pain. Don't mistreat your body—this career requires longevity. In a funny way, injury is your best teacher because it's your body's way of telling you something is wrong. Pay attention to your injury instead of getting angry about it. Learn what you're doing wrong to your body so that you can prevent it in the future.
Tiler Peck
Strengthen your core muscles so you're able to engage your legs for fast footwork while keeping your upper body free and lyrical.

You don't want your pointe shoes to be louder than the music. I bang the bottom of my shoes before every show so when I jump, the shoe is softer and doesn't make as much noise.

Find certain moments in the choreography to flourish in. You can't dance a ballet at the same energy level throughout the whole piece or you'll get tired. Find moments that you can put all your energy into to highlight the steps.
Chelsie Hightower
Keep nutrition bars in your dance bag. Lärabars are my favorite.

Be a good person. Choreographers may hire people based on their talent, but they re-hire them because of the type of person they are. There are thousands of talented dancers out there—it's who you are that makes you stand out.
Jeanine Mason
Introduce new types of exercise to your routine. Yoga and Pilates have helped correct injuries and alignment issues I've had with my body.

Be ambidextrous. If you're only exercising one side of your body, your muscles will build unevenly.

Make your own trail mix. Raisins and almonds are great sources of energy. I also include M&Ms!
Brenda Bufalino
Put your whole self into practicing. Work on the rudiments of technique, but don't practice mechanically.

Learn a variety of time steps. It will help you choreograph and compose in different time signatures and improve your improvisation.
Andy Blankenbuehler
The best tips for becoming a great dancer might be things you don't learn in the studio. Watch people's body language on the street. Watch how fearless children are. Watch how people interact. Those are the kinds of real life things that we should aspire to capture in our dancing.

Learn about music. Know the difference between a quarter note and a sixteenth note, and know what a crescendo is. Learn the terminology and then see how it applies to your dancing. Music is your roadmap.

Real life is about many different emotions—frustration, relief, impatience, joy. Strive to show all of these in your dancing. Don't just dance performances about angst and anger. That's limiting and unoriginal. Audiences are moved by new interpretations of things they recognize from their own lives. To be great dancers and great performers, we need to be great analysts of life.
Debbie Allen
Dancing isn't a hobby, it's a way of life. Being a dancer defines how you spend your time and your money. To dance is to be disciplined.
Julie Kent
Don't skimp on meals. Develop good eating habits now and they will last you your whole life.

The most interesting part of your dancing is you! You need technique in order to express yourself, but it is not the end goal. Use your own personality in your dancing, and it will be more rewarding for you and more enjoyable for everyone to watch.
Misha Gabriel
Develop good networking skills. Some choreographers don't like to hold auditions, so make a point of getting to know choreographers by taking their classes. You'll create long-lasting professional relationships.

Stay aware of the quality of your dancing. Don't get wrapped up in booking jobs and building your resumé—you have to keep training, taking class and building your dance skills.
Get Dance Spirit in your inbox