Myles Thatcher, a choreographer and corps member at San Francisco Ballet, just keeps on winning. Not only has he made work for the SFB School and the main company, not only was he named one our 13 Hot Young Choreographers and not only did he just finish a year as renowned choreographer Alexei Ratmansky's protégé (!!!), but he also has two major premieres this year: One at New York City Ballet and one at The Joffrey Ballet. Whew!
The dance world can't get enough of Thatcher's work, and for good reason. His vision is sophisticated, mature and crowd-pleasing. If you're not able to make it to Chicago to see the premiere of the (yet-to-be-named) "New Thatcher" as part of the The Joffrey's "Millennials" program from September 16–20, check out this promotional clip from the company.
It features Joffrey stunners Jeraldine Mendoza and Victoria Jaiani, and it really gives you a sense of how cool, calm and collected Thatcher is during his creation process. Merde!
Mar. 23, 2017 07:20AM EST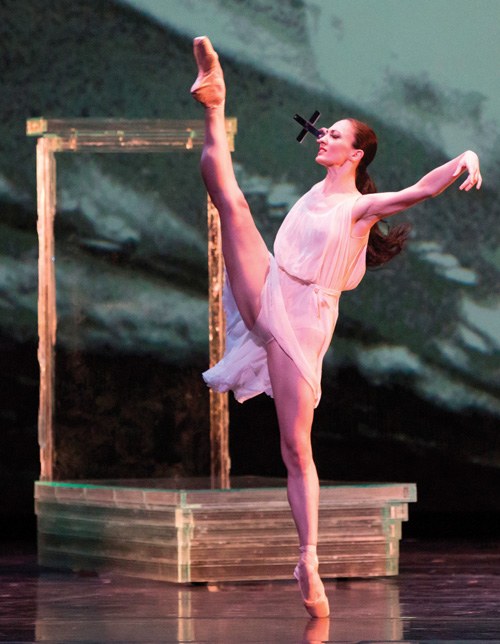 Victoria Jaiani in the Joffrey Ballet's Othello (by Cheryl Mann)
It's not just luxurious extensions and delicate port de bras that make the Joffrey Ballet's Victoria Jaiani such a mesmerizing performer. She has that intangible "It" factor that marks a true prima ballerina—and makes her impossible not to watch, whether she's embodying a heartbroken Dying Swan or an exuberant Juliet.
A native of Tbilisi, Georgia, Jaiani started training at Georgia's V. Chabukiani Tbilisi Ballet Art State School at age 10. As a teenager, she moved to the U.S. to study at NYC's Joffrey Ballet School. After winning the bronze medal at the 2003 New York International Ballet Competition, she joined Chicago's Joffrey Ballet. Since then, Jaiani has danced many coveted roles, including the title role in Cinderella and Terpsichore in Apollo. Catch her this month in the Joffrey premiere of La Bayadère at the Auditorium Theatre of Roosevelt University in Chicago. —Helen Hope Rolfe
Dear young Victoria,
Please don't think you're a weird girl because you spend all of your time in the studio.
It's such a great place to learn about yourself, and an amazing place to grow up. As you continue to strive for more, you will see your work result in some amazing opportunities. Don't be so hard on yourself. You know what they say: "Patience is a virtue."
Speaking of having patience, remember to chill out every once in a while (except when it comes to your feet—keep working hard on those, and they'll get there!). It's normal to want more, but take a step back and appreciate what you have.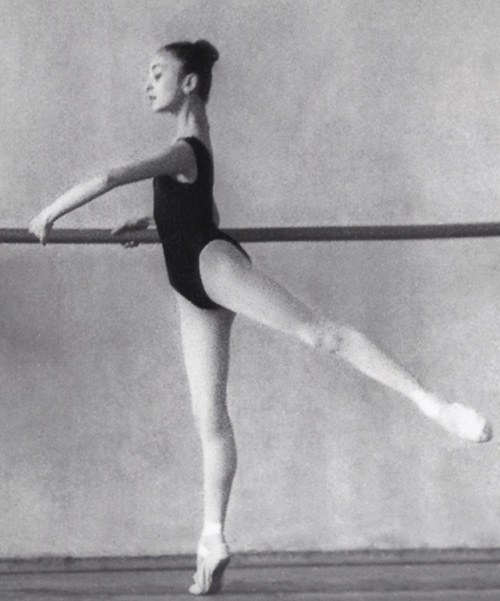 Victoria Jaiani as a young student (courtesy Victoria Jaiani)
You need to know that not everyone is going to be supportive. Remember to trust yourself, and learn how to see the difference between someone giving constructive criticism and someone just trying to take you down.
You have really good instincts, so let go of any apprehension about fitting into "the box." You don't need to fit in. Being different is what makes you special.
I know how well you focus. Keep it up—it's such a great tool to have, not only at school but also in a professional dance career. You'll need it inside the studio and out.
Remember how not so long ago you moved to the U.S., and everything was so different? I'm proud of the way you've soaked up a new culture, language and life. It will get easier. You'll see.
Keep those you love close. Give thanks to the strong women in your family. And remember: Your loved ones love you no matter how well you did your pirouettes today.
With best wishes and love,
Victoria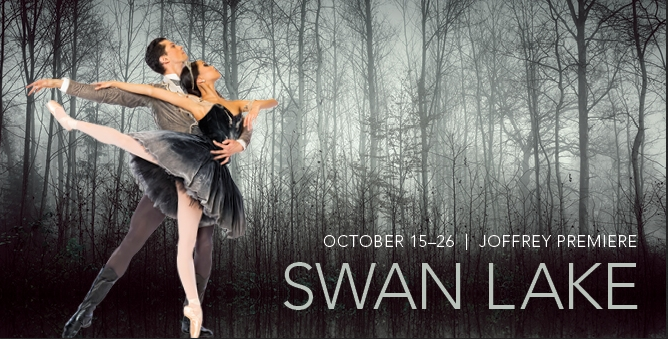 (Poster via Joffrey Ballet)
What are you doing between 12:30 pm and 4 pm (eastern standard time) tomorrow? If you've got plans, cancel them (unless, you know, they're super important), because The Joffrey Ballet is live-streaming tomorrow's Swan Lake rehearsal!
Here are a couple of reasons why this streaming is extra-strength awesome:
It's the company's first time EVER doing a version of Swan Lake.

Christopher Wheeldon is the choreographer. Plus, he'll be running rehearsal. #starstruck

Rehearsal breaks will feature interviews with Wheeldon and lead dancers.

It's The Joffrey Ballet. 'Nough said.
So tune in tomorrow (Thursday, August 21) at 12:30/11:30c to The Joffrey Ballet's YouTube channel for your front row seat!
P.S. The finished product will premiere in the Auditorium Theatre in Chicago on October 15. Click here to purchase tickets.
On February 14, as part of New York Fashion Week, students from Parsons The New School for Design, The New School for Jazz and Contemporary Music and the Joffrey Ballet School's Jazz and Contemporary Program came together to create Reconstruction 3.0: Life is a Journey, a night of live performances featuring original music, dance and fashion—and we're still drooling over the fabulous dancing and the oh-so-fashionable costumes (two of our favorite things!).
But that's not all. This night was also a contest between five teams, each consisting of a Parsons fashion designer, New School composer and Joffrey Ballet School choreographer, who developed works with original music scores, choreography and costumes that were reconstructed from previous Louis Vuitton clothes and textiles.
The victorious piece, titled Chronogenesis, was choreographed by Angelica Stiskin; danced by Catie Leasca, Maria Rodriguez, Jaedon Thomson, Alex Hopp, Amy Patterson, Shay Saver, Carly Piotrowski, Kali Mikelson, Anna Simms and Michele Montana; composed by Arthur Hnatek; and costumed by Jack Burns, Kumie Asai and David Valencia. Congratulations!
What did they win? Oh, just a trip to Paris, including access to Louis Vuitton's workshop and the historic home of the Vuitton family. Oh là là!
Check out this awesome slideshow of the evening, complete with to-die-for costumes:
[slideshow_deploy id='20349']


Get Dance Spirit in your inbox