Mar. 12, 2019 11:55AM EST
Paula Lobo, Courtesy Matt Ross PR
It was only a matter of time before dance super couple Sara Mearns and Joshua Bergasse did a major project together.
After all, the newlyweds first met when Mearns, a New York City Ballet star, was being considered for a part on the TV show "Smash," which Bergasse was choreographing. They hit it off, but the role ended up getting cut.

Fast-forward to today, and they're working on their first full-length musical together: I Married an Angel, which opens next week as part of New York City Center's Encores! season, with Bergasse as choreographer and Mearns as the star.
Site Network
Sep. 15, 2017 01:54PM EST
May. 29, 2017 07:01AM EST
Photo by Walter McBride for BroadwayWorld
Dancer Yesenia Ayala first caught our eye in the off-Broadway production of Sweet Charity with Sutton Foster earlier this year. So, we were super excited when we found out she was making her Broadway debut in this spring's sweetest new show Charlie and the Chocolate Factory. (Both productions were choreographed by Joshua Bergasse.)

Dancer to Dancer
May. 10, 2017 05:41PM EST
If there's one show that's undeniably taking over the Great White Way, it's Charlie and the Chocolate Factory. We knew from the moment we sat down with Emma Pfaeffle, who plays Veruca Salt, that this Joshua Bergasse-choreographed production was going to be super sweet and super dance-y. It's safe to say it's lived up to the hype—and then some. Case in point? The cast's recent performance on Good Morning America.

Dance Videos
Sep. 01, 2015 07:00AM EST
So, I think I speak for everyone when I say it took me a solid five minutes to stop CRYING after I saw Jim and Megz cry during their elimination on last night's episode of "So You Think You Can Dance." I sent numerous #SOS texts to my fellow DS editors but they were too distraught to respond—so I was left alone with Megz and Jim's goodbye montages. Dramatic? Nah. It's a cruel world and this is just how "SYTYCD" goes. We knew this was coming, people—the Top Six would become the Top Four: Hailee and Gaby for Team Stage, and Virgil and Jaja for Team Street.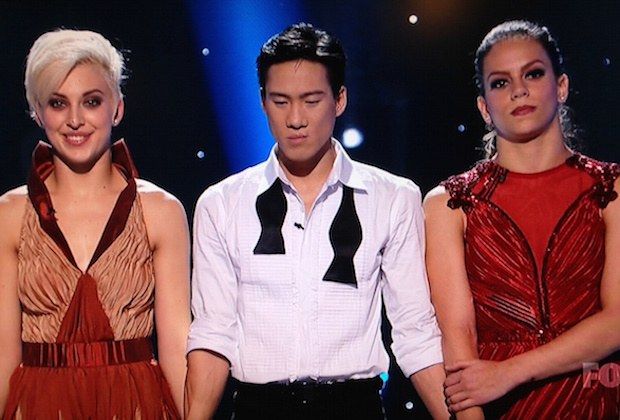 My. Heart. (Screenshot via FOX)
But enough blubbering. There's still a lot of dancing to process, and the remaining four are an incredibly gifted group of artists. Behold, my Top 5 moments from last night:
1) Just the fact that everyone had to dance THREE ROUTINES this week. Coupled with the fact that they apparently only have 7 hours to learn each one, including time with the choreographer, their partner (if they have one) or the entire group if it's a group routine. THAT'S SO MUCH CHOREO AND SO FEW HOURS! Add on the pressure of a live show, a title on the line and the fact that they're constantly being critiqued not only by the judges, but by all of us—yeah, that's a lot. Bravo, dancers.
2) Hailee's solo to "Elastic Heart" was a really touching moment (as were all the solos and their inspirations). Hailee has secured her spot in the Top Four, due in large part to the fact that she's amazing at adapting to so many different styles. But watching her solo was special because she was truly in her element—yet no different than when she performs in a genre that isn't her favorite. That's the sign of a great dancer, especially this far into the competition—one who is always convincing, no matter the circumstances. Hailee's got that ten times over.
3) Jaja's robotics solo quite literally took my breath away, because I kept saying "no way" every single time she hovered, isolated, popped, locked, dropped and clicked her body around. It was NUTS. She's a radiant person and it's so apparent in her dancing that it's no wonder she's in the Top Four.
4) Virgil's routine with All-Star and champion Melanie Moore was not only a high note of the episode, but of the season. These two have an absolutely lovely chemistry, and very contrasting qualities of movement—something that worked in their favor. They complemented one another as Melanie's sweeping legs and fluid transitions intertwined with Virgil's precise and punctuated articulations of the choreo. The judges clearly felt the same way, with Paula describing Virgil's performance as "mature and vulnerable," so mature, in fact, that she had basically no criticism to offer.
5) Gaby and Jim's Joshua Bergasse-choreographed Broadway routine was not a huge hit with the judges, it was definitely one of my highlights. I love Bergasse—how could you not? The man is super-skilled, as are the two dancers he worked with this week. Even though Nigel said the routine felt "jazz club-esque," Gaby and Jim grabbed the fever/hallucination theme and ran with it. Their commitment was 1000% (as it always is with these two), and while the judges recognized this, the dancers still weren't met with the response they deserved.
As they say, it's not over till it's over. But in two weeks' time, we'll have a new "SYTYCD" champion and that's just crazy. What have you thought of the season so far? Are you still crying about Jim and Megz? (Yes.) WHO DO YOU THINK IS GOING TO WIN?!? Tell us in the comments below and check back here next week for our review of the finale.
Dance News
Apr. 28, 2015 11:52AM EST
The Tonys are coming, the Tonys are coming! It's like musical theater Christmas!
The 2015 Tony Award nominations were announced this morning by the ever-glamorous Broadway (and TV and movie) star Mary Louise Parker and Bruce Willis (whom you know as "Dancing with the Stars" front-runner Rumer Willis' dad). And guys, there are so many amazing things to report. Because, well, ballet.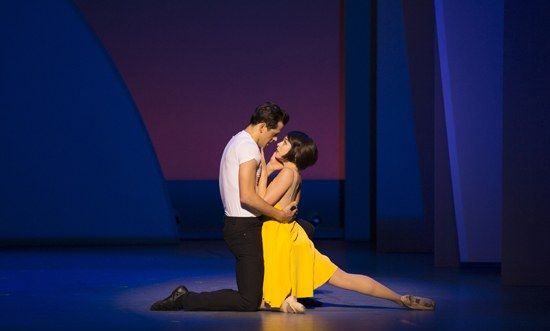 Robert Fairchild and Leanne Cope in Christopher Wheeldon's An American in Paris (Photo by Angela Sterling, courtesy Boneau/Bryan-Brown)
New York City Ballet principal Robert Fairchild and Royal Ballet first artist Leanne Cope received Tony nominations for their lead performances in An American in Paris. Christopher Wheeldon—ballet choreographer extraordinaire—earned TWO nominations for the show, for both best direction and best choreography of a musical.
Joshua Bergasse also earned a nom for his choreography of On the Town. Remember when he taught us 16 counts of the number "New York, New York"? You might want to revisit that combo before June 7—if the cast performs it at the awards ceremony, you can dance along with them in front of your TV. (Y'all know I certainly will be.)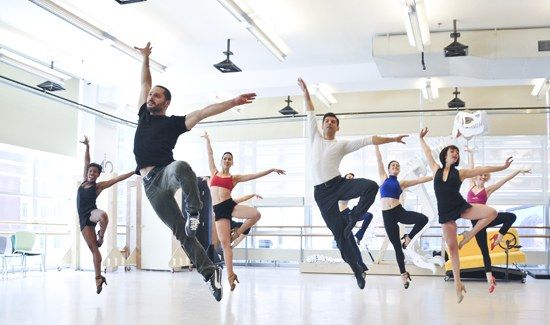 Joshua Bergasse (front) rehearsing the cast of On the Town (Photo by Jenny Anderson, courtesy Matt Ross Public Relations)
Other choreographers nominated include Casey Nicholaw (Something Rotten!), Christopher Gattelli (The King and I) and Scott Graham and Steven Hoggett for Frantic Assembly (The Curious Incident of the Dog in the Night-Time).
Chita Rivera—as in West Side Story, Fosse and OVERALL BROADWAY LEGEND CHITA RIVERA—received a nomination as best female lead performer in a musical for her role in The Visit. She plays an aging bajillionaire who returns to her small hometown to seek revenge on a former boyfriend—and the town itself. And while she doesn't do a whole lotta dancing in the show, I think we can expect a pretty stellar performance at the Awards. After all, it's her 10th Tony nomination, so...go big or go fun home, amirite?
All in all, An American in Paris racked up 12 Tony nominations—the most this year, tied with Fun Home. Get the full list of nominees here, and start placing your bets now! Who do you think should win for best choreography? Was anyone (or any show) snubbed? Let us know what you think in the comments!
Dance News
Nov. 01, 2014 04:00PM EST
Think classic Broadway, and the tune "New York, New York" from On the Town probably comes to mind. Based on Jerome Robbins' ballet Fancy Free, On the Town, with music by Leonard Bernstein, hit the Great White Way in 1944 and was later made into a movie starring Gene Kelly. This fall, On the Town returned to Broadway with choreography by Joshua Bergasse. We asked Bergasse to walk us through the "New York City dance" with the help of swing Paloma Garcia-Lee. All photos by Travis Magee.
About the Phrase
"The 'New York City dance' is done three times throughout the show—twice in the opening number, 'New York, New York,' and again in the 'Times Square Ballet,' the Act 1 finale," Bergasse says. "It signifies the foot traffic of busy New Yorkers, the mayhem of Times Square."
See it in action!
This 15-count phrase is extremely fast. To get a feel for its precise musicality, click here to see Joshua Bergasse and Paloma Garcia-Lee break down the steps.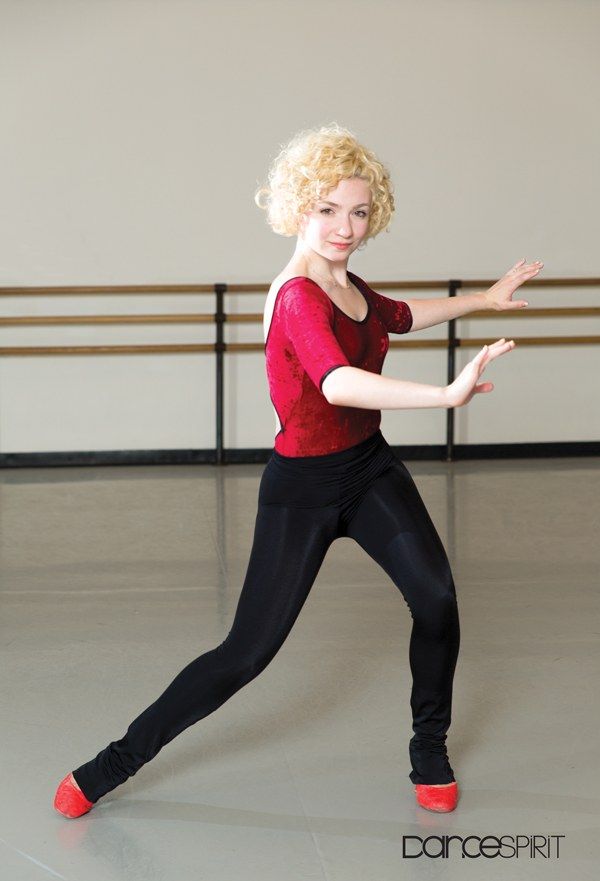 The Setup
Begin in a parallel second position demi-plié with your weight over your left leg and your right leg beveled. Twist your upper body to the left, placing your left arm, slightly bent, out to the side and your right arm, fully bent, in front of your stomach.
Using your right leg, do a piqué turn to your right on forced arch, with your left leg in a high parallel passé and your arms over-crossed at the wrists.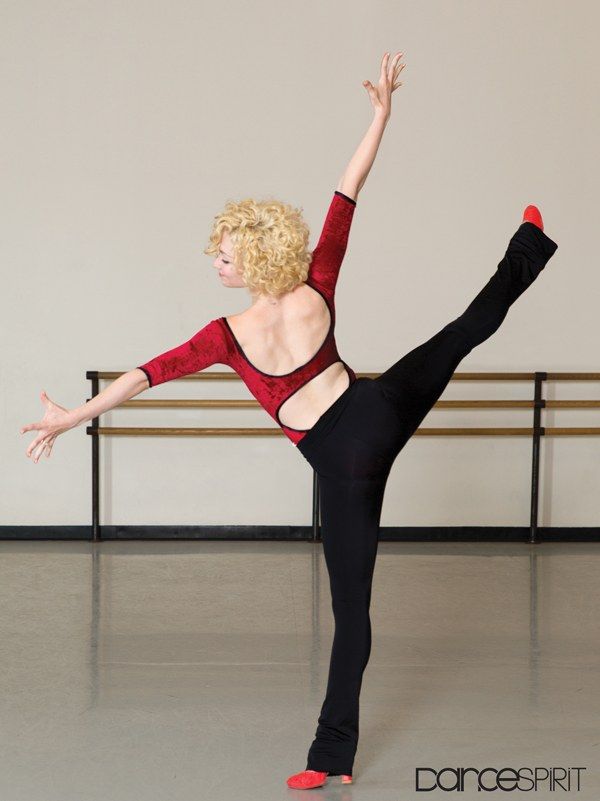 Count 3
Finish the turn facing the upstage left corner (about 1 1/4 rotations). Open your arms to the side as you piqué onto your left leg, lifting your right leg high to the side in parallel. Reach your upper body to the left, gazing over your left hand.
TIP: Although your right leg lifts in parallel, your supporting leg is turned out.
Counts 4, 5
Keeping your body facing the back corner and your gaze steady, contract, pulling in your arms and drawing your right leg to a high parallel passé as you plié on your left leg.
Counts 6, 7
Step out to the side with your right leg (count 6), then cross your left leg over your right (count 7), pulling your hips so far to the right side that your right foot rolls inward. Reach your upper body to the high left diagonal in opposition, with your arms extended overhead and your fingers spread wide.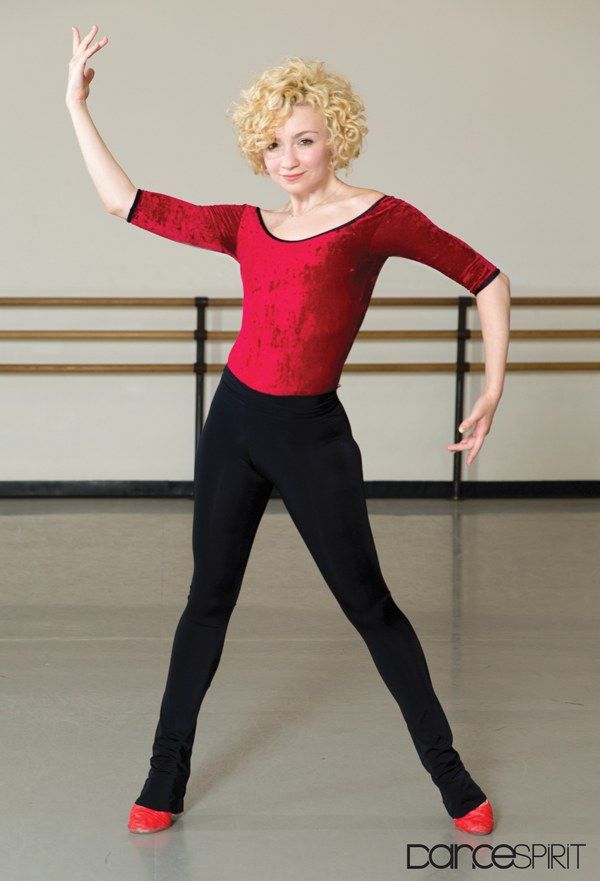 Count 8
Pivot to the right to face forward, arriving in a parallel second position on demi-pointe. Twist your torso slightly to the right, and curve your right arm upward and your left arm downward.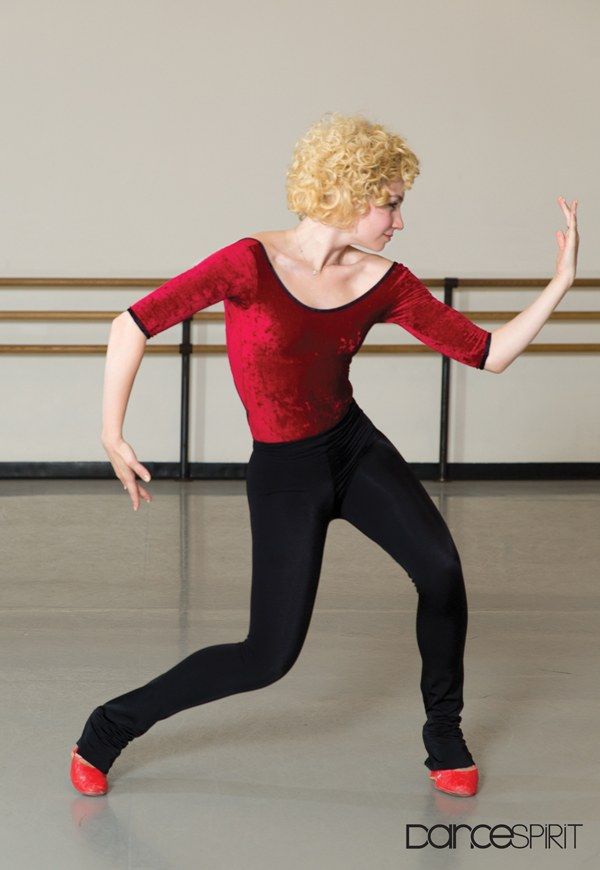 Count 1
Plié, and twist your torso to the left, switching your arms so that your right arm curves downward and your left curves up. Draw your focus to your left hand.
TIP: Most of your weight should be in your left leg as your right knee bevels.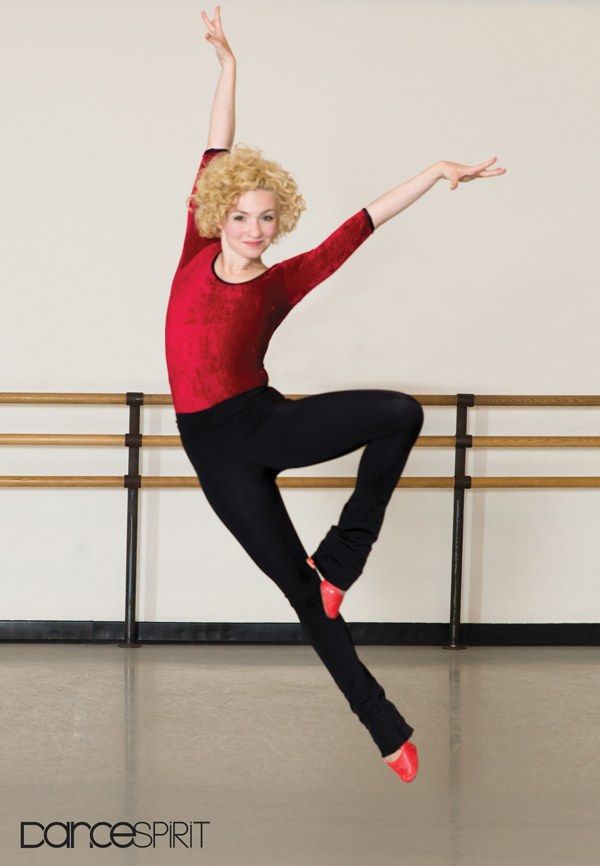 Counts 2–4
Crossing your right leg behind your left, do one full turn backward around yourself and jump off your right foot. Hit the height of your jump on count 4, with your left leg in a turned-out passé, your right arm extended straight up and your left arm in a high side diagonal.
TIP: Push your hips to the right so your body makes a "C" curve in the air.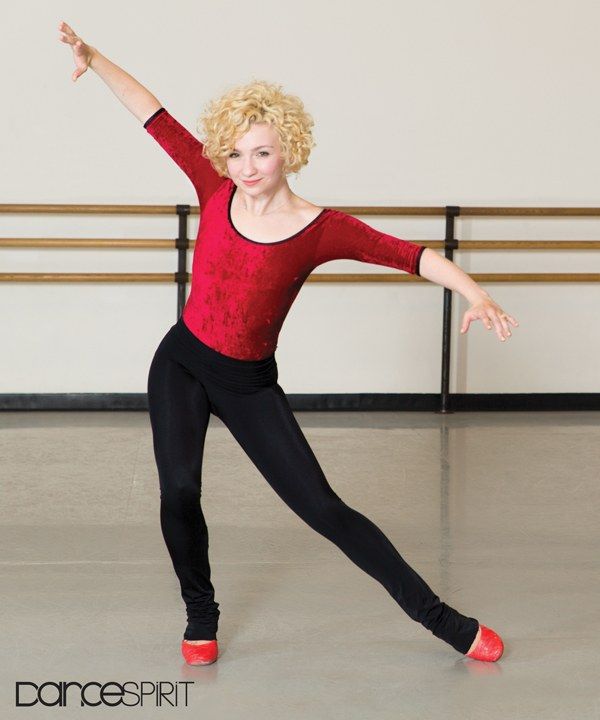 Counts 5–7
Land the jump (count 5), cross your left leg in front of your right (count 6) and finish the phrase by lunging to the side on your right leg, dragging your left foot along the floor (count 7). Spread your arms into a wide "L" position.
Musical Theater
May. 14, 2013 10:47AM EST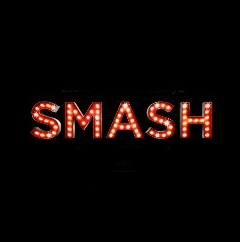 It's lights-out for the flashiest show on network television.
The show's over for "Smash." NBC's Broadway drama was cancelled last week after two seasons. And while I know, given the verrrrry mixed critical reactions to the troubled show, that not everyone's upset by the news, I'll admit it: I totally am.
Yes, the plotlines have spun completely out of control recently. (Tom hooked up with Kyle and then Kyle got hit by a car and died?? We're in full-on soap opera territory, people.) Yes, Katharine McPhee, though one of the most beautiful people in the world, has about as much charisma as an overripe banana. And yes, somebody, somewhere on the "Smash" staff greenlit Ellis. Oh, man, remember Ellis?
But. BUT. How frequently do you get to see true Broadway-caliber singing and dancing on primetime TV? "Smash" provides a super-high-visibility home for some of our favorite Broadway stars, not least among them Megan Hilty and Christian Borle (and, though his character is totally unlikeable, former Newsies dreamboat Jeremy Jordan). The original songs, most of which are by Marc Shaiman and Scott Wittman—you know, the team behind a little musical called Hairspray?—are legitimately great. And the dancing! Choreographed by Joshua Bergasse and performed by a rotating cast of crazy-talented people including the likes of Alex Wong, Meredith Miles and Spencer Liff, it's top-notch.
I'll put it this way: If we could cut out the story and condense "Smash"'s musical numbers into a weekly variety show, I'd be totally happy. But that ain't happening, folks. So it's time to say our goodbyes to the little Broadway show that couldn't.
I wanted to let you be my star, "Smash." I really did. *sniff*
Apr. 08, 2013 01:15PM EST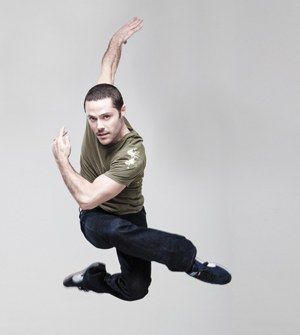 Joshua Bergasse
Choreographer Joshua Bergasse has been breaking new ground for dance on the small screen on the Broadway-themed TV show "Smash." Though his success on "Smash" has recently made him a household dance name, Bergasse has been a successful musical theater pro for more than 15 years, touring and performing on Broadway before moving on to choreograph musicals across the country. NYC's in-the-know dancers have religiously taken his classes at Broadway Dance Center for years, and Bergasse has also taught at major dance conventions including Tremaine and West Coast Dance Explosion.
What inspires Bergasse? Read on to find out.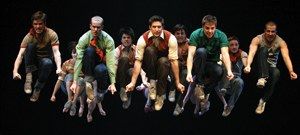 West Side Story on Broadway (by Joan Marcus)
"My all-time favorite project was performing the original Jerome Robbins choreography while on tour with West Side Story. To this day, when I get stuck while choreographing, I just think about that choreography."
Pacific Northwest Ballet soloist Lindsi Dec in George Balanchine's Rubies (by Angela Sterling)
"I like to go to the ballet a lot, especially to see works by George Balanchine or Twyla Tharp. I'm usually story-focused, but at the ballet, I'm so fascinated by the movement quality—the control and strength of the dancers—that I don't need a story."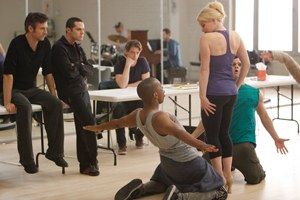 Bergasse (second from left) in a rehearsal scene from "Smash" (Patrick Harbron/NBC)
"Right now I'm most inspired by the dancers in the 'Smash' cast. I like nothing better than walking into a studio of fantastic dancers who are staring back at me saying, 'What are we gonna do?' "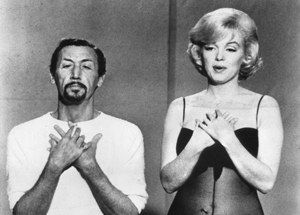 Jack Cole with Marilyn Monroe (courtesy Dance Magazine Archive)
"I love the 'golden age' MGM musicals, like An American in Paris and The Band Wagon, and choreographers from that era, especially Jack Cole. Cole's choreography is quick, earthy and sexy. He's a huge inspiration for me, especially on "Smash," because he was Marilyn Monroe's choreographer."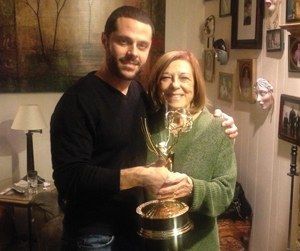 Bergasse, his mom and his Emmy Award
"My mom, Annette, was my dance teacher, and she was really into theater, so that's where my love for musicals comes from."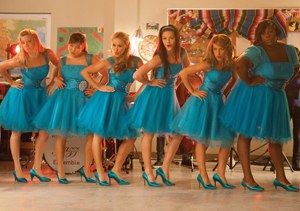 "Glee" (by Eddy Chen/FOX)
"I love that dance is back on TV and in movies. I watch 'So You Think You Can Dance,' 'Dancing with the Stars' and 'Glee.' I want to see more of it!"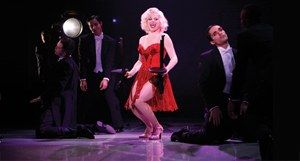 Ivy and dancers in "Let's
Be Bad" (by Will Hart/NBC)
"My favorite number I've done on 'Smash' is 'Let's Be Bad' for Episode 5 of the first season. It was about Marilyn Monroe losing control but wanting to stay on top, and it mirrored something that was happening with another character, Ivy. When I have a great story to tell, the choreography just flows right out of me."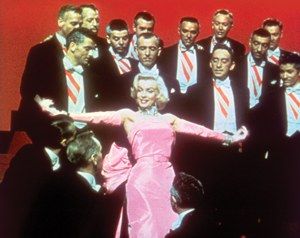 Marilyn Monroe in Gentlemen Prefer Blondes (courtesy Twentieth Century Fox Home Entertainment)
"My favorite Marilyn Monroe musical is Gentlemen Prefer Blondes. The production numbers are fantastic."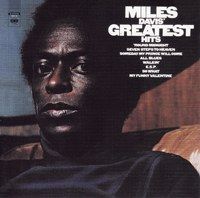 (courtesy allcdcovers.com)
"I'm a huge jazz freak. I love Miles Davis, Thelonious Monk, Lillian Hardin Armstrong and John Coltrane. I use their music to calm me down between pieces I'm choreographing."
Feb. 06, 2012 03:26PM EST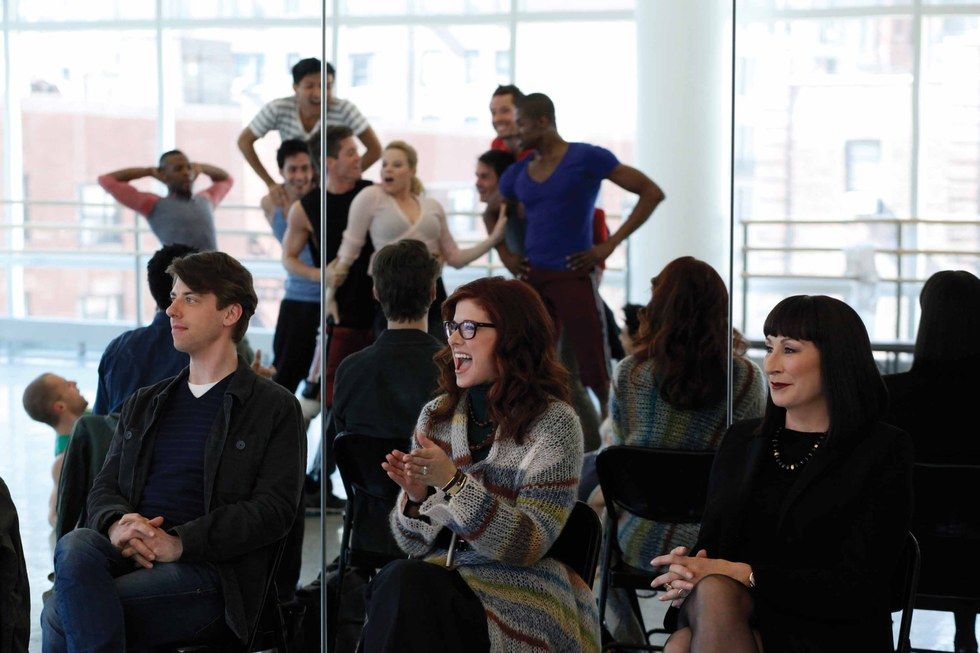 If you're as excited for tonight's premiere of "Smash" as we are—and you live in the NYC area—hurry your booty over to Broadway Dance Center for "Smash" Day! The show's choreographer, Josh Bergasse, is a regular BDC faculty member, so the studio is throwing a "Smash" bash to celebrate much-anticipated pilot episode!
Here's the run down:
Kiira Schmidt, "Smash" assistant choreographer, will be teaching Bergasse's choreography from the show tonight at BDC from 4-6 p.m.
Plus, LaDuca reps will be in attendance to raffle off a free pair of Teresa 3" shoes to one lucky student! (Best. Raffle. Ever. La Ducas are so lovely, but they cost a pretty penny.)  They'll also be giving out show bags and discount coupons to everyone in the class.
To wrap things up, there will be a free screening of the pilot episode at 10 p.m. in Studio 4. The show will be projected on the wall with plenty of popcorn and candy to share.
And let's be honest, is there anything better than watching a great dance show with other dancers? Never.
If you haven't already, be sure to check out DS editor Margaret Fuhrer's interview with one of the show's biggest stars, Megan Hilty. Then, watch the show tonight at 10/9c on NBC.
Dance News
Get Dance Spirit in your inbox