As you know, French artist JR collaborated with New York City Ballet on 2014's Les Bosquets, a dance that combined ballet and jookin'. It was inspired by a housing project in Montfermeil on the outskirts of Paris—the epicenter of social and political protest in 2005.
I love JR's work. I'm totally obsessed with his Instagram and am consistently intrigued by his politically charged art works, which are often executed on an epic scale. That's why I'm so curious to see what his latest film is all about. Les Bosquets is inspired by the stage production of the same name, and it will premiere at the prestigious Tribeca Film Festival on April 18.
So far, I can only tell you that it includes Lauren Lovette in a white tutu and pointe shoes, a ballet corps dressed in mod-ish pop art unitards (looking more like a scary army than a flock of swans), Lil Buck jookin' up a storm and buildings being demolished. How will all these elements be combined in a narrative that tackles racial inequality, poverty and the status of an immigrant in today's world? Who knows? But I'm excited to find out!
How great is the New York City Ballet Art Series? Each winter, the company asks an artist (or artistic team) to create a dance-inspired installation for the Koch Theater's grand promenade. Then it celebrates the often-amazing results with special Art Series performances featuring discounted tickets. Sound familiar? That's because you were probably obsessed with JR's 2014 contribution to the series, which carpeted the promenade floor with life-sized photographs of the company's dancers: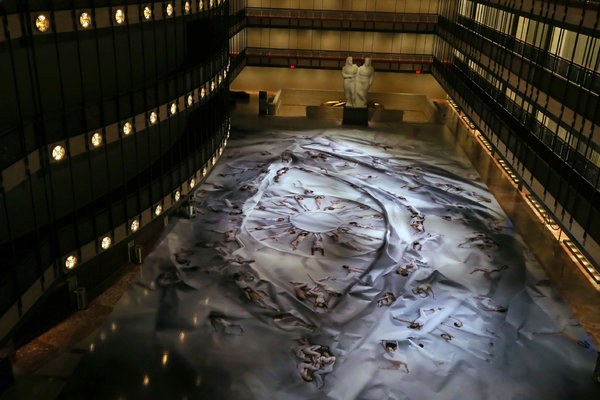 Seriously, it was fantastic. (via NYT)
This year, NYCB has asked Marcel Dzama to create an installation. That's especially cool because Dzama is already wrapped up in the ballet world: He's also doing the sets and costumes for Justin Peck's upcoming premiere for NYCB, The Most Incredible Thing. (More on that in our February issue!) And the little glimpses we've gotten of those sets and costumes are totally awesome:
For the promenade, Dzama—who's based in Brooklyn and has work in the collections of major museums around the world—is creating a multidisciplinary installation with a chess theme. (Dzama has long been obsessed with artist Marcel DuChamp, who love, love, LOVED him some chess.) Somehow, it's going to involve oversized projections, a surreal collection of masks, a chess-like dance-off and Amy Sedaris. Based on the preview video the company just released, it looks like it's going to be wonderfully, fascinatingly weird, in a down-the-rabbit-hole kind of way.
Take a look!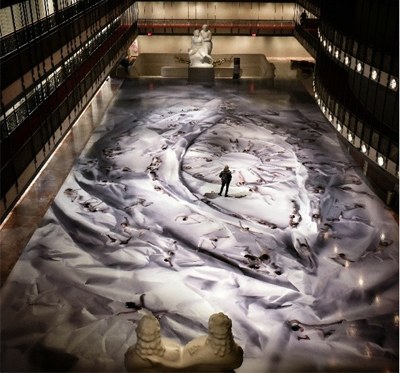 The Eye of New York City Ballet, photo by JR via Instagram
Remember when New York City Ballet invited Parisian artist JR (who just happens to be buds with Pharrell, and who shares a similar accolade to President Bill Clinton and Bono) into its world for its 2014 Art Series earlier this month? When the TED Prize winner constructed The Eye of New York City Ballet, the awe-inspiring 6,500 square-foot photo installation on the floor of the Koch Theater in NYC? And when the opening night bash at the theater included a DJ spinning tracks for a packed house of bearded men and stilettoed fashionistas?
Well, just when you thought ballet couldn't get any hipper...it can.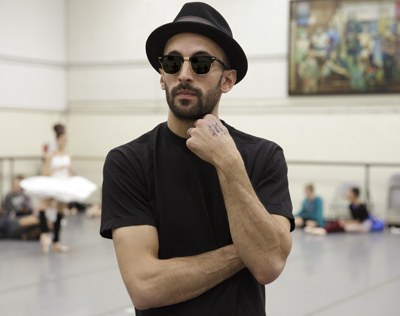 The always-in-sunglasses JR in New York City Ballet's rehearsal studios. Photo by Paul Kolnik.
NYCB announced that its 2014 spring season will open with a bang: JR will be back(!), this time as choreographer(!!) with assistance from NYCB ballet master in chief Peter Martins. For his eight-minute work, he's collaborating with Lil Buck, the vegan jooker from Memphis who steals hearts every time he spins and balances en sneaker, arms fluttering to Saint-Saëns' The Dying Swan. JR and Buck are also working with French music phenom Woodkid, who has created videos for Katy Perry, Rihanna and Drake, and who scored a Grammy nom for his own short form music video, Run Boy Run. Seriously, cool.
"Choreographing has been a totally new experience for me," said JR in a release from NYCB. "The dancers became my paper and have helped me draw my vision and create new things." We at DS can't wait to see these new things—or the piece d'occasion as NYCB calls the as-of-now untitled work. In fact, we've officially started a countdown to the premiere on Tuesday, April 29:
62 days, people, 62 days.
Until then, check out some of the images from JR's Instagram feed, where he's been documenting the process. You're gonna want to come to NYC for this.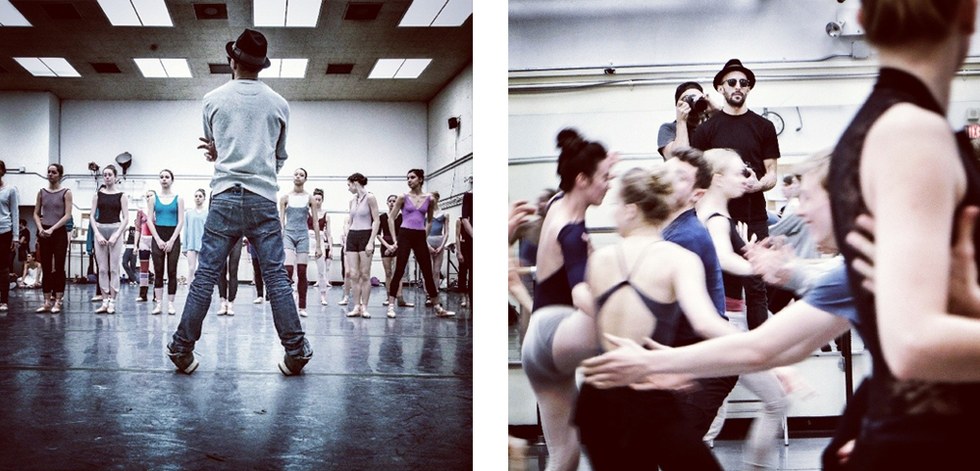 (left) "FYI I am the one learning here #makingmyfirstballet #springstage #rehearsal"                                        (right) "Another day at the office : ) Choreographing my first ballet for New York City Ballet stage #spring2014"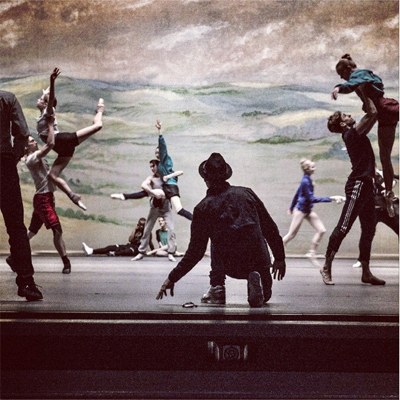 "Main stage rehearsal #NYCBallet_JR"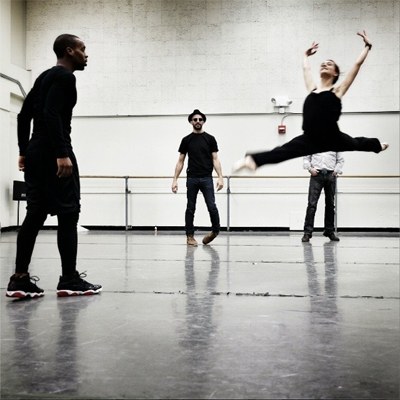 "Long day at the Lincoln Center rehearsing my First Ballet piece that will perform on stage of the NYCBallet this spring... I ll reveal more of the process of making it as I am working on it with @lilbuckdalegend @laurenlovette @woodkidmusic @jonbatiste and the entire NYCBallet... Here with Peter Martins the director helping me finding the words : ) #process #1stballetchoregraphyofmylife"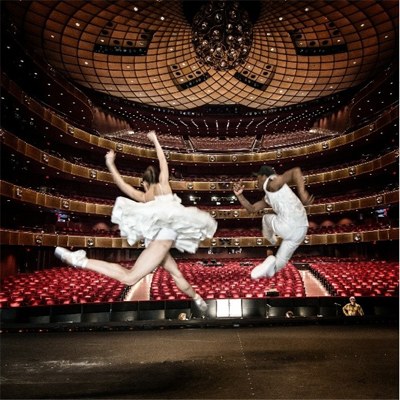 "Everyday getting closer to the final piece ... #stage #2800peopleeverynight on a music by @woodkidmusic!"
It's time to get super psyched about multidisciplinary collaborations, guys.
Last year, New York City Ballet held its first annual Art Series, an installation that commissions contemporary artists to work with the dancers in hopes of inspiring something spectacular. And when they brought in FAILE, the Brooklyn-based partnership of Patrick McNeil and Patrick Miller, to kick off the series, the artists did not disappoint.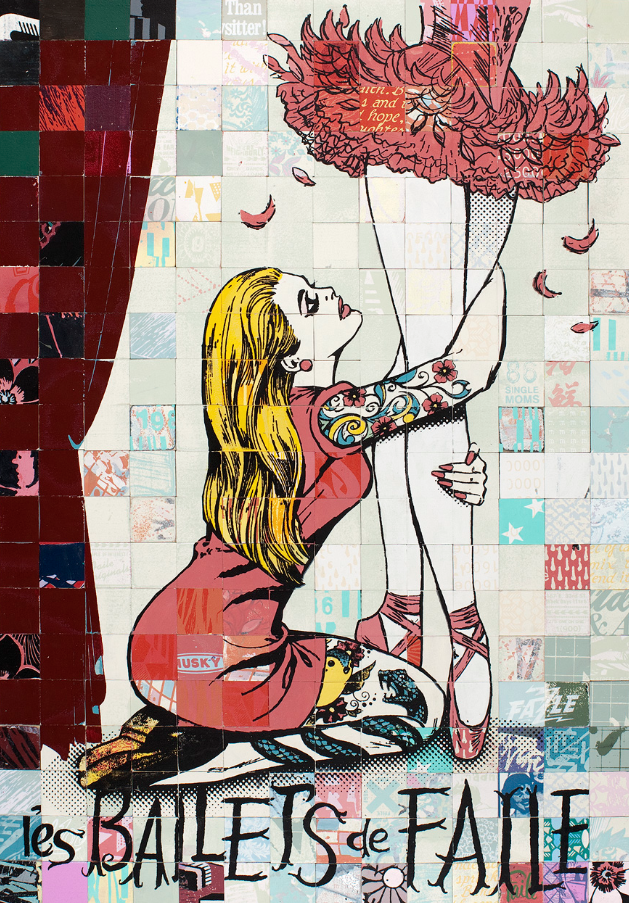 Just one result of the glorious collaboration between FAILE and NYCB
Well, it's just about time for the second annual Art Series—this time around featuring the French artist known as JR. (He keeps his identity "unknown"...how avant-garde is that?!) JR treats the world as his gallery, posting his artwork throughout the streets of different countries so that everyone—even those without the money or initiative to go to a museum—can witness art.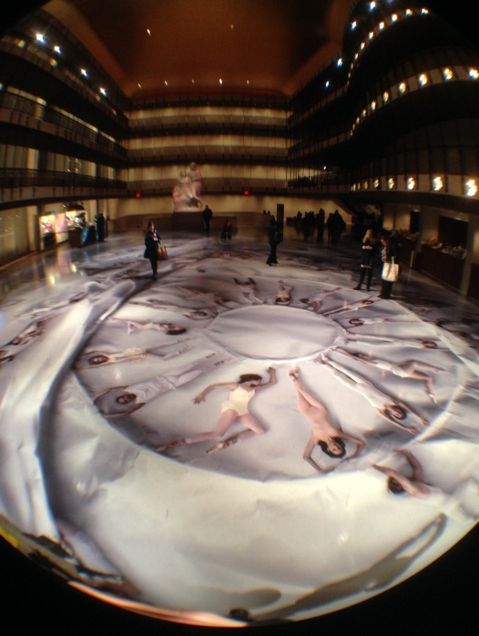 JR photographs the NYCB dancers in the shape of an eye. A little preview of the installation! (Photo by Spencer Elzay)
The installation will run in conjunction with the ballet for three performances—January 23, February 7 and February 13—at the David H. Koch Theater in Lincoln Center. All tickets are $29 (and everyone walks away with a small token of the exhibit...pretty good deal!). The gallery will also open to the public for free viewing from February 2 to February 9. Click here for more info.
In the meantime, check out this video where JR explains his experience working with NYCB: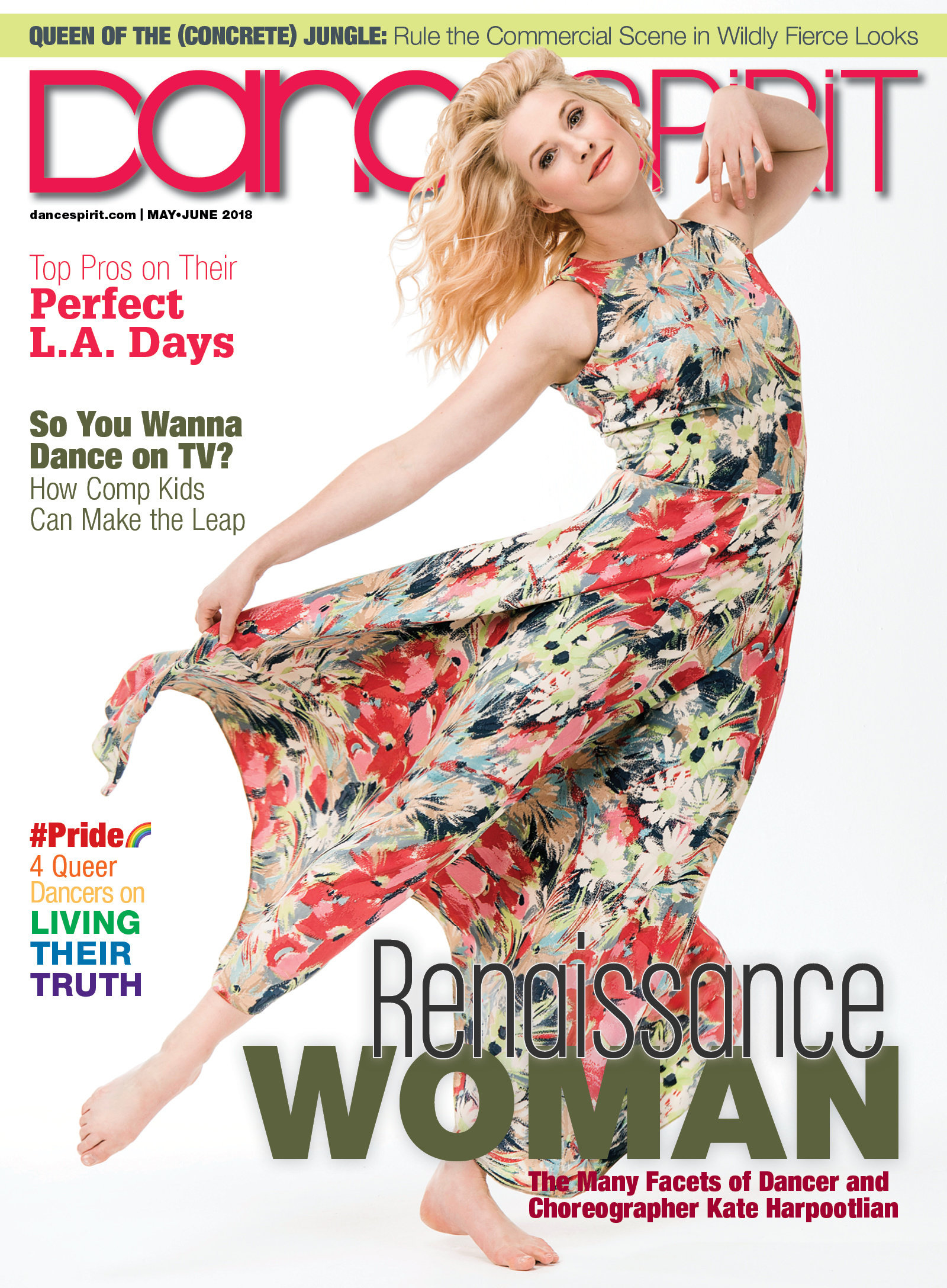 Get Dance Spirit in your inbox