Presenting awards at Showstopper Nationals in 2017 (photo by Aaron Williams, courtesy Showstopper)
Competition award ceremonies represent the culmination of months of preparation. It's no wonder dancers feel the pressure! But the truth is, most of us won't come away with the grand prize. How do you prepare yourself for the results, whatever they may be? DS spoke with teachers and comp judges on how to cope at different stages of the competition—and to use any disappointment to your advantage.
Keep reading...
Show less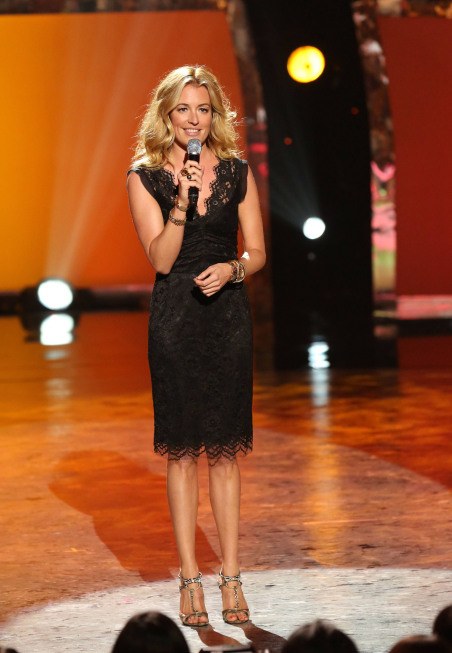 My first thought while watching last night's episode was that there are so few dancers left! How did this happen? My second thought: Cat looks smoking. The hostess with the mostest could wear a feather duster on her head and be beautiful, but her simple, lacey black number was elegant and perfect. The judges were looking dapper as well. Nigel's red jacket was, well, a bold choice, Mary looked just lovely, and Jesse Tyler Ferguson (OMG, JTF is back!) had on the best bowtie ever. In dancing news, Witney, Lindsay, Will and Cole were in the bottom four, and we said goodbye to sweet, bubbly Lindsay and goofy, super-tall Will.
Here goes the top 5 moments: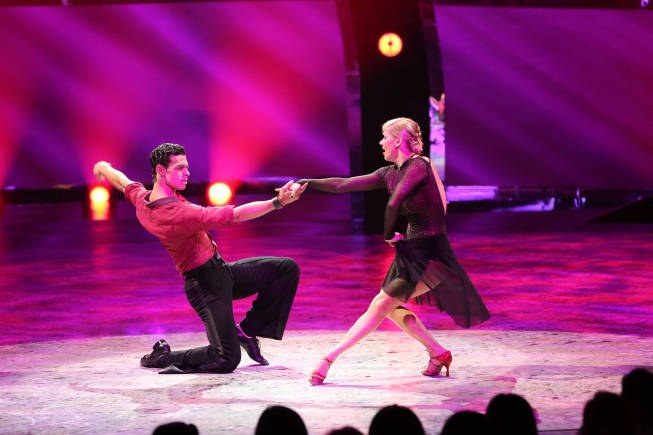 5. Chehon kind of stole the show for me this week. First of all, his baby photos were unreal. Then he did his solo that was so manly. Then he cried. And then Cat almost cried. And then his mom was there with her bright red hair. I think I'm in love. Later, he blew me away again when he danced with Anya (even with that strange elevator music playing in the background). Usually I can't take my eyes off the women in these sultry ballroom numbers, but this one was all about the man.
"I'm inviting you on my Hot Jalapeño Bus. Woo!" –JTF stealing the Hot Tamale Train's thunder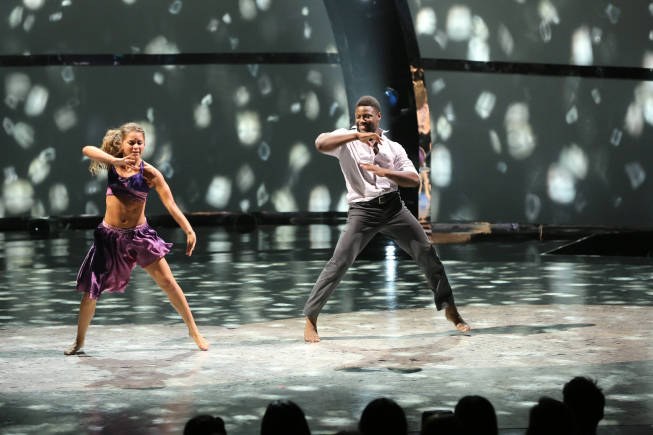 4. I knew as soon as I heard that Adé and tiny Tiffany were dancing together that this would be one of my favorites. Then Mandy Moore came on board, and I was sold. Mandy's a pro at choreographing intricate lift sequences, and this was just the pair to give her choreography that extra wow factor. Can Adé throw me around like that please?
"My rotator cuffs hurt just from watching that." —JTF on Adé's awesome muscles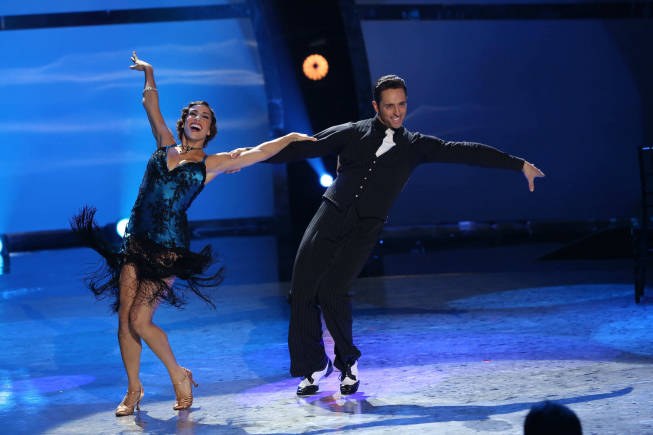 3. I don't like the quick step. There, I said it. And I know a lot of past "SYTYCD"-ers are in the same boat. This dance is way too complex to perfect with so little time! But Eliana and Ryan changed my mind. This routine by Jonathan Roberts may just be the cleanest quick step I've ever seen. She nailed that intricate footwork and kept her ballerina grace and posture with her the whole time. OK, Eliana, I see what all the fuss is about.
"I feel like I know you and I don't, and I know that's weird and creepy, and I'm not a stalker." – JTF on his connection to Eliana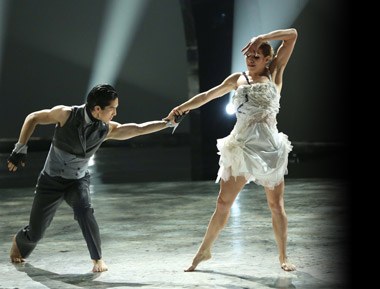 2. Sonya's choreography for Cole and Allison was a-maz-ing. I loved every second and each time they'd freeze in a new, creepy position I was blown away. This may be my favorite Sonya routine of the season (and I love me some Sonya). Yes, it showed off how stunning and amazing Allison is more than it did Cole, but that's OK, because I'm team Allison all the way. What? Allison isn't actually competing on the show? I probably shouldn't have texted Allison to 83676, then. Oops. (P.S. Have you seen this month's DS cover?)
"Sonya, you're sporting a new softer look with your side braid, but you don't fool me. You're a sick, demented woman, and I love it!" –JTF on why Sonya rocks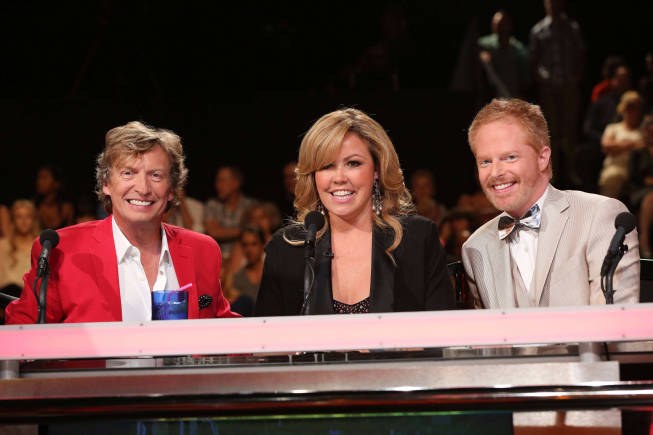 1. Jesse Tyler Ferguson! You say I've already quoted all the best JTF lines from the show? False. To close out my countdown, I give you these three reasons why JTF should be a permanent judge on the show:
"I have to get out of here. I have something. I have something to do." —JTF avoiding sending anyone home
"You're like an adorable puppy covered in puppies, wearing a hat that says, 'I'm an adorable puppy.' " –JTF on so-cute-you-could-pinch-his-cheeks Will
"Utah's empty. No one is in Utah right now. They're all here." –JTF speaking the truth
The "So You Think You Can Whaaaat??" moment of the night:
Don't worry, I won't quote JTF again. Instead, let's discuss Cole's stirrup knee socks during his solo. I spent the whole thirty seconds trying to figure out what he was wearing on his legs and forgot to watch him dance. At least he was saved, so I can remember to watch him next week.
OK, your turn! What did you think of this week's show? Do you love JTF as much as I do? Do you agree with who was sent home? Sound off in the comments.
Commercial
Sep. 24, 2011 08:28AM EST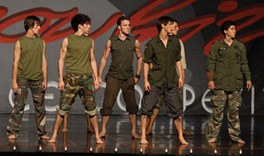 Canadian Dance Company performs a memorable routine at Showstopper's East Coast Finals. (Photo Courtesy Canadian Dance Company)
Think fouettés are the key to a judge's heart? Think again. While judges love strong technique, tricks aren't what they remember in the long run. Instead, creativity, performance quality and moving storylines reign supreme. Here, seven competition judges dish on what made some routines more memorable than others.
Robert Bianca, Showstopper
I still talk about a number performed by 10 guys from Canadian Dance Company about three years ago. The dance was to Phil Collins' "Take Me Home," and it was about men returning from war. The dancers entered the stage slowly, as if they were shell-shocked by what they'd been through, and it built from there in terms of intensity, emotion and physicality. It was a technical piece, but it never felt like they were doing tricks. We were blown away by the artistry.
Christian Vincent, L.A. DanceMagic
In 2005, I saw a number called "Tricky" in Baton Rouge. The jazz dance wasn't like the routines that typically dominate that category. The dancers wore black netted costumes with their hair slicked back. They were technically strong and as they danced you saw that they each had a mature performance quality. I have an affinity for dancers with an edge, who have the ability to go from strong movement to light movement easily—they had that. Dancers are most powerful when they have a strong focus and can connect with an audience.
Stephanie Landwehr, 
MOVE Productions
One of my favorite routines is a hip-hop number I saw last year in California. The dance was performed by five or six teenage dancers from Dancing Images in Moreno Valley, CA, and I remember it because it was more like a dance concert piece than a competition routine. The movement was clean and the dancers performed well as a group. Cleanliness is so important because it allows the judges to see the story more easily.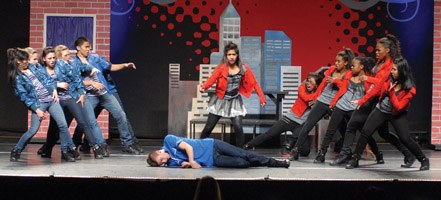 Dancers from Dancing Images in Moreno Valley, CA, perform a hip-hop number at MOVE Productions' Nationals (Photo Courtesy MOVE)
Rolann Owens, Headliners
A dancer named Nikki Mele, from Danceology in Toronto, did a dance called "I Speak Six Languages" this year and it was a true musical theater piece. She didn't do all the jumps and turns you see in so many numbers and she had a lot of personality. Musical theater dancers can't just be dancers dancing a role, they need to be actors dancing a role.
Mark Goodman, Hollywood Vibe
I remember a tap routine called "Too Darn Hot" that I saw seven or eight years ago. There were at least 40 dancers in it, and the staging was unbelievable. Best of all, every kid was committed to the style of the piece. These dancers totally captured, understood and embraced the 1940s movie style of dance. Remember, your choreographer will tell you what to dance, but the music will tell you how to dance it.
Sarah Jo Fazio, 
Dance Olympus
I loved a piece called "Mother," danced by two teenage girls. The story was about a mother and a daughter over a stretch of time. It was done so the dancer playing the daughter behaved like she was a little girl, while the other dancer acted like a mother. By the end the mother was old and dying and the daughter was taking care of the mother. There were no tricks, just movement. I was in tears by the end.
Katy Spreadbury, JUMP
One number stands out in my mind: "Hit Me With a Hot Note," choreographed by Ray Leeper. It was a great jazz dance rooted in musical theater. The dancers appeared to be having an active experience onstage instead of just doing what they'd done in rehearsal. When you're watching a performance and it feels like something is happening for the first time, it evokes a genuine emotional reaction.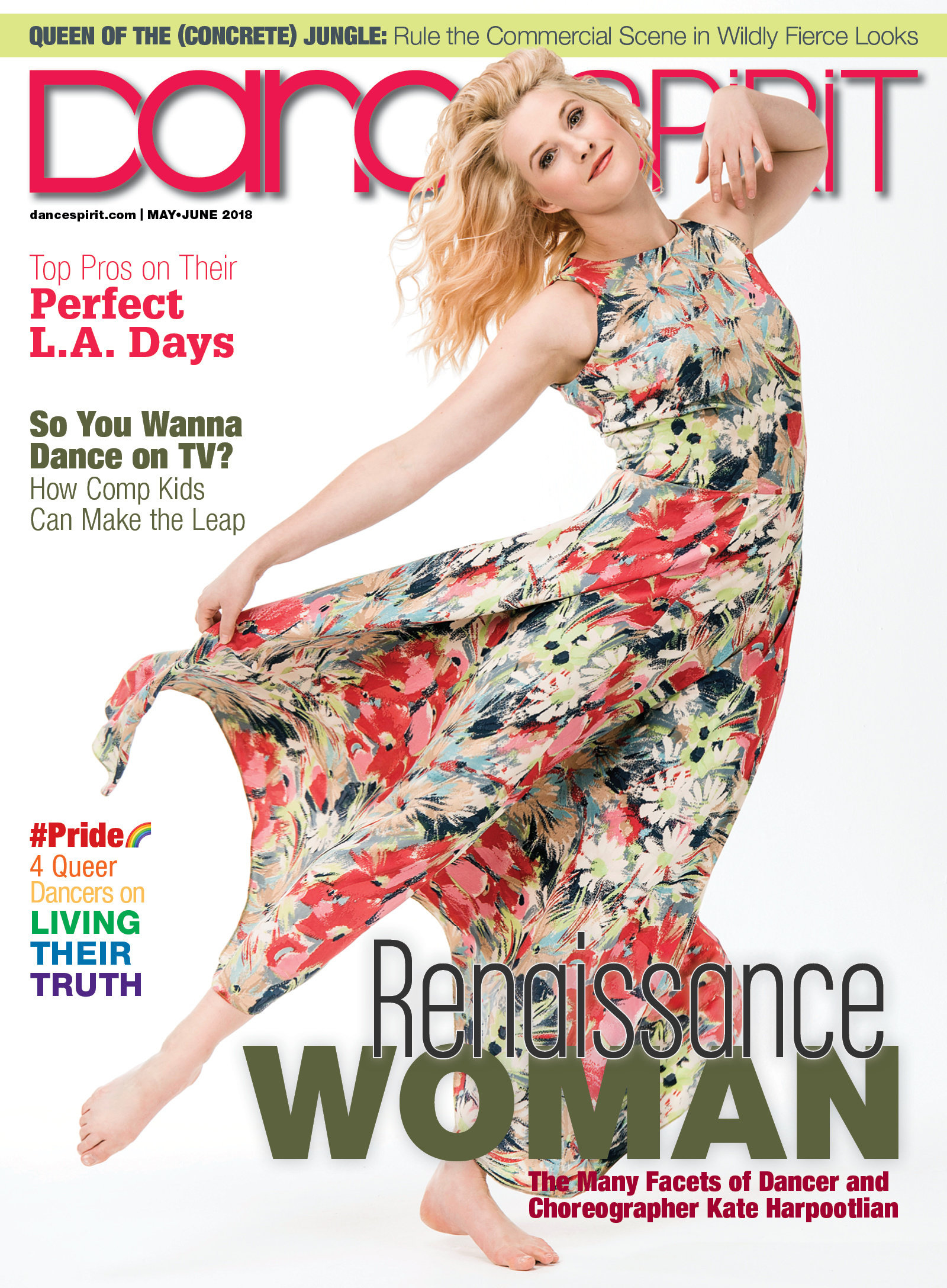 Get Dance Spirit in your inbox