Alicia Graf Mack (courtesy Webster University)
July 1 marks an exciting new era for The Juilliard School. Vail Dance Festival director and former New York City Ballet principal Damian Woetzel steps into the role of president, and the dance division will also have a new leader: Alicia Graf Mack, 39, will take over from Taryn Kaschock Russell, acting artistic director for the current school year.
As a performer, Mack was a beloved star at Dance Theatre of Harlem and Alvin Ailey American Dance Theaterand also a guest performer for Beyoncé and Alicia Keys.
But she's no stranger to higher education. Early in her career, she earned an undergraduate degree in history from Columbia University, and, later, she took a break from dancing with Ailey and pursued a master's at Washington University in St. Louis. She majored in nonprofit management, focusing on arts administration.
Since retiring from Ailey, Mack has stood at the front of the room as an educator. She's currently based in Houston, where she's wrapping up teaching commitments as an adjunct dance instructor at the University of Houston and as a visiting assistant professor of dance at Webster University in St. Louis. Dance Magazine spoke with Mack about her appointment as director of The Juilliard School's dance division.
How are you feeling right now?

I'm deeply honored, I'm incredibly excited. My head is absolutely spinning from the buzz. My family's from the East Coast, my brothers live in New York City, and my sister is also a dancer, so all of this is just so exciting for me and my family.
What was the selection process like?
It was an open, national search. I went through the application page on Juilliard's website and submitted my cover letter and resumé. Then I went through a three-month process, going through rounds of interviews, writing a vision statement, meeting students, meeting faculty. It was quite involved.
Do you know if you'll be teaching as well?
I'm not sure if I will have a regular class, but I would love to be in the studio. That is a place where I feel that I can connect the most with the student body.
What value do you see in dancers going to college?

I think, today, dancers must be equipped for an ever-changing landscape. The field is so different, even from when I was performing. Job opportunities, it seems, in large dance companies are starting to narrow, and dancers have to be equipped with versatile training and entrepreneurial skills in order to stay relevant and employable.
I want to empower young artists to step boldly into the world upon graduation knowing that they can create their own opportunities and their own realities if they are not presented immediately.
And I think that the role of higher education is different than that of a professional training program. My charge at Juilliard is not only to make sure that the dancers are physically capable, but that they are thought leaders and they are provoking thinkers and they are citizens of the world.
Artistically, what are you hoping to see in the next generation of Juilliard dancers?
I would like them to hold on to the historical perspective that the training has provided them. If dancers are trained very rigorously in the foundational techniques of classical ballet and modern dance, that gives them a very special sense of themselves and of performance techniques. Moving forward, these dancers are also poised to be leaders in a new sort of contemporary modality of movement, and I see them continuing to push the envelope of physicality and finding new ways of creating dance.
As an African-American woman, what does this position mean to you?
So much. I do realize that this is a historic appointment, and I believe that hiring a woman of color to lead the dance division into the 21st century is a signal to the world. And I believe that under the leadership of Damian Woetzel and provost Ara Guzelimian, it is clear that they are not interested in the status quo in dance or the arts. They are ready to see all of the possibilities and invite all of the different voices in the Juilliard community. And I believe that these guiding principles will permeate through the institution right down to the students.
via Tory Sport
It's currently New York Fashion Week, which means it's the perfect time to gush over the merging of fashion and dance, yet again. We know we've said it a thousand times, but there's just nothing better than big brands tapping dancers for campaigns or runway shows.
The best collab of late? That would be Tory Burch Sport's latest collection theme, centered on ballet and modeled by a group of 2018 Juilliard dancers.
Keep reading...
Show less
All of 18-year-old Kaylin Maggard's dreams—from scoring the title of National Senior Outstanding Dancer at New York City Dance Alliance Nationals to winning the 2017 Dance Spirit Cover Model Search—are coming true. And to anyone who knows the gorgeous contemporary dancer, that's no surprise.
From the moment the Dance Spirit staff met Kaylin, it was obvious her humility and talent would take her far. Not only did she go full-out during the photo shoot and class at Broadway Dance Center, but she was always cheering on, laughing with, and supporting her fellow CMS contestants Haley Hartsfield and Michelle Quiner. During the voting period, the social media world was abuzz with praise for her work ethic, positive attitude, and generosity.
Since her CMS trip to NYC, Kaylin's moved from her hometown of Columbia, MO, to the Big Apple for her freshman year at Juilliard, and is busy getting acquainted with the city. As for the future? She's taking it one opportunity at a time, but something tells us we'll be seeing this contemporary queen reach new heights every year.
Keep reading...
Show less
Fashion
Aug. 20, 2016 07:00AM EST
If you've gotten your copy of our September issue, then you've definitely seen Kenneth Edwards' beautiful photo essay following Juilliard student (and 2013 CMS finalist!) Madi Hicks for a day. Hicks is a stunning dancer and Edwards an equally stunning photographer, so we here at Dance Spirit had a really (really) hard time picking our favorite images to print in the magazine. Which is why, as a special Saturday treat, we've compiled our favorite outtakes from the shoot. Take a look and prepare to be mesmerized by Hicks' elegant presence and Edwards' on-point photographic eye.
Keep reading...
Show less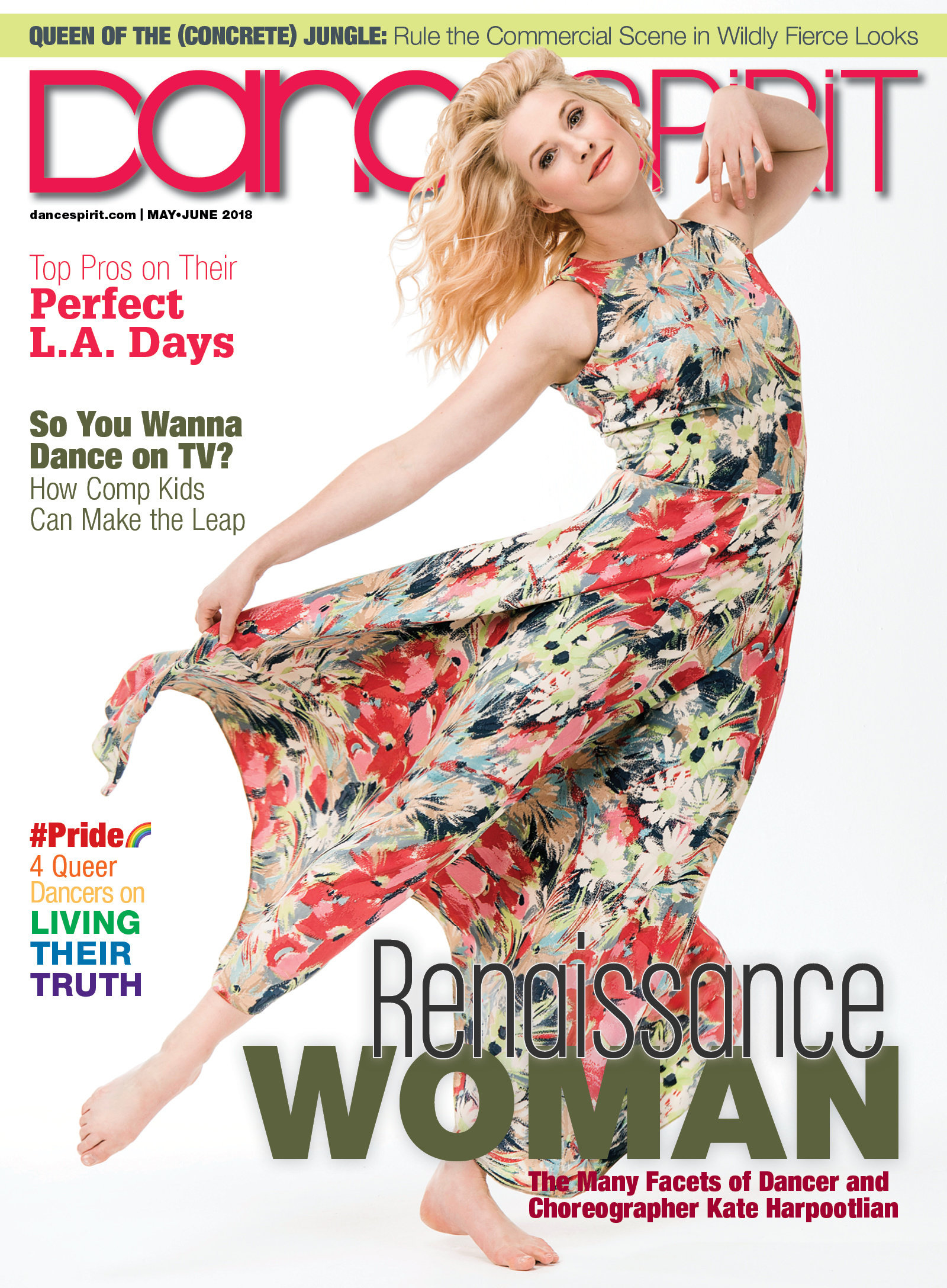 Get Dance Spirit in your inbox