Jul. 24, 2018 11:03AM EST
Including our fave guest judge from last season, Misty Copeland! (NBC)
Have you been thinking that what NBC's "World of Dance" really needs is a bit of star power? Like, J.Lo and Derek Hough and Ne-Yo and Jenna Dewan are nice and all, but the show would benefit from some true A-listers?
LOLZ, no, of course you haven't been thinking that. But because "WOD" loves us and wants us to be even happier, the show just announced the addition of no fewer than six big names to this season's already-glittery lineup of mentors and guest judges—including some major dance-world luminaries.
Dance News
Mar. 23, 2017 11:44AM EST
We all know Ellen DeGeneres is a major dance fan—she's definitely done her part to help bring dancers to national prominence by inviting them to perform on her show. I'm not arguing that an appearance by super-sibs Derek and Julianne Hough counts as dancer outreach (they certainly don't need any help with notoriety), but it's always good to see dance on "The Ellen DeGeneres Show"—no matter how low or high profile the performers are.
On Monday we told you that the Hough's MOVE Live Tour is back. Their appearance on "Ellen" was to drum up excitement for the tour—and we're definitely excited.
With their usual flair (and by flair I mean fringed crop tops and a drumline), the Hough siblings Latin-style-hip-hop-jazz-funk fusioned their way through a typically high-energy performance. Was it too much for daytime TV? Or was it just en-Hough?
Click here to watch the performance, and let us know what you think!
Mar. 23, 2017 10:12AM EST
"Dancing with the Stars" kicks off its 19th season tonight! We're about to see the likes of Betsey Johnson, Bethany Mota and Alfonso Ribeiro strut their stuff alongside some of our favorite pros, including Witney Carson, Sharna Burgess, Derek Hough and first-timer Allison Holker. Color us intrigued.
But Carrie Ann Inaba doesn't want us to overlook the judging panel (which now includes, let's not forget, the lovely Julianne Hough). In fact, Inaba recently gave us the following "proof" that the judges are every bit as talented as the competitors. And host Tom Bergeron? He seems to be as quick on his feet as he is with the witty repartee.
Happy Monday, guys:
Mar. 23, 2017 07:55AM EST
This Thanksgiving, two celebrity families served up a LOT more than turkey and mashed potatoes. Former "Dancing with the Stars" partners Derek Hough and Maria Menounos ("Extra") battled it out over Instagram in a Thanksgiving dance war. And in the spirit of the holiday, their families got involved too.
It was a bold move for the Menounos family to challenge the Houghs to a dance-off, considering they've got two not-so-secret weapons: Derek and Julianne. But they brought their A-game with some Flo Rida, T-pain and shades:
In a surprise comeback, the Houghs relied on their family charm, rather than a flashy display of their professional skills:
Who do you think won the #Thanksgivingdancewars?
Mar. 23, 2017 04:32AM EST
The year 2011 was filled with show-stopping onstage moments and exciting offstage drama. Whether you were captivated by New York City Ballet star Sara Mearns' 32 fouettés in Swan Lake or danced along in your seat as Sutton Foster led the Broadway cast of Anything Goes through a series of time steps, there's no doubt you were entertained. Here are the people who kept us on the edge of our seats in 2011.
—Alison Feller
In Ballet
Sarah Lane. Photo by Gene Schiavone.

When Natalie Portman won the Best Actress Academy Award for her role as a twisted-but-talented ballerina in Black Swan, she neglected to thank her dance double, American Ballet Theatre's Sarah Lane, in her acceptance speech. Later, Lane stood up to the movie industry by demanding credit for her work.
New York City Ballet principal Jenifer Ringer danced the Sugar Plum Fairy role in the company's Nutcracker, last year, and while most gave her a standing ovation, New York Times dance critic Alastair Macaulay remarked in his review that it looked as though she'd "eaten one sugar plum too many." Ringer quickly became a role model for women everywhere when she went on "Oprah" this February to discuss the critique and proclaim that she thinks her body is just fine. So do we, Jenifer. Rock on!
As if Alexei Ratmansky wasn't already the busiest man in ballet, he just extended his contract as American Ballet Theatre's resident choreographer through 2023.
Company tours are a lot of work. This year Ballet Nacional de Cuba embarked on its first U.S. tour in five years, hitting four cities along the way.
American Ballet Theatre principal (and star!) David Hallberg became the first American dancer to enlist permanently with Moscow's Bolshoi Ballet.
The Broadway production of Wonderland. Photo by Paul Kolnik.

Everyone wanted to go down the rabbit hole: Productions of Alice in Wonderland popped up everywhere, from ballet stages (The Royal Ballet, The National Ballet of Canada and Royal Winnipeg Ballet all showed versions) to Broadway (Wonderland was short-lived, but the choreography by Marguerite Derricks was quirky and fun).
On Broadway
Apparently Harry Potter can sing and dance—or at least his real-life alter-ego can. Daniel Radcliffe drew massive crowds and rave reviews when he starred in How to Succeed in Business Without Really Trying. No magic wand needed.
The Book of Mormon. Photo by Joan Marcus.

The Book of Mormon was easily the most controversial debut on Broadway this year. The show, penned by "South Park" creators Trey Parker and Matt Stone with Avenue Q co-writer Robert Lopez and choreographed by Casey Nicholaw, may have offended some audiences, but it impressed the Tony Award voters and took home nine honors, including Best Musical.
On the Comp Scene
Joe Lanteri, executive director of New York City Dance Alliance, changed 44 young dancers' lives this summer when he presented $2.8 million in college scholarships. Go get those diplomas!
Selecting the DS Cover Model Search finalists is never easy, but this year there were three dancers who stood out: Kaitlynn Edgar, Maddie Swenson and Zoey Anderson. All three hail from the competition circuit, and all three were wildly impressive.
On TV
Melanie Moore won the title of America's Favorite Dancer on "So You Think You Can Dance" Season 8 and landed on the cover of DS!
When Beyoncé revealed her baby bump at the MTV Video Music Awards, she proved she runs the world—and so do her choreographers, Frank Gatson, Sheryl Murakami and Jeffrey Page. The trio won the VMA for Best Choreography for Beyoncé's "Run the World" video.
When Laurieann Gibson wasn't throwing together award-winning choreography for Lady Gaga, she was starring on her own TV shows on E! and BET. We're not necessarily on board with her screaming fits and harsh treatment of her dancers, but we do respect her moves.
Amanda and D'Angelo on "Live to Dance." Photo by Monty Brinton.

Paula Abdul's "Live to Dance" wasn't a hit, but it introduced us to D'Angelo Castro and Amanda Carbajales, who became the show's champions. These tiny dancers won us over with their personalities and technique.
Lil' Buck may have been the coolest guy to get us talking this year. He starred in Janelle Monae's "Tightrope" video and helped make jookin' mainstream. His "Swan" performance alongside Yo Yo Ma? Breathtaking.
On the Big Screen
Natalie Portman accepts her Oscar for Best Actress. Photo by A.M.P.A.S.

She may not have done all the dancing as Nina, but Natalie Portman's Black Swan performance was definitely Oscar-worthy. Plus, she met Benjamin Millepied, her boyfriend-turned-fiancé and father to her child, Aleph, on set.
While no one can truly replace Kevin Bacon, Kenny Wormald proved that he's a stud with smooth moves in this year's remake of Footloose. Plus, his onscreen chemistry with costar Julianne Hough made us want to drag our own boyfriends to dance class.
In First Position, audiences get a glimpse at the behind-the-scenes action at the Youth America Grand Prix finals in NYC. The documentary and its stars—Michaela DePrince, Joan Sebastian Zamora, Miko and Jules Fogarty, Aran Bell and Rebecca Houseknecht—received rave reviews at the Toronto International Film Festival.
In Modern Dance
Bill T. Jones + Dance Theater Workshop = New York Live Arts. We love a good collaboration.
When Judith Jamison retired as artistic director of Alvin Ailey American Dance Theater, Robert Battle was handed the reins to the prestigious modern company. We can't wait to see what he does with the group in 2012.
May. 06, 2016 11:02AM EST
The dance community is a powerful force—and it's pretty awesome to see that force harnessed to support important causes, like the battle against cancer. Nonprofit organization Dancers Against Cancer (not to be confused with the equally wonderful Dance Against Cancer team) just released a compelling PSA featuring some of the world's most famous dancers, aiming to raise awareness about the cause in the lead-up to the charity's Industry Dance Awards this summer.
Featuring Derek and Julianne Hough, Paula Abdul, Chita Rivera and Vanessa Hudgens, as well as young dancers Ruby Kaufman, Chloe Frank and Ahna Rasmussen, the video includes a series of powerful mantras: "Cancer will not overcome us." "Our dance community is making a difference." "Together, we will fight this disease." "Pain is real, but so is hope." (Hudgens' participation is especially moving—she lost her father to cancer earlier this year.)
Derek Hough for Dancers Against Cancer (screenshot via people.com)
So far, Dancers Against Cancer has raised $500,000 to help dancers, dance teachers and dance families affected by the disease. Get inspired by the video below, and then learn more about how you can support the organization.
Feb. 01, 2016 04:14PM EST
So, unless you've been living under a rock, you know a huge musical moment happened last night: "Grease: Live" premiered on FOX. And everybody LOVED IT.
Why wouldn't they? The production featured tons of our favorite dancers—not just superstar Julianne Hough, but also Karen Chuang, Haylee Roderick, Courtney Galiano, Adé Chiké Torbert and Jeremy Hudson (to name just a few). It was especially great to see the final result after chatting with Zach Woodlee, who choreographed the show's high-octane routines, about the entire process. The dancing was spectacular and the energy infectious. Seriously—we all hand-jived our way into the DS office this morning!
If you missed the premiere, don't panic—we've rounded up some of the best moments below:
Feb. 01, 2016 10:24AM EST
Photo by Michael Becker/FOX
If you were obsessed with "Peter Pan Live!" and "The Sound of Music Live!," you're undoubtedly living for "Grease: Live." The new production of the musical Grease, which aired this month on Fox, has a stellar cast (see below)—and is jam-packed with energetic dance routines choreographed by Zach Woodlee. Dance Spirit caught up with Woodlee to talk about the premiere.
Mar. 02, 2015 11:26AM EST
You know, it's funny: Just the other day, I was thinking, "Hmm, I haven't heard anything about Derek and Julianne Hough recently. They've really been flying under the radar, those underachievers. What are they doing with themselves?"
Oh nope sorry scratch that—they are LITERALLY EVERYWHERE AT ALL TIMES and possibly the busiest dancers in showbiz.
Luckily for us, their schedule is about to get even crazier. Because in addition to performing with the Rockettes and competing  on "Dancing with the Stars" (Derek) and getting Grease-y and judging on "DWTS" (Julianne), the Houghs are bringing back their popular brother-and-sister show, MOVE Live on Tour.
How cute are these two? (photo via MOVE Live on Tour)
That's right: Last year's MOVE tour was so successful that we're getting round two, ladies and gents! Creative directors Tabitha and Napoleon D'umo will return to craft all-new choreography (YAY), and this year's production will also tour to more and larger venues, including Radio City Music Hall in NYC. Just like last year, there'll be plenty of singing and cute sketches in addition to allllll kinds of dancing. (Visit moveliveontour.com for ticket info and the complete list of tour stops.)
Derek and Julianne announced the tour today on "Good Morning America." Naturally, "GMA" being "GMA," they also played a game that involved Derek showing off his running man skills. So, yeah: You should probably watch this.
Dec. 01, 2014 12:35PM EST
Last year, we saw the first ever Instagram #Thanksgivingdancewars, courtesy of former "Dancing with the Stars" partners Maria Menounos and Derek Hough. The two families (and the Ballas fam) battled it out, 'gramming their goofiest kitchen dance moves while prepping for Thanksgiving dinner.
We're happy to report that the #Thanksgivingdancewars broke out again this year—and while lots of celebs got in on the fun (including Kate Hudson), it really came down to a battle of duck vs. turkey.
#TeamTurkeyMan, aka The Houghs, stepped things up this year with fancy partnering and, of course, Turkey Man.
But #TeamDuck—aka Mark Ballas, Sadie Robertson and fam—gave #TeamTurkeyMan a run for their money with clean formations, unison choreo and a certain (bearded) secret weapon.
Who do you think won this year? Check out Mark Ballas and Derek and Julianne Hough's Instagrams for even more #Thanksgivingdancewars videos—and let us know in the comments!
P.S. Two makes tradition, so we're expecting this to be an annual thing from now on. Just sayin'.
Get Dance Spirit in your inbox
Apr. 11, 2014 07:00AM EST
Confession: Much to my sweet, sweet grandmother's dismay, I am not a diehard "Dancing with the Stars" fan. I absolutely adore the pros on the show—they're so super talented and it's amazing that every week they not only choreograph and perform their routines, but they're also each responsible for teaching their non-dancer partner how to dance. And it's all being filmed or taped live for the world to see. No pressure, right?
But overall, the show doesn't keep me glued to my TV screen the way "So You Think You Can Dance" does (and, um, the way "Parks & Recreation" does...or "Parenthood," "Chopped" or "Cutthroat Kitchen").
The one reason I will always tune in to "DWTS," though, is to catch the weekly Macy's Stars of Dance performances. I love that the show uses its massive exposure to teach its viewers—and the world!—more about all forms of dance.
This year, megastar and multiple-time mirrorball trophy winner Derek Hough is overseeing the Macy's Stars of Dance performances, which is really cool because I looooove him (he's going on tour with sister Julianne—make sure you get your tickets because shows are already selling out!). In this week's installment, Derek choreographed a piece starring DS favorite (and former cover girl) Kathryn McCormick, alongside "DWTS" pros Henry, Sasha, Artem and Jonathan.
It's crazy hot (just like Derek...awww yeah)—watch it now!
Next time, Shirtless Derek: We want in.
Dance News
Mar. 21, 2014 11:56AM EST
Here at DS, we're all about sibling success: the DelGrosso sisters, the Fairchilds, Les Twins, the Cirios...the list goes on.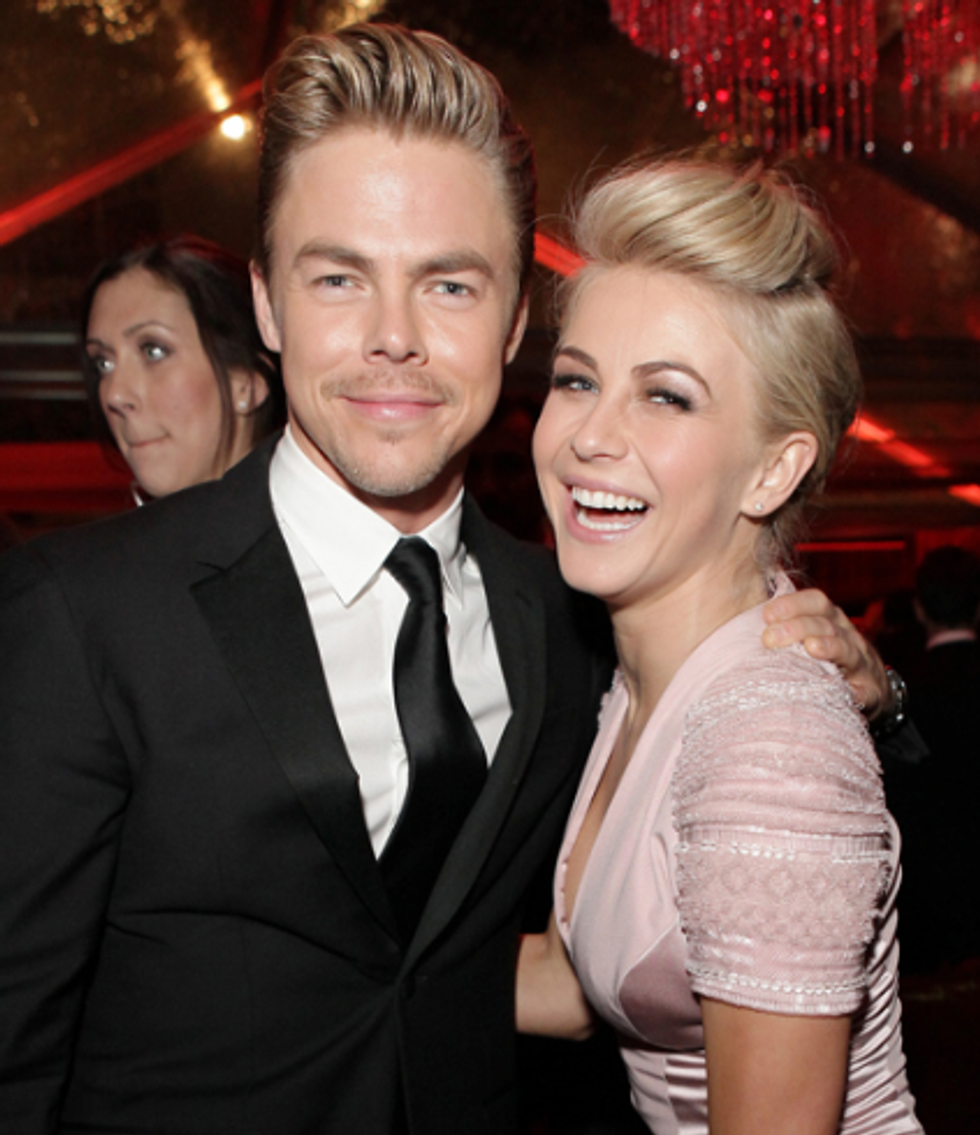 (Photo by Mike Windle/Getty Images)
But today, we want to talk about the über talented, extraordinarily well-rounded Hough siblings.
Together, Derek and Julianne have seven mirror ball trophies, an Emmy and featured roles in the movies Footloose, Rock of Ages, and the upcoming Make Your Move. Plus, there's the Olympic choreography...and we won't even get into all the titles they won before "Dancing with the Stars."
Long story short: These two are impressive human beings.
On Tuesday, they announced that they will tour North America this summer with their new show, Move Live on Tour. It features all dance genres, from ballroom and salsa to tap and hip hop, and will include a mixture of solos, duets and group routines. Julianne will also show off her voice with some country singing, because...why not?
M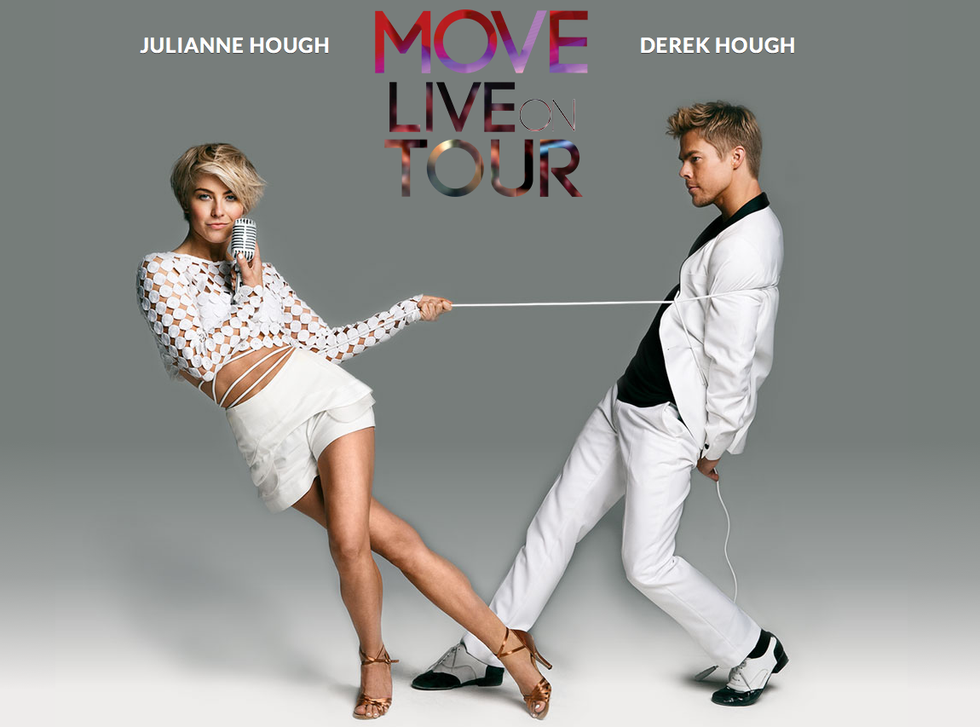 s. Hough shared her excitement with Twitter followers on Tuesday, saying, "SO happy to finally announce @MoveLiveOnTour. I can't wait to spend the summer with my incredible brother :) #MOVE."
Tickets went on sale today, so grab 'em now before they sell out! The tour kicks off in Valley Center, Kansas, on Wednesday, May 28, and runs until Saturday, July 26. Click here for the full schedule and to purchase your tickets.
And in the meantime, check out Julianne and Derek on yesterday's "Ellen," where they gave a preview performance and spoke about the tour:
Dance News
Mar. 07, 2013 10:44AM EST
We're all about dance prodigies this week. On Tuesday, it was a 6-year-old breakdancing champ. Today? Pre-adolescent ballroom masters.
Meet Anika Baker, 10, and Carter Williams, 11, two very talented youngsters who have been chosen to represent the United States in the junior division of the elite Blackpool ballroom competition, held annually in Blackpool, England. (You know—the competition Derek and Julianne Hough are making a TV show about.)
Not only are Carter and Anika the cutest, they also have serious moves (that hip action!) and serious style (those anklet socks!). What the dynamic duo doesn't have is the funds to make it to Blackpool for the competition. If you're a ballroom fan who'd like to donate to their cause, you can do so through their Facebook page.
Good luck, Anika and Carter!
Feb. 27, 2013 10:42AM EST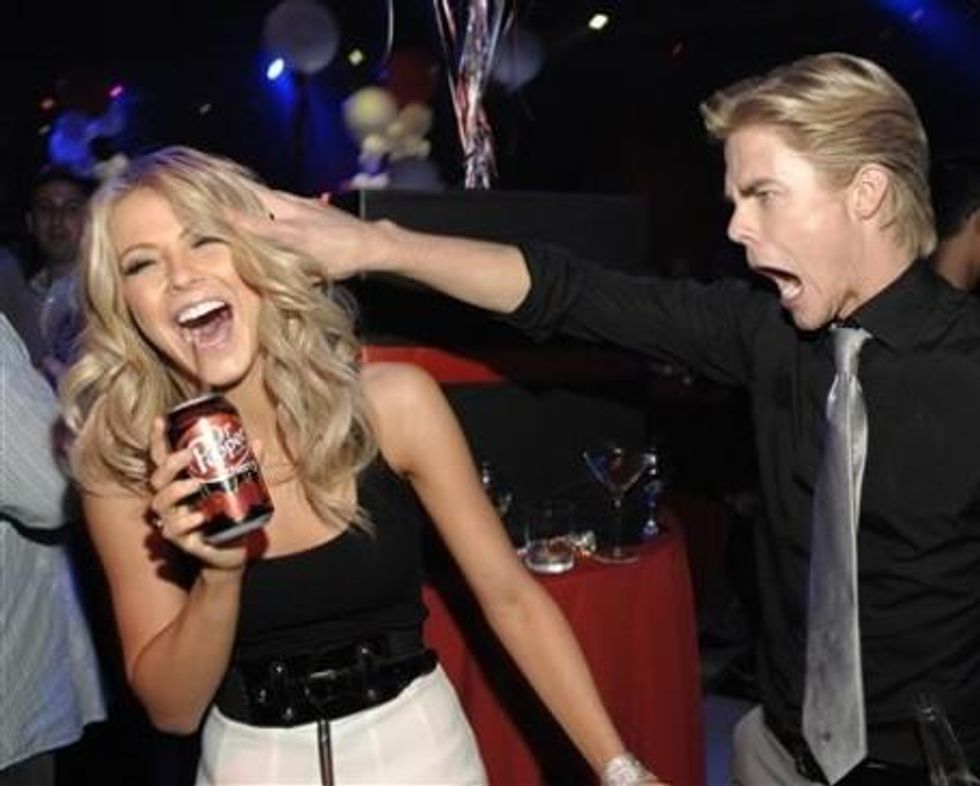 Drama queens? Nah. (photo AP/Dan Steinberg)
Remember a few weeks ago, when we told you about Starz's new ballet drama, which is going to "explore the dark underbelly of the ballet world"? Well, the network is apparently putting all its eggs in one dance-y basket, because yesterday they announced a second new show—which will portray "the darker side of ballroom dancing."
Dark sides/underbellies! And here we thought dance was, you know, a happy thing.
But there's good news. The ballroom series, titled "Blackpool," will be executive produced—and, even better, choreographed—by "Dancing with the Stars" vets and all-around superstars Derek and Julianne Hough. The idea of the show is to depict the intense backstage drama at the elite Blackpool Dance Festival ballroom competition held annually in Blackpool, England. Given that both Derek and Julianne are former Blackpool champions, it should look and feel pretty authentic. So that's cool!
May. 29, 2012 03:47PM EST
Only 17 days, 8 hours and 13 minutes until Rock of Ages hits theaters! Can you tell I'm excited? But when director Adam Shankman, Julianne Hough, a very muscle-y Tom Cruise, awesome dancing and rockin' 80s hair collide, only good things can happen. Dance Spirit got a hold of some newly released photos from the film (including some behind-the-scenes action.) Check them out below. And for more reasons that Rock of Ages totally rocks, read DS's May/June issue.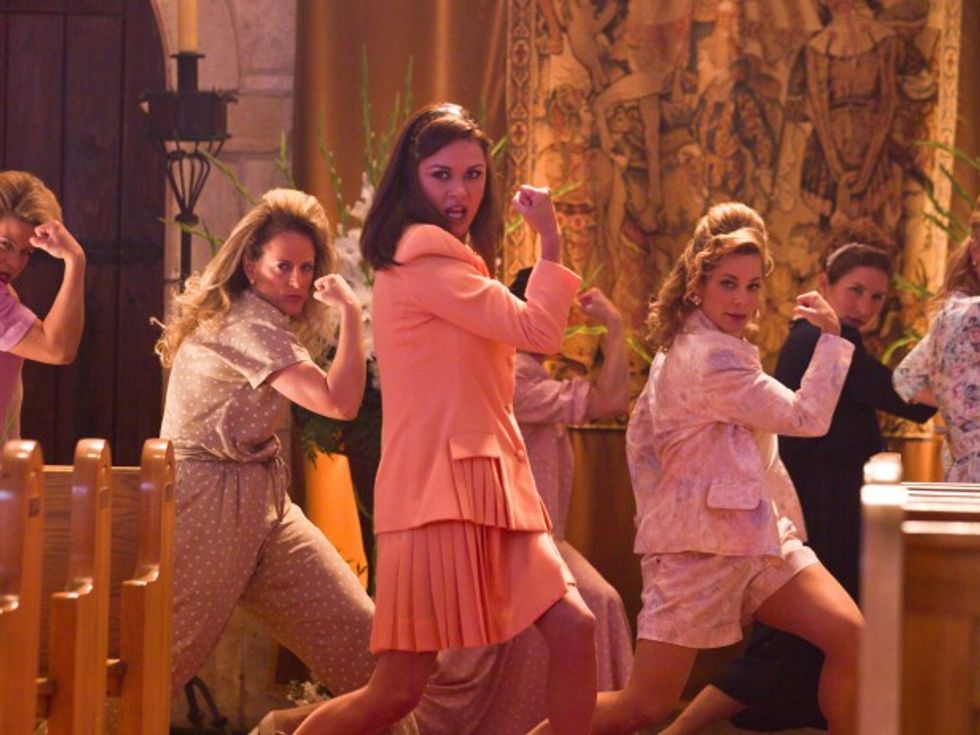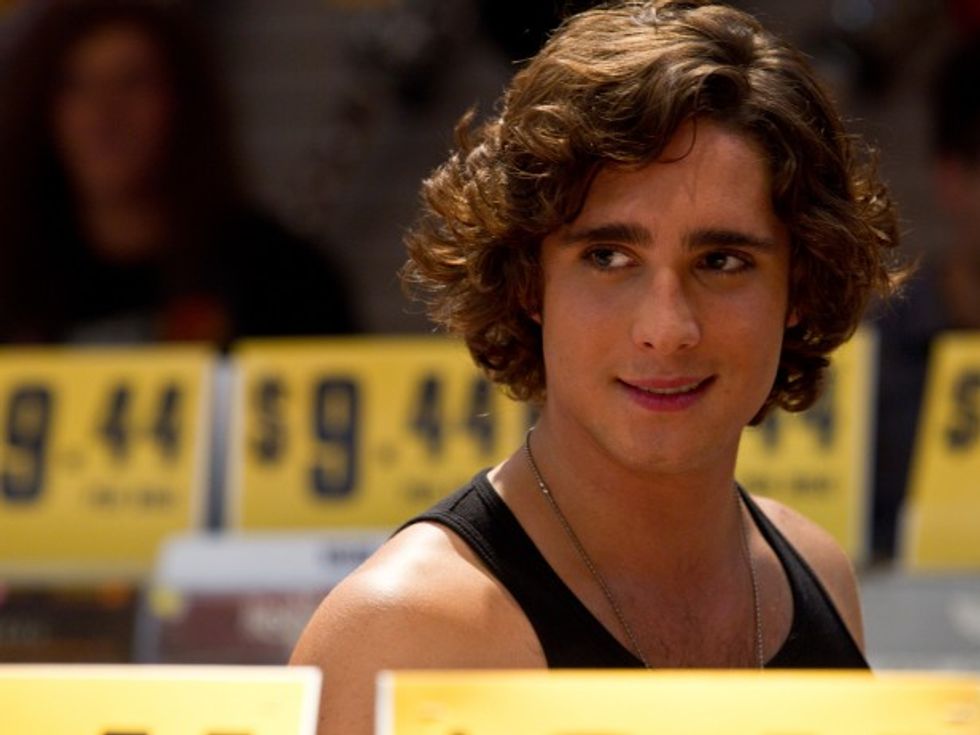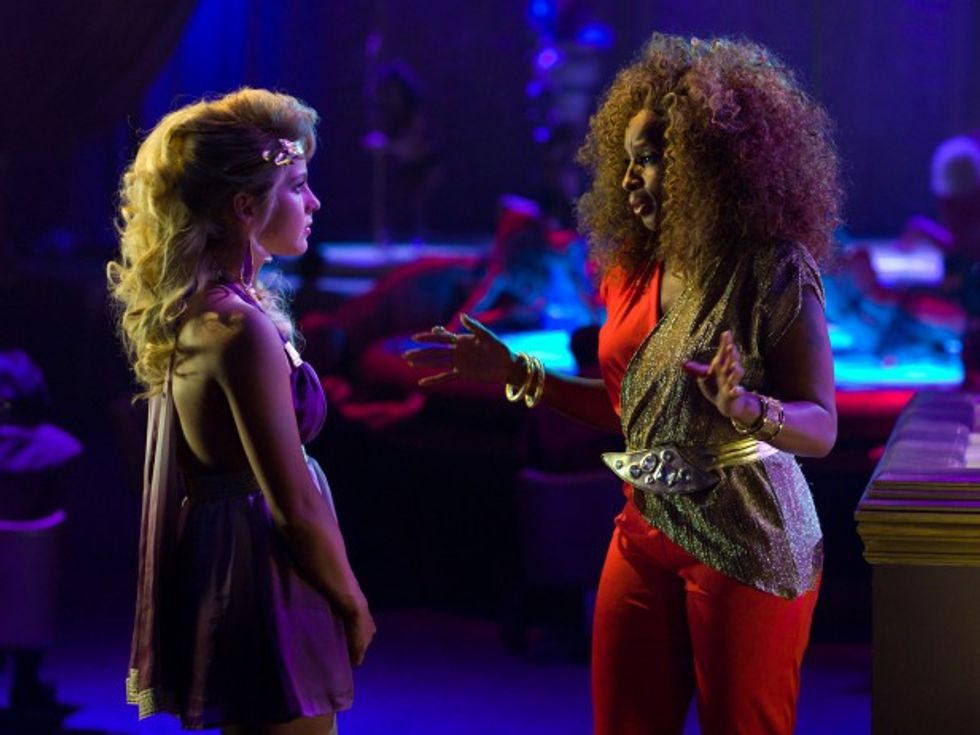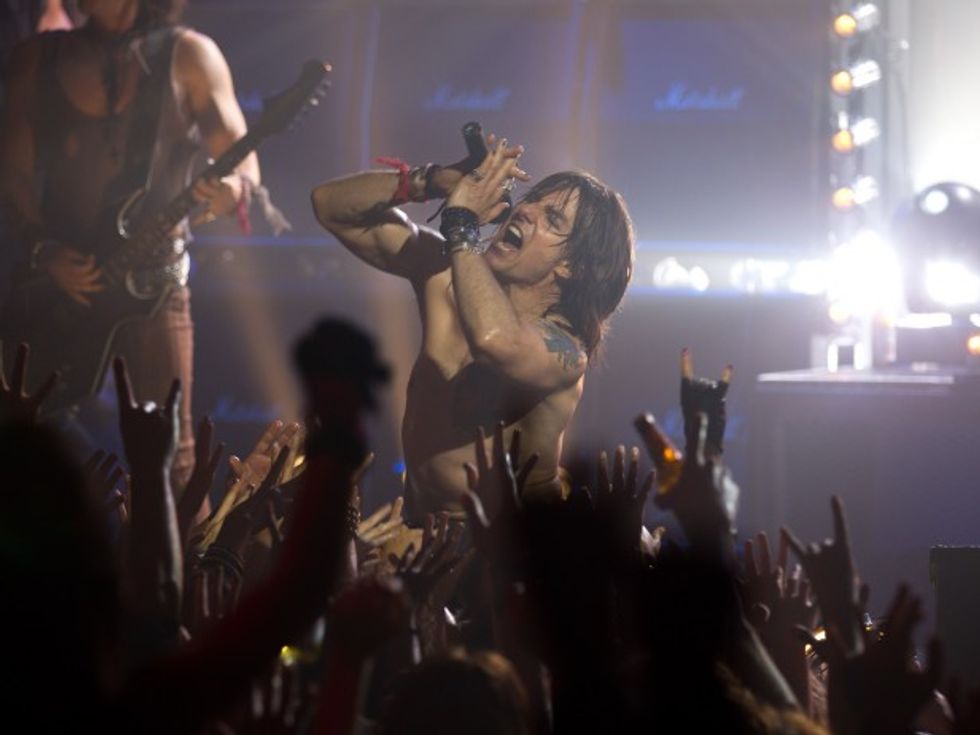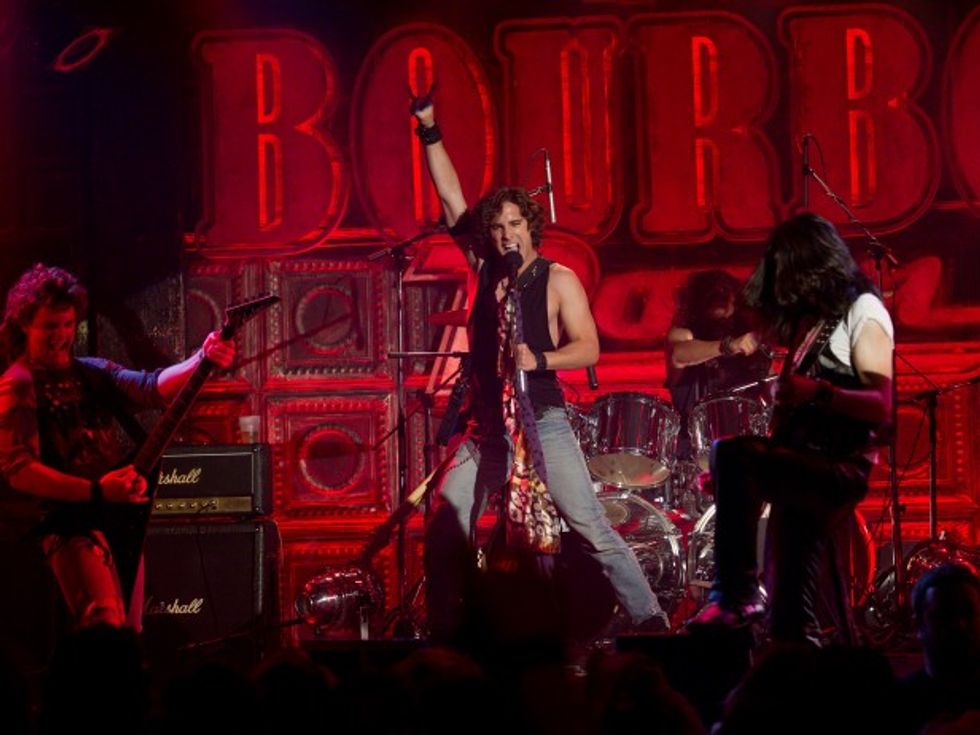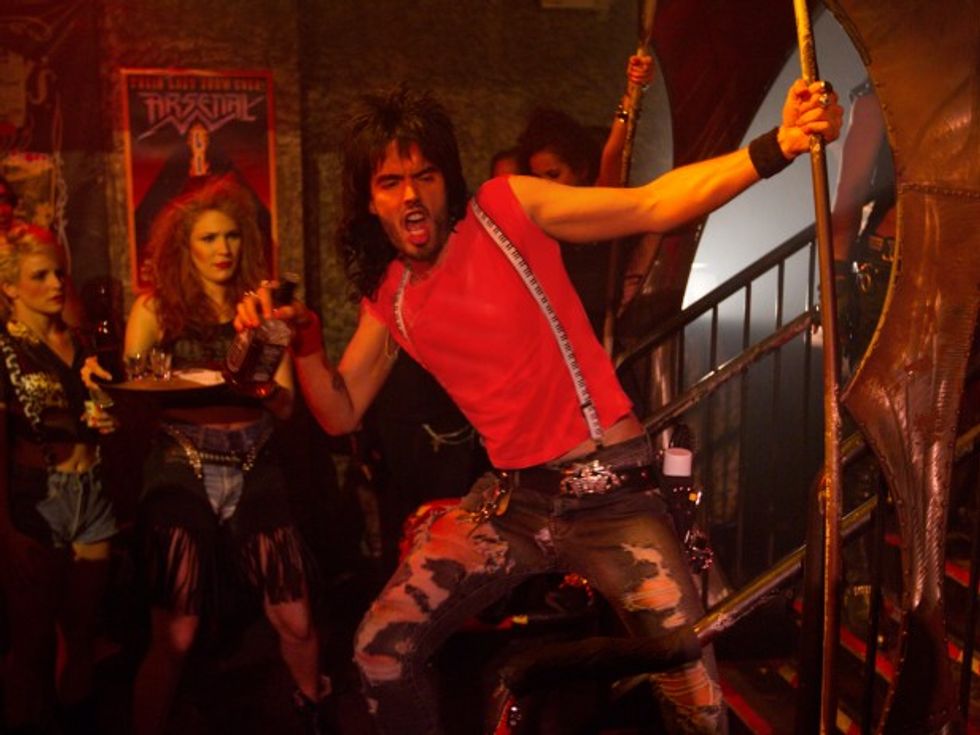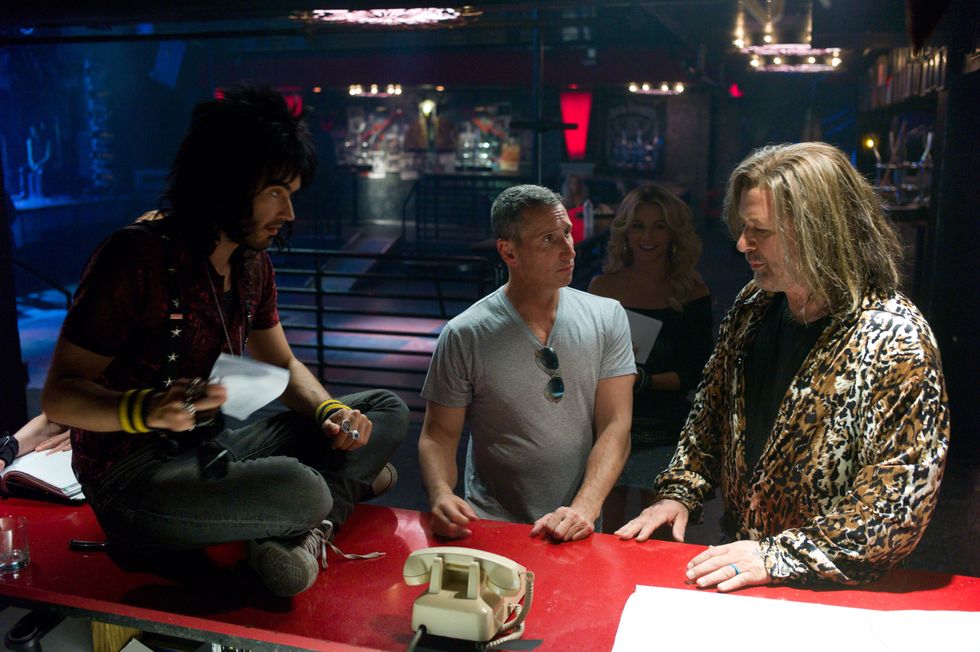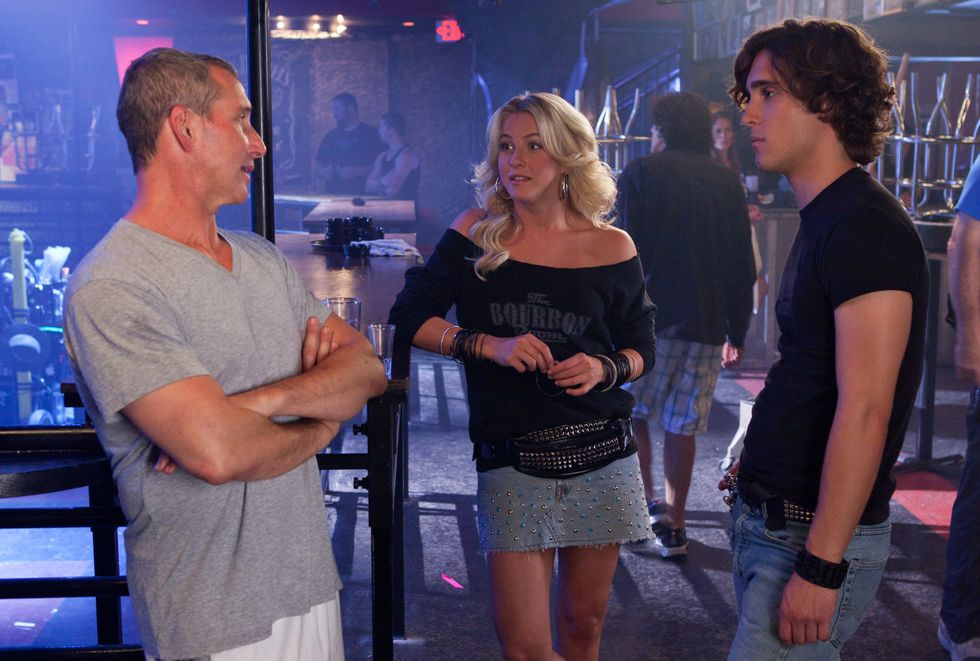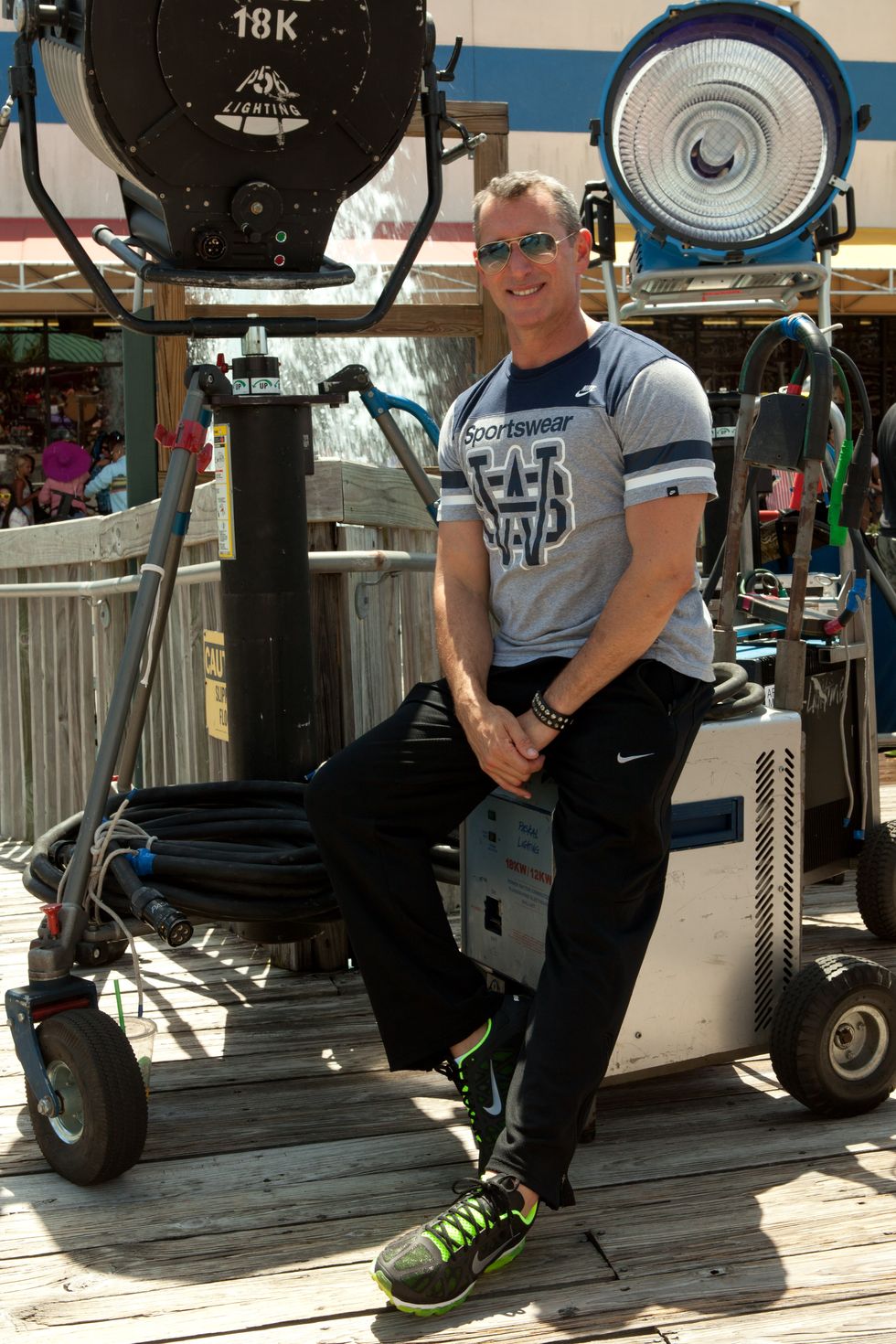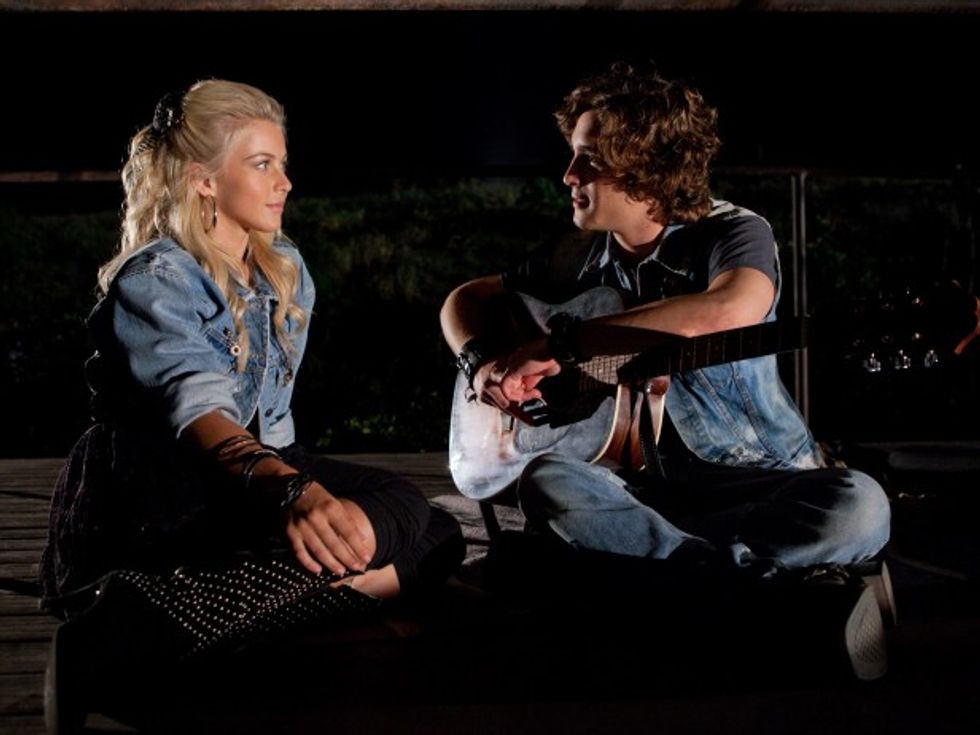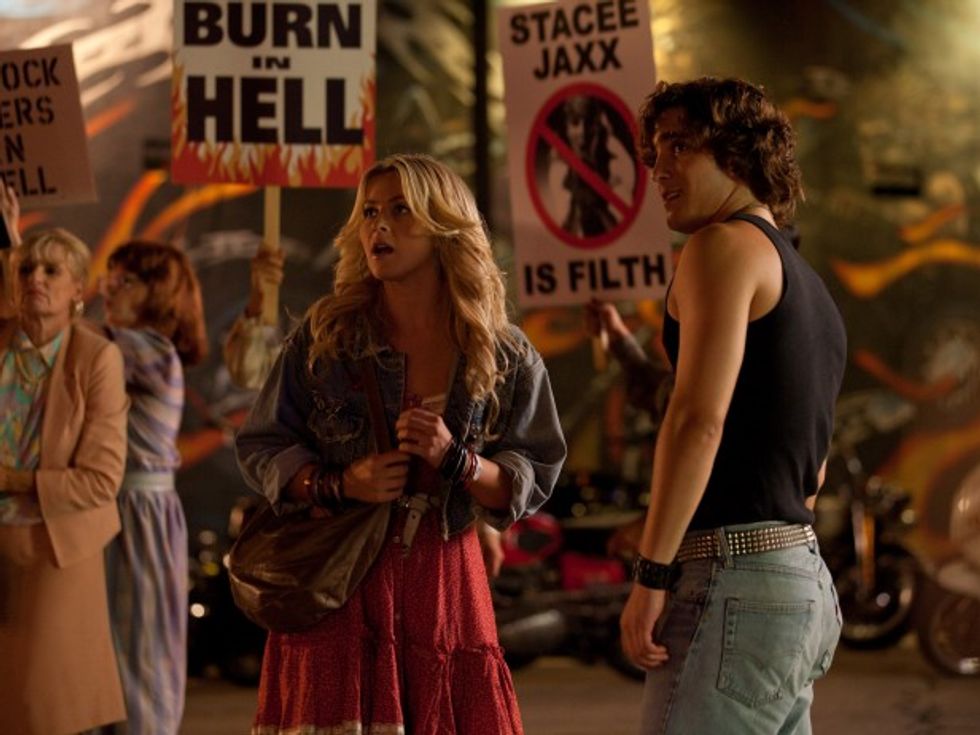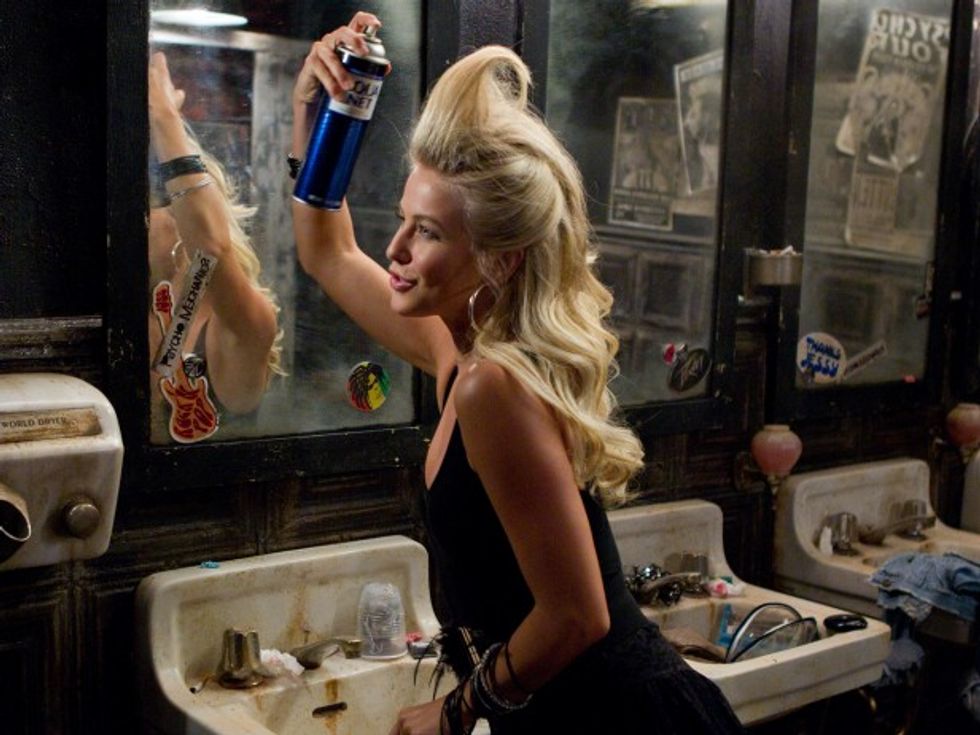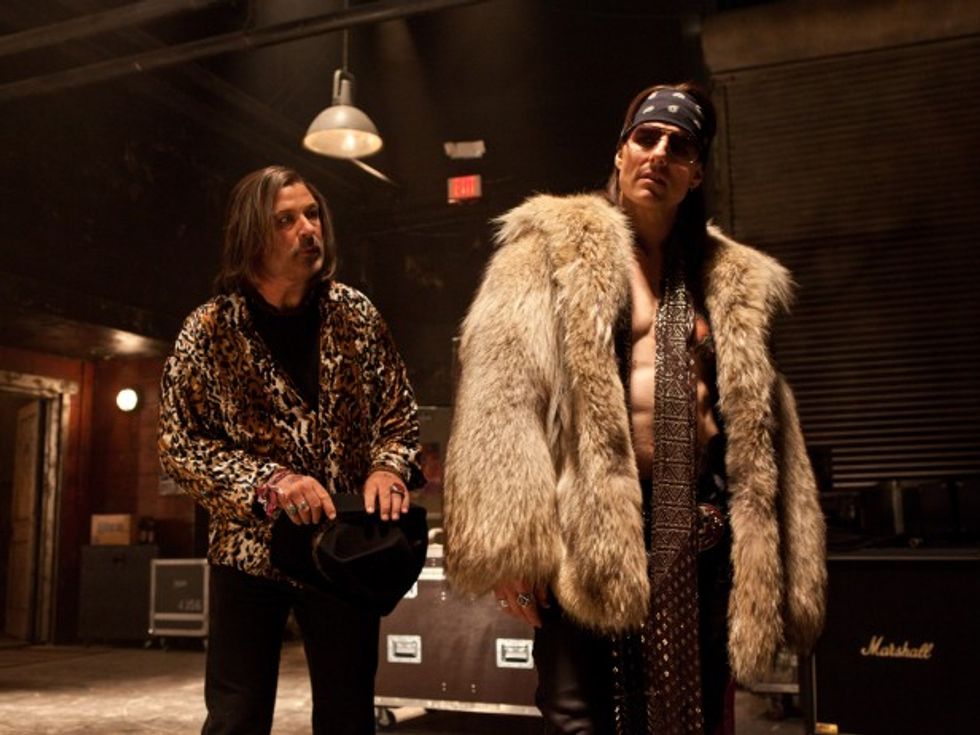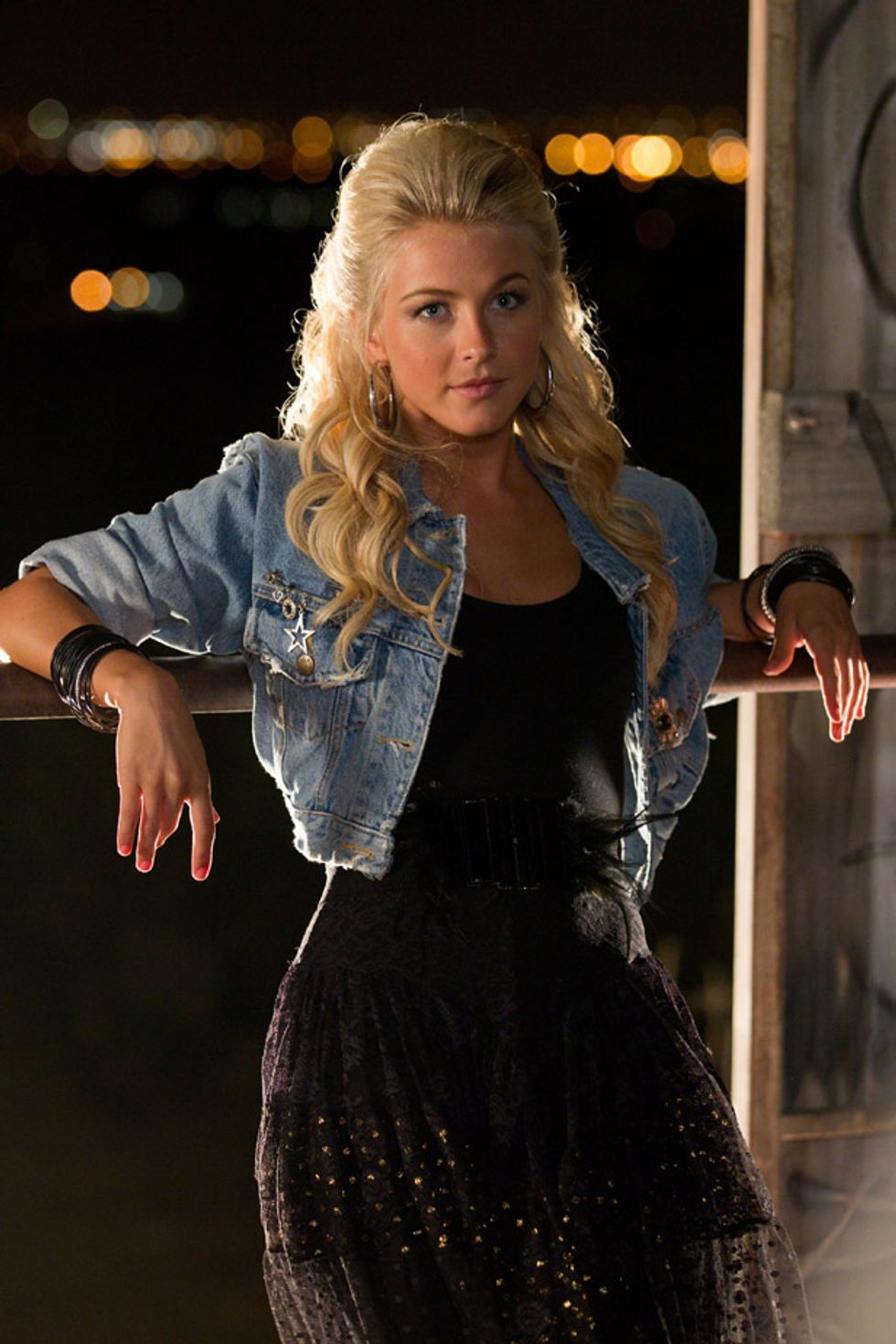 Dance News