Commercial dance kween, Charlize Glass (photo by Joe Toreno)
One of the best (and most challenging) things about dance is that no matter how good you are, there will always be something more you can do to improve. Dance Spirit talked to some of the biggest dance stars to find out what their hoping to work on during this next year. Between dance resolutions and "real life" resolutions these dance phenoms have their eyes on the prize and are ready to make 2019 their best year yet.
Keep reading...
Show less
Photo by Lucas Chilczuk
Click here to get the inside scoop on the film High Strung: Free Dance!
Juliet Doherty has been at home in the studio and the spotlight since before she could walk. The 21-year-old comes from a long line of dancers: She practically grew up at the school her grandmother owned, Fishback Studio of the Dance in Albuquerque, NM, and her mom was her longtime teacher. As a young student, Doherty competed at the world's toughest ballet competitions and performed as Clara in the Radio City Christmas SpectacularRadio City Christmas Spectacular. Eventually, she left Albuquerque to train at the San Francisco Ballet School for three years, and then she danced with Phoenix Ballet for two years.
Along the way, Doherty discovered another great love: acting. In 2014, she was part of the cast of the Susan Stroman–directed musical Little Dancer (alongside Tiler Peck). And in 2017, she appeared in her first film, On Pointe—playing, naturally, an ambitious young dancer.
Now, Doherty's on the big screen again, starring as Barlow in High Strung: Free Dance. Plus, she has a new city to call home: NYC. Doherty sat down with us to talk about the film, her transition into acting, and what's next.
Keep reading...
Show less
Juliet Doherty and Thomas Doherty in High Strung: Free Dance (photo by Jo Bee, courtesy Michael Damian)
Click here to get the inside scoop on High Strung: Free Dance's leading lady, Juliet Doherty!
High Strung: Free Dance, the sequel to 2016's epic High Strung, is about to hit theaters. We've got all the details on the super-dancy film.
Keep reading...
Show less
Uggghhh, SO PRETTY. (The Press House)
What does brilliant ballerina Juliet Doherty do when she's not starring in musicals or feature films? She acts as a muse for soulful singer/songwriters, of course.
Standout folk-pop musician Clarence Bucaro just released his new album, Passionate Kind, and hand-picked Doherty to star in the video for its title track—which we're premiering exclusively. The song is "about passionate women," Bucaro says: "I watch a lot of opera and read a lot of classic literature and am always taken with the powerful women in them." After seeing Doherty's work, he was mesmerized by her "grace and vitality." Obviously, he has excellent taste. And we can't think of anyone better than Juliet, with her utter devotion to her art, to represent the impassioned woman of the lyrics.
The elegant black-and-white vid, directed by Shalin Sharman, features Doherty working on her craft in an empty studio. It's raw and simple and perfect. And hey, Juliet fans: You won't want to miss our July/August issue!
Keep reading...
Show less
"High Strung: Free Dance" stars Juliet Doherty and Thomas Doherty shooting the movie poster (via Instagram)
Keep reading...
Show less
Juliet Doherty (photo by Joe Toreno)
Keep reading...
Show less
Via @julietdoherty on Instagram
We've been endlessly curious about budding ballerina Juliet Doherty's movie project, On Pointe, since we first got wind of it back in March. At that point, the film's producers were hoping to raise the funds they needed to complete the project via Kickstarter.
Well, they ended up not just meeting but exceeding their fundraising goal (bravo, ballet/Juliet fans!). And now On Pointe has released an official trailer.
Keep reading...
Show less
Joe Toreno
If you follow ballet darling Juliet Doherty on Instagram—which you probably do—you already know that the two-time Youth America Grand Prix gold medalist is a self-proclaimed "plant-powered ballerina." Doherty has followed a vegan diet for four years now, and though she never forces her lifestyle on her followers or IRL friends, she does love sharing her daily eats and the plant-based meals and snacks that help her perform at her best. Curious as to what that entails? Here's a day in the life of Juliet's meat-and-dairy-free diet.
Keep reading...
Show less
We've loved Juliet Doherty from the moment we saw her as Clara in the Radio City Christmas Spectacular—a pint-sized prima-to-be who lit up the whole stage with her sunny charisma (and impressed all the bunheads in the audience with her top-notch technique). Since then, Juliet has done so much: given a thoughtful TEDx Talk about "being great," earned accolades at multiple ballet competitions, graced the cover of our March 2014 issue, performed in a Susan Stroman musical, studied at San Francisco Ballet School and Master Ballet Academy. And now, as she revealed yesterday, she's set to add "movie star" to her very impressive resume.
The film is called On Pointe, and the premise sounds promising: A teenage ballet student (Juliet) has to sell the idea of dancing professionally to her mom, and to herself. A note on the project's Kickstarter page says that it will be a "positive, empowering and accurate look at the world of dance," counteracting the awful way ballet is often presented in popular culture. "Unlike others of its kind, this film won't be an angsty teen romance or a melodrama about a psychopath," it continues. To which we say: AMEN.
The film won Best Feature Screenplay at the Chandler International Film Festival in September. But its director/writer and producer need financial support to take it from script to screen. Friends, let's get on this! Visit On Pointe's Kickstarter page to make a donation—and watch the promo video, which features lots of beautiful footage of Juliet in action, below.
Get Dance Spirit in your inbox
Need some #MondayMotivation? Let Juliet Doherty's latest video help you with that.
As we've noted before, there's a can't-miss formula for an addictively good ballet video: black-and-white cinematography + moody music + light-filled space + beautiful dancers = INFINITE REWATCHES. And the latest entry in that classic genre is even more irresistible, because it stars our friend Juliet and her equally talented partner, Slawek Wozniak.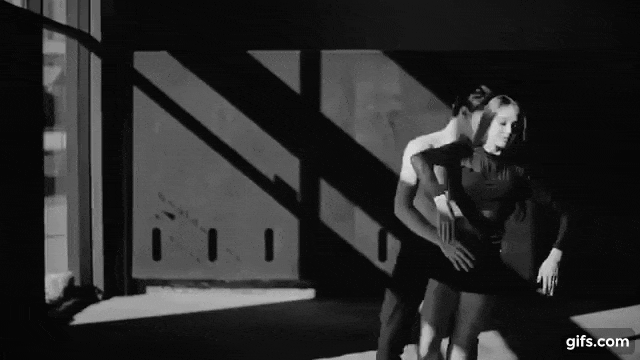 SO MUCH PRETTY
Directed by Caleb Alvarado, the new short film is simple, streamlined and totally compelling; it's just two dancers doing what they do exceptionally well. And boy, does the camera ever love it some Juliet. (Which, by the way, reminds us how excited we are that her upcoming feature-length film, On Pointe, more than reached its Kickstarter goal.)
Take a look, get inspired, repeat:
Our friend (and ballerina obsession) Juliet Doherty is the star of a new dance film short with cinematography by Will Fryar. The goal of the film, called Opið, is to "merge the worlds of dance and film to elevate both art forms." With Juliet involved, how could it do anything but? And the film itself is as gorgeous as she is. It features stunning lighting and colors, and desert scenery to complement her perfect lines.
When Juliet's character, a girl who is struggling to "overcome the emotional walls she has built and find true freedom," finally dances out into the world, you'll hardly be able to suppress a spontaneous "YAS JULIET!" I couldn't. Enjoy!
When I was maybe 10, a museum near my hometown exhibited a bronze cast of Edgar Degas' Little Dancer Aged Fourteen sculpture. I went to visit her, and quickly discovered that my first impulse—to imitate her iconic fourth-position pose—was shared by dozens of other baby ballerinas. There was a whole crowd of us gathered around the statue, hanging out in fourth, snapping photos. It was almost instinctual.
Susan Stroman's brand-new musical, Little Dancer, which tells the story of the girl who inspired the statue, opens on Saturday at the Kennedy Center. In tribute, the original Little Dancer sculpture is currently on exhibit at D.C.'s National Gallery of Art. And last week, the cast of the musical—which includes New York City Ballet star Tiler Peck and our friends Juliet Doherty and Sophia Anne Caruso—went to pay their respects to Degas' masterpiece.
Naturally, they all immediately assumed fourth position. Looks like that instinct never dies.
(All photos by Margot Schulman)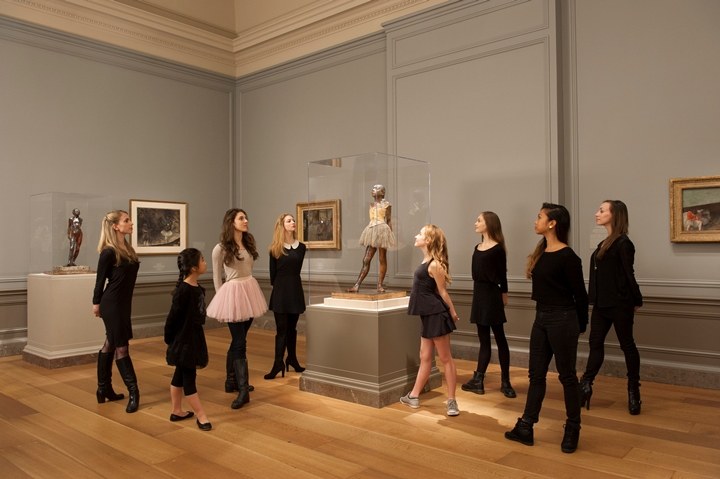 The musical's cast. Peck is adorable in her pink tutu—but did your eye go right to Juliet (third from right) and her gorgeous turnout, like mine did?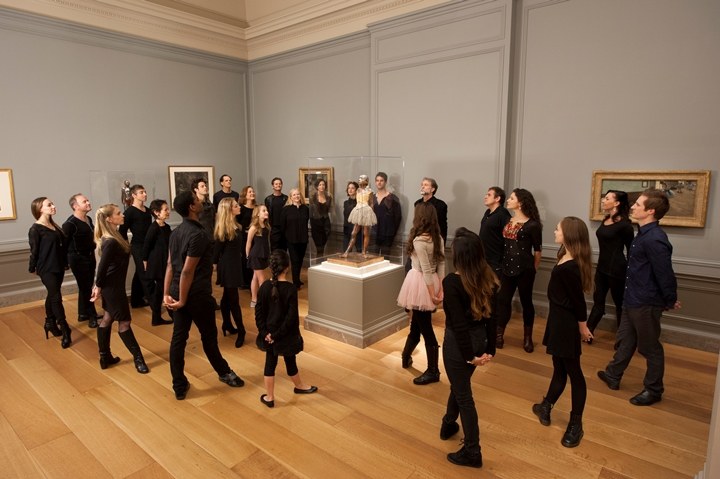 The whole company. So many Little Dancer doppelgängers!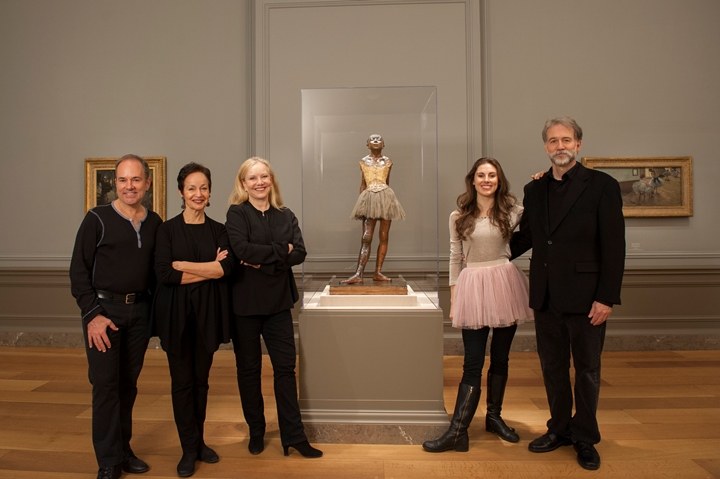 The musical's stars and creative team (from left): Stephen Flaherty, Lynn Ahrens, Susan Stroman, Tiler Peck and Boyd Gaines. Even non-dancers end up hitting some version of fourth position!
Merde (or in musical theater terms, break a leg) to the Little Dancer cast! For tickets and more info about the show, click here. Can't make it to D.C.? You can still get an insider's look at the show, via our interview with Peck about what happens when statues come to life.
Happy March!
Here at DS HQ, we're more than ready to be kicking off a new month (please please please tell us that March is going to finally bring us some warmer temperatures and pretty flowers...please?) and, fittingly, a brand-new issue!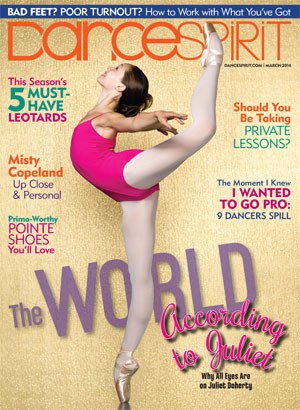 Introducing...Juliet Doherty!
The March issue of Dance Spirit is our annual Ballet Issue, and how lovely is this prima-in-the-making on the cover?
A little backstory...
I have been obsessed with Juliet Doherty for years. I saw her perform the role of Clara in the Radio City Christmas Spectacular and I fell hard for her gorgeous facility, sweet smile and perky onstage personality. At the time, Juliet was a competition dancer training at Fishback Studio of the Dance—her great-grandmother's studio—in her hometown of Albuquerque, NM. Now, at 16, Juliet's making big moves toward a serious ballet career: She's currently a level-seven student at the San Francisco Ballet School and she's performed as Clara in San Francisco Ballet's Nutcracker. Earlier this year she competed at the Prix de Lausanne in Switzerland. And let's not forget—she's a ballerina named Juliet. It's perfect.
We are so excited to feature Juliet on the cover of this issue. Not only is she a stunning dancer (as you can see from the cover—can this girl take a beautiful picture or what?), she's also super-smart (she was asked to give an inspirational TEDx Talk in 2012!), ultra-sweet and insanely humble.
Click here to read Juliet's cover story. And, as always, we've got plenty of extras for your viewing enjoyment: click here to check out a ton of outtakes from Juliet's cover shoot in L.A. with photographer Joe Toreno, and then watch a behind-the-scenes video from the shoot.
We love you, Juliet, and we can't wait to see what you do next!
Mar. 01, 2014 11:42PM EST
Joe Toreno
In the summer of 2012, Juliet Doherty gave a talk at a TEDx conference in her hometown of Albuquerque, NM. She was the only teenager to speak that day—and, in a ballet costume and pointe shoes, the only person not wearing a suit. After her speech, during which she encouraged listeners to "be great," Juliet performed a solo. That was the day she got her first standing ovation. "The amazing thing," she says, "is that it wasn't just about my dancing. It was about the message I was trying to put out there."
It's safe to say that won't be Juliet's only standing ovation during her ballet career. Now 16, Juliet is a student in the San Francisco Ballet School's pre-professional training program, and she's already collected a handful of professional performing credits (as Clara in the Radio City Christmas Spectacular and in San Francisco Ballet's Nutcracker) and competition wins (she won gold at the Youth America Grand Prix finals when she was 14). Earlier this year, Juliet competed at Prix de Lausanne in Switzerland. She talked to Dance Spirit about ballet competitions, Broadway and "being great."
By the time this issue comes out, you will have competed at Prix de Lausanne, which was a longtime goal of yours.
Juliet Doherty: This will be my first overseas competition. When I came to San Francisco Ballet two years ago, I talked to Patrick [Armand, the associate director of the SFB School] about it. He said I could compete right away, but I chose to train for a year with the school first so I could get the full experience without the added stress of competition. After a year of training, I filmed my competition application video. In November, I found out I had been selected to compete. Since then it's been a lot of rehearsing, working on my variation, learning my contemporary solo and adding my own artistry to the pieces.
Which pieces did you prepare?
JD: My age division had 10 variations and four contemporary selections to choose from. I chose the Swanilda Scene 1 Act 1 variation from Coppélia, and for my contemporary I picked "Saraband," from Vasos Comunicantes. Most of the contemporary options were a minute long, but this one is almost three minutes. I wanted to be challenged.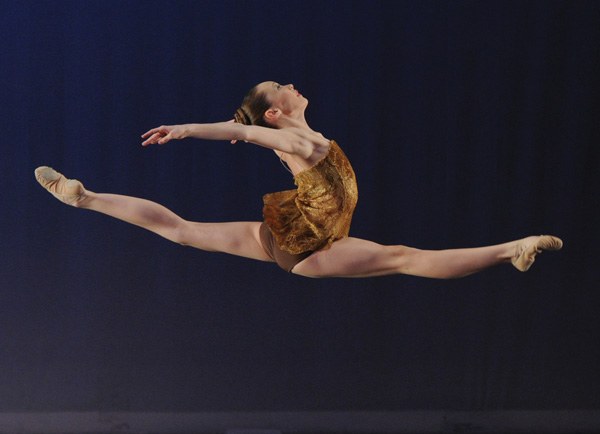 Performing at the Youth America Grand Prix finals in 2012 (courtesy Juliet Doherty)
Not everyone in the ballet world is on board with competitions. What's your take?
JD: When you're dancing in a company, you're constantly under the pressure of performing and being looked at. I think the best way to get a taste of that at a young age is through competitions. Then, down the road, you can think, "OK, this has happened before. I know how to handle it."
I try to bring everything I've learned at competitions into my performances. I have a solid technical base; my competition experiences won't hinder that.
The SFB School is a big supporter of ballet competitions. Did that factor into your decision to attend?
JD: Yes. I was competing at the YAGP finals in NYC in 2012 and took the scholarship class on the last day of the competition. That's when Patrick offered me a summer scholarship. I was 14 and starting to consider moving away from home to a pre-professional school. I got a few different offers that day, but I had a good feeling after talking to Patrick.
I spent the summer at SFB and I loved it, so I stayed for the entire year. Now I'm back for my second year. I've also been lucky enough to perform with the company for two years as Clara in Nutcracker.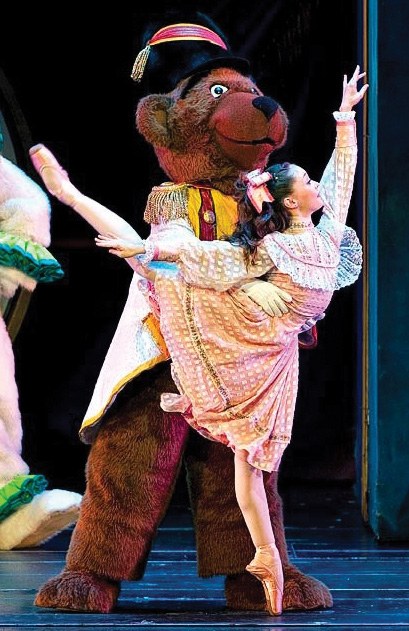 As Clara in the Radio City Christmas Spectacular in NYC (photo by Gene Schiavone)
How'd you get that role?
JD: People just came into class for five minutes with a clipboard and watched us during barre combinations. Then four of us got calls later saying we'd been cast.
It's neat because I got to work one-on-one with Helgi Tomasson [SFB's artistic director]. As a student, we're always looking at Helgi wondering, "Who is this mysterious guy?" The first time we ever danced in front of him, he said, "Are you nervous?" We were hesitant to say yes, so we just nodded, and he said, "OK, you should be."
But dancing Clara with SFB wasn't your first time being Clara.
JD: I was Clara in the Radio City Christmas Spectacular for three years—two years on tour, and one year in NYC. Dancing at Radio City Music Hall, on that huge stage, was incredible. During our first dress rehearsal, we were doing our center bows, and I had to run off after my bow. I didn't realize how far I actually had to run to get into the wings! I could hear the director, Linda Haberman, yelling at me, "Keep running, keep running!" It took me so long to get offstage.
Have you always known you wanted to be a ballerina?
JD: No! I've danced my entire life—I grew up dancing at my great-grandmother's studio, Fishback Studio of the Dance—but even when I was doing Radio City, I wasn't set on ballet. I thought I might want to sing and act more. It was my mom's idea to take me to YAGP—she was my main teacher and coach until I was 14—so I went for the first time when I was 9.
I was a brat then. I never wanted to practice my variation. But that summer, something clicked. I realized I had to change my attitude or no one would work with me. From then on, I decided I would pursue ballet, and I've become a totally different person.
"I look back at when I was 6 years old and I had no idea how to do a jazz square. I was just onstage having fun. That's what audiences enjoy. They don't come to see a perfect performance—they come to be moved and to feel something."
—Juliet Doherty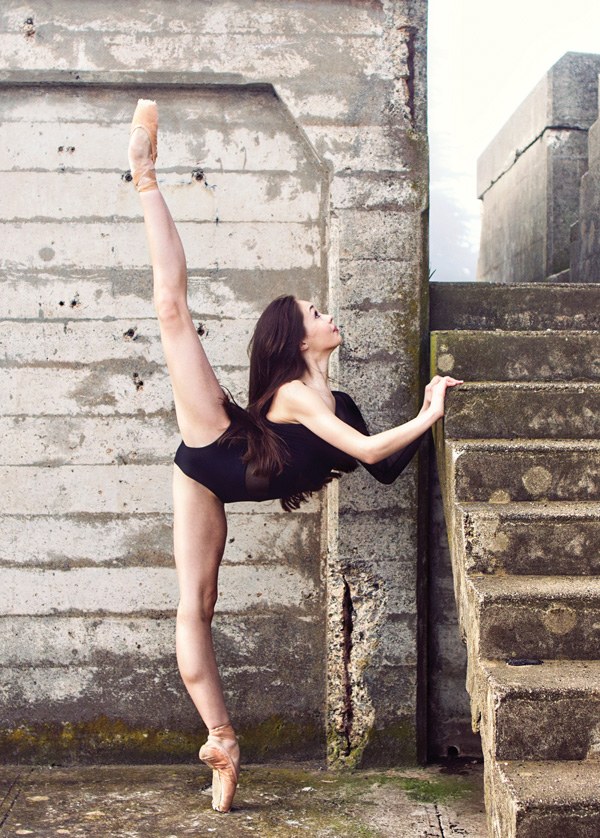 (Photo by Oliver Endahl/Ballet Zaida)
Walk us through a day in your life.
JD: I wake up around 7:30 am. I live in the student residences at the SFB School. The first thing I do in the morning is make my breakfast, which is usually a green drink.
I take the public bus to get to SFB. I usually start with technique class or floor barre, then pointe or pas de deux, or special extra rehearsals. Each class is 90 minutes to an hour and 45 minutes.
After my last class, I go about my day. I shop for groceries, do laundry or clean my room. Then I'll cook my dinner and squeeze in some schoolwork. I go to sleep between 10:30 and 11 pm. Any later than that and I can't function the next day. I have one class on Saturdays at 9:30 am, but I have the rest of the weekend free.
How do academics factor in?
JD: I'm doing an independent study online. I read a lot, and my work doesn't have due dates. I want school to be a part of my life, but it's not my main focus right now.
What's your dream role?
JD: Juliet in Romeo and Juliet!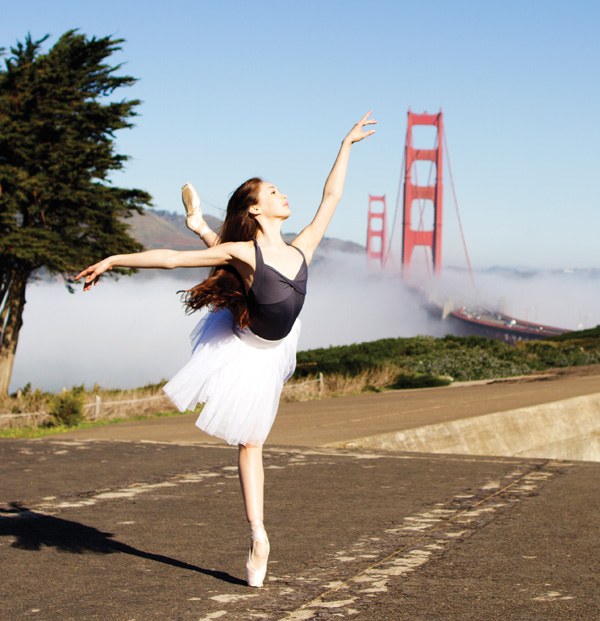 (Photo by Oliver Endahl/Ballet Zaida)
Any idea which company you'll be doing that with?
JD: I'd love to go to Europe—not necessarily with one company, but to dance on multiple stages, working with as many choreographers as possible.
You were part of the workshop for Susan Stroman's Little Dancer in 2012. Now the show is potentially coming to Broadway, starring New York City Ballet principal Tiler Peck. Might we see you on the Great White Way someday?
JD: It's really cool seeing dancers cross over into acting. I love when dancers are versatile and get opportunities to do more than just one thing. I don't think they've had auditions yet for the part I was workshopping, so I'm considering going out for it—we'll see!
What's the most valuable advice you've ever received?
JD: Every dancer struggles with being in her head. There's always that voice saying, "You're not good enough." Before competitions, my parents will remind me, "You're your own biggest competitor. Let go of everything you're holding on to. It will just get in your way. The only person trying to pull you down is the little voice in your head." Once I remember that, everything gets easier. It's an ongoing thing with me. Some days are horrible. But some days I exude all the confidence in my dancing that I want to have. It's just about quieting that voice.
"You are already good enough to get where you want to go. You have greatness inside of you and it can be discovered at any moment. You don't need to be at a certain level to say, 'OK, now I'm great,' or, 'If I add this one thing to my repertoire, then I'll be good.' You're born with greatness. All you have to do is recognize that."
—Juliet Doherty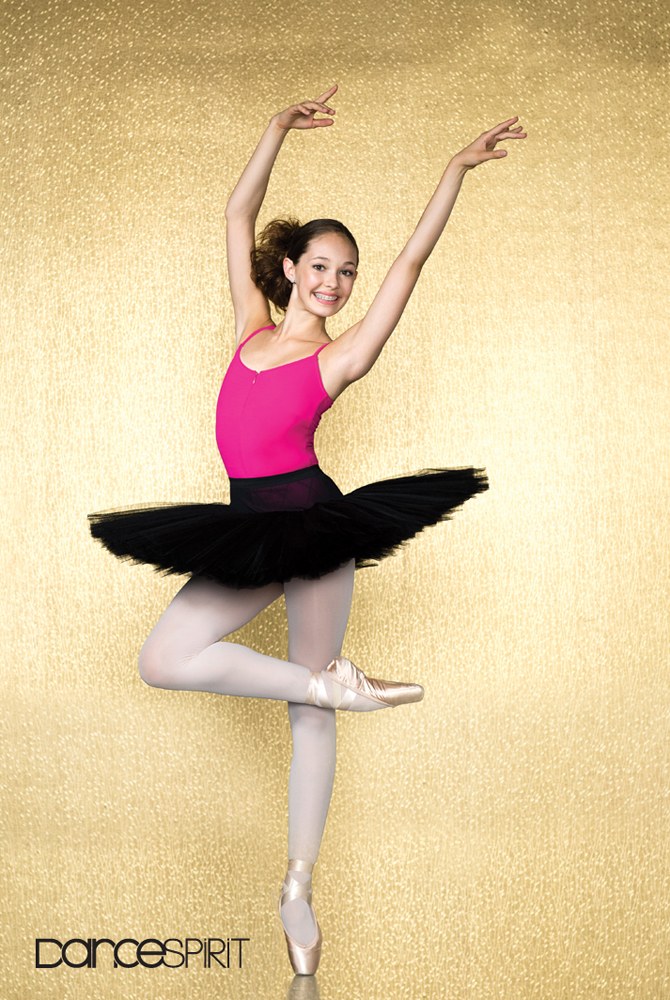 (Photo by Joe Toreno)
Ready, Set, Juliet
Must-see TV: "Even though it kind of corrupted Albuquerque, I watch 'Breaking Bad' when I miss home. But since that show is so emotionally draining, I also like to watch 'The Carrie Diaries,' 'The Mindy Project' and 'New Girl'—I don't have to get involved, I can just follow along and laugh."
If you were a superhero, what would your power be? "I just want to fly."
Your go-to stress reliever: "Calling my parents at the end of the day."
Strangest thing in your dance bag: "A banana holder. It's a hard, yellow plastic banana-shaped thing and it prevents your bananas from getting bruised. It's an amazing invention and I always have it with me."
Favorite dancer of all time: Natalia Makarova
Performer you'd die to work with: Steve Kazee, who originated the role of Guy in Once on Broadway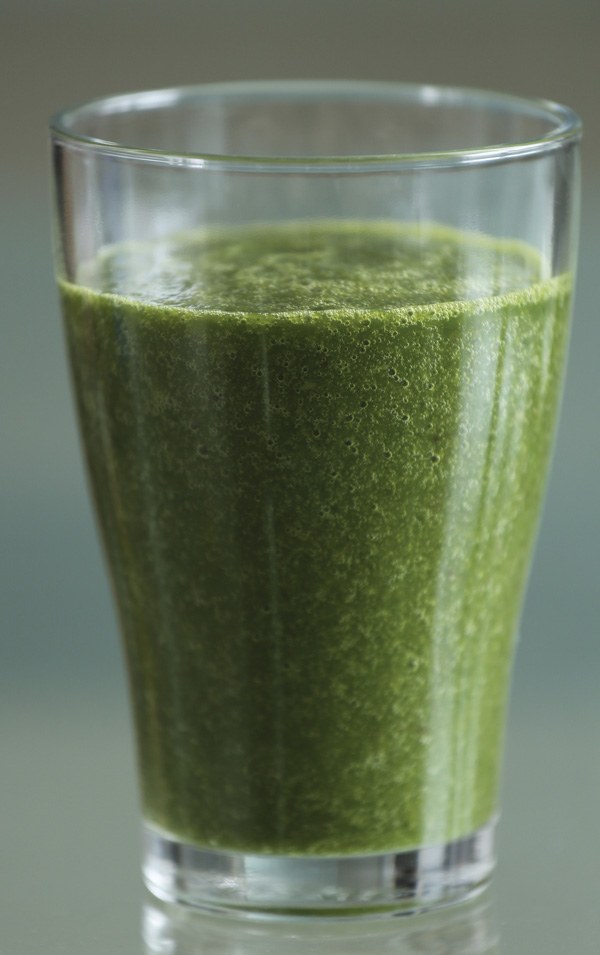 (Vasst/Thinkstock)
Breakfast of Champions
Start your day like Juliet—who follows a plant-based vegan diet—with this recipe for her "Super Green Smoothie."
Combine a handful of kale, a handful of spinach, half a cup of any frozen fruit (she likes mango or mixed berries), a banana, 4 ounces of apple juice, 8 ounces of water and some flaxseeds in a blender. "The greens may seem scary at first, but trust me, the fruit makes it naturally sweet," Juliet says. "You'll feel energized and ready for whatever challenges the day may bring.
Photo Galleries
Feb. 12, 2014 12:28PM EST