Photo by Travis Kelley, courtesy Kathryn Morgan
In our "Dear Katie" series, former NYCB soloist Kathryn Morgan answers your pressing dance questions. Have something you want to ask Katie? Email dearkatie@dancespirit.com for a chance to be featured!
Keep reading...
Show less
Miami City Ballet principal soloist Nathalia Arja is known for her powerful jump—in fact, she recalls one reviewer describing her as "popcorn." But flying through the air wasn't always second nature. Growing up training in her native Brazil, she says, she didn't know how to use her body efficiently during grand allégro.
So what changed? "At 13, I started doing Pilates," she says. "I did a lot of leg exercises lying down on the reformer, which built my core strength." Then, at 15, she started studying at Miami City Ballet School. "I went from classical to Balanchine training," she says, "and I learned how to push off the floor with my toes, rather than jumping from my entire foot."
As Arja discovered, developing a big jump is more about nurture than nature. Here's advice from the experts about how you can reach your highest heights.
Keep reading...
Show less
We've all seen her: that dancer whose jumps just seem to defy gravity. From suspended sautés to soaring grands jetés, she takes the audience's breath away every time her feet leave the ground. What's her secret? She's got backup—of the gluteus maximus variety.
Strong glutes can take your jumps to the next level, giving you the lift you need to squeeze in a switch leap or an extra tour en l'air. We turned to Giulia Pline, a yoga- and barre-certified instructor in NYC, for four exercises that will give your booty a boost.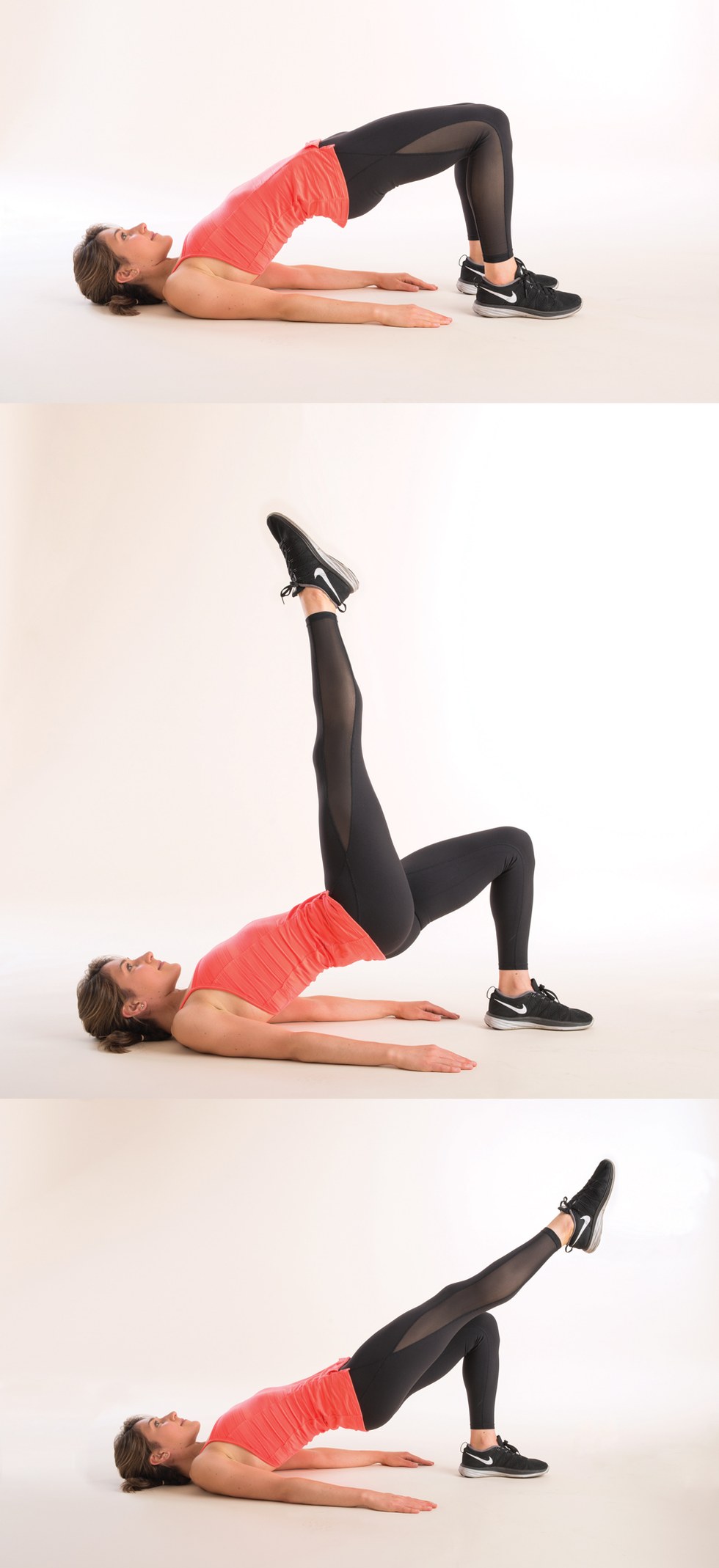 (Photos by Lucas Chilczuk)
Bridge-Pose Leg Raise
1. Lie on your back with your feet planted beneath your hips and your fingertips reaching toward your heels. Raise your hips so they form a straight line with your torso and thighs, balancing on your shoulders.
2. Lift your right leg to the ceiling, pointing your foot and extending the back of your knee.
3. Inhale as you raise your hips even higher, then exhale as you lower your right leg so it's parallel with your left thigh. Do 10 of these leg raises. Repeat with the left leg raised, then repeat the whole sequence again, coming down between each side to give your legs a rest.
Pline Says: "Engage your glutes to keep your pelvis lifted and your hips square throughout the exercise."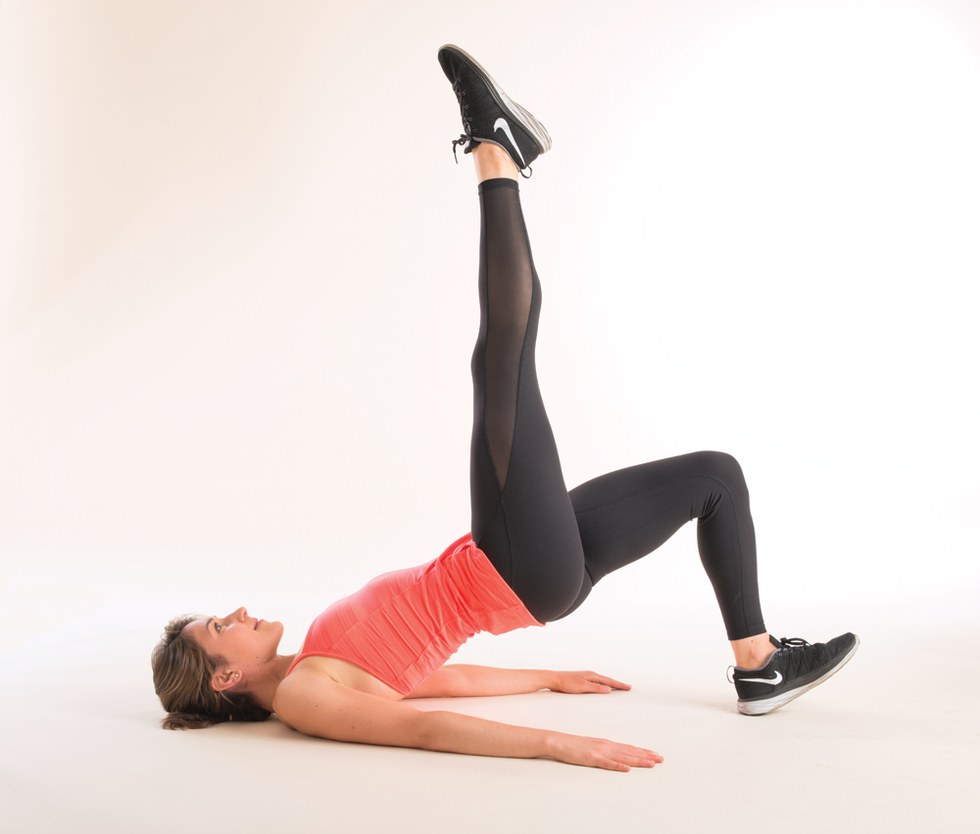 (Photo by Lucas Chilczuk)
Modification
For an extra challenge, lift the ball of your supporting foot off the floor so you're balancing on your heel.
Pline Says: "Balancing on your heel helps activate the hamstring and glute of your supporting side."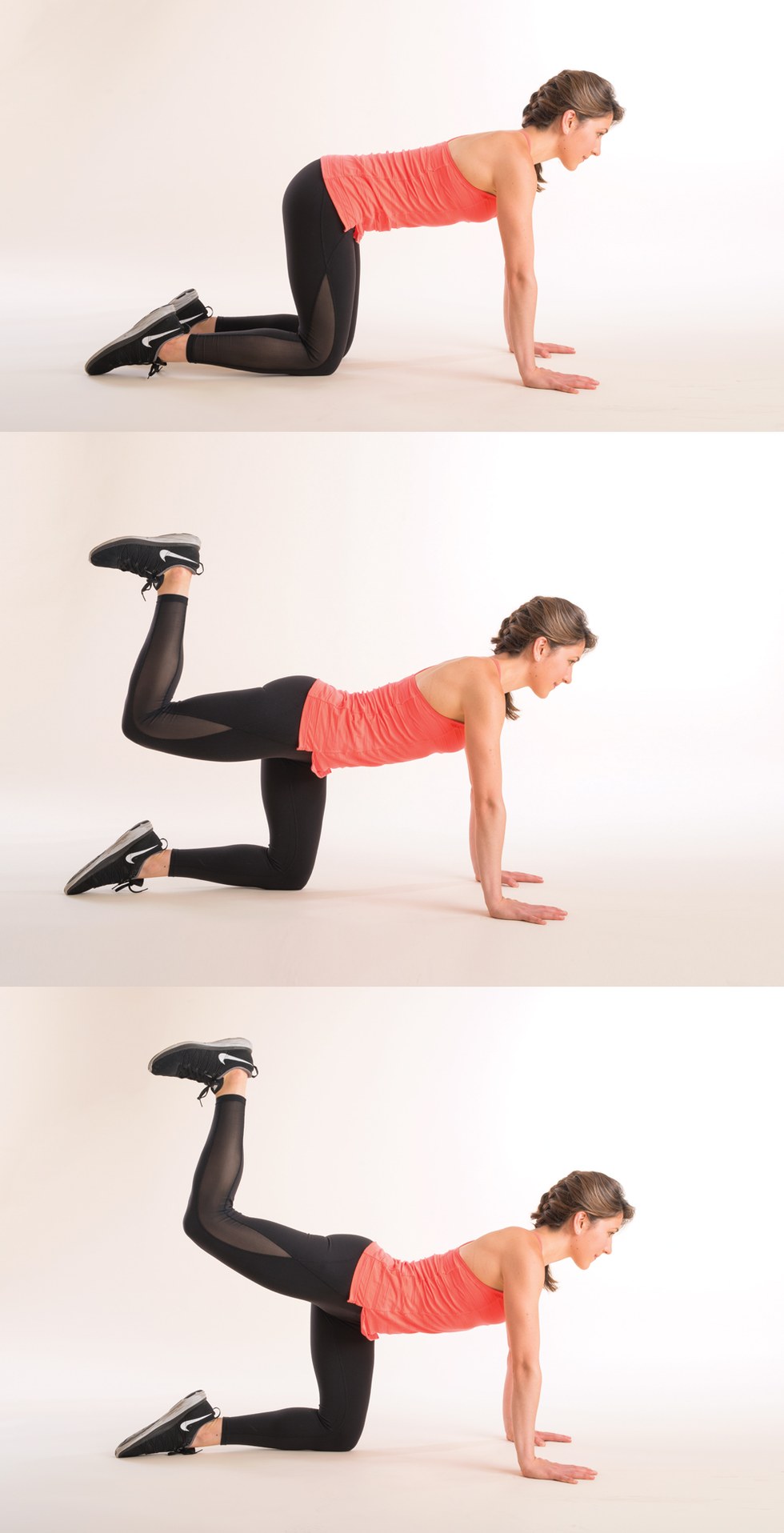 (Photos by Lucas Chilczuk)
Tabletop Pulse
1. Get on all fours, with your shoulders over your wrists and your knees under your hips
2. Lift your right leg in line with your torso, bending your knee to form a right angle. Flex your right foot.
3. Inhale as you push through your flexed foot, raising it toward the ceiling.
Pline Says: "Keep your spine lengthened and your abs engaged throughout this exercise. Don't allow the pulsing of your leg to arch your back."
4. Exhale as you lower your right leg, bringing your thigh back in line with your torso. Do 50 pulses. Repeat with the left leg raised, then repeat the whole sequence again.

(Photos by Lucas Chilczuk)
Tabletop Cross
You'll need: a tennis ball
1. Begin in the same starting position as the tabletop pulse.
2. Place a tennis ball behind your right knee, squeezing your hamstring and calf together to keep the ball in place.
3. Lift your right leg so your thigh is in line with your torso, flexing your foot.
Pline Says:  "Really concentrate on squeezing the ball throughout this exercise. The added effort will activate the hamstring and glutes of your working leg.
4. Inhale and pulse your leg up, then exhale and bring it down and across your standing knee.
5. Lift your right leg so that your thigh is back in line with your torso. Do 15 lift-crosses. Repeat with the left leg raised, then repeat the whole sequence again.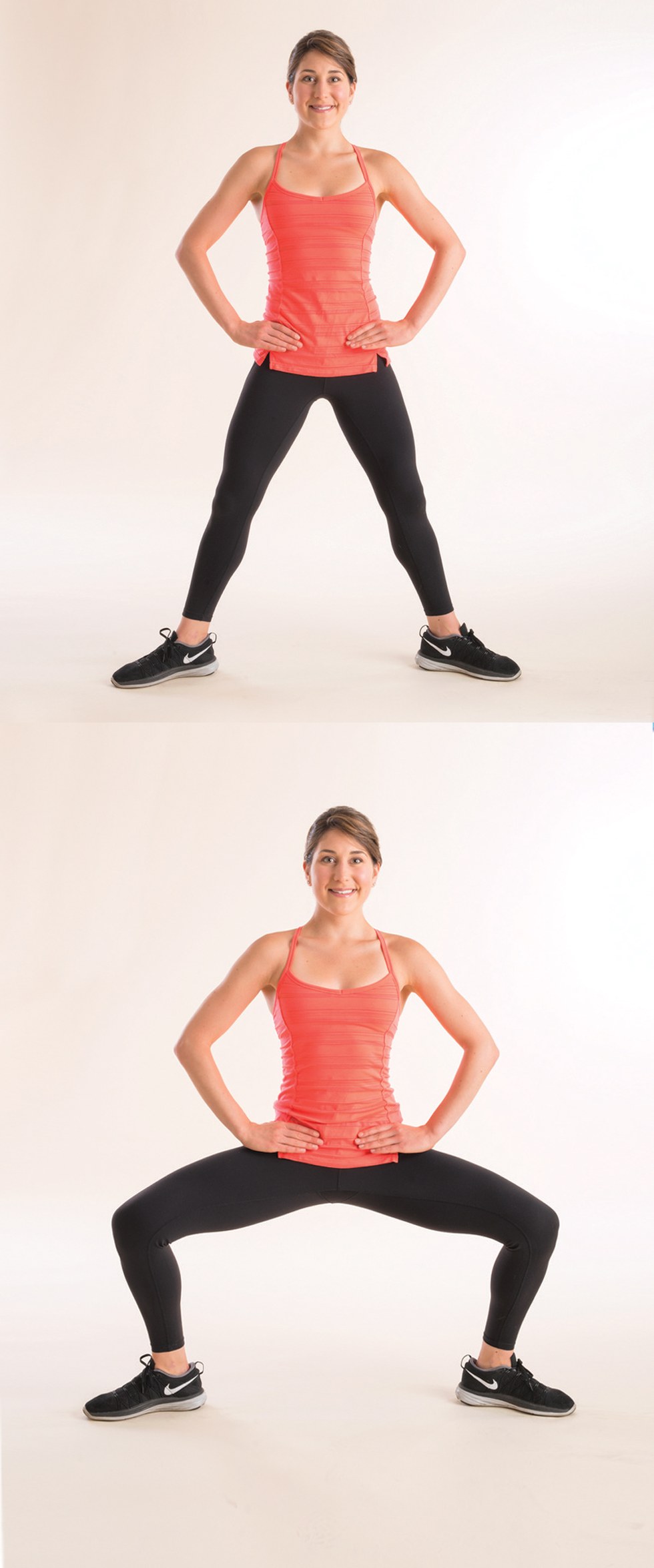 (Photos by Lucas Chilczuk)
Grand Plié Wrap
1. Begin in a wide second position with your hands on your hips.
2. Do a grand plié, tracking your knees over your second toes. At the bottom of the plié, pulse your knees outward, so that they now track over your pinky toes. Pulse 20 times, then come up and repeat.
Pline Says: "Think of the wrap coming from the backs of your legs. This will help you initiate your gluteus muscles."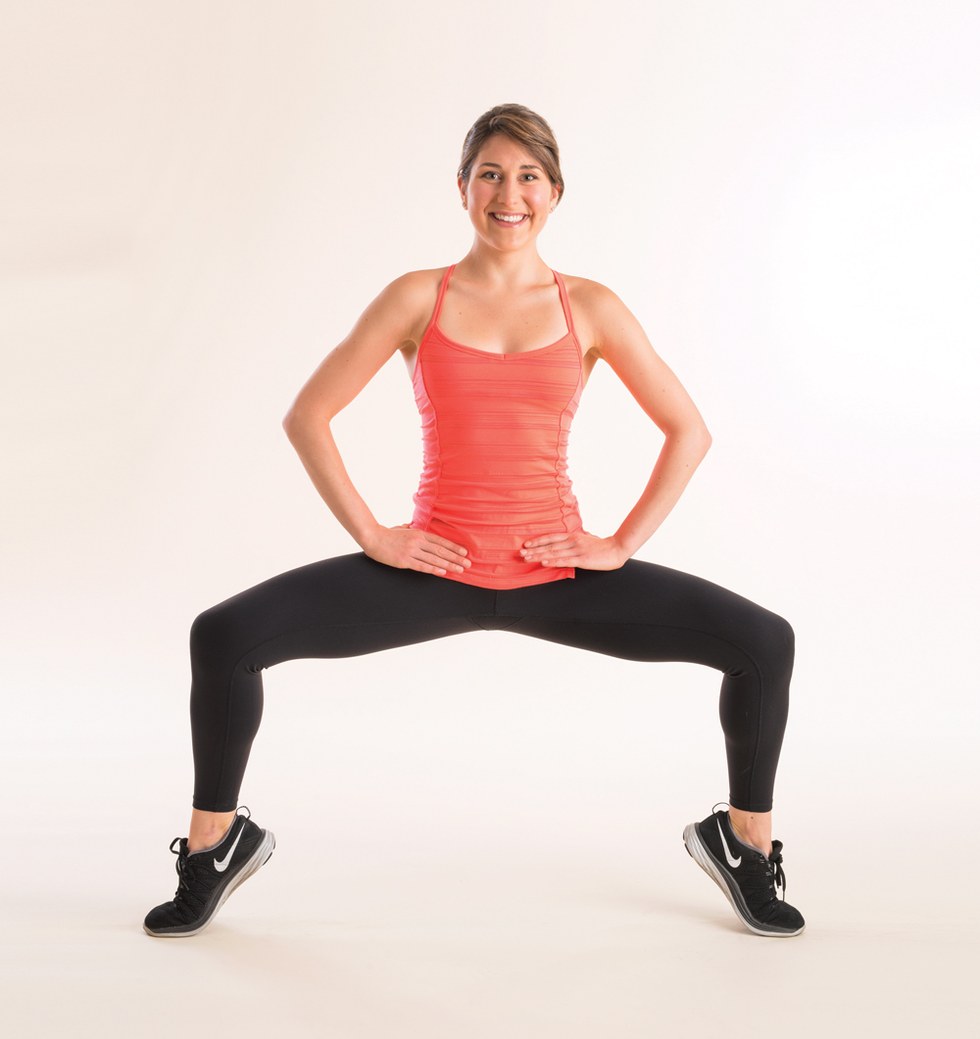 (Photo by Lucas Chilczuk)
Modification
For an added challenge, lift your heels at the base of your grand plié, holding strong through your ankles as you wrap your knees outward. Pulse 20 times, then repeat.
Dance Team
Jul. 01, 2014 03:00PM EST
Grace Gerring, a former member of the 14-time National Championship–winning University of Minnesota Dance Team, shows off one of the team's signature moves. All photos by Steve Lucas.
1) Prep by stepping on your right leg, arms down and back slightly…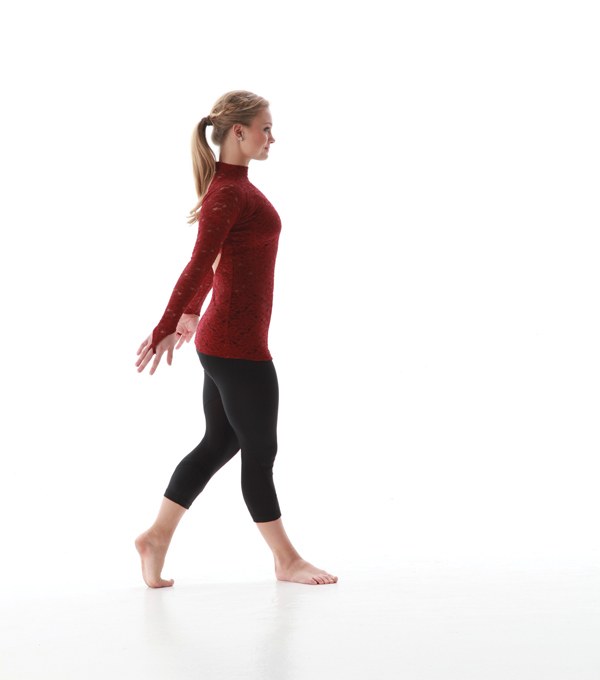 2)…and then Step Forward on your left leg, coming into fourth position plié, arms in first position.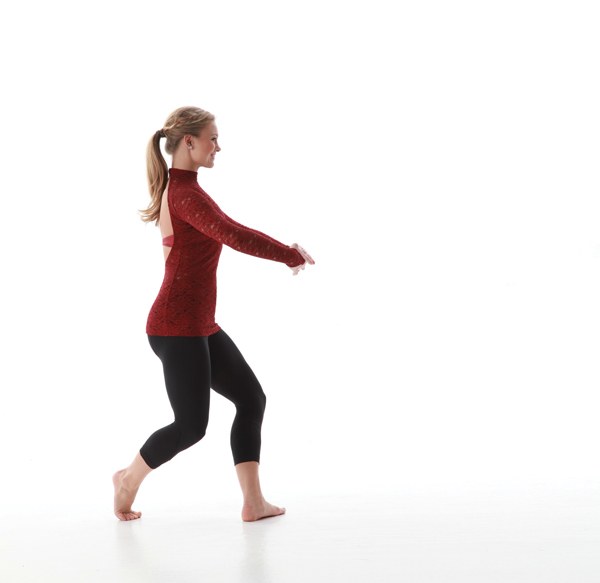 3) Jump off the ground, keeping your left leg straight and bringing your right leg into parallel passé. As you take off, begin turning your body to the left.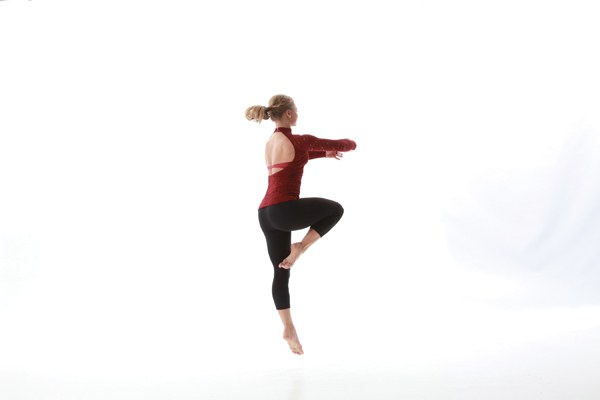 4) Continue Flipping your shoulders and hips to the left as you extend your right leg forward and bring your left leg behind you, bent at 90 degrees. Launch your arms diagonally behind you and arch your back.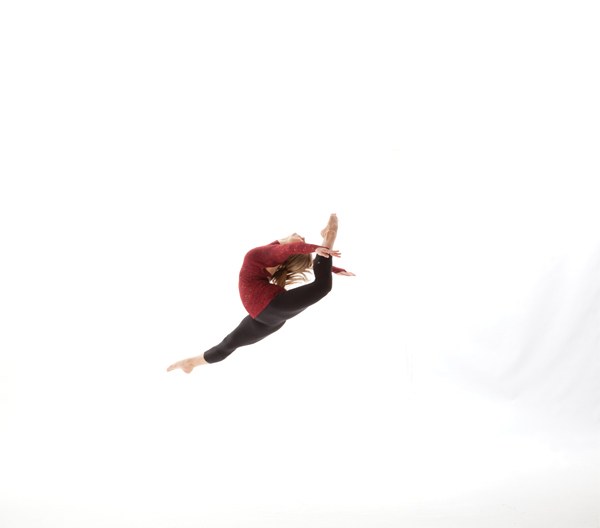 Grace says: "When you get in the air, think about switching your hips and shoulders and really kicking that front leg hard."
Ballet
Oct. 07, 2012 09:06AM EST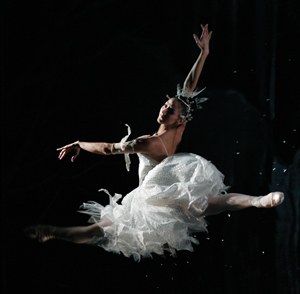 Martina Chavez in Oregon Ballet Theatre's Nutcracker (James McGrew)
As The Nutcracker's familiar "Waltz of the Flowers" theme swells to its exciting finale, Oregon Ballet Theatre's Martina Chavez gathers up all her energy for Dewdrop's most exhilarating choreography: a series of huge saut de chats traveling back and forth across the stage. "By that point in the piece, I'm exhausted," she says. But the climactic moment always gives her a second wind. "It's so exciting!"
Saut de chats and grand jetés are the human body's chance to fly. No other step gives dancers such glorious hangtime in the air—such a free, extended release from the tips of the fingers to the tips of the toes. Yet while they appear effortless (and are so much fun!), these leaps require a strong technical foundation and expert coordination.
Grand Jetés vs. Saut de Chats
While grand jetés and saut de chats look similar, it's important not to mix them up. "A grand jeté starts with a grand battement of the leading leg, then pushes off the back leg, lands in an arabesque and follows through to tombé," says Dierdre Miles Burger, director of the Orlando Ballet School. "Saut de chats are the same except for one crucial difference: The leading leg goes through développé rather than brushing from the ground."
Grand jetés can also look very different in different contexts. "You can grand jeté in a soaring fashion, or in a darting fashion, depending on the choreography and the amount of time you have," Miles Burger says. "Soaring" grand jetés are all about height and tend to take up at least a few counts of the music. "Darting" grand jetés, on the other hand, are quicker and lower to the ground. "There's less of a feeling of going up and over and more a feeling of going out and beyond," Miles Burger says.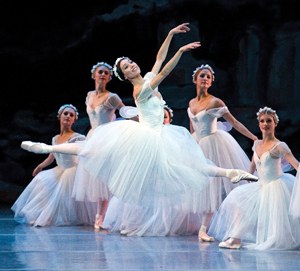 Erica Cornejo in Boston Ballet's production of Les Sylphides (Gene Schiavone)
The Well-Timed Takeoff
Both jumps require a good preparation and a powerful takeoff. Chavez notes that when phrased correctly, a typical tombé–pas de bourrée–glissade preparation will help you gather momentum for the jump. "But don't blow all your energy in the prep," she says. "An easy mistake is to make the glissade too big, which only makes the actual jump look less impressive."
Coordinating the timing of the grand battement or développé with the push off the back leg will help you reach maximum height and stretch in the air. Boston Ballet principal Erica Cornejo warns not to be sluggish with the leading leg. "If you're slow with the front leg, you're never going to make the position in the air, because you won't have enough time," she says. "But if you shoot your leg out quickly, it will give you time to stretch out up there." And the push off the back leg must follow quickly—it's what gets you in the air and propels you forward. "If you throw the front leg way up but don't push off the back leg soon enough, then all that power from the first leg is for nothing," Miles Burger says.
The ultimate goal of a grand jeté or saut de chat, of course, is hitting that beautiful full split. But Miles Burger feels dancers tend to overemphasize flexibility. Sacrificing a well-timed takeoff to get a hyperextended split results in a low jump that doesn't go anywhere. And an overstretched split is actually a distortion of the classical line. "It's not as much about flexibility as it is about suspending a correct position in the air," Miles Burger says. "It's a combination of stretch and strength."
The Upper Body
In addition to powerful legs, you need a strong, supported core to help you stay pulled together throughout the jump. A weak core puts you at risk for collapsing into your lower back. And try not to let your torso lag behind your legs, which makes it look like you're "bucking" the jump. "Pull your body over your legs as fast as you can," says Cornejo. "Sometimes dancers break down the step into three parts—front leg, torso, back leg—but it should actually be one smooth movement."
Many dancers forget about their port de bras during big, exciting jumps and end up flailing their arms without transitioning through classical positions. Make sure your arms go through first position before extending out. "Don't lock your arms," Chavez says. "Keep them extended and soft."
Cornejo, known for her gravity-defying jumps, offers a final tip: As she reaches the height of a grand jeté or saut de chat, she takes a deep breath. "It helps me hold on another second and reach higher," she says. "That moment is so special, just being in the air."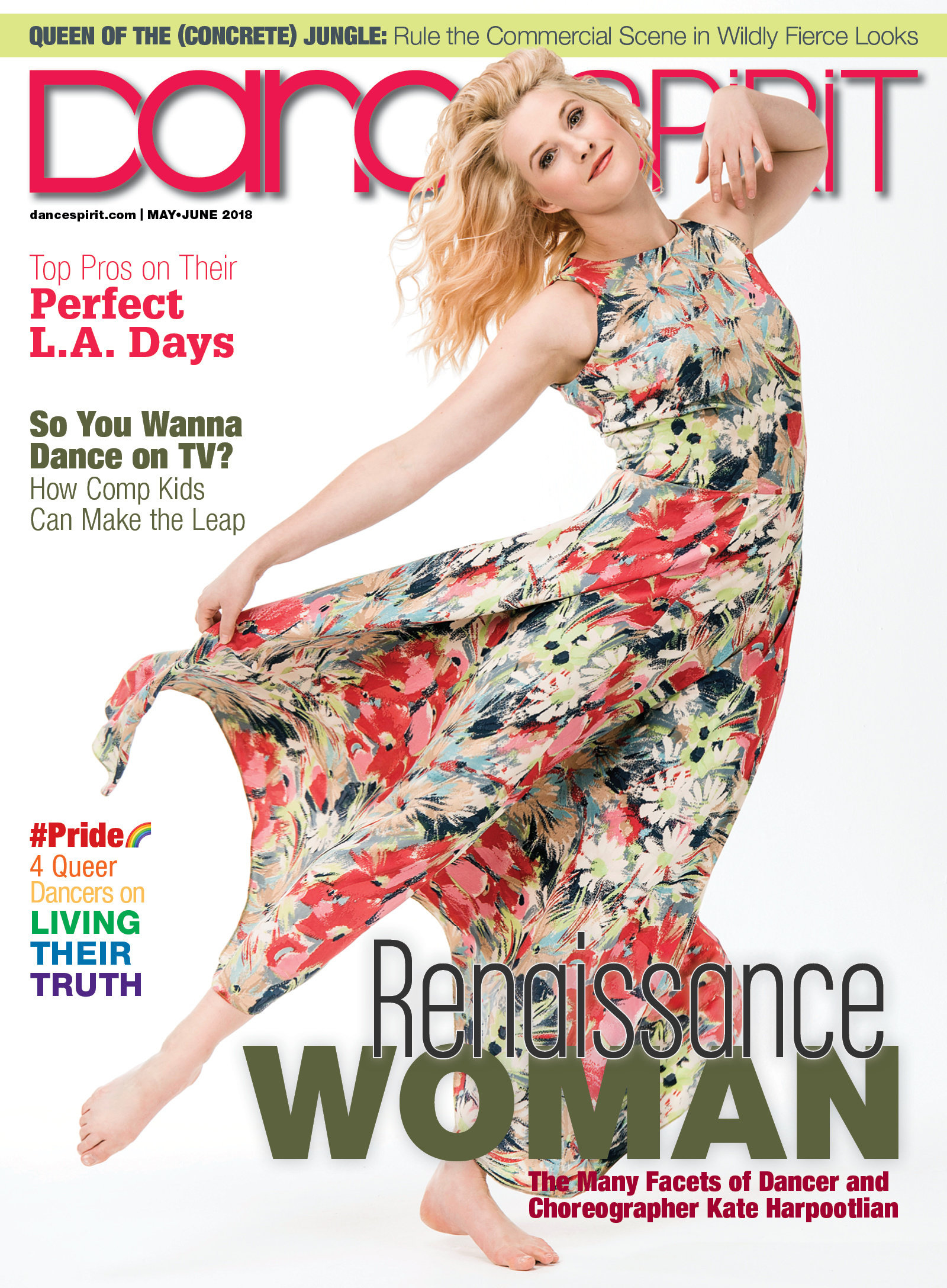 Get Dance Spirit in your inbox