If there's one thing NYCDA Executive Director Joe Lanteri knows how to do, it's make dreams come true. This was obvious at last night's New York City Dance Alliance Foundation Gala, "Destiny Rising," at The Joyce Theater. It was an evening of passionate performance by tons of crazy-talented dancers, many of whom grew up as self-proclaimed "NYCDA babies." We loved every minute of the evening, especially the touching moments when the foundation's college scholarship recipients spoke about all the doors NYCDA had opened for them (and it's particularly special since our sister publication, Dance Magazine, is a gold sponsor!). Check out some of our highlights below: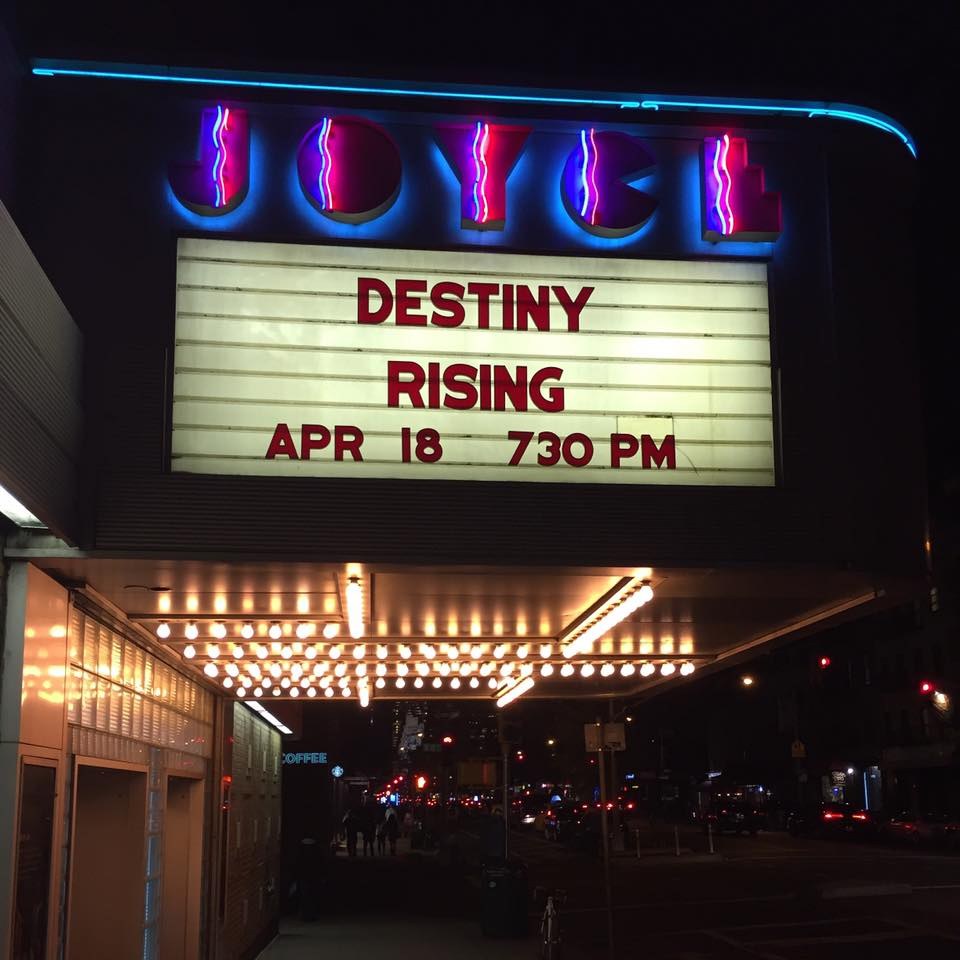 (via NYCDA Facebook)
Marymount Manhattan College Dance Company opened the show with a riveting piece, Under the Surface, choreographed by MMC's Dance Department Chair, Katie Langan. Each dancer was clad in a floor-length skirt and the visual effect was stunning—every développé, pirouette and jump sent the skirts flying through the air, catching the stage light in the process. When the piece ended, the audience was ready for more.

MMC in rehearsal. (via NYCDA Facebook)
NYCDA is all about providing opportunities for its dancers, and this mission was perfectly encapsulated by Inspire School of Dance from Naperville, IL, which made its professional stage debut—at the Joyce Theater, no less. The 14 girls—including 2014 NYCDA Teen Female Outstanding Dancer, Jacalyn Tatro—took the stage with confidence and gave a commanding performance.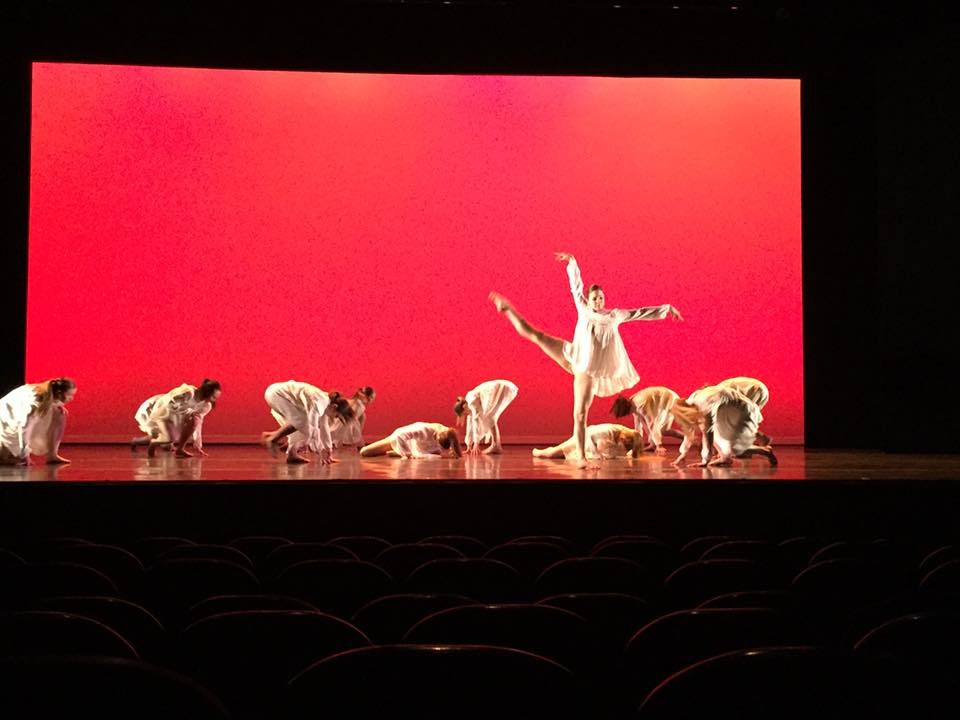 Inspire Dance performing Love With Urgency (via NYCDA Facebook)
The evening continued with stellar performances from RIOULT Dance NY, The Francesca Harper Project, DS 2009 Cover Model Search winner Ida Saki and Austin Goodwin, New York City Ballet principal Robbie Fairchild, and the Point Park University Conservatory Dance Company. There were also tons of familiar faces gracing the stage, including 2015 CMS finalist Jordan Pelliteri, 2011 CMS winner Kaitlynn Edgar, Corey Snide and the dynamic Mattie Love, who, at the 2012 NYCDA gala, gave a speech about how excited she was to start her dance journey at MMC—and last night, in a very full-circle moment, took the stage to thank Lanteri and NYCDA for opening countless doors in her career. It was the perfect cherry topper for a magical celebration of this incredible foundation.
This just in:
The three finalists for this year's
Dance Spirit Cover Model Search
competition have officially been notified, and they'll be coming to NYC next month for their big photo shoot (plus a Broadway show, a day of classes at Broadway Dance Center and so much more)!
We'll introduce the three finalists in the July/August issue, so be on the lookout. (A few hints: They're all teenagers, they're all crazy talented and they're all super smart.)
Didn't make the cut this year? That's OK! We're already prowling the dance scene for next year's finalists—and you could be one of them!
Entering is nice and easy. Here's what to do:
Upload your best solo video. (You'll need to create an account if you don't have one already, but that only takes about two seconds. Like we said: eeeeeasy!)

Enter a brief description to go with your video. We want to know your name, age, dance studio and a bit about why you're so great. Your dancing will tell us the rest.
Last year's winner was Hayden Hopkins. Here's what she had to say about the CMS experience.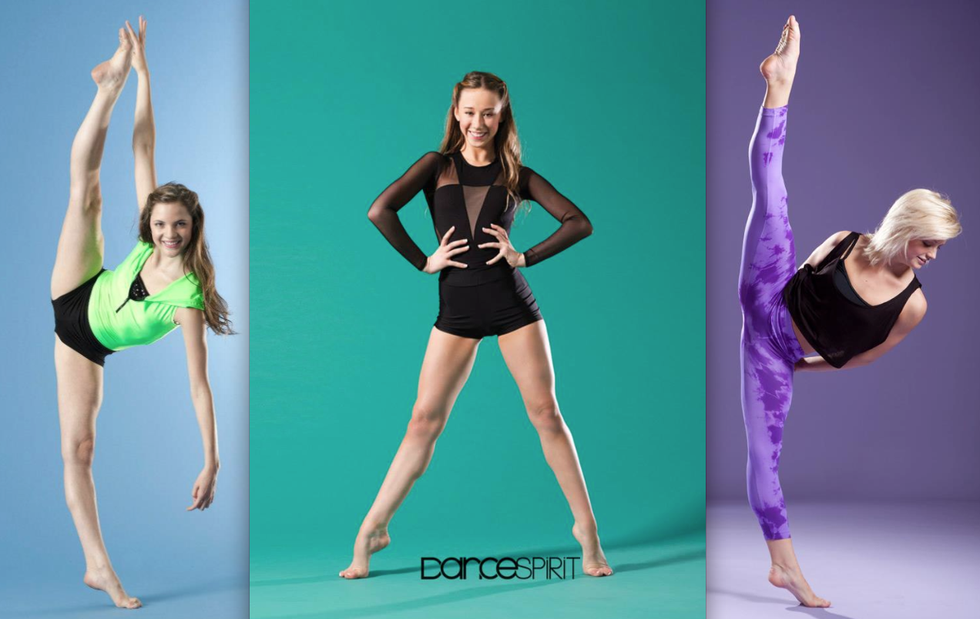 Our last three Cover Model Search winners: Megan Skalla, Hayden Hopkins and Kaitlynn Edgar. You could be next! (Photos by Nathan Sayers and Erin Baiano)
Good luck!
Jul. 02, 2012 02:26PM EST
What does everyone think of "So You Think You Can Dance" Season 9's Top 20? While some of us—myself included—are still mourning the loss of a few Vegas Week favorites (Adrian Lee and Kaitlynn Edgar! Saaaadface), I'd say the lineup is pretty darn solid.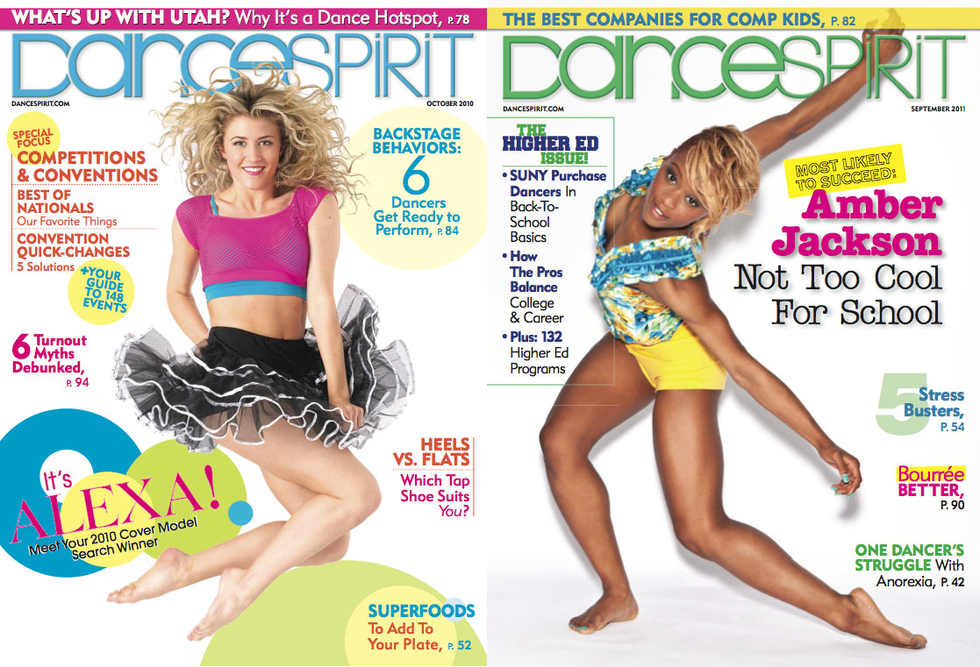 Here at DS, we can actually say, for two of the 20: Called it! That's right—we've already featured both Alexa Anderson and Amber Jackson on our cover. Alexa was the winner of our 2010 Cover Model Search (sidenote: don't forget to vote for your 2012 CMS favorite!), and Amber graced our September 2011 issue.
Both of these extraordinary dancers were, of course, fantastic at their respective photo shoots. We thought we'd share some of our favorite images to help you get to know them a little better—and to help you get through this "SYTYCD"-less holiday week. Enjoy! And be sure to check back next Thursday for our recap of the second performance episode...
[portfolio_slideshow nowrap=0 height=500 thumbs=true timeout=4000 showtitles=true showcaps=true showdesc=true]
Jun. 21, 2012 08:00AM EST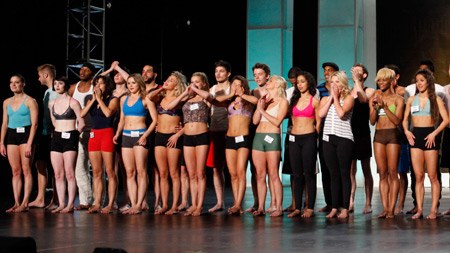 Vegas! Vegas! VEGAS! After what seemed like endless weeks of ho-hum auditions episodes, I, for one, was ready for some real dancing, and some real drama, on "So You Think You Can Dance." As usual, Vegas week more than delivered on both counts. During their time in Sin City, this season's contestants showed off a lot of talent—and shed a lot of tears.
This being Vegas week, there weren't so much top moments as there were top...journeys. Epic journeys, complete with dramatic music and slow-mo reaction shots and, naturally, plenty of crying. Here are the top 5:
1. The Danielle Saga, aka Nice Girls Finish Last. Poor, poor Danielle. During Sonya Tayeh's jazz routine, Danielle was paired with Debbie Downer Shafeek, who completely gave up on her. Never mind; she made it through, and trooper that she is, came back onstage later to partner a contemporary dancer in need—who, of course, kicked her in the head. She was taken out on a stretcher. When she returned later, after spending eight hours in the hospital, she was sort of blamed for messing up the routine of the group she belatedly joined (which, really? She had a head injury). And then, of course, she was sent home. Someone give this girl a hug.
2. The Cyrus Saga, aka We'll Cut the Adorable Hip Hop Guy Some Slack. Cyrus is the only one of the talented Dragon House Crew trio who made it past Vegas' first round. He had a LOT of close calls as the rounds rolled by—frankly, I wasn't sure he was going to make it after that disastrous cha cha. But his dance-for-your-life solo reminded everyone just how amazing he is in his own style (shades of Madd Chadd, am I right?), and he seemed so genuinely happy to be there. I'm not sure he's going to nab a Top 20 spot, but if he doesn't—is that a Dragon House Crew guest performance I smell later in the season? Why yes, yes it is.
3. The Amelia Saga, aka Don't Count Your Top 20 Spot Before it Hatches. Remember silent-movie lover Amelia (who is, come to think of it, a bit of a Krysten Ritter lookalike)? Amelia cruised through the first few rounds, getting just a tad overconfident. She looked completely shocked when she was asked to dance for her life after Sonya's jazz routine. Luckily her solo was a great showcase for her particular brand of quirky appeal (not to mention her legit technique). "I am so ready to make you love me!" she cried tearfully afterward. And the judges did love her, or at least like her enough to shepherd her safely through Vegas week. Her whole flapper shtick grates on my nerves a little, but let's be honest: We all want to see this one stick around to do some really weird Sonya choreography, right?
4. The Alexa Saga, aka Alexaga, aka Don't Count Your Top 20 Spot Before it Hatches Part 2 (But Really, You're Going to Get a Top 20 Spot). Alexa probably looks familiar—and not just because she made it to the bitter end of last season's Vegas shenanigans: She was our 2010 Cover Model Search winner!* All of us at DS know from experience that Alexa is crazy talented—but man, a lot of the judges' criticisms of Alexa's "lights are on and nobody's home" performances (as Tyce "Keith" DiOrio put it) were justified. She seemed vacant and terrified through much of the episode. Luckily she pulled it together in time for the cha cha round—in which she looked SMOKIN'—and survived Vegas. Debbie Allen's verdict? "This child could win." Go Alexa! (Just ease up a tad on the bronzer, OK?)
5. The Sore Losers Saga, aka Here Are a Few Examples of How Not to Behave on National Television. Jeez louise, there were a lot of unhappy campers on last night's show. From Teddy "Why come back and waste my time? I just looove to be reprimanded in public" Tedholm to  Shafeek "I will smoke Lil' C. Matter of fact Lil' C's cool, I will smoke Nigel" Westbrook, a surprising number of booted contestants chose not to exit gracefully. Yes, getting cut is very, very painful, but a word of advice: You will always end up regretting acting like a total brat on camera. Next time, maybe save the venting for the hotel room, OK?
The "So You Think You Can What?!" Moment of the Night:...was actually not part of the episode. There were several ads for "The Choice" during the commercial breaks—you know, that rip-off of "The Voice" where people like Mike "The Situation" Sorrentino try to pick dates based on the sound of the girls' voices? Oh, you haven't heard of it? Congratulations—you're a respectable member of society. So why is the lovely, amazing, wayyyy-too-talented-for-this Cat Deeley hosting this abomination? Cat! It's not worth it! And if "The Choice" is the reason you've barely shown your pretty face on "SYTYCD" so far this season...no, I'm not even going to make a "wrong Choice" pun here. DON'T LEAVE US, CAT!
What did you think of last night's episode? Too much drama? (Is there such a thing?) And don't forget to check back next week for our recap of the episode we've all been waiting for: The Top 20 reveal!
*(For the record: Last year's CMS winner, the awesome Kaitlynn Edgar, was also all over this episode. She and Alexa were actually in the same "Wolf Pack" group number. Not ringing a bell? They wore matching stonewashed denim vests. There you go.)
Sep. 15, 2011 02:00PM EST
It's no secret that Kaitlynn Edgar is talented. Her hometown teachers saw Kaitlynn's potential from the start, and competition directors and judges across the country have awarded her top honors at the regional and national levels. Clearly you saw her talent, too, because you came out in droves to cast your vote for Kaitlynn in this year's Cover Model Search.
This summer, Kaitlynn danced a solo at New York City Dance Alliance Nationals—a performance signaling the end of her reign as National Outstanding Dancer. But Kaitlynn's dance journey isn't ending. It's just beginning.
Since coming to NYC last April for the Cover Model Search competition, Kaitlynn has been on quite a journey. She auditioned for "So You Think You Can Dance" Season 8, making it all the way to the Green Mile round of competition. She attended prom, graduated high school and was accepted to The Juilliard School. She spent two weeks assisting teachers at NYCDA Nationals and she attended a Complexions Contemporary Ballet workshop led by co-artistic director Desmond Richardson. Now, Kaitlynn can add Dance Spirit cover girl to her impressive list of accomplishments.
We caught up with Kaitlynn as she wrapped up her busy, dance-filled summer and got ready to head to college.
Dance Spirit: You've grown up with NYCDA. What was it like going to Nationals for the last time?
Kaitlynn Edgar: It was the best two weeks ever. I became so close with the other Outstanding Dancers from the year before, and I got to spend some time with [fellow CMS finalist] Zoey! I performed my solo for the last time and gave up my title. It was sad, but I'm happy that someone else gets to have that experience now. I know I can always go back to NYCDA—I'm not going to lose my spot in that family.
DS: What was the Complexions workshop like?
KE: The workshop was in Detroit, where I'm from, and I was enrolled in the professional level. We worked a lot with Desmond Richardson, which was exciting. He ran most of our classes. It was just crazy being right next to him. At the end of the workshop, we performed actual Complexions pieces. It was my favorite performance I've ever done—my adrenaline was really going the whole time.
DS: What made you decide to attend Juilliard?
KE: It would be stupid for me to give up this opportunity. I'll get top-notch training while I figure out what I want to do with my dance career. I'm so excited to be living in NYC.
DS: What can you tell us about auditioning for "So You Think You Can Dance"?
KE: Being there is more fun than watching the show on TV! There's a lot of waiting and a lot of anticipation, though. I didn't get much feedback whenever I performed and I didn't know if that was good or bad. When I did get to talk to the judges they told me I was one of the best dancers who auditioned that season—but I got cut the day of the Green Mile. The experience taught me not to give up. Maybe I just wasn't a good fit for that season. I'm going to go back and audition again next year for sure.
DS: You got a lot of votes in the CMS competition. How'd you get the word out?
KE: My sisters and my studio were really supportive. My teacher promoted the competition by putting a piece of paper in our recital programs telling people to go online and vote, and my sisters created a Facebook event to get people to the website.
DS: Did you get any especially nice words of support?
KE: I can't thank people enough. One person commented on my page and said, "It's great to see someone so talented who can also give back and say thank you." That made me so happy.
DS: How has your dancing changed since coming to NYC in April?
KE: Now that I know my path is leading me through Juilliard, my mindset has changed. I'm more focused on the Juilliard style of dancing, which is so complex. Juilliard dancers have fewer boundaries and work on a deeper level.
DS: What was your favorite part of the CMS experience?
KE: I loved getting closer with Maddie and Zoey. We'll all be in college in NYC at the same time!
DS: What's your advice to future CMS hopefuls?
KE: Work hard. Don't be shy. Be very giving and accept help from others. Let yourself be inspired by the people around you. Stay open and dance with other people. And just go for it!
Why You Voted For Kaitlynn:
"There is a definite spark in Kaitlynn. The second she begins moving you can't tear your eyes away from her." —DS reader
"Kaitlynn embodies everything a dancer should be. Watching her dance is like watching a story unfold onstage. You don't just see it with your eyes—you feel it with your heart." —DS reader
"She has it all: beauty, artistry, passion, focus, work ethic, talent, technique and a desire to help others." —DS reader
A Letter From Kaitlynn
I can't even put into words how honored and excited I am to be chosen as the Dance Spirit Cover Model Search winner! Thanks so much to everyone who took the time to vote—it means the world to me. Also, I would like to thank Maddie and Zoey for making the event such a beautiful experience and for being such an inspiration. This opportunity has allowed me to spread the passion I put into my dancing and share my love for the art with an audience that I never would have been able to reach otherwise. I hope this achievement inspires other dancers to follow their dreams even if they may seem impossible. Again, thank you so much and good luck to all of the future CMS finalists!
Love always,
Kaitlynn
Jun. 23, 2011 12:53PM EST
Zoey Anderson, Kaitlynn Edgar and Maddie Swenson are no strangers to competition. All three grew up regularly attending dance competitions—which no doubt prepared them for their trip to NYC as the 2011 Dance Spirit Cover Model Search finalists. For three jam-packed days, each dancer did her best to show why she belongs on the cover of DS, sweating through three back-to-back classes at Broadway Dance Center, rocking out at the DS photo shoot and performing a solo for the editors and voters.
While this year's finalists all share similar backgrounds, when you see them perform, it becomes immediately apparent that each girl is very much her own dancer. Zoey's a chameleon: One moment, she's a sultry ballroom diva, sashaying in high heels, and the next she's an emotionally vulnerable contemporary dancer. Kaitlynn picks up choreography in a snap and then infuses it with killer groove and alluring magnetism. Maddie's got impeccable technique, supple feet and an approachable charm, all of which combine to make her a sparkling performer.
Zoey, Kaitlynn and Maddie made it to the finals by posting videos on dancemedia.com. Each month, viewers and editors choose their favorite Cover Model Search entries, which become the pool of semifinalists. Then, the DS editors select the top three, who are invited to NYC for the final round of competition.
The DS editors fell in love with all of the girls, so we're glad we don't have to pick the winner—that's up to you! After reading about each finalist, go to dancespirit.com/ to watch Zoey, Kaitlynn and Maddie give their solo performances. Then, vote for your favorite, starting June 15.
While in NYC, the girls saw the Tony Award–winning Broadway musical Billy Elliot. When the curtain came down, Maddie, Kaitlynn and Zoey couldn't stop gushing about the talented cast!
Kaitlynn Edgar is classically beautiful, a cross between Kate Bosworth and Marilyn Monroe. She looks like she belongs on the red carpet—but she really shines onstage. Though Kaitlynn is petite, she dances with strength, power and control. Her développés stretch toward the balcony, her pirouettes are clean, her port de bras lifted. And beyond technique, her presence draws you in. Whether you're sitting in the front row or the rafters, watching Kaitlynn is like staring at the Mona Lisa: She makes you feel like she's focused on you.
Just 18 years old, Kaitlynn is already a mature, confident performer. She started dancing at 7 at The Dance Company Conservatory in Port Huron, MI. Two years later, she switched to the more competitive Spotlight Dance Works, under the direction of Liz Schmidt, and has been competing and training in tap, jazz, lyrical and ballet ever since. Schmidt knew from the start that Kaitlynn had something special. "She can become any character she wants to. She can do hip hop or Broadway," Schmidt says. "She blows the room away." In addition to her studio training, Kaitlynn attends conventions, which has strengthened her natural versatility.
Competitions offer something different. "It's a chance to perform and show other people what you've been working for," Kaitlynn says. "Onstage you can tell a story without using any words."
Kaitlynn's life may seem picture perfect, but she's actually had more than her fair share of struggles. Her mom has a chronic illness, so Kaitlynn and her younger sister live with a family from the studio and visit their mother once a month. "Dance holds us together," Kaitlynn says. "The studio is our family. It's where we've grown up. If it weren't for dance, I don't know where I'd be. Dance helps me get through the hard times."
This summer, Kaitlynn won the Senior Outstanding Dancer title at New York City Dance Alliance, where she was also awarded a full four-year scholarship to Marymount Manhattan College in NYC. "All year I was pushing myself and working toward this goal," Kaitlynn says. "Winning the title made me the happiest, most excited I've ever been."
As she approaches her high school graduation this spring, Kaitlynn isn't losing focus. "I'm going to take full advantage of my last year at the studio," she says. "I want to learn everything I can so I'm ready for the real world." As for her real world plans? "I'm going to try it all and see where everything falls."
Fast Facts
Dance crush: "Oh God, Tony Testa for sure. He's so inspirational, and the emotion he puts into hip hop is insane."
Favorite teachers: Sonya Tayeh and Joe Lanteri. "Sonya is demanding and aggressive. I love that. And Joe's classes are uplifting."
Favorite foods: Chocolate chip cookies and raspberries
Favorite movie: The Patriot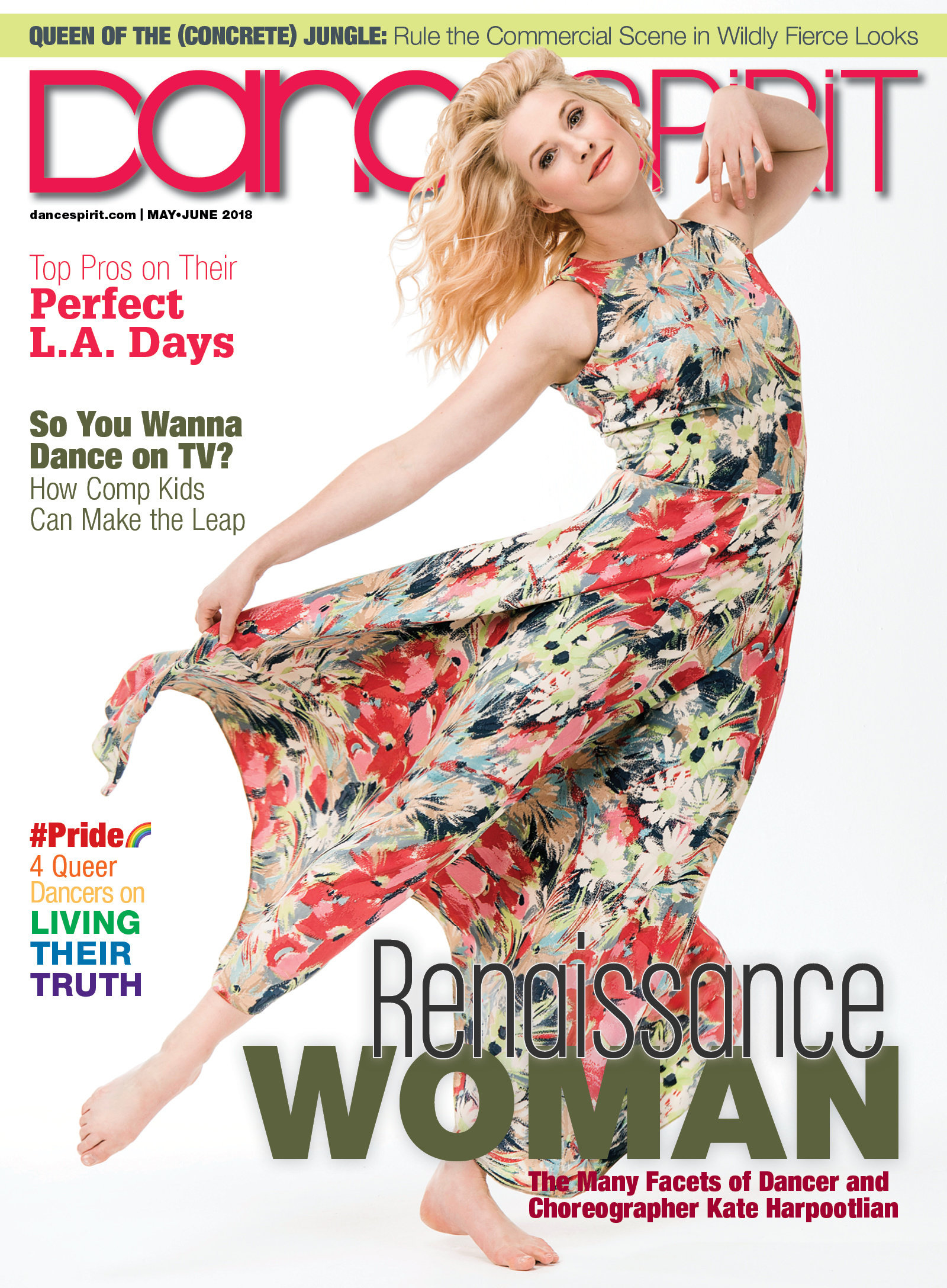 Get Dance Spirit in your inbox