Caissie Levy as Elsa in Frozen (Deen van Meer, courtesy Disney)
Let it gooooo! The much-anticipated musical version of Frozen, with choreography by the fabulous Rob Ashford, opens on Broadway tonight. And to get you even more excited about this latest dancy Disney venture, the show's team just released a brand-new trailer—a sneak peek at how they've translated the film's special magic into perhaps-even-more-impressive stage magic.
Keep reading...
Show less
(Front) Kali Grinder (photo by Daniel Robinson, courtesy Grinder)
Former comp star Kali Grinder's stellar stage presence and graceful lines have served her well in her new life as a Broadway baby. She performed in Wicked on Broadway for one year, appeared on the show's national tour, and was a Rockette during The Radio City Christmas Spectacular. Currently, she's an ensemble dancer in the new musical Frozen. A Las Vegas, NV, native, Grinder started training at The Dance Zone at age 6. She briefly studied dance at Point Park University before heading to NYC to pursue her dreams. Catch her dancing with Anna and Elsa this month during the show's previews—and read on for the dirt!
Keep reading...
Show less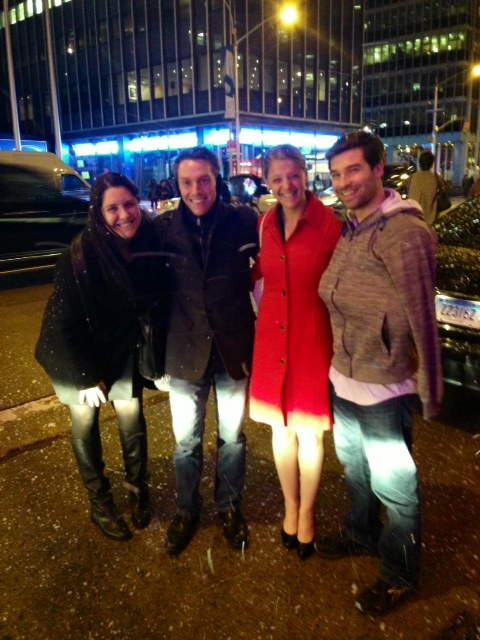 With some of my favorite people after seeing one of my favorite shows! (On opening night, they make it "snow" outside Radio City Music Hall. How's that for magical?) I'm the one in the red coat, flanked by my friends Lauren and Scott on the left, and my boyfriend, Brian (hiding his broken arm in a cast inside his sweatshirt), on the right.
Living in NYC, lots of things get old really fast: car horns, ambulance sirens, crowded subways, car horns, unavailable taxis during rush hour, pollution, car horns... But the one thing that never ever ever ceases to amaze me is the Radio City Christmas Spectacular, starring The Rockettes.
If you've never seen this classic show, here are five reasons to catch it this year, either at NYC's iconic Radio City Music Hall, or in one of the show's tour cities:
1. The Rockettes! Duh. These women aren't just beautiful and talented: They're perfect. I've never seen formations as impeccably spot-on as the ones in "The Parade of Wooden Soldiers," and the reindeer costumes in "Sleigh Ride" make me wish for my own pair of light-up antlers. Plus, the Rockettes can do much more than eye-high kicking. In "The Twelve Days of Christmas," they tap up a storm, and in "Snow," which is new this year (though, sadly, it replaces "Shine," which is my forever-favorite Rockette number), the Rockettes show off a little contemporary style.
While the dozens of women onstage may somehow manage to look exactly alike, it's fun trying to spot familiar faces in the line. This year, I saw former comp kid (and DS model!) Kali Grinder and "Dance212" veteran (and another former DS model!) Jenny Laroche.
2. The "other" dancers. Fun fact: The Rockettes aren't the only dancers in the show. There are more dancers in the show who do more traditional, jazz-based dancing throughout the 90-minute program. ("So You Think You Can Dance" alum Matt Dorame and New York City Dance Alliance demonstrator Chase Madigan are among the NYC group this year.)
3. The Claras! The fourth scene of the Spectacular is "The Nutcracker," and it just might be my favorite part. It's a twist on the classic Nutcracker's "Land of Sweets," with dancers in giant bear suits playing the parts of the sweets. Leading the group of bear-dancers is Clara, a real-life, talented little girl who bounds around the stage on pointe with a grin on her face that seems to stretch from stage right to left.
Past Claras have included "SYTYCD" Season 10 winner and current DS cover girl Amy Yakima, American Ballet Theatre Studio Company dancer Catherine Hurlin, up-and-comer Madeleine Gardella and my all-time favorite ballet dancer, Juliet Doherty. (Click here to meet a whole group of former Claras—all of them came from the comp world!)
4. The camels!!! The second-to-last scene of the show is "The Living Nativity." Surprisingly, this is one of my favorite parts of the show (though, apparently, all parts of the show seem to be my favorite at this point). There's no dancing during this scene, and it's based on the story of the first Christmas. So it doesn't really sound like something I'd be into—and then four camels walk across the stage. Real camels. There are sheep, too, but it's the camels that get me every time. Camels, sharing a stage with Rockettes. I mean...where else can you see that?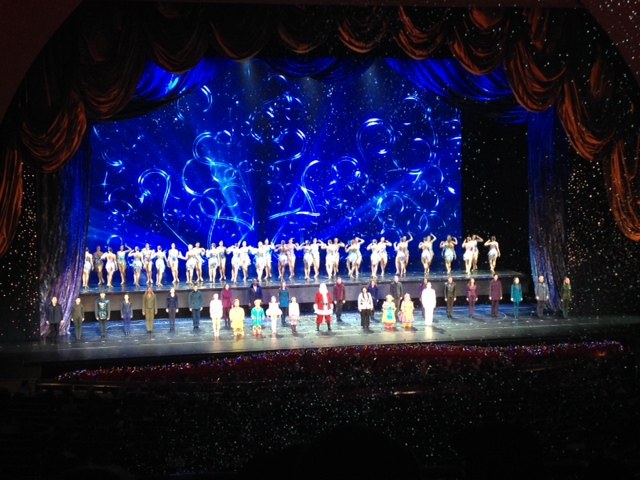 Balcony seats for the win! (You get to see all the formations that way.)
5. The sheer joy it brings. There is something for everyone in the Radio City Christmas Spectacular, whether you're young, young at heart, old, old at heart, a boy, a girl, a dancer, a hater, a Catholic, a Buddhist, a Muslim, a non-believer, a ballerina, a tapper, a tourist or a longtime New Yorker. Basically, The Rockettes = world peace.
So you promise to go see the show? Great! Here's where to buy your tickets.
Apr. 23, 2013 11:03AM EST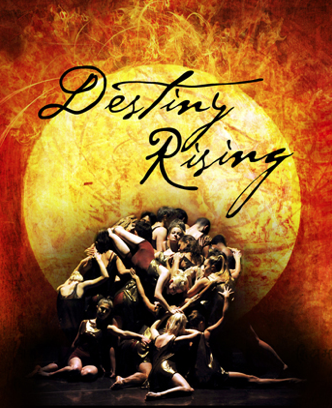 The annual Destiny Rising gala benefits the awesome New York City Dance Alliance Foundation, which is dedicated to helping young dancers fund their college educations. So how fitting is it that at last night's Destiny Rising performance, it was a college dance company that stole the show?
That would be the Conservatory Dance Company of Point Park University, which performed Garfield Lemonius' Memoirs. I have this terrible stereotype in my head of college dance groups doing sedate, solemn, stuffy pieces, but Memoirs allowed Point Park's beautiful dancers to show us the full range of their talents. Clad in flowing red dresses, the company's guys and girls tore through the intricate, emotionally wrenching choreography.
The best part? The cast included two of our favorite NYCDA alums, Kali Grinder and Victoria McWilliams, both recipients of NYCDA Foundation scholarships. And they were in top form. It looks like college has allowed them to both grow as dancers and mature as artists—and that's what the college dance experience is all about, Charlie Brown.
That's not to mention all of the evening's other fun performances. For the bunheads, there was the ABT Studio Company's exceptional Catherine Hurlin and Oliver Oguma in the kicky Flames of Paris pas de deux, followed by New York City Ballet's Brittany Pollack and Jonathan Stafford (real-life couple alert!) in the White Swan pas. For the contemporary buffs, there was Cedar Lake standout Jon Bond's lush The Devil Was Me, featuring several other CL dancers (including our baby-who's-all-grown-up-now, Ida Saki). And for everyone, there was Grace Buckley's gleeful Sing, Sing, Sing, starring the likes of Amber Jackson, Corey Snide, Ryan Steele and Jakob Karr. They dared us to stop smiling. I couldn't.
Want to find out more about the NYCDA Foundation and how you can apply for scholarships? Take a look at the organization's website.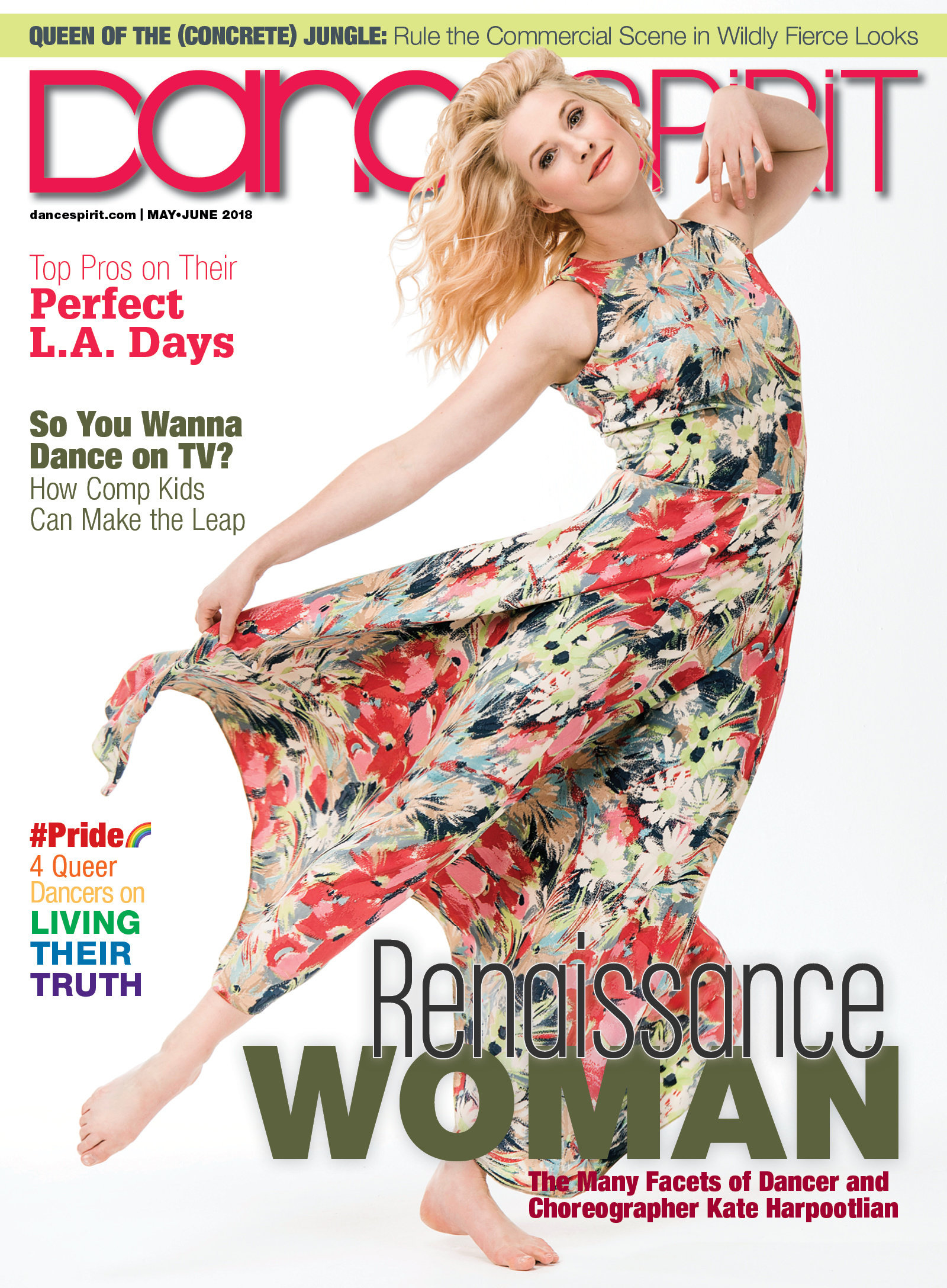 Get Dance Spirit in your inbox