Oct. 23, 2017 01:04PM EST
Drew Herman/FOX
Kathryn McCormick first won our hearts with her captivating contemporary moves and girl-next-door relatability on Season 6 of "So You Think You Can Dance," where she made it to the top three. Since then, she's returned for seven more seasons as an All Star and, last summer, gave viewers all the feels when she mentored rising dancer Tate McRae. An Augusta, GA, native, McCormick started dancing at age 3 and moved to L.A. at 18. She performed a leading role in Step Up Revolution and danced in Fame, and has worked with choreographers including Stacey Tookey, Travis Wall, and Teddy Forance. Currently, you can catch her touring with DanceMakers, where she's on faculty. —Courtney Bowers
Dancer to Dancer
Mar. 23, 2017 03:03PM EST
Cat Deeley, we love you, we really do. But when you open the show by telling us that "So You Think You Can Dance" will be taking a two-week "summer vacation" and that means we have to send not one but two dancers home tonight? Well, you break our hearts a little.
Fortunately, though, the two hours of showtime leading up to the double elimination were fun, entertaining, and packed with good stuff. This week, the remaining contestants performed two duets: one with their All-Star, and one with another contestant (yay!). These moments, in particular, had us laughing, crying, and dancing in front of our TVs.
1. Phoenix and Pharside's opening number
The opening number is almost always a highlight because we get to see all the remaining contestants and All-Stars performing together. This Nutcracker-themed hip-hop routine with a kind of dark twist featured Fik-Shun as a jester, Tate and Kathryn as eerie ballerinas, a handful of creepy clowns, and Jordan as a teddy bear. Cat said, "No one likes a freaky clown," but in this case? We were into it.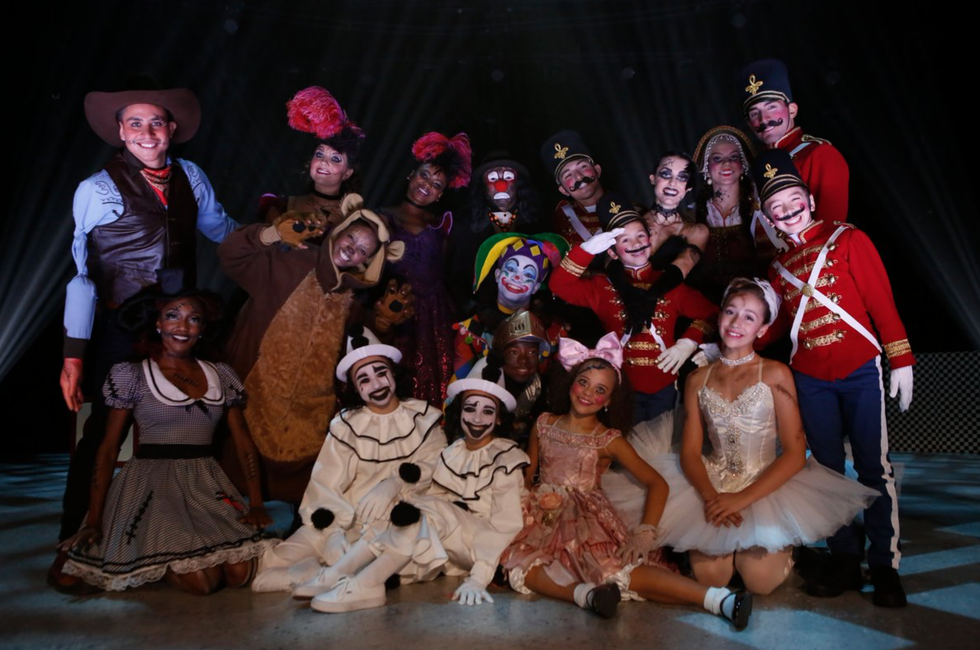 (Photo via FOX)
2. Tahani and Comfort's lyrical hip-hop routine
Nappytabs doing what Nappytabs does best: emotional hip hop! This narrative piece was about abandonment: Tahani's dad/Comfort's husband has walked out on them, and they're coping with a wall between them. (Really. A literal wall, not just an emotional one.) It was pretty emotional—particularly when Judge Maddie Z. said she could relate, making us all wonder if Mr. Ziegler was watching!—and prompted Nigel to declare Tahani one of his favorites in the competition. Crushed it.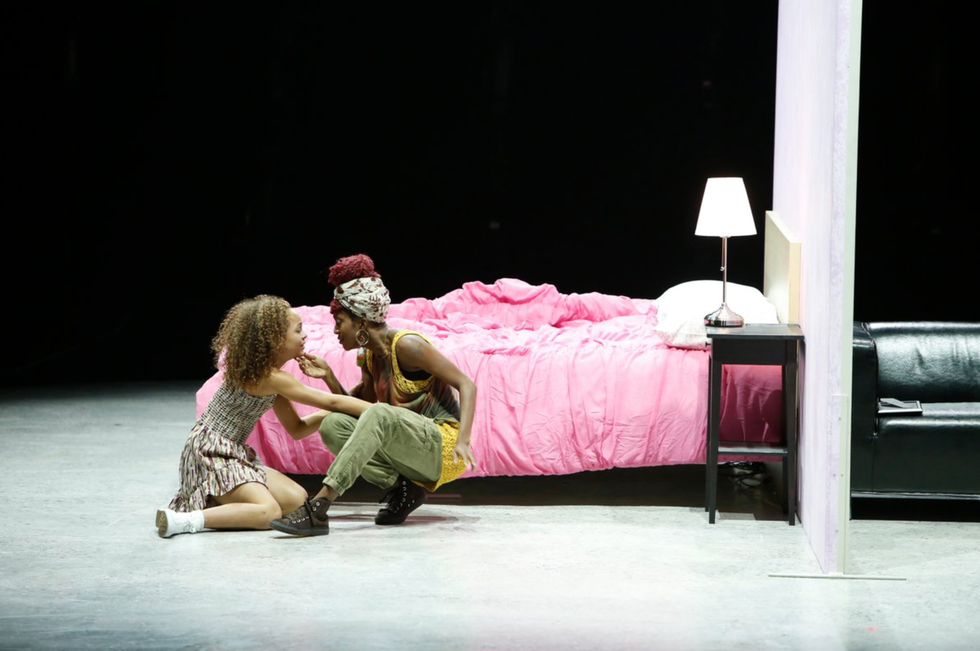 (Photo via FOX)
3. J.T. and Robert's jazz duet
These two just keep the hits coming, week after week. But this week, instead of the emotional contemporary duets they've become known for, J.T. and Robert get some Mandy Moore jazz choreography! And it was, of course, so much fun. It was nice seeing J.T. outside his contemporary bubble, though style doesn't seem to matter: These two are so good together. They were totally in sync the entire time—every turn, every spot, every move was on point. Paula couldn't wipe the grin off her face, and neither could we.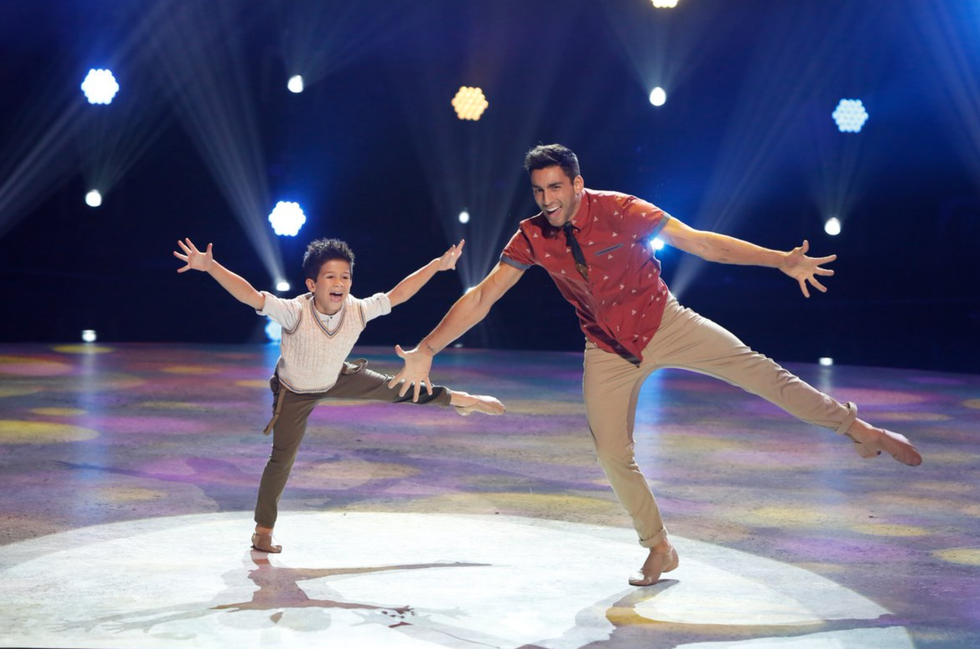 (Photo via FOX)
4. Tate and Kathryn's contemporary masterpiece
"Wait, which one is the kid and which one is the adult? Is the girl in pink the younger one?" my husband asked me in the middle of this routine. And while normally I'd shush him for talking mid-"SYT," he has a point. Tate is literal leaps and bounds above the rest of the competition, and she executed this Travis Wall number flawlessly. The choreography was intense, challenging, and intricate, and the performance was perfection. When the two reconvened for their post-performance talk with the judges, Kathryn was crying. (It's OK, Kathryn. So were we.) Tate is on another level. Kathryn is on another level. Travis is on another level. Love, love, love.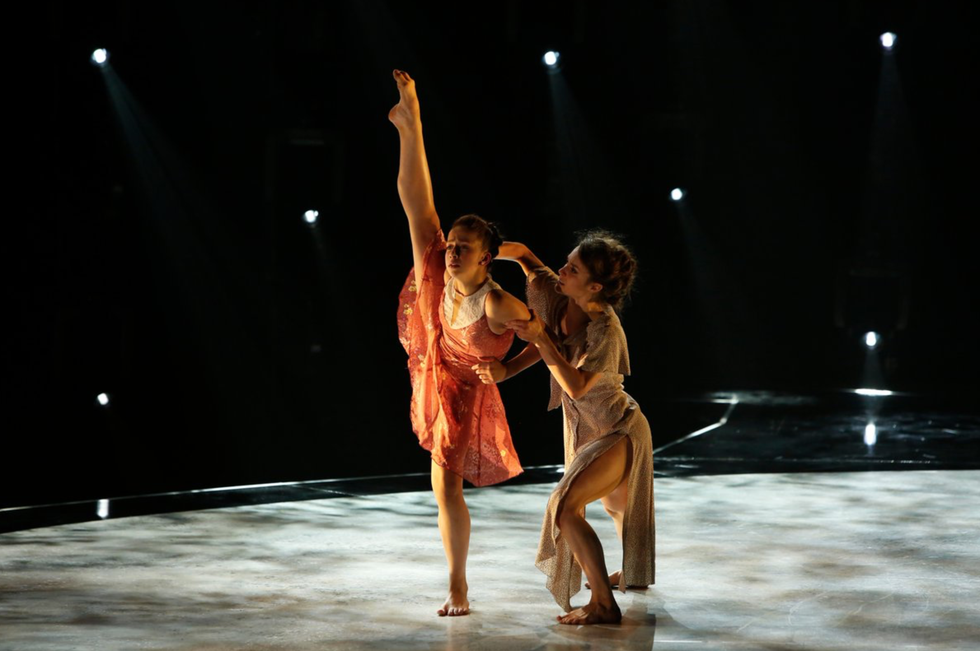 (Photo via FOX)
5. Kida and Ruby's contemporary routine
Another Mandy Moore stunner! The pre-performance rehearsal package footage was all about Kida being uncomfortable and out of his comfort zone. But really? He seemed so smooth and so comfortable onstage, and we felt so proud. Kida has proven himself as the show's go-to hip-hopper, but now his versatility and growth are really shining through. Sure, he may not have the technique of, say, Tate, but he was a strong partner for Ruby, and he connected with her well. The piece earned a standing ovation from the judges, bringing tears to Kida's eyes. And ours. Obviously.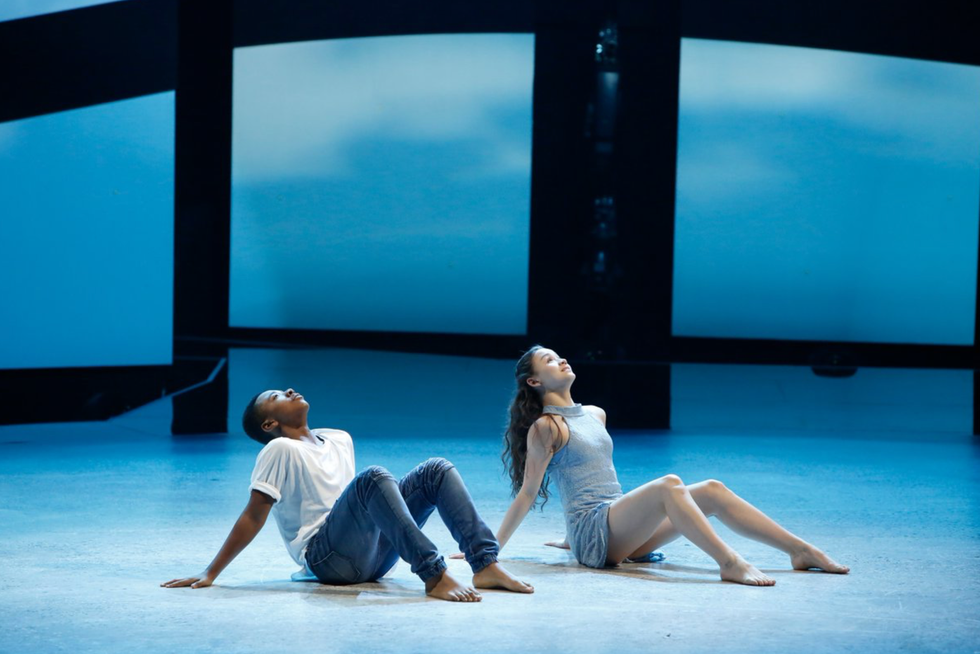 (Photo via FOX)
Other highlights: Emma and Gaby's OMGsofast tap routine, Jordan and Sasha's emotional duet (that shoulder balance!), the Tyce Diorio-choreographed All-Star routine that made us wish for a winter wonderland, Kida and Fik-Shun's unbeelievable routine by superstar Misha Gabriel and Maddie Ziegler's voluminous ponytail.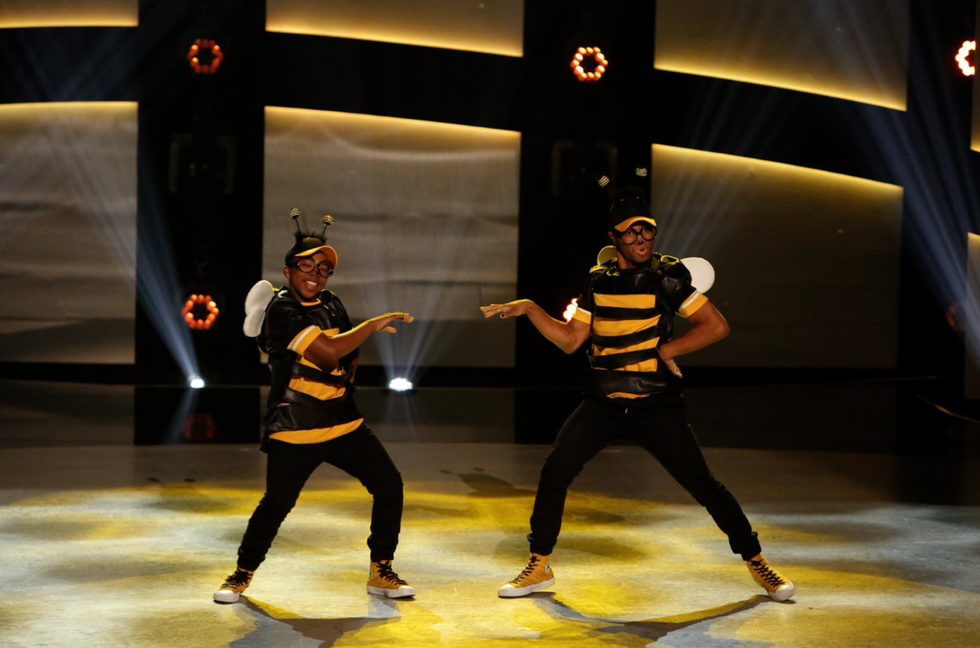 (Photo via FOX)
But, as Cat said, the double elimination was looming, and ultimately Jake and Jordan were sent home.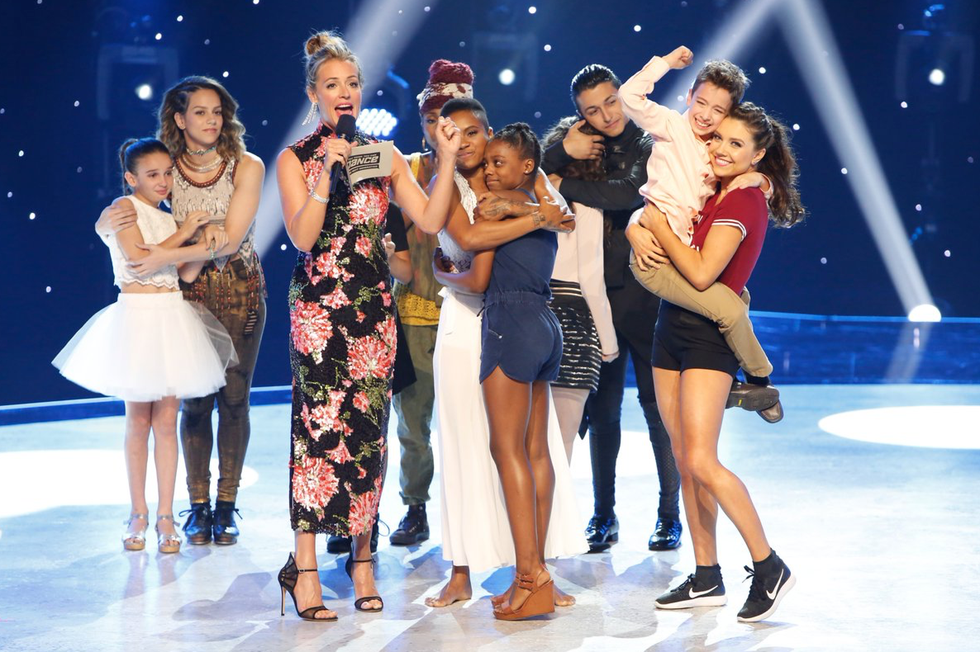 (Photo via FOX)
And then there were six...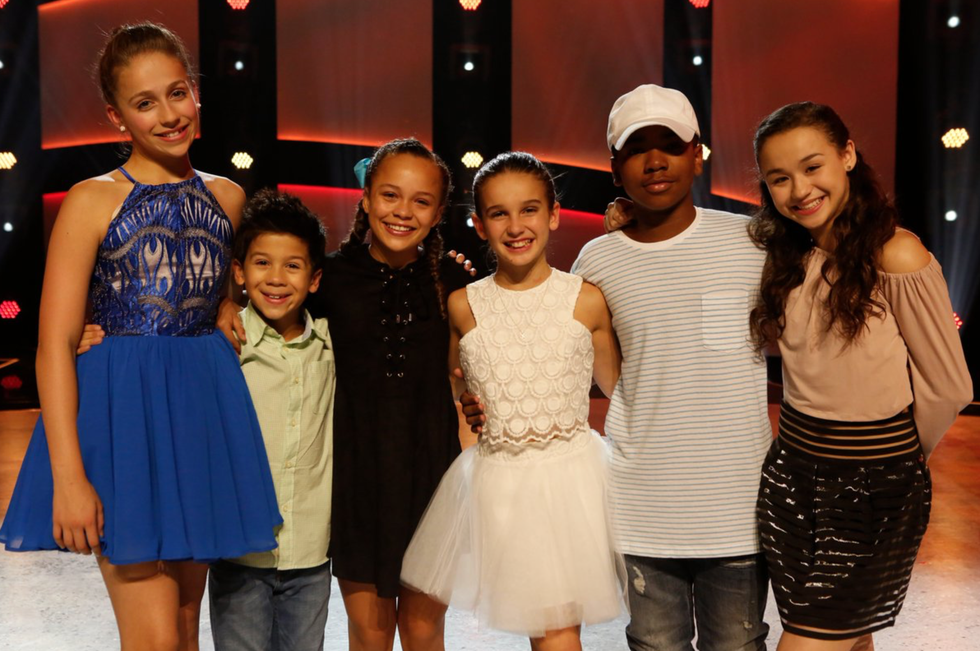 (Photo via FOX)
See you in two weeks!
Dance News
Mar. 23, 2017 06:29AM EST
In my imaginary second life, I am best friends with Kathryn McCormick and Chantel Aguirre, and we are all members of Stacey Tookey's newly-formed company, Still Motion.
In actual life, Kathryn and Chantel (and a host of other former Dance Spirit cover stars, including Melanie Moore) really are members of Tookey's company.
Sure, I'm jealous. But I'm sure a spot will open up in the company—and the friendships—for me soon enough.
In the meantime, I am so into this just-released video from Tookey showcasing a bit of the incredibly talented dancers from Still Motion in Moments Defined.
Dance News
Mar. 23, 2017 05:56AM EST
Planning on spending the holiday weekend catching up with your DVR? Make sure you don't miss Tuesday's episode of "Dancing With the Stars." In addition to sending two couples home (no spoilers here!), there's an awesome number by hip-hop superstar Parris Goebel, a creative performance by Paula Abdul and, my personal favorite, a beyond stunning contemporary piece choreographed by some DS favorites, Derek Hough and Allison Holker. Some highlights:
Choreographers Allison and Derek set the mood.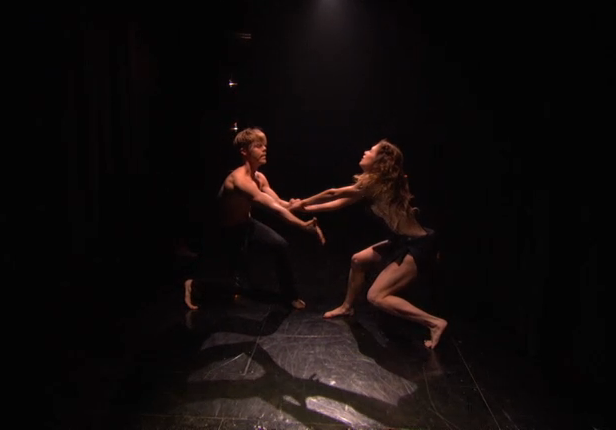 Oh hey, Kathryn McCormick, looking gorgeous as always.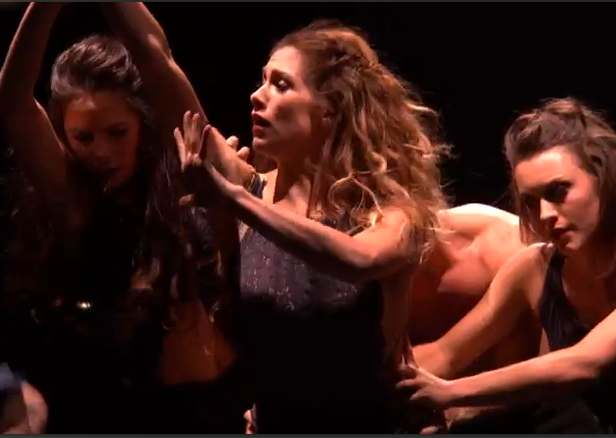 I see you, Melanie Moore.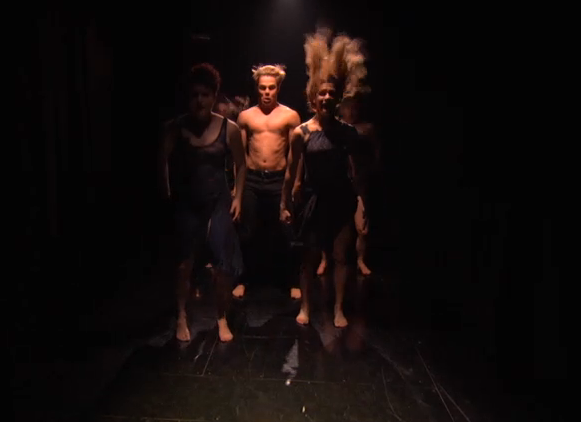 Is that a slow motion jump? Mind blown.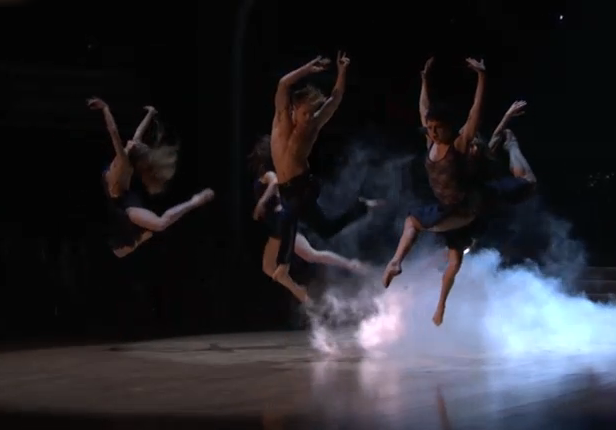 Love the use of water. This gives "dancing in the rain" a whole new meaning.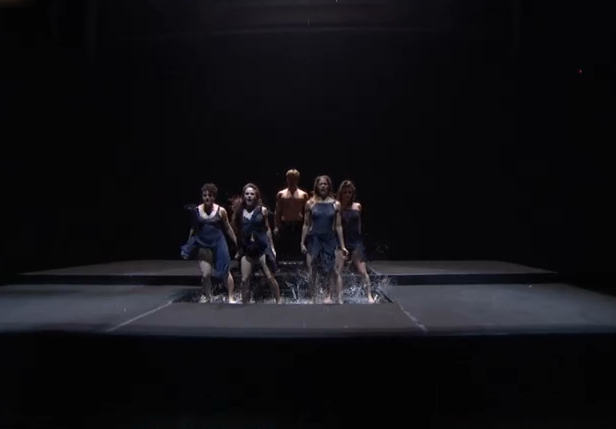 Best. Closing pose. Ever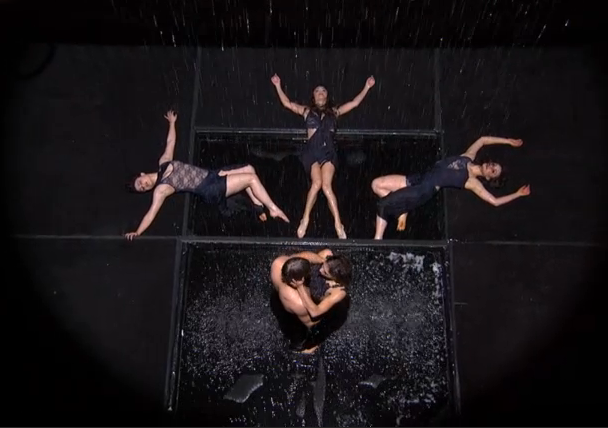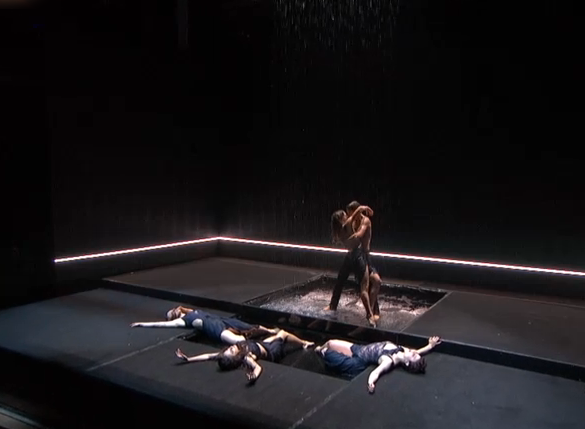 Forget to record the episode? Never fear, abc.com is here. Click here to watch.
Dance News
Sep. 22, 2016 10:21AM EST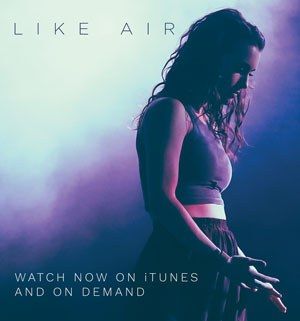 We're not sure Kathryn McCormick ever sleeps. When the beautiful contemporary dancer (and November 2012 cover girl) isn't busy appearing as an All-Star on "So You Think You Can Dance"—where she just wrapped up a hugely successful season, partnered with 13-year-old wunderkind Tate McRae—she's taking on acting projects, teaching at DanceMakers Inc. or serving on the creative team for CLI Studios. Last year, she added a wedding to her jam-packed schedule, marrying producer (and former dancer) Jacob Patrick.
McCormick and her new husband have a passion project of their own: Like Air, a documentary following three of McCormick's young protégés as they prepare for DanceMakers Nationals. (It's available for download now on iTunes.) We spoke with her about the film, the "SYTYCD" whirlwind and why mentorship has become the through line in her career.
Dance Spirit: What inspired Like Air?
Kathryn McCormick: It all started with Doug Shaffer, the former owner of DanceMakers Inc. He's one of the most incredible mentors I've ever had, and he always said he wanted to help people see competitive dance in a positive light. There are a lot of reality shows, like "Dance Moms," which don't highlight dance in the greatest way; he wanted to show the beauty in it, rather than the negativity. When I'd been teaching on the convention for a couple of years, he asked me to be a part of a project—he wasn't sure what it was going to be, maybe a reality show, maybe a film—that would show competitive dancers' heart and passion. And then Jacob and I talked it out, and we came up with the idea of a really raw, organic documentary.
DS: How did you find the three dancers you followed?
KM: It was really Jacob and Jake, the film's director, and Brad Taylor, the current owner of DanceMakers, who did the scouting. The three girls they chose—Montserrat, Alyssa and Kayla—we had no idea how they were going to place. But we knew that they had very different backgrounds, very different stories, and that's what we wanted. In hindsight, I feel like the girls chose us, rather than us choosing them!
DS: This is your first time working with your husband. How did you operate as a team?
KM: I'm a dancer and he has a production company, but we have a similar heart mission. It was a beautiful bonding time for us, to be able to work together on this project. We watched these girls learn how to love themselves for who they are rather than what they can do. We'll always be able to look back at this film and know that it represents everything we stand for.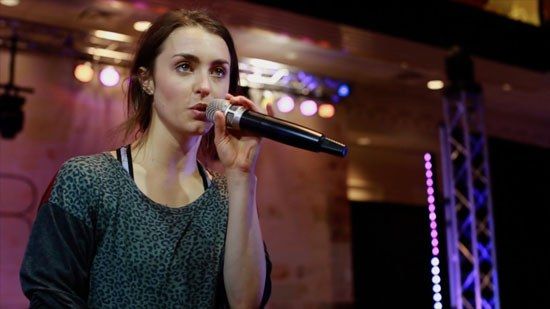 McCormick in a still from Like Air (courtesy Sundari PR)
DS: There are definitely parallels between Like Air and the mentoring work you did on this season of "SYT." Did the film affect the way you approached the show?
KM: I think my whole career, I've been falling in love with mentorship—with those moments when I can look a child in the eye and say something that makes her feel important and worthy. So when I heard about "SYTYCD: The Next Generation" as an opportunity to mentor kids, I was all in from the start.
DS: You and Tate had an amazing partnership. What makes her special?
KM: She was someone that my mentors were telling me about early on. A lot of people were rooting for her before I even met her! Her talent is so obvious—golly, she's incredible at what she does. But the moment my heart was sold on her was when I got to interview her. Hearing that her greatest goals are to be humble and kind and to make people feel something—that she wanted to be on the show not to win, but to learn—I knew, then, that I wanted to tell stories with her.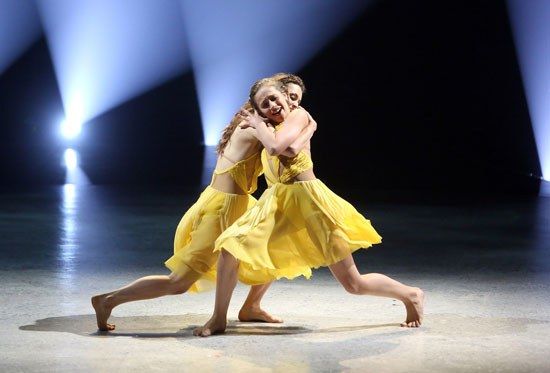 McCormick and Tate in "This Gift," choreographed by Stacey Tookey, on "SYTYCD" (photo Patrick Wymore/FOX)
DS: You two must be very close now. Do you have plans to work together in the future?
KM: We definitely want to. Geographically, we're far apart—she lives in Canada—but we have many of the same mentors, like Stacey Tookey, so there's a good chance we'll work together again. And we'll be friends forever. Since the show, we've been in constant communication. I'll get little videos from her, like, "Just doing my homework and wanted to say hi!"
DS: What other projects do you have on the horizon?
KM: I'll be teaching on DanceMakers again this year, and I'm also co-director of their company, The Collective. I have a new project with CLI Studios coming up, too—live interactive classes. All of it ties into the same philosophy: the idea of mentorship, of helping dancers work through their insecurities and find their voices so they can love themselves.
Want more Dance Spirit?
Dance News
Apr. 29, 2015 12:16PM EST
What makes music-video magic? For Sia, it's a blonde wig and a certain tiny dancer. For Carrie Underwood, Shaping Sound plus a shallow pool of water did the trick. Megan Trainor utilized the magnificent powers of Les Twins—plus lots and lots of lips. Are you sensing a pattern here? Dancers make music videos AWESOME.
British rock band MUSE is the latest musical entity to capitalize on this fact, with their magical formula combining dancers Kathryn McCormick and Will Wingfield, choreographer Tessandra Chavez, a ton of chalk dust and suuuper creepy contact lenses.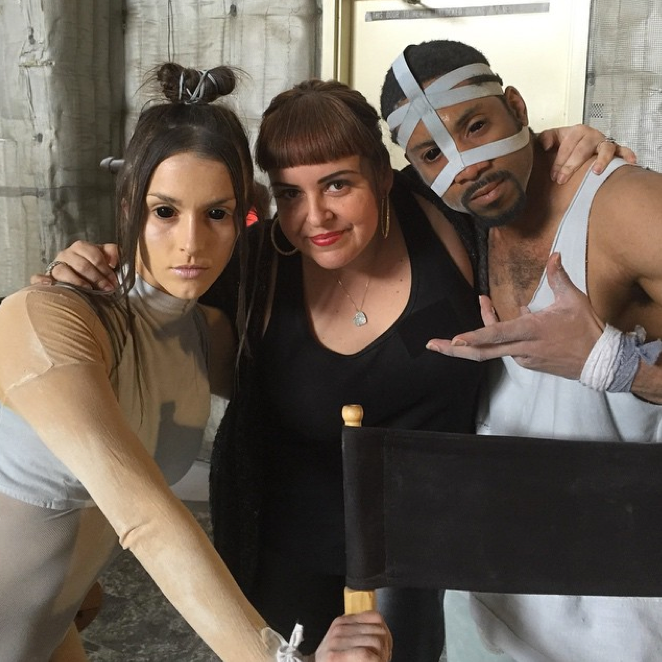 (L to R) McCormick, Chavez and Wingfield on the set of MUSE's "Dead Inside" (photo via Instagram)
The resulting music video, "Dead Inside," is deliciously dark and creepy—and somehow, it managed to exceed our already high expectations. Chavez's choreography expertly walks the line between musical and abrasive, effective and emotionless. And both dancers do that choreography justice, perfectly embodying a possessed, contorted and somehow hauntingly beautiful quality throughout. The excellent camera work doesn't hurt either (shout out to director Robert Hales).
We were particularly impressed with McCormick's transformation. Sure, she's no stranger to being a choreographer's muse (pun intended)—but this project strays so far from the beautiful tragic heroine she often portrays. Guys, Kathryn gets evil. This face may or may not show up in my nightmares tonight, and I'm totally OK with that.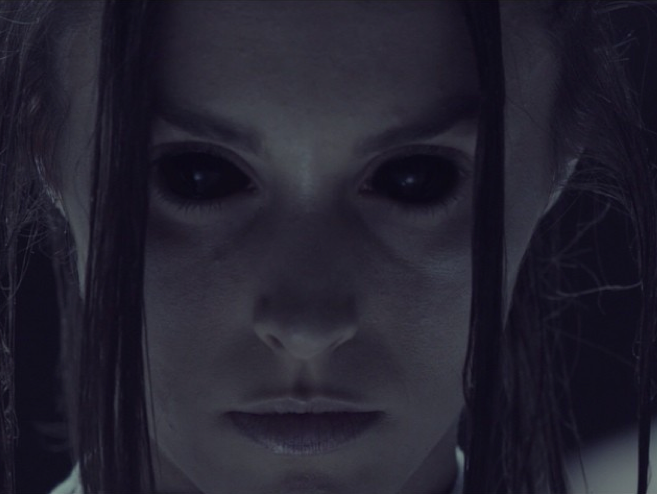 OK, maybe I'm not so OK with that... (photo via Instagram)
I think it's past time I stopped gushing and let you guys experience this beautiful monster for yourselves. Enjoy! (And maybe sleep with a nightlight tonight.)
Dance News
Oct. 06, 2014 12:29PM EST
You can never really have enough Romeo-and-Juliet-esque dance dramas, amiright? I mean, we'll continue to eat up every new Step Up movie until they stop bangin' them out (#teamstepup6). So naturally, we're pretty psyched for tomorrow's digital release of the new star-crossed saga, Dance-Off.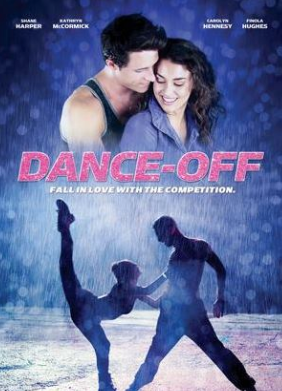 Dance-Off tells the story of Jasmine (played by the gorgeous "SYTYCD" All-Star extraordinaire Kathryn McCormick) and Brandon (played by Shane Harper). The two dancers were childhood duet partners, but life's circumstances pulled them apart—and Jasmine has been heart-broken ever since.
Several years later, the two meet again; however, this time, it's as competitors. Jasmine dances for the affluent Diamond Dance studio, whereas Brandon dances for the inner-city Shockwave Studios (rich in talent, but not so rich in funding). In a gloriously dramatic twist, Jasmine and Brandon are each chosen by their respective studios to compete head-to-head, mano-y-mano, to determine the top studio in the area. As if that isn't enough pressure, Brandon has to win in order to save his studio with the prize money—and it certainly doesn't help that Jasmine's over-the-top dance mom tends to intervene at the least desirable moments.
Throw in a good dose of romantic tension (and some stellar dancing—including tap!), and you've got a smash hit.
Dance-Off releases tomorrow, October 7, but you can pre-order it now on iTunes. To help you pass the time, we've rounded up a couple of Dance-Off clips. First, the trailer:
Next up, a Hulu exclusive clip:
And one more exclusive to round it out:
Dance News
Sep. 01, 2014 12:30PM EST
Since leaving her hometown of Edmonton, Alberta, at 19, Stacey Tookey has become one of the commercial world's biggest-name choreographers. Her work on "So You Think You Can Dance" has earned three Emmy nominations for outstanding choreography, and her company, Still Motion, presented her full-length work, Moments Defined, in NYC and L.A. this summer.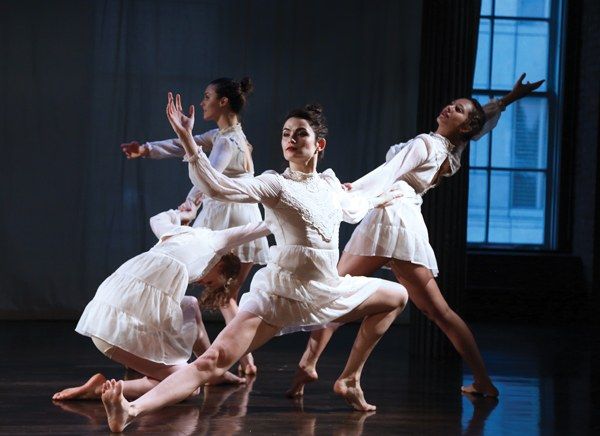 Members of Still Motion in Tookey's Moments Defined (photo by Bill Herbert, courtesy Stacey Tookey)
"In Moments Defined, there's a New York street scene that's up-tempo—a really happy, feel-good part of the work. It was inspired by the first time I arrived in NYC. The city was a place where, all of a sudden, I just felt alive. It was a feeling of true happiness and true belonging."
"I often use apps like SoundCloud to find new music. But I also love getting recommendations. For example, a friend first told me about Christina Perri, who, at the time, was still a waitress. I heard her song 'Jar of Hearts' and immediately fell in love with it. I took it to the 'SYTYCD' people, and they said they needed a produced copy. I went back to Christina, who then asked her manager to produce it. Finally, we got to use it on the show, and the song was a hit. A couple of days later, she was flown to NYC and basically had her choice of record labels!"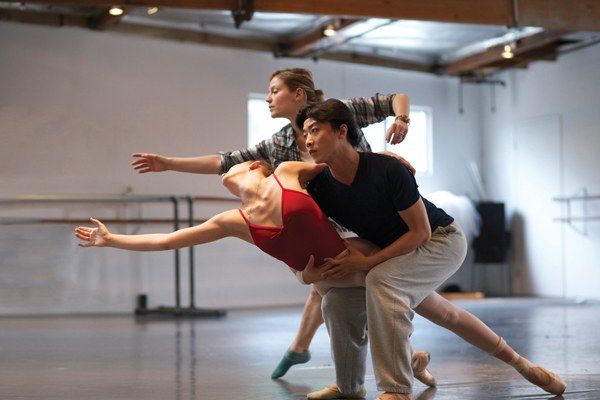 Rehearsing Be Still with Los Angeles Ballet's Allyssa Bross and Zheng Hua Li (photo by Erich Koyama, courtesy L.A. Ballet)
"I love collaborating with composers. I've worked with Matthew Banks many times—for Moments Defined and my pieces for Los Angeles Ballet and Cincinnati Ballet. I love being able to speak to him about exactly what I want or to ask if he can go in another direction. He also comes in to watch the rehearsal process and creates from there."
"I was walking down a street in NYC, and I started to think about the stories behind everyone I passed—a businessman, girls out shopping, a homeless man—and the diversity of our culture. That's how Mad World was born. I thought, 'What if there were a twist? What if two people knew one another growing up, but their lives took completely different journeys, and then they had an accidental meeting?' I wanted to bring up that shocking, twisted, sad thing about reality."
"Pina Bausch is a true visionary. Her work inspires me, and she embodies everything I want to become as a choreographer. Crystal Pite is also just mind-blowing. She was in Ballet BC when I joined the company as an apprentice, and since then, I've looked up to her as a mentor. I always say, You aren't the person you are without the people you look up to."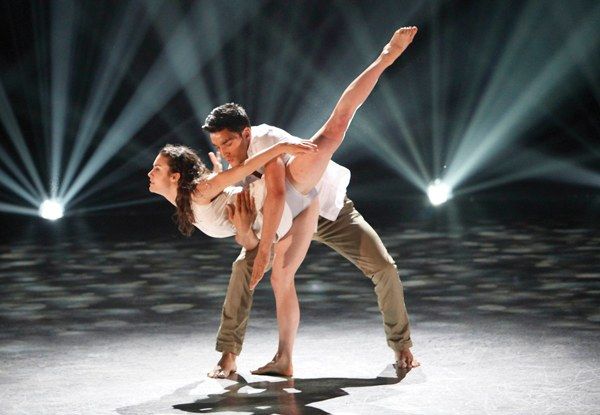 Kathryn McCormick and Robert Roldan in Heaven is a Place on Earth (photo by Mathieu Young, courtesy FOX)
"The inspiration for my piece Heaven is a Place on Earth came from seeing families making huge sacrifices for the military. The dance centered on a woman leaving for war. At the time, so many people were dealing with those sacrifices, and their stories really affected me. On the show, Kathryn McCormick and Robert Roldan were able to take the piece to such a real place emotionally."
"Kathryn McCormick is my muse. I fell in love working with her on 'So You Think' and she's the one dancer I always go to for any project. She invests her whole soul in everything she takes on."
"When I look at myself as a teacher or a choreographer, I see that it all comes from my mother. She's one of the most hard-working, passionate people I've ever met. She's had her studio, Shelley's Dance Company, for more than 45 years and has created so many amazing dancers. Still, she goes in every day and puts her heart and soul into her work. I'm not sure if I have the strength to do what she has done. I'm the person I am today because of her."
Choreography
Aug. 16, 2014 07:45AM EST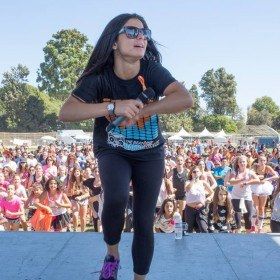 Courtney Galiano at the 2013 BEAT MS Dance Walk
(photo via The Beat MS)
L.A. friends: Mark your calendars for the second annual BEAT MS Dance Walk, happening September 13th. Spend a day movin' and groovin' alongside some of your favorite dancers, all while raising awareness about multiple sclerosis. But even if you're not on the West Coast, this event is something we can all get behind.
In 2011, "So You Think You Can Dance" All-Star Courtney Galiano was diagnosed with MS—a debilitating disease that affects the central nervous system. Despite the challenge she faces, Galiano hasn't let MS bring her down. She and her brother, Philip Byron, established the foundation BEAT MS (the name is a play on her family's dance convention, The BEAT Dance Tour), and last year hosted the first BEAT MS Dance Walk to benefit the National Multiple Sclerosis Society. In 2013, the BEAT MS Dance Walk in L.A. raised over $62,000 for MS research.
We caught up with Galiano about this year's walk.
Dance Spirit: The first BEAT MS walk welcomed so many dance celebs—Adam Shankman, Mark Kanemura, Comfort Fedoke, Kathryn McCormick, Jeanine Mason and dancers from "Americans Best Dance Crew" and "Glee." Are you expecting more star participants this time around?
Courtney Galiano: Last year we had over 600 people walk, and we want to continue to get as many people involved as possible. There will be lots of dancers from "SYTYCD" (including season 7 winner Lauren Froderman), dancers from VH1's "Hit the Floor" and cast members from the musical Hair—including Kristen Bell—which I just performed in at the Hollywood Bowl.
DS: So far, what have been the most rewarding aspects of the BEAT MS?
CG: Being surrounded by so much love and support, and meeting people who share my passions and challenges. I've been amazed at the number of young people fighting MS. It often seems like there's a stigma associated with the disease—people are scared to say they have it. Through BEAT MS, I'm hoping to break that stigma, because there's nothing to be ashamed or afraid of. I think the lack of discussion about MS stems from a lack of knowledge, so I hope the walk helps raise awareness and educate people.
DS: Since your diagnosis with MS in 2011, have your career goals changed?
CG: Not at all. I have good days and bad days, but sometimes I forget I even have MS. Fatigue is the biggest symptom I have to fight. I'm thankful every day for the determination that dance has instilled in me. Plus, dance really helps fight the disease: Medical professionals have started prescribing dance classes for people with MS and similar diseases that affect mobility. It just goes to show you how powerful dance really is!
DS: Is there a way for those who can't attend the walk in L.A. to get involved?
CG: Of course! You can make donations on our website, or even start your own team and recruit other people to join on social media. Anything that spreads awareness about this event and the disease helps.
If you're in Georgia, Texas, New Jersey or Florida and want to get involved, you can also check out The BEAT Dance Tour convention—a portion of every registration is donated to the National Multiple Sclerosis Society.
Dance News
Aug. 06, 2014 07:45AM EST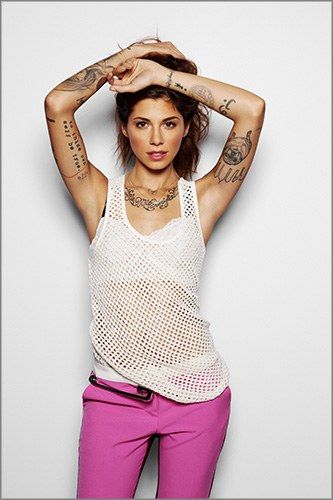 Christina Perri
(photo by Yu Tsai)
You probably remember Stacey Tookey's contemporary piece "Jar of Hearts" on "So You Think You Can Dance" Season 7—partly because of the ultra-gorgeous choreography, and partly because the song's been in your head ever since. (Click here in case you need a refresher.)
At the time, Christina Perri's song "Jar of Hearts"—and Perri herself—were virtually unknown. Cue the best Cinderella story ever: After it played on the show, "Jar of Hearts" was downloaded so much that it made iTunes' Top 20 song chart—that night. Two weeks later, "SYTYCD" invited Perri to play "Jar of Hearts" live (accompanied by Allison Holker and Neil Haskell), and the song took off—hitting number 25 on the Billboard Hot 100 chart and number 1 on Amazon's digital singles list.
Fast-forward four years, and Perri's career has been on a roll. Her newest album, Head or Heart, is available now; she's currently touring with One Republic; and this fall, she'll hit the road with Demi Lovato. Tonight, Perri will perform her latest single "Burning Gold" on "SYTYCD," and Tookey has choreographed a special performance for their four-year reunion.
Dance Spirit spoke with Perri about her second big night on "SYTYCD."
How did Stacey Tookey first find your work?
Keltie Colleen is the fairy godmother in this story. She and I have been friends for a long time—she dated my brother, and when they broke up, we kept hanging out. Up until "SYTYCD," she was one of very few people who had heard my music. She was always supportive and encouraging, and she was actually the one who helped me get a manager by posting a video of us on YouTube back in 2010. Three months after that, I emailed Keltie a song called "Jar of Hearts." I'd just recorded it, I and wanted to show her what I was working on. I asked her to keep it between us, but she immediately emailed Stacey Tookey—they grew up together and were friends—and suggested it for the show. Stacey replied, "How about this week?" I had five days to do a photo shoot and put the song on the internet. It was crazy. The night it debuted on the show, Keltie and I were in the audience. I quit my job as a waitress the next day, flew to NYC and my adventure began!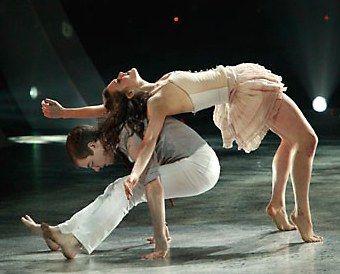 Billy Bell and Kathryn McCormick in "Jar of Hearts" on "SYTYCD"
(photo Kelsey McNeal/FOX)
What's your relationship with Stacey like?
She realized how much of an impact her work and the show had on my life. When I needed a choreographer for the "Jar of Hearts" video, I asked Stacey to work on it with Keltie and the cast of "SYTYCD" dancers. Since then, Stacey has used more of my songs on the show and we stay pretty close. I always send her champagne and flowers on June 30 (the date I was on the show). I can't wait to come back and perform "Burning Gold" with her choreographing.
What's the best part about choreographers using your music?
It's a magical combination. Dance elevates the emotional level of the song. It makes it into something brand new. I'll hear a song over and over, but when I see someone dance to it, it comes to life. I'm honored when someone dances to my music.
Do you have any advice for DS readers?
Say "yes" to the things that scare you. I was shy and lacked confidence, and there were always so many reasons to say "no"—excuses. But the moment I started saying "yes"—for instance, letting Keltie post that video online, or agreeing to play on TV—all of my dreams started to come true. "Yes" can change your life.
Be sure to watch Christina Perri tonight on "So You Think You Can Dance," and come back tomorrow to read our recap of the Top 10 episode!
Dance News
Get Dance Spirit in your inbox
Apr. 11, 2014 07:00AM EST
Confession: Much to my sweet, sweet grandmother's dismay, I am not a diehard "Dancing with the Stars" fan. I absolutely adore the pros on the show—they're so super talented and it's amazing that every week they not only choreograph and perform their routines, but they're also each responsible for teaching their non-dancer partner how to dance. And it's all being filmed or taped live for the world to see. No pressure, right?
But overall, the show doesn't keep me glued to my TV screen the way "So You Think You Can Dance" does (and, um, the way "Parks & Recreation" does...or "Parenthood," "Chopped" or "Cutthroat Kitchen").
The one reason I will always tune in to "DWTS," though, is to catch the weekly Macy's Stars of Dance performances. I love that the show uses its massive exposure to teach its viewers—and the world!—more about all forms of dance.
This year, megastar and multiple-time mirrorball trophy winner Derek Hough is overseeing the Macy's Stars of Dance performances, which is really cool because I looooove him (he's going on tour with sister Julianne—make sure you get your tickets because shows are already selling out!). In this week's installment, Derek choreographed a piece starring DS favorite (and former cover girl) Kathryn McCormick, alongside "DWTS" pros Henry, Sasha, Artem and Jonathan.
It's crazy hot (just like Derek...awww yeah)—watch it now!
Next time, Shirtless Derek: We want in.
Dance News
Dec. 11, 2013 10:35AM EST
Yesterday was the big day—and it looks like #bosswedding2013 was just as magical as, well, pretty much every moment of Allison Holker and Stephen "tWitch" Boss's too-cute-for-words courtship!
The nuptials were full of "So You Think You Can Dance" love: Not only did the couple have their ceremony at producer Nigel Lythgoe's vineyard, but Will Wingfield and Joshua Allen were among tWitch's groomsmen, and Allison's bridesmaids included Courtney Galiano and Kathryn McCormick. (She also had two "bridesmen": Shaping Sound's Teddy Forance and Travis Wall, who wore a very fetching veil of his own.)
Here are the shockers of the century: 1) tWitch and Allison looked fabulous (Allison wore a gorgeous strapless dress with organza flowers by Watters Hollywood) and 2) the duo did not disappoint on the dance front. After a first dance to Adele's "One and Only," they performed a hip-hop routine to Justin Bieber's "Somebody to Love" along with Allison's adorable daughter Weslie, who apparently helped with the choreography. All together now: D'awwwwwwwwww.
Congrats, you crazy kids! And for those of us not lucky enough to make the guest list, here are some Instagram highlights. Enjoy!
[portfolio_slideshow nowrap=0 thumbs=true timeout=4000 showtitles=true showcaps=true showdesc=true]