Oct. 05, 2017 10:32AM EST
Many dancers are deciding to go meat-free (vegetarian) or animal-product–free (vegan) because they want to fuel their bodies with plant-based foods. These diets can be beneficial, but they can also cause problems if you don't make thoughtful and healthy choices. Here are a few basic tips for dancers curious about a vegan or vegetarian lifestyle.
Health & Body
Mar. 23, 2017 02:11PM EST
Here it is, in all its glory.
Is Keenan Kampa (aka Ruby) perfect? Yes. Is Ian Eastwood (aka Rik) and SwitchSteps Crew #squadgoals? Definitely. Is Nicholas Galitzine (aka Johnnie) very convincing as a struggling artist who really needs my Ruby's help? Um, yeah.
We've been waiting for High Strung with baited breath, taking you behind the scenes and picking apart clues to its possible release date. We're happy to announce that the film will hit theaters nationwide in April! In the meantime, the trailer does not disappoint.
Now, we'll have to patiently wait for spring. And we really hope Kampa is reading for other films or working on other dance projects, because we miss her gorgeous dancing.
Mar. 23, 2017 12:25PM EST
Mar. 23, 2017 05:42AM EST
We first heard from beautiful ballerina Keenan Kampa in 2010, when the Washington, D.C. native documented her final year at the Vaganova Academy in St. Petersburg, Russia for us. (It's incredibly rare for an American dancer to study at the iconic school, by the way, which speaks to just how amazing Keenan is.) Then, this past March, she graced our cover, talking about her artistic growth during her first year as a professional dancer at Boston Ballet—and posing for a gorgeous group of fashion photos that blew up our Pinterest page. Shortly afterward, we were thrilled to hear that Keenan was making history as the first American to join the Mariinsky Ballet—her lifelong dream come true.
And this past week she came full circle, making her U.S. debut with the Mariinsky at the Segerstrom Center for the Arts in L.A. The company danced Swan Lake (of course), and Keenan was honored with a demi-soloist part, one of the Big Swans.
Judging by this photo from the performance, it looks like she's grown even more lovely since joining the Mariinsky. (We almost didn't recognize her as a brunette—until we saw those unforgettable feet!). Congratulations, Keenan—we can't wait to see where your fabulous career goes next! And if you haven't experienced Keenan's particular brand of awesome, check out this behind-the-scenes video from her cover shoot:
Mar. 23, 2017 04:52AM EST
So, you know that Dance Spirit has an iPad app. And we've told you that it's awesome. But I wanted to give you a sense of just how awesome it really is—by showing you some of its coolest features.
Let's begin with the March cover, shall we? At first glance, it looks pretty much the way it does on newsstands:
But say you want to enjoy that gorgeous photo of Keenan Kampa minus the cover lines. No problem—just tap two times, and voila!
Since Keenan is amazing, let's jump to her cover story—which is easy to do, thanks to the oh-so-handy navigation bar:
So now we're in the cover layout. We took so many gorgeous photos of Keenan that, to cram 'em all into the print version, we had to make them on the small side. But say you want to see a larger version of this guy:
Can do! Just tap to expand that (and any other) photo:
Pretty neat, right? Same thing goes for Keenan's lovely fashion images:
And the fun doesn't end there. Did you love our ballroom story, "Find Your Frame"? You'll love the iPad version even more, because it has little Easter-egg tips scattered throughout. Tap on "Tip #1"...
...to find out all about the ballroom frame's four points of connection:
Technology is fun! And this isn't even half of what the DS app has up its sleeve. (Seriously—I keep discovering more and more cool features.) Intrigued? Find the app today at the iTunes store—or, from your iPad, go to "Newsstand" and search for "Dance Spirit."
Apr. 01, 2016 10:37AM EST
High Strung is almost here, guys! The eagerly-anticipated dance film—starring, as you know by now, brilliant people like Keenan Kampa and Ian Eastwood—will hit theaters next Friday, April 8. That's right: In just one week, you and your studio besties will be able to see for yourselves just how dancetastic, and just how fun, this delightful romp of a movie is.
But there's even better news: You actually don't have to wait until next Friday for a taste of High Strung's delicious goodness. Because we have an exclusive clip of one of the film's loveliest dance scenes RIGHT NOW. Featuring Kampa—aka Ruby, in the High Strung world—at her ballerina best in a sun-soaked studio, it's a minute and fourteen seconds of classical heaven:
You're ready to buy your tickets now, right? We thought so. Click here to find a theater near you. And be sure to stay up to date on all things High Strung by following the film on Twitter, Facebook and Instagram.
Jan. 29, 2016 10:26AM EST
It's happeningggggggggg!
Back in our July/August issue, we introduced you to the fantastic stars of the dancetastic film High Strung—or, rather, re-introduced you, since you knew Keenan Kampa and Ian Eastwood pretty darn well already.
They're so pretty. (photo by Erin Baiano)
Now the film—which follows the artistically-charged lives of a brilliant violinist, a gorgeous classical dancer (that'd be Kampa) and an innovative hip-hop crew (including Eastwood and Comfort Fedoke)—finally has a premiere date. Next Saturday, February 6, High Strung will make its official debut at the prestigious Santa Barbara International Film Festival. And in happy news for non-Californians, it's also slated for wider release in April. Which means there's a solid chance its dance-y goodness is coming to a theater near you very, very soon.
We've seen a screening of the film already, so you can trust us when we say it's a) kind of a delightful mash-up of Center Stage and Step Up, and b) the best thing to hit the dance movie scene since...well, Center Stage and Step Up. Click here for SBIFF tickets, and here for updates on High Strung's wider release.
Sep. 07, 2015 11:00AM EST
It's no secret that we love us some Keenan Kampa here at DS. We're so excited about the release of High Strung, slated for January 2016, and love hearing about the film's stars and their experiences (so much so that we did an entire feature!). Kampa spoke with Dance Informa about everything ranging from why she started ballet to her favorite moment from working on High Strung.
Keenan as Ruby performing her ballet solo (photo courtesy Riviera Films)
Some highlights include her preferred method of pointe shoe fill (gauze) and why she identified with her High Strung character, Ruby: "Looking back at where I've been with dance, I can see a lot of myself in her. I can see how I've grown and matured since then into a more confident and assured artist. It was interesting to remember that age, where you're choosing to step out and really reveal yourself as an artist." Be sure to check out the full interview here!
Aug. 12, 2015 11:00AM EST
Here's a recipe for a delicious dance movie mash-up: Gather a gaggle of gorgeous ballerinas and a few top-notch hip-hop crews. Mix in a bunch of talented classical musicians. Add killer choreography by Dave Scott. Shake well.
What's this magical cinematic concoction called? High Strung—and it's coming to theaters this summer.
(From left) Rik (Ian Eastwood) and Johnnie (Nicholas Galitzine) break it down in High Strung (photo courtesy Riviera Films)
The film's story goes like this: Johnnie (Nicholas Galitzine) is a brilliant violinist fresh off the boat from Britain who's desperate to get a green card. In the meantime, he's making ends meet by busking in the NYC subways. Luckily, his new friend Ruby (Mariinsky Ballet alum Keenan Kampa), a ballet student at a prestigious performing arts school, has the inside scoop on a strings-and-dance competition that could land him $25,000 and a student visa to stay in the U.S. To wow the judges, Johnnie's going to need not only Ruby's help, but also an assist from his neighbors: the SwitchSteps hip-hop crew.
Per the usual dance movie formula, romance, drama and awesome dancing ensue. But this one just feels different from other dance films. "Having the classical music component really adds a lot," Kampa says. "And the diversity of the dancing makes the movie special, too. It's got everything from ballet dancers to b-boys to tango pros to tappers."
Ruby performing her ballet solo (photo courtesy Riviera Films)
To find all of those accomplished artists, director Michael Damian, writer/producer Janeen Damian (Michael's wife and a former dancer herself) and Scott had to cast a wide net. They held open auditions in L.A., NYC, Paris, London and Bucharest, Romania, and Scott personally recruited many of the dancers, including "So You Think You Can Dance" standout Comfort Fedoke and "America's Best Dance Crew" alum Ian Eastwood.
The High Strung shoot, which took place in both NYC and Bucharest, was full of long, grueling days. But the stream of photos and videos on the film's social media pages prove it definitely wasn't all work and no play. "Imagine taking 60 great dancers to work every day and letting them loose," Scott says. "It was just fun from
beginning to end."
Johnnie romancing Ruby (Keenan Kampa) in NYC (photo courtesy Riviera Films)
High Strung's Best Dance Scenes
The subway showdown: Two underground hip-hop crews throw down in this high-octane, in-your-face dance sequence filmed in a Romanian train station—
a stand-in for NYC's subway. (Look for a cameo from Mr. Dave Scott himself!)
The ballet solo: Keenan Kampa gets the spotlight all to herself in a solo so extraordinary, you'll end up applauding in the movie theater.
The gala: Dueling violins set the soundtrack as the SwitchSteps crew wreaks playful havoc on a formal fundraiser.
The finale: A creative combo of hip hop and classical ballet pulls out all the stops in an over-the-top grand finish.
High Strung's Stars
In a cast packed with dance talent, Keenan Kampa and Ian Eastwood shine especially bright.
Ian Eastwood (photo by Erin Baiano)
America's Mos Wanted
Maybe you know him from Mos Wanted Crew, which snagged third place on "America's Best Dance Crew" Season 7. Maybe you've watched some of his virtuosic dance videos on YouTube. Or maybe you've caught one of his always-packed classes at The PULSE. Basically, Ian  Eastwood is everywhere—including, these days, in movie theaters.
Eastwood's leap into the acting world started with a call from Dave Scott, whom Eastwood has known since the age of 11, when they met at a Monsters of Hip Hop convention in Chicago. "He said he'd gotten an audition for me, and really wanted me to come," Eastwood says. "I love Dave and was starting to get into film on the directing end, so I was open to the idea of doing some acting."
Eastwood landed the role of Rik, the freestyling king of the SwitchSteps crew. It was familiar territory for the innovative hip-hop dancer, who's trained in a variety of styles. "I drew on real-life experiences I've had being in a crew," he says. "The character felt like a fun, hyped-up version of myself."
Even though the acting came naturally, Eastwood put a lot of pressure on himself to deliver dance-wise—especially in the intense finale. "I knew this was going to live on camera forever," he says, "so I had to make it dope for every take."
Now that the movie has wrapped, Eastwood's setting his sights on his next ambitious project: a "dance mix-tape" he hopes to debut this summer. "It's like a fusion of a dance short film and a music mix-tape," he says of the 25-minute movie, which features a 10-song soundtrack. As the writer, choreographer, director and editor, Eastwood's the main creative force behind the project, and he credits a lot of his newfound moviemaking skills to his High Strung experience. "I learned a ton about the technical side of things on the film," he says. "Now I'm taking that knowledge and using it to make something else great."
From the Mariinsky to the Movies
Ballerina Keenan Kampa was feeling pretty low in January 2014. Though she'd been the first American to join Russia's prestigious Mariinsky Ballet two years earlier, her stellar career with the company was cut short by injury. She'd returned to the U.S. to undergo surgery to repair several labral tears in her left hip. But shortly after her operation, she received a tweet from High Strung director Michael Damian. "He'd seen me in a story NBC did on the 2014 Olympic ceremonies in Russia, which featured the Mariinsky," Kampa says. "I wrote back and said that I'd always wanted to act—and was definitely interested in hearing more details."
Keenan Kampa (photo by Erin Baiano)
Before Kampa could audition, she had to get well. She spent two months at a rehabilitation center in Vail, reclaiming her ballerina body. "I accelerated my recovery as much as I could," she says. It was hard work, but it paid off: She read for the lead role of Ruby and nailed it, partly because she could relate to the character. "She reminded me of myself when I first started dancing," Kampa says. "There's a maturity and seriousness that comes with time, but Ruby's still in the phase where she's very wide-eyed and optimistic."
Though—unlike Ruby—Kampa is a seasoned professional, she still had a thing or two to learn on set. Dancing for the camera rather than a live audience was an adjustment, as was working with a hip-hop choreographer. "I was a little nervous going in, because Dave and I come from such different backgrounds. But he couldn't have been more fun to work with," Kampa says. "He'd tell me, 'I want this feeling,' and then he'd show me a hip-hop move and ask how I'd translate it to ballet."
Kampa also picked up a few things from the SwitchSteps dancers, who taught her everything from popping and locking to headspins. "It was like a party," she says, laughing. "As ballet dancers, we tend to get lost in aesthetics and the quest for perfection. It was really eye-opening for me to see how much they just loved moving."
Kampa's acting career is now in full force: She recently signed with the company that manages Keira Knightley and Sienna Miller. Her original plan of returning to Russia after healing is now on hold, and she's totally OK with that. "I'm going to take a break from the ballet company and see what happens with acting," she says. "I'm in a very happy place right now!"
Jun. 16, 2015 10:06AM EST
Get Dance Spirit in your inbox
Apr. 09, 2015 11:45AM EST
Let's take a minute to talk about Gene Schiavone's gorgeous photography, shall we? We want this guy's life: He travels the world shooting talented dancers in both performance and studio settings. He's especially good at capturing the essence of our favorite ballerinas. (In fact, he shot Keenan Kampa for her 2012 Dance Spirit cover!)
Schiavone recently posted on social media about his "pink Olga nightgown" project. Apparently, he found a beautiful vintage nightgown from the 1970s—designed by lingerie icon Olga Erteszek, which is where the "Olga" comes from—a few years back. Erteszek's nightgowns, he explained on Facebook, are "unique in that they have a 120-inch sweep," which looks especially wonderful in dance images. Since then, he's photographed around 75 ballerinas wearing the gown. (It looks like each dancer who wears it signs the skirt, too—so cute.)
Anna Vescovi in the Olga nightgown—see the signatures?
Unsurprisingly, when you pair great movers with a dress that looks great in motion, you get great photos. Here are a few of our favorite "pink Olga nightgown" shots. (You can find more of them here.) So much prettiness!
(All photos by Gene Schiavone, of course)
Katherine Grones
Lauren Disher
Jun. 01, 2014 07:00AM EST
OK, clearly it's no secret we love dance movies. I mean, the Step Up movies (can't wait 'til Step Up: All In!), Battle of the Year, Teen Beach Movie...we could go on. There's just something magical that happens when you combine a dramatic plot line (romance! rivalry! revenge!) with a killer dance number. So naturally, any time we hear about a new dance flick, we get pretty stoked.
Ladies and gents, allow us to introduce you to High Strung. Written by American actor, singer, and producer Michael Damian (and co-directed by his wife and former dancer Janeen Damian), High Strung follows the relationship of a hip-hop violinist performing in the subways of NYC, and a ballerina on scholarship at Manhattan Conservatory of the Arts. Apparently, the two team up with a dance crew called SwitchSteps, so we're thinking that means some pretty awesome hip-hop and ballet dancing.
Keenan rehearses for High Strung (photo via Facebook)
But what we're most excited about are the names behind this project, with...
...Dave Scott, who also did choreo for Battle of the Year and Step Up 2: The Streets, as the choreographer...
...Mariinsky ballerina extraordinaire (and March 2012 cover girl!) Keenan Kampa as leading lady...
...and hip-hop stars Ian Eastwood, Comfort Fedoke, and Marcus Mitchell (of SwitchSteps) also in featured roles.
Right now, the movie is only in filming stages, and it isn't set to premier until Summer of 2015. BUT writer Michael Damian is super active on the film's Facebook and Twitter pages, posting behind-the-scenes pics, videos, and teasers as the crew films in Romania.
Check out this video of rehearsals for the finale scene (a 10-min scene which took three days to film!):
Looks like they're having too much fun.
Stay tuned for more dance-movie updates next week!
Jan. 31, 2014 10:53AM EST
NBC's "Today" is in full-on Olympic fever mode (aren't we all?). This morning, the show's Sochi installment was a look at Russian ballet, particularly as it relates to the training of Russia's figure skaters.
In addition to touring the Bolshoi Academy (where they captured footage of some very sweet—and serious—little ballet students), "Today" interviewed our friend Keenan Kampa, the gorgeous American dancer who's an up-and-coming member of the Mariinsky Ballet. Hi Keenan!
Take a look:
Aug. 13, 2013 11:19AM EST
You know how there are some people who will just always be cooler than everyone else? Who are so gorgeous and talented you want to hate them, but so fun and down-to-earth you have to love them? Yeah. Keenan Kampa is one of those people.
You all know Keenan. She's the American-born ballerina who's currently dancing up a storm with the super-prestigious (and almost exclusively Russian) Mariinsky Ballet in St. Petersburg. She's one of the sweetest people we've ever had the pleasure of photographing for our cover. Oh, and now she's a model for G-Star Raw. Because of course she is.
Along with Kasabian guitarist Sergio Pizzorno, Keenan stars in the designer clothing company's latest ad campaign, themed "the unlimited possibilities of denim." She looks like some kind of amazing dancing jeans-clad superhero, and we'd expect nothing less. (We're digging the red hair, too!)
What's that you say? You want to see the ad itself? Oh, OK. BAM: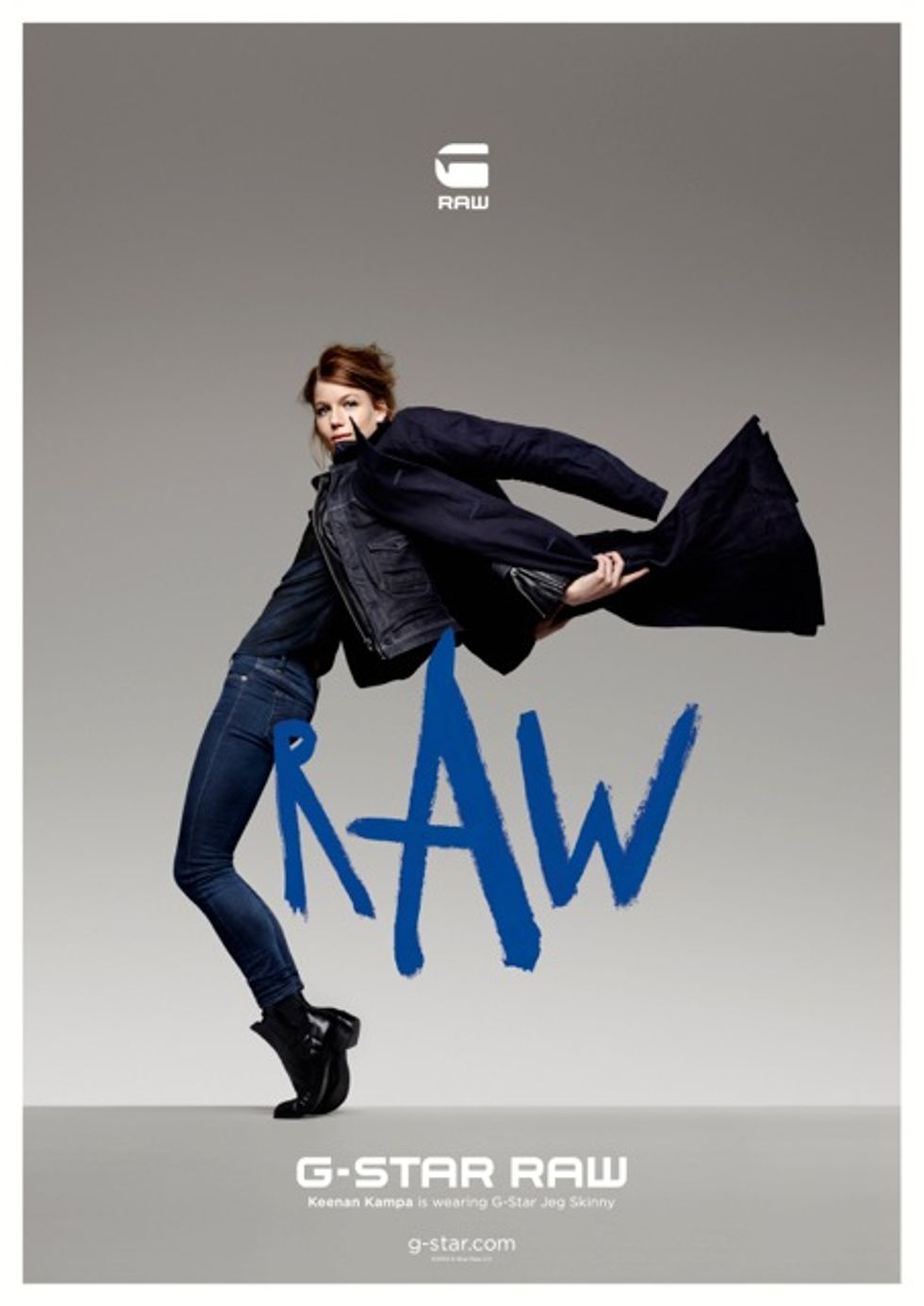 Congrats Keenan!
Jan. 15, 2013 11:50AM EST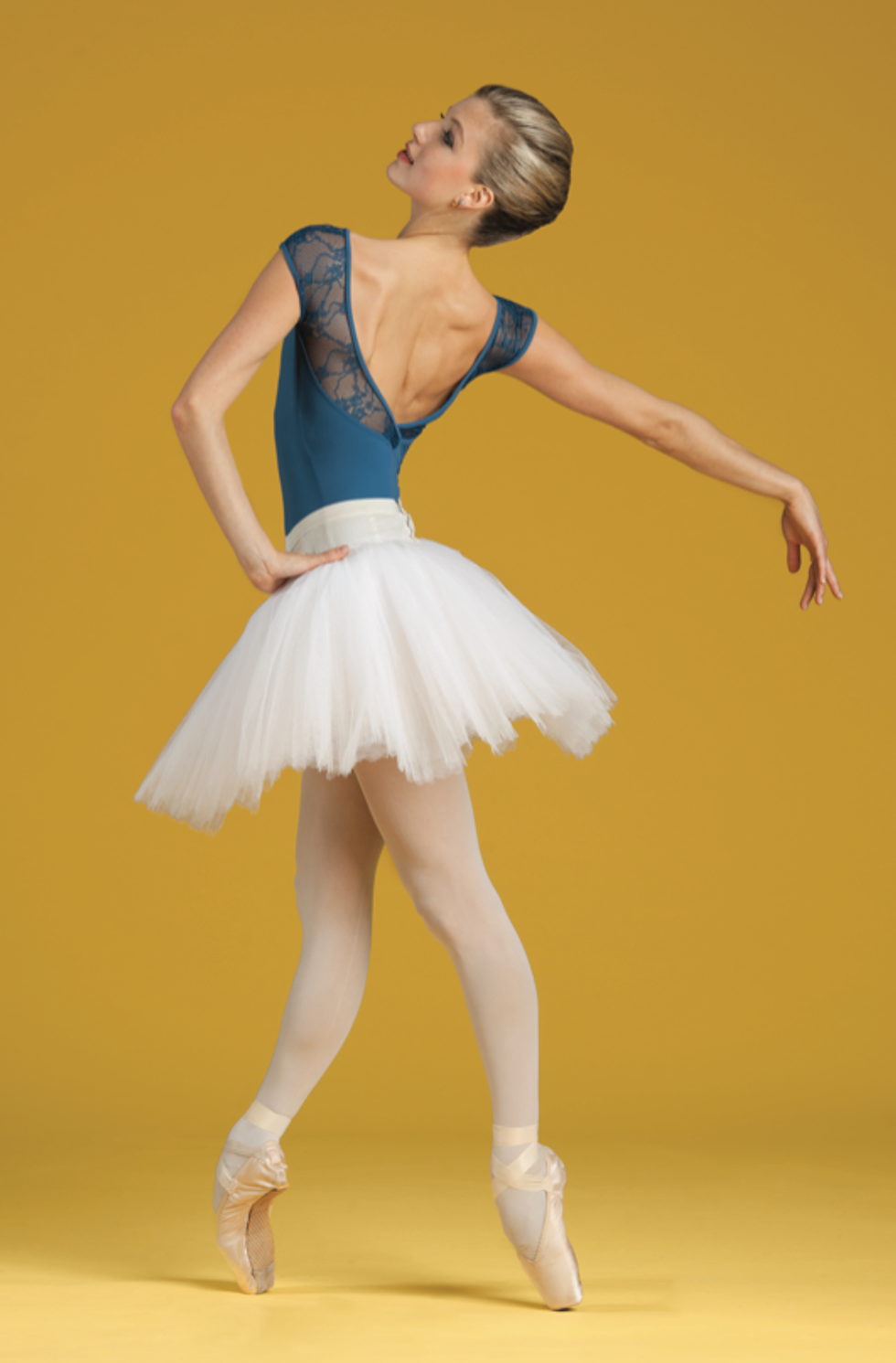 We always knew Keenan Kampa was going places—literally and figuratively. The gorgeous ballet dancer, who graced our March 2012 cover, is one of the few American alums of St. Petersburg's prestigious Vaganova Academy, the feeder school for the world-famous Maryinsky Ballet. After wowing Beantown audiences during a stint at Boston Ballet, Keenan joined the Maryinsky last year, and she's already one of the company's rising stars. Talk about a ballet jet-setter!
And Keenan's getting the opportunity of a lifetime tomorrow night, when she'll dance her first Kitri in the Maryinsky's Don Quixote. (Her big break is an even bigger deal at the super-hierarchical Maryinsky, where corps members like Keenan rarely get shots at leading roles.)
Congratulations, Keenan—and merde for tomorrow!