Kalani, Kendall, and Chloe (courtesy Anne Watkins)
Our favorite drama-filled, dance reality show may have ended this past fall, but "Dance Moms" stars Chloe, Kalani, and Kendall aren't about to let that end their dance careers. In fact, these dancing kweens are taking their moves to a city near you with their Irreplaceables Tour! The girls are going all out for the three-week dance production, which is taking them across the country. And these dazzling dancers aren't just content with showing off their dance skillz—they want to pass along their tips and tricks in a dance workshop where they'll lead fans in stretches and dance routines from the show.
Dance Spirit caught up with Chloe, Kalani, and Kendall to find out what they love about tour life and where they see themselves five years from now.
Keep reading...
Show less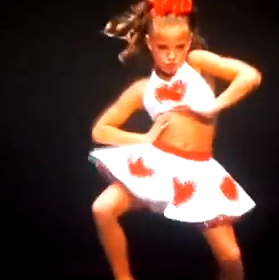 Work it, Kenzie!
Finale time! The whole crew—and I mean the whole crew—was in New Orleans for In10sity Nationals. Much of this episode was hard to watch (aka the parts featuring the moms), but, in the end, there was a ton of great dancing. Here are my top AWESOME and AWKWARD moments from last night.
AWKWARD: Abby made the girls go head to head to decide who would perform a solo at Nationals. Mackenzie vs. Asia. Brooke vs. Payton. Chloe vs. Kendall. Nia vs. Paige vs. Maddie. Each group would learn one solo, and only one kid from each match up would get to perform. Of course, this stirred up plenty of drama among the moms. The kids, however, out-matured their parents as usual and seemed fine with a little healthy competition. It was a nail biter, alright, but then the whole plan was turned on its head because of the moms and their mayhem (see below).
AWKWARD: The moms get drunk. Long story short: Mom Christi and Mom Leslie end up in an actual physical fight and Leslie then tried to beat up a producer. Obviously, they were asked to leave the show. The worst part? Their kiddos had to leave with them. Bye, Chloe and Payton. And Mom Kristie, apparently appalled by the moms, took Asia out of the equation, too. I would say I think this will teach the moms a lesson…but that would be a lie.
AWESOME: Mackenzie as "Dance Doctor." Things didn't look good for Mackenzie at the start of this episode: Abby pitted Little Mac up against Big-Personality Asia in an improv-off—and Asia crushed it. But after Asia had to leave the competition, it was up to Mackenzie to snag the title. She. Was. Awesome. I know Abby is always saying how good Asia was for Mackenzie—forcing her to step up her game—and I think she may be right. It looked like some of that Asia sass had worn off on her, and all her old tricks were still top notch. Abby might call second place the first loser, but Mackenzie was the champ of this episode in my book.
AWESOME: Where did you come from, Kendall? While it's sad that Chloe had to leave, it was nice to see Kendall have her moment in the spotlight. And I was blown away by how strong she looked in her solo! As Abby says, she's "nipping at Maddie's heels."
AWESOME: Maddie's solo. There's a reason she's unbeatable, people. This girl knows how to perform. The moms had a point when they said this choreography was designed for Maddie, and she performed it flawlessly. While it was a little expected since Chloe had left the competition, it was nice to see how genuinely thrilled Maddie was (she even looked surprised!) to be named first place. Congrats, Maddie!
AWKWARD: The Cathy came back. Sigh, but we were having so much fun without her! And, to continue avoiding doing any work herself, she's brought Blake McGrath in as a choreographer—who's sporting a strange (read: awful) neck tattoo. The kids do a good job picking up his tricky choreography…just not good enough. The Candy Apples group dance gets second to the ALDC, who killed it with an emotional tribute to Hurricane Katrina. Don't cry, Cathy!
And…the ALDC kids are the National champs!
Now, the Quote of the Week:
"Nia needs to compete for a solo with Maddie and Paige. It doesn't take a doctor to find out how that's gonna end up." —Mom Dr. Holly
That's all for this season, folks. We're left wondering: Will there be a Season 4? And with no Asia, perhaps no Chloe or Payton, and maybe even no Abby, should there be? Weigh in below!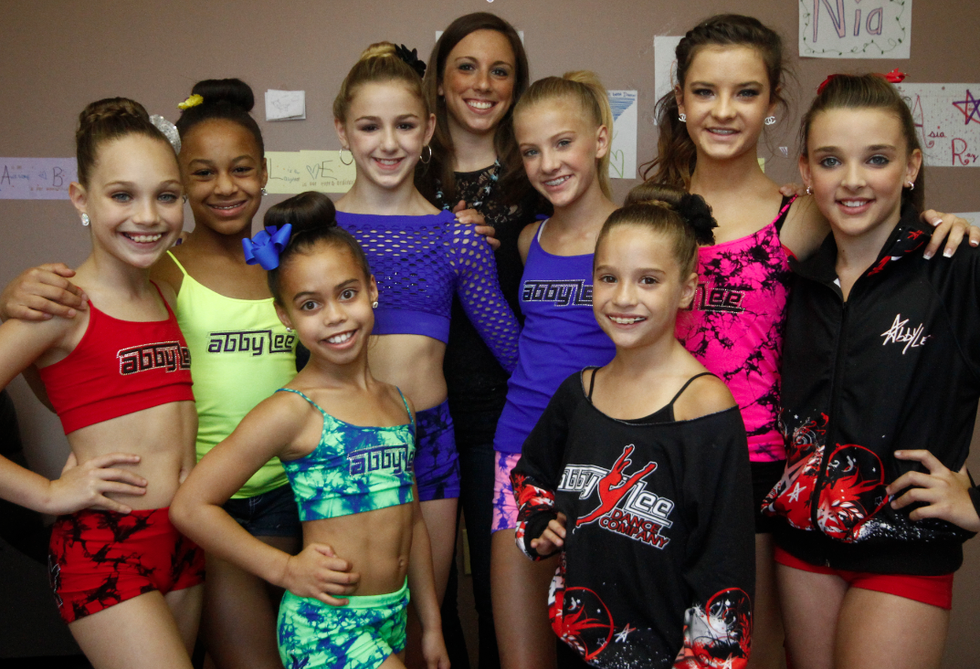 On set with all the ALDC kids! (Photo by Nate Powers)
Last night's "Dance Moms" episode featured a very special guest: Dance Spirit! So instead of our usual recaps, I'm going to give you a rundown of five things you didn't see on TV—but I did.
1. You know those moments when the kids and moms are speaking directly to the camera about what's happening? That's called an "On the Fly" or "OTF." And though it may appear that they're done against a wall of brightly colored costumes, they're not. They're actually filmed outside the studio on the grass. And they really are done on the fly! Cast members get almost no warning before they're called away to share their thoughts.
2. Those plot twists are planned—but not everyone is in on them. When Jill came for a "surprise" visit to our photo shoot? The only one who was shocked was Melissa. Jill and Kendall were waiting outside the house for more than an hour before entering, hanging out with the crew. The producers had cooked up the whole thing. And yes, even I knew it was coming.
3. The kids are generally nowhere near the mama drama. And that's a good thing. Maddie told me that as soon as the fury begins, one of the moms will whisk the children out of the room. And remember that scene in last night's episode where Abby calls Jill down to yell about Kendall? It seems like Kendall is right there, hearing it all, but really Gianna had moved Kendall and Maddie into a corner to run the choreography—and stay far away from the mayhem. Of course, they'll see it later on TV… but it's the thought that counts.
4. This show has really good editors. After all, they have to cut a full week of footage into one hour. They can also make it look like you're reacting to anything that's said in whatever way they want. How do I feel about that?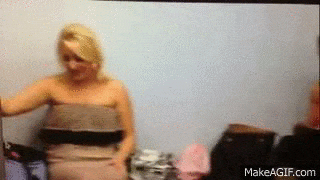 5. Beyond all the fancy camera work and editing, some of it actually is real. I saw real emotion, real hard work and real smiles from all the kids on set. And we really were there to capture a day in the life of Maddie for our November issue. "Why just Maddie?" you ask? It seems a lot of the dance moms had the same question. We chose Maddie because we see some serious potential in her. If she stays in class (which she promises me she's doing), she has the skills and the commitment to make it in the dance world when her time on "Dance Moms" is a distant memory.
Want more behind-the-scenes details from the show? Maddie spills it all in our November issue. Get excited!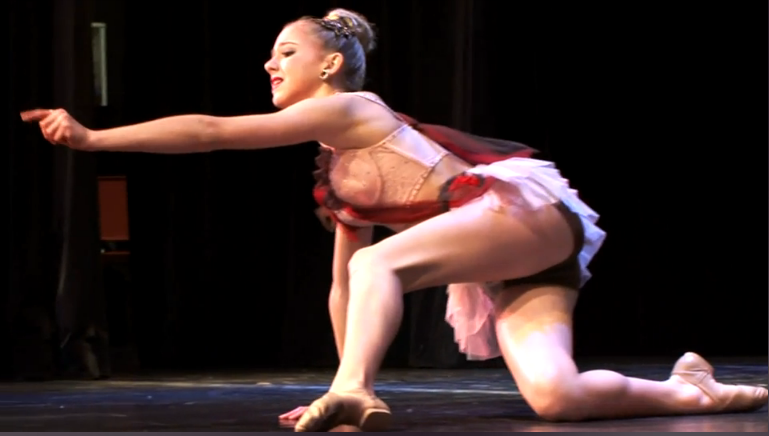 Chloe and Gianna clearly make a good team.
When we left the ALDC last week, the team was celebrating a clean sweep pulled off in Abby's absence. Uncertain about when they could expect their leader's return, the moms were fixated on Abby's whereabouts and intentions this week. Luckily, Gianna came back to the rescue, and lead her team through another very successful competition. Here are my top AWKWARD and AWESOME moments from this week.
AWKWARD: Melissa pays a visit to Abby's home to discuss the fast-approaching Nationals. She voiced her concerns about Abby's absence, Mrs. Miller's health and Maddie's need for her teacher's instruction. Abby makes it clear that she will be putting her family first (rightfully so), but reassures Melissa that she need not worry about Maddie performing a solo at Nationals this year. As Maddie has been winning first place trophies all season, this makes a lot of sense, but Melissa knows the other moms won't see it that way. When they ask about her visit, she chooses not to mention those details…as if they wouldn't come out on national TV in a few weeks.
AWESOME: No Abby means more Gianna, and that's something I can get on board with. As I mentioned last week, Gia's relationship with the girls is healthy, supportive and constructive—and produces incredible results. Without Abby to lead Pyramid, Gia calmly and quickly told the moms who would be dancing what numbers. Each routine was memorable—not to mention, she worked under the added pressure of facing the dreaded Candy Apples. Gia for President!
AWKWARD: Last week, Abby made it clear that she had no desire to see Brooke and Paige at the studio when she returned. So when she finally arrived at rehearsal this week, you could see the fear wash over the Hyland girls' faces. Unsurprisingly, Abby gave them a hard time, and warned them that they'd be doing solos every week and learning them in the same amount of time that Maddie learns hers. On the bright side, Brooke and Paige performed with their team for a second consecutive week, so let's hope they're here to stay.
AWESOME: With all the drama between Abby and the moms, it can be hard to remember that Abby has independent relationships with her students. After awards, the moms pressured Melissa to call Abby to deliver the results; Abby dismissed them, explaining she'd already spoken to the girls (who hadn't even made it back to their dressing room). This moment showed that, whether she's physically present or not, Abby supports her team. I guess we can't believe everything we see on TV...
AWKWARD: Over at Candy Apples, choreographer Anthony has pulled the plug on his time with the team. Cathy brags that she is "perfectly capable of leading her own team," but that's clearly not the case at all. Lucky for her (or not), she had Mom Yvette to step up and take charge. When the troupe encountered their rival ALDC moms at competition, they bragged that Cathy did everything herself, a statement that caused Yvette to have a serious meltdown. Sobbing and screaming, "I hate it, I hate it, I hate it," she escaped to the wings. Mom Holly probably summed it up best on her Twitter account (@DanceMomHolly): "Do you think Yvette hates it?" Yes, I think she does. We'll see if she returns for another week.
AWESOME: Cathy's main concern this week was choosing a soloist who could beat ALDC rep, Chloe. She selected Zack, a very technical dancer who has beaten Chloe at previous competitions. Chloe has a history of being neck-in-neck for first place with a Candy Apple boy (throwback to the Justice days), but with Gia choreographing a lyrical solo for her, she was ready for the challenge. Both dancers performed beautifully, but Chloe outdid herself this week. The choreography was challenging both technically and emotionally, and Chloe danced so well that she had every Mom standing (not just her own!). After what felt like years, Chloe earned that first place slot, proving that she, too, can beat the boys.
QUOTE OF THE WEEK:
"I'm ready for Abby to just walk into rehearsal and be like, 'You're doing this wrong. You're doing this wrong!' " —Kendall
Next week, it looks like more Hyland drama (Don't cry, Paige!), but Abby seems to be back in action. With Nationals around the corner, we can certainly expect the drama!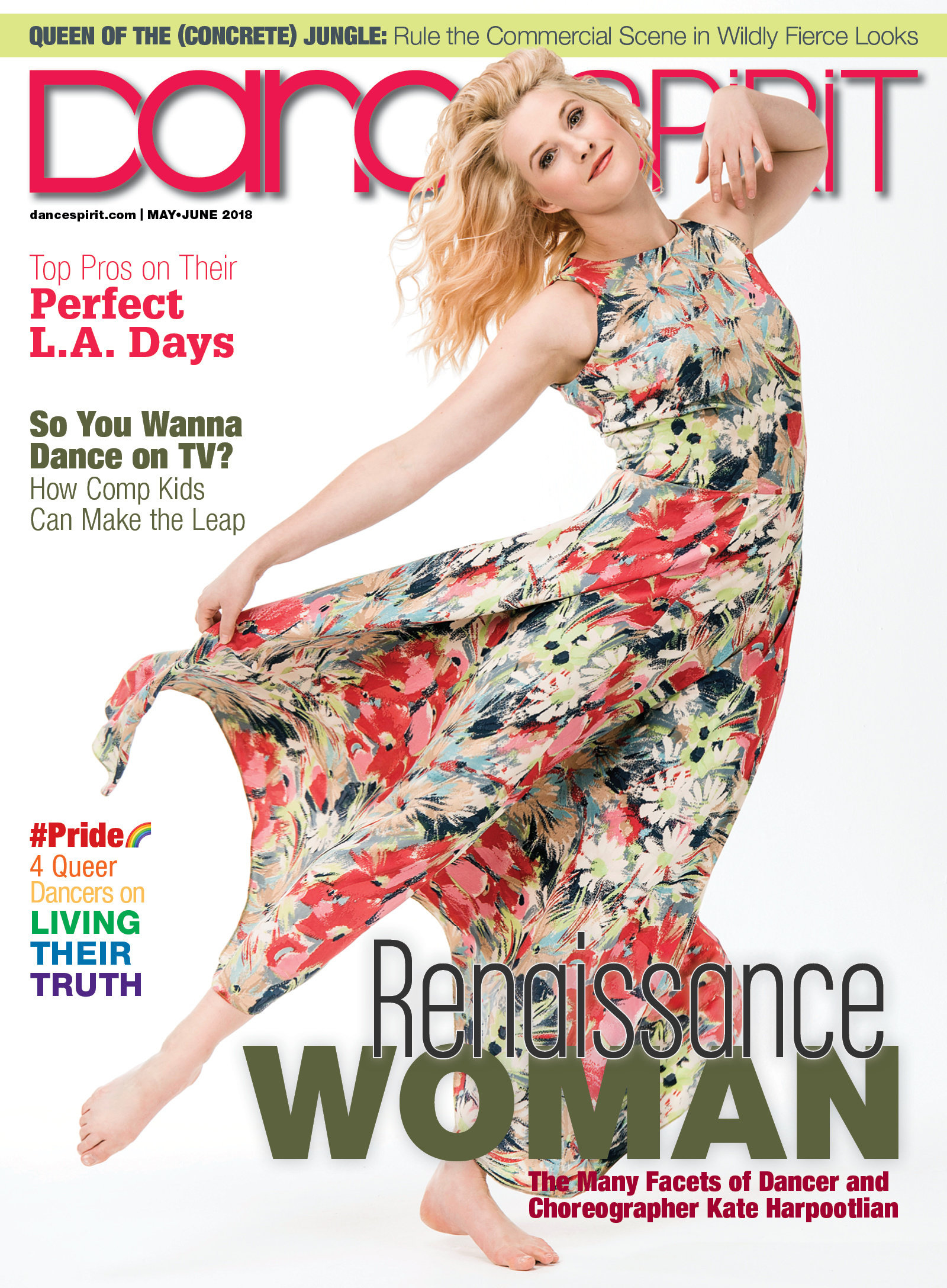 Get Dance Spirit in your inbox