If there's one thing to know about Dance Spirit, it's that we loooove viral dance vids. And apparently, so does the entire country—YouTube clicks don't lie! So naturally, Lifetime (home of the OG dance show, "Dance Moms") decided a reality show where eight of the most famous young talents in the commercial world competed against one another to make a dance video for a music superstar would be a good idea. And thus "Dance Video Throwdown," which premiered last night, was born. If you missed the episode, which featured Omi's oh-so-earwormy song "Cheerleader," we've got you covered with the top five reasons we're obsessed with this show:
1. It's like a family reunion of our many talented DS regulars—from "You Should Know" alums Bailey Sok, Larsen Thompson and Charlize Glass, to #BoySquad faves Kenneth San Jose and Will Simmons. Rounding out the amazing eight is otherworldly hip hop queen Taylor Hatala (who's one half of The Fraternal Twins with Larsen), PULSE Protégé Sierra Neudeck and freestyle sensation Timmy Hall.
2. As much as we love our May/June cover girls together, it's sort of fun to see The Fraternal Twins, Larsen and Taylor, battling it out on opposite teams. They're incredible as a unit, but this show really highlights their individuality. It's clear, though, that together or apart, they're still both insanely talented.
3. Omi, the genius behind the forever-catchy "Cheerleader," is so obviously impressed by all the contestants, and it's adorable to watch.
4. The choreographers and directors are the cream of the crop. Brandon Shaw, Ellen Kim, Ryan Parma and Rick Wayne guaranteed that each team's music video was going to be conceptual, bold and beautifully filmed.
5. Travis Wall <3 Need we say more? No, but we're gonna: Watching him marvel at everyone's talent never gets old. And even in the show's most high-pressure moments, he's there to calm everyone down and remind them just how capable they are.
Missed the premiere? Head over to Lifetime to check it out, and don't miss the winning video below:
Isaac Alvarez Photography
Hip-hop phenom Kenneth San Jose has so much natural talent that his lightning-fast technique and mesmerizing musicality developed practically overnight. Though he can hold his own with dancers twice his age, he's only been formally training for two years!
Keep reading...
Show less
And by boys, we mean our favorite #BoySquad: Sean Lew, Gabe De Guzman, Josh Price, Kenneth San Jose and Will Simmons. This crew is the stuff of dreams. We couldn't have handpicked a better group to dance choreo by Alexander Chung to Jovanie's track, "What's the Move?"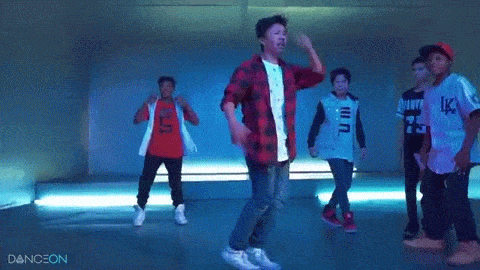 Living for that slo-mo (via DanceOn)
Every single one of these dancers is insanely talented. They've got the facials, acro and musicality on lock, and every video is somehow more amazing than the last. It's hard to pick a favorite moment, so we'll leave that up to you. Watch the full video below!
There's always some new #challenge happening on the Internet, and it's 10 times more fun when it's a dance #challenge! The latest craze is #HitTheQuanChallenge, to the iHeart Memphis track, "Hit the Quan." Choreo-genius Matt Steffanina created a high-energy piece and got some of our favorite big-time littles to perform: Gabe de Guzman, Bailey Sok, Sean Lew, Tati McQuay, and Kenneth San Jose. Is it the most dynamite dance, group and video combo ever? Probably. All we can do is watch and #bowdown. Check it out below:
It's getting kind of absurd how frequently talented hip-hop littles are popping up on our radar recently. That's why we just had to take a closer look at the kids dominating the scene in our brand-new hip-hop issue. (PSA: Turn to p. 47 of your April issue to learn more about littles like Taylor Hatala, then obsess over the gloriousness that is the Brooklyn Nets Kids on p. 42.)
Of course, we have Will "WilldaBeast" Adams to thank for discovering and nurturing many of these tiny talents. But he's not the only one: Choreographer Alexander Chung of NXG Crew is getting the under 12 crowd to rock some pretty challenging hip-hop choreo, too.
Recently, he released a video featuring a few familiar faces—Taylor Hatala, Bailey Sok and Kenneth San Jose—and some fresh ones—11-year-old Kesh Kesh and 12-year-old Ryan Phuong. OMG, you guys—so. good. The choreo is gritty and rough, while still being relatively kid-appropriate, and the tweenage dancers definitely do it justice.
Go ahead and revel in the awesomeness. (And be on the lookout for a cameo by Taylor's 8-year-old sister Reese, aka the cutest bouncer ever.)
At the risk of sounding like my mom, I have to ask: Seriously, what are they feeding kids these days? And, more importantly, where can I get some?
Now that we're done collectively freaking out about the questionable pointework in Ciara's new video (YEEPS), let's celebrate two dancers who are absolute masters of their craft, shall we?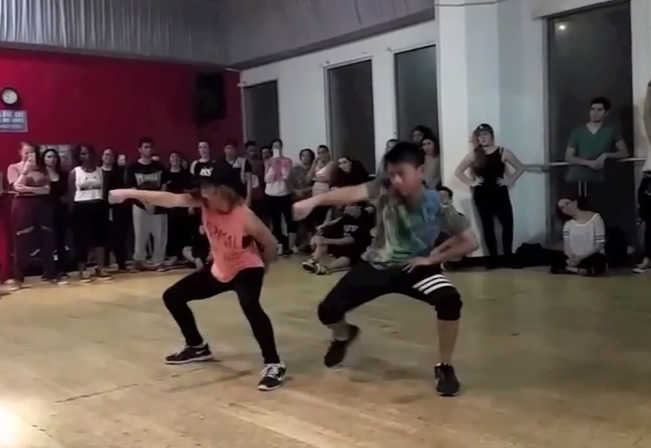 Meet Bailey and Kenneth!
I'm talking about Bailey Sok and Kenneth San Jose. The California-based young'uns—Kenneth is 12, and Bailey is just 11—have kind of unbelievable hip-hop skills. But you don't have to take my word for it. Watch this new video of them taking down a routine to Meek Mill's "Monster," choreographed by Matt Steffanina:
Bailey and Kenneth are part of a growing group of littles—including Charlize Glass, Sean Lew, Soni Bringas, Gabe De Guzman and Taylor Hatala, to name just a few—who seem to be taking over the hip-hop industry, thanks in part to their appearances in videos like this one. They are insanely good, you guys. And they have some impressive grown-up mentors, too. Steffania, the genius responsible for the choreography above, is the same guy who brought Taylor Hatala viral fame, for example, and nearly all the kids listed above are members of Will "WilldaBeast" Adams' fantastic LilBeasts crew.
Let's just say we're definitely not complaining about the trend. More on that in our April issue!
You might want to sit down for this. One of our favorite #lilBEASTs, Gabe De Guzman, and his fellow beast, Kenneth San Jose, absolutely kill Will "Willdabeast" Adams' choreography to Ludacris' "How Low."
Not only are these kids the definition of "full out," but they also manage to showcase their individual styles and personalites within choreography that's almost too intricate to keep track of. As Adams mentions in the video's description, these kids aren't just learning the steps—they're in full performance mode as soon as they step onto the floor.
We can all take a little bit of inspiration from these hard-hitting hip-hop littles. Enjoy!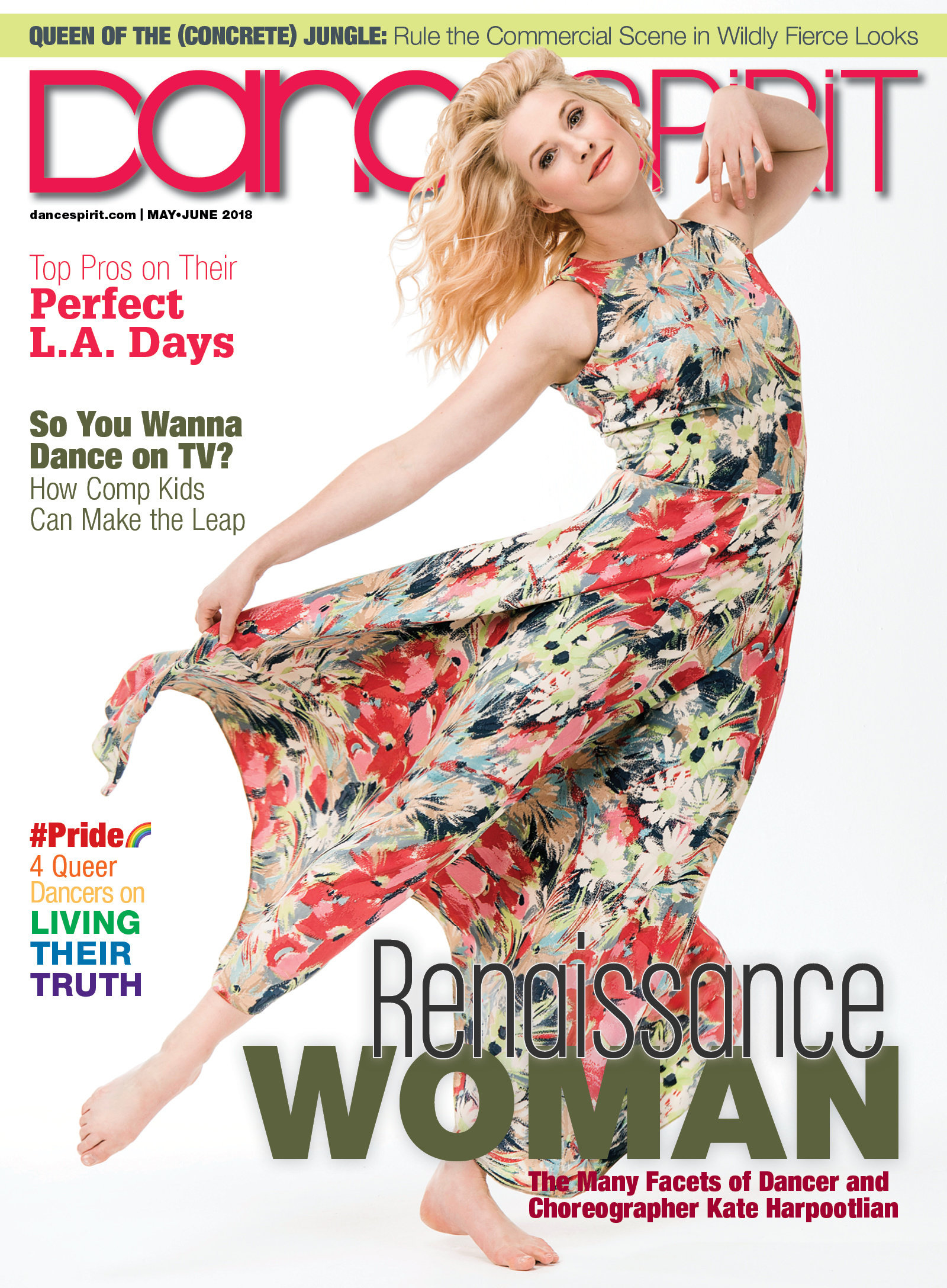 Get Dance Spirit in your inbox