Apr. 14, 2017 12:37PM EST
If, like us, you still can't get enough of Ed Sheeran's earworm hit "Shape of You," you are in for such. a. treat. Lauren Adams, genius choreographer that she is, created a literally sizzling samba for champion ballroom dancers (and real-life couple!) Daniella Karagach and Pasha Pashkov.
Dance Videos
Mar. 23, 2017 02:53PM EST
Have plans Saturday night? You might want to cancel them ASAP (or at least set your DVR) because Center Stage: On Pointe is making its much-anticipated (and MUCH-waited-for) world premiere. The threequel (which we've been freaking out about since November) has all the makings to be a huge win for dance movies, taking what we love about the original Center Stage and adding some new twists.
Remember Bella (Nicole Muñoz), Kate's little sister from Center Stage: Turn It Up? SHE'S BACK, and this time it's her turn to audition for the American Ballet Academy. Other old favorites who'll be returning: Tommy (Kenny Wormald), Charlie (Sascha Radetsky) and Cooper (Ethan Stiefel). And of course, it wouldn't be the ABA without a return from Johnathan Reeves (Peter Gallagher)! If that's not enough for you, up-and-comer Chloe Lukasiak (you know her from Dance Moms) will be there too, cast as dance prodigy Gwen.
As for the plot? The American Ballet Academy is headed in a more contemporary direction, and Johnathan is holding a "Dance Camp" training intensive to find his new superstars. His top choreographers (Tommy, Cooper and Charlie, obviously) are tasked with recruiting dancers to compete at the camp, with the winners earning a coveted spot at the ABA. Plenty of dance and plenty of drama, what more could we ask for? Here's to hoping there's at least one iconic costume change moment. (Not holding our breath, though, this one is hard to top.)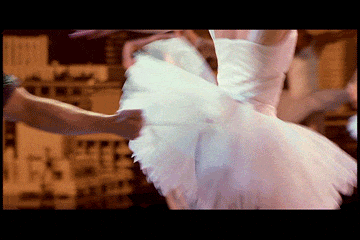 Check out this exclusive sneak peek video from Entertainment Weekly and get. ready. bunheads.
See the movie on Lifetime at 8/7c this Saturday, June 25th.
Dance News
Mar. 23, 2017 01:24PM EST
You guys. Our entire office is on the verge of hyperventilating right now, because we just found out that there is a third Center Stage movie in the works.
I REPEAT: THERE IS A THIRD CENTER STAGE MOVIE IN THE WORKS.
And here's the thing: It sounds like it might actually recapture some of the magic of the original.
How, you ask? What could this threequel—which is titled Center Stage: Dance Camp and has a yet-to-be-announced premiere date on Lifetime—possibly do to top this...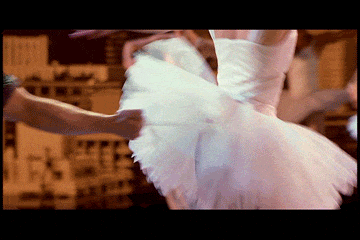 ...and this...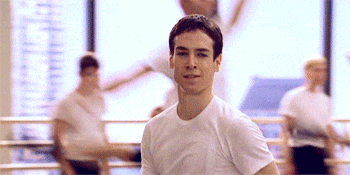 ...and this...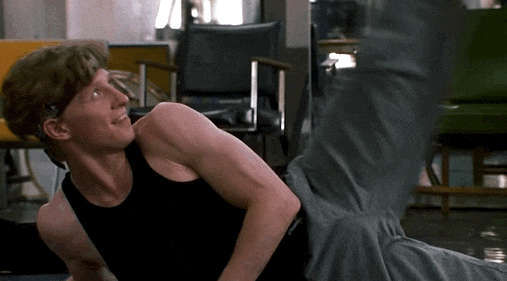 ...and, oh lord, this???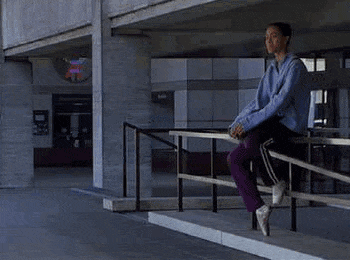 Well, it could involve a whole mess of Center Stage and Center Stage: Turn It Up stars, for starters. Word is that Cooper (Ethan Stiefel) and Charlie (Sascha Radetsky) and Jonathan (Peter Gallagher) and even Tommy (Kenny Wormald) will all be back for round three.
It could also bring in one of today's up-and-coming dancers for a little extra sparkle. Someone like, say, Chloe Lukasiak, who has been tapped to play a dance prodigy (of course) named Gwen. This is perfect for several reasons, and one of them is that Chloe may or may not be Amanda Schull's baby sister.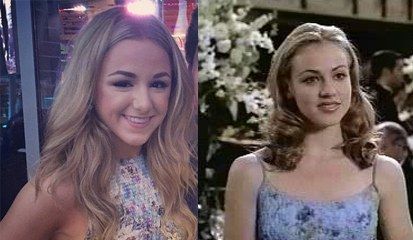 Right? Do we see it?
Here, according to Deadline, is the plot of this latest Center Stage installment:
"Jonathan Reeves...is tasked with infusing more contemporary styles and modernism into the American Ballet Academy. [He] enlists his his top choreographers Charlie..., Cooper... and Tommy...to recruit dancers to compete at a camp where the winners will be selected to join the Academy." [Gwen is one of the dancers at the camp.]
My heart, you guys. My HEART. I so, so want this to be good. I so, so need it to be worthy of the amazingness that is the original. (Center Stage: Turn It Up was...I mean, it just didn't have the feet. Or the heart.) And I so, so hope Jody makes a cameo. Is she still a principal in Cooper Nielson's company? Are she Charlie still together? Do they have beautiful dancing babies?* THE WORLD NEEDS TO KNOW.
Anyway, stay tuned. We will be obviously be monitoring this situation aggressively.
*Real talk: Their kids could potentially be teenagers by now. Has it seriously been that long, Center Stage? It feels like only yesterday that we first discovered how *on* you were.
Dance News
Mar. 23, 2017 04:32AM EST
The year 2011 was filled with show-stopping onstage moments and exciting offstage drama. Whether you were captivated by New York City Ballet star Sara Mearns' 32 fouettés in Swan Lake or danced along in your seat as Sutton Foster led the Broadway cast of Anything Goes through a series of time steps, there's no doubt you were entertained. Here are the people who kept us on the edge of our seats in 2011.
—Alison Feller
In Ballet
Sarah Lane. Photo by Gene Schiavone.

When Natalie Portman won the Best Actress Academy Award for her role as a twisted-but-talented ballerina in Black Swan, she neglected to thank her dance double, American Ballet Theatre's Sarah Lane, in her acceptance speech. Later, Lane stood up to the movie industry by demanding credit for her work.
New York City Ballet principal Jenifer Ringer danced the Sugar Plum Fairy role in the company's Nutcracker, last year, and while most gave her a standing ovation, New York Times dance critic Alastair Macaulay remarked in his review that it looked as though she'd "eaten one sugar plum too many." Ringer quickly became a role model for women everywhere when she went on "Oprah" this February to discuss the critique and proclaim that she thinks her body is just fine. So do we, Jenifer. Rock on!
As if Alexei Ratmansky wasn't already the busiest man in ballet, he just extended his contract as American Ballet Theatre's resident choreographer through 2023.
Company tours are a lot of work. This year Ballet Nacional de Cuba embarked on its first U.S. tour in five years, hitting four cities along the way.
American Ballet Theatre principal (and star!) David Hallberg became the first American dancer to enlist permanently with Moscow's Bolshoi Ballet.
The Broadway production of Wonderland. Photo by Paul Kolnik.

Everyone wanted to go down the rabbit hole: Productions of Alice in Wonderland popped up everywhere, from ballet stages (The Royal Ballet, The National Ballet of Canada and Royal Winnipeg Ballet all showed versions) to Broadway (Wonderland was short-lived, but the choreography by Marguerite Derricks was quirky and fun).
On Broadway
Apparently Harry Potter can sing and dance—or at least his real-life alter-ego can. Daniel Radcliffe drew massive crowds and rave reviews when he starred in How to Succeed in Business Without Really Trying. No magic wand needed.
The Book of Mormon. Photo by Joan Marcus.

The Book of Mormon was easily the most controversial debut on Broadway this year. The show, penned by "South Park" creators Trey Parker and Matt Stone with Avenue Q co-writer Robert Lopez and choreographed by Casey Nicholaw, may have offended some audiences, but it impressed the Tony Award voters and took home nine honors, including Best Musical.
On the Comp Scene
Joe Lanteri, executive director of New York City Dance Alliance, changed 44 young dancers' lives this summer when he presented $2.8 million in college scholarships. Go get those diplomas!
Selecting the DS Cover Model Search finalists is never easy, but this year there were three dancers who stood out: Kaitlynn Edgar, Maddie Swenson and Zoey Anderson. All three hail from the competition circuit, and all three were wildly impressive.
On TV
Melanie Moore won the title of America's Favorite Dancer on "So You Think You Can Dance" Season 8 and landed on the cover of DS!
When Beyoncé revealed her baby bump at the MTV Video Music Awards, she proved she runs the world—and so do her choreographers, Frank Gatson, Sheryl Murakami and Jeffrey Page. The trio won the VMA for Best Choreography for Beyoncé's "Run the World" video.
When Laurieann Gibson wasn't throwing together award-winning choreography for Lady Gaga, she was starring on her own TV shows on E! and BET. We're not necessarily on board with her screaming fits and harsh treatment of her dancers, but we do respect her moves.
Amanda and D'Angelo on "Live to Dance." Photo by Monty Brinton.

Paula Abdul's "Live to Dance" wasn't a hit, but it introduced us to D'Angelo Castro and Amanda Carbajales, who became the show's champions. These tiny dancers won us over with their personalities and technique.
Lil' Buck may have been the coolest guy to get us talking this year. He starred in Janelle Monae's "Tightrope" video and helped make jookin' mainstream. His "Swan" performance alongside Yo Yo Ma? Breathtaking.
On the Big Screen
Natalie Portman accepts her Oscar for Best Actress. Photo by A.M.P.A.S.

She may not have done all the dancing as Nina, but Natalie Portman's Black Swan performance was definitely Oscar-worthy. Plus, she met Benjamin Millepied, her boyfriend-turned-fiancé and father to her child, Aleph, on set.
While no one can truly replace Kevin Bacon, Kenny Wormald proved that he's a stud with smooth moves in this year's remake of Footloose. Plus, his onscreen chemistry with costar Julianne Hough made us want to drag our own boyfriends to dance class.
In First Position, audiences get a glimpse at the behind-the-scenes action at the Youth America Grand Prix finals in NYC. The documentary and its stars—Michaela DePrince, Joan Sebastian Zamora, Miko and Jules Fogarty, Aran Bell and Rebecca Houseknecht—received rave reviews at the Toronto International Film Festival.
In Modern Dance
Bill T. Jones + Dance Theater Workshop = New York Live Arts. We love a good collaboration.
When Judith Jamison retired as artistic director of Alvin Ailey American Dance Theater, Robert Battle was handed the reins to the prestigious modern company. We can't wait to see what he does with the group in 2012.
Jun. 22, 2015 02:05PM EST
From teaching on tour with NUVO Convention to leading the KaMotion intensive at the upcoming DancerPalooza, Kenny Wormald is in pretty high demand these days. Add in his work on films, like the recently released Love & Mercy, and he might just be one of the busiest dancers in L.A.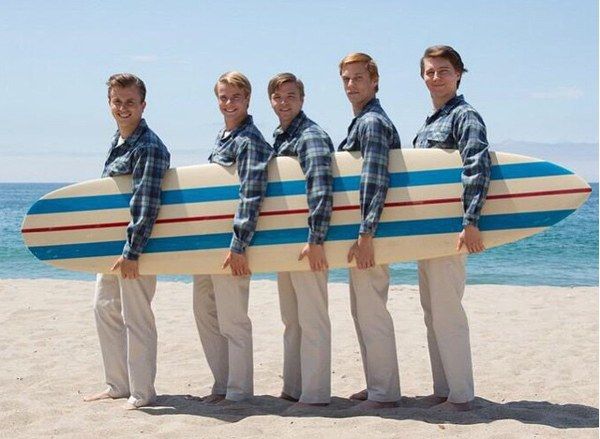 Totally righteous, dude! (From left: Kenny Wormald, Graham Rogers, Brett Davern, Jake Abel and Paul Dano in Love & Mercy; photo via loveandmercyfilm.com)
In Love & Mercy, a biopic about Brian Wilson of the Beach Boys, Wormald plays Wilson's younger brother (and drummer) Dennis Wilson. You might be thinking, A movie about the Beach Boys? Is there even any dancing in it? As it turns out, Wormald choreographed a scene that recreates one of the band's signature performances from the 1960s.
How would Wormald's hip-hop background translate to surfer-dude movement from that  period? Dance Spirit spoke with him to find out.
Dance Spirit: Did you put your own personal style into the film's choreography?
Kenny Wormald: Well, the producers and directors wanted to recreate the real performance to a T, so I couldn't really add in my personal style. (And my style couldn't have been further from what's in the film!) But growing up at a studio, I trained in tap, ballet, jazz and hip hop, and that diverse background has given me a solid understanding of movement in general. I've benefited from being able to adapt to many styles of dance.
Setting the choreography on all of the dancers was really fun. It was a lot of goofy surf moves, which felt different for us hip-hop dancers, who try to be cool all the time. In the scene, I'm drumming and the dancers are behind me. We were cracking up in between takes. Just looking at dancers—like my best friend, Misha Gabriel—in short shorts and tight shirts doing all these old-school moves was hilarious.
DS: How did you prepare for the role?
KW: Luckily, there's so much material about the Beach Boys I could study. I watched a ton of videos of Dennis drumming—and learning to "drum" was a lot like learning choreography. Dennis had a very specific style: Instead of crossing his arms, which is more typical, he played open handed. It always seemed like he was grooving.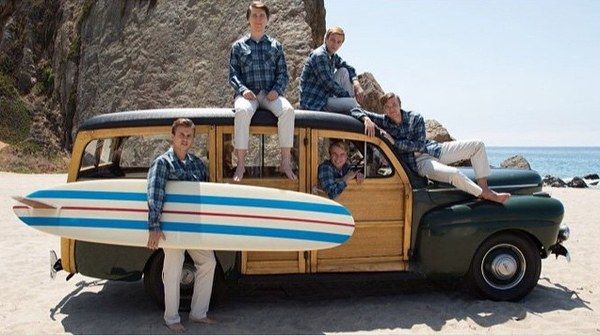 Presenting the Beach Boys 2.0 (via @kennywormald)
DS: What was the best part about being on set?
KW: We got to shoot in an actual recording studio that the Beach Boys, Elvis and the Rolling Stones all used. That was definitely my favorite part. But also the chance to dive into this part—and to work so closely with Paul Dano, an amazing actor who totally crushes playing the young Brian Wilson—was so cool.
DS: How would you say this experience compared to a few of the other films you've been in, like Footloose or Center Stage: Turn It Up?
KW: My previous roles have certainly helped me prepare for this film. Real life experience is definitely the best acting school there is! But many of those films, like Footloose, were dance movies—my skills as a dancer were just as important as my acting. It's been a dream of mine to do more non-dancing roles, so I loved working on Love & Mercy. Of course, I won't ever stop dancing—and I can't wait for my next chance to do another dance movie. But I feel like I can call myself a real actor now, too, which is something I'm really proud of.
Love & Mercy, rated PG-13, opened in theaters on June 5. Watch the trailer here, and check your local listings for show times.
Dance News
Jul. 16, 2014 01:44PM EST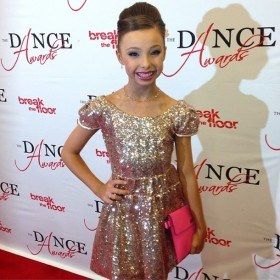 Dance Spirit's January cover girl, Sophia Lucia, on the red carpet before the Dance Awards in NYC (photo via @sophialucia5678)
Chock full of utterly amazing dance talent, silly jokes and wild choreography, the 2014 Dance Awards closed out its NYC event last night at the Hammerstein Ballroom. The three-and-a-half-hour celebration really had it all—from spectacular Mini performances to archival footage of a young, tap dancing Gil Stroming to awards for seemingly every category known to dancerkind. The Dance Spirit editors certainly had a blast. Here are my top five highlights of the evening:
1. The Mini and Junior Male Best Dancers. Mini Brady Farrar from Stars Dance Studio stole my heart with his solo "You." And later in the evening, Junior winner Findlay McConnell from Elite Danceworx (the big winner of the night!) brought the house down with his performance of "Dance with Me." Seriously, you need to watch these guys, stat.
Here's Brady:
And here's Findlay (the picture is a little blurry, but just know his facial expressions are perfect):
2. DanceMakers of Atlanta's "Take Me Out." This routine was fierce at New York City Dance Alliance Nationals a week ago, and it was even fiercer onstage last night. These teens aren't only amazing performers, but each dancer also brings something of herself to the choreography—all while maintaining perfect synchronicity with her peers. Moreover, these girls are versatile, going from style to style with ease. Case in point? Senior Brianne Sellars won the title of Best Dancer for her contemporary solo "Movement"—a total departure from the hard-hitting moves in "Take Me Out." Here's Brianne in "Movement," which also earned a 1st runner up title for Senior Female Outstanding dancer at NYCDA Nationals:
3. Dance Town's "Ballroom Girls." These Minis can sure move those hips! I can hear Mary Murphy screaming in the distance as she hands out Hot Tamale Train tickets. Watch these little firecrackers go:
4. Sophia Lucia's "All This to Say." Dance Spirit's January cover girl—who was crowned Junior Female Best Dancer—did not disappoint last night. With extensions, emotions and moves like these (choreographed by none other than Stacey Tookey), it's pretty easy to see why she's insta-famous. One thing we can all take away from this rising star's stellar performance? Wearing two shoes—or none at all!—can help mask a serious case of one-sidedness, unlike the one-shoe approach in this clip:
5. The Kenny Wormald as Kevin Bacon Ren McCormick–inspired opening number. Gosh darn it, I just love a good Footloose throwback. And what's better than one Footloose number? Two! Mandy Moore and Nick Lazzarini's crowd-pumping choreography for both the opening and closing routines left the night on such a high note. Take a look at the Footloose footage from the 2014 Dance Awards in Las Vegas. It will surely motivate you to tackle the rest of your day.
Dance News
Jun. 18, 2013 11:21AM EST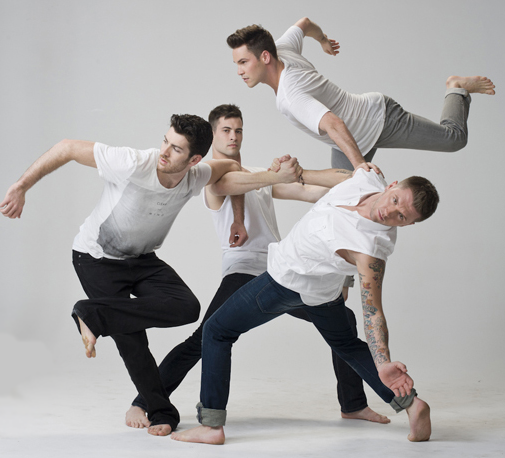 (L to R) Shaping Sound's Teddy Forance, Kyle Robinson, Nick Lazzarini and Travis Wall, photographed for "Dance Spirit" by Joe Toreno
Last night, the DS staff got all gussied up and headed to the Beacon Theater for Shaping Sound's That's Where I'll Be Waiting. So did pretty much everyone else in NYC.
No, but really: The crowd at this show, which was the last stop on the company's month-long tour, was incredible. Along with mainstream dance fans like Jesse Tyler Ferguson (a.k.a. the best "So You Think You Can Dance" judge of all time), there were a host of familiar dancers and choreographers milling through the lobby of the Beacon. Joey Dowling! Kenny Wormald! Dana Wilson! Ida Saki! Catherine Hurlin! It was like a reunion for all the dance world's cool kids.
Not that that's surprising. The members of Shaping Sound are some of the most exciting people on the commercial scene, after all—and definitely not less famous since their turn on the reality show "All the Right Moves." Almost every Shaping Sound dancer is a dance celebrity, and the people most prominently featured in That's Where I'll Be Waiting—Travis Wall, Nick Lazzarini, Teddy Forance and Kyle Robinson, who also created and choreographed the show—have become legit stars. More celebrities onstage = more celebrities in the audience (and also = more opportunities for us lesser non-celebrities to totally freak out because Jesse Tyler Ferguson is sitting one seat away from us, eee!).
The Shaping Sound foursome were smart about how they presented their well-known team, too. That's Where I'll Be Waiting gives each dancer a specific character—i.e., "The Trouble" (Alexa Anderson), "The Temptress" (Channing Cooke), etc—and at least a few moments in the spotlight. While the piece is threaded through with a love-triangle dream-story involving Travis, Teddy and Jaimie Goodwin, it's really driven by all the strong personalities onstage—personalities the audience already knows and loves.
Does that always work? Well, not quite. (Frankly, I'm still not sure why Chelsea Thedinga is "The Being.") Could I watch Nick, a.k.a. "The Wayward," do his flamboyantly fabulous David-Bowie-in-Labyrinth-meets-Herr-Drosselmeyer act (which is really just Nick being Nick) in his leather cape-vest alllll night? Oh, totally. And so could the rest of that star-studded crowd, which went standing-o bonkers for the entire cast at the curtain call. Congrats, guys!
Get Dance Spirit in your inbox