Mar. 23, 2017 06:17AM EST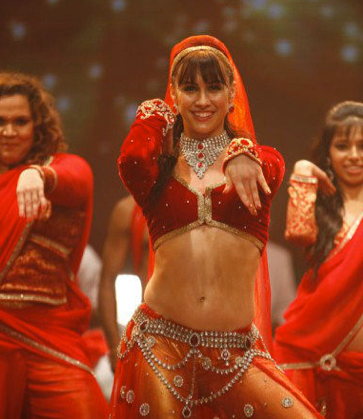 Ever since we first saw the delightful Lauren Gottlieb on Season 3 of "So You Think You Can Dance," we knew she was going places.
Did we imagine that one of those places would be India? Uh, maybe not. (Though, come to think of it, she was pretty great in that cute Bollywood number with Kent Boyd on "SYTYCD" Season 7.)
But we shouldn't have underestimated this jet-setting star: Lauren's new Bollywood film, ABCD (Any Body Can Dance), opens today worldwide. And she didn't take the Bollywood challenge lightly. Apparently she studied Bharatnatyam and Kathak dance, as well as spoken Hindi, before filming began.
The 3D movie, which sounds like India's answer to the Step Up series (yay!), follows various crews of dancers as they prepare for the Ganpati Dance Battle, "an annual festival that pits Mumbai's best dance groups against each other." What does that look like onscreen? Well, based on the official trailer, it appears to involve flames, head spins, feathers, fouettés, chili peppers, Lauren's midriff, parkour, pointe shoes, lasers, clowns, a giant rainstorm, and at least some dialogue in English.
It looks, in other words, totally awesome.
Check it out!
Jul. 08, 2016 12:29PM EST
Hey dance family. How are you doing? The world has seemed like an especially tough and scary place over the past few weeks, and it's okay to feel rattled. Fortunately, we're lucky enough to have dance—it sees us through good times and bad.
So, for your #FridayFeels, please enjoy this beautiful video of Kent Boyd and Will Jonhston, choreographed by Tyce Diorio. It shows two men in a relationship, maybe on the brink of breaking up. As they dance to X Ambassadors' "Unsteady," it becomes clear that the couple is going through a lot right now.
Grab your tissues, give this a watch and then go hug someone you love.
Dance News
Jun. 13, 2015 07:00AM EST
If you were asked to recall the greatest routines of "So You Think You Can Dance" history, there's a good chance Travis Wall's "Collide"—aka "The Prom Piece"—would make that list. (OK, so it didn't make our list. But, to be fair, we had 11 seasons of brilliant material to sort through.)
Just in case you need a refresher—lbh, you want a refresher—here are Season 7's Kent Boyd and Lauren Froderman in "Collide":
That smooch, though. Boyd and Froderman ended up being the equivalent of Prom King and Queen for "SYT" Season 7, with Lauren taking the title "America's Favorite Dancer" and Kent following close behind as runner-up.
What's the purpose of this #throwback? Yesterday, Boyd dropped his long-anticipated video, "Collide in 1986." Basically, he took the idea behind Wall's "Collide" and did a big ol' rewind on it. The result: an adorable 12-minute video that takes us back to prom in 1986.
Naturally, Boyd enlisted the help of Froderman for this project. She plays the popular yet sweet girl with the jerk boyfriend. Boyd plays the endearing dork who happens to lose all awkwardness once he hits the d-floor. What happens next? Well, I don't want to spoil it for you. See for yourself!
Dance News
May. 29, 2014 11:47AM EST
What better time to catch up with one of our favorite "So You Think You Can Dance" alums than the day after the show's Season 11 premiere? The ridiculously charming Kent Boyd has come a long way since becoming the first runner-up on "SYTYCD"'s seventh season. In addition to performing as an All-Star on the show, he's landed acting roles on "Bunheads" and in Teen Beach Movie. But Boyd has also been hard at work on a passion project: He conceived, produced, and starred in the new short film It Remains, which uses dance, music, and acting to tell a love story that feels both personal and universal. The film premieres next Wednesday, June 4, at the Dances With Films festival in Hollywood. I chatted with Boyd about the creation of It Remains. (Check out the trailer below!)
Margaret Fuhrer: What inspired It Remains?
Kent Boyd: My dancing improved dramatically once I started teaching and choreographing. It helped me understand things from the inside out. So as I was venturing into acting, I thought it'd be great to get to know what it was like to be behind the camera—to work on pre-production, post-production, all of that. I decided to get my hands dirty and actually make a film. I knew I wanted to create something that involved dance as well as acting. And while I love things like the Step Up series, I chose to do something a little more grounded and real, versus bright and shiny. It's a story about love and relationships that's serious, but still relatable.
MF: Why did you feel this was the right time to take on this project?
KB: It's hard going out there and auditioning for acting parts. I was only booking jobs at maybe one of every 25 auditions. Dancing gigs were more constant, but I really wanted to pursue this other direction. So rather than waiting for someone to give me a job, I created one.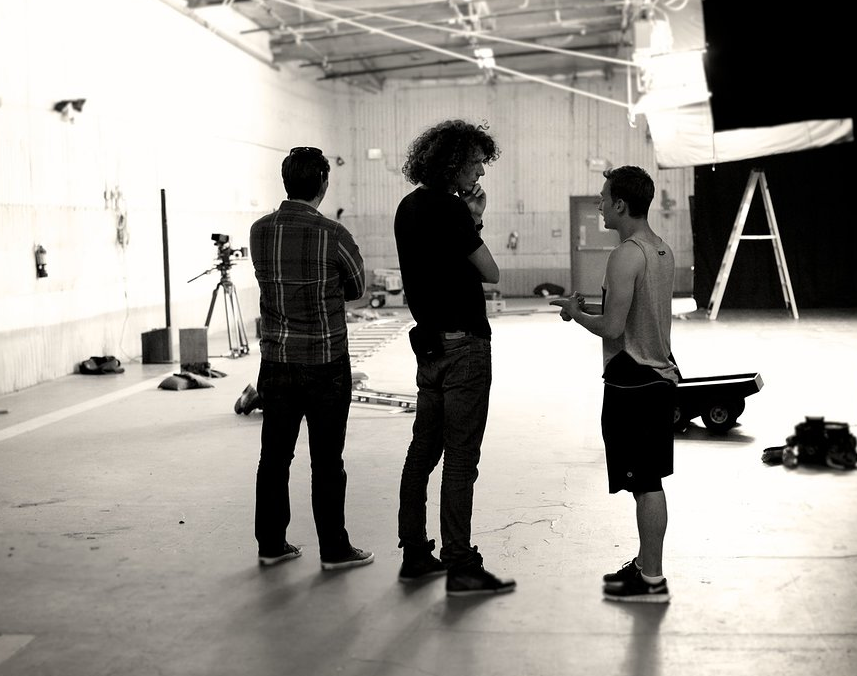 Boyd (right) on the set of It Remains (photo by Emily Morgan)
MF: How did you find Rose Marziale, your collaborator and co-star?
KB: She's one of my best friends! And she has the acting career I want—everything I've done in the dance world, she's done in the acting world. I was talking to her about the idea, and she was like, "You should use me. No, you will use me." She's so smart—she knows what works on film, she understands how to be relatable on camera, and she knows what people want to see. She also has dance experience. Together, we figured out the plot, the shot list, and how to get it all together.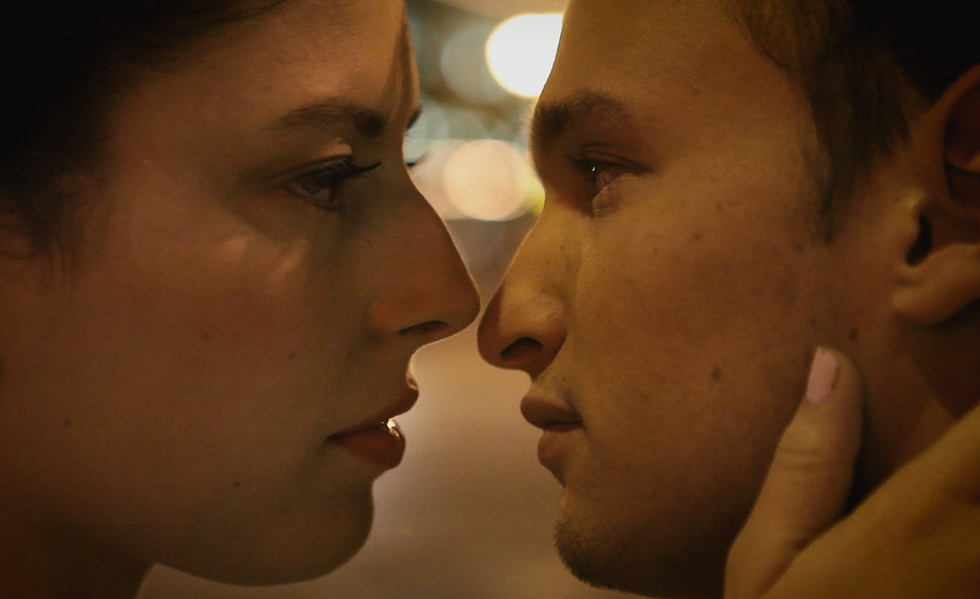 Boyd and Marizale in a still from It Remains
MF: How would you describe the feel of It Remains?
KB: It's not a stereotypical short film. It's told through a lot of music and dance, and very little dialogue. We wanted audiences to be able to put their own lives into it. The idea was to fill up the glass a little more than halfway, and then have viewers do the rest. I feel like art has done its job when you watch something, and then at dinner afterward you discuss it with your friends, and you discover that you felt one way, but your friends felt something else. I like leaving things up for interpretation.
MF: How did the process help you grow as an actor?
KB: It's given me so much more confidence. It's like, wow, I made that! There are definitely things about the film that could be better—the perfectionist in me is always going to be critical. But you have to be able to watch your work with a critical eye and still pat yourself on the back every now and then. I have a lot more to learn about the film industry, but now I have this great knowledge base.
Dance News
Jun. 11, 2013 01:30PM EST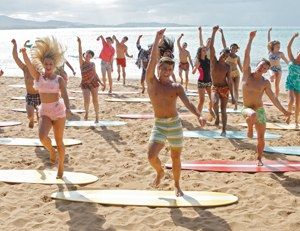 Mollee Gray (left) and Kent Boyd (right) in Teen Beach Movie (by Francisco Roman/Disney Channel)
What do you get when you mix sand, retro bikinis and your favorite dancers rockin' out on top of surfboards? Find out July 19 when Teen Beach Movie premieres on Disney Channel. To celebrate this red-hot made-for-TV musical, DS caught up with two of the film's star dancers, "So You Think You Can Dance" alums Mollee Gray and Kent Boyd. Read on for The Dirt. 
Mollee Gray
What did you want to be when you were a kid? When I was younger I was obsessed with Elle Woods from Legally Blonde! Because of her, I really wanted to be a lawyer!!
Performer/dancer you would drop everything to go see: Taylor Swift!!
Biggest guilty pleasure: Frozen yogurt…I could eat it for every meal and be so happy!!
Favorite food: Steak salad
Something most people don't know about you: I still collect Pokémon cards! (I have them displayed in my room HA HA)
Who is your dance crush? Kent Boyd <3 He is the cutest thing I have ever seen and has such an incredible personality!
What has been your proudest career moment so far? Well I have two! One was getting to act alongside Ashton Kutcher in No Strings Attached, and the second was landing the role of Giggles in Disney's Teen Beach Movie.
What's your favorite part of Teen Beach Movie? Definitely dancing on the beach for one of the surfers' songs called "Surf Crazy." Such a dream come true! Also the message this movie sends about befriending those who aren't a part of your "clique" or "group" is something I believe our generation needs to be inspired by.
Kent Boyd 
Favorite movies: Seabiscuit and Lilo & Stitch (It made me cry)
Biggest guilty pleasure: Pranking people
Favorite food: Two years ago it was Hot Pockets! But now I'm trying to expand my taste buds! I love "Top Chef"!
Something most people don't know about you: I dabble on the harmonica!
Who would play you in a movie? Channing Tatum…but, younger, shorter & buffer! HA HA!
What's the strangest thing in your dance bag? Five ChapSticks! Because ya can't have too many!
Where do you see yourself in 10 years? A family…dog…yard…and a mantel with 3 Oscars! ;-)
What has been your proudest career moment so far? Creating and producing my own short film, It Remains, & playing Rascal in Disney's Teen Beach Movie.
What's your favorite part of Teen Beach Movie? Musical numbers on the beach…with an awesome cast in Puerto Rico! Living the Dream! #Blessed!
Dancer to Dancer
Oct. 24, 2012 11:07AM EST
Do you love "So You Think You Can Dance" alum and cutie extraordinaire Kent Boyd? What a silly question—of course you do. So you'll be excited to hear that the multi-talented Kent has a new passion project: "It Remains," a short film that explores "how confusing and wonderful love can be."
The film is based in part on personal experiences he's had, which, awwwww. From the looks of the short trailer he's put together, it'll include plenty of beautiful dancing, too.
Kent's project is still in a very early stage. But check out this draft of his Kickstarter page, which lays out the film's story and message—and includes the lovely trailer, set to a haunting remake of Elvis Presley's "Can't Help Falling in Love."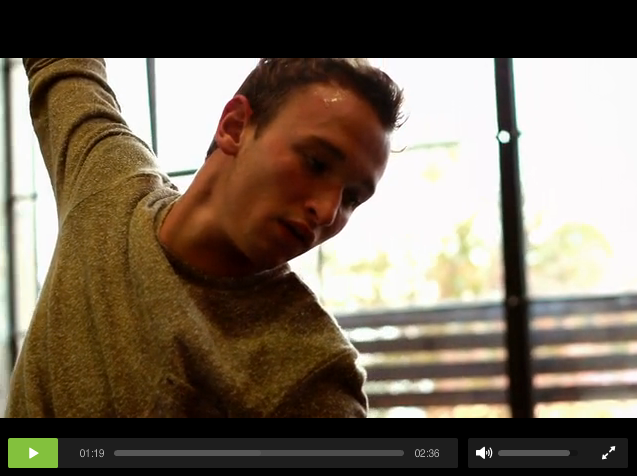 May. 24, 2012 11:48AM EST
Who's excited for the first episode of "So You Think You Can Dance" Season 9 tonight? (Nigel, for one!)
On Monday, we let you know that the show will crown both a male and a female winner this season. I kind of love the idea. First, of course, two winners are better than one. But also, I've been thinking back on past seasons and realizing just how many more awesome dancers would've been honored if the two-winner system had been in place from the beginning. Check it out:
Season 1 winners would have been Nick Lazzarini...and Melody Lacayanga.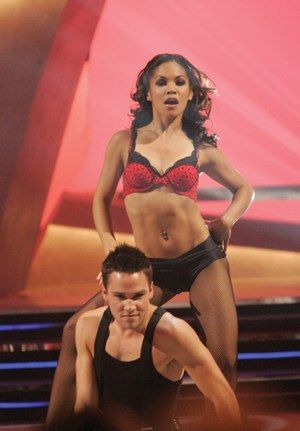 Season 2 would have honored both Benji Schwimmer...and Donyelle Jones. (LOVE her!)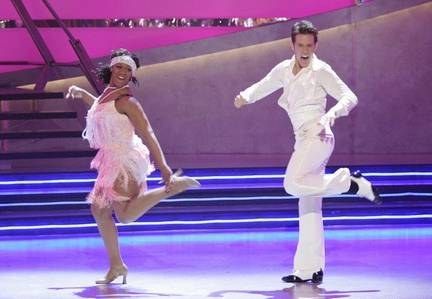 Season 3 would have given us Sabra Johnson...and Danny Tidwell (in my opinion, the best dancer ever to grace the show).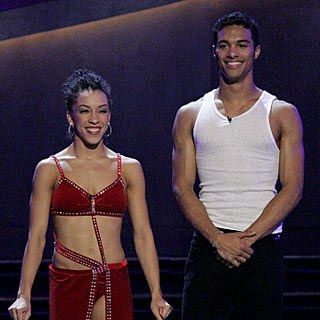 Season 4's winners would have been Joshua Allen...and Katee Shean.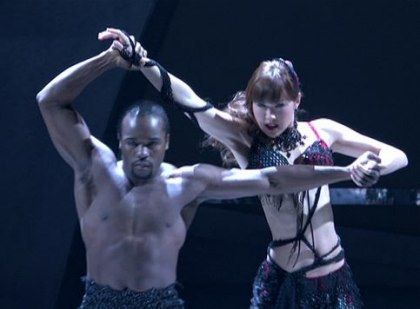 Season 5 champs would have been Jeanine Mason...and Brandon Bryant.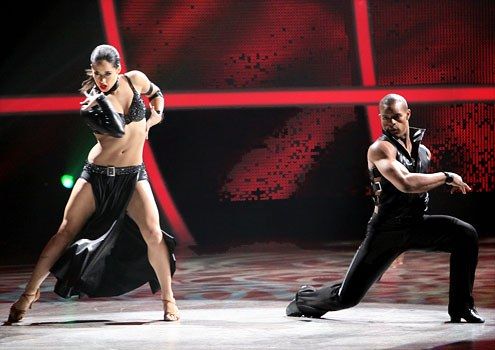 Season 6 winners would've been Russell Ferguson...and Kathryn McCormick.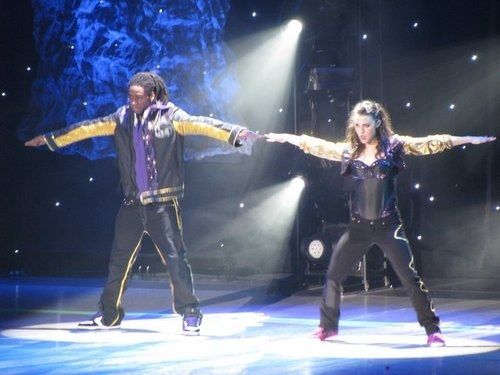 Season 7? Lauren Froderman...and Kent Boyd. (I'm guessing a lot of teenage girls would've been ecstatic about that.)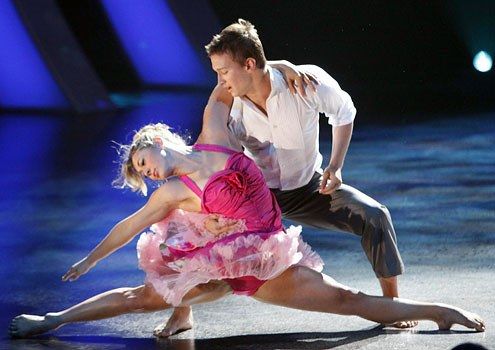 And Season 8 would've honored both Melanie Moore...and Marko Germar.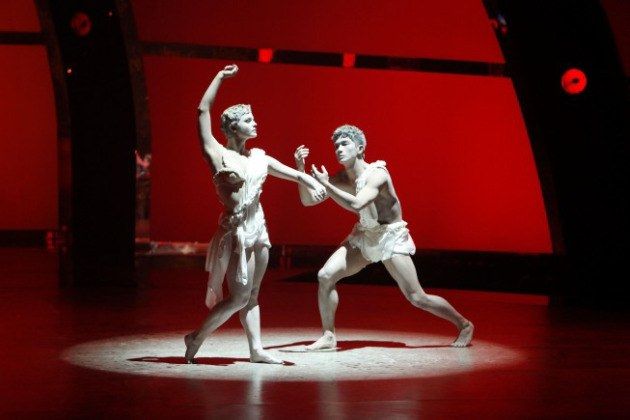 It's interesting to note that the second winner wouldn't always have been the first runner-up. (In Season 2, for example, Travis Wall came in second; Donyelle was third.) Not sure how those unlucky second-place dancers might've felt about being passed over. But I think I'm still on board with the new format. Two great dancers on the November cover of DS? Yes please!
All photos courtesy FOX.
Get Dance Spirit in your inbox