Feb. 06, 2018 10:28AM EST
A scene from Keone and Mari Madrid's We Are (via YouTube)
The dance world already knows that Keone and Mari Madrid are brilliant storytellers, choreographers who can create narrative movement that moves us. But we especially love it when they use their choreographic voices to highlight important causes.
For this year's VIBE Dance Competition exhibition performance, the husband-and-wife duo created a beautiful homage to the immigrants who form the backbone of America. Inspired by their grandparents, "who came to America to make a new life for their families," and by "the many displaced humans around the world who are trying to do the same," We Are is an emotional exploration of the trials immigrants have faced—and continue to face today. Its message hits even more powerfully thanks to its innovative use of video projections (by Vibrvncy/Nick Kim) and some ingenious set design (by Brandon and John Arii).
Dance Videos
Dec. 06, 2017 02:12PM EST
Photo by Erin Baiano
You're obsessed with class videos. We're obsessed with class videos. The passion, energy, and talent showcased in these clips, which give us an insider-y peek at the commercial dance world's hottest classes, are totally irresistible.
But at what point does the phenomenon go from being a good thing to a bad thing for dancers and the dance world? Is the focus on filming distracting from the work dancers are supposed to be doing in class? Are overproduced videos presenting a dangerously misleading picture of the dance world? Is the pressure to be a class video star becoming too much for dancers to handle? These are some of the questions A-list dancer and choreographer Ian Eastwood—no stranger to the class video himself—has been asking on Twitter. And they've sparked a lively, important debate.
Dance News
Jul. 26, 2017 12:06PM EST
Trae Patton/NBC
Week 2 of Misty Copeland as guest judge, week 2 of merciless cuts...How can the final episodes of "World of Dance" possibly live up to the sheer dramaaaaaaaaa of last night's episode? Well, based on the nail-biting results dished out by Copeland and Co. last night, the competition is only going to get fiercer from here. Without further ado, last night's results, as told by Kween Misty.
Dance News
Jul. 10, 2017 10:26AM EST
Joe Toreno
Yes, Keone and Mari Madrid were dance-world superstars long before they choreographed and starred in the video for Justin Bieber's "Love Yourself." But many non-dancey people—i.e., everyone from your third-grade BFF to your Aunt Linda—first fell in love with the duo after watching the Bieber vid, which currently has a casual 1.2 billion views on YouTube.
These days, Keone and Mari are busy charming even more fans as contestants on NBC's "World of Dance." And when Cosmopolitan sat down with the couple recently to talk about competing on the show, we also got some very interesting details about how the "Love Yourself" video came to be.
Dancer to Dancer
Jun. 18, 2016 01:13PM EST
You read that right, folks—Keone and Mari Madrid, aka the cutest dance couple ever, aka our flawless November 2015 cover stars, will be releasing 15 new videos (one a day!) from June 15–29. This might seem too good to be true, but leave it to the Madrids to deliver. The first handful of videos are out already, and they're obviously incredible, featuring lots of classic Madrid moves and styles. It's amazing and inspiring to watch these two continue to evolve as choreographers and artists, and this project is no doubt going to be stunning to watch. Check out the videos already released, and make sure to follow along for the next 15 days!
Dance News
Apr. 25, 2016 01:04PM EST
Keone and Mari Madrid celebrated Earth Day in the danciest way possible with the release of their latest short video, "Sound and Color." Set to the song by the Alabama Shakes, the vid honors Mother Nature and all her beauty, with the Madrids embodying planted seeds: They literally emerge from the dirt and "grow" into some gorgeously realized choreography.
Screenshot via Vimeo
They end up covered in mud from head to toe—but leave it to our fave husband-and-wife choreographic team to make dirt look like the coolest accessory.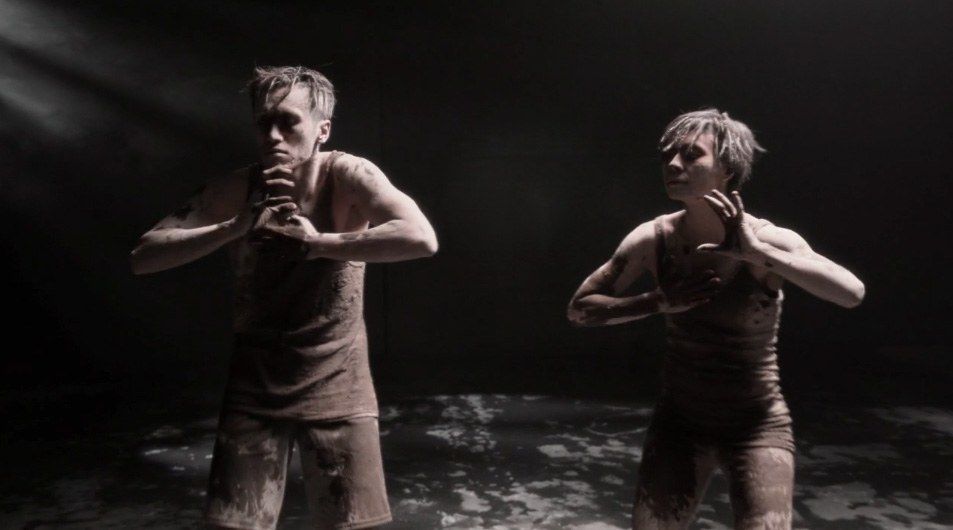 Screenshot via Vimeo
Check out the full video below, and let us know how you celebrated Earth Day!
Dance News
Feb. 27, 2016 07:00AM EST
Keone and Mari Madrid are one of the cutest dance couples around (and if you need a reminder why, refer back to our November 2015 cover feature on the two insanely talented dancer-choreographers). So, understandably, we get pretty excited when they release a new project. Their latest video, however, is unlike anything they've made before—and we're obsessed.

Who needs Left Shark when you've got Left Vid and Right Vid?! (via YouTube)
Appropriately titled "Dual," the video is split into two, with a "Right" side and "Left" side. To get the entire experience, it requires two screens (or if you're on the computer, two windows open and placed next to each other). Once the videos are side-by-side, you press play and let the magic unfold before your eyes. Keone explained to The Daily Dot: "I haven't seen a video that actually forces a user to create the experience for themselves in order to experience it correctly. We want people to see dancing as more than what you normally see." We don't want to spoil too much—experience it for yourselves by clicking both videos below!
Dance News
Oct. 14, 2015 01:44PM EST
Sep. 04, 2015 01:22PM EST
I'm just going to come out and say it: I want to see Keone and Mari Madrid choreograph a full-length narrative hip-hop show. They got their feet wet in January with Time for Love, but I think all of their adoring fans would agree with me when I say that we're ready for something bigger. They are such natural storytellers with their bodies, and they have hip-hop partnering on lock.
Case in point: Their latest performance at the En Dance Showcase in Tokyo, Japan, has a narrative arc and the emotional depth we've come to expect from their super-precise choreography. Enjoy!
Oh, and if they do end up creating a full length show sometime soon, you heard it here first!
P.S. If you love the Madrids, then you're going to loooove our November issue. Just saying...
Dance News
Jun. 18, 2015 12:01PM EST
You guys, I have goosebumps. And not because it's currently like 60 degrees in NYC. (C'mon, June weather. Where you at?) Nope, today's goosebumps are of the #chillz variety, because I just watched Keone and Mari Madrid's final performance with Choreo Cookies. *sob*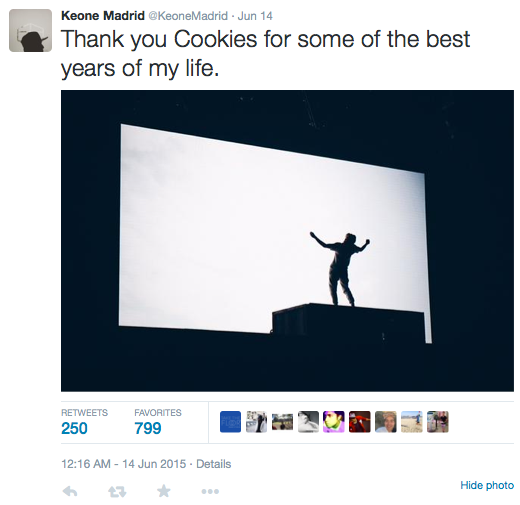 You probably remember this crew—which regularly dominates on the hip-hop comp circuit—from their 2014 Body Rock performance, "The Silent Cookie." We raved about the Cookies' ability to incorporate their substantial numbers (32 and counting, last we checked) into seamlessly coordinated routines. The crew is also noteworthy for its clean production; costumes, lighting and stage design are always on point. The fact that they have Keone and Mari Madrid on their side is just icing on the cake.
But the husband and wife team has made the tough decision to leave the Cookies, after eight great years with the crew. While they haven't given any explicit reasons behind their decision, Keone offered this statement on Instagram: "No need to go into into detail as of yet, but just know that this is completely a decision based on positivity and future aspects of life."
Choreo Cookies' 2015 Body Rock set marked the Madrids' final performance as Cookies. Set to John Mayer's "Gravity," the piece is about overcoming fear. The real standout was the lighting: The stage was quite dark for much of the performance, with faint, yellow light highlighting different sections at a time. In this way, the Cookies created a sense of isolation and disconnect, despite their substantial numbers.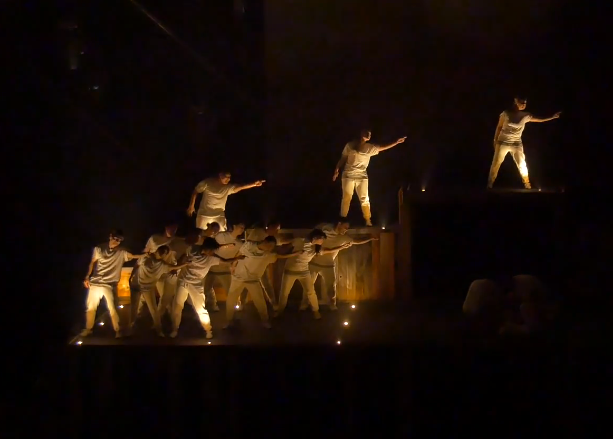 "Keep me where the light is."
Spoiler alert: Toward the end of the piece, the lights come up and you see the whole crew, dancing in perfect unison. Prepare for the #chillz to hit you hard at that point. Check it out!
We can't wait to see what the future holds for both the Madrids and Choreo Cookies!
Dance News
Get Dance Spirit in your inbox
Apr. 11, 2015 07:00AM EST
These days, watching the news can feel pretty depressing. It seems like there's a lot of hate—between countries, political parties, even members of the same family. But just because hatred hogs most of the media spotlight doesn't mean we're living in a loveless world. One of the things we can do as artists is highlight the bond of shared humanity, (excuse the High School Musical reference but) the "we're all in this together" mentality that can be so much more powerful than any war.
You've probably heard dance referred to as the universal language. For example, at least twice within the last couple of years, we've witnessed U.S./Iraq communication through dance: first with the break-dancing diplomats of First Step Iraq, then with the Skype dance student Aadel Qies Aadel. But dance's power to bridge oceans can happen on a much smaller scale, too. Maybe you've danced with an international student at a summer intensive, or been one yourself. Or perhaps you've seen a company like Nederlands Dans Theater or Batsheva perform, or studied with a choreographer from outside the U.S. Point being, the dance world is super small, so chances are, you've already had at least one international dance experience.
This idea inspired Keone Madrid's most recent video, set to John Mayer's "Bold As Love." The video features members of Madrid's biological family (including his adorable baby sister), as well as members of his widespread dance family—namely members of the Japanese crew Stkgz. The message is powerful: The boldness of love overpowers hate. And the choreo is true to Madrid's distinctly musical style. Seriously, his ability to capture every single sound in a completely original way is ridiculous. Check it out!
Dance News
Jan. 23, 2015 02:50PM EST
Here's the thing about Keone and Mari Madrid: They're so talented, they don't need costumes, lighting, set design or storyline to entertain their avid internet audience. Exhibit A: Just last week, we raved about "Awesome Dance Couple," a video of the hip-hop duo beasting one of their combos at Urban Dance Camp. Their choreography—and the way they dance it—are the wow factors.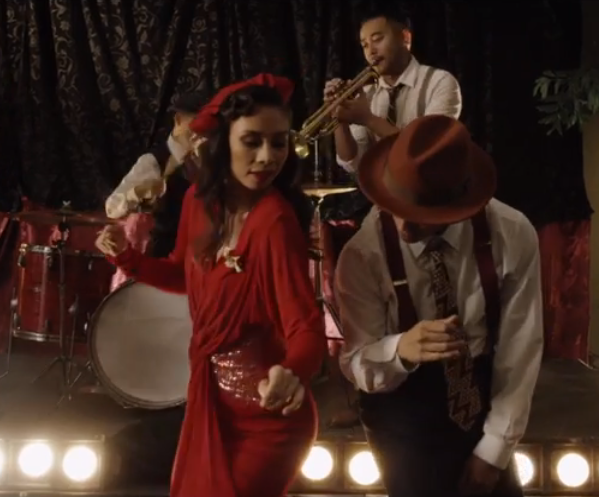 I mean, come on. #hot
But just because they can be amazing all on their own doesn't mean they shouldn't get fancy every once in a while. And man oh man, did they get fancy.
Last night—after much Twitter-prompted anticipation—the Madrids dropped their latest project: "Time for Love," an eight-minute dance short that pulls out all the stops. It's got a complex storyline, costume changes, camera angles, side lighting, backup dancers, props, time travel...everything you could ever ask for, and then some.
But the best part is, none of these added elements detract from what these two do best—dance. The choreography, which was inspired by classics like Michael Jackson's "Smooth Criminal" and Fred Astaire and Cyd Charisse in The Band Wagon, holds up to the sky-high expectations they've set for themselves. It somehow manages to be smooth and sultry, while also impossibly fast and intricate. In short: #mindblown.
Dance News