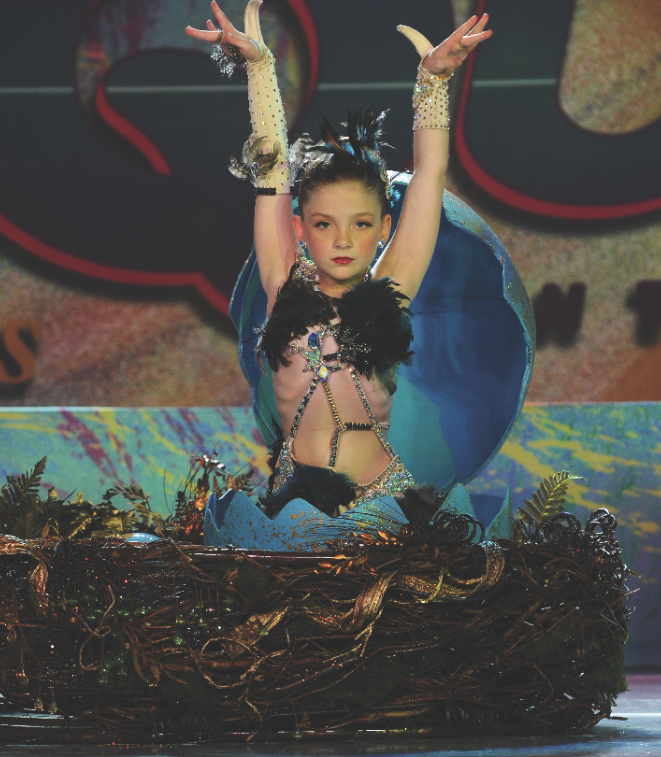 Dora Dolphin in She is Like The Swallow (by Neil King)
With a name like Dora Dolphin, you're bound to be famous. But forget her catchy name—10-year-old Dora's talent and poise speak for themselves, and they say she's one to watch.
Dora started dancing when she was 2 1/2 in her hometown of Minneapolis, MN, and since then she's built a resumé stocked with awards. Last year alone she won 10 regional championship titles and seven national titles. She earned the highest score in the country in the Mini division at Showstopper American Dance Championships, and at StarQuest her solo nabbed a perfect score.
Dora's not just a comp kid, though: She's performed in a handful of regional dance and theater productions, has recently taken up ballroom dance and was chosen to attend the Kirov Academy of Ballet of Washington, D.C. summer intensive. She still goes to school full-time and trains at The Dance Institute, the Lundstrum Center for the Performing Arts and, when she can swing the trip, Dance Attack Dance Studio in Miami, FL.
Though her schedule is jam-packed—"I dance seven days a week," says Dora, like it's no big deal—this overachiever always has a smile on her face. "I just love dancing," she says. "I love ballet because it's the core of everything and I love that it's technical. But I just want to be in front of an audience." And the bling doesn't hurt: "I got a crown for my solo at Hall of Fame Dance Challenge the first time I competed as a junior," she says. "I really love crowns!"
FAST FACTS
Most-played song on her iPod: "My Heart Will Go On" by Celine Dion
Favorite food: "My mom's cookies—with milk."
Favorite subject in school: "Recess!"
Favorite actress: Emma Watson. "My dad and I are big fans of Harry Potter."
Favorite dancers: Alyssa Ness, Derek Hough and Sophia Lucia
Three words that describe her: "Expressive, loving, captivating"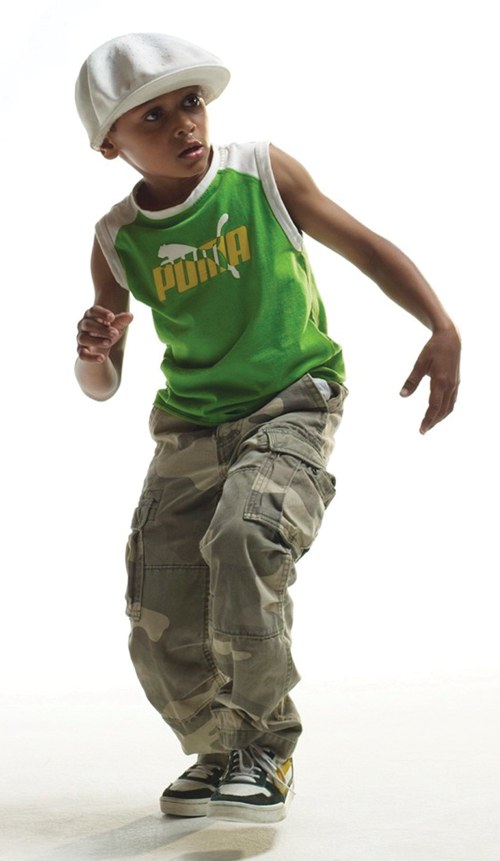 This 11-year-old tapper was born for the spotlight. (by Marc Lecureuil)
Give Alaman Diadhiou a seemingly impossible challenge and he'll not only prove it's possible, he'll make it look simple. When Debbie Allen cast him in the title role of her show Twist: An American Musical in 2010, the then–9-year-old had never sung anything but his audition number, had never spoken lines onstage and had only been tapping for two and a half years—and he certainly hadn't done all three at once. But after only 10 private vocal sessions and a month of intense rehearsals, he was stage-ready for the show's run in Atlanta during the summer of 2010. He did eight shows a week and didn't miss a performance. He continued to shine during the show's second run last summer at the Pasadena Playhouse near L.A., and by fall, the pint-sized prodigy had been nominated for an Ovation Award for best lead actor in a musical.
Alaman has been a quick study from the start. When he was 6, his mom enrolled him in the "early bird" program at Debbie Allen Dance Academy in L.A., where he studied African dance, hip hop and ballet. Allen quickly noticed his potential and cast him as Tom Thumb in her show Alex in Wonderland—which meant he had to learn to tap, and fast. But with the help of hoofer Chloé Arnold, Alaman mastered more than just tap basics: He caught on so quickly that he ended up front and center in the show's big tap number. The next year, he shared the stage with dancers twice his age (and height!) in Arnold's opening number for the Jerry Lewis Telethon. This scene would become very familiar to him: dancing alongside much older and more experienced performers, and matching them step for step.
Alaman's extraordinary talents go beyond the stage. In L.A., he attends The Mirman School for highly gifted children, where he loves studying chemistry and botany. He also won a gold medal for the National Mythology Exam last year, and had his poetry published in a children's anthology. With so much talent, not to mention strong supporters (Debbie Allen herself and a new agent with Clear Talent Group), the only question is how he'll amaze us next.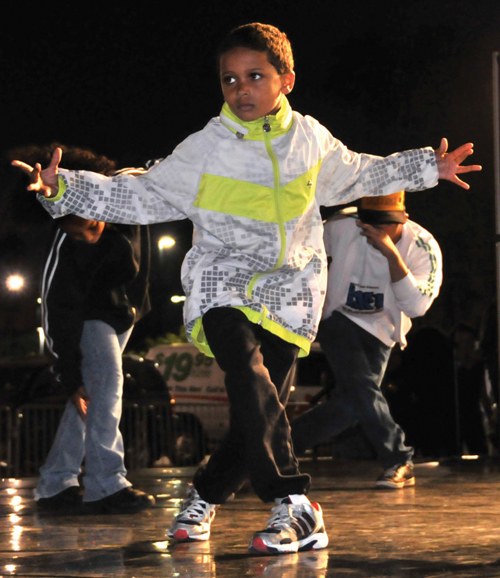 Alaman at Dave Scott's L.A. Hip Hop Intensive (by Bonny Diadhiou)
Alaman currently dances six days a week as a scholarship student at Allen's studio, performs with Sara Reich's company Tap Con Sabor and just taught his first tap class at Reich's Monday Night Tap Experience. But when he talks about his future, the 11-year-old is amazingly grounded. "I'd like to perform a lot—maybe do film—and have a happy life, a nice family and a lot of friends," Alaman says. "I'd also maybe like to be a doctor and cure a major disease. That would be really cool, and I could save a lot of people."
FAST FACTS
Birthday: May 31, 2000
Quirky talent: He can solve a Rubik's Cube in under a minute!
Favorite Movie: The Dark Knight
Favorite food: Pizza
Dance idols: Chloé Arnold, Sarah Reich, Jason Samuels Smith and Jared Grimes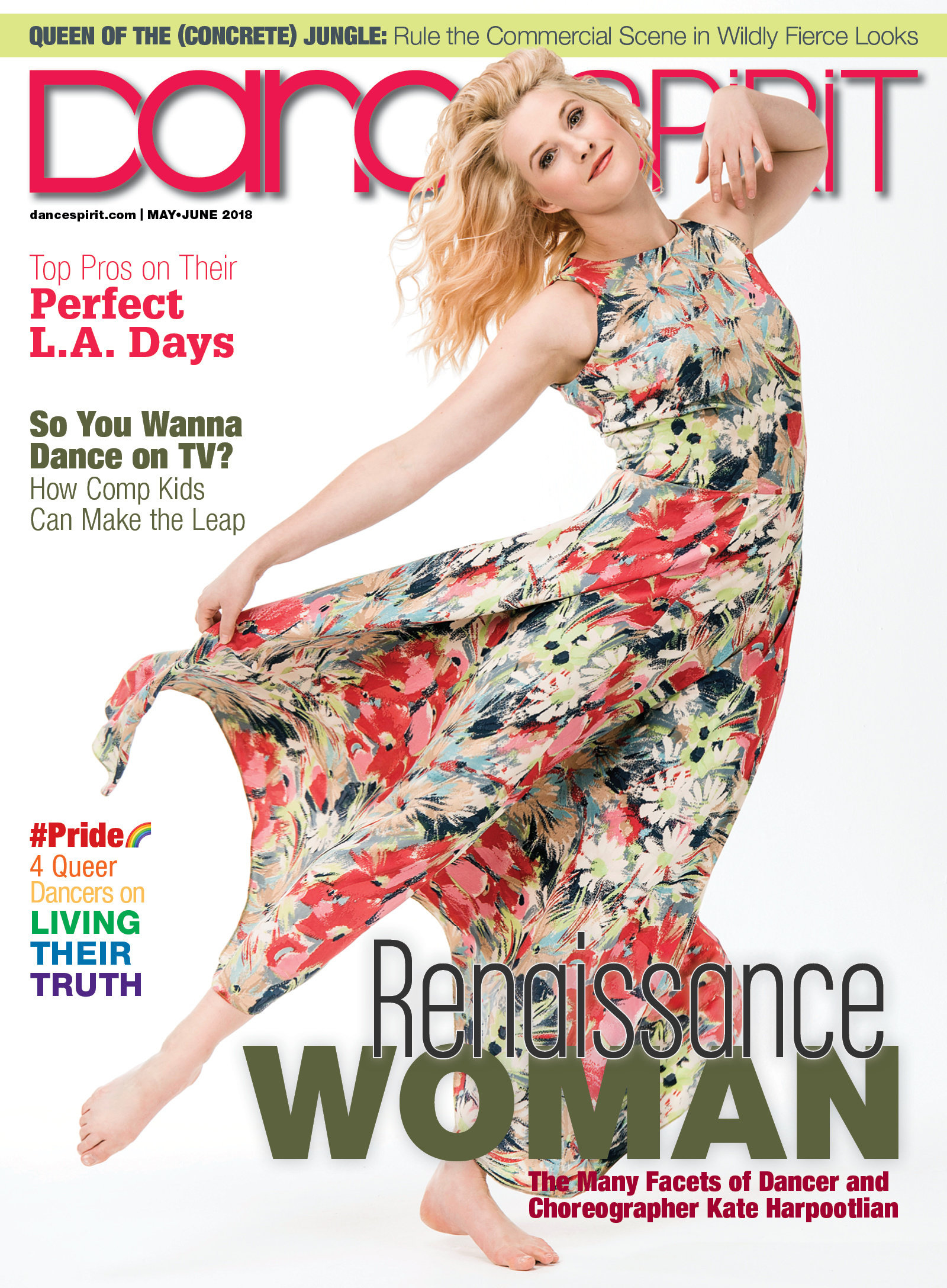 Get Dance Spirit in your inbox