Several of our favorite shows on Broadway right now are super kid-centric. (I'm looking at you, Annie and Matilda.) Besides being insanely jealous of the munchkins who are dominating the Great White Way before they've even finished middle school, I couldn't be happier for the stars of these shows. (Talk about a dream come true!)
And this just in: They're all friends with each other!
I can't get over the photos from Annie star Lilla Crawford's 12th birthday party this week. She had it at Cake Boss Café, the new NYC bakery inspired by reality show Cake Boss (yum!), and the invite list included the kid cast of Annie (including February 2013 "You Should Know" Maddie Rae DiPietro) and the stars of Matilda: The Musical: Bailey Ryon, Sophia Gennusa, Milly Shapiro and Oona Laurence. Check it out:
[slideshow_deploy id='21082']
I have a confession: I miss "Dance Moms." And these last two weeks of reunion shows with the moms (where are the kids?!) just aren't cutting it. Luckily, I have a fun video of Chloe and Maddie's visit with Dance Spirit to carry me through. Check it out:
Feb. 02, 2016 03:23PM EST
Photo by Joe Toreno
The stars aligned back in 2013, when two young dancers walked into Tricia Miranda's class at International Dance Academy in Hollywood. Kaycee Rice, then 10, and Gabe De Guzman, then 12, plowed their way through an intricate hip-hop combo to Rihanna's "Right Now," showing dancers twice their age what it means to go full-out. Miranda, one of the industry's most sought-after choreographers, was captivated. "I remember thinking, 'Wow, these kids are aliens,' " Miranda says. "It's so rare to find a student who's mastered both performance and technique, and here I had two."
Keep reading...
Show less
By now, you're probably familiar with photographer Jordan Matter's work—images of gorgeous dancers, sometimes mid-air, smack-dab in the hustle and bustle of everyday life.
Exhibit A: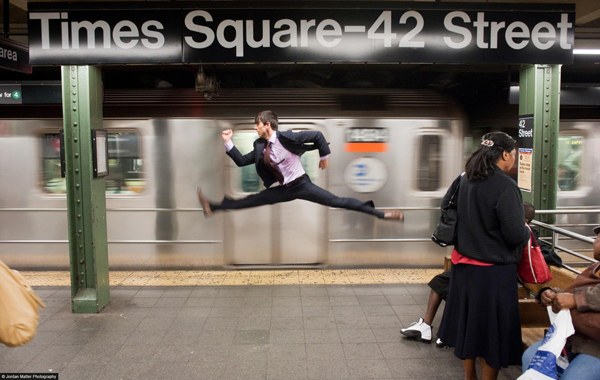 Jeffrey Smith in Times Square (Jordan Matter, via dancersamongus.com)
Exhibit B: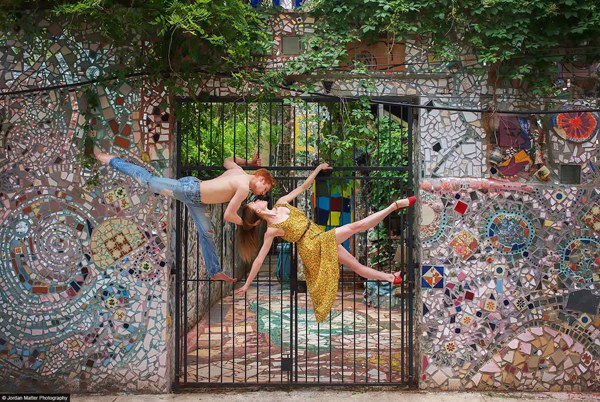 Alexander Peters and Elizabeth Mateer in Philadelphia, PA (Jordan Matter, via dancersamongus.com)
A few years ago, Matter published a book with his dancer series called Dancers Among Us. It made the New York Times' Bestseller list—but Matter didn't stop there. He's followed up Dancers Among Us with projects like Circus Among Us and Athletes Among Us.
Recently, Matter's been adding to another series, similar to Dancers Among Us—just of the miniature variety. Introducing Matter's Tiny Dancers Among Us (!!!), full of the most #adorbz pint-sized dancers around. For example, there's Adina in L.A....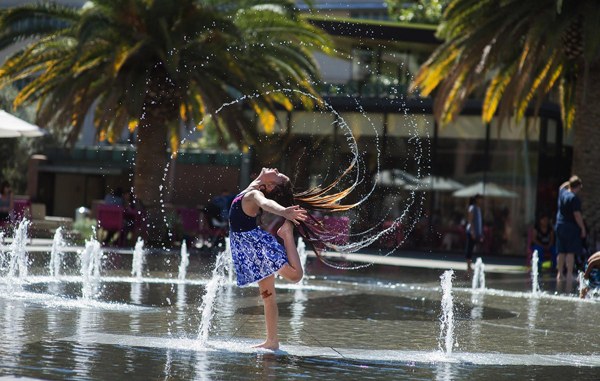 Yasss (Jordan Matter, via tinydancersamongus.com)
...and Samantha and Ariel waiting at LaGuardia Airport in NYC: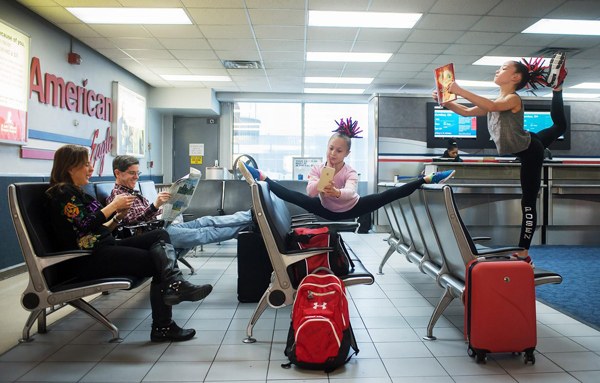 Totally what dancers do while waiting to board (Jordan Matter, via tinydancersamongus.com)
And I'm loving Dylan from Naperville, IL, who's super pumped about his sandwich.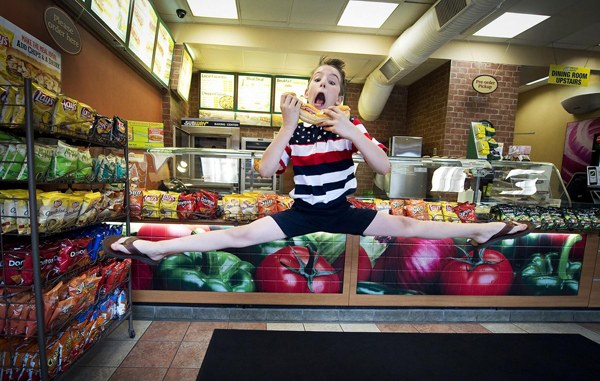 Nom nom nom nom nom (Jodan Matter via tinydancersamongus.com)
Matter explains that his Tiny Dancer series is a tribute of sorts to his two own children, Hudson and Salish. He writes, "...I want [my children] to be free from self-consciousness, to discover the deep happiness that comes from a life filled with passion, and to find the serenity necessary to be truly present. These photographs communicate my dreams for them more powerfully than words: Relish moments large and small, recognize the beauty around you, and be alive!"
You can check out all of Matter's new series here. A quick note: If you're in public, just know that you're bound to let out a few "AWWWWWs" while scrolling through. You were warned.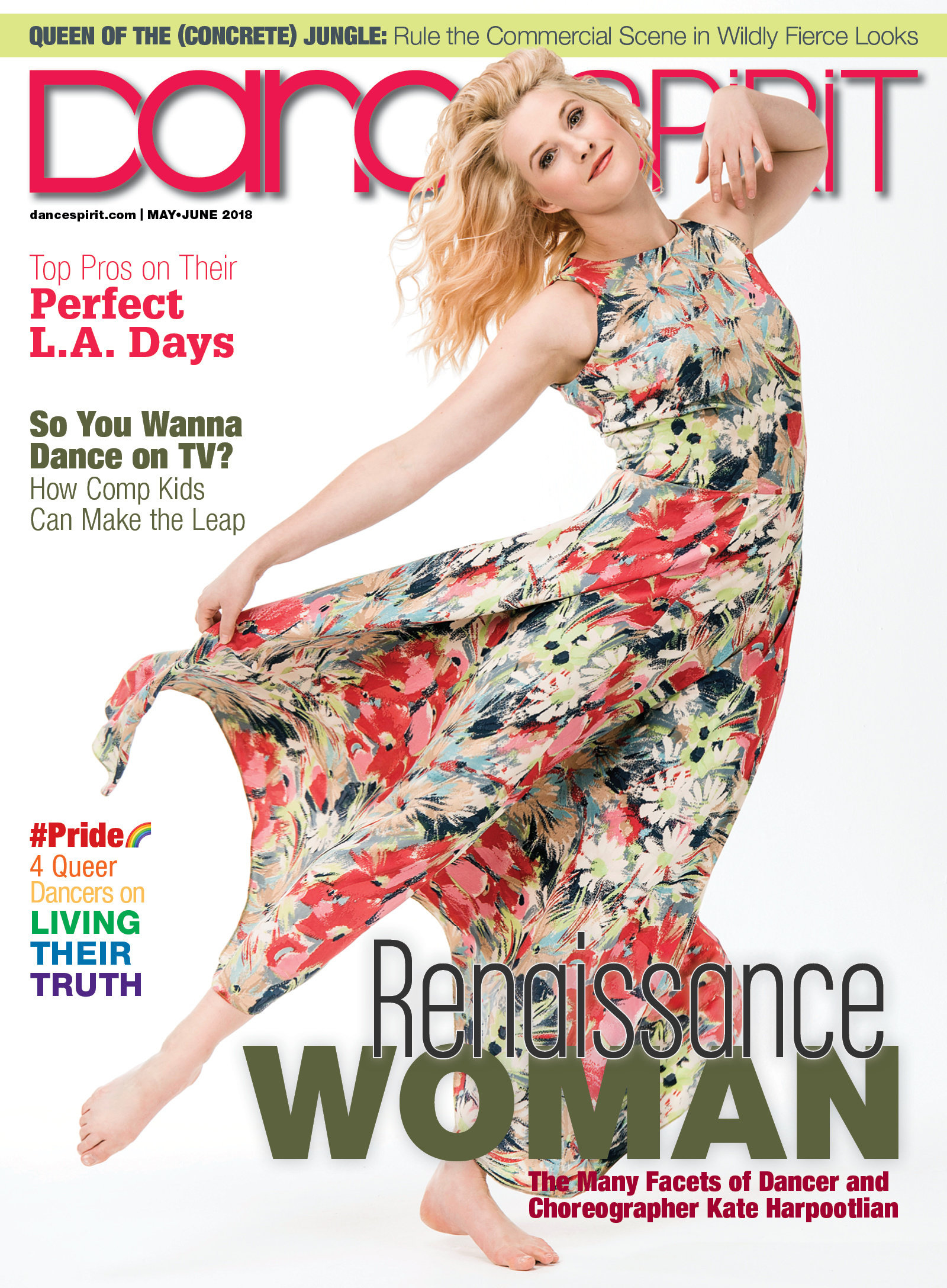 Get Dance Spirit in your inbox