Mar. 23, 2017 07:26AM EST
We're kind of spoiled here in NYC. OK, we're really spoiled. Case in point: We all complain about riding the subway—but odds are good that, on any given day, we'll encounter an incredibly talented subway performer during our morning commute.
Until recently, Josh Johnson was just one of those hundreds of talented subway artists, showing off his tap dancing skills inside the city's trains. But Josh wasn't just hoping to make an extra buck: He was hoofing to help fund his college education.
Now Josh is studying business at Penn State University, and his star is on the rise. He's performed on "The Ellen Show" and "Dancing with the Stars," and he appeared on ABC's "World News with Diane Sawyer" last year.
Next Wednesday, Josh will perform for one of his biggest audiences yet: the sold-out crowd at the first Knicks game of the season at Madison Square Garden. He'll dance alongside four other great tappers and a crew of Knicks City Dancers.
Click here to check out Josh's website. And for a preview of the awesomeness to come on Wednesday, here he is doing his thing on "DWTS" (along with our friends Chloe Arnold and Melinda Sullivan!):
You already know the many reasons dance teams rock. And being on a professional basketball dance team is even better: Not only can it potentially lead to big things (like, Paula Abdul big), you also get to perform in jam-packed stadiums at major events around the world. Like seasoned members of the Knicks City Dancers have told us, it's a seriously sweet part-time gig.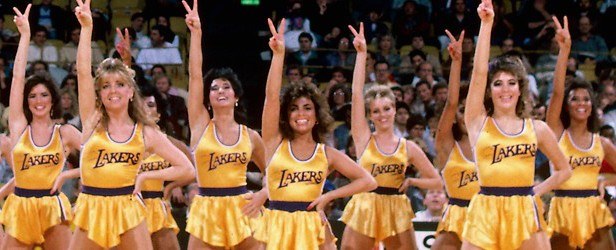 Paula Abdul, front and center. The 80s were awesome.
(photo via ultimatecheerleaders.com)
If you're over 16 and this sounds like your kind of thing (um, yes please!), get yourself to L.A. this weekend for the Laker Girls workshop. Laker Girls director Lisa Estrada and dance convention/competition Hollywood Connection are hosting an all-day clinic for dance-team hopefuls at California State University Long Beach on Saturday, June 14th. Participants will learn team choreography, experience mock auditions and meet, ask questions and hear feedback from Estrada herself.
The registration fees are a little steep ($110 if you register by Thursday, $120 at the door), but it does seem like a fantastic networking opportunity before the Laker Girls hold auditions in July.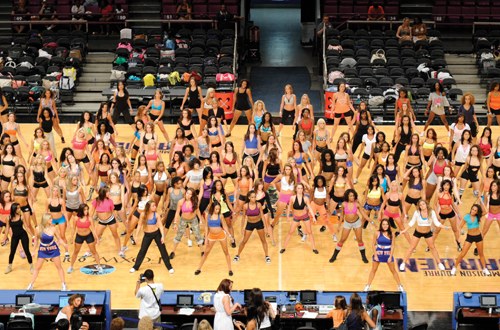 Hopefuls audition for the Knicks City Dancers—this year KCD auditions are June 21!
(photo courtesy Madison Square Garden)
Can't make it to L.A.? There may be a clinic for your city's dance team coming up verrry soon since audition season is now in full swing. The Brooklynettes in Brooklyn, NY, for instance, are hosting their second audition intensive on June 23rd before their auditions June 28th. And the Knicks City Dancers are holding four audition clinics (June 11th—that's tonight—and the 12th, 18th and 19th) before their audition June 21st.  Check out your city's team (or the city of your dream team's) website for info.
This week on Live! With Kelly and Michael, Kelly Ripa reminded us that, back in 2009, she performed on the show with the Knicks City Dancers (costume and all). So we thought, in honor of #FlashbackFriday, we'd go ahead and remember it too:
We've got to hand it to you, Kelly. It took a lot of guts to get out there and perform with the pros. Get it girl!
(Craving more Kelly-Ripa-dance-flashbacks? Just remember that time she tried to hijack a production of New York City Ballet's The Nutcracker. Hilarious.)
Jun. 06, 2012 12:21PM EST
Think you've got what it takes to be a Knicks City Dancer? If you're hoping to join the super-hot dance team, you're probably gearing up for their open auditions in NYC this Saturday.
One of the best ways to prepare for the grueling tryout is by attending a KCD audition clinic, which gives you a leg up on the competition by teaching you some of the choreography you'll need to know on the big day. Yes, the audition's only a few days away, but if you haven't hit up a clinic yet, there's still time: The last one is tonight from 6:30-9:30 pm. Register here—then get it at the audition!
Dance Team
Mar. 13, 2012 04:05PM EST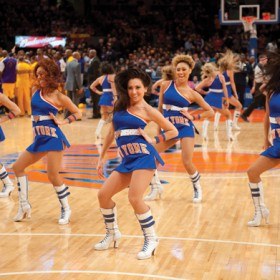 courtesy Madison Square Garden
The Knicks City Dancers are perhaps the most iconic sideline stars in the NBA. From their hard-hitting center court routines to the time they spend mingling with fans in the stands, the 22 members of the KCD work hard to live up to their well-deserved reputation.
The 2011–12 season marks the KCD's 20th anniversary. The current team features a diverse group of gorgeous girls, like Ana, who hails from Brazil; Sierra, who spends her off-court time as a professional DJ; and Alyssa, who went to school for kinesiology and applied physiology.
Being a member of the team, which performs at all New York Knicks home games at Madison Square Garden, requires more than just stellar technique and a totally toned body. These young women all have side jobs or additional careers, and many are in graduate school. "Being a Knicks City Dancer is a part-time job but a full-time commitment," says Sierra, a five-year team veteran and current co-captain.
Think you're cut out for a career with the KCD? Dance Spirit got team members Ally, Sierra and Sarahbeth to dish about what it takes to snag a spot on the squad. Take notes—all three girls made the team on the first try!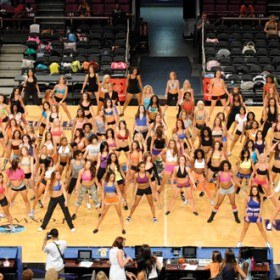 Each dancer on the team (except the caption and co-captains) has to re-audition every season. "It keeps us on our toes," Ally says.
Ally, Sierra and Sarahbeth's Top 10 Knicks City Dancers Tryout Tips
1 Arrive at the audition at least an hour early. "Get a good place in line," Ally says. "You don't want to be left waiting outside."
2 Wear a flattering, eye-catching audition outfit. "I'm an athletic person, so I always wear a sports bra and shorts," Ally says. "Never wear all black or all white. Add a pop of color that's noticeable—you want to stand out—but not overwhelming. Make sure the judges can see your body. They want to see that it's healthy, but remember that healthy doesn't necessarily just mean skinny." Adds Sierra: "You should feel great in your audition outfit. You go to the gym and take dance classes—don't hide your hard work!"
3 Be stage-ready. "Come with full hair and makeup," Sarahbeth says.
4 When you walk into the audition, look like you're already a part of the team. "Check out the KCD website beforehand to figure out the team's look," Sierra says. "Don't lose your personal style, but adopt theirs and work it into your own." It's also crucial to research the team's history. "Learn about past team members and routines," Sarahbeth says.
5 Eat properly on audition day. Tryouts often last an entire day, so fuel up. "Eat a well-balanced breakfast—I'm a big fan of oatmeal, bananas and coconut water—and make sure you're hydrated," Ally says.
6 Show off your dance training. "Remember that great dancing stems from your technique. It's not just about performance quality," Sierra says.
7 Be ready to learn choreography quickly. "We learn a routine in one night, clean it
the next night and then perform it later that week," Sierra says. "Being able to pick up moves fast will help you throughout the year."
8 go front and center—at least at first. "You don't want to be hidden, and if you stand front and center during the audition it shows initiative," Sarahbeth says. "Eventually you'll take turns in front, but try to get there at the beginning."
9 Prepare for an interview. KCD hopefuls who advance to the second round have individual interviews with the judges. "Let them get to know you on a personal level," Sierra says. "Tell them exactly why you were made for their team."
10 Attend a clinic. The KCD hold clinics throughout the tristate area during the year. "They're mock auditions," Sarahbeth says. Going to a clinic will prepare you for everything the judges may throw your way at the actual tryout. You'll learn routines from the previous year's audition and the current dancers will teach the technical tricks often incorporated in the KCD choreography. It's an instant leg up on the competition!
Michelle Harris, director of entertainment marketing for the New York Knicks, is a former Knicks City Dancer and captain. Her top audition tip? "Find out what sets you apart from every other dancer—then highlight that. Tumbling will definitely give you an advantage."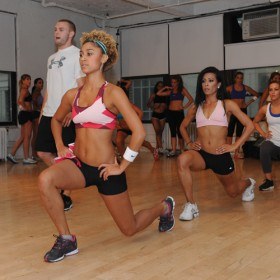 HOW TO LOOK HOT (Knicks City Dancer Hot!)
The Knicks City Dancers work hard for those flat abs and rock-hard thighs! Here are Sarahbeth's favorite KCD-approved exercises and healthy-living tips:
Always warm up. "You don't want to dance with cold muscles. Do jumping jacks or crunches, take a quick jog or hold a plank before it's time to perform."
Work your core. "I do 200 crunches when I wake up and 200 before I go to bed. I include oblique exercises, like twisting crunches, and I do standing side bends with dumbbells in my hands (50 bends on each side). I finish up with three rounds of two-minute planks, with short breaks in between." [DS says: Sarahbeth is hardcore! Start with a 20-second plank and build from there until you can hold it for two minutes.]
Pump up your arms. "I do 20 tricep dips (use a sturdy bench, table or chair for support) between rounds of planks."
Get rest. "I like to get seven to eight hours of sleep a night. It's not always possible with a crazy schedule, but I try."
Hydrate. "Don't drink soda. I carry a big jug of water around with me all day, and I'm constantly refilling it."
THE KNICKS CITY DANCERS BY THE NUMBERS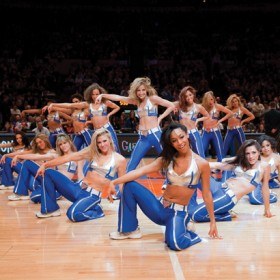 500 women audition for the team each year. They come from all over the country and the world.
30 finalists are selected to attend the KCD training camp. After an open call, the finalists go through a series of rehearsals and fitness tests so the judges can see what their work ethic is like.
22 women made the team for the 2011–12 season, including a captain and two co-captains.
10+ hours are spent rehearsing each week, plus two additional hours on game days.
14–18 dancers are on the floor each night. The entire team doesn't perform during games. The bigger the game, the more dancers are on the floor.
19,463 seats are in Madison Square Garden, where the Knicks City Dancers perform.
33 performance nights are planned for the current season. The dancers perform at every home game, plus playoffs. In a regular season there are 41 home games, but there are only
33 this season due to the NBA lockout at the beginning of the season.
30 routines are performed by the KCD throughout the season.
4+ is the number of times the team performs per game. The girls take the floor for two full routines, during player introductions and during fourth-quarter "hype" timeouts.
5 pairs of shoes are worn by each team member: sneakers, boots (two pairs), character shoes and appearance high heels.
13 costumes are worn by each dancer throughout the season.
MEET THE DANCERS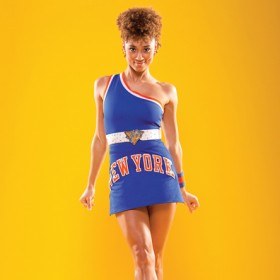 Ally
Ally
Years on the team: 3
Dance training: Ally went to high school at the New World School of the Arts in her hometown of Miami, FL. She graduated with a BFA from the Ailey/Fordham program and then went on to dance with Complexions Contemporary Ballet. She joined the KCD soon after.
Why KCD? "I love concert dance, but
I wanted a wider range of exposure. On a dance team we get to travel, perform all the time and dance on a 360-degree stage."
Favorite thing about being a KCD: "My teammates. They are all driven, amazing dancers."
Best KCD perk: "Performing at MSG!"
Advice for KCD hopefuls: "You're in the public eye. Having a wonderful, positive personality goes a long way."
Non-KCD job: Ally is a model with Wilhelmina Models and has been the face of the Under Armour women's line for three years. She is also a backup dancer for Pitbull.
Hobbies: "I love to cook—especially chicken stew! I also love planners, notebooks and pens. Every year I devote a week to finding a perfect planner."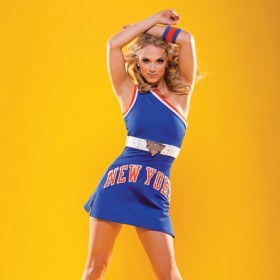 Sierra
Sierra
Years on the team: 5 (currently co-captain)
Dance training: Sierra trained in ballet and pointe for 14 years in Lincoln, NE, and attended summer intensives at Boston Ballet, American Ballet Theatre and the Joffrey Ballet. After high school, she moved to NYC and joined the KCD.
Why KCD? "This team represents NYC. The women are strong, talented and classy."
Best KCD perk: Working with the Garden of Dreams Foundation. "We help make dreams come true for kids facing various obstacles. When you spend time with the kids you get this amazing feeling, knowing you can affect someone else's life."
Advice for KCD hopefuls: "Remember that this is a team, and at the end of the day we walk onto the court as a group. It's not just you out there—we work together."
Non-KCD job: Sierra is a model, teaches ballet and pointe at a dance studio on Long Island, NY, and is a DJ for STADJ, a company for model/DJs. "I didn't have DJ experience before, but the company trained me," she says.
Hobby: "I just started playing the guitar. I can play 'Firework' by Katy Perry."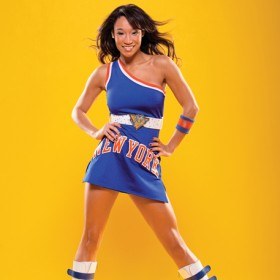 Sarahbeth
Sarahbeth
Years on the team: 5
Dance training: Sarahbeth began dancing when she was 4 in Long Island, NY. She trained in all styles and danced with her high school dance/kickline team. After years of competing with both her studio and high school and attending summer intensives at New York City Dance Alliance and American Ballet Theatre, Sarahbeth went on to Marymount Manhattan College. She graduated last May with a major in dance and minor in business.
Why KCD? "Growing up, I watched Knicks games with my father, and I would always watch the dance team. I used to go on the KCD website to check out the dancers. I wanted to be a part of that."
Best KCD perk: "Traveling. We've been to China, Taiwan, Milan, Paris, India, the Philippines and Abu Dhabi for events."
Advice for KCD hopefuls: "Take classes! You have to be versatile. You can't just be a hip-hop or jazz dancer. We incorporate everything from musical theater to ballet in our routines."
Non-KCD job: Sarahbeth coaches her former dance and kickline team in Smithtown, Long Island.
There's never a dull day at the Dance Spirit office — we're always running around like dancers during a backstage quick-change
With 2011 behind us, the new year is off to an exceptionally busy start. We're moving, shaking, shimmying and working on some great projects to share with you throughout 2012.
Here's a rundown of the latest happenings at Dance Spirit: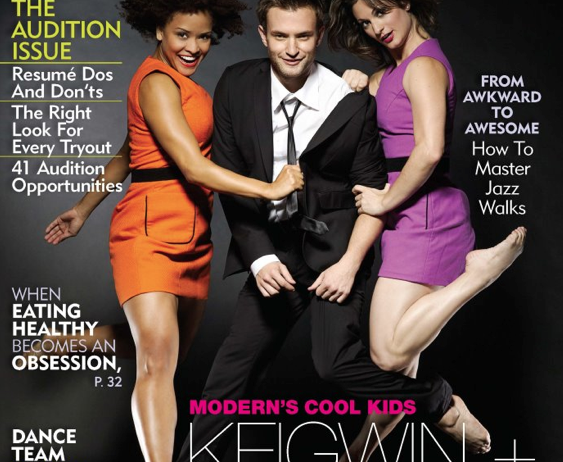 The February issue is on newsstands! We're kind of in love with this issue, featuring the ultra-cool dancers of NYC-based modern troupe KEIGWIN + COMPANY. Click here to read associate editor Margaret Fuhrer's cover story on the company. Plus, the issue is packed with need-to-know audition information and advice on everything from how to create the ideal dance resumé (Clear Talent Group agent Shayna Brouillard makes it easy for you!) to what to wear to your ballet, commercial, dance team or convention scholarship auditions. And if you dig the issue, be sure to let us know! Write us a letter — you just may see your name printed in an upcoming issue of DS.
We're sending the April issue — the dance team issue! — to the printer next week. This one is a good one, dance teamers. We normally keep our cover stars a secret until the issue comes out, but we're too excited not to share this: The April cover girls are the gorgeous, talented, smart and oh-so-enthusiastic members of the Knicks City Dancers! Ally, Sierra and Sarahbeth (at right) were sheer perfection at the shoot. Not only were they classy and poised, they also delivered picture-perfects shots all throughout the day. We've loving clawing through all the photos shot by Erin Baiano and are psyched about the stories we have in store for April.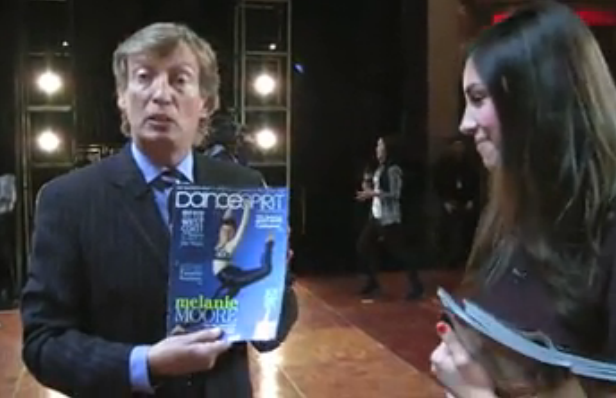 We spent some time at "So You Think You Can Dance." It's hard to believe that our favorite dance show is now entering its 9th season! We've been fans since Season 1 and the days of Nick Lazzarini (heartthrob alert!). Rachel Zar (meet her below) and Michael, the DS fashion editor, staked out the "SYTYCD" auditions in NYC this week to size up the talent. Their verdict? See for yourself. Click here to watch Nigel and Mary chat about their Season 9 expectations — plus Nigel gets his hand on the November issue of DS featuring Season 8 winner Melanie Moore! (Spoiler alert: He loved it!)
We have a new managing editor! Meet Rachel Zar, who will be keeping us all in line and making sure each issue gets out the door on time. Rachel spent the past few years as an editor at Dance Teacher, our sister publication, and we're psyched to have her on board. (She also edits another sister site, DanceU101, which is your go-to spot for college dance information.) A bit about Rachel: She danced with the Ballet Chicago Studio Company growing up and, at 16, shifted her focus from pointe shoes to jazz squares. She was offered a spot in the Joel Hall Dance Center's teen company — a jazz company — and performed with the group until heading off to college at Tufts University, where she majored in English and was president of the student-run Sarabande Dance Ensemble. Rachel is a brilliant editor, a talented writer and a really cute dresser. She's also got a flair for sarcasm, which is always appreciated around here. Rachel edits the Up Front, Talk To Us, School Buzz and Jazz Spotlights for each issue, so be sure to check out her work.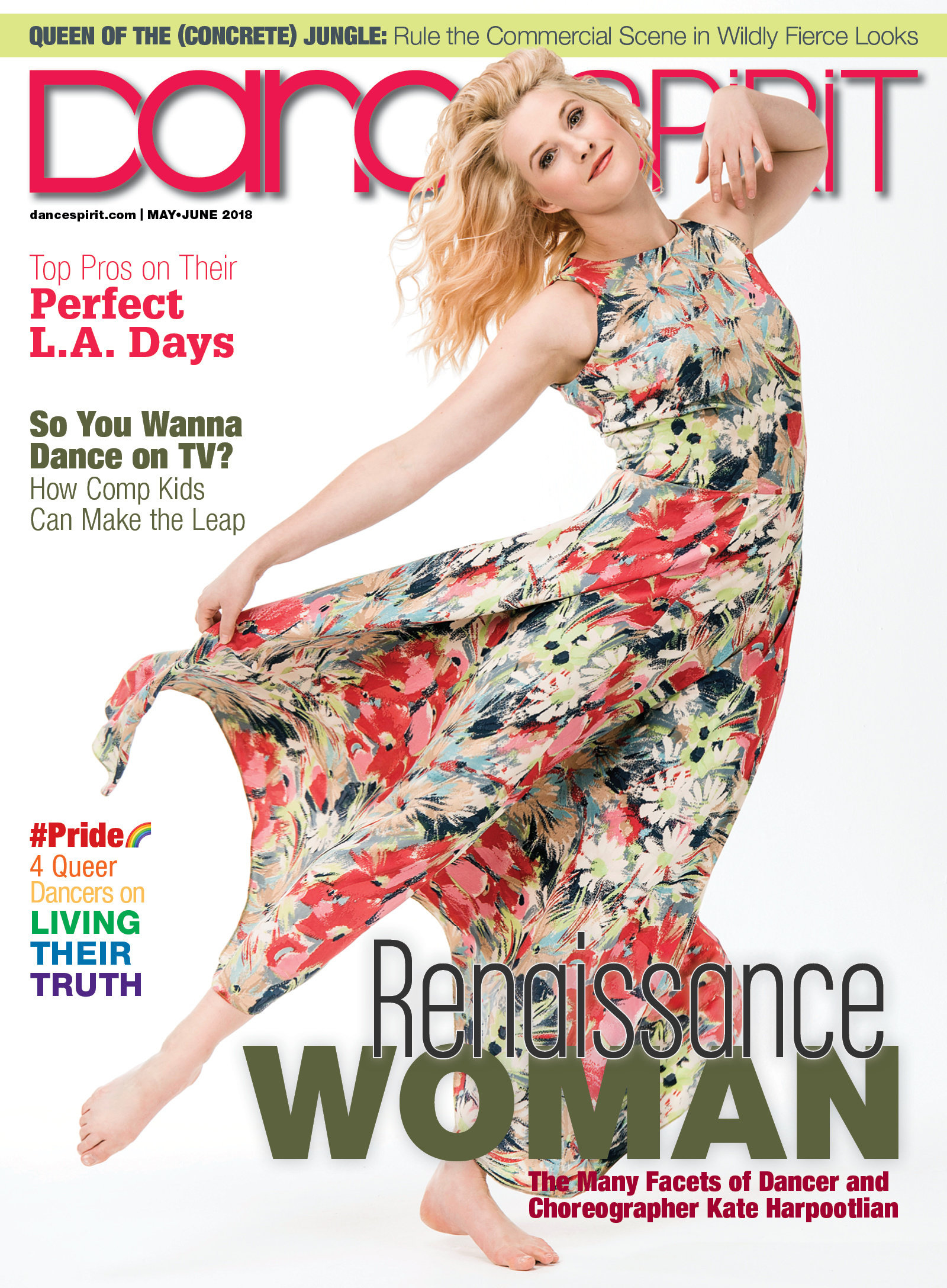 Get Dance Spirit in your inbox